Thanks For Everything Sai Baba
Shirdi Sai Devotee Meghna Sai from India says: Hi everyone! Thanks to the whole team. I am Baba's daughter. I am here to share my answered prayers.
Exp 1: Baba as always if my son catches a cold I feel very scared because all of a sudden he will get a 104-degree fever. It will take 3 to 4 days to go and he will become weak. Thanks for helping with his cold also due to overheating he was suffering. Thanks for helping him. As promised, posting here.

Exp 2: Christmas party was good. She got a good selection of sarees. Party also went well. Thanks for the extra bonus from both. Snacks also came good (Home Made). As promised, posting here.

Exp 3: You helped in our travel to Sri Annamma Devi temple. It was very crowded as it was a Sunday but You managed everything. Even You guided my son to cooperate. You are our Saviour. Thanks for everything. As promised, posting here.

Exp 4: You are there for me and my family every second. Guide us to follow all our spiritual rituals. Help me in Sai Divya Pooja and Satcharitra Saptah Parayan and also plan for Chikka Tirupathi; my son's mundan trip. If You plan then no worry as it will be a smooth journey.

If I had promised something and forgot to post it here then please forgive me. Delete my negative thinking, worry, and anxiety. I am a money-minded person who always calculates each penny. I know You won't like that. Please help me to overcome it and to behave like Sai's child. Make me satisfied with what my Sai gave me.

Bless everyone with good health and peace of mind. Sarve Jana Sukino Bavanthu. Sarvam Saimayam

Om Ganeshaya Om Shakthi Kallalamma Thaye Adhi Thimappa MKDG OM SAI RAM Shani Singapura Shaneshwara Swamy Dharmastala Manjunatha Tirupathi Thimappa.
Sai Baba – Protector And Father
Anonymous Shirdi Sai Devotee from Singapore says: I am one of Baba's millions of devotees who wish to be at His lotus feet always.
My day starts and ends with Baba's thoughts and prayers. My gratitude to Hetalji and the team for providing us with such a holy platform that brings all the Baba's devotees together. I started praying to Baba in 2017 and since then I have been witnessing His leelas (plays). I would like to narrate my most recent experiences here.
I had 2 important meetings with the customer and I was praying to Baba that the meetings should go well without any issues. I was also praying Baba to be with me. Baba took care of me and the meetings went on really well.
Deva, please help me to increase my Shraddha and Saburi. Saimaa, please help me to sail through this bhavsagar with Your name on my lips always. Baba, I am just a mortal being and always request You to make Your presence felt around me. It's my humble request and wishes that I meet You and talk to You at least once in my lifetime. Please take care of this world and provide me with all the resources to help others.
Also, Deva thank You so much for helping me to change my job when I needed it the most that too so effortlessly. Please help me to continue here without any issues and please be with me always.
Please help me with all the courage and confidence to swim through this Bhavsagar. Ananth Koti Brahmanda Nayak, Raajadhiraaj Yogiraj Parabrahma Shri Sachchidananda Samarth Sadguru Sainath Maharaj ki Jai.
Sai Baba Blessings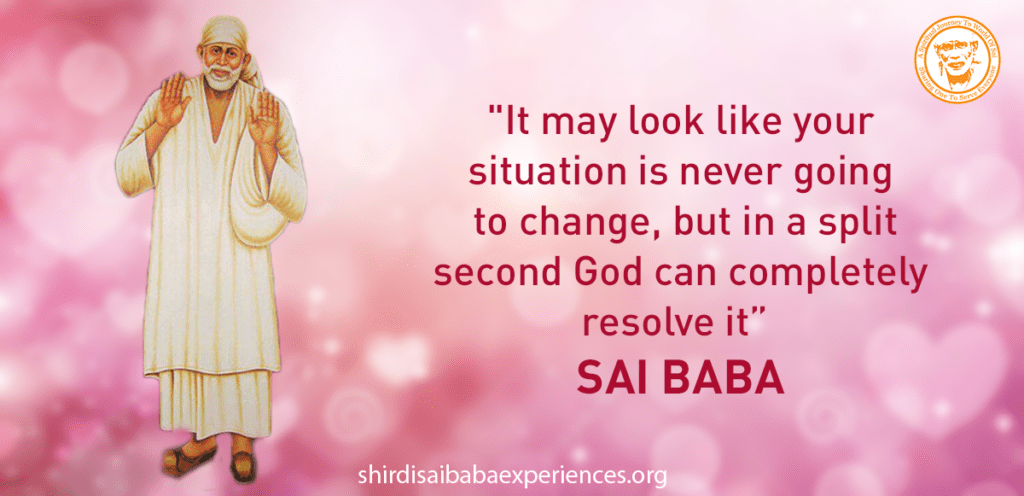 Anonymous Shirdi Sai Devotee from India says: I am a small tiny devotee falling at Sai Baba's holy feet. Thank you team for this website which is giving motivation to every devotee who reads it. Please keep me anonymous.

Baba, sorry for posting the experience late. Forgive all the sins and mistakes done by me and my family knowingly and unknowingly. Please, Baba, You know what all is happening and we pray to You to make things fine. Really all this is our karma which I am placing at Your lotus feet.

My experience is that it was the first time that I prepared gulab jamun sweet for all in my house for my husband's birthday and it came well with Baba's blessings. Everyone liked it. It was my first time in native, though I had prepared where we work in other places and here it came out well. I am frightened of small things also and this was fine due to Baba's blessings only.

Please help us and give us courage in everything we do. I am bowing and surrendering at Your feet. Please take care of everything Baba.
I am sorry that I am missing something to post as I am unable to recall it. Sorry, Baba. There are many experiences every day, some I just think of to post here.

Please post this and previous experiences also.

Om Sairam.
Thanks To Sai Baba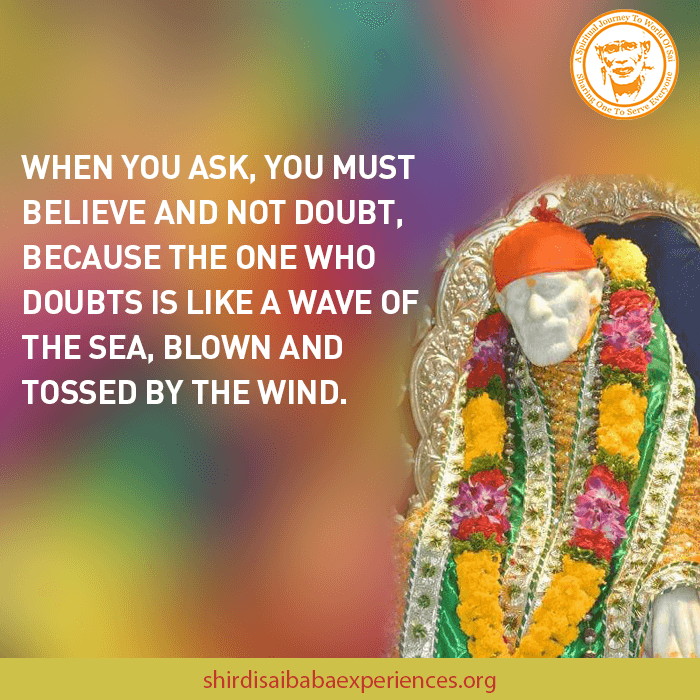 Anonymous Shirdi Sai Devotee from the USA says: I am a very small devotee of Baba from the USA. Thank You so much, Baba.
For this Christmas holiday, my would-be daughter was visiting us and we planned our trip of 3 to 4 days with our friends. Baba, thank You so much for making our trip very nice. It went all without having any stress. Baba knows what kind of stress I always have.
Also, Baba thank You so much for letting me know that everyone back home is doing ok during the trip.
In the last experience, I shared what happened in India at my brother's home because of the flood and all. He is able to move to a new house this week. Baba, thank You so much. Please be with us all the time. And if we did anything wrong then please forgive us.
Gratitude To Sai Baba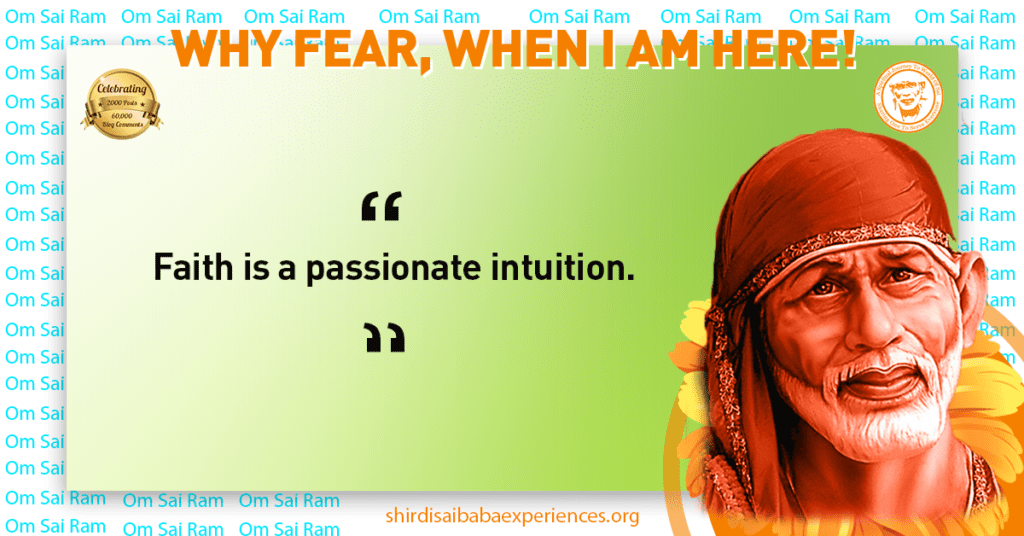 Anonymous Shirdi Sai Devotee from the USA says: Hi, I'm a small devotee of Baba here to share an experience and prayer.
Baba, with Your blessing after a long struggle I have got a job. My sincere thanks to You Baba. There were many instances I cried, I fought and I showed my anger to You regarding this as I wanted to support my parents badly. You taught me faith and patience and I will believe that. You are my savior. You are my well-wisher and Supporter.
Baba, my only prayer that I always ask is to keep my family healthy. Or the other way, I am always scared when it comes to even small health issues. Please, currently I am in a bad situation thinking of my kid's health. We are taking my kid to the doctor tomorrow. Kindly be with us all the time and the results should be fine. I'm writing this with a heavy heart Baba. Kindly consider my prayer and bless my son's healthy life. Thank You, Baba.
Sai Baba Leela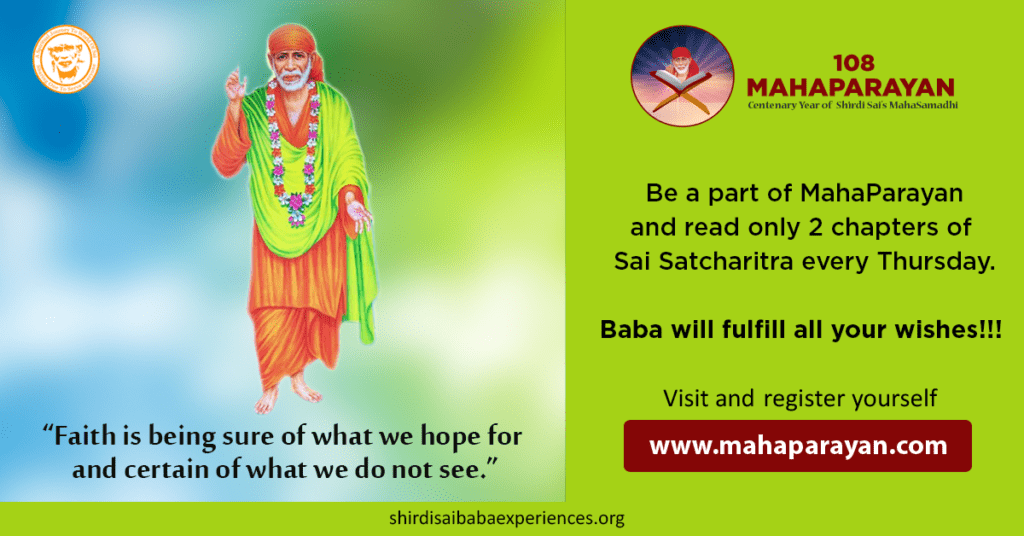 Anonymous Shirdi Sai Devotee from India says: Om Sai Ram. This experience had happened long back in 2010. But I realized it later.
In my early years, I used to suffer from several stomach issues followed by lots of medicines, doctor visits and missing out on school.
When we went to Shirdi in 2010, I had a weird sharp pain in my stomach for 30 minutes and then it got over. From that day till today, I have not suffered from any stomach issues. Today, that nausea and gas issue has recurred and then I realized this Leela of Baba.
Thank You so much Baba and sorry for not even realizing. Please cure this. Please keep ma, papa, Bhai and me safe, healthy, and protected. Thank You, Sai. Om Sai Ram.
---
ShirdiChe Sai Baba Book
A book that can be considered next to Sri Sai Satcharitra is available for reading on our blog, kindly do not miss reading it.
More from SaiYugNetwork.com
© Shirdi Sai Baba Devotees.com – Member of SaiYugNetwork.com