Forever Grateful To Sai Baba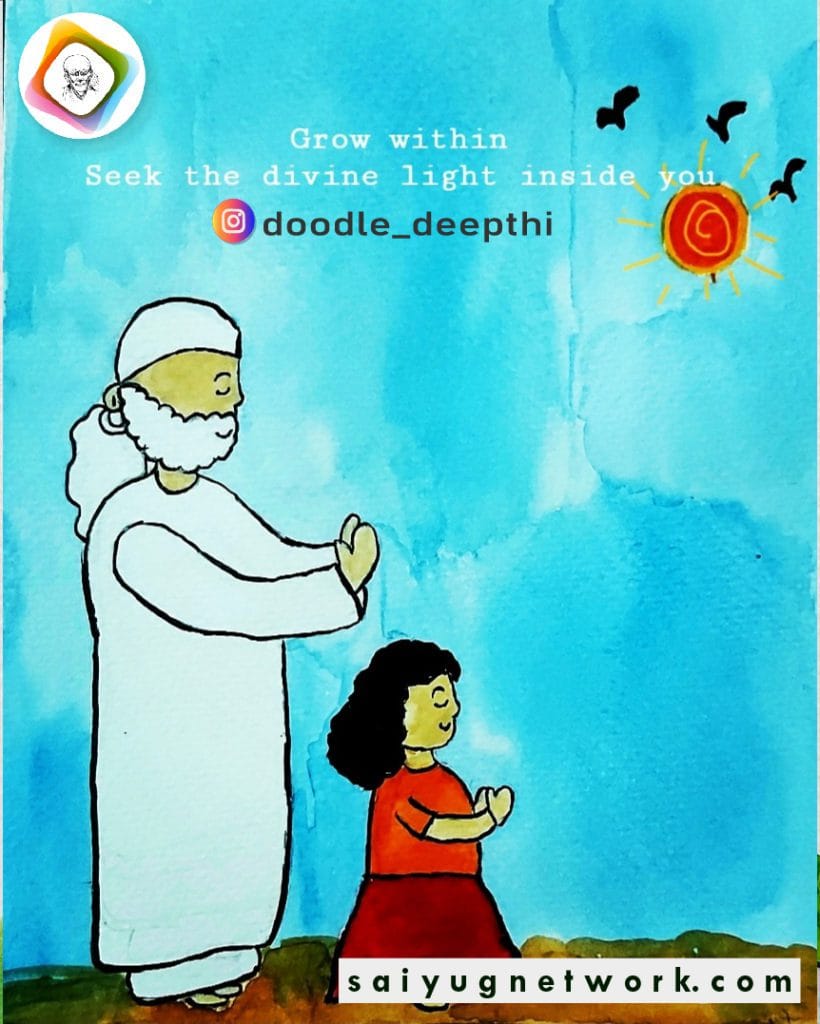 Anonymous Shirdi Sai Devotee from India says: Hello All. Aum Sai Ram. I am from Nagpur, Maharashtra. Please keep me anonymous. I am a female devotee of the greatest Lord Shirdi Sai Baba.
I am also a part of Sai's Global Mahaparayan MP-4915N1 Shobana Sai group.
Thanks to Hetal Mam and all the blessed ones behind this site who work relentlessly to post devotees' experiences and which in turn motivates us to keep our faith in the Holy Feet of Sri Sai Baba. I am truly blessed to share my experience on this site.
It was 20th November 2021 when I visited Shirdi and after attending Kakad aarti and a fulfilling Darshan, when I was about to leave for Nagpur, I got a message from my sister stating that both of my parents (Age 65+) have undergone Covid test (RAT) and were found Covid positive. They both stay alone in our hometown. I didn't get scared at all thinking that even if they both are positive since they are double vaccinated they will be alright with primary medication and isolation. With a silent prayer in my heart, I looked at Baba's picture hung in the hotel's reception area asking Baba to be with them during these difficult times and left Shirdi.
The very next day my father's temperature didn't come down even after taking medicine and he was coughing throughout the day. Thankfully my mother was asymptomatic. On 22nd November, my father's health further deteriorated and now he had to be shifted to hospital and my mother was managing everything alone. I really got tears in my eyes thinking about the whole situation and was continuously praying to Baba to help her with strength. After admitting my father to the hospital, the doctor took a chest X-ray and found out that he got pneumonia and a 15% infection which would get recovered.
On the other hand, I was reading Sai Devotees' experiences and Global Mahaparayan miracles continuously. Trust me every time I stumbled upon a miracle regarding Covid recovery of some devotees and their parents or relatives. Now I got my answer that Baba will surely save my father and get him well and all I need is faith and patience.
On 23rd Nov, I was about to start my Chalisha Parayan and while reading Sai Satcharitra chapters, I was asking Baba about the health of my father. That evening the doctor shifted him to ICU and told us that he needs observation since he is diabetic and a heart patient. I was so disturbed by all the news and I couldn't focus on anything in the office. I was so clueless that I called Shobana Mam from the Global Mahaparayan Team and told her everything. She asked for a special prayer group for my father's recovery and she continuously kept in touch with me regarding my father's wellbeing. Thanks to such a pure soul like Shobana Mam whom I got to know through this Global Mahaparayan Group.
I was taking Udi daily on behalf of my father for his speedy recovery.
On 25th Nov, slowly my father's health started improving and oxygen cylinder intake was also reduced which in turn improved his SPO2 level and he got discharged on 27th Nov 2021. I won't deny the fact that throughout these eight days I was not panicked or disturbed, but in the end, looking at Baba's face and reading Sai Satcharitra, I got all the strength to face the tough times. It is true, as written in Sai Satcharitra, "First He raises the storm and when we all panic, He brings us the calmness too." This is my personal experience. Reading Sai Satcharitra with all faith, imbibing all the lessons in daily life, holding His feet tight, and having Udi daily; we can cross every mountain in life. May Baba bless all and keep everyone safe.
Daughter Got Admission With Sai Baba's Blessing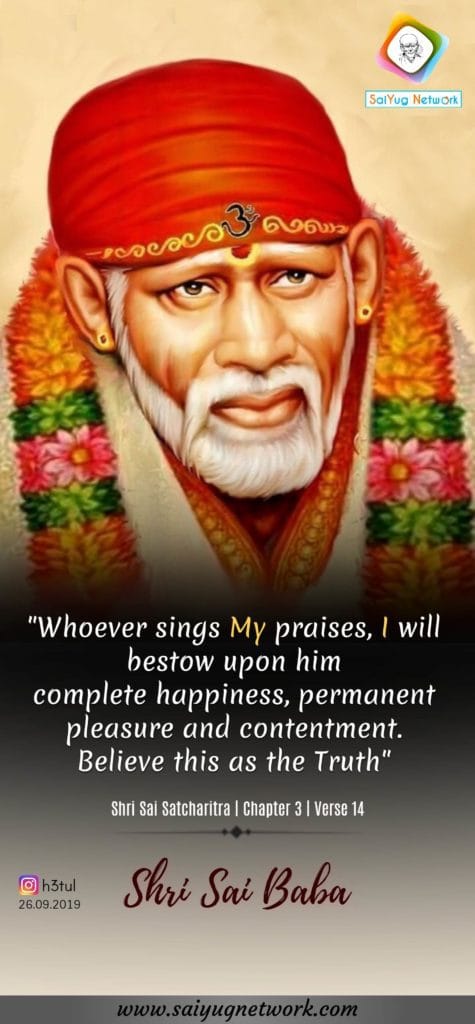 Shirdi Sai Devotee Sumalatha from India says: I am Sumalatha, staying in Guwahati. I have been in the Sai's Global Mahaparayan group for the past 15 months.
I have a 16-Year-old daughter. She appeared for JEE mains and we were eagerly waiting for her seat in counseling. All the rounds were finished and she could not get any. We were absolutely depressed and we were looking for other options. With a strong belief in Baba, I started Sri Sai Divya puja and left the burden at His divine feet. Then on one Thursday, she got a letter stating that she got a seat at Andhra University in material science. We were happy but not completely satisfied with the branch. I continued the Pooja.
After 15 days, a special round of counseling was conducted by JEE and she got a seat at Aizwal university, Manipur in the IT department. We were extremely happy but it didn't end there. In the next round with Baba's blessings, she got a seat in NEHU in the IT department which is just 100 km from Guwahati. There were no bounds to my joy.
Still, it didn't end here. Really, Baba's divine blessings have no bounds. Next Thursday I finished my Mahaparayan and evening Aarti. I got a call from my daughter (staying in Hyderabad at her grandma's house) saying that she qualified for the NDA conducted by UPSC. Now she is preparing for the SSB interview.
I bow my head at His divine feet. Baba, let my belief in You stay strong till my last breath. Jai Sairam.
Sai Baba's Udi Is Panacea Of All Dangers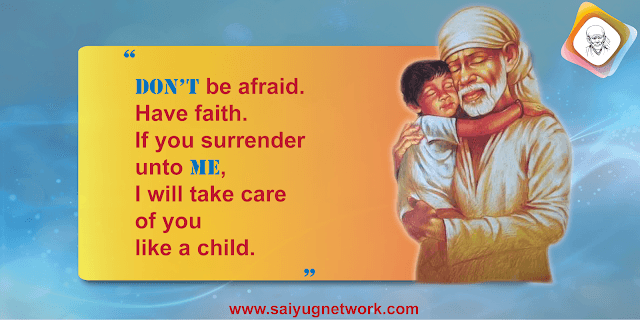 Anonymous Shirdi Sai Devotee from India says: I am a Sai daughter from India. Today I am posting the recent experience that I promised to post.

Last week I was not feeling well and was not able to sleep properly due to some issues with my hubby. I was feeling very low and couldn't concentrate on anything.

I was scared too as Corona cases were also rising like anything and I am going to the office daily. Because of all these things I was feeling very low and upset.

Sunday night I went to bed at 10 pm and till 2 am I was unable to sleep. The next day I had the office too. I prayed to Baba and applied to Udi to help me to get sleep. I have full trust in His sacred Udi that I will be perfect by morning. I saw one post of Baba on the Sai Baba WhatsApp group "Don't think about the bad things about your health. Just think about Baba and everything will be healed." I was happy to see that as it perfectly fits my situation.

The next morning I was quite fresh and ok and headed to the office. I was much better when I got Baba's Udi and an image from Shirdi. One of my colleagues who left the company long back went to Shirdi and sent the things to me through one of our office employees. I applied Udi on my forehead and ate some. I was feeling so lucky and content after that.
Today I am much, much better. Now I am not thinking about my health because Baba is there to take care.

Baba, please help to solve my other issues also. I have left everything on Your holy feet. Please do what is best for us.

Please remove this corona from the world. Everyone should be happy and healthy.

Om Sai Ram!
Request To Sai Baba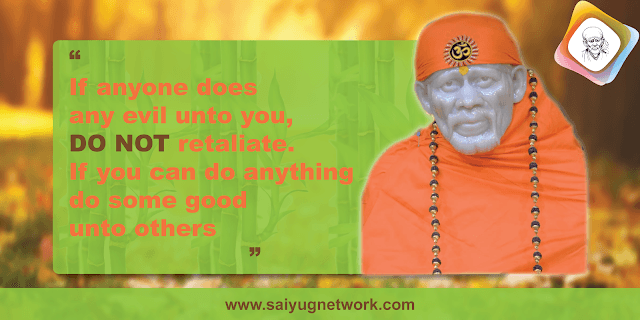 Shirdi Sai Devotee Meghna Sai from India says: HI I am Meghna Sai, daughter of Baba. Thanks to the whole team for serving devotees. Baba, You always forgive me and help me in all situations. Thanks for everything. Sorry if I have misbehaved with You without trust and patience.

As promised, posting my experience: Bhuvan's fear was reduced. Thanks for that. Make him healthy and bless every child, Baba. He is Your responsibility. I completely surrender our family under Your lotus feet.

You helped with the official invoice, work, and everything. Thanks for that. The laptop got connected to the network by Your grace. Thanks for that. You managed this week in every aspect. If I made any mistake please forgive and guide me in Your way.

I am tense nowadays due to this pandemic. Please take this virus from the Earth. We want to live like before without a mask, sanitizer, social distancing, lockdown, or curfew. Please take us out of this, Baba.

If I have forgotten to post anything promised then please forgive me

Om Ganeshaya Om Shakthi Kallalamma Thaye Adhithimappa Om SAI Ram MKDG
Sai Baba Changed Devotee's Name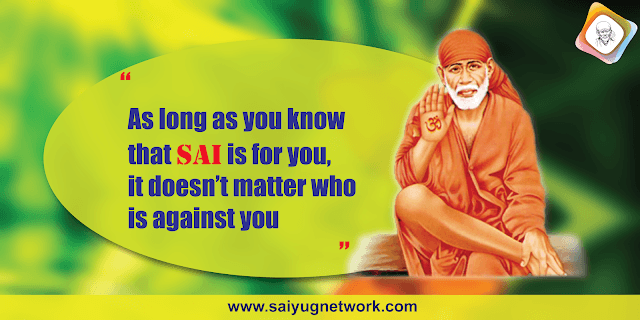 Shirdi Sai Devotee Anupam from India says: Om Sai Ram. Anupam Thakur is from the Global Mahaparayan's MP- 5251N1 Sai Satcharitra group.
Being a female I never liked my name Anupam as it sounds very much like a male. My Sai knows it though I'm unaware of this fact, Baba came into my dream not in His main Swaroop but like my friend. She took my hand in her hand and said to me, "Your name is Shraddha and you will go ahead in your bhakti." Just imagine my Baba, my love gave me the name – Shraddha which is one of His favorite words from Shraddha and Saburi. Thank You Deva for giving me my name. Love You always.
Sai Baba Saved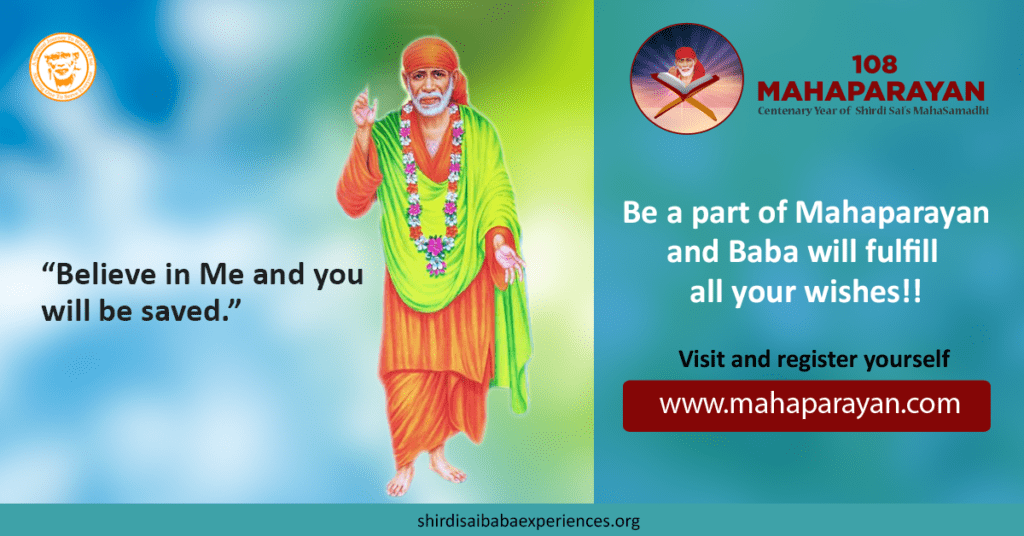 Anonymous Shirdi Sai Devotee from India says: I am a small flower at Baba's feet. Thanks to the entire team for maintaining this SaiYug network.
Baba, as promised I am posting my experience here. Sorry for the delay Baba.
Today You saved me. Thanks are the word which is not just enough to say for Your help, Baba. My life is gifted by You. Knowingly or unknowingly I am making a mistake. Please keep me on the right path Baba. I will share another experience after another work completed by me with Your help. Thanks to You Baba.
---
More from SaiYugNetwork.com
© Shirdi Sai Baba Devotees.com – Member of SaiYugNetwork.com