Sai Baba Protects His Devotees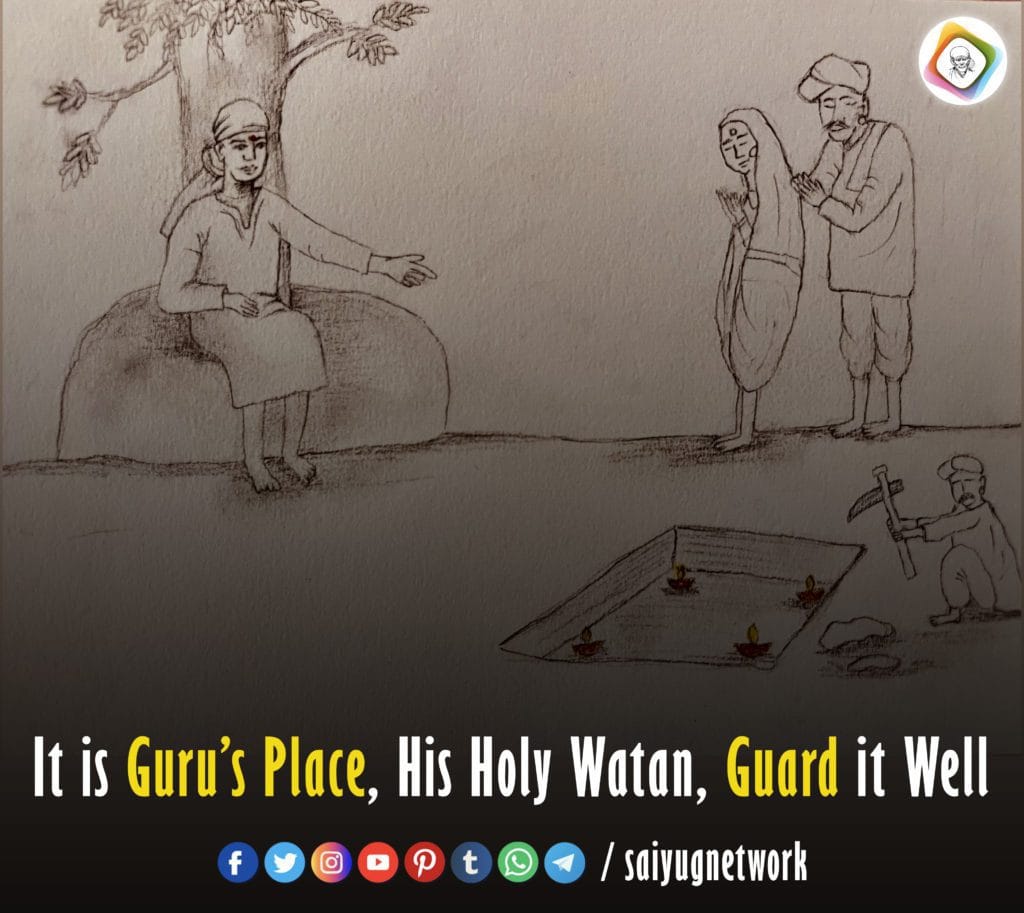 Shirdi Sai Devotee Meghna Sai from India says: Om Sai Ram, thanks to the team for their service. Happy Makar Sankranti to all. 
I am Meghna Sai, daughter of Baba from Bangalore. I always ask for His help and follow this divine website daily. I don't miss a single post. Whenever I want help from Baba I will promise to post here and it happens. Baba, as promised to post it here:

1. You helped me get the important office email back which was very, very important. I had tried so many ways but in vain.  As soon as I promised to post it here then within a fraction of a second I got it back. You saved me that day.

2. Thanks for always helping with Bhuvan's fever or whenever he feels hot I promise to post it here and You take care of him. So many times You helped me with this.

3. Nowadays I am worried so much about my periods but always You will assure me, "Keep the faith, I am there. Don't worry." You know why I am worried. Please be with me.

4. You solved ammaya's financial problem and helped me also by doing that. As promised to post it here.

5. My laptop was not connecting to the network. You answered my prayer. As promised posting it here.

6. You always help me with office work and atmosphere. Thanks for that. Be with me, Baba.

7. I always call You and promise to post here. If I have forgotten anything to post then please forgive me and Baba will remind me in the next post.

Baba, I know You care and love me and my family so much. You will always forgive my anger. Sorry, and I love You too Baba. I trust You.

Om Ganeshaya Omshakthi Kallalamma Thaye Adhithimappa MKDG. Om Shirdi Vasaya Vidmahe Sachidananda Dhimahi Tanno Sai Prachodayat. Om Sai Rakshak Sharanam Deva Om Shree Sai Theertaya Namaha. 
Sai Baba Answered A Prayer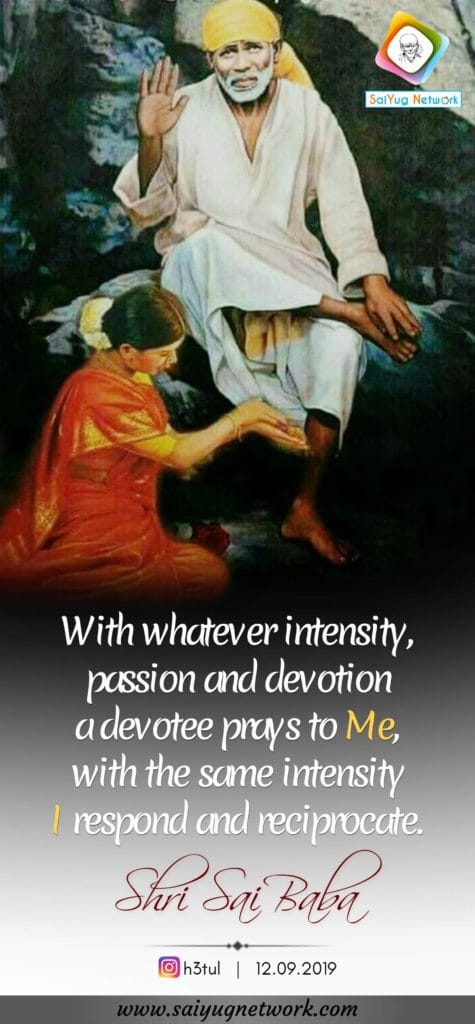 Anonymous Shirdi Sai Devotee from USA says: I am a small devotee of Baba currently staying in the USA. Om Sai Ram. Thank you team for this platform which connects Baba's so many devotees through their experiences and miracles. 
My daughter is currently studying in middle school. While moving from elementary to middle school last year she did not get "Honor's English" even though she was eligible. The reason for this being she got one "F" grade due to the late Assignment submission. Even though all her grades were A+, just because of one late submission, her teacher did not even accept and gave "F". Because of this one "F" grade, her overall grade dropped to "C". 
When she got admission to middle school, she missed Honor's English. When I spoke to the counselor, she mentioned that they couldn't break the rules as she had a "C" grade. Even though I tried to explain the reason for it and that she had all A+ except for that late submission, she did not agree and made her take regular English. This made me and my daughter feel very bad and heartbroken even though she was eligible but did not get it. When I asked Baba about the Q & A, He gave me a positive indication that she would get it. As her counselor was not convinced with my point and made her take regular English, I left everything on Baba and kept quiet. 
She scored all A+ in her 1st semester and she was doing well in her academics. One fine day I got a call from her counselor in the beginning of second semester and her counselor told that they were promoting her to Honor's English and she had been reclassified. I was so happy to hear this news and thanked Baba for His blessings on my daughter. Baba always listens to our prayers and blesses us when the time is right. If there is a delay in His blessings then it's not a "NO" from Him. Delay indicates "WAIT" for better tomorrow. Bless all Baba. Om Sai Ram Om Sai Ram Om Sai Ram!
Sai Baba Saved From An Incident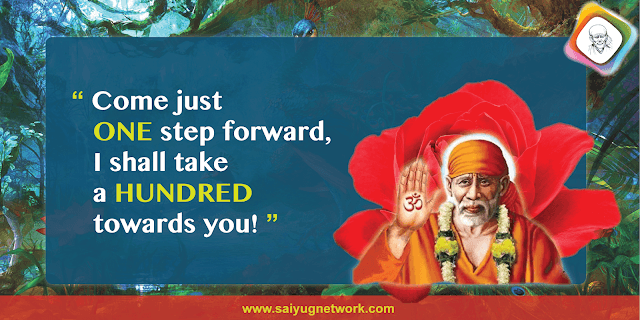 Anonymous Shirdi Sai Devotee from Canada says: I am a married woman living with children. Recently I completed a very important legal form for a patient and gave it to my PA for filing. After the Christmas holidays I realized that it was not filed. She panicked and started to bluff. I was very worried. I prayed to Baba. It felt very inauspicious to happen on the first day at the office in 2022. I had a rough time the last two years and things were only slowly improving. I prayed to Baba asking for help if He could. I started to think about alternatives. I felt very ashamed and frustrated.

Baba was very kind. It was a miracle when I found it on Thursday when I was looking for something totally different. I cannot describe how happy I am. I feel Baba has reassured me that everything will be ok this year.

Please Baba protect my children. You know how worried I was about my daughter's health. Somehow I started to feel better due to the trust I have in You. Bless my family, mum, aunt, and my grandmother.

I am very grateful to Hetalji and the team. Every night I read the experiences of devotees on this website and feel blessed. 
With Sai Baba's Blessings Life Running Smoothly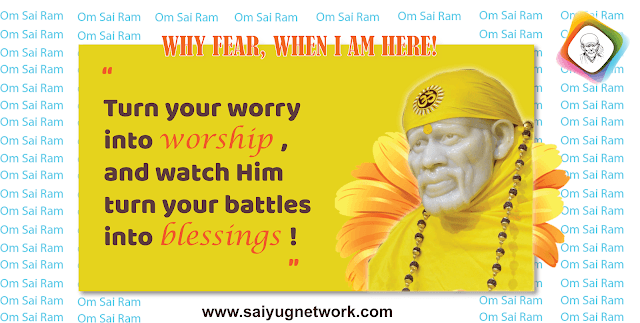 Anonymous Shirdi Sai Devotee from India says: I am a small drop in the vast ocean of Sai Baba's devotees.
My husband is a doctor and presently he is working in a medical college which is away from our home town. I stay with my little son and our father Sai Baba. Baba takes every care of us starting from our daily needs to my son's study and our health. Baba always guides us and protects us. Without Him our life is meaningless.
Recently my husband planned to come home for a few days. I was a little reluctant as the new variant was spreading again. I couldn't say anything to my husband as he was feeling happy to see us. I prayed to Baba to take care of the situation and to be with us. With Baba's grace and blessings my husband came safely, stayed with us for more than five days, and safely got back to his work. With Baba's grace, we all are healthy and good. When Sai Maa is there, why be afraid? I had promised my Baba dada to share my experience here in His Saiyug network with His children, so I am sharing. Thank You Baba for everything. Thanks to the team of this site who must be constantly praying to Baba to help all His children. Thank You Baba for taking care of everyone's everything. You are our everything. Love You, Baba. 
Sai Baba's Blessings
Anonymous Shirdi Sai Devotee from USA says: I am a small devotee of Baba currently staying in the USA. Thank you team for this beautiful platform to share and read Baba's miracles. Like everyone says it's indeed Satcharitra and reading this blog gives the same peace as reading the Sai Satcharitra.

Recently my mom in India came in close contact with Covid positive person and hearing this I was very tense as she is diabetic and above 60 years. To add to this tension he started developing cold and body pain. My dad is a doctor and he immediately started antibiotics and other needed treatments and got her tested immediately. Her rapid test was negative. As she had symptoms, he was also sent for RTPCR. I was too tense and worried for my mom. I prayed to Baba to make the report negative. I was waiting for the reports and was checking with my parents every time I called if they got the report. Finally, they told me that RTPCR reports were also negative and that my mother had the normal flu. 
Baba will listen to every prayer and bless us. Baba is all I have in this foreign land. My day starts and ends with His name and prayer. Giving positive indication during our prayers, Baba helps us to keep the faith while waiting for the prayers to be answered. One should have full faith in Him and wait patiently to see blessings. Bless all Baba. Om Sai Ram Om Sai Ram Om Sai Ram!
Sai Baba Listens To A True Heart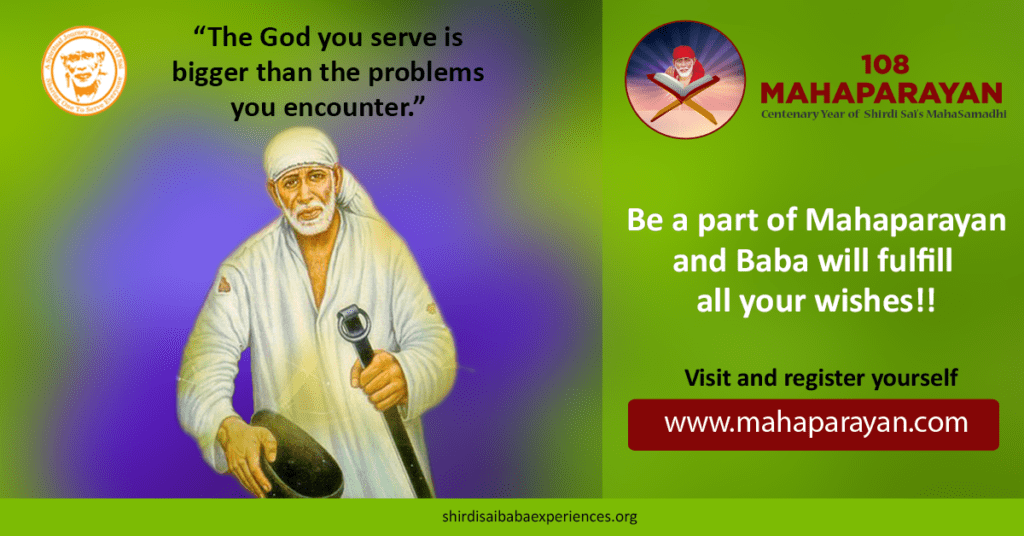 Anonymous Shirdi Sai Devotee from India says: I am from India. Om Sairam. Hello to all Sai devotees. This is the second experience that I am going to share today. The day before yesterday I shared my first experience and now this one. In the last week, my four family members tested positive for Covid but are now stable with Sai Baba's grace. The day before yesterday my mother's reports were also positive for Covid. So I prayed to Sai to please see to it that there should not be any severity for her because she is diabetic and a blood pressure patient and all should be under control. I vowed that if she would be fine by Saturday then I would post my experience and today is Saturday. She is recovering now and I am posting my experience today. Thank You, Sai. Thank You. Please stay blessed everyone. Thank You for Your grace Sai. Jai Sai. 
---
More from SaiYugNetwork.com
© Shirdi Sai Baba Devotees.com – Member of SaiYugNetwork.com