With Sai Baba's Blessings Got Job After Seven Years Break
Shirdi Sai Devotee Swetha from India says: I am Swetha, Part of Baba's Global Mahaparayan since 2019 (MP-1319N1). As part of Baba's seva in His Global Mahaparayan, I am a Class Teacher of MP-692N1.
I have been a Baba's devotee from my childhood. I always believe in Him and He always shows me the right path. I speak to Him like my friend and share each and every small thing. He is used to listening to me and showing His grace by giving whatever is good for me. I have experienced many miracles from Sai Baba.

This is the second Mahaparayan experience that I am writing about. Today I am going to share the recent Baba miracle that I have experienced. I have worked as a software professional for eight years and to take care of my kids I left my job and took a break. Due to this pandemic, everyone is doing work from home and so again I thought of restarting my career. I was not that confident to get a job because I took a break for seven years.
Taking blessings of Sai I prepared my resume and started brushing up my skills. To my surprise, within a month I got an interview call from a big reputable company. I appeared for the interview and gave my best, but the results were not declared till two months. I prayed to Baba to give me one opportunity to work again and it has to be work from home only so that I can take care of my kids too with work.
To my surprise, after two months I got selected by the first interviewed company only and got my offer letter in a few days. As an extra prasadam, the company also gave me permanent work from home. This was really unexpected but Baba showed mercy on me.

Not only did He offer me a job in a good company but also He offered me a salary four times more than what I expected. My happiness cannot be expressed.

Love You Baba for always being with me in each and every step of my life. Thank You Baba for the gift You offered me. I cannot stop writing this miracle in global Mahaparayan experiences. So I am writing this today.

One more small miracle: During this Pongal vacation my whole family also (including parents and in-laws also) got sick with a high fever. Baba saved us all and helped us to recover fast. Thanks a lot, Baba. Always show Your kind mercy on us like this only.

I always believe: Believe in Baba, He will always show us the right path.

Thank you Pooja ji for starting this wonderful platform.

Thanks and Regards,
Swetha
Experiences With Sai Baba
Anonymous Shirdi Sai Devotee from India says: I am an ardent devotee of Sai Baba. Two months back, my daughter had a severe cold, cough, and slight fever. Her husband also had the same symptoms. Added to that, my wife also started having a fever. I was very scared because of this pandemic situation. My daughter has a 6-month-old baby. I prayed to Sai that if they get well then I will post the experience. Please forgive me for the late posting.

One more experience is that my son-in-law wanted to do a Car Wash business. We found one good location and we paid advance rent for the place. We were supposed to arrange Rs. 2.50 lakhs as a deposit in 20 days' time. Both my wife and I applied for a loan from the banks. My application was rejected as I am aged and not eligible for a personal loan. In my wife's case, first, she applied with Kotak bank. There, her application was rejected as her CIBIL score was less. She again applied with Yes bank though the interest rate was high. After a lot of document submissions and verifications, they sanctioned Rs. 2.25 lakhs against Rs. 5 lakhs applied as in her case also the age was a hindrance. All this time, I was continuously praying to Baba for finance. He helped at the right time by arranging the release of my arrears salary partly and this was used for paying the deposit amount. I am sure that Baba will be with us during the opening of the business and successfully running it. I only pray that my daughter and family should live happily and without any financial problems and health issues. Koti Koti pranams, Baba.

Baba, recently I have been elevated to the post of CFO in my company. Baba, please be with me while I discharge my duties as CFO in the company and protect me at all times.

Anatha koti Rajadi Raja Para Brahma Sri Satchidananda Satguru Sri Sai Maharaj ki jai.

Om Sai Namo namaha Sri Sai Namo Namaha Jai Jai Sai Namo Namah Sadguru Sai Namo Namaha.

Om Sai Rakshak Saranam. Om Sri Sai Arogyashemadaya Namaha.
Sai Baba Fulfilled Wish Related To Marriage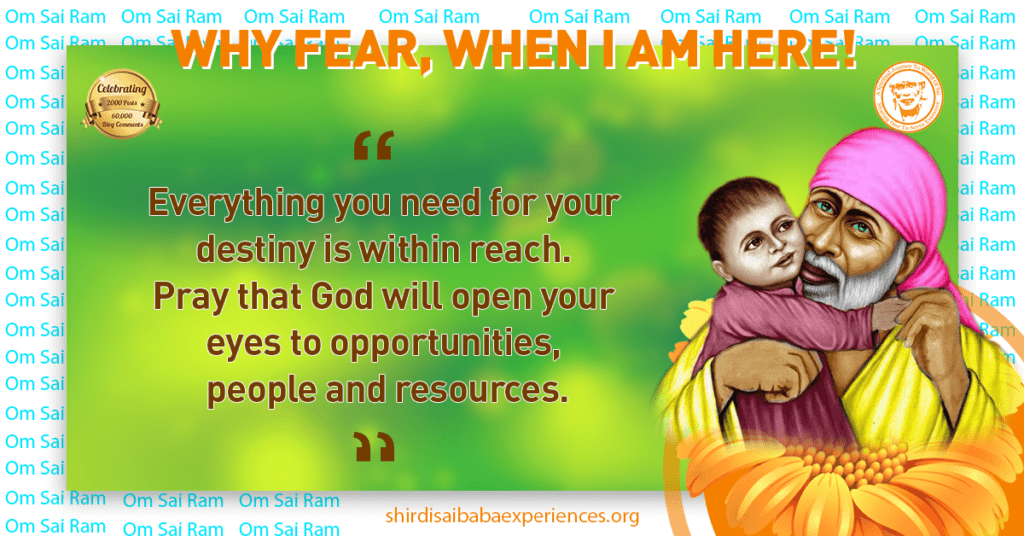 Shirdi Sai Devotee Moubani from India says: I am Moubani from India. I am working as a software professional.
Om Sai Ram to all devotees. Thanks to Hetalji and the team for this wonderful blog. It gives us strength and hope. I was worried about my marriage. My parents were trying for many years to find a suitable alliance for me but were not able to find it. We were searching for the matrimony. We were totally depressed as none of the matches were good and all wanted a nonvegetarian girl. I am a Bengali vegetarian so finding a suitable partner was very difficult in Bengal for vegetarian food habits. I was going through Instagram posts and Baba was showing me continuously for a few months that You will get married, you will find your divine life partner like that. Suddenly during August one alliance came and they were vegetarian yet Bengali too. But due to horoscope issues, they were not agreeing. I was continuously praying to Baba. Suddenly they agreed and now the marriage is fixed. Also, we had our engagement and registry marriage. Now we are legally married. I am so happy. My husband loves me a lot. It's all due to Sai Baba's miracle. Without Him, we are nothing. Please Baba now helps me to get onsite soon as I need to travel with my husband to the UK.

Om Sai Ram.
Sai Baba – The Great Healer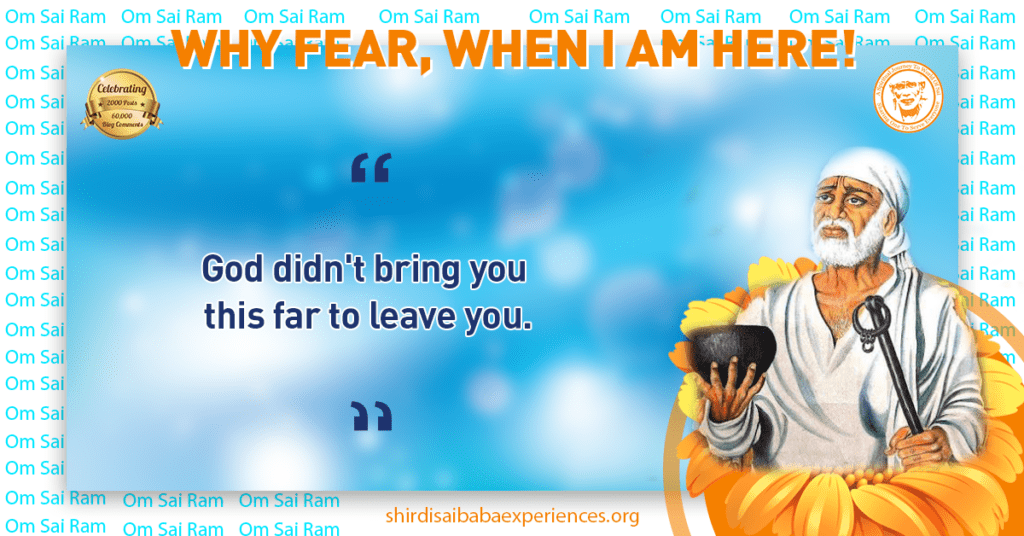 Anonymous Shirdi Sai Devotee from India says: l I have had a strong devotion towards Baba since my childhood. I want to post a miracle that happened yesterday (31/01/2022) within two hours.
My son started suffering from high fever on Sunday night (31/01/2022). He didn't have any solid food on Monday but was taking medicine. I was very worried about how the medicine would react. At last on Monday night he had 1 & 1/2 idli and again took medicine and slept. I started praying for our beloved Sai to recover my son before Thursday morning before the parayan. But inwardly I was worried whether my son would withstand the medicines for up to two days. i.e. on Tuesday and Wednesday. I gave him Udi and applied some to his forehead and prayed to Baba. Around 11.00 pm in the night, I just checked him. There was no fever and he was sleeping well. I was checking him now and then and I couldn't sleep well. But in the morning I found him better than that on Monday. Baba cured him in just two hours. He took medicine at 9 pm on Monday and when I checked him around 11.00 he had no fever and was sleeping. I promised Baba that I will post this message in the Mahaparayan group. Baba is still with us, helping us, guiding us. Thank You, Sai. We are always indebted to You. May our faith be on You always. Bless us all. Jai Sairam.
Sai Baba Healed Pain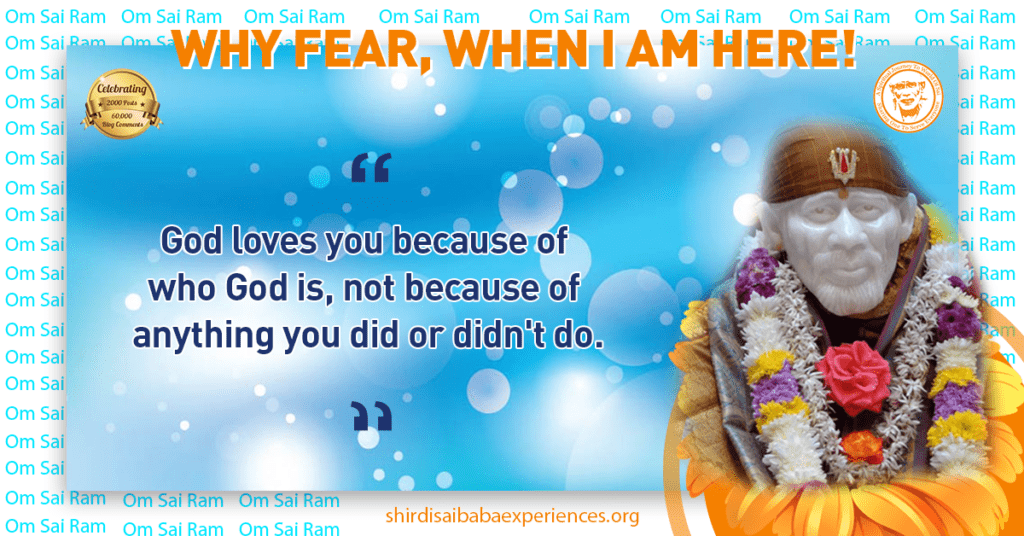 Anonymous Shirdi Sai Devotee from India says: Baba is always there for us. He is always watching us.
One morning when I bent down to light the lamp in the pooja room, unexpectedly I got a muscle catch in my back. The pain was intense and I couldn't move or breathe for a few minutes. I had to go to the office as well. So I prayed to Baba that if the pain reduces then I will share my experience here. In addition, I applied Udi too. Needless to say, the pain was reduced! Lots of love to Baba.
Thanks To Sai Baba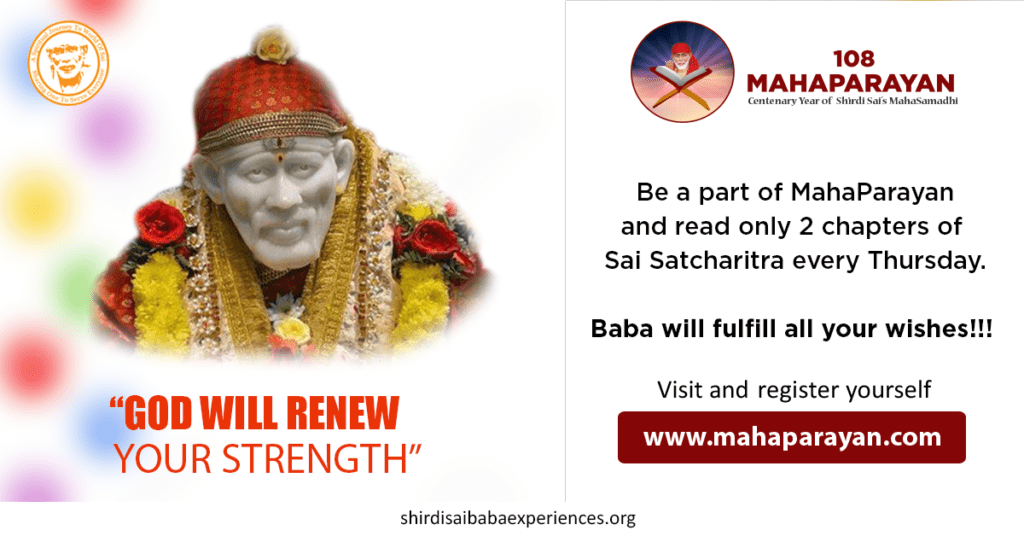 Anonymous Shirdi Sai Devotee from US says: Sai Ram Deva. I live in the USA and always trouble Baba a lot. Baba, please forgive me a lot. Last night I had a dream that something bad was happening and at the same time, I said if everything went well then I will share my experience. I got up and then realized that it was my dream but still I want to tell Baba thank You so much. Please be with me and I am sorry for everything.
---
More from SaiYugNetwork.com
© Shirdi Sai Baba Devotees.com – Member of SaiYugNetwork.com