Sai Baba The Kalpataru
Shirdi Sai Devotee Revathy Vijayaraghavan from India says: I am part of the Sai's Global Mahaparayan groups MP-2837N1 Neha Sai and MP-2744N1 Srinivas Sai. Om Sai Ram. Thank You, Sai for everything.

It was the year 2017 and I was 36 years old. I didn't have a baby yet. This was haunting me. I went for medical help. Medical tests showed me that my left fallopian tube had blocks and my right ovary had a cyst. Further medical tests showed that my AMH level (Fertility level) was too low and the doctor who again is a Sai devotee said that with this AMH level the possibility of getting a baby through IVF was even less.
All these medical tests and reports left me blank; I felt that the whole world was slipping. The thought of what my life would look like without a baby was a daunting fear. All these were nothing before Sai but my poor mind didn't believe it. The doctor advised me to start the IVF process without delay given my age and my AMH levels and other complications. But I asked the doctor why we didn't try a basic process like IUI. She shouted at me that I did not understand the situation and was in a dream world. However, since I insisted she said that she would start the IUI process. I was returning home after all the tough discussions and was pretty upset. There is a Sai temple on the way back home. I prayed to Sai, garlanded Him and came back.
The IUI process was after 15 days. My favourite Sai's devotee doctor was not there for the initial scans. I was a little upset. The doctor who scanned me noted that the follicles were very less which was again a reason for me to worry about. She however gave me medicines to start with. Way back home, I went to Sai temple, garlanded the Almighty and with a sad face went back home. For the next 15 days, I used to keep the medicines in Sai's hand and feet and would say "Sai I believe and trust that the medicines are coming from You, let it do its magic". Even though I used to pray, my mind never stopped worrying and never had an iota of faith.
On the 15th day, the doctor did the IUI procedure and even though I prayed and prayed, I had no little faith that this was going to happen as the medical reports were not in my favour.

I think it should be after 25 days, a weekend and my aunt visited my home. She was briefing how her Guru blessed her daughter with a second baby. Needless to say, it was going on in my mind, if I am a worthy soul to get my Guru Sai's blessings and be blessed with a baby? I was cursing myself and my karma. After my aunt left, I felt a bit vomiting but didn't care for that. It was a sign of Sai saying even though you are not worthy, I have already blessed you. But my worrisome mind didn't realise it.

On the 30th day, in the morning I woke up with all gloominess as that was the day of the scan. I was thinking that the IUI procedure will bring no positive result and requested Sai to bless a baby at least through IVF and not to let me off. I was also thinking about letting my earnings go for a good cause. If Sai gives me a baby without IVF then I will do a contribution to a good cause. With all these confusions running in my mind and with the question of what if IVF is not going to materialise, how will my life be? In the waiting hall, there was a lady whom I was talking to. She was explaining to me how she feels very low after all her three IVF attempts had failed which further added to my head. I was hopeless.
With all darkness hanging over my head, I went for the doctor's scan. I have no words, neither was the doctor able to believe that the scan showed an embryo sac! Sai blessed me with a beautiful baby girl. Sai, my Kalpataru showered His abundant mercy and my daughter is three years old now. Whenever I think of His grace, I go speechless.

Sai Deva, Your mercy has no boundaries. Thank You for Your abundant grace and mercy. Allow me to think of Your feet always.

Jai Sai Ram!
Sai Baba Relieved Anxiety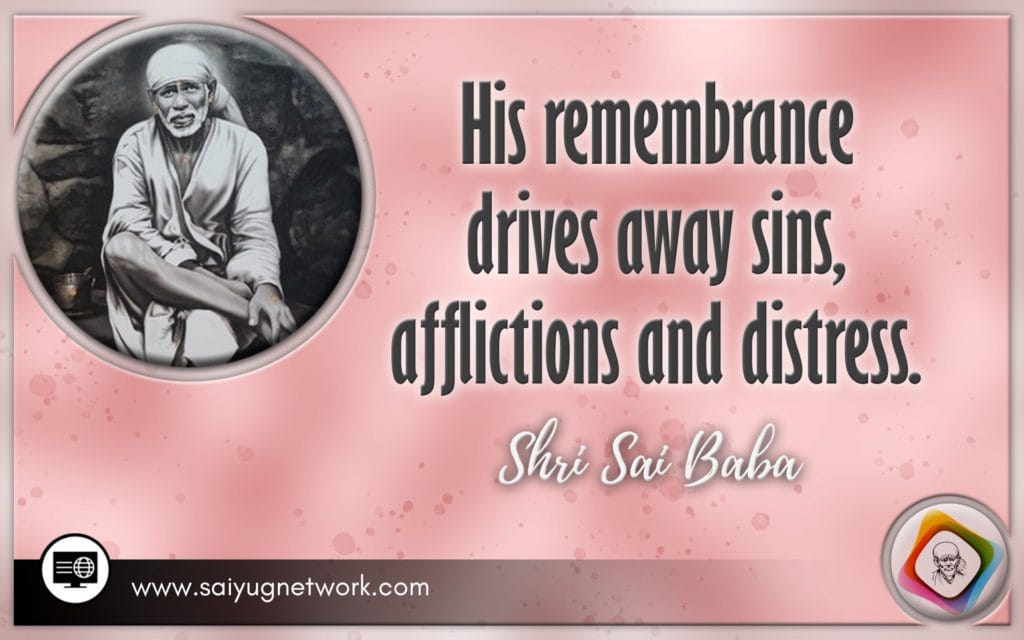 Anonymous Shirdi Sai Devotee from USA says: Thanks to Hetalji and team for maintaining this website. My experience is regarding my mother's mammogram and test results.
My mother recently had a routine annual mammogram. The test results came back and it showed small growth on the left side. As the radiologist was not sure what this growth was, they asked her to come back in for a second mammogram and ultrasound. Getting an appointment for the second test took another week and through this week we experienced a lot of anxiety about what the second test would find. All the negative thoughts in the world filled my head and I was very disturbed. However, as I was truly helpless, all I could do was pray to our dear Baba. Throughout the week, Baba showed me positive signs through quotes on this site. Yet, my human frailty caused me to ignore these signs and focus on the worst outcome possible. As most devotees have experienced, it is always Baba's words that come true in the end.

On the day of the test, I accompanied my mother and we went to the radiology centre. They first performed a mammogram of that specific area. During the time when this was being done, I constantly prayed to Baba and chanted His name. But despite this, all I could imagine was the worst possible outcome. The radiologist met with us after this and explained the results, which still showed the same growth. Our hearts sank and we almost lost all hope. The radiologist then asked my mother to follow her for an ultrasound of that area. I again began chanting Baba's name, but this time despondently and with a little hope. The test was completed in 10 minutes and we anxiously awaited to learn the result. The radiologist came back and let us know that there was nothing to worry about as the lump was benign and no further analysis was needed. We were both stunned! Again, Baba's words and assurances came true and eclipsed all our fears and worries. What this taught me is to have firm faith in Baba, no matter how dire things seem. As He rightly stated, "These feet are old and holy; You are carefree now!" Om Sai Ram!
Sai Baba Always Listens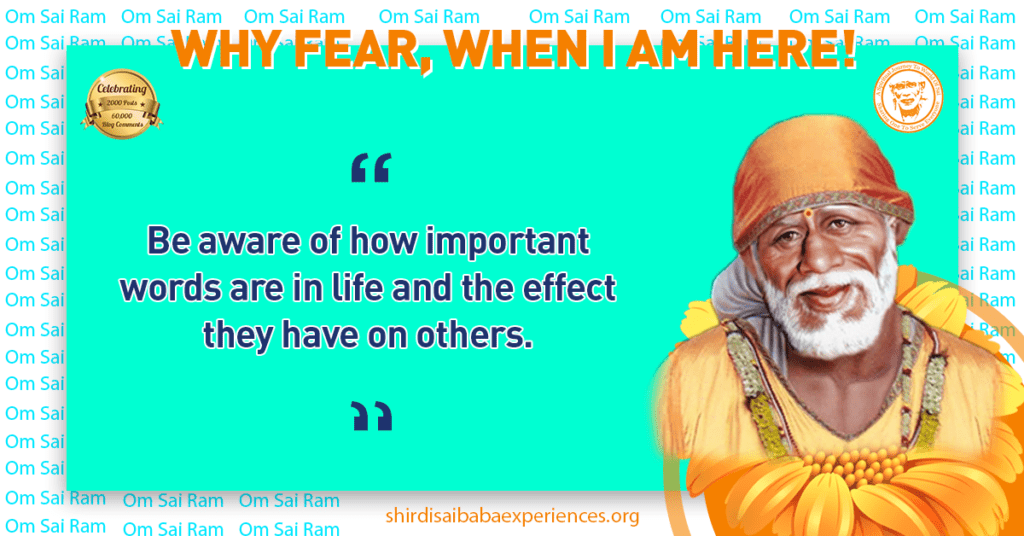 Anonymous Shirdi Sai Devotee from USA says: I want to be anonymous. I live in the USA. I am Baba's daughter from the USA. This incident happened two days back when my husband and I returned from India after a nice vacation. As we started from India, we had not anticipated so much trouble on the way. First, our flight got cancelled from Delhi to New York. Then our daughter helped us rebook on a different airline with much difficulty. The other airlines harassed us a lot with weight issues and we threw a lot of things at the airport. On the way, I came with a lot of tension that I might have thrown a piece of jewellery accidentally with my jewellery box at the airport. Not only that when we reached Chicago we faced the wrath of Customs for a necklace I had bought in Delhi with so much happiness, Not only did she harass us out of fear we had lied to the Customs that we were not carrying any new jewellery. I get scared even thinking about it.
With much difficulty, I am writing this. I was praying to Baba sincerely. We were carrying a few dollars too. I had not declared that. The customs lady searching my bag was not able to see that. I am surprised how she missed that. We had to give a lot of money to Customs for not declaring the things accurately. I learned from this episode that we need not bring the receipts with us when we buy some jewellery and bring it to the USA. Not only that we missed our flight from Chicago to Minneapolis. We had to wait at the airport for another 6 hours for the next connecting flight. It was a long 72 hours journey from BBSR to Chicago. I felt like Baba didn't help me. But now I think that episode must be for my good. Baba will never let anything happen to hurt us, though at that moment I was a little disappointed.
Yesterday night my daughter heard she rejection from the medical school. Baba, why did You do this? Please do something, Baba. We are so, so sad Baba. She is planning to take some courses to boost her GPA. Please help her if that is the right path. Also, Baba will not be able to apply to Medical school in the next cycle. What do we do, Baba? Please help.

Om Sai Ram!
Sai Baba's Grace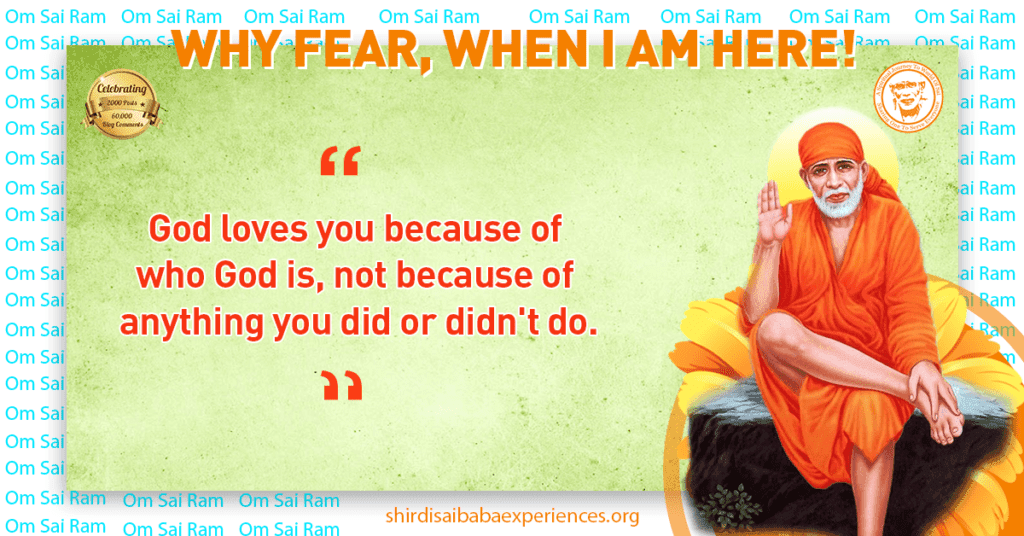 Anonymous Shirdi Sai Devotee from India says: I am from Odisha.
Before starting my experience I would like to thank Hetalji for creating such a platform where we can read divine experiences and share our experiences. I want to share a small experience of mine which has taken place a few days ago.
On 20th January was our marriage anniversary for which we wanted to visit Shirdi and take Baba's blessings. So we had done flight tickets and hotel bookings about four months back. At that time the Covid situation seemed to have declined, so we were very happy that this time we could go to Shirdi without any problem and take darshan of our beloved Baba. But as time passed by, the third wave of Covid was spreading rapidly and every week we could hear some of the other restrictions like curfew and all in Maharashtra. I was really scared that if they announced the closure of the temple then we would have to cancel our trip as in our state they had announced that all the worship places would remain closed. I had left everything to Baba and was requesting Him to call me.
Just before five days for leaving for Shirdi I caught a cold with throat pain and fever. I was now sure that I was affected by Covid and now I would have to cancel my trip and also on the other side our flights also got cancelled. But due to Baba's grace, my cold and fever both subsided and on the fourth day, i.e. before the day of our trip I was perfectly okay and we got a ticket on another flight on the same day that we wanted to visit. We reached Shirdi safely on the 19th of Jan. On the 20th Morning, we visited Samadhi mandir, which was our anniversary day and took Baba's blessings. I wanted to attend the arati of Baba but online bookings were not available. So we tried to get offline tickets for the same. We were told that tickets for arati would only be available to those devotees who give Rs 25,000 as donations, so we now knew that we won't be able to attend arati and came out of the temple. I have been to Shirdi many times but I had never visited Laxmi temple so I told my husband that this time I want to go to Laxmi temple. So before going back to the hotel we went to Laxmi temple and when I entered there, arati was going on and I attended the arati. I think that was Baba's leela that He made me attend His arati, although not in Samadhi mandir but in Laxmi mandir. I am happy that I could attend His arati in Shirdi.
One more thing happened that day: Dwarkamaai was opened that day after closing for about 23 months. Thank You, Baba. The next day was our flight to return back but that too got cancelled we got an alternate flight by Baba's grace and reached home safely.
Sai Baba Is Everything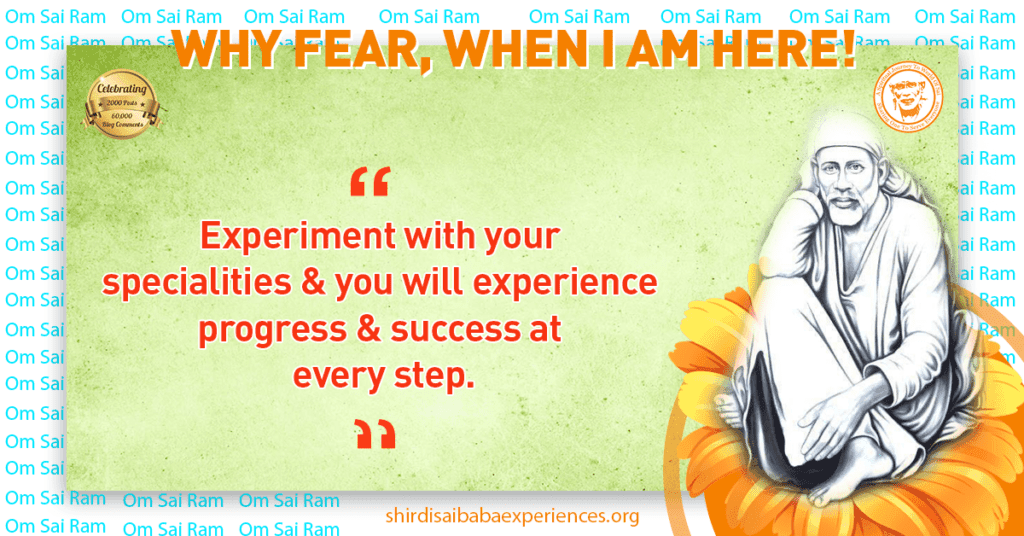 Anonymous Shirdi Sai Devotee from India says: Suddenly my mobile had stopped working. I tried all possible means like plugging, unplugging, praying to Baba, applying Udi, long-pressing of power buttons on mobile, checking the charger, switchboard and buttons and whatnot. When nothing worked I went to the repair shop at around 5 pm. I had important things to do that night and so needed the phone ASAP. When I went there I was told that after 9 pm I would come to know what the problem is and after that, they would do the needful. I had to leave for Shirdi the next day. So I could not afford to keep my phone. Then I prayed to Baba to help me and that I would post it here. To my surprise when my husband spoke with him over the phone he agreed to let us know what the problem was after an hour. After an hour when we went there I told my husband to go and enquire as I had no courage to go and see what he said. Meanwhile, I prayed to Baba to show His sign that I would get it back then. I also said that if within so and so limits I see His photo then I would get my phone immediately. Something made me look around and there was Baba's photo smiling on my right. I did not expect Him to show up this close but He had shown His presence. My husband did return with my phone smiling. I could not believe that it was working. I was told that the battery within had moved and hence it was not responding. They had done the needful and Baba had shown His presence.
Baba, today please make our Shirdi trip pleasant and memorable. Fulfil everyone's wishes and bless all. Let there be no problem with kids and my husband especially; on the way. Please accompany us as You are everywhere and just not in Shirdi. Bless us to have Your wonderful, blissful and satisfying darshan (to our heart's content) and feel Your presence. Please bless the families, especially the ones who need You the most these times. Jai Sairam!
Gratitude To Sai Baba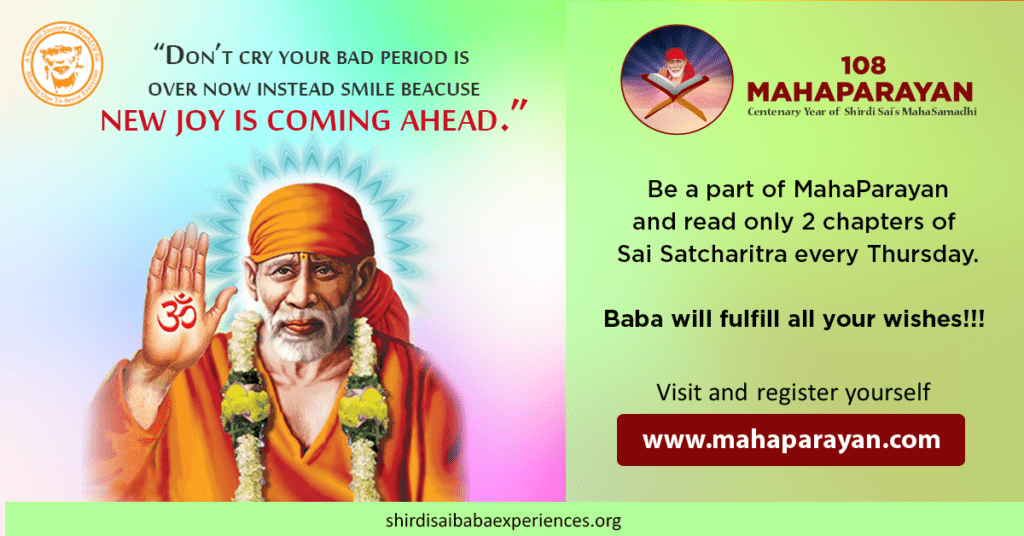 Shirdi Sai Devotee Meghna Sai from India says: Om Sai Ram! Thanks to the team for publishing my experiences many times. I couldn't bend my head as I was in pain. After the surrender to Baba, it went. I had promised Baba to post here. I got it again. Please take care, Baba. Yesterday Kallalamma pooja went well. Everyone felt blessed and even I didn't get my periods. I would feel uncomfortable if I made any mistake. Please forgive me.
---
More from SaiYugNetwork.com
© Shirdi Sai Baba Devotees.com – Member of SaiYugNetwork.com