Request To Sai Baba
Anonymous Shirdi Sai Devotee from India says: Hello, I am a devotee of Baba for the last 12 years.
My parents started seeing matches in 2015. Nothing got finalized due to not matching the horoscope. I went into a depression that my marriage was not happening.
I then got to know about the Global Mahaparayan in 2018. I joined the group and started reading chapters every Thursday. I started doing Divya pooja also. Then in March 2019, one marriage proposal came from the groom's side and a bridal glance was held between the two families. I liked that person at the first sight but my family rejected the proposal due to some reasons. Then my family started seeing some new profiles but nothing got finalized. I went into depression. I didn't know what was happening in my life. Then I started doing different poojas by staying in a hostel because I used to work in the city. Whatever pooja my relatives used to tell me I used to do. Then I discussed it with my parents and I resigned from my job and went back to my hometown in November 2019.
After coming to my hometown I started doing pooja with full devotion and faith. I started reading Saptha parayana and reading Stavana Manjari and doing Sai divya pooja. I started doing Ammavari pooja on Tuesday also. I used to cry in front of God to bless me. I used to ask for some indication which showed that the proposal was good for me. During Dussehra every year I used to do Saptah parayan in October 2020. Thursday I started pooja with full faith. That night my father got a call from the last bridal glance which happened in March 2019. They called us to know if I got married. Then my father said, "No." Then my father asked about their son. They said that even their son also didn't get married. Again they asked me for their son. We were shocked and we asked for time. This time I told my parents that I thought this proposal was correct for me because the proposal came in Dussehra week and that too on Thursday and the person's name also starts with Sai. I started convincing my parents and at last, my parents got convinced and we got married in Dec 2020. By God's blessings, every important function in our marriage fell on Thursday only. I was so happy that Baba was there with us every time.
Everything went well but before marriage, I used to read this blog and I used to tell Baba that if my marriage happens then definitely I will post my experience here. But I forgot about it. After three months my husband got affected by Covid severely but Baba's grace recovered. After that, he got so many complications. I used to do Baba's pooja and everything but I used to postpone writing the experience here. Baba is punishing me by making me quarrel with my partner. Sorry, Baba as I neglected to write the post. Today with Your grace, I am writing about my experience and the miracles You did for me. With Your blessings only I got a good match. You are the One Who has set this match. Please solve the problem between us and make us happy like before.
Sai Baba Always Helps
Anonymous Shirdi Sai Devotee from Singapore says: I am a small and an average devotee. I am troubled. The past few months have been terrible in terms of my thoughts and experiences. I have cried myself to sleep. Guess it's all my bad karma. Dear devotees here, I used to read the experiences of people going through pain and I used to empathize, but when it happened to me, it hit me hard. At times life just lands severe blows. The only person I could trust and speak with was Baba. He has been quietly listening and as it's said He really understands our innermost thoughts.
I see a change in me, it's a mere 1% change but it's huge for me. I am slowly learning how to be confident in myself, take risks, and not be affected by people around me because that disturbs me the most. Don't know when my problems will go away, but the strength which Baba is trying to give me is perhaps not something I still understand. At times I am dejected and at times happy. To share a story, my baby was not settling down for her sleep the night and I was very tired and at the same time just dejected. I just prayed, "Baba, please…" and she slept immediately. It took some more time after that just to transfer to her bed. But here is the miracle; I was like hey she slept after I prayed to Baba. How come He is listening to this but not my constant pain. When I thought like that my baby woke up! It was like the man from Bhajani Mela who doubted Baba. I was shocked that Baba listens to every single thought. I realized Baba is working behind the scenes. We have to pass this test of faith and patience.
Give me strength Baba, and help me fulfill my dreams. Please Baba guide me! Jai Sairam.
Sai Baba Udi Miracle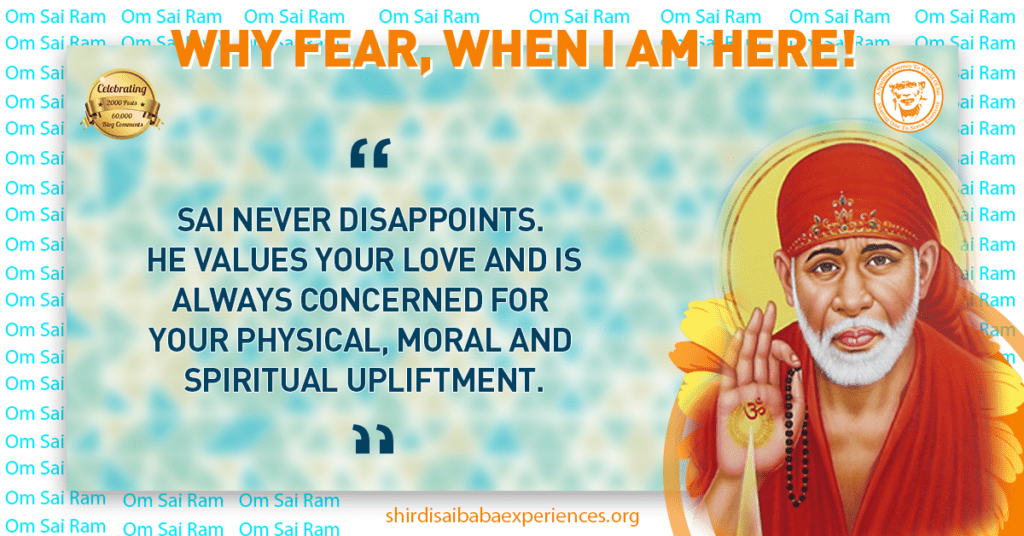 Anonymous Shirdi Sai Devotee from USA says: I am a devotee of Sai Baba living in the USA. Sai Baba is real! I feel His presence all the time. I recently tested positive in spite of being vaccinated and boostered. I was not having any symptoms. Just chills, headache, and tiredness. Those symptoms were very normal for me. As I suffer from headaches and body aches almost every day. After a week, I tested again and this time my test was negative. I was thrilled. At that time I didn't realize that I would have to deal with post-Covid symptoms which a lot of people are suffering from. It was a horrible experience. It felt like I couldn't breathe. I felt nauseous and couldn't eat. I continued taking ibuprofen but it didn't help. Then I started taking Baba's Udi. I took a tiny pinch, prayed and chanted Om Sai Rakshak Sharanam Deva, and went to sleep. Baba's miracle happened again! When I woke up the next morning, I felt no symptoms at all! I wanted to cry with happiness as I felt Baba's presence again. Sai Baba, thank You. Please love and bless my family. Please protect all the vulnerable children in this world. Om Sai Nathay Namah.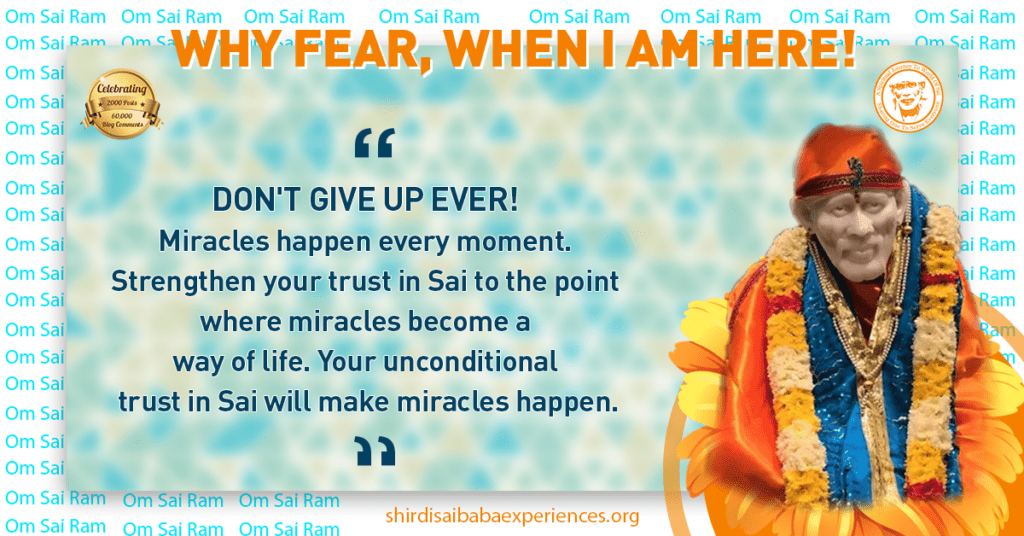 Anonymous Shirdi Sai Devotee from India says: I am a Sai Baba devotee. As I promised to post my experience, I am posting. Every day ends with reading about Baba's experiences. Really Hetalji mam is blessed by Sai Baba as I could not find any other website like this. I am really in a hard phase. After I lost my father, we as a family lost the shield or protecting cover from negative vibes. After my father's death, we are really struggling a lot in each and every minute of my life. During this phase, I am holding Baba's feet strongly not to leave us. Please, Baba, bless my mom's longevity, and my brother, and help my sister get married. Please, Baba.
Sai Baba Made Baby Quiet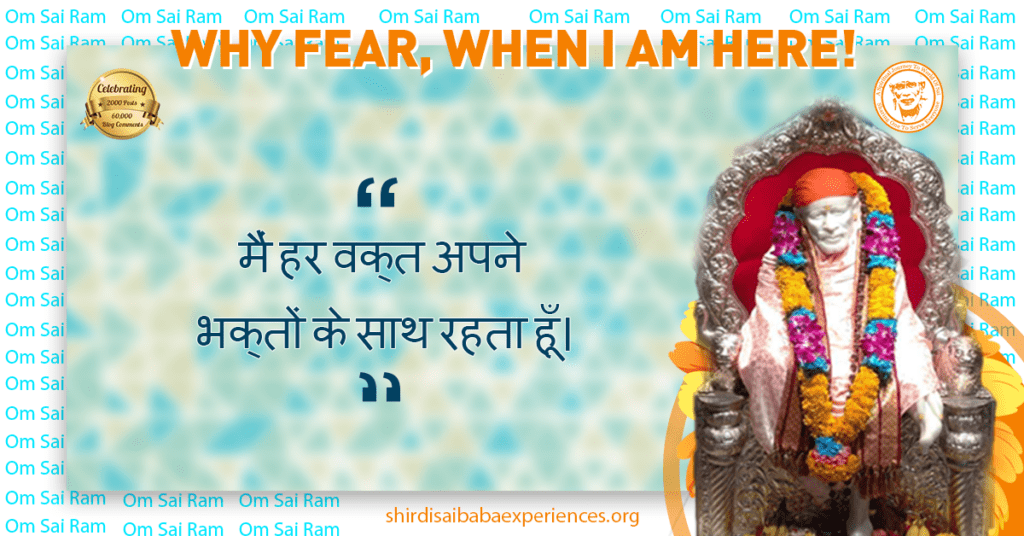 Anonymous Shirdi Sai Devotee from the UK says: Om Sai Ram, hello all devotees, I am a small devotee of Baba living in the UK. Coming to my experience, one night my baby was not able to sleep. He is crying continuously so I asked Baba to cure him. I started taking Sai Baba's name and prayed to Baba to cure him. After praying to Baba, he got completely fine and slept. Thanks, Baba for listening to these short prayers. Thanks, Baba for all Your help and for showering Your blessings on my family. Thanks, Baba for everything. Om Sai Rakshak Sharnam Deva.
Thanks To Sai Baba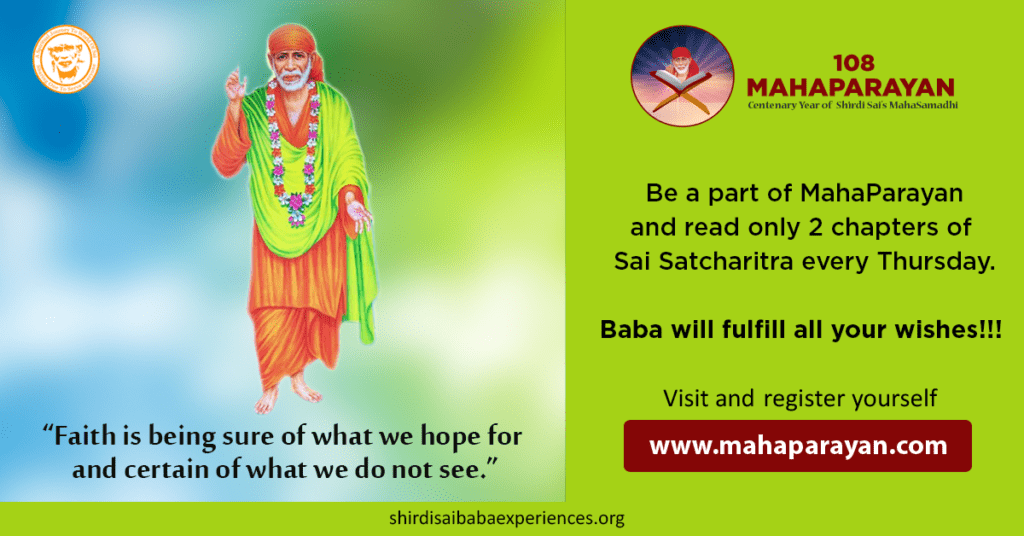 Anonymous Shirdi Sai Devotee from the USA says Om Sai Ram to all Sai devotees. Thank You to the team maintaining this blog. Om Sai Ram. I was praying to Baba to resolve the situation and that I will share the experience if it was resolved. Yes, our Baba helped and I am not able to say enough thanks to Baba because it is not something that gets resolved that quickly. Thank You a million times to our Baba.
Another time I was in a difficult situation and I was praying to Baba to please help me and that I would share the experience and yes Baba helped me. Baba, thank You for taking care of us as Your children, and thank You for helping me even when I definitely do not deserve it. Thank You so much dear Baba.
---
More from SaiYugNetwork.com
© Shirdi Sai Baba Devotees.com – Member of SaiYugNetwork.com