Surrender To Sai Baba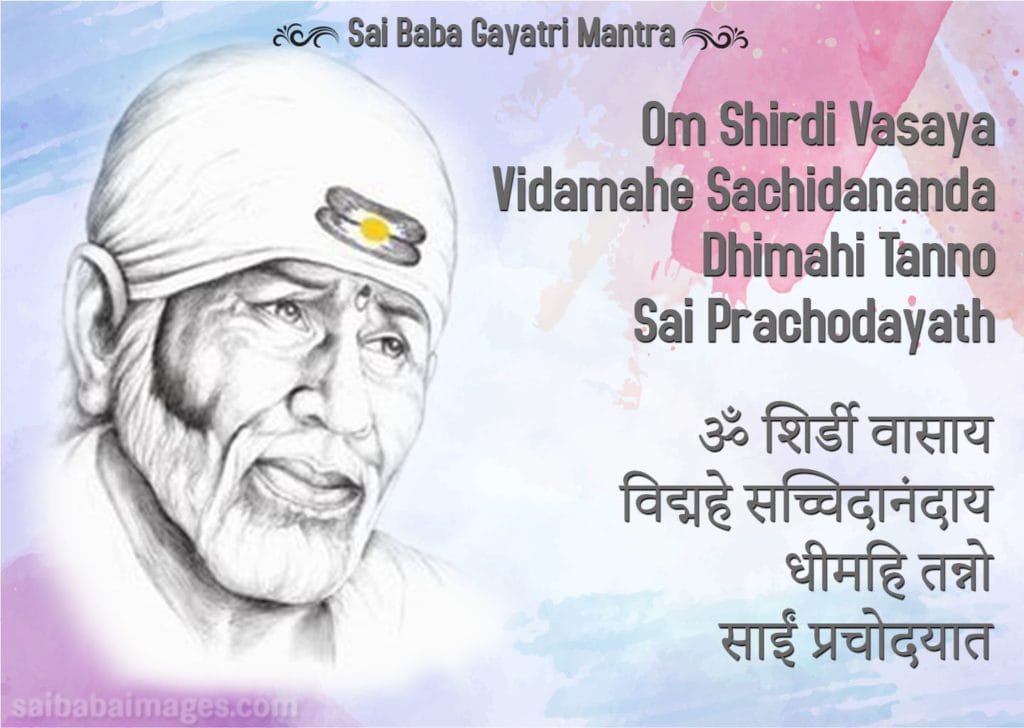 Anonymous Shirdi Sai Devotee from UAE says: I am a homemaker.
Om Sairam. When there was no one to help me Sai Baba was there for me. He is the only One Whom I trust for everything. I share every thought of mine with Him. He is my Sai Appa. I have been a Sai devotee for nearly 10 years. There are many occasions when He has helped me to come out of a difficult situation. 
During this pandemic, all of us have stress. My husband is working in the health sector, backend and I have a 12-year-old daughter. We live in the Gulf. One fine day my BP rose suddenly. I tried to manage for two days; meanwhile, my periods also started which became heavy. I had to go to the cardiologist, gynecologist, and internist. I really had a tough time. From my heart, I surrendered myself to Sai Baba. I prayed to Him that You have to take care of me and handle this situation. He did that one by one and my problems got solved. I did not have anyone to support me mentally, which I needed the most. Some or the other health problem is there for me, maybe it is due to menopause.
I have a fear of cancer. I don't know how to overcome it. Anything related to my health I relate it to cancer, Baba, help me to overcome this fear. Due to this pandemic, my husband does not take us to the doctor, unless and until it is necessary. I had a pricking sensation on my tongue and dryness in my throat for a long time. I tried all home remedies and had to eat a bland diet but it was of no use. I cried to Sai Baba and asked Him to cure me. Whenever I have some problem I tell Sai Baba that I will write Om Sairam for 5 or 11 or 21 days, 108 times. I went to an ENT specialist. He examined me and gave me some medicines and I was fine. 
Recently my BP dropped. I really could not understand what was going on with my health. Again I needed to go to the cardiologist and internist. Again I had upper abdominal pain and pressure. I could not guess why I had this pain. Again there were visits to doctors and medicine. This time I prayed to Sai Baba that I would post my experience once You cure my acidity or whatever it was as I had an uncomfortable feeling and pressure in my upper abdomen. I kept taking Gelusil every day. In the meantime I started having my diet at the proper time; breakfast at 8 am, lunch at 1 pm and dinner at 7 pm, and in-between some light snacks. My problem had reduced to a great extent, thanks to Sai Baba. I delayed writing this. I am sorry, Baba. Now again my right leg is itching a lot and is slightly swollen. Please help me Baba and cure me. I can ask You only, there is no one else but Sai Baba only for our family. Om Sairam!
Sai Baba Blessings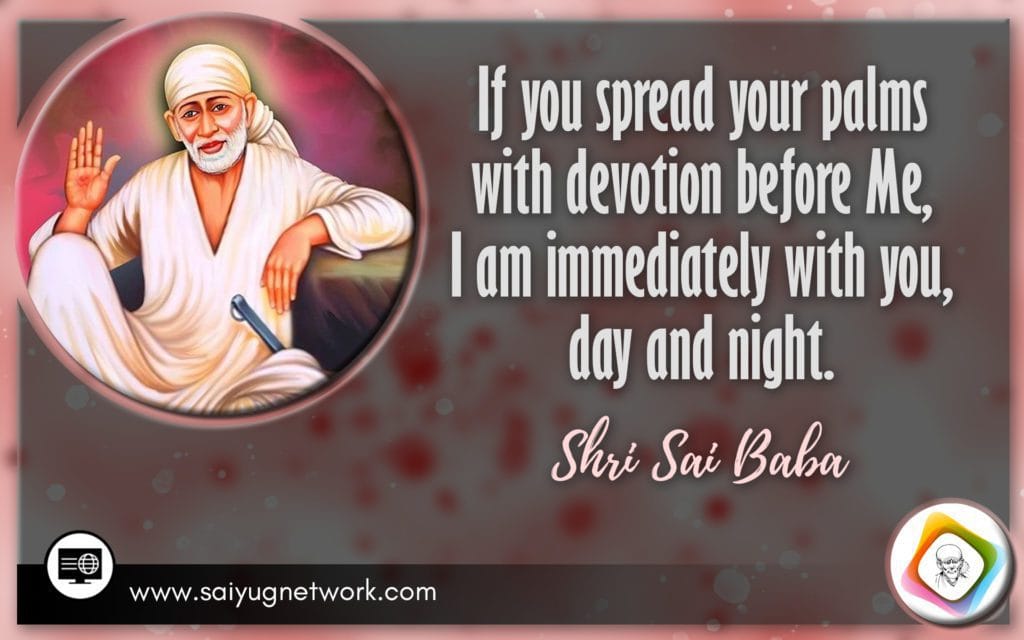 Anonymous Shirdi Sai Devotee from India says: I am from Bangalore. Om Sairam! to all the children of Baba. I wanted to share a few experiences with all.
1. One day all of a sudden my 3.5 years kid woke up at midnight and started crying continuously. He was not able to explain what the problem was, like any bad dream or body pain/ tummy hurting, etc. It went on for about 30 minutes like this. We prayed to Baba to help us with this and from that moment onwards my son started slowing down his cry and asked to give Udi water. He drank It and went to sleep within a few minutes. Thanks a lot, Baba. The situation started getting better and was solved from the moment Baba's help was requested. We were trying to potty train him for a long time but he was not listening. We have left it to Baba to help us on this and the son is slowly trying to cooperate. Please help, Baba.

2. My wife and my parents had a big fight. My wife stopped speaking and messaging them. It was around 7 months and I was unable to solve it. I would pray to Baba but still, I would get into arguments with my wife once in a while and fight with her. Later I decided to stop the arguments and asked Baba to resolve this and said that I will not speak with my wife regarding this going forward. It was my parent's wedding anniversary last month and my wife said let us speak to them and wished them and at least share a good morning message. Even though there is no full talk as earlier but I know Baba will resolve that also and everyone will be back to normalcy very soon.

3. My parents and sister's family are staying on different floors in the same apartment. They all got infected with Covid and no one was there to help as all had to be quarantined and could not come out. This was the second time Covid infection for my parents. When they got infected for the first time, there were a lot of issues like my father's oxygen level going down and too much lung infection, etc. This time I prayed to Baba to not have any serious issues and to get them out of this smoothly. With Baba's grace, this time home quarantine went well and they all recovered smoothly with basic medicines and no issues. Thanks a lot, Baba.

You are our hope for us and we don't know anyone else who can help us always. Om Sairam! Om Sai Sri Sai Jaya Jaya Sai. Om Sai Rakshak Saranam Deva. Om Sri Anathakoti Brahmandanayaga Rajadhi Raja Yogiraja Parabramha Sri Sachidhanandha Samartha Sadhguru Sainath Maharaj ki Jai. Om Sairam!

Om Sai Namo Namaha,
Sri Sai Namo Namaha,
Jaya Jaya Sai Namo Namaha,
Sadhguru Sai Namo Namaha.

Baba, please eradicate this Coronavirus from this universe. 
Thanks To Sai Baba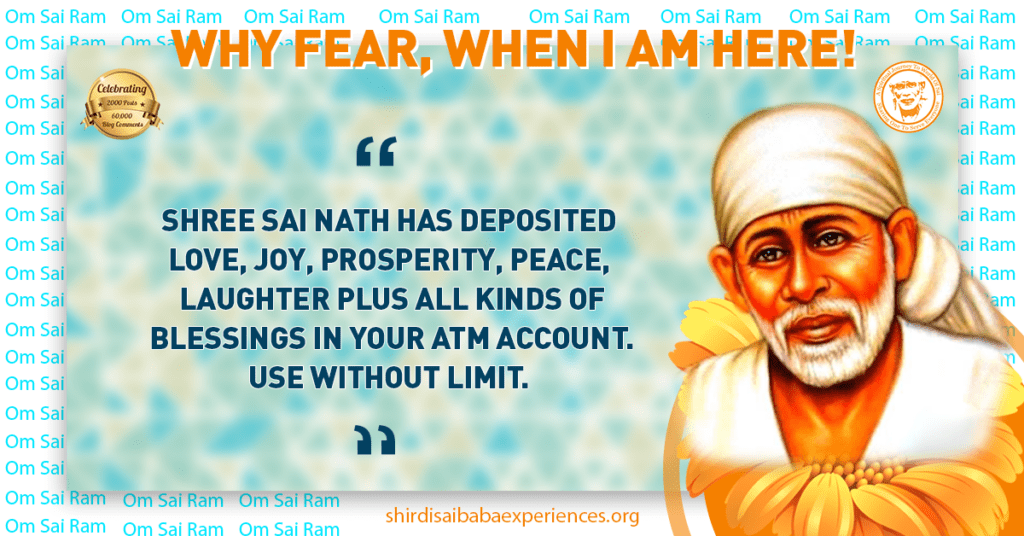 Anonymous Shirdi Sai Devotee from India says: Om Sai Ram. Thank you for this positive blog. I am a 23-year-old girl and this experience is about how Baba calmed my anxiety and heard my prayers. 
My mother had to get a few tests done recently and I was nervous about the results. I prayed to Baba for all the reports to be normal and good. By Baba's grace, the results came today (Thursday) and everything was okay. She has to go through a small procedure and I know Baba will take care of that too.

Thank You so much, Sai for everything. Please keep us under Your refuge and under Your shade. You are our sole protector and guide. Please keep ma, papa, bhai and me safe, happy, and healthy always. Om Sai Nathay Namah. I love You, Baba. 
Sai Baba Helped To Book Tickets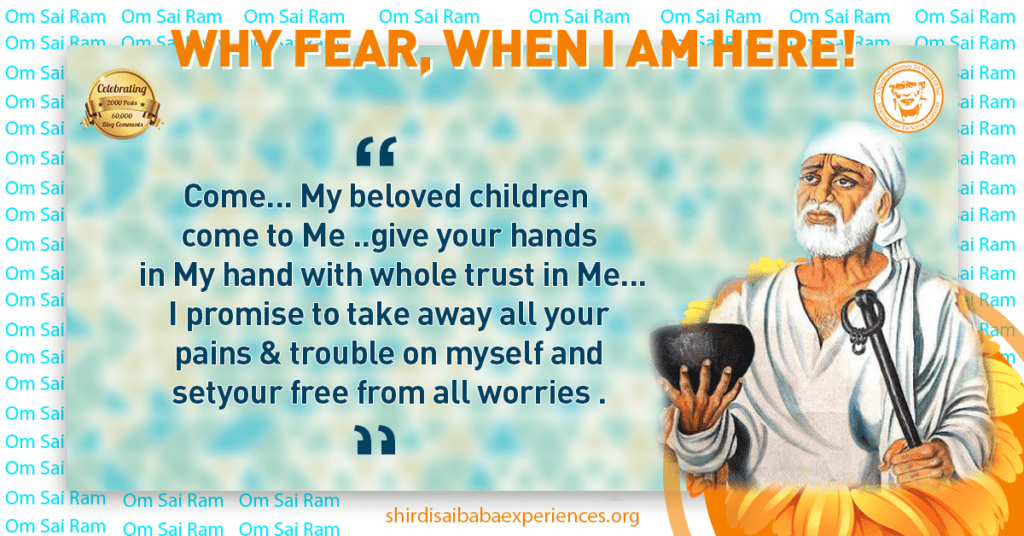 Anonymous Shirdi Sai Devotee from India says: I am a devotee of Baba for the past 10 years. 
Thanks to Hetalji for maintaining such a wonderful website to share our experiences. Coming to the experience we had planned to go to Tirumala but unfortunately due to some reasons due to the pandemic we were unable to go. I requested my husband that days were passing but still, we were not going to Tirumala.
My husband told me that he would book online tickets this month. He also said that if he would were able to book the tickets online then it would be ok otherwise he can't do anything. I prayed to Baba that I will share the experience if we would be able to book the tickets. Finally, the tickets were successfully booked. Please Baba make sure that our trip is good. Thanks a lot, Baba. Ananthakoti Bramhandanayaka Rajadi Raja Yogiraja Prabrahma Satchitanandha Sadguru Sainath Maharaj ki Jai!
Sai Baba Grace
Anonymous Shirdi Sai Devotee from India says: I am a small devotee from the Nilgiris. Om Sairam. Thank You very much Baba for blessing my niece with a beautiful baby girl. Both mother and kid are fine with Your blessings. Baba, please take care of the baby and give her good sleep at night. My niece is suffering from a piles problem; please help her to get cured. Baba, she has a problem with her husband also, please make him a wise person, so that they can live a happy life with the kid. Please Appa take care of her family life. Om Sairam.
Sai Baba Cured A Kid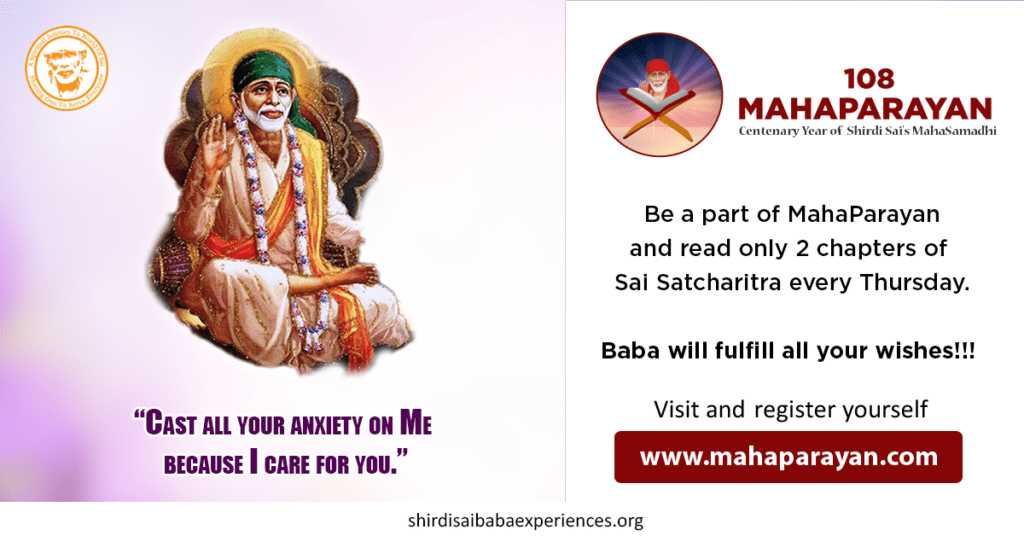 Anonymous Shirdi Sai Devotee from Australia says: My son was sick for two days. I prayed to Baba and he stopped his vomiting. I got my blood reports normal. I hope everything will go well with my reports and ultrasound next week. Will again share here, Baba.
---
More from SaiYugNetwork.com
© Shirdi Sai Baba Devotees.com – Member of SaiYugNetwork.com