Sai Baba Blessings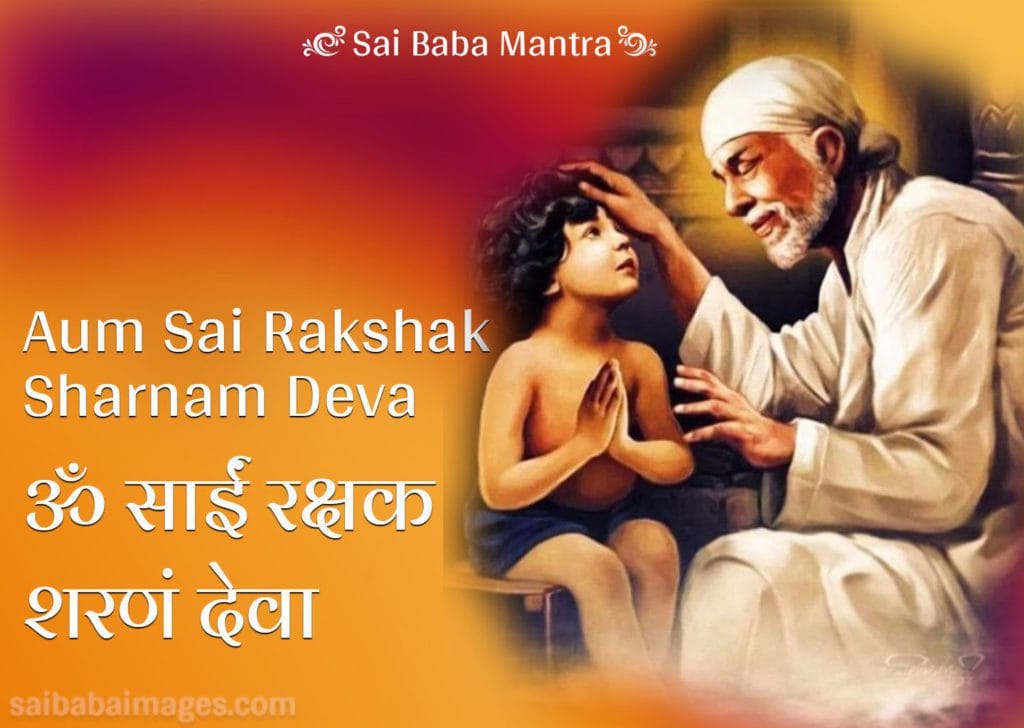 Anonymous Shirdi Sai Devotee from India says: Om Shri Sai Ganesha. Thank You Hetal mam and team for your selfless service.
This is my recent experience where Baba showed His presence to me. I work in a Pharma Company where I am the only responsible person for the Instrument dept and user ID creations. On one particular instrument department, the user required urgent ID creation and when I tried my login, it was not accepting and gave an incorrect ID or Password message. As I was the administrator, my ID did not get blocked after three attempts. So I could try multiple times but after a gap of 15 minutes, I tried six times but it was not working. Because of this, the user was not able to start his analysis and everything was on hold.
My one colleague's ID was there on this Instrument but due to some family commitments he was out of the city and was supposed to return after two days. If I couldn't create the user ID then this issue was supposed to go to my HOD and the user's HOD and because of this I would have got some abrupt firing.
Before putting in the password for the seventh time, I prayed to Baba saying if this time login happens then I would share this leela on this holy platform the same day but login did not happen. This continued for more than four times. Finally, I was exhausted and the user also said that we needed to update his HOD. I was trying to remember my password by praying to Baba. Finally, I decided to do my last try praying to our merciful Baba and remembered one password, and lo, Baba did the magic as I could log in this time.
Devotees, you can imagine my happiness. From this, I can conclude that Baba looks for Shraddha and Saburi. He will test us but will never leave our hands. Thank You Baba for saving me from some harsh words.
In my last experience, where I shared Baba's blessing during our company's first virtual audit, I forgot to add one thing. During our audit time, auditors were asking continuous questions related to our work. Ttwo times the situation was the worst and I didn't want the auditor to ask any more questions. Both the times I prayed to Baba and uttered Om Sai Rakshak Sharanam Deva and both times the auditor said, "Thank you and no more questions."
Thank You Baba for resolving our deviation-related issue. Baba, please help me to switch jobs. Here day by day politics is increasing and I don't want to work more over here. Please bless me to get the job of my desire. You know everything. Also please fulfill my wish for my friend's marriage. I am praying wholeheartedly to You. She is already 38 years old. Please, please Baba bless her. I promise that I would share Your blessings on this holy site. Devotees, I request you to please pray for my friend's marriage.
Please forgive me for not sharing the above experience on the same day and doing it now the next day.
Om Sai Rakshak Sharanam Deva.
Experiences With Shirdi Sai Baba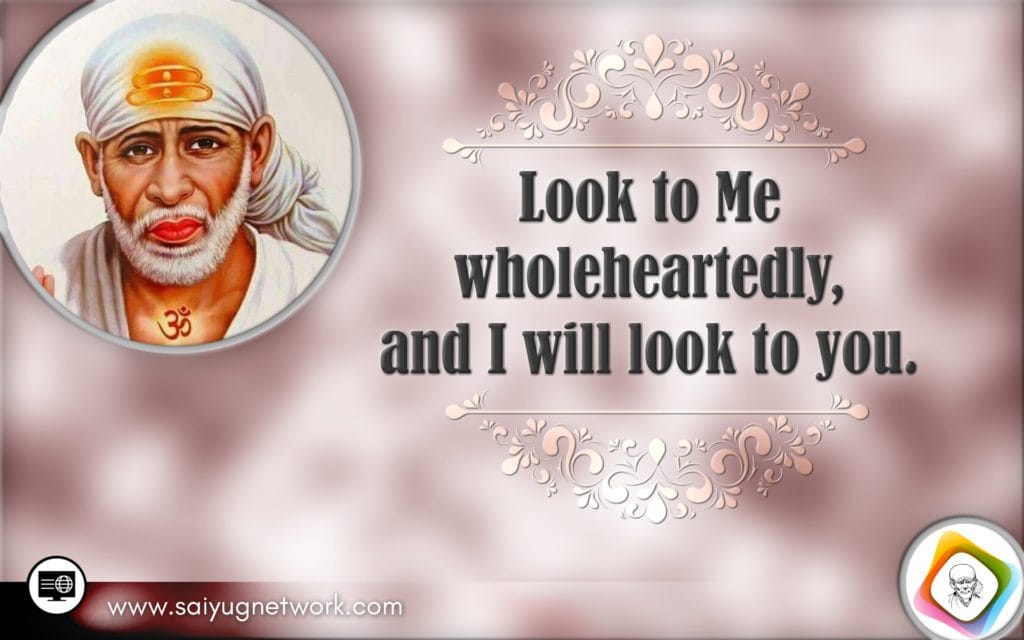 Anonymous Shirdi Sai Devotee from the USA says: Om Sai Ram! I am a small devotee of Sai Baba. I am also a part of the Mahaparayan group. I have shared many experiences before and many have been published too.
Below are my recent experiences which I would like to share.

1. Baba helped my daughter: I was very scared to get my six years old daughter vaccinated. So, we went to the doctor and thought of asking whether we should get her vaccinated or not. The doctor said yes and we got her first dose on the same day. Then after three weeks, we were called for the second dose. I had heard a few side effects from one of my friends so I was very scared for her second dose. Still, I prayed to my Baba and went ahead and got her second dose. With Baba's grace 14 days passed and except for mild pain in her arms, she did not have any side effects. Thank You so much Baba for being with my daughter and helping her. As promised, I am posting it today.

2. My EAD receipt: My work EAD expired in early 2021 and when I returned to the US, I was struggling to file it. Later, I managed to file with Baba's blessings. One of the documents was not there but since it was not a mandatory one in my case so I filed it without that document. Still, I was a bit tense and prayed to Baba to take care of it and that I would post it once I got my receipt. With Baba's grace, I got my receipt in a few days without any issue. So as promised, I am posting my experience now. Thank You Baba for helping me again. Please help me to get my EAD soon.

3. My baby's first anatomy scan: I am expecting and today was my doctor's appointment for my baby's 1st anatomy sonography. As always Baba was there with me and everything went smooth and the report was normal. Thank You Baba for being there with me. I love You so much. Please take care of my baby and all the future tests.

4. My 6-year-old daughter is sick now. She got a cold and a cough a week before. By Baba's grace, she is getting better. But Baba, her cough is still there. Please help her to recover fast.

Thank You for all Your love and blessings, Baba. Baba, You know all my worries. Please take care of them. Baba, please be with us and keep showering Your blessings as always. Please take care of my parents' health and bless them with a healthy, safe, and long life. Baba is with my family and keep blessing us always. I love You so much. You are my everything. Please forgive us for our mistakes. Please end this pandemic soon and keep everyone safe. Om Sai Ram!

Om Sai Namo Namaha,
Sri Sai Namo Namaha,
Jaya Jaya Sai Namo Namaha,
Sadhguru Sai Namo Namaha.
Om Shri Sai Nathaya Namah !

Ananta Koti Brahmand Nayak Rajadhiraja Yogiraj ParaBrahma Sri Sadchidananda Samarth Sadguru Sainath Maharaj Ki Jai! Om Sai Ram!
Sai Baba's Timely Help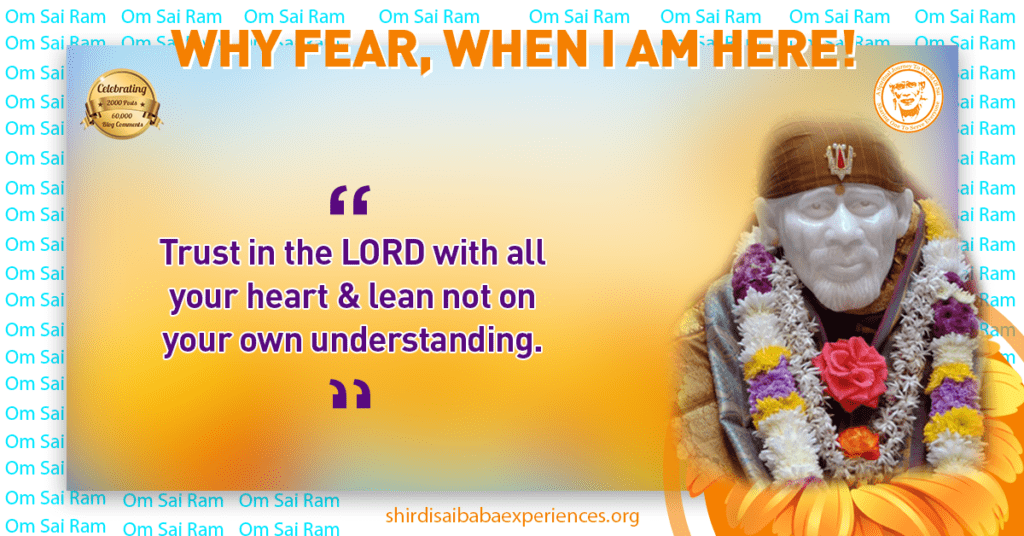 Anonymous Shirdi Sai Devotee from India says: Om Sairam. I am from Bengaluru. A few days back I had couriered an important item related to my house to a different state as I couldn't travel during this pandemic time. I was really worried to send that item by courier due to reasons like:
Whether the courier service is available at that place properly or not.
That place is outside city premises and
Both the receivers are working in college and they might not get to use their phones during class hours.
So I was worried about how all the above issues were to be crossed. I also could not delay without sending the item. So I cast the responsibility on Baba, prayed to Him, and sent the item. The courier guy was doubtful and checked twice after seeing the pin code but took it anyway. After one day I couldn't see any progress on the courier's website and be more worried, but when I checked on the second day the item had reached the place and was delivered and collected the same day. Thanks a lot, Baba for helping out in this matter and for giving me the courage and mental peace. Thanks a lot, Baba. We are nothing without You.

Om Sairam!
Om Sai Sri Sai Jaya Jaya Sai.
Om Sai Rakshak Saranam Deva
Om Sri Ananthakodi Brahmandanayaga Rajadhi Raja Yogiraja Parabramha Sri Sachidhanandha Samartha Sadhguru Sainath Maharaj Ki Jai!
Om Sri Sai Arogyakshemadhaya Namaha!
Om Sai Namo Namaha,
Sri Sai Namo Namaha,
Jaya Jaya Sai Namo Namaha,
Sadhguru Sai Namo Namaha.
Om Sairam!

Baba, please eradicate the Corona Virus from the universe. Om Sairam!
Sai Baba Is The Saviour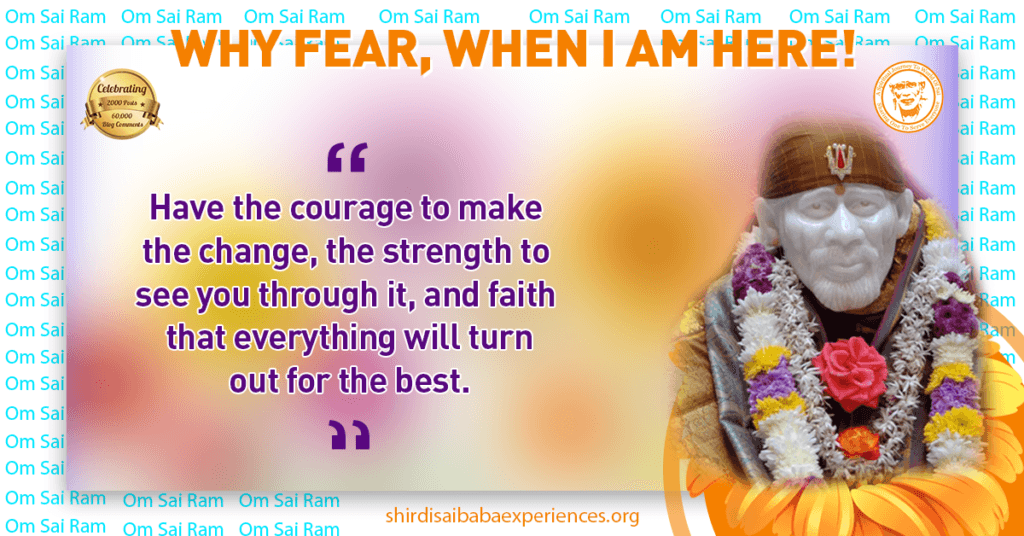 Anonymous Shirdi Sai Devotee from Germany says: Greetings Hetalji, Baba is everything for me. I am living in Germany with my husband and two kids. I have been suffering from health issues in recent times. Two days back suddenly I got a slight pain in my chest (might be gastric problem because I have stones in my gallbladder. If I bent down or rose up or if I took a deep breath I felt pain. I was very scared since I have two kids and my younger one is just three years old.
I prayed to our only Saviour Baba Whom I considered as my Father (Appa) that this pain should subside and stop completely by next day and that I would post the same on this holy site. With Baba's grace, my pain reduced gradually and I was completely alright without pain. But still, I am holding my Baba's hands and legs tightly and keeping my strong prayer with patience and faith; "Shradha & Saburi" to cure my health issues with His blessings. Please pray for my well-being and to get rid of these health issues soon. I will definitely share that experience also here on this holy site. Baba, please be with us. Protect Your children from all the bad things. Om Sai Rakshak Saranam Deva! Om Sai Sri Sai Jai Jai Jai Sai! Om Sai Ram!
Sai Baba Udi Miracle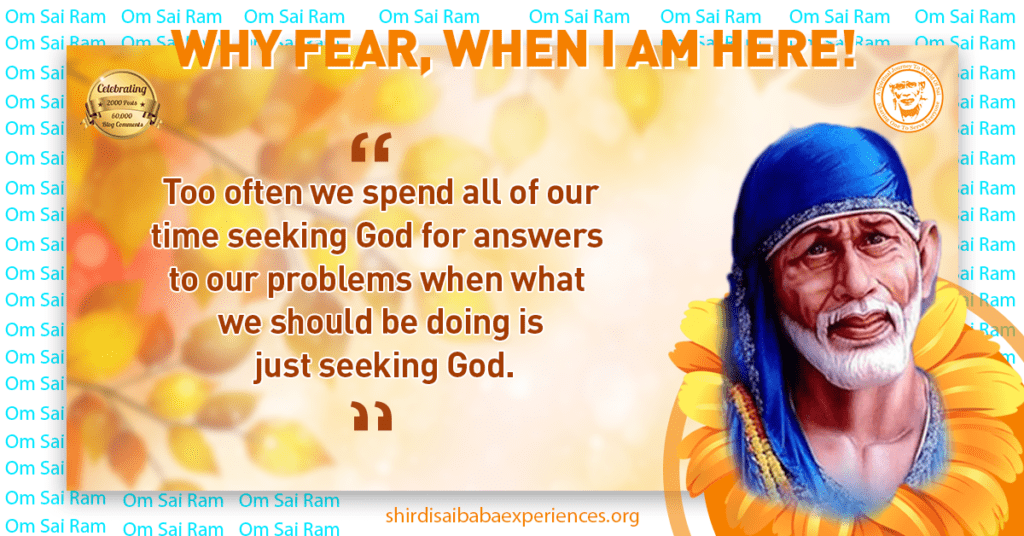 Anonymous Shirdi Sai Devotee from India says: I am a Sai devotee.
Om Sai Ram. Firstly I thank Sai Baba for accepting me as His devotee and giving me the opportunity to write about my experience. I have been a Baba devotee for the past two years. I started my parayan in the last six months. I was praying to Baba that I should get His Udi from Shirdi and I had sent request mail to Shirdi also.
Meanwhile one day I had been to Baba's mandir and I was praying to Baba for Udi. After praying to Baba while coming back from the temple a security in the temple called me and gave me a packet of Udi. I was really surprised and very happy and couldn't believe it. That security was an unknown person to me. I was very happy that Baba heard my prayers. Later I received Udi from Shirdi also. So Baba is the One Who listens to everyone's prayers and does miracles. I have a few other miracles to share which would be shared. Meanwhile, my life's important thing in my life is my marriage which is getting delayed. I have surrendered fully at Baba's feet. Once it is fulfilled I would share my marriage miracle too. Om Sairam.
Experience With Sai Baba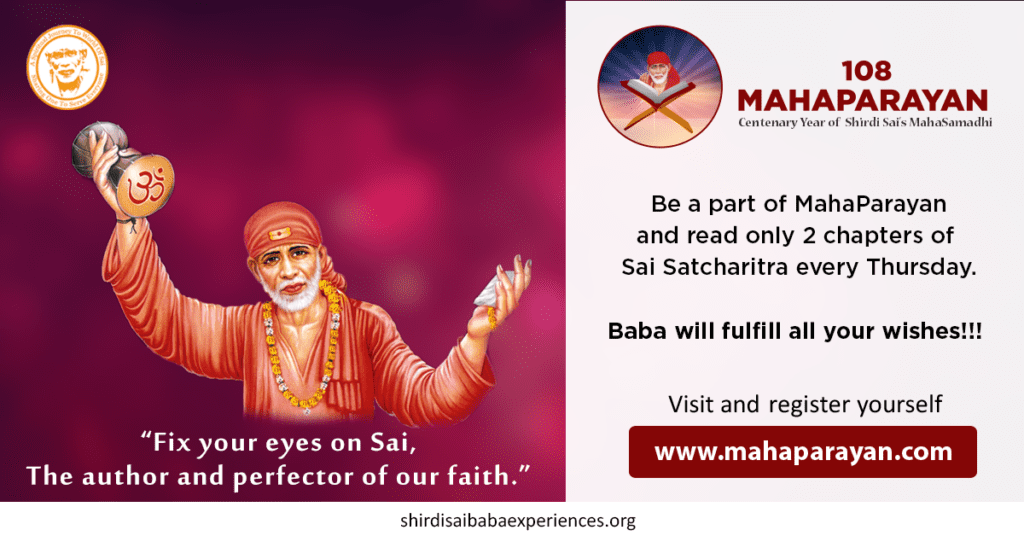 Shirdi Sai Devotee Maheswara from India says: I am Maheswara from Hyderabad working in the IT Field.
Coming to my experience; thanks Baba for making me online up by 7.05 AM.
Today we had one issue in our project work and that issue also got resolved after praying to Baba.
1. Please help to get good water for tomorrow's borewell.
2. Please resolve my personal life problems, Baba. I will come to Shirdi immediately once I meet my children and if my issues get resolved. Please make it possible before going to court next month. I do not have enough money to pay for lawyers.
Om Sairam!
---
More from SaiYugNetwork.com
© Shirdi Sai Baba Devotees.com – Member of SaiYugNetwork.com