Sai Baba Blessings
Anonymous Shirdi Sai Devotee from India says: I am a small devotee of our beloved Baba from India. Hetalji, I request you to keep me anonymous. Dear Hetalji, our modern Hemadpantji, pranam to you and everyone who is instrumental in maintaining this amazing sight (our modern day Sai Satcharitra). Pranam to all the Sai devotees reading this sight.

I invoke Baba's blessings to be able to pen down my experiences and seek His forgiveness for the delay in sharing my experiences. We want everything from Him as of yesterday, but we don't keep our promises to Him and then ask Him to forgive us. And we are sure that our Sai will forgive us as He is very kind-hearted.

My daughter was to travel to the USA after her summer break. Baba ensured that she reached safely. After a few days, she had a sore throat and Covid cases were increasing there. She tested positive when she did the test using the kit but when she got it done the next day, she tested negative, all because of Baba's grace. Baba, our kind merciful father has been looking after her. He was the reason that she got her internship in the US after completing her second year. She was also one of the very few candidates to be offered a part time extended internship for an entire semester. This is our Divine Baba at work. I am truly grateful to our Sai Deva. He is guiding her at every step. I let her go for further studies to another country so far away from me only on one condition that Sai will go with her! And believe me fellow devotees, He is there with her every step of the way and I have totally surrendered everything to Him.

Coming to my next and recent experience, my husband and I had gone to Vaishnodevi this month. He had wanted to go to Vaishnodevi for many months then but was unable to. But our Sai Maa made it possible. We not only were able to visit during Navratri but were able to do the darshan on my husband's birthday. We had nothing planned but Sai Maa made everything possible and called us on his birthday. Isn't this a miracle? Also, I have been suffering from some problem for the past few years and I was scared that there shouldn't be any pain when we had to walk up the mountain for the darshan. Unfortunately, I was in severe pain and it didn't seem that my pain would subside. I took Sai Maa's name and started for the darshan and in 15 minutes I was pain free and we could walk up and down the mountain for darshan without any hassle. When we call Sai with utmost faith He comes to our rescue.

It was Sai Who helped me complete my saptah parayan of reading The Sai Satcharitra. I had this vision twice where I thought that Baba wanted me to do saptah parayan, so I did it successfully with Sai's help.

Also, Baba asked me to be patient and it paid. Thank You so much Sai.

There were more experiences that I had to share but I am sorry Sai and my fellow devotees that I don't remember them as of now. Sai, please forgive me. I do know that Sai is with me 24×7, helping me in my personal and professional life.

Sai my mother has been suffering from herpes for the last 3 weeks. Her pain and swelling isn't subsiding and my sister was down with a fever. She has recovered from fever but is nauseous and any kind of fragrance or smell kills her appetite. Praying sincerely to You to cure them completely. Also, her son should spend his time and energy for studying. He is intelligent but not focused, please be with him Sai and guide him. Take him under Your wings. Also, look after mumma, papa, my sister and her family, my husband, my daughter and always be with us. Please take care of all Your devotees Sai. Make this world corona free, violence free and let people walk on the path shown by You.

Bow to Shri Sai. Peace be to all.
Always Grateful To Sai Maharaj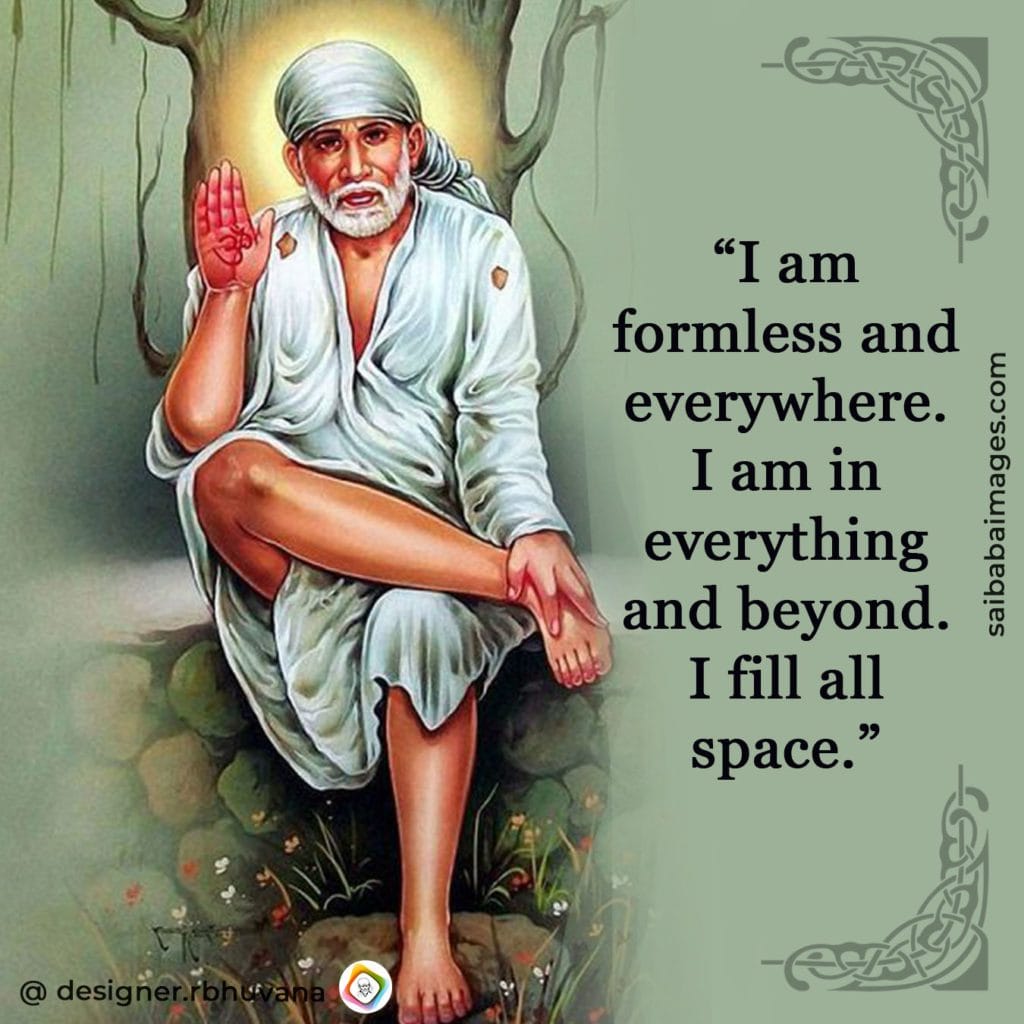 Anonymous Shirdi Sai Devotee from India says: Om Sai Ram. Thank you to everyone for this blog and giving us a platform to share Baba's leelas.
A few days back, I had gone for lunch with my relatives where I realised that one of my rings was missing. I wear three. I realised it at the temple which I visited before lunch. I could not remember where the ring was. I was confused whether I had left it at home or it came off as it was loose too. I didn't panic but when I came back home, I searched all the places that I could think of but could not find the ring. Then I remembered Baba deeply from heart and requested Him to guide. After a few seconds, I felt that I should check in a bag that was there as if it was calling me and there the ring was! Baba's miracles and leelas are just beyond our understanding and it is so true that when you remember Him; He comes running to our rescue.
Thank You Baba for everything. Om Sai Ram.
I was at this group Rudraabhishekam and it was time to do it personally. I was standing in a queue where I felt that I had to go to the washroom as I couldn't control it. I went to the washroom and I came back and the abhishekam was still going on. So I could perform it too. Thank You Baba.
One day I was feeling sick and tired, so I put on Udi and slept. I was perfectly fine the next day. Thank You, Sai.

Baba, I am struggling with this thing, You know about it. Please cure it, Baba. I am in pain.

Thank You Sai for everything. Please keep maa, papa bhai and me happy, healthy, safe and peaceful. I love You Sainath. Om Sai Natahye Namah.
Posting Prayers Answered By Sai Baba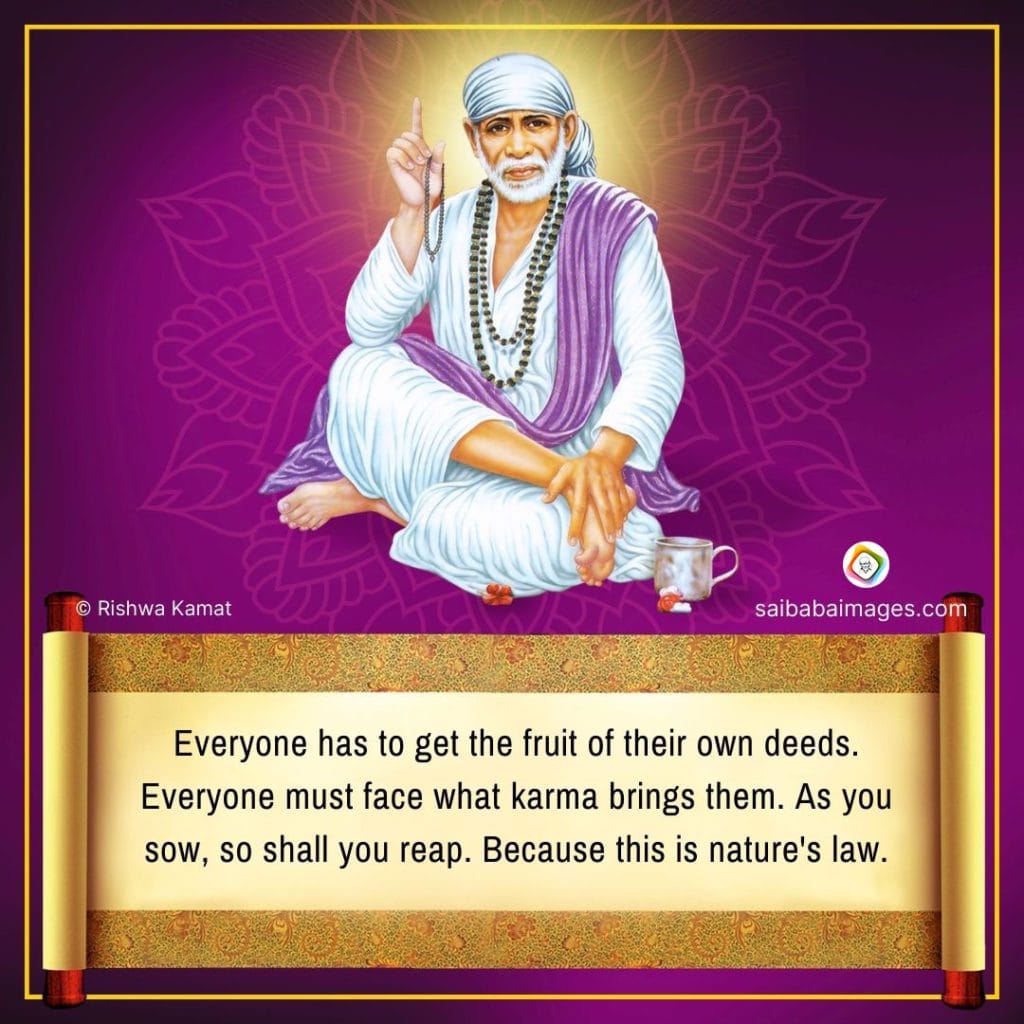 Anonymous Shirdi Sai Devotee from India says: Om Sai Ram to all the devotees. Thanks to the team for the wonderful platform. Baba, please forgive me if I had forgotten to post anything that was promised. Thanks for being with me and thanks for fulfilling my wish as soon as I ask.
Baba thanks for helping Adhi to recover from the urine infection. I am sorry as I am late to post about it. Please bless him and our family and everyone with good health and peace of mind.
Everything was good at my father's house.
Thanks for helping my husband to recover from stomach pain.
Festival was very good and the taste was also good.
I am sorry if I have gossiped about anyone. Everything went well without any hurdles.
Children were happy at our home. Thanks for everything.
Pot log went well without any problem all the time. Thanks for that.
Thanks for helping me with my work.
Every time I reach on time by Your grace.
Thanks for helping me to read Vishnusahasranama all the time.
I am happy that You are calling our family to Shirdi. I am so happy and excited to meet You in Dwarkamaai. Help us with our journey. We are waiting, Baba. It's my dream to meet You there and I'm so very excited. You are my father, friend and everything. I trust You, Deva.

Forgive me if I have forgotten to post anything.

Om Ganeshaya Om Shakthi Kallalamma Thaye Adhithimappa MKDG Om SAI Ram Om Sai Rakshak Sharanam Deva Om Shree Sai Arogyakshemadaya Namaha Swami Samarth Shree Akkalkot Maharaj Ki Jai
Sai Baba Blessings
Anonymous Shirdi Sai Devotee from India says: Om Sairam! I am from Bangalore.

Baba, please forgive me for posting it late. I wanted to share a couple of experiences. One day all of a sudden, I lost my sense of smell and there was a bitter taste always in my tongue and this was going on for around three days. I panicked and was afraid of any disease/Covid as I had travelled to a different city a few days back. I was also doubting that it might not be Covid and was also afraid as this was the first time in my life that I was facing such an issue. I took a lot of Udi intake and prayed to Baba to help me come out of it and that I would not visit a doctor for the next three days. The moment I started taking the Udi, there was some sense of smell and I also took a couple of vaporization which I had also done before but it was of no use. I started taking more Udi and also inhaled some Udi into the nose. Slowly the nose and tongue started curing and in two days it got perfectly alright and was back to normalcy. Thanks a lot Baba and as usual Baba's Udi cured me.

One more is regarding my son who has been suffering from a cold for a long time now. It will be cured after taking some Allopathy medicines but was coming back and not getting cured permanently. So, we consulted an Ayurveda doctor and gave the prescribed medicines for curing the cold and also for immunity development. After giving a couple of doses, the cold became worse and got accumulated around his nose and my son was feeling difficult to breathe and got a fever and went up to 103 degrees. Prayed to Baba and gave fever medicine also along with Ayurveda medicines and fever got cured by next morning. I have prayed to Baba to help us come out of this cold cycle on and on. We spoke to the Ayurveda doctor and got clarification that for 4 to 5 days fever might be there and we could give fever medicines and there was nothing to worry. Thanks to Baba as we got the clarification and also continued the immunity medicines. Please cure him soon, Baba.

Om Sairam
Om Sai Rakshak Sharanam Deva
Om Sri Sai Arogyashemadaya Namaha
Om Sai Namo Namaha
Sri Sai Namo Namaha
Jaya Jaya Sai Namo Namaha
Sadhguru Sai Namo Namaha
Om Sai Sri Sai Jaya Jaya Sai
Om Sri Ananthakoti Brahmandanayaga Rajadhi Raja Yogiraja Parabramha Sri Sachidhanandha Samartha Sadhguru Sainath Maharaj Ki Jai
Om Sairam
Sai Deva Cured Devotee's Sickness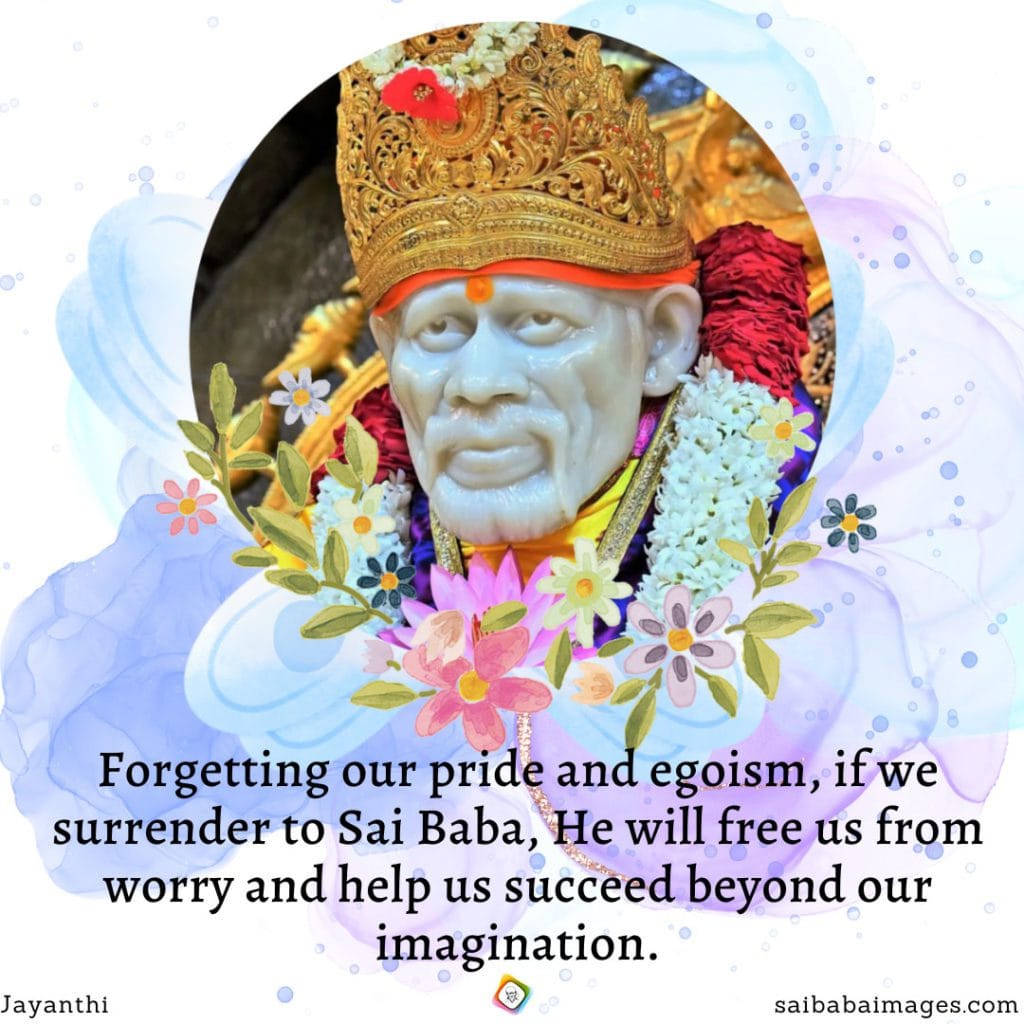 Anonymous Shirdi Sai Devotee from UK says: I am Preethi from Chennai, currently working in the UK.
Dear Sai devotees, sharing this one other experience of mine where Baba was cured of illness and shared his message in the form of a WhatsApp status. 
After our recent trip to India, my husband got ill with a fever and cough. In a few days, I too got infected but my cough and cold were more severe. I was constantly coughing and was feeling sick. I was a little angry at Baba for not protecting me from sickness. On a Thursday, though I was getting better (still coughing and was very tired) I was randomly checking all the new WhatsApp statuses of my contacts. While watching a few of these, I was diverted and was looking elsewhere but the WhatsApp status was playing one after one when suddenly one of the WhatsApp statuses happened to be a message about Sai Baba's Udi and it spoke about devotees' worries about illness. Hearing it, I was overwhelmed and realized that Baba is with us always. My sickness was improving and I am much better now. Thanks, Sai Deva. Whatever we suffer is because of our deeds. On crying to You, You definitely heal our pain. Om Sai Ram, Om Sai Ram, Om Sai Ram. 
Miracles Of Sai Baba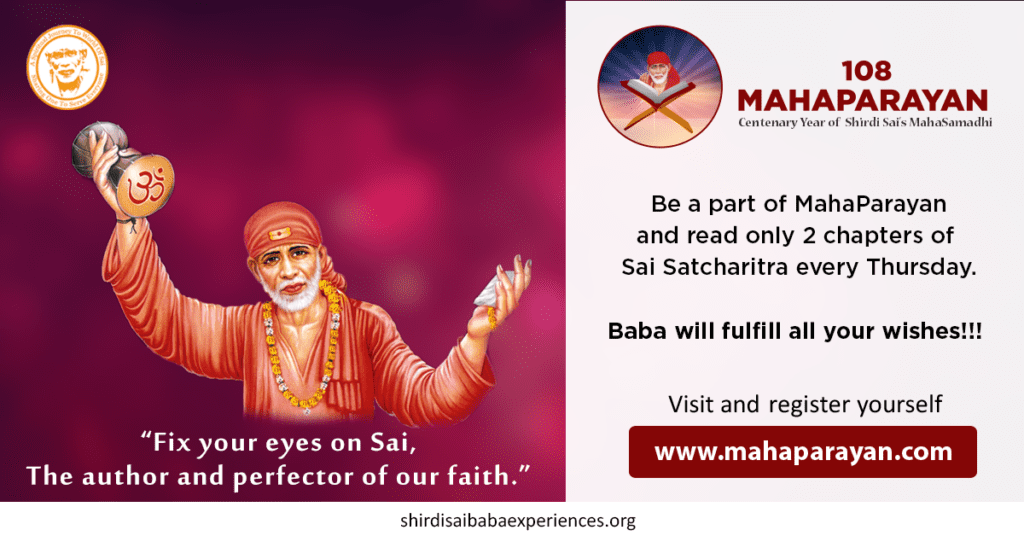 Anonymous Shirdi Sai Devotee from India says: I am a small devotee of Sai Baba since 2015. Thank you Baba for always being by my side. I love You and You are the most loving and forgiving God that I have known. You are my savior and my only hope. I am blessed to have You in my life. Please Baba always be with me and my family.
This experience is about how I was in an argument and an unpleasant dispute and I wanted it to end immediately. Previously these arguments could go up to hours, but today I asked baba to please stop this from escalating and believe me as I started chanting His name and promised that I would post here if this did not escalate. the issue got resolved immediately. Jai Sadguru Sainath maharaj ki Jai. Baba please help me post this.
---
More from SaiYugNetwork.com