Nirgun Sai Baba Ki Udi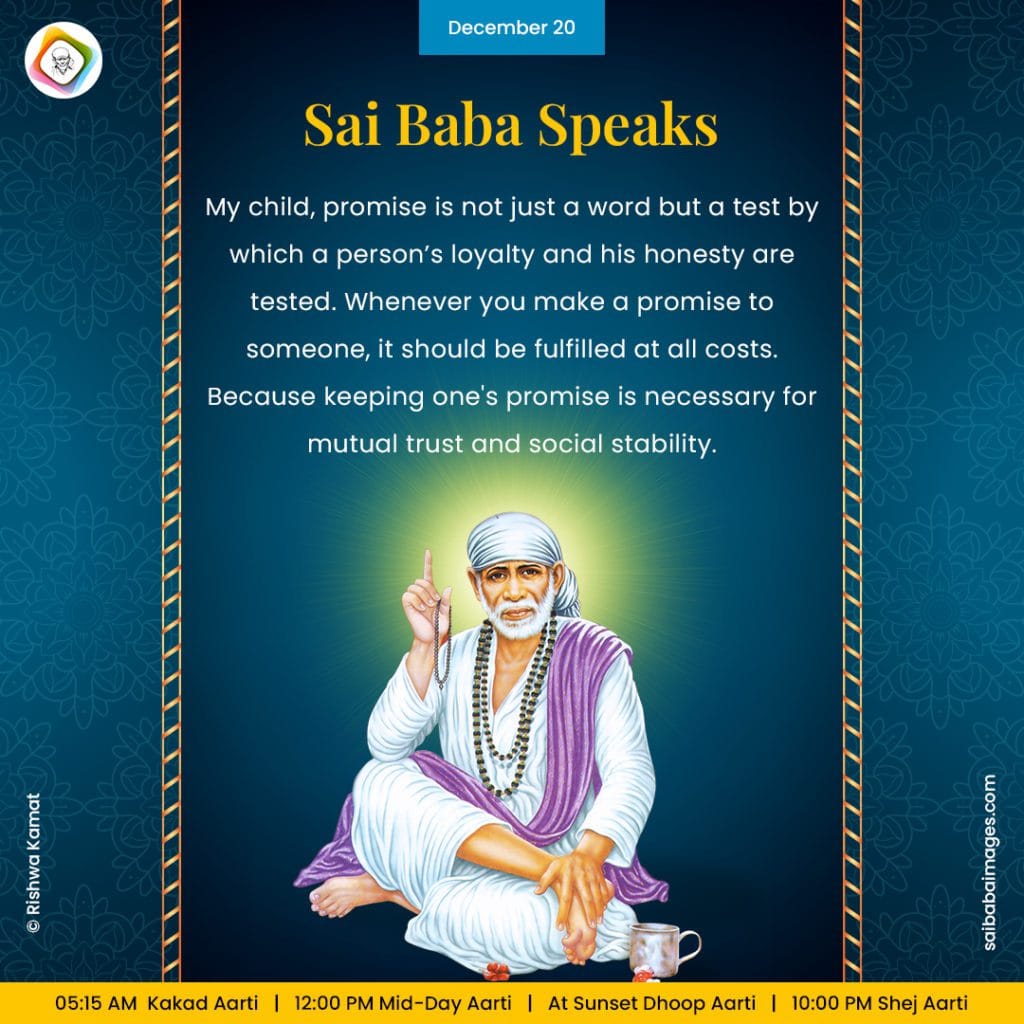 Anonymous Shirdi Sai Devotee from the US says: Thank you for maintaining this blog.
This blog helps Baba's children like me who are suffering and gives us hope. I wanted to share an experience of how Baba's Udi reached one person. 
I was talking to a guy. We met on a matrimonial site and we talked for a few months. Things were going well but happiness doesn't last. I felt something was wrong and he started avoiding me and not answering my messages or calls. I felt bad and cried. Eventually, I decided to leave the guy and started reading Ramayana to come out of pain. One day, while I was reading Ramayan, he was calling me. I didn't answer it at that time and after careful consideration and for the sake of it, I texted him asking if he wanted to continue. He said, "Yes". I wanted to know the reason for his avoiding me. He stated that he was taking treatment for depression.

It made sense why he was avoiding me. So, I asked him if he could use Baba's Udi. He doesn't believe in Baba. In our conversation a few months ago, he stated that he only believes in Hanumanji and would not follow any other God. I decided at that time, that I will never discuss my Baba with him. Know that, I have never met this person and all conversations were only on phone. So, with courage, I asked if he would use Udi. He said okay and then Baba sent Udi to him via mail. He was happy when he received Udi and then, a problem came which I can't discuss here. Then, I asked Baba, if He only came into my life so that Baba could send him Udi or relation would continue. Baba answered positively at that time. It continued for another month and again he started avoiding me. Finally, He gave up on me and decided that he did not want to continue. I was broken and asked him if I could just see him in person as I talked to him for so many months. He didn't meet me.

We have been in an almost no-contact situation. I message him for a few months and now I am exhausted. A few days ago, Baba guided me to send him a message that Baba is with him and protecting him. After sending the message, I realized that message was sent on 10/8, which is 10+8=108 or 9; my Baba's number. He is not talking to me and has completely removed me from his life. It is Baba's presence in his life that makes me "Aww" at how Baba does His miracles. I feel Baba is with him and helping him. I hope he realizes Sai's presence too in his life. Hopefully, all will be well. I am not sure what's in store for me and him and if we will be "US", and why he came into my life. I didn't want this when I was looking for someone for marriage. This void and incompleteness break my heart. I feel broken. Om Sai Ram!
Sai Baba Is Always There For His Devotees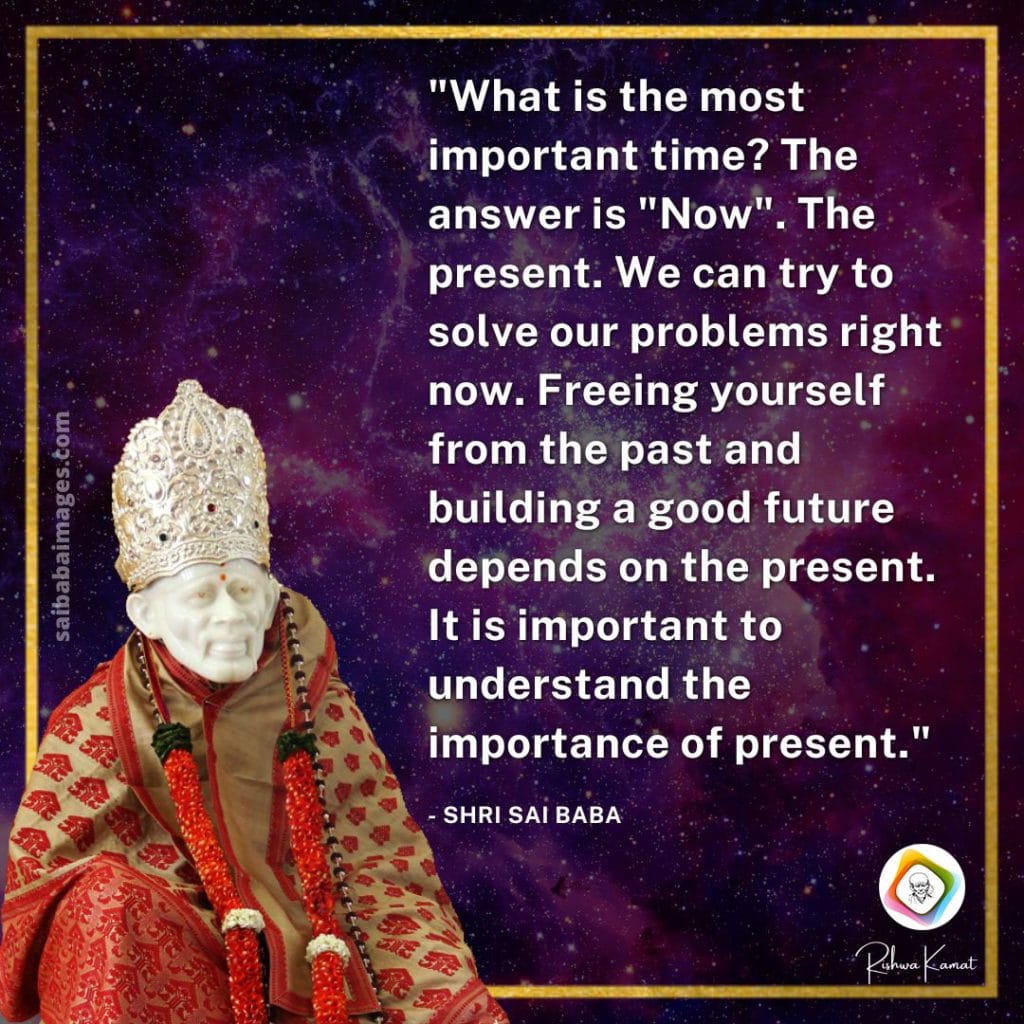 Shirdi Sai Devotee Divya Walia from India says: I am from India and a Baba devotee since 2009.
Experience 1 – This year we saw the worst days of our life when my mother was diagnosed with breast cancer. It seemed as if our worlds had shattered because the word cancer in itself is so deadly that one cannot avoid falling into negativity. Well, we immediately got her surgery done and the report suggested that it was stage 1 only. Though we were trying to get the surgery done at the earliest doctor's availability was an issue. But as if Baba wanted to show His presence, her surgery was done on Thursday only and that too was planned in just two hours. My mother's chemo is going on but she is coping well with it and by Baba's grace will be fine soon.

Experience 2 – As if our testing times were still not over, two months after the news of my mother's ailment, my husband's company decided to shut down their office in Jaipur which he was leading. We landed up in a situation with nowhere to go as it was difficult to get a job easily at his position. He kept trying, getting calls, and facing interviews but nothing seemed to be working out. Finally, one company whose CEO too happened to be Baba's devotee, during his visit to India and Shirdi and then to Jaipur, met my husband and liked him a lot. Within 1.5 months everything got finalized and last week only he joined this new company which I believe was chosen by Baba only for him.

Experience 3 – These days HFMD is spreading a lot. My son had just recovered from a viral infection after four days of very high fever (thank You so much Baba for that) when we heard about our neighbor's son getting the symptoms of HFMD. Both of them are in the same class and had come together that day. I knew that he would also get the infection but kept praying to Baba to save him from it and if he at all got it, then to let his symptoms be very mild. Baba heard us and saved his little devotee from getting any infection at all. Thank You so much, Baba! Keep showering Your love and blessings on us as always!
Help my son to become a very kind, compassionate, and successful human being. 
Sai Baba Our Saviour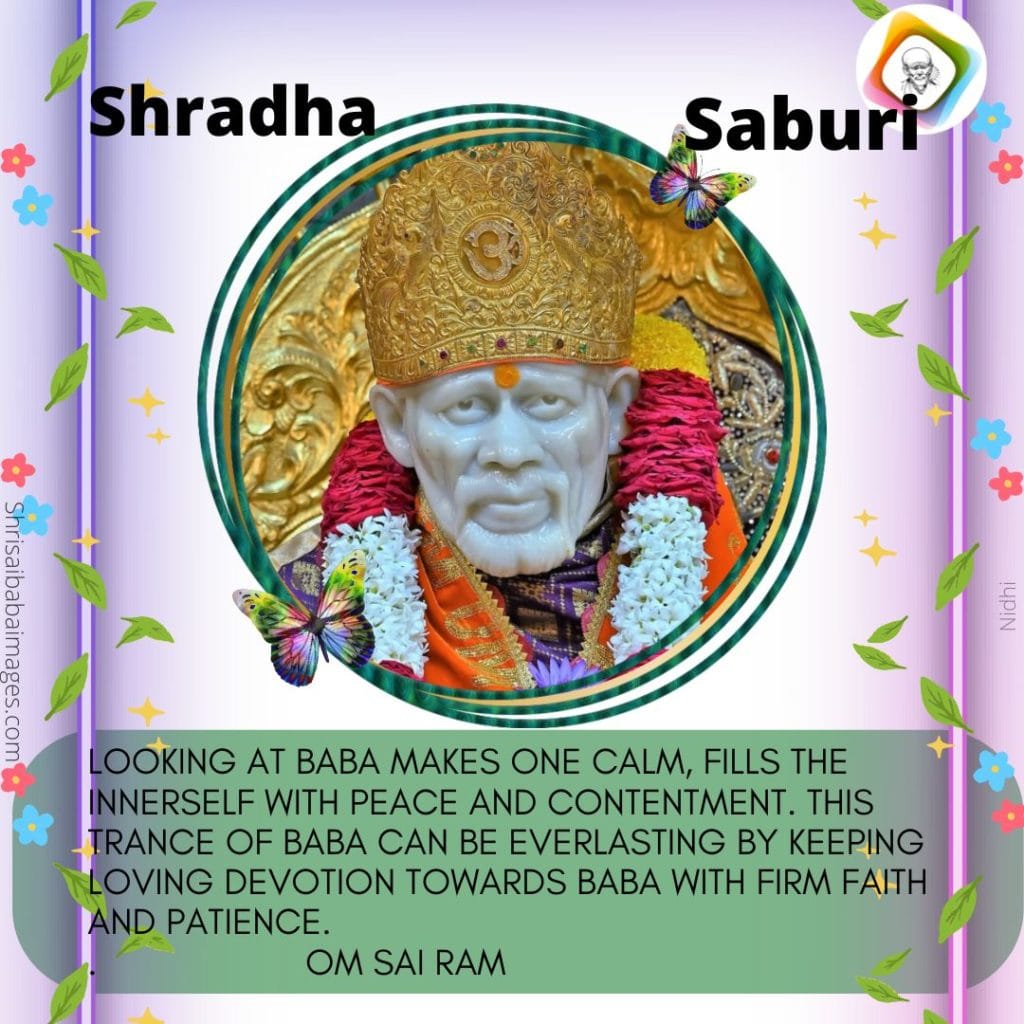 Anonymous Shirdi Sai Devotee from USA says: Om Sairam! I am one of the sparrows that Baba has pulled towards Him. He humbly pulled me towards Him and Baba has been showering His blessings on us throughout our life. Baba also pulled my husband towards Him, now he has become a sincere devotee of Baba. Thanks a lot, Baba for everything.
Kudos, to the people maintaining this blog. You all are blessed ones and may Baba continue showering His blessings on you all. I am part of the Global Mahaparayan group because of His blessings. Whenever I feel low I read the miracles of Baba on this site and I get more energy and peace. 
Baba has shown many miracles in our life. Even for small things I and my husband go to Baba. He guards us like a parent and guides us on to the correct path.
Thank You, Baba. Baba, please let the rates come down. The house is Your blessing, Baba. We should get an answer to the query. By Your grace, everything is going well. Thank You, Baba. Please bless all Your devotees. Om Sai Namo Namah, Sri Sai Namo Namah, Jai Jai Sai Namo Namah. 
Sai Baba Cured Devotee's Maa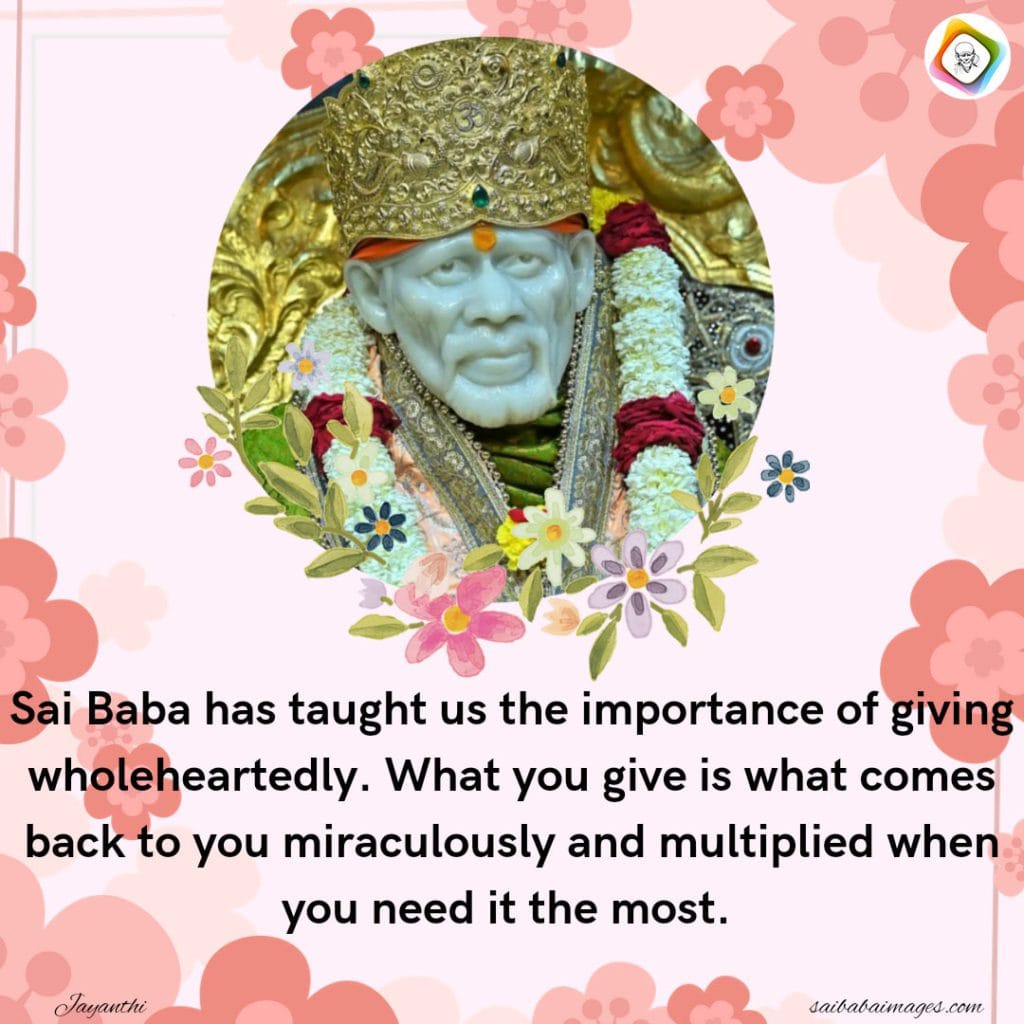 Anonymous Shirdi Sai Devotee from India says: Om Sai Ram! I am Baba's child from Sambalpur Orissa, India.
Recently my parents visited Chitrakoot. Everything was good with the blessings of Baba. They came back safely. For two to three days my mother got a fever, headache, and cold. We were worried. The temperature was 103. We prayed to Baba as He is our all in all. I prayed to Baba for curing my mother and getting her back to normal body temperature. Within 24 hours my mother was back to normal. Her all reports were normal. Thank You Baba for always being there and blessing us. Baba, please cure my son's cough too. It's been too long. I know You will always keep Your promise and bless us. Om Sai Ram! 
Sai Is The Ultimate Healer And Doctor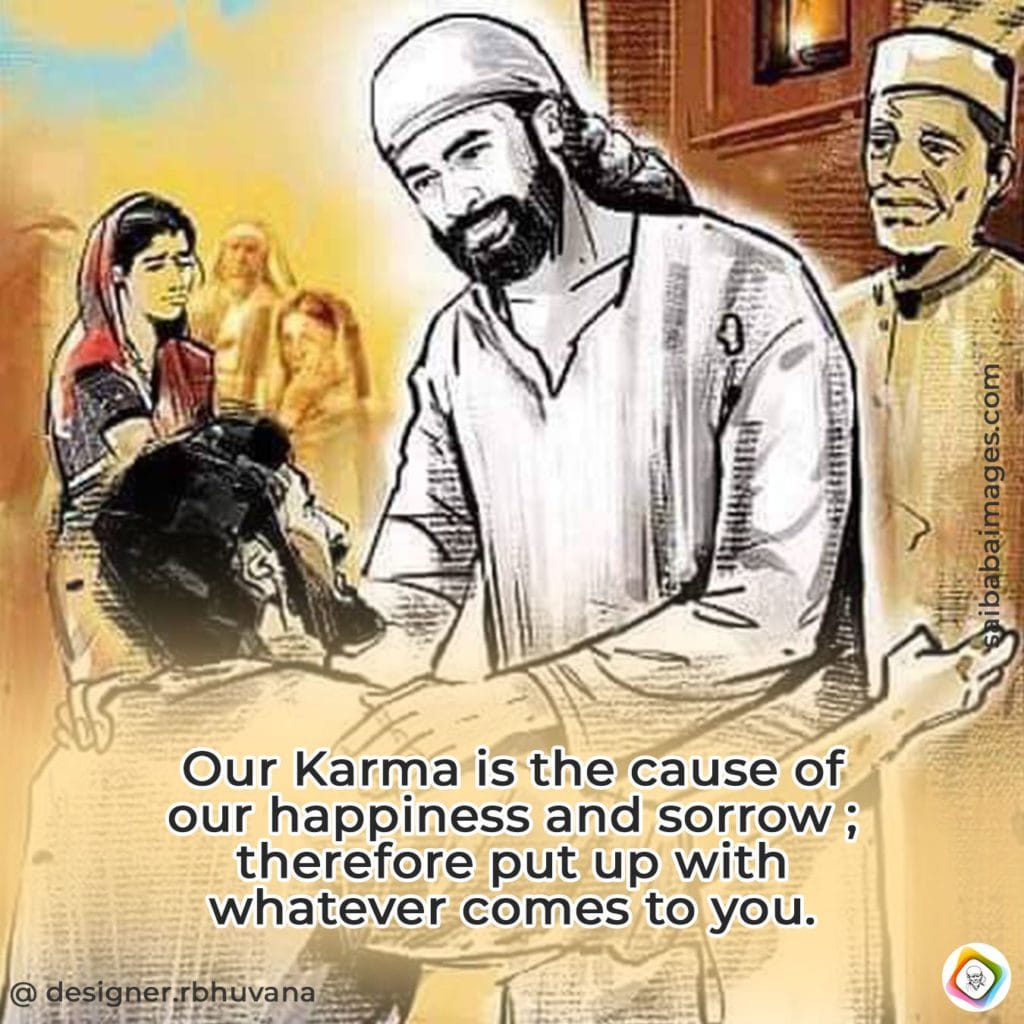 Shirdi Sai Devotee Eva from India says: A couple of weeks ago my mom was experiencing sharp abdominal day for over a week. Every time she moved wrong or took a deep breath there were sharp pains. It was so severe on a Saturday that she was in bed all day and we thought about going to the emergency room. We decided to go to her doctor and they ordered a CT. The CT results did not show any emergent issues, however, my mom was still aggravating the pain. Mom decided to drink Udi Water and place Udi in the area of pain. The next day mom fell 100% as if there were never any issues. It has now been two weeks and she is still feeling very good and has no pain in that area.
Shortly after that, my dad started experiencing back pain. No matter whether heat or stretching or over-the-counter medicine allowed for any relief. Laying or sitting down was very uncomfortable. That evening my dad couldn't sleep all night and be restless. There was no relief for his excruciating back pain. When he woke in the middle of the night he drank Udi water and put Udi in his mouth. He went to bed. The next morning when he woke up the back pain was completely gone.
Om Sai Ram.
Sai Baba Makes Impossible Possible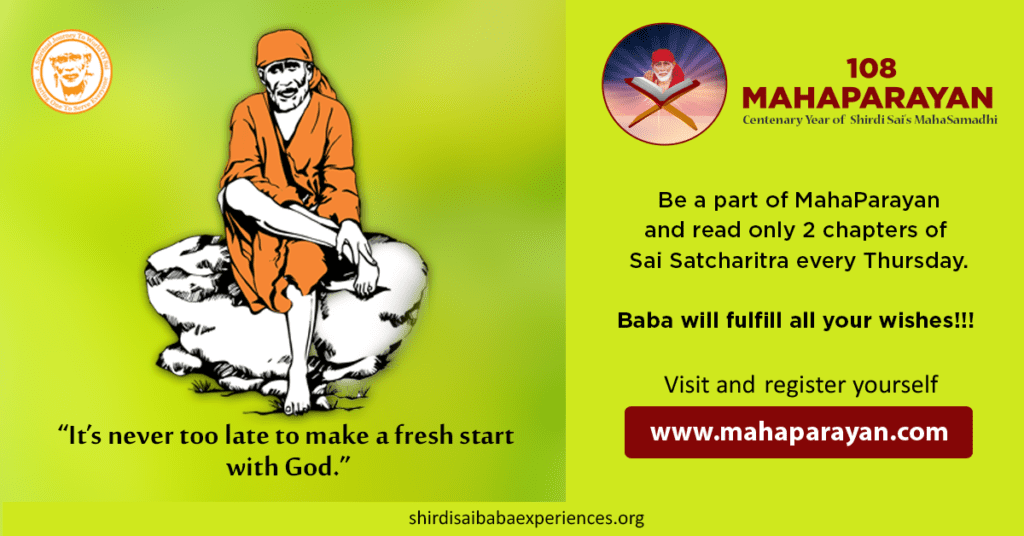 Anonymous Shirdi Sai Devotee from India says: I am a Sai devotee from Odisha, India. Om Sai Ram. I had this miracle today. Yesterday after my lunch when I test for my pregnancy it was positive. I was not sure because mostly the kit asked for a morning test. But out of curiosity, I tested it in the afternoon. My health condition is not that good nowadays because of my calcium deficiency. I requested Baba to give me a child if I am healthy enough to take care of the baby. Baba knows the best for us. In the morning when I tested for pregnancy it came negative. I had mixed feelings. But I know Baba is telling me to first become healthy and then have plans for my second child. When the right time will come He will bless me with my second child. Sorry Baba, for neglecting my own health, henceforth I will take proper care of myself. Om Sai Ram!
---
More from SaiYugNetwork.com