Download Sai Baba Daily Calendar with Images
A Devotee's Account Of Miracles By Sai Baba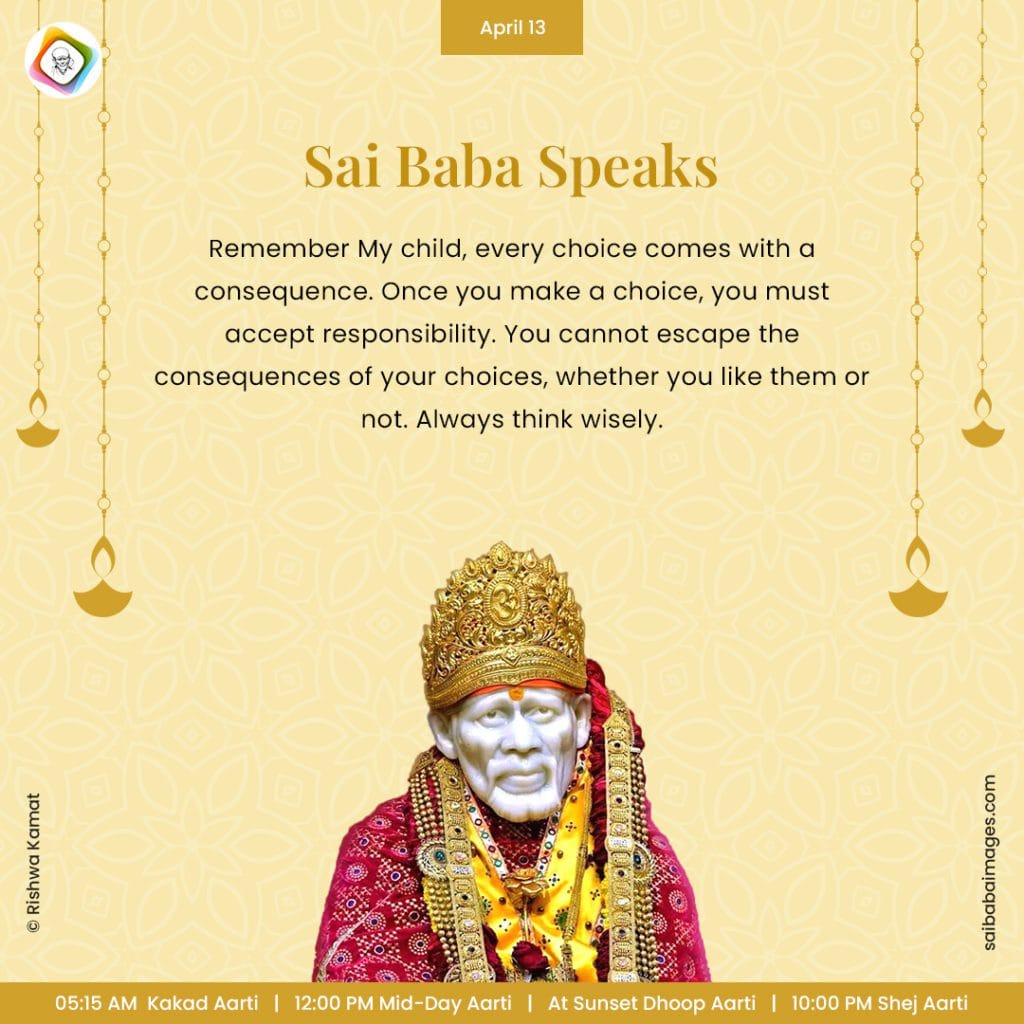 Anonymous Shirdi Sai Baba Devotee from India says: Om Sai, Shri Sai, Jai Jai Sai, Sadguru Sai, Raham Sai, Daya Sai, Krupa Sai, Margdarshan Sai, Aashirwaad Sai, Sharanam Sai, Shradha Saburi Sai.
Deva, words cannot express the love and gratitude in my heart towards You. My life is completely indebted to Your blessings and mercy. You are the actual oxygen of our lives.
Deva, please help me in sharing some of Your infinite blessings with all Sai brothers and sisters. Thank you, Hetalji and team, for giving us a medium to gain positivity and express our heartfelt thanks to Deva.
Dream on Saraswati Puja 26 Jan 2023: In the morning of 26 Jan 2023, also Saraswati Puja and Thursday, I saw a lady whom I knew but was unable to recognize. She gave me a gift – a black stone small Shivling and one small Pindi (black oval stone shape), which I heard is Ganesha. I was completely overwhelmed and was appreciating it wholeheartedly when my alarm rang at 6:30 am. After waking up, I was very happy and shared it with everyone. Again, on 7 Feb 2023, I was roaming on a road and saw a temple. I did not enter but was looking from outside. I just peeped from outside in one front room and saw God Narsimha and other small idols. Thank You, Deva, for giving me darshan in different forms. Sabka Malik Ek.
Aunt (Bua) Eye Treatment: Last Saturday, I took an appointment for my aunt's eye check-up. I was very tense as she has diabetes and high blood pressure. I prayed to Deva for guidance and to take care of the outcome. Our merciful Deva never disappoints us. He took care of everything, and she may need cataract surgery for one eye. We are planning for another check-up and request Deva treat her eyes as well as her other physical and mental health issues.
Deva Arranged My Official Trip to Scotland: I always receive different organizations' emails regarding conferences held in various places. During January, I just thought about how good it would be if I got one official foreign trip to a good place. But it was just a passing thought when I saw one program schedule of Scotland. Deva is the best father and mother Who loves us a lot. On February 6, my boss informed me of one program for Dubai in March, but I had already been to Dubai three times, and in March, my kids have exams. So, I requested him to send someone else. My other colleague initially rejected it as he also went to Dubai many times, but with Baba's blessing, he agreed. Deva, I want to thank my colleague through You also because of both of You, I got the next trip to Scotland. On February 7, we had to initiate for approval, and I was continuously praying to Deva to not change my colleague's mind. Deva made him agree happily. We waited for approval on February 7 and 8 but did not get any confirmation. I know Sai Baba loves to play hide and seek with us to strengthen our faith and ground us. Finally, on February 9, His number and day, He gave the approval. I was very excited and tried to do online registration but failed. Deva, please help me. I am going to try again on Your name.
Finally, Deva Completed the Registration: I asked Deva a question on the question-answer site, and He answered Baba says: "Your work will be done through friends. Go to Shirdi and have darshan of Sai Baba." I already asked one person to be present for processing the online payment, but I thought about how to go to Shirdi. Deva gave me the idea to go to the Shirdi Sai Sansthan website and take the live darshan. I clicked on the live darshan, and within five minutes, the person appeared. By taking Baba's name, I started the registration process, and it was completed on the first attempt within five minutes. Now, I am seeing You live and writing my promised miracle. My live darshan in place of going to Shirdi reminds me of Shri Shama Leela, in which Baba asked Hemadpant/Dasganu to go to Shama and ask for some money. Shaaa told that he had no money, so he would do that many times Pranam to Baba. I don't know how my experience is related, but Shama's experience flashed into my mind, so I am sharing this.
I want to share with you a great miracle that I experienced with Deva. One morning, I asked Deva a question on a question-answer site and received a response that I would receive two pieces of good news. Deva also said that the time around Ramnavami (March-April) would be good and that any problems I had would be solved with the help of friends (I don't remember the exact words, but it was something like that).
Soon after, I received the second piece of good news – my brother-in-law's job was confirmed! Just a few weeks prior, on January 25th, he had suddenly lost his job and our entire family was feeling very sad. But I had complete faith in Deva. Before this, Deva had even presided over his daughter's wedding and his mother's funeral and rituals.
One day, my sister was feeling very sad and called me. Deva inspired me to tell her to write a letter explaining her problem and take it along with a coconut and a rose flower to the Sai temple. On February 6th, my sister and her husband visited the temple and, on February 9th, Deva gave me His blissful Palki darshan in His temple and allowed me to participate in Bhandara (prasad distribution) in the Durga temple next to the Sai temple. I also completed my puja on Thursday on the temple premises. On that very same day, my brother-in-law received a call for an interview!
I advised my sister and brother-in-law to read chapter 15 every day, as suggested by Deva. Teri Mahima Tu Hi Jane Sai. We, foolish people, cannot understand Your miracles and Your way of making the impossible possible. We, the children of Sai, need to bow to Your lotus feet and obey You without a doubt. Deva, please always hold our hands and be our mentor. Now, please plan the whole trip without any problems, or stress, and within budget. I am taking it as Your Prasada. I am seeing Your Live Darshan and writing my promised miracles. Deva, please guide my son to his 10th board exam.
Om Shri Sai Sarva Samarth Sadguru Laaj Rakhna
Om Shri Sai Rakshak Sharnam Deva
Om Shri Sai Dhanyawaad
Sadguru Sai Nath Maharaj Ki Jai
Om Shirdi Vasaya Vidmahe Sachidananda Dhimahi Tanno Sai Prachodayat
Om Anantkoti Brahamand Nayak Rajadhiraj Yogiraj Parbrahma Shri Sacchidanand Sadguru Sainath Maharaj Ki Jai
Divine Intervention: How Sai Baba's Udi Saved A Family From A Honeybee Attack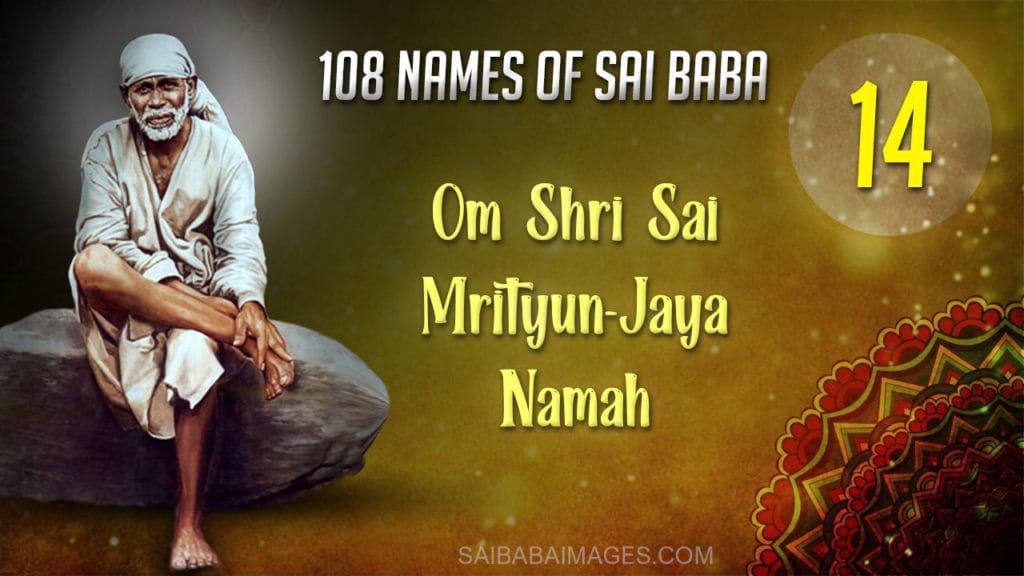 Anonymous Shirdi Sai Baba Devotee from India says: Recently, my daughter, her husband, and their baby were attacked by a swarm of honeybees. The stings caused serious harm and they were admitted to the ICU in critical condition. When I heard this news, I was worried as I was in another city at the time. However, I came across a video on YouTube about the power of Udi (holy ash) and its healing properties.
I took some Udi and prayed to Sai Baba to protect my loved ones from any further harm. I applied the Udi on my forehead and felt as though I had applied it to their foreheads too. When I arrived at the hospital, I was relieved to learn that they were out of danger and on the road to recovery. I felt grateful and overjoyed that they had been saved from such a dangerous situation. Sai Baba had truly watched over them and kept them safe.
I firmly believe that Sai Baba is always ready to help His children in times of need. He has always been there for me and my family, and I know that He will continue to bless us with His grace and protection. The power of faith and devotion is truly remarkable, and I am grateful to Sai Baba for showing me the way.
Sai Baba's Blessings Bring Relief To A Family In Need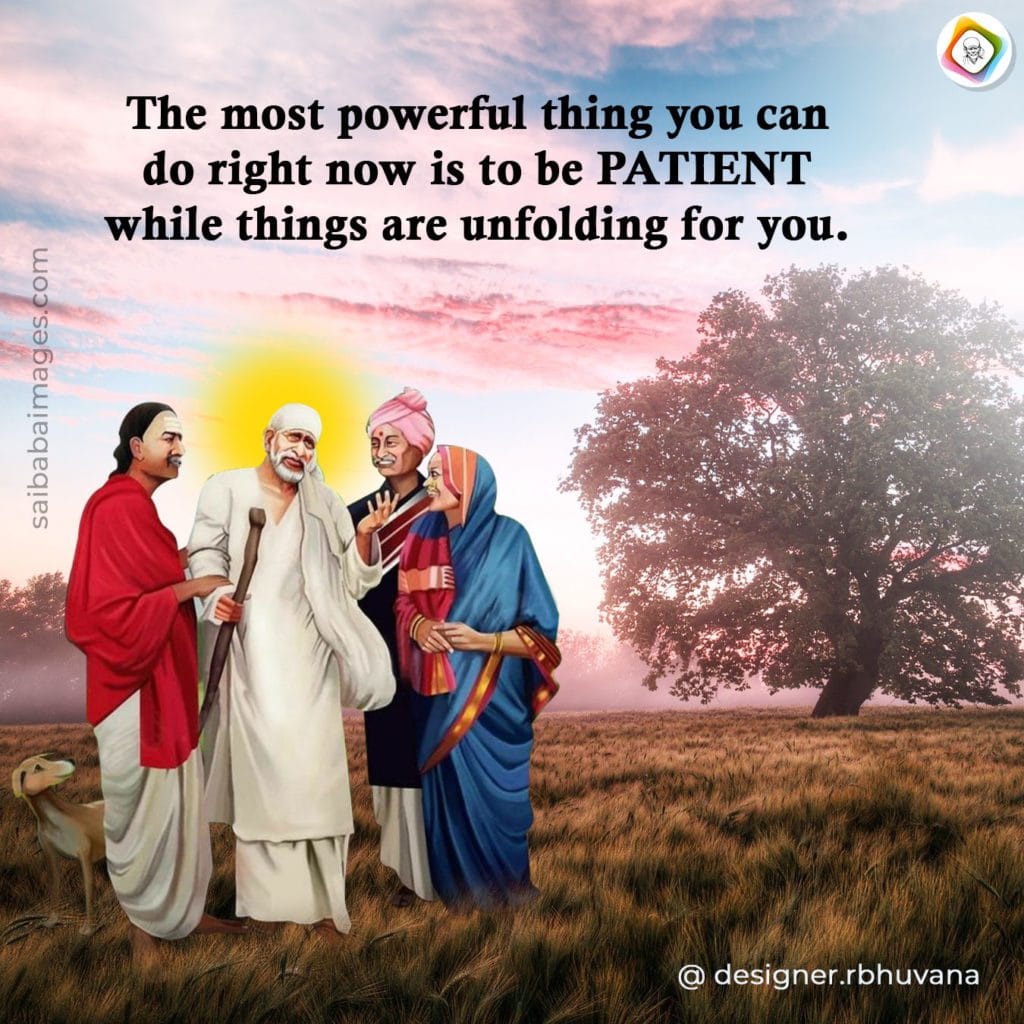 Anonymous Shirdi Sai Baba Devotee from Sri Lanka says: Thank You, Sai Appa, for curing my mother's CATARACT SURGERY. I went to Sri Lanka to stay with my mother for a week after the surgery, and I arranged for a housemaid to help with cooking and cleaning. However, the maid only worked for one day, and my mother had to start cooking with her post-surgery eyes. I was afraid of her eyes getting infected. Yesterday, my mother started feeling a little pain in the upper lid of her eye, and we went to the doctor for a checkup. The doctor said that her eye was okay, and I thank Baba for curing my mother's eyes. However, the doctor asked her to undergo an eye scan to check her eye pressure. Please, Baba, be with my mother and help her to not have pressure in her eyes. Sai Appa, please help my brother with his visa, and my visa, and take care of my Amma, brother, sister, and Jay's health. Om Sairam.
Finding Peace And Guidance Through Sai Baba's Love And Grace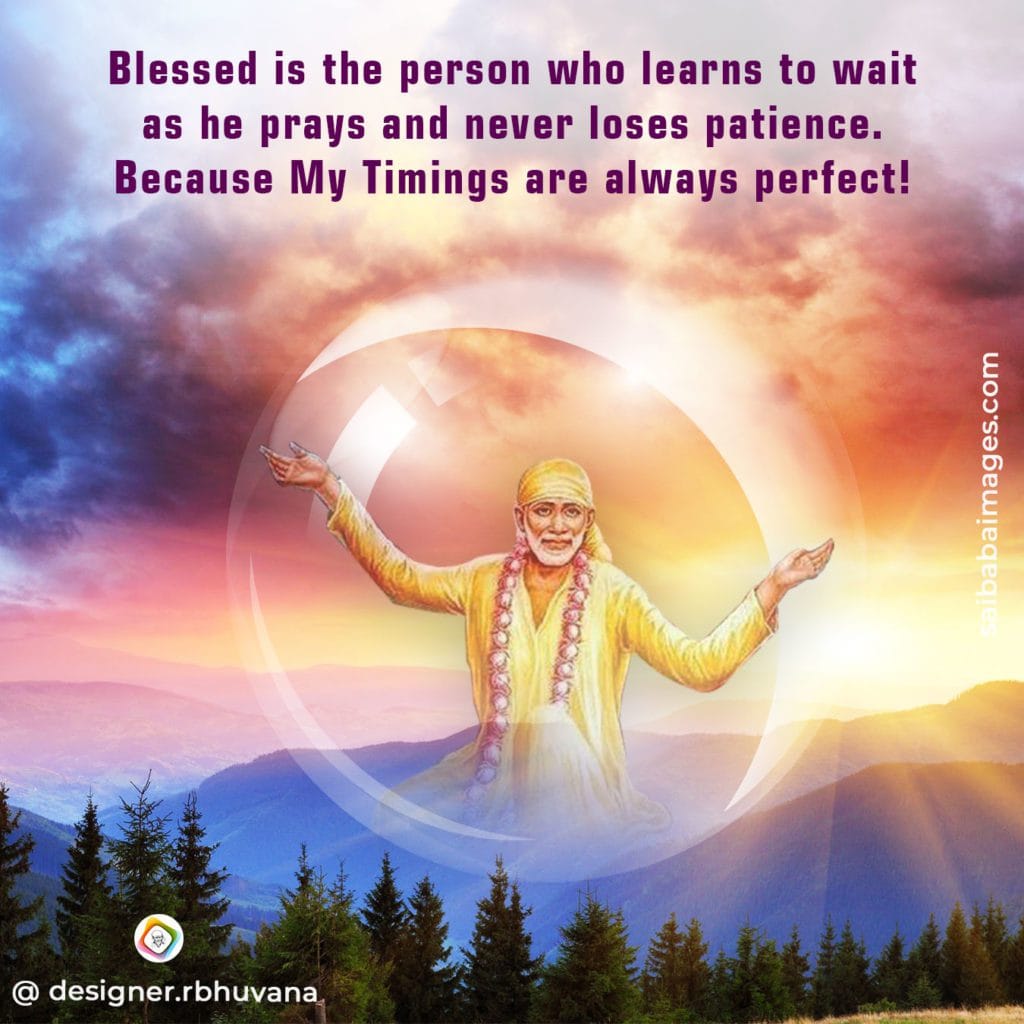 Debasish Shirdi Sai Baba Devotee from India says: Sai Baba first came to me in a dream during a very difficult period of my life. I had abusive, passive-aggressive, narcissistic parents who did not want me to succeed in anything. When I failed and did not have anything, such as a job or education, they derided me for being useless. However, Baba appeared to me in a dream, and life has been a blessing after that. It has been nearly 20 years since that dream, and Baba has repeatedly come to me and showered me with His love. I feel incredibly blessed to have him in my life; he is my Father who looks after me.
I have many incidents to narrate about Baba and His grace, and I hope to write a book someday.
Seeking Sai Baba's Blessings For Son's Upanayanam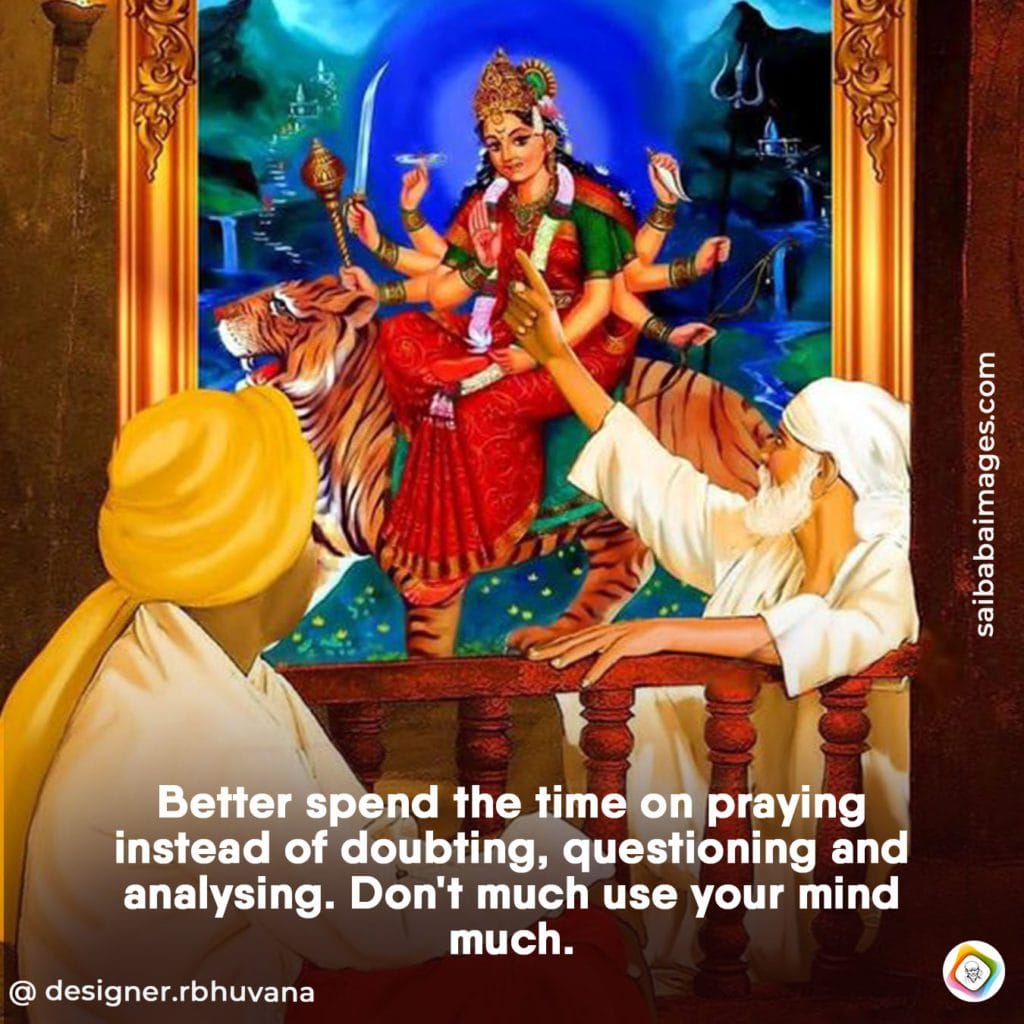 Anonymous Shirdi Sai Baba Devotee from India says: We are planning for our son's Upanayam, and I am feeling anxious about it. Sai Baba, please be with us and attend the function to bless us. Your presence is eagerly awaited. Sai Baba, You have always been there for me. You ensured that my mother reached my home safely, and You have helped me overcome my mistakes. Please be with us until our last breath and take care of my sons, helping them improve their education. Thank You, Sai Baba.
A Mother's Faith In Sai Baba's Healing Power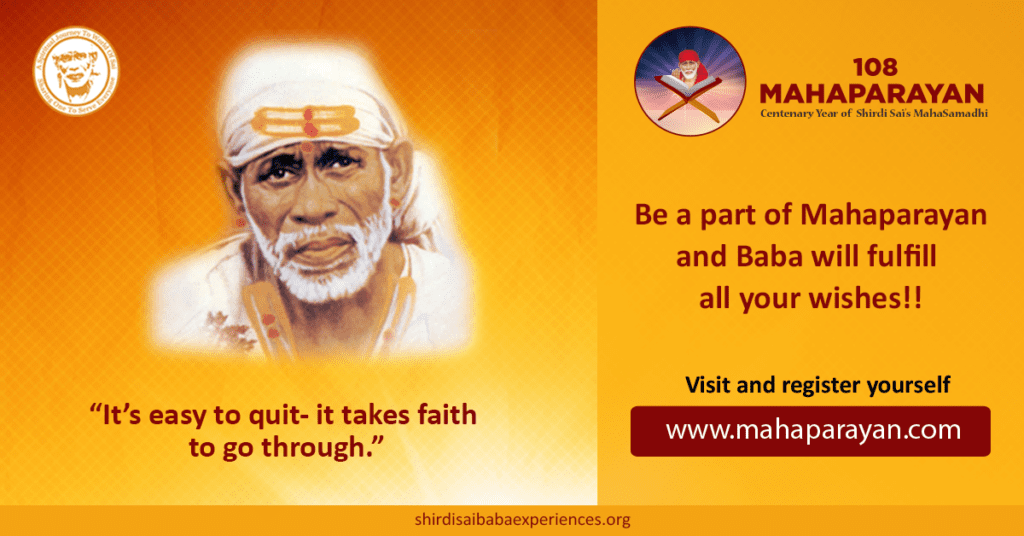 Anonymous Shirdi Sai Baba Devotee from India says: Whenever my child fell sick, I would pray to Sai Baba, knowing that he would look after us and cure my child's illness. Please shower Your blessings on us, as You always do. Please Baba, always be with me.
You know my issues, please cure them with Your divine intervention. I believe that You will definitely cure them, and I will share my experience in my next blog post.
Thank You so much, Sai Baba.
More from SaiYugNetwork.com
© Shirdi Sai Baba Devotees.com – Member of SaiYugNetwork.com