Sai Baba's Miracle – Finding A Wonderful Job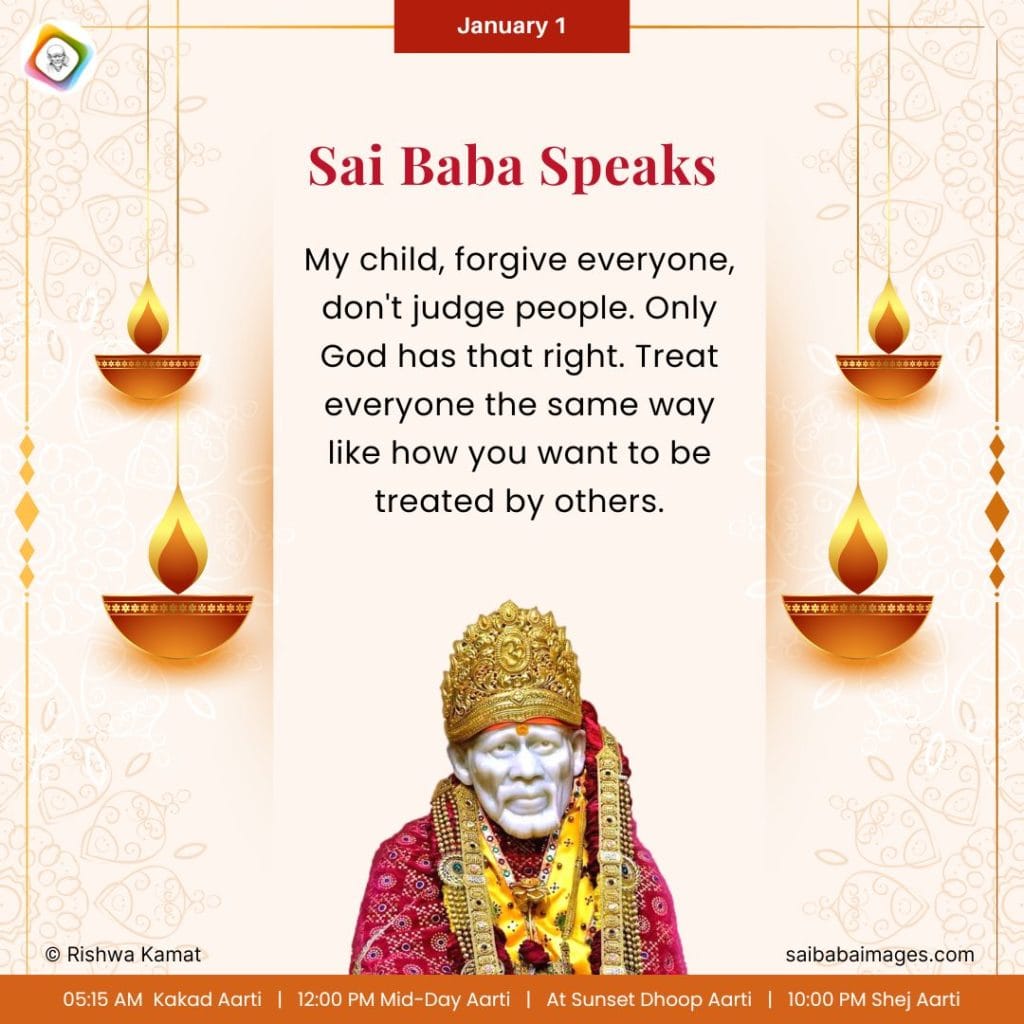 Download Sai Baba Calendar for January
Anonymous Shirdi Sai Devotee from USA says: Sairam, Thank You Baba for helping me every time.
I am writing this email to explain Baba's miracle that happened in my life I had made a promise to Baba that I would write to You to publish on this blog so that devotees would be benefited.

For the last six months, I had a lot of trouble with my job hunting. I was mentally and physically stressed about it. In late 2021, I was hired as a contractor and my job was going well. While this was going on, I got an opportunity to become a full-time employee with another company, which I ignored since the current team where I was working had mentioned that they would hire me full-time. So I practically denied an opportunity that had come my way and also knocked on my door. Baba had indirectly shown me a way that I missed. Then, 2 to 3 weeks later, slowly the pressure in my current contract job built up and they mentioned that they had no budget so they would not hire me, which was totally unexpected. In a state of shock to me, I now panicked and tried all my contacts and applied for so many positions. In the last three months, I applied for close to 100 jobs but none of them clicked. I had no luck; if any of my applications picked me, my interviews would go well and they would promise me that they would definitely hire me then after 2 days, they would come back and give me the same response – "Not sure if it's your luck but we won't be able to hire you due to budget constraints."

One interview went so well that they offered me nice pay and made me sign an agreement too and forced me to get approval from my current employer to leave the contract one week earlier. So I reached out and informed them to release me one week earlier, which turned out that my last day at my work happened to be exactly my kid's birthday. I was ok, I thought that Baba wanted me to join this job. Once again, as fate would have it, they came back two days later and gave me the same response as other interviewers before – that they couldn't hire me owing to budget cuts. Now I was left jobless, with no work from my current employer and no new work assignment. This was a stressful situation and every contracting company I called, didn't reply in a timely manner. Every week, my job hunt started nicely with hope by Friday and a standard budget cut response in the following week. I was desperately praying to Baba and telling my kids of not sure why nothing was falling in place.

Two weeks ago, one afternoon, I'm not sure how I came across, but I saw an open position and once again, I reached out to the recruiter he immediately transferred me to another person and within no time, an interview was set up. This was a more senior position than my previous work assignment, so I didn't have much hope but went through the interview. While going through this, all of a sudden, a prior recruiter called and confirmed me for a position that I was not really interested in. I was interested in the senior position since it would challenge me and aid in gaining valuable experience which would help further my career. I was worried that I hadn't received any response from the interview, but I stayed content that this is what Baba wants me to work – in the same position as before, so let me be happy with what I got. Well, I am really glad to say that I was confirmed for the senior position on Baba's Mahasamadhi day!

For the last six months, I had complete faith in Baba and went through a lot of struggle and pain but I never lost the belief that Baba will show the way. My family had also started praying for my job and a miracle happened on the Mahasamadhi day – by evening 4 pm, I received feedback that for the interview that I had no hope for, they liked my profile and offered me a job. Baba's miracle is such that we never know when and where things will happen. All this time, He held my hands and helped me cross the sea of mental agony and suffering. There's a reason for everything that happens – it was because Baba wanted me to settle down in life. Now again, Baba has shown me a whole new path in my life that I had never dreamt of before. So the moral is that Baba has a plan for everyone; we just have to wait patiently with faith and all good things will happen.

Sairam; may Baba bless everyone.

Thanks,
Anonymous.
Always Thankful To Sai Baba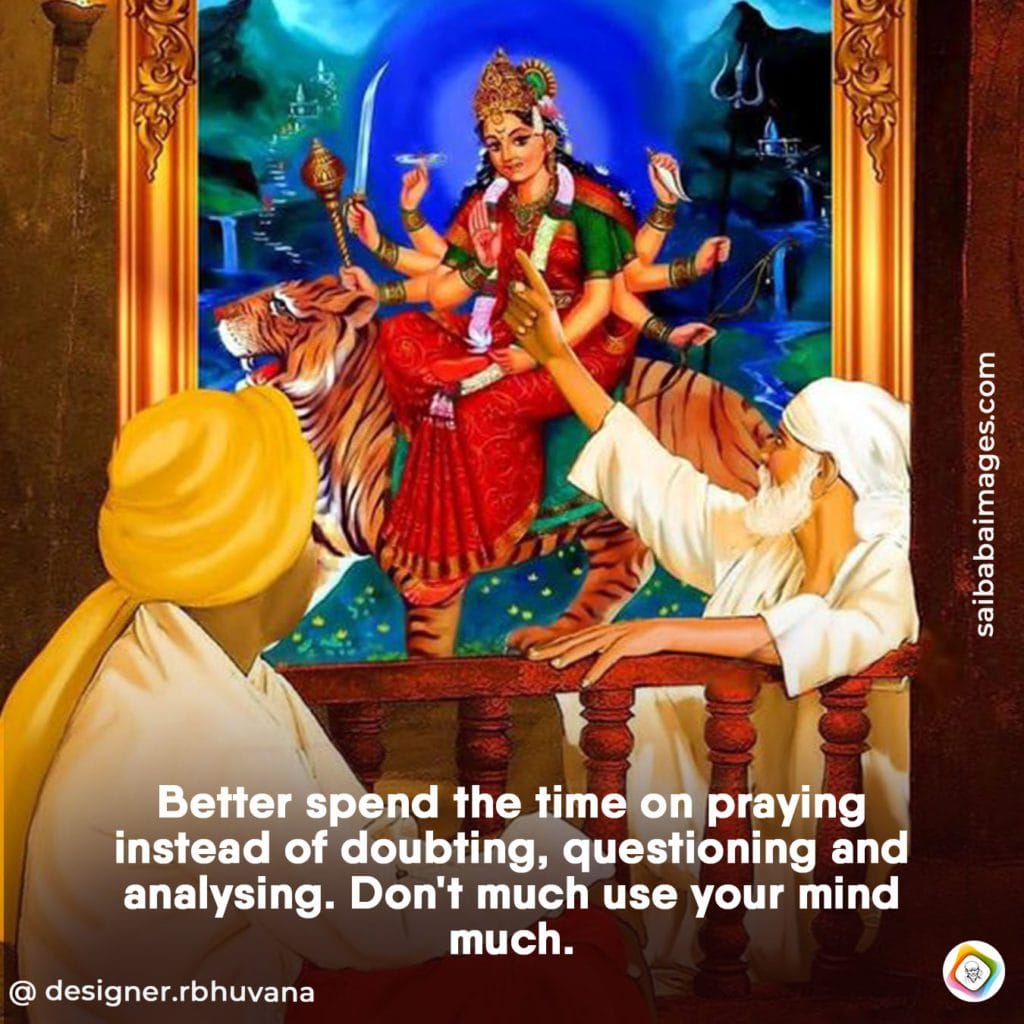 Download Sai Baba HD Wallpapers
Anonymous Shirdi Sai Devotee from India says: Hi I am a small devotee from India. Please keep me anonymous. Om Sai Ram. I would like to thank Hetalji and the team for maintaining this site. I have a couple of experiences to share today.
I am a member of one of the Global Mahaparayan groups and wanted my husband to also be a part of It. Somehow I was hesitating to ask him, thinking that he might deny it or it might be difficult for him to do this for all the Thursdays. In September 2021, we were just recovering from covid and he started feeling unwell again I strongly wanted him to join the Global Mahaparayan and he agreed soon after asking. I wanted him to be in the same color house and to my utter surprise he has got into the same color house and with the same roll number. He started feeling better from the next day onwards. Thank You, Sairam.
I resumed my career after around 18 months of a break just because of the blessings of Baba and the project was very tough. My Baba is there with me and has blessed me to have smooth work. He helped me even in getting released from the project and moved me to a less pressurized team. I still can't believe that I could request my manager multiple times for release. Usually, I am the kind of person who prefers to walk out if something doesn't seem to be working out instead of opening up. I did not even think that I could go and ask for a release from the client. As Baba blessed me to do well in the team though I had to struggle a lot and work extra time till late at night almost every day, the manager did not want to release me completely but moved me to another team with the same account. All this happened because of my Baba only. I was not sure what would have happened if they would release me completely. I may have to search for another job but Baba helped me with this. I was praying continuously to help me in the new team as well and already got a kind appreciation from my client manager which made me very happy and positive. Thanks a lot to You, Baba. Without You, nothing would have been possible. I see it as just Your miracle.
Baba helped me with the correct medication for my daughter's problem which I kept on postponing just because of my fears. Baba gave me the strength to accept the medication and face the challenges. Baba, this is Your blessing. Please take care of her. Please help her to be strong and get the complete benefits in return for the struggle that she is having every day. Please take care of the kids, Baba. Please give peace to my sister. Please be with her, hold her hand and pull her out of the ocean of problems that she is facing. Please bless everyone. Baba, You know very well all my struggles and wishes. Please help me at every step.
Today my colleague was in trouble as I guided him wrongly a couple of days back and we tried to get out of this safely. I was praying to Baba continuously and He helped us to resolve the issue. Otherwise, both of us might have to face the consequences and we were very scared of this. Baba, it was just Your miracle and nothing else. Please keep showering Your blessing on all my family members. Om Sri Sai Rakshaka Saranam Deva.
Thank You for providing me with this opportunity to share my experiences. Sairam.
Sai Baba Helped To Find A Ring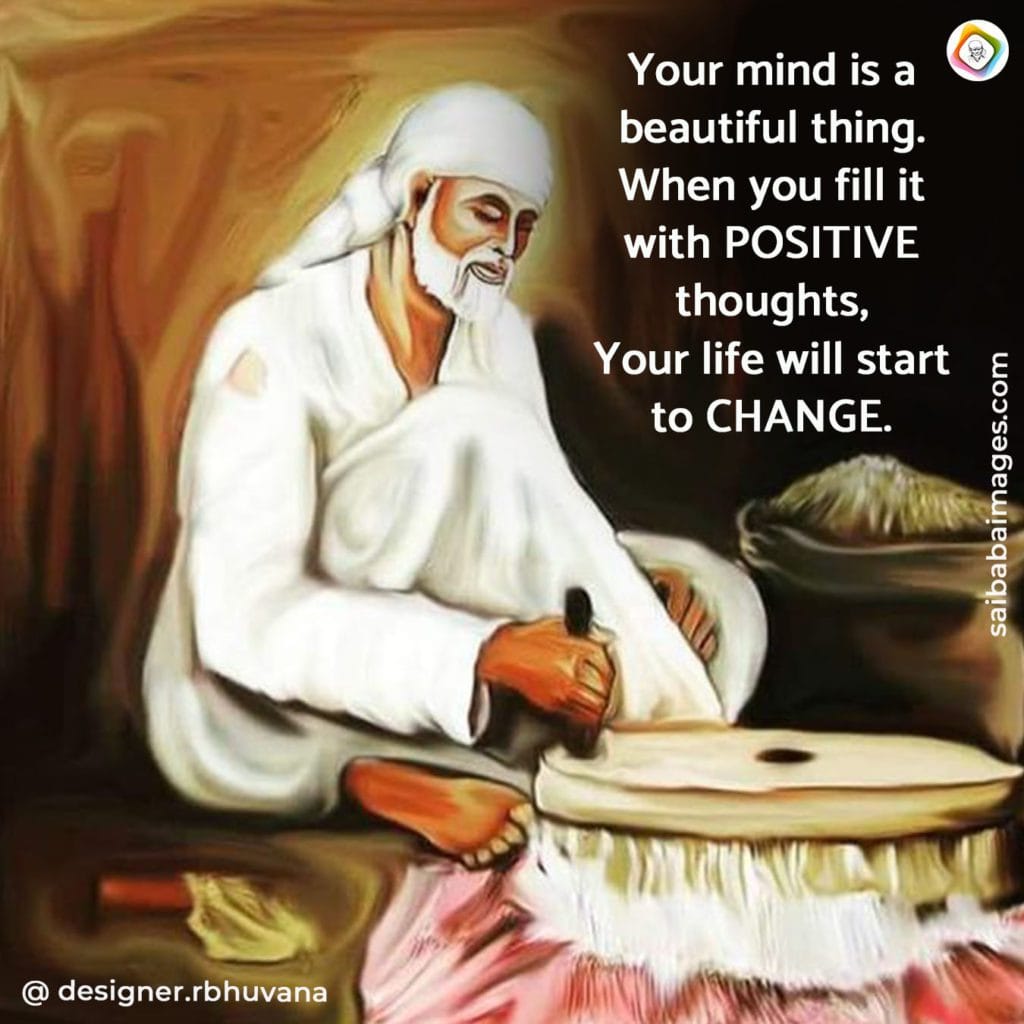 Anonymous Shirdi Sai Devotee from USA says: I am a small devotee of Sai Baba and depend on Him for everything.
This is the fourth experience that I am sharing here. I was staying at a hotel and went down to pick up food. After coming to the room I realized that my finger ring was missing, searched everywhere, traced my steps back, and later filed a lost complaint with the hotel. I was wearing the jacket and searched all the pockets thoroughly at least a couple of times. I was feeling bad that I lost my ring and for some reason, I had this feeling inside that Sai Baba will help me. I prayed to Sai Baba and was hoping for the ring to be found. On the day of checkout, I wore the same jacket and put my hand in the pocket, and there I found my ring. I had searched all pockets of the jacket multiple times before. I was dumbstruck to find the ring there, this was possible only because of Sai Baba. Only He can do this miracle. Thank You, Sai Baba.

It's not that we get everything we pray for, only what belongs to us we get. I have started realizing that. I am struggling at work to get promoted and have been treated badly by my co-workers who want to take away all the work that I am doing. Despite getting good reviews Baba has not shown His grace and blessings to me yet. All the people I work with are moving ahead and I am left behind. I am not even getting any interviews to change jobs. I am hoping that every day things will get better, maybe it doesn't belong to me and I am meant to go through all this.
Thank You So Much, Dear Sai Baba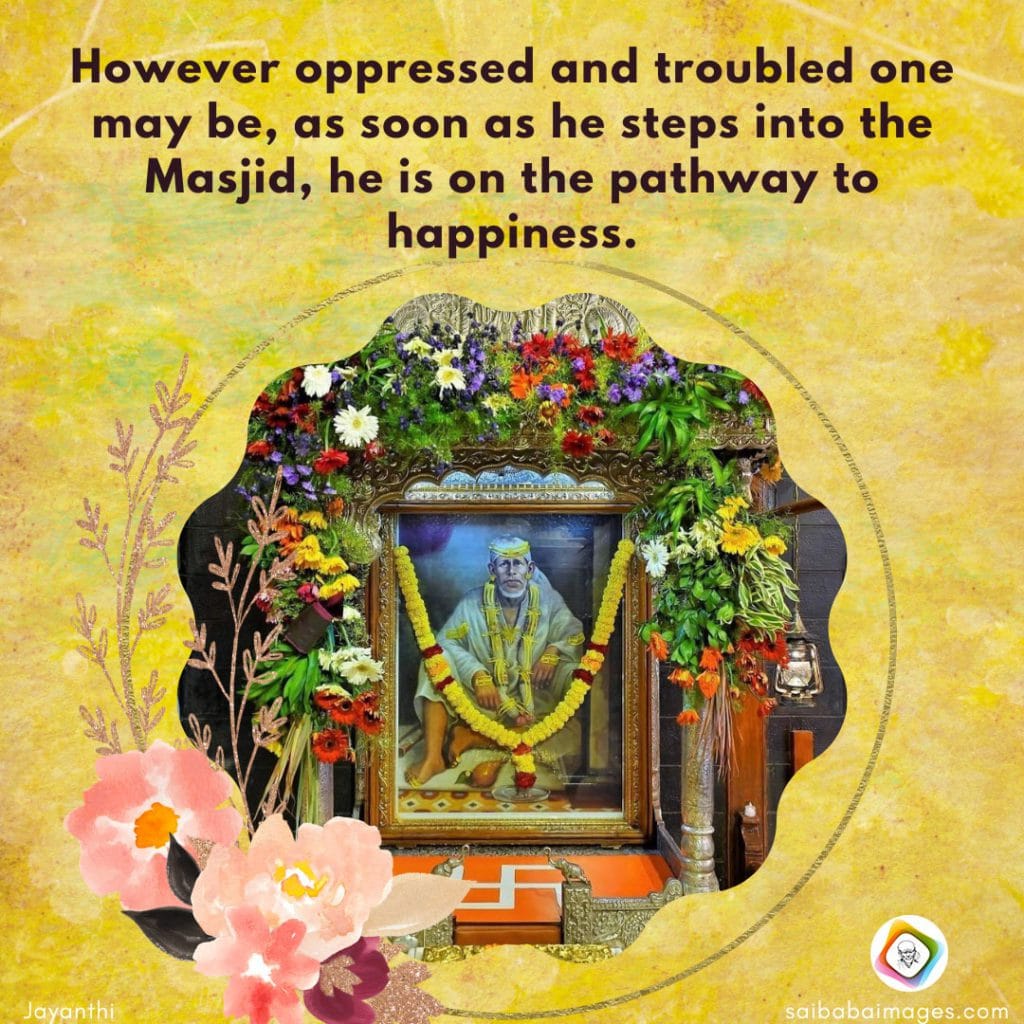 Anonymous Shirdi Sai Devotee from USA says: Om Sai Ram to all Sai devotees. Thank You to the team maintaining this divine blog.
Om Sai Ram. Thank You so much Baba for Your help these past few days. I cannot even describe the amount of anxiety that I had but remembering You has taken all of that away. Baba, I now understand why You made everything take place the way it did. I was out of line and my arrogance blinded me. I have realized all of my mistakes and I am at Your feet seeking forgiveness. Please forgive me and bless me to live a reformed life. I promise that I will not disappoint You. Baba, You only brought us this far. You only have to take us for the rest of the way. Baba, I am not a believer in astrology and I only believe in You, Baba. You only have to make everything match and allow for both of us to speak. I am only depending on You, Baba. Please bless me to live a reformed and better life with Your blessings. I won't disappoint You. I have realized all of my mistakes and will not allow them to happen again. I'm sorry for everything, please be with me and bless us, Baba. Please give us good news tomorrow. I hope I can go on Sunday with a full smiling face. Baba, You know what I mean. I will read the Kasht Nivaran Mantra every day from today. Please bless us and make this happen for Your daughter, Baba. We are so blessed to have You in our lives, Baba. Please always be with us and bless us, Baba. Thank You so much, Sai Baba.
Sai Baba's Blessings On Devotee's Family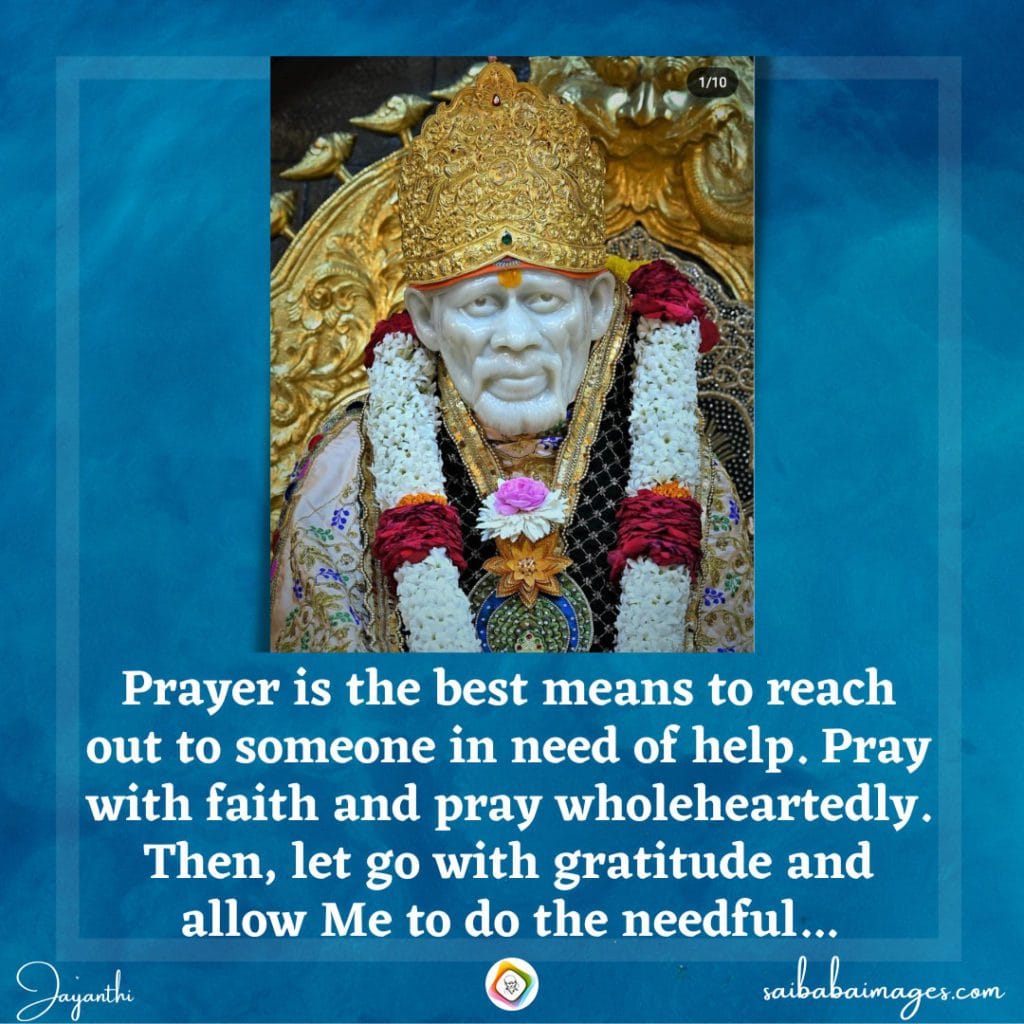 Anonymous Shirdi Sai Devotee from India says: I am a staunch devotee of Baba for more than 14 years.
Today my son had to give a lengthy competitive exam for around 4 hours. He had done the preparation well and booked the test date on a Thursday so that Baba would take care of him. Somewhere on this blog, I read that one devotee was sitting in the temple and praying for her son's competitive exam while he was writing the exam and scoring good marks. I also sat in the temple and prayed while he was giving exams. He got a good score. Not sure if he has to retake it to improve the score or be happy with it. Please guide him accordingly.
Another thing that I had wished for my daughter also happened. Now guide us in the next steps. Thank You so much, Baba. Baba, one of my friends is unwell and she is also a great devotee of Baba. Please take care of her too. Thank You so much, Baba. We surrender at Your foot. Please guide us. Satchidananda Satguru Sainath Maharaj Ki Jai. Sai Ram.
Sai Baba's Miraculous Udi
Anonymous Shirdi Sai Devotee from India says: My Name is Neelima. I am from Hyderabad Namaskar to Sai Nadh Maharaj. I am a devotee of Sai Baba since my childhood. He saved me and protected me many times in difficult situations. I never go to sleep without touching Sai's Feet. Here is my recent experience.
One day I suffered from severe stomach pain. I was not able to bare the pain. I put vibudhi on my forehead and drank water mixed with Vibudhi. I also prayed to Baba to save me from the severe pain. By Baba's grace, the pain left me in three minutes. Thank you, Baba. Sai Koti pranam
---
More from SaiYugNetwork.com