An Incredible Experience Of Seeking Blessings From Sai Baba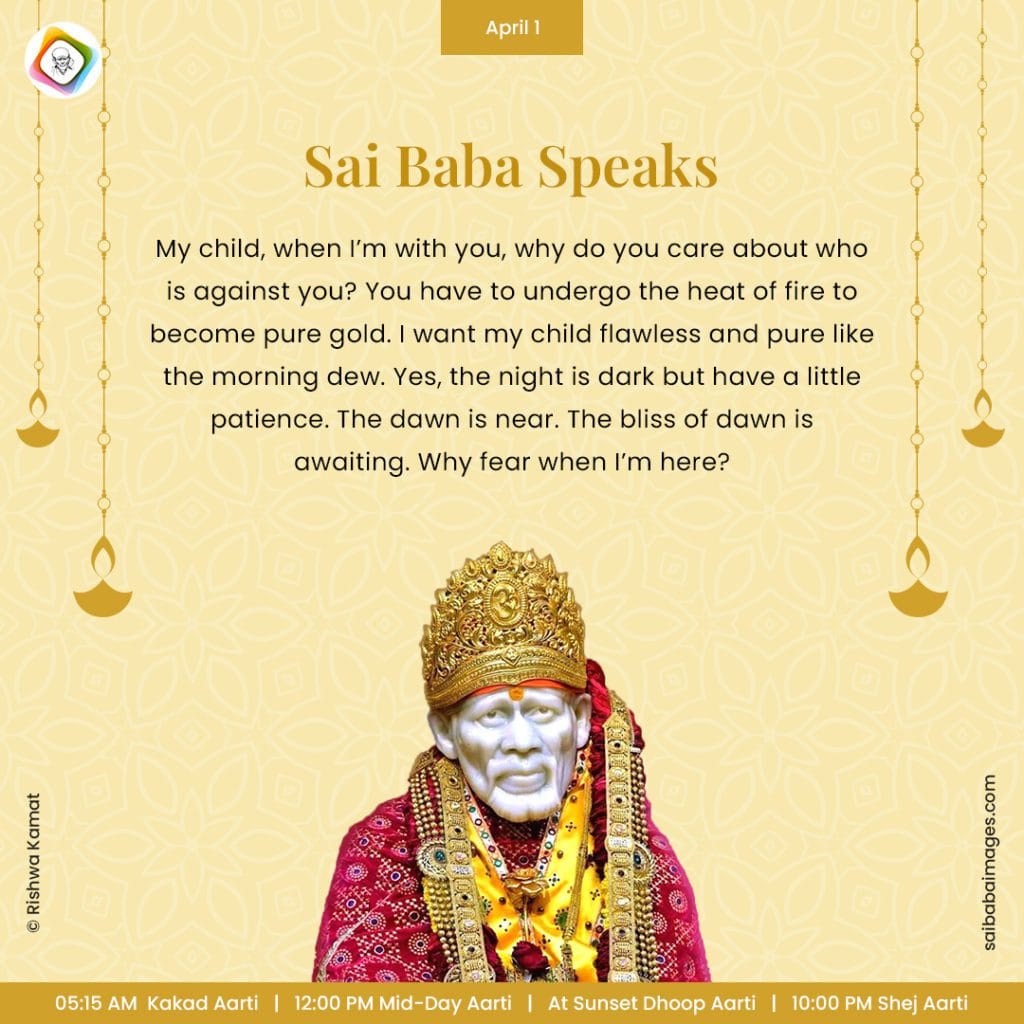 Download Sai Baba Calendar for January
Anonymous Shirdi Sai Baba Devotee says: Dear Hetal mam, you and your team are doing wonderful work maintaining this "Sai's Family" created by you, which is growing all over the world. Your efforts are very much appreciated. Sai Baba's blessings are and will always be with all of you.
Since my childhood, I have been following Sai Baba and reading about His simple living style in children's storybooks. His teachings are easy to follow and make you peaceful. Now, after all these years, He is my soulmate. I share everything with him, whether it's sad or happy, bad or good.
Dear Sai family members, Namaste. Jai Sai Ram.
I am Sai Baba's daughter, Ek Chotisi Chidiya (a small sparrow). My dear Sai Baba was, is, and will always be my world. He is in my every breath. In my family, everyone refers to me as Sai's Chamchi, and I feel very happy when I hear it.
A few years ago, my family and I used to visit Shirdi very often, at least once a year. Sometimes, my mother would come with me, who is also a sincere devotee of Sai Baba. Due to her age, she used to feel tired from the long journey and, of course, standing in the queue. At that time, the queue was not so long, yet she used to feel tired but did it all with great Saburi (patience).
Her only complaint was that she wanted to see Sai Baba a little longer until she felt satisfied (Aankh aur man trupth hone tak). But her wish was hard to fulfill. Yet, I decided that I would try my best to get her this satisfaction.
Sincerely and wholeheartedly, I prayed, "Deva, help me so that I can bring a smile to my mother's face. She may not have this chance again to come and see You! Let her have a few more minutes to spend with You. Please listen and show me the way if You want to fulfill her wish."
After my prayers, I started my Pradakshina (circumambulation) around Gurudevdatta's temple. While doing so, I was continuously begging Sai Baba for His grace and help. Sai Baba listened, and I saw one elderly person with an attractive smile on His face looking at me. That child-like smile was pulling me toward Him.
I gathered the courage and bowed to Him, asking politely if He knew any VIP person who could allow my mother to see Sai Baba for a few minutes. And here that wonderful Chamatkaar (miracle) happened.
That saintly person said, "You want to see now… come with Me, take your mother with you, and follow me."
The three of us, me, my mom, and him, went straight to the VIP entry gate. The doorman saluted him respectfully. He told the doorman to allow us to sit in that tiny room from where we could see Sai Baba from the left side. And he, too, smilingly allowed my mother and me inside but requested me to come out early while my mother could sit there.
I felt very blessed, very, very happy, and did not want to disrespect his request. I made my mother sit there comfortably, with tearful eyes, saw my Deva for two minutes, and came out. I was jumping with joy and told the doorman that I would come to pick her up after finishing my Pradakshina. He assured me not to worry.
I sincerely thanked that great person with heartfelt gratitude, and He smiled. That smile had a mesmerizing power, and I wanted to see it again and again, but He left. Then I thanked the doorman too.
Can you imagine praying and Sai listening? What an amazing experience! After completing my rounds, I returned to pick up my mom and saw her glowing face with utmost happiness and satisfaction. I couldn't control myself and we both hugged each other and cried together.
Oh my, Deva! You are the living God, present and listening to every sincere call. Thank You, Deva, for making my Shraddha stronger and increasing my Saburi. Please always be with me, my family, and everyone who wishes for Your presence. Krupa karo mere Sai, raksha karo Sai mere! Sabhi par reham nazar rakhna Deva.
Anant koti prem pranaam to You, my dear Sai Baba.
Divine Intervention: How Sai Baba Protected A Devotee's Son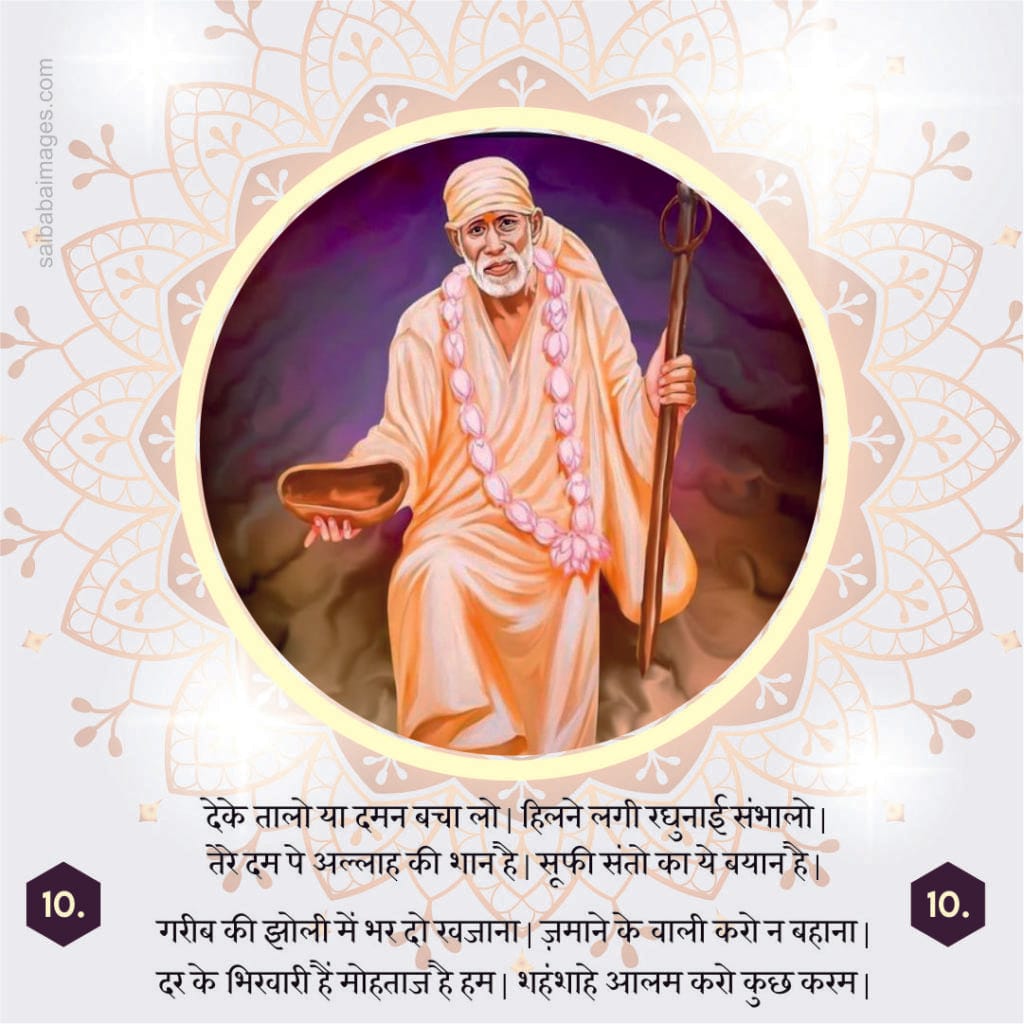 Anonymous Shirdi Sai Baba Devotee from India says: Sai…Sai… To all the beautiful children of our beloved Sai Baba.
As Sai Baba says, we are all time protected by His loving shield. One more saying of Sai Baba comes to my mind while typing this: "It does not matter if your family does not worship Me, but as you are my devotee, your entire family is My Responsibility."
This is not an experience that I am sharing, but the grace of our beloved Sai Baba Who just came in time as usual and protected my little son.
It goes like this: my son and I were returning from the salon. It's just 100 meters away from my home. He insisted that we have a race. As he is just five years old, I raced with him at his speed, keeping my eyes on the lane to see if any vehicle was crossing us or not. We were just 10 meters from our home when I saw a bike approaching. I was holding his hand, but I just don't remember if he left my hand or I left his hand, and he started running again. The bike was at its normal speed, and the biker too didn't expect anyone to come in front as it was a clear lane. To my horror, my son just came in front of the bike, and the biker pressed his brakes on time but still hit him, and my son fell on the ground. He was not much hurt, but his leg palms had bruises, and he was very much terrified. I am not able to explain the entire scene here, but it was a very shocking moment for all of us. The entire building came out for support, and my wife came running, wherein she too was hurt, but a mother's heart will always be a mother's heart. She too can't recall where she hit herself. We gave him medical aid along with Sai Baba's panacea – The Udi. He was traumatized for a while, but my wife and I hugged him to bring him back to normal.
I just want to state here that if Sai Baba would not intervene, the entire thing would have turned into something that till today gives me jitters.
Hey Deva, we are and will always be your dependents. Please save us from all the evils and keep us under your shade. There are a lot of instances where we find ourselves in the middle of something where only you can be our Savior. My entire family and I will be grateful for the love and care You give us by being the caretaker and the eldest of your family.
Sai…Sai…Samasta Lok Sukhi Bhavantu.
Sai Baba's Blessings: A Homeowner's Experience Letting His House For Rent
Download Sai Kasht Nivaran Mantra
Anonymous Shirdi Sai Baba Devotee from India says: I am from Bangalore. Om Sai Ram.
I want to share my experience of letting my house rent. I had a bad experience with my old tenant, who was also the first family to whom we let it for rent. I have a house in my hometown, and my uncle stays there to show the house to potential tenants and provide other assistance. Due to a lack of proper maintenance and cleaning by the previous tenant, the house was in terrible condition. The water tank was not cleaned, and the water was brownish, with mud sediments present. Furthermore, the tenant had kept the house locked for a few months without any use. I had a difficult three months with them without proper payment of rent and maintenance (six months) from their side.
After getting them vacated, I prayed to Sai Baba to take complete responsibility for the house and guide me on how to handle the situation. It was difficult for me to visit my hometown frequently, and my uncle was not financially well-off to spend Rs. 300 for every visit. Furthermore, the house was bought on loan, and I was paying huge EMIs every month. The rent and land area in that area was not great. When I checked the water brown color problem, it seemed expensive to fix it. So, I left everything to Sai Baba and made no effort towards finding a new tenant.
With Sai Baba's blessings, everything fell into place perfectly. A tenant looking for a house rental was guided to my house. I still don't know who that person was, but to me, he was Sai Baba. The tenant enquired with my neighbors, got my father's number, and reached out to me. They liked the house and even offered to clean it before shifting. They also agreed to a good, proper, and deeper tank cleaning, which fixed the watercolor problem. The tenant is now staying there, and it all happened with Sai Baba's blessings.
For me, it was a huge task done completely with Sai Baba's end-to-end blessings. Thank You, Sai Baba, for taking care of our house and finding us a tenant. Please continue to take care of the house. Thank you, Sai Baba. Om Sri Ananthakodi Brahmandanayaga Rajadhi Raja Yogiraja Parabramha Sri Sachidhanandha Samartha Sadhguru Sainath Maharaj ki Jai.
Gratitude And Blessings: Experiences With Sai Baba
Anonymous Shirdi Sai Baba Devotee from India says: Dear Sai Baba, Thank you for the blessings that you have bestowed upon me. As promised, I am sharing my experiences in direct speech, first person.
Firstly, Sai Baba, I want to thank You for helping me when I needed You the most. Thanks to you, I was able to help my friend and also reach the office on time without any issues. No one noticed us when we arrived at the office.
Secondly, I want to express my gratitude for saving me from a backup issue. As you know, I am responsible for data backup in my department, and one day, I forgot to take a backup of two systems and signed the register. However, my colleague identified the mistake and called me. At the same time, I prayed to You wholeheartedly that no one should notice the error, and I would share the same on this site. Once again, Your blessings were with me, and the issue was resolved.
Thirdly, I am immensely grateful for making India win both matches against Pakistan and Bangladesh. I had prayed to you that if India wins the match against Pakistan, I would share the news on this site, and as always, You blessed us. Baba, please help our team to win the remaining matches and the World Cup. We seek Your blessings.
Baba, I had prayed for the health of our dogs. Unfortunately, in the last three days, we have lost two of them to a viral disease. I beg you to keep our remaining three dogs safe and end this disease. I will share your blessings with all the devotees, and I pray that all the pets receive Your blessings.
I will share the remaining experiences soon, Baba. Please forgive my mistakes.
Sai Baba's Miraculous Help In Resolving Personal Conflicts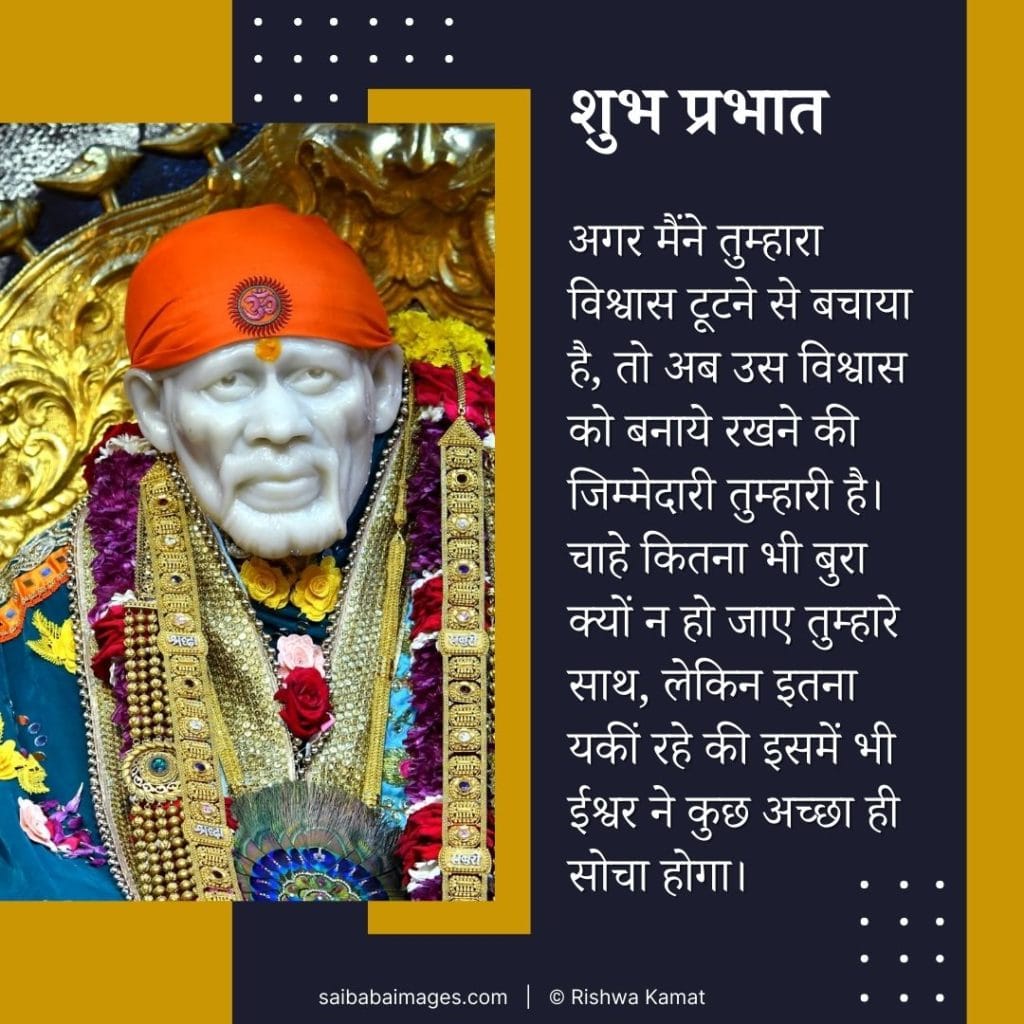 Anonymous Shirdi Sai Baba Devotee from Australia says: Koti Koti pranam, Sai Baba, for always being there to help me in my times of need and for being by my side.
Dear fellow devotees, I would like to share an experience in which Sai Baba heard my prayers and helped me. As promised, I am sharing it on this site. A few days ago, my husband was very angry about a certain matter and refused to calm down. I prayed to Sai Baba to help him ask for forgiveness for his anger and to calm him down. As a miracle, he became very sorry for his behavior and asked for forgiveness. Normally, it takes him a while to calm down when he is angry, but on that day, he understood that his behavior was not right after a few minutes and apologized. This was only possible because of Sai Baba's blessings.
Dear Baba, as you know, I am traveling to India soon and there is an issue that is causing me anxiety and stress. Baba, please help me to resolve this issue in a calm manner. I do not want to have any fights or disagreements in India. You know everything, Baba, please help me. Please let my India trip be a happy one and let there be no fights with my husband. I will post on this website once I am back, as I know You will look after me. I need You, Baba! You know that for the past few months, I have had a very difficult relationship and I cannot handle any more negativity. Please help me to overcome my depression, anxiety, and stress. Devotees, please pray for me.
Thank you, Sai Baba, for being my savior. I love You and will come and visit You. Please help to change my husband's views about my family and let him show love and respect for all of them. I am sure you can do this. Anant koti pranam, Sai Baba.
A Devotee Of Sai Baba Finds Lost Ring Through Sai Baba's Blessings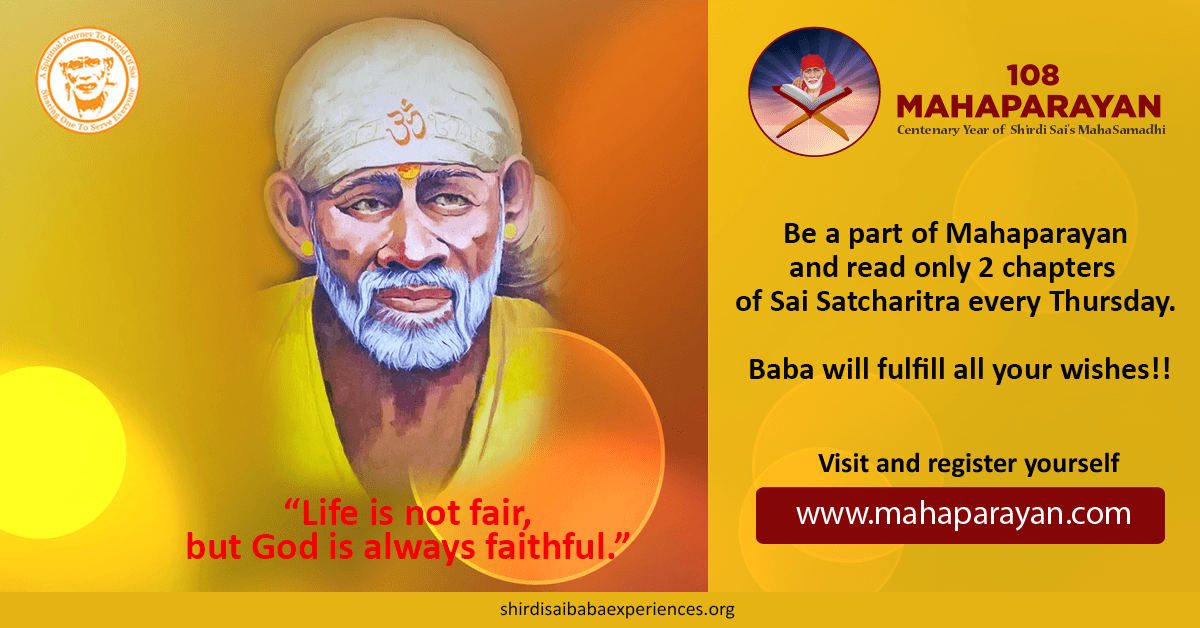 Anonymous Shirdi Sai Baba Devotee from India says: I am a small devotee of Sai Baba from Chennai, India. Thank you, team, for this wonderful platform. Nearly four months ago, my daughter lost her ring in her hostel. She searched everywhere, but she could not find it. We were very upset, so I asked Sai Baba in Q&A. He said, "You will find your lost thing," but we didn't. We totally forgot about it, but I had full faith in Sai Baba.
Last Wednesday, she finished her internship and vacated the hostel. At that time, we searched again but couldn't find the ring. On Sunday, while she was searching for something in her bag, her ring appeared. She had searched her bag many times before, but the ring wasn't there. I have no words to express how grateful we are for this miracle that was true because of Sai Baba.
Sai Baba, without you, we are nothing. Thank You, Deva, for blessing me, my family, and Your children. Om Sai Shree Sai Jai Jai Sai.
---
More from SaiYugNetwork.com