Devotion To Sai Baba: A Journey Of Faith And Gratitude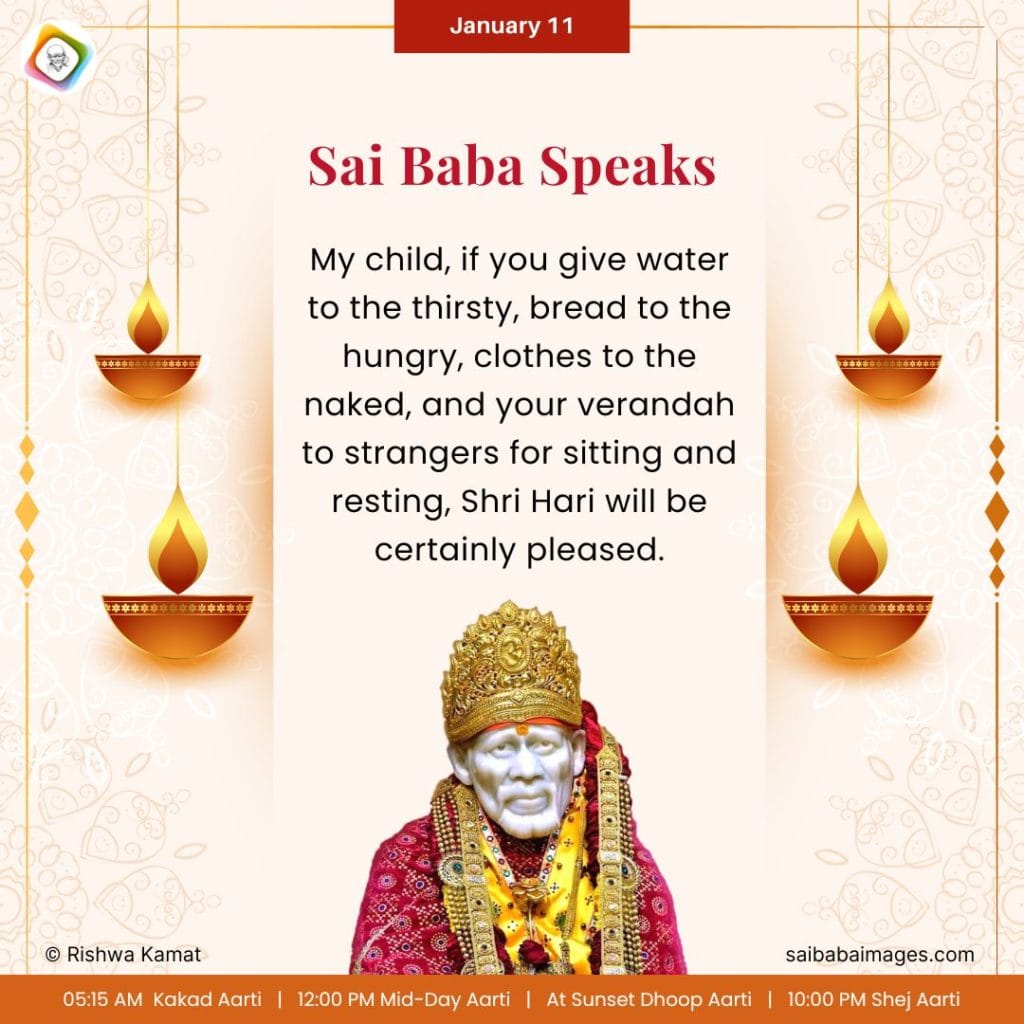 Download Sai Baba Calendar for January
Anonymous Shirdi Sai Baba Devotee from India says: Om Sai Ram. Tons of thanks to my Sadguru, Father, Mother, Savior, Best Friend, Well-Wisher, and my soul: Sai Deva. Deva, words cannot express my gratitude towards you. Please never leave our hand, Deva, we have no one except you.
Deva, please write your leelas through me, as I was unable to start writing some leelas out of the infinite on this blog for the past few days. Thanks, Hetal ji, and team.
This month, the wedding of my niece is planned for 25.11.2022 with Deva's blessing and guidance. Deva, please perform and take care of the whole wedding and bless the couple's married life with Your love and mercy. For the past few days due to some minor issues from the groom's family, I was feeling sad, so I am requesting Deva to remove all conflicts. Today 7.11.2022, I got the idea to arrange Sai Bhajan but was not sure how to do it as the marriage is in our hometown, and only my parents live there for some months. My sister's family also does not live there, so every arrangement is to be done by my parents. I do not want to increase their burden, so with some conflict in my heart, I looked towards Sai's picture on my desktop. Lo and behold, I suddenly see Deva's blessing hand move slightly in the picture, so I immediately called my mother and discussed with her to arrange Sai Bhajan. She was also unaware of this, but I am sure that Deva will do this arrangement also.
Baba Shown Path for My Son's Behavior Improvement: My son, who is 15 years old, has a temper issue. I am continuously requesting Deva for His mercy. We did some puja and made him wear a Neelam pendant on someone's advice. But after this, he became angrier. I told Deva that I did everything as per His guidance, so He has to resolve this issue. One day, I was simply talking to my boss, who is also an astrologer, about my son's anger issue. I showed him his kundali on my mobile. He told me to remove the Neelam and make him wear an iron ring. As per Deva's arrangement, at that time, my parents were in their hometown and about to return in 3-4 days, so they immediately got the ring. Now, with my Deva's blessing and guidance, my son is much better. Deva, please always show mercy on my kids and show them the correct path of humanity. Koti Koti Pranam Deva.
Baba Saved Me from Shopping on a Very Rainy and Gloomy Day: One day, shopping was planned, but somehow due to the gloomy weather, I was not willing to go. But I cannot say no to that person, so I requested Deva for help, and he gave me the idea to postpone the shopping without hurting the other person.
Deva Answered Me to Read Vishnu Sahashranam and Guide Me to Have a Vishnu Laxmi Pic for Both Me and My Husband: For the last 2-3 months due to some issue in my husband's office, we are a little bit disturbed. I know Deva always reduces the problems' impact on our life and never lets us lose our hope and happiness. I am continuously requesting Deva to guide us, as my husband is very intelligent and deserving. Three weeks prior on a Wednesday, Deva guided me to do Vishnu Sahashranam and print two Vishnu Laxmi Pictures, one for me and one for my husband. I gave my husband the picture and the next Thursday, he stuck it near his sitting place in the office. From the next Thursday, Deva also motivated me to do 108 Naam Jaap of Vishnu along with His name. Thanks, Deva for Your guidance.
Om Shri Sai Sarva Samarth Sadguru Laaj Rakhna.
Sai Baba's Miraculous Blessings: Two Personal Experiences
Download Sai Kasht Nivaran Mantra
Anonymous Shirdi Sai Baba Devotee from Germany says: I am living in Germany with my husband and two kids. Baba is everything to us. Greetings Hetalji!! Thank you for this wonderful platform.
Experience: 1
After our India trip, we planned to visit a nearby country for a short vacation. So, we planned for Austria and stayed there for five days.
Like always, before starting from home, I prayed to our beloved Baba to be with us throughout the trip until we reach back home safely. We hired a rental car and without any problem, we roamed as per our plan for all five days and returned back safely. Our stay, food, places we visited, and journey to and fro all went smoothly with Baba's blessings. Thank you Baba for always being with us.
Experience: 2
During our India trip, while coming back to Germany, my 4-year-old daughter had a severe toothache and was crying very badly in the airport while we were waiting for our boarding from Chennai to Dubai.
Even after boarding the flight, she was very restless and crying non-stop. We didn't know what to do because even after giving her medicine, she cried badly. I prayed to our beloved Baba that her pain should subside soon and make her calm and sleep. I will share this experience on this holy site. Within a few minutes, she slept and got up only after our landing. Then from Dubai to Germany, she was playing happily and never complained about the toothache. We reached Germany without any problem. Thank you Baba for being with us during our tough phase.
Baba, as I always ask, please be with us always. Please take care of all your children.
Om Sai Sri Sai Jai jai Sai!
Om Sai Ram!!
Sai Baba's Miraculous Touch: A Devotee's Experience
Anonymous Shirdi Sai Baba Devotee from USA says: Om Sai Ram! I am one of the sparrows that Baba has pulled towards Him. He humbly pulled me towards Him, and Baba has been showering His blessings on us throughout our life. Baba also pulled my husband towards Him, and now he has become a sincere devotee of Baba. Thanks a lot, Baba, for everything. Kudos to the people maintaining this blog. You all are blessed ones, and may Baba continue showering His blessings on you all. I am part of the Mahaparayan group because of His blessings. Whenever I feel low, I read the miracles of Baba on this site, and I get more energy and peace.
Baba has shown many miracles in our life. Even for small things, I and my husband go to Baba. He guards us like a parent and guides us on the correct path. I forgot my laptop password and resetting it didn't work. After trying multiple times, I prayed to Baba that it should work, and within an hour, the password worked. Thank you, Baba, for taking care of my husband's toothache. Please help us during the trip and bless us to visit you and Tirupathi. Thank you, Baba. Please bless all your devotees. Om Sai Namo Namah, Sri Sai Namo Namah, Jai Jai Sai Namo Namah.
A Heartfelt Miracle: Experience With Sai Baba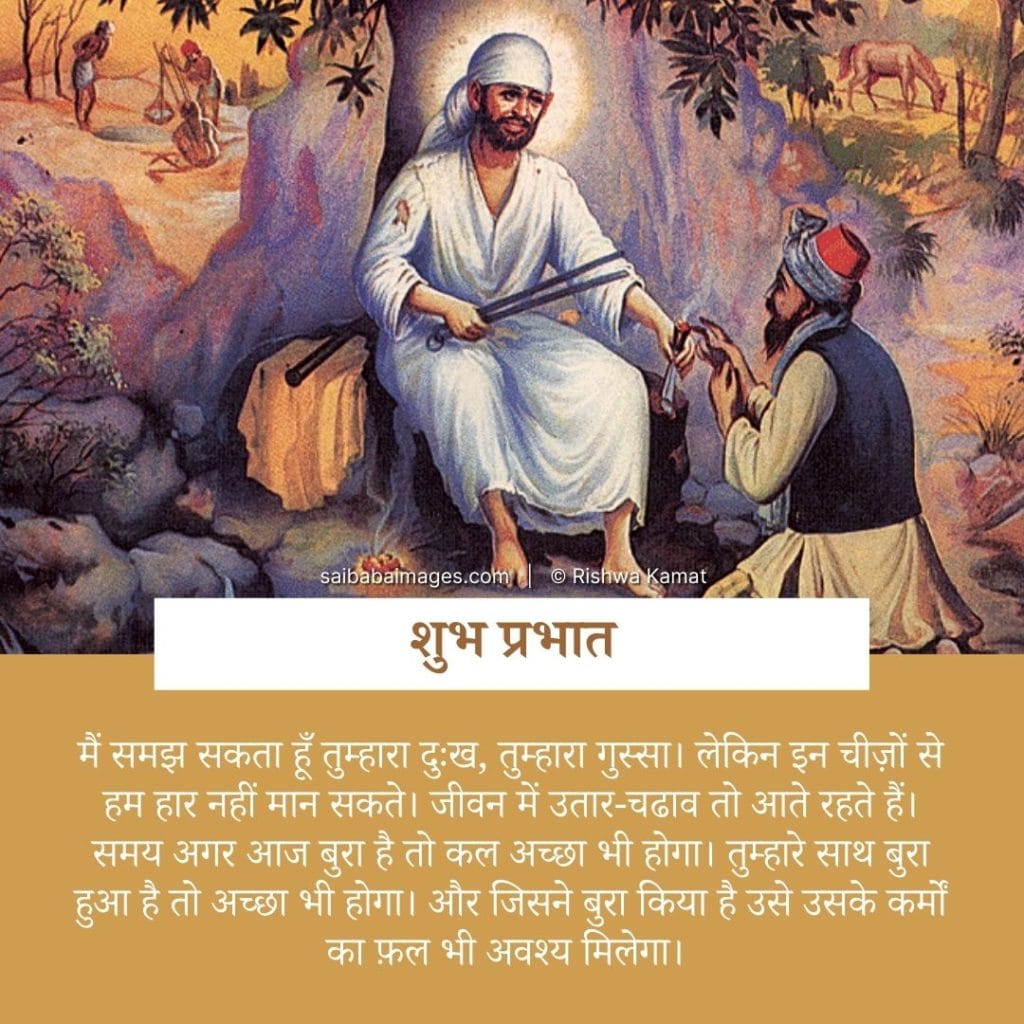 Anonymous Shirdi Sai Baba Devotee from Germany says: My Heartful Pranaams to the readers and the team of the divine blog.
I am here to share the latest Sai miracle. I sell plants online and last week there was a buyer who promised to buy a significant amount of plants but didn't show up. I was quite disappointed, but by evening, Baba had sent two more buyers who bought more plants than the amount I missed because of the last buyer. This proved to me that Baba was there for me. While I was disappointed about the previous buyer, I vowed to Sai that I would share my experience here if He made the sale happen. A few days passed, and I hadn't heard anything from the buyer, even after trying to contact her. But after a few days, she called me back and said she was going to come to buy the plants. I felt super happy and grateful for our Deva.
Also, my online sale platform got blocked without any reason three days prior, and I was worried. I sincerely prayed to Baba to make it work, and it started working this morning. Thank you so much, Deva. Please bless me with more buyers and help me grow Sai. Please bless my family, Deva. You know what is happening.
Raajaadhi Raaja Yogi Raaja Parabramha Sri Samartha Sathguru Sathchidananda Sainath Maharaj ki Jai!
Devotee Expresses Gratitude To Shirdi Sai Baba
Anonymous Shirdi Sai Baba Devotee from USA says: Om Sai Ram to all Sai Devotees. Thank you to the team maintaining this beautiful blog.
Om Sai Ram. I want to thank Baba for His help the other day. I had something in my mind that I wanted to ask, and I was afraid to ask, so I prayed to Baba that if I ask and if it doesn't cause trouble, then I will share the experience. Yes, I had gathered the courage to ask and it didn't cause any trouble. I am very thankful to You, Baba, for Your help.
Baba, by Your miracle, we met someone yesterday, and he mentioned he would call us back, but we haven't received the call yet. If we receive the call, I will surely also share that experience. Baba, thank You for Your help the other day with the difficult situation. You know what I am praying for. Please don't ignore me. You are our only hope, and I am really praying to You every day to find us a suitable alliance soon. We are blessed to be at Your feet. Thank You for always helping us. Thank You so much, Sai Baba.
Miraculous Recovery: A Devotee's Experience With Sai Baba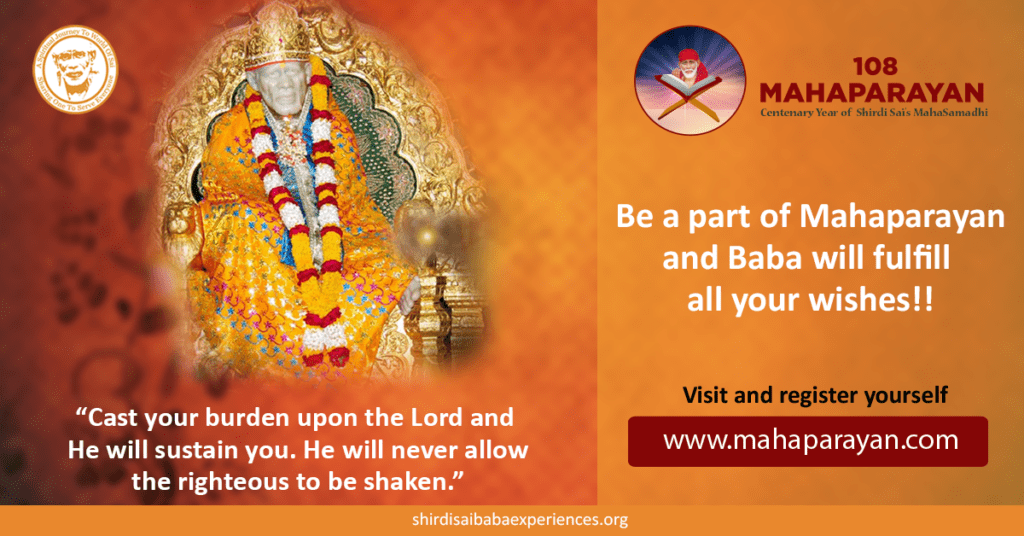 Anonymous Shirdi Sai Baba Devotee from India says: I am an anonymous devotee of Sai Baba from India, and I would like to thank all who maintain this blog. My mother underwent surgery and was undergoing physiotherapy for her hand. On the day of the physiotherapy, she reported severe pain and swelling, causing us to worry. I prayed to Baba to reduce the pain, and by the next morning, she was fine. I wanted to share this miracle on the blog.
Baba has also helped me with other problems. Our car has been suddenly getting locked, even though we have unlocked it many times. I prayed to Baba for help, and he has always ensured that I get out of the car safely. I am grateful to Baba for always protecting my family and solving my health problems. I also pray for my mother and other relatives who are suffering from COVID-19 to recover soon.
Om Sai Rakshak Sharanam Deva. Om Shirdi Vasaye Vidhmaye Satchidananda Dhimayi Thanno Sai Prachodayat
---
More from SaiYugNetwork.com