Experiencing The Blessings Of Sai Baba: A Devotee's Testimonial
Download Sai Baba Daily Calendar with Images
Anonymous Shirdi Sai Baba Devotee from USA says: I am a Sai devotee since childhood. Thank you for this pious website, Hetalji, and team.
Experiences:
All of us got sick with a really bad cold, including my 4-month-old baby. It continued for more than 2-3 weeks. We were very worried about my baby and took her to the clinic. They did a swab test, and the COVID test was negative, but she tested positive for RSV. I was very worried because it's a severe illness in babies less than six months old. I prayed to Sai Baba to help all of us recover, and with His blessings, we came out of this illness. I also prayed that my husband should not catch this sickness from us, and Sai Baba took care of him. Usually, his immunity is low, but this time, only Sai Baba saved him. I promised Sai Baba that I will perform Sai Divya Pooja once we all recover. Sai Baba, please help me to start Your Divya Pooja.
With Sai Baba's blessings, we received the package that we thought was lost.
With Sai Baba's blessings, my daughter's Diwali dance performance went very well.
My son got hurt at the back of his head and started bleeding a little. I was scared and prayed to Sai Baba to take care of him. He was fine with Sai Baba's blessings.
Sai Baba, my daughter got sick again with a bad cold, cough, and high fever. We just recovered, and this started again thandri. I am scared that this is going to spread to all of us again. Please take care of her, Sai Baba. She is unable to sleep even after I gave her some Tylenol. She has a high fever and is saying something, and it's been about a week since she has been biting her teeth at night. Please help her to recover soon thandri. I can't see my kids suffering, Sai Baba. My heart gets really hurt and sad seeing them sick like this. Please, Sai Baba.
My younger kids had their well-care check-ups. I prayed to Sai Baba that everything should go well, but my baby's weight dropped from the 5th percentile to less than the 1st percentile. My son is still not putting on enough weight. He has always been on the 1st percentile of the growth chart. Please help my kids to be healthy and help them gain some weight, Sai Baba.
Prayer: My husband has changed so much. He does not have any patience left now thandri. Poor kids have to suffer his wrath sometimes. Please help him to gain some patience and treat us all with love and care. Sai Baba, please take care of my parents, sisters, and their families, and all Your devotees. Om Sai Ram.
A Miraculous Intervention By Sai Baba At A Celebratory Party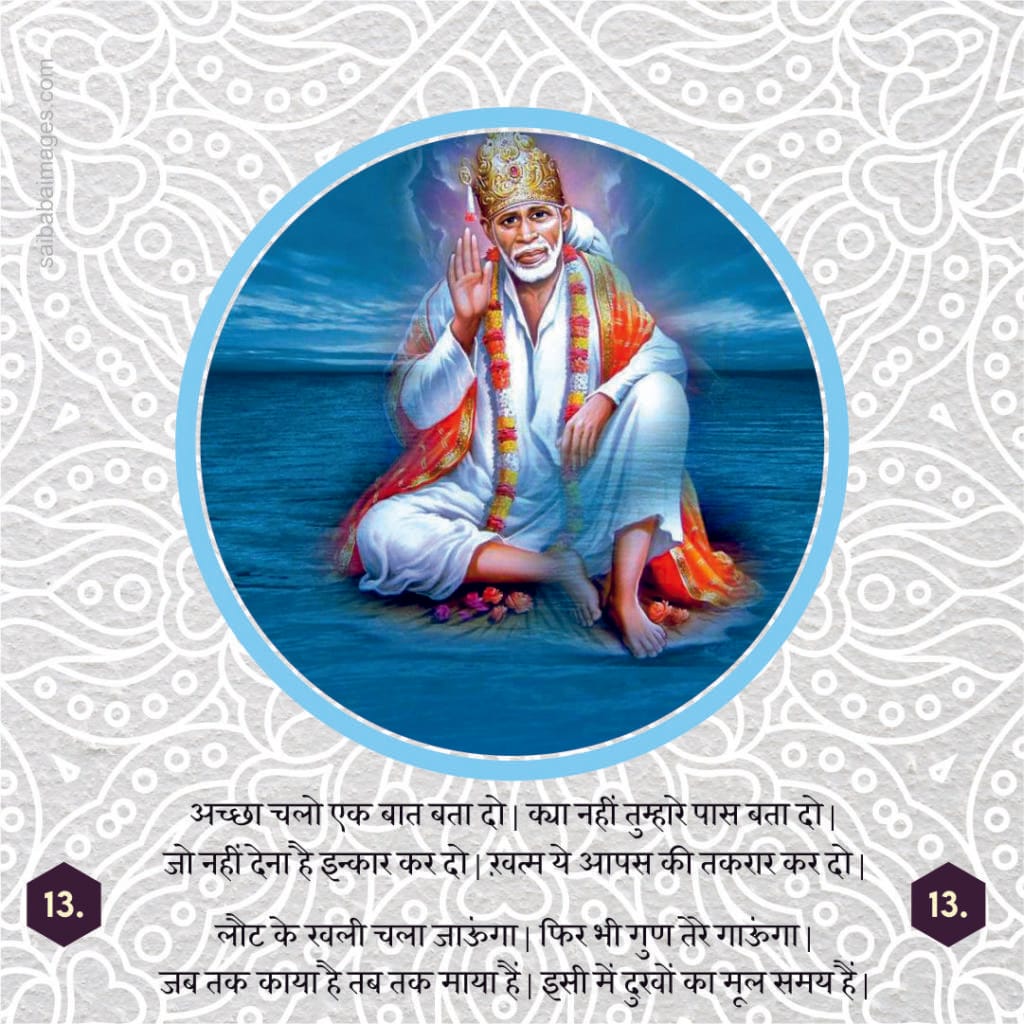 Download Sai Kasht Nivaran Mantra
Anonymous Shirdi Sai Baba Devotee from India says: I was at a party to celebrate my friend's 25th wedding anniversary. He and his wife had come from Germany.
At around 2 am, a glass broke and a big piece lodged into my leg, causing profuse bleeding. My friends tried their best, and the bleeding was stopped by Sai Baba's grace.
Then, we thought we would have to go to the emergency room to get medical help, but we decided to wait and watch. If the bleeding happened again, then we would go. Otherwise, we would go the next day. By Sai Baba's grace, all went well.
The next morning, we went to the hospital, where I received eight stitches, and within two weeks, I was fine. The miracle was that I could drive and attend the office while recovering.
The broken glass was big, and it could have wreaked havoc on my leg, but Sai Baba saved me. He is the most merciful and loving and always looks after me and my family.
Love you, Baba. Bless us all.
Baba, I have made another wish. Kindly grant it and bless me. I will post my experience here again.
Om Sai Ram.
A Devotee's Experience Of Sai Baba's Miracles In Daily Life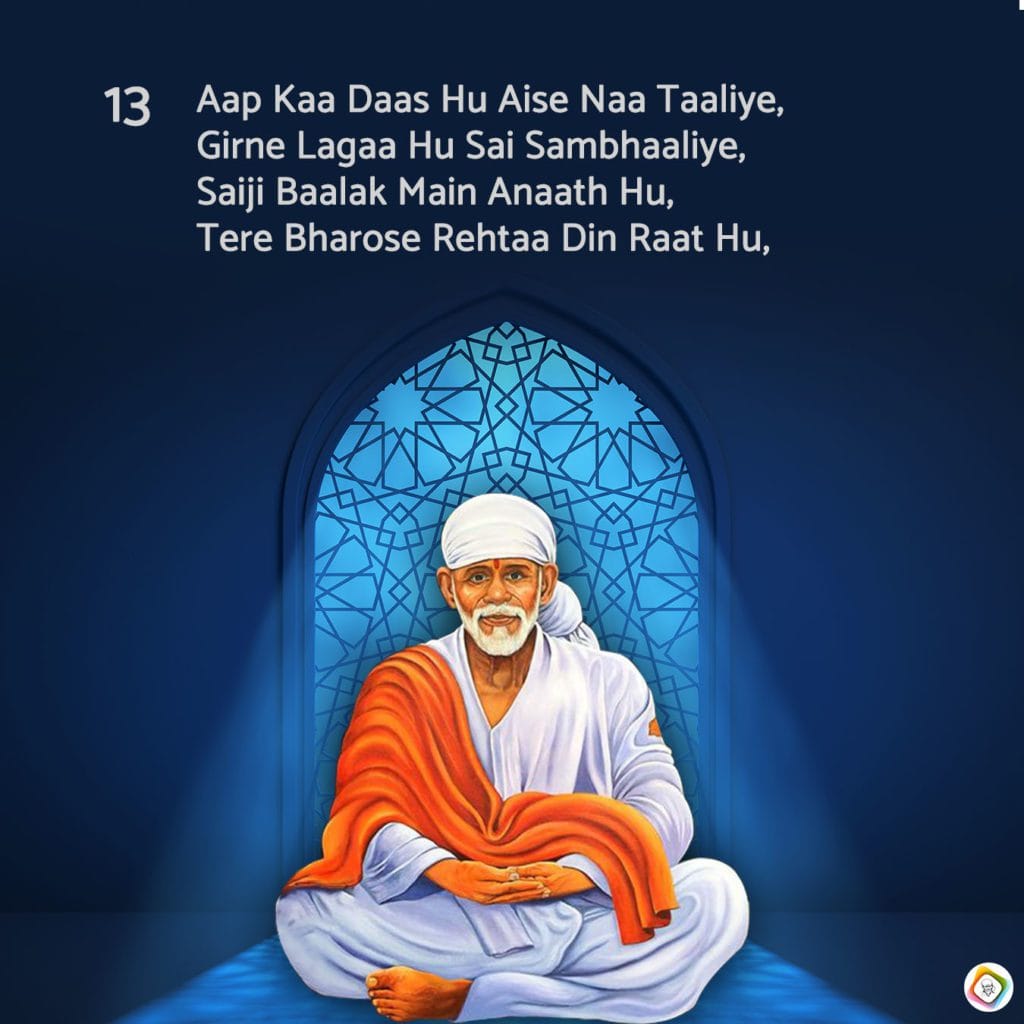 Anonymous Shirdi Sai Baba Devotee from India says: Greetings to all, with deep respect and reverence to Sai Baba, I extend my prayers for Baba's blessings upon every individual and the team behind this noble service. In the hope of a healthier world and overcoming the pandemic, I earnestly request Baba's divine intervention to guide us towards realization and saving the planet.
I wish to share another personal experience that I recently encountered. In 2020, my mother underwent a complete body test, which revealed the possibility of blockage in the valves. An angiogram was performed, and we waited for the results while praying to Baba to save her from undergoing any surgical operation. Unfortunately, the doctor's report confirmed the need for an operation due to the blockage. However, at the last minute, through Sai Baba's grace, the report was referred to a senior doctor, who stated that the blockage could be cured with medication and that an operation was not necessary. She took the prescribed medication for three months and went for a follow-up check-up, where the doctor informed her that there was no need to worry, but that she should continue the medication for six more months. I pray to Sai Baba to bless my mother with good health, as she is one of his most devoted followers, who sees friend and foe alike.
I offer my heartfelt gratitude to Sai Baba for continuously taking care of our family. We have been praying for years regarding my marriage, and I appeal to Baba to bless me with a good-hearted groom, who will be my lifelong partner. May Baba shower his blessings on me and guide me toward a pure-hearted and supportive partner.
Devotee's Experience Of Sai Baba's Blessings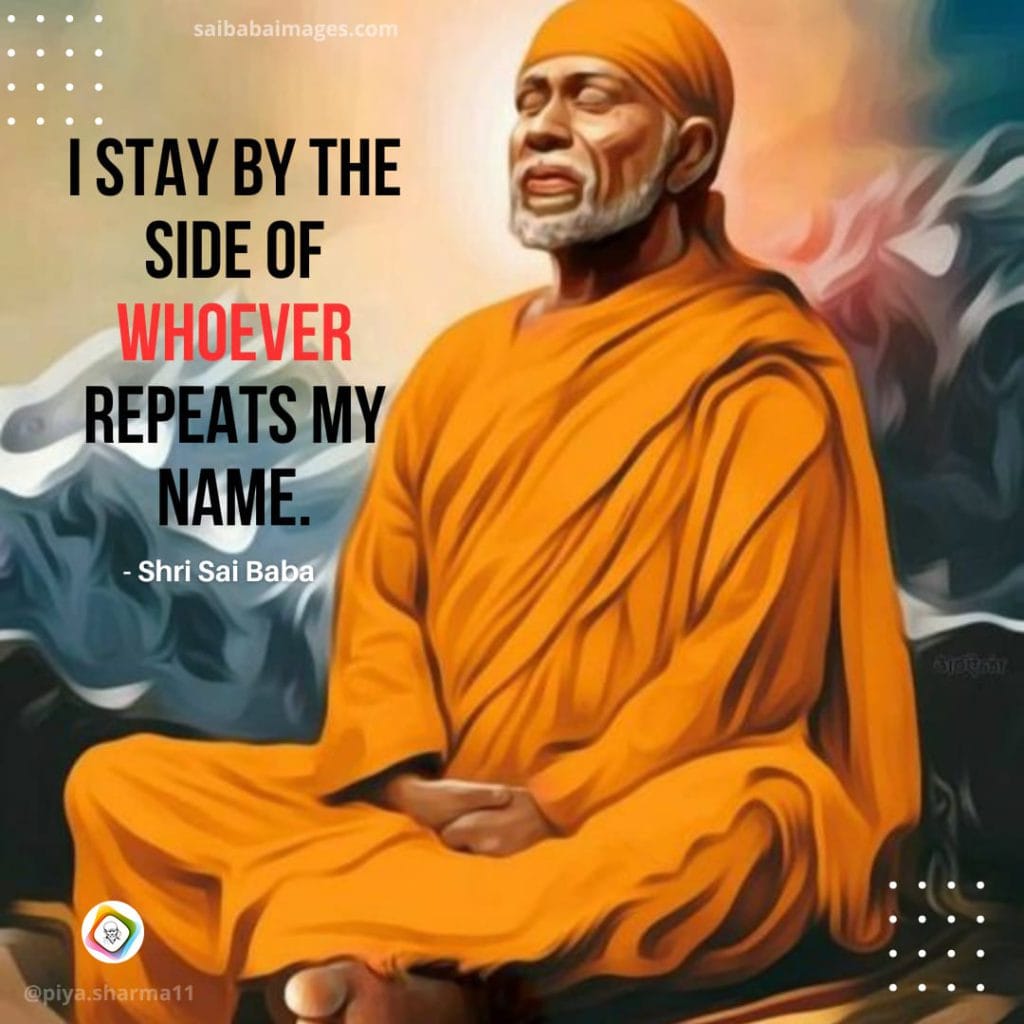 Anonymous Shirdi Sai Baba Devotee from India says: I am a small devotee of Sai Baba. Thank you, Hetalji, and the team for this site. The site provides motivation for every situation in life after reading the experiences of other devotees.
Sincere apologies are due to Sai Baba for the delay in posting the experiences.
The devotee's mother-in-law gave her a cloth to stitch a blouse and provided the measurement along with some other clothes. However, the devotee was unable to see the measurement while at the tailor. She became worried and prayed to Sai Baba. Upon asking her mother-in-law, she found out that the blouse was the one with the measurement, and she thanked Sai Baba for her help.
There was one more experience that the devotee wanted to share, but she could not recollect it. She apologized to Sai Baba for this.
The devotee requests Sai Baba to take care of everyone and everything and to help in all situations. She asks Sai Baba to show the right direction to everyone in her family and to shower his blessings for good health, happiness, long life, and protection.
A Family's Gratitude For Sai Baba's Blessings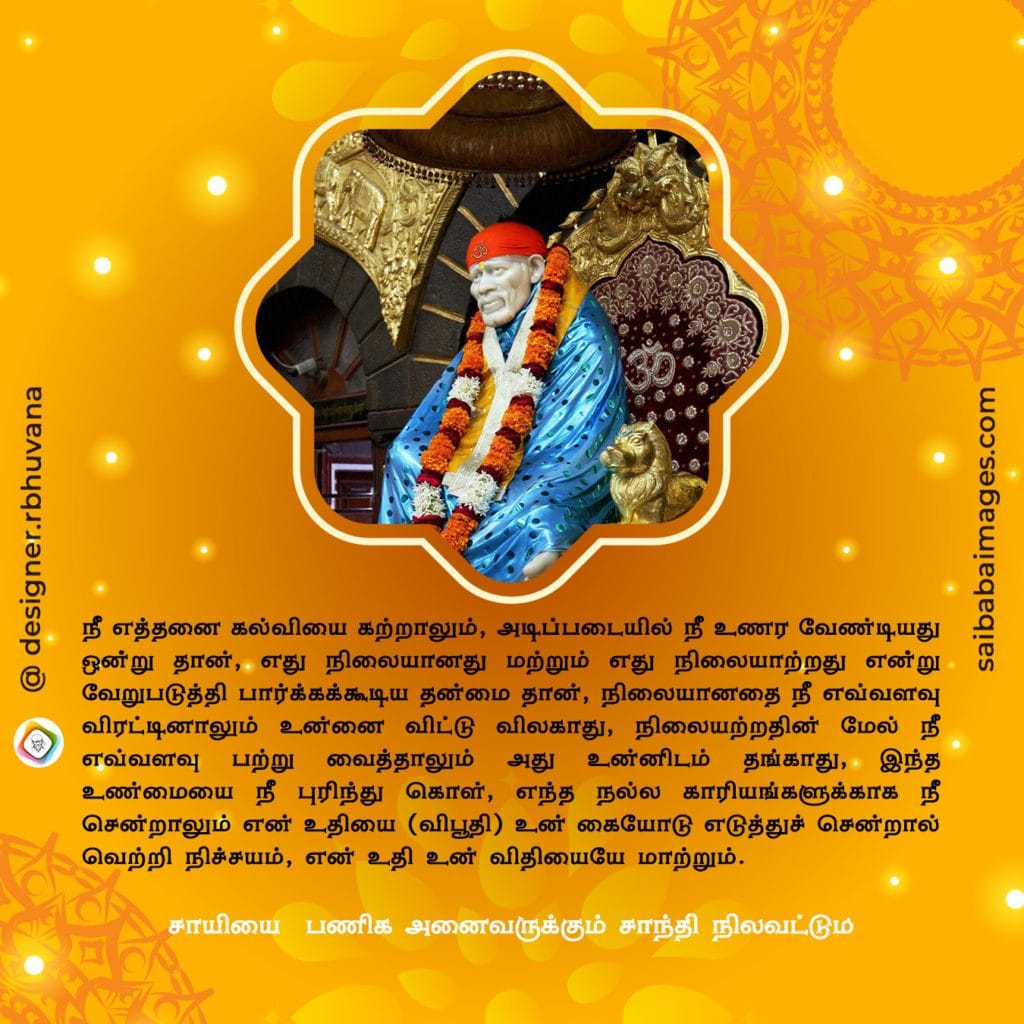 Anonymous Shirdi Sai Baba Devotee from India says: My mom was experiencing severe stomach pain, which made it difficult for her to sit or sleep. After visiting the doctor, she was prescribed medication and warned that if the pain persisted, she would have to undergo sonography to check for any underlying issues. However, within two days of taking the medication, she began to feel better. Unfortunately, the pain returned in the evening. It was at this point that I prayed to Sai Baba, pleading with Him to alleviate my mother's pain. I promised to write about my experience if He granted my request. Miraculously, her pain disappeared, and my father's leg pain, which had been present for a year, also improved significantly thanks to Sai Baba's grace. I am grateful to Baba for His blessings on my family.
Gratitude For Sai Baba's Intervention In Husband's Health Check-Up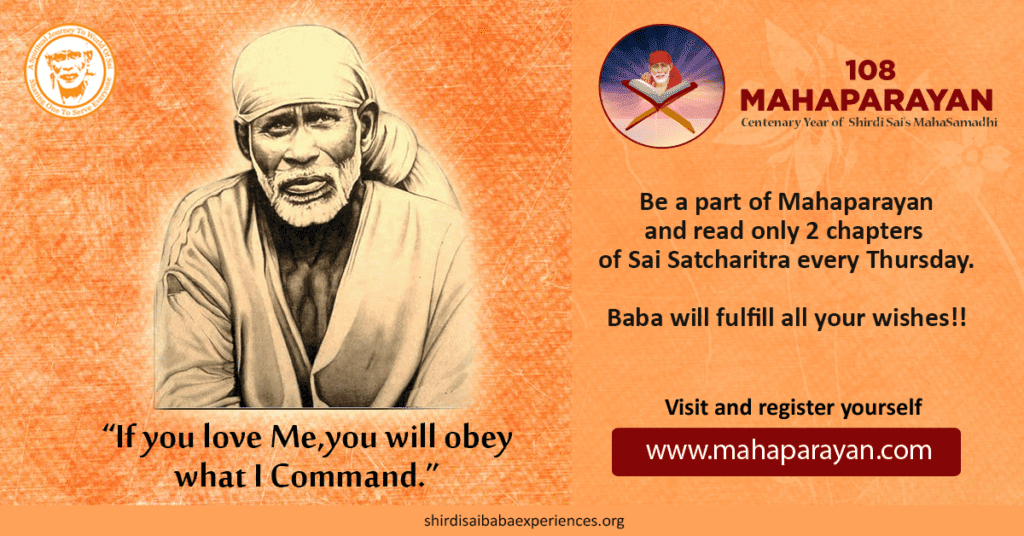 Anonymous Shirdi Sai Baba Devotee from India says: Thank you, Hetaji, for this wonderful site with a beautiful experience. We did a health check-up for my husband. I was a bit scared about the report, so I asked Baba if all the reports come back properly, I would have posted this experience. Thank you, Sai. Thank you, Baba. With Baba's grace, all the reports came back normal except for one.
Thank you, Sai Baba.
---
More from SaiYugNetwork.com