Download Sai Baba Daily Calendar with Images
Miracles of Sai Baba: Devotee's Testimonials from India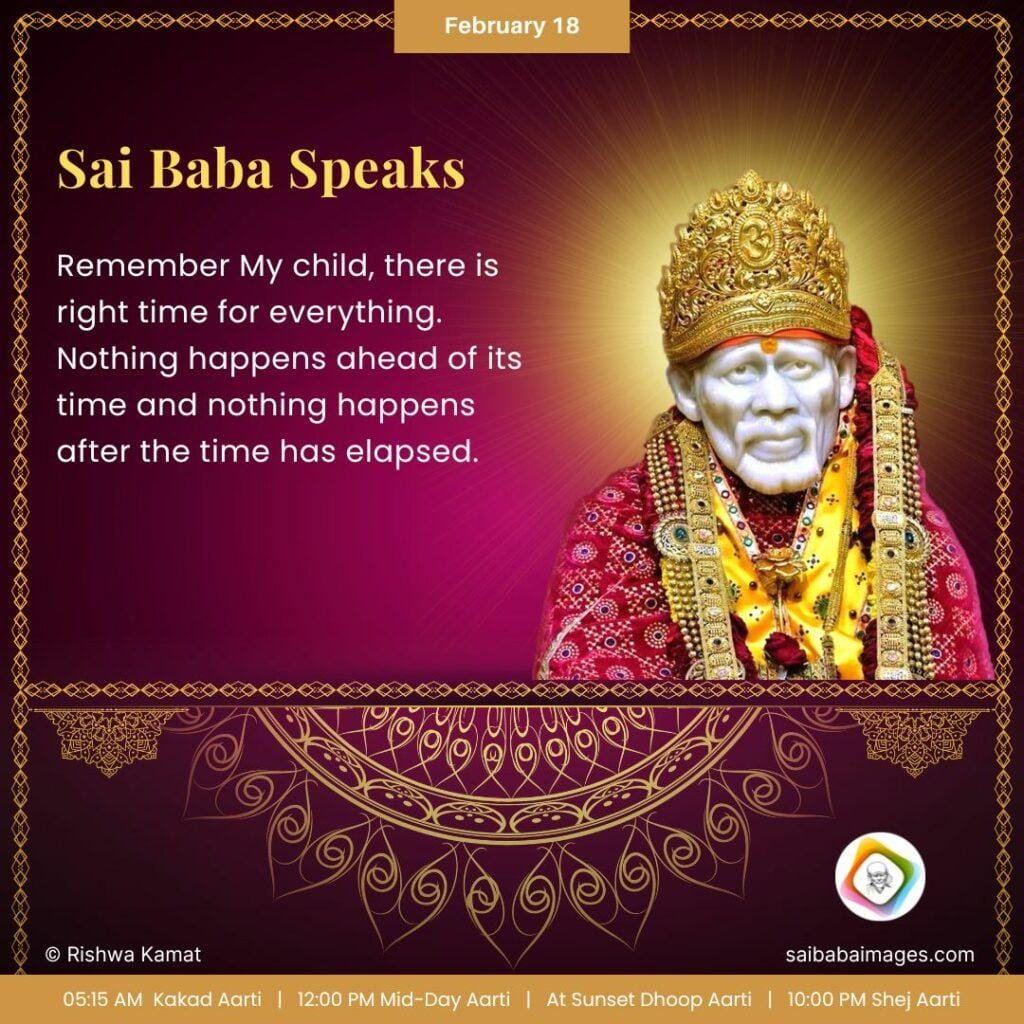 Anonymous Shirdi Sai Baba Devotee from India says: I am a devoted follower of Sai Baba from India, and I would like to express my gratitude to all those who maintain this blog.
I apologize for the delayed response, Baba. There have been numerous instances where I prayed to Baba to resolve my problems, and each time, Baba has come to my aid right on time. I apologize, Baba, for posting my experiences late.
Experience 1: We had a survey to conduct, but my friend was unable to join me. I prayed to Baba, asking for someone to accompany me. As expected, another friend of mine agreed to come along, and we formed a group and had a wonderful time. Baba, thank You for making my friend's birthday special as well. It was also fortunate that it happened on a holiday.
Experience 2: Baba communicates with me, and it is truly a wonderful experience. While watching the television series "Mere Sai," I used to always wear a holy thread or chain. However, on that particular day, I took it off after bathing and forgot to put it back on before watching the show. After some time, Baba asked one of His devotees, "Where is your chain? Go and wear it." I immediately realized my mistake and felt a surge of excitement. I put it on the chain, and at that moment, I thought about how beautiful it would be if Baba spoke directly to me or if we could have lived during Sai's time. Baba also reminded me that even after His Mahasamadhi, he is still alive and present everywhere. I love You so much, Baba.
Experience 3: Today, I took some extra snacks that were meant for my roommate, assuming she wouldn't mind. However, it turned out she was hungry that day, and I felt guilty for taking her portion without asking. Although she wouldn't say anything, I knew it was wrong on my part. Baba made me realize my mistake, and I prayed to Baba that she wouldn't feel like eating those snacks. Miraculously, she thought the snacks weren't good enough and decided not to take them. Additionally, I had missed my previous labs for the week and was worried that the lecturer would scold me or inquire about my absence. However, as soon as I prayed to Baba, the lecturer didn't say a word against me. Thank You, Baba, for always being there for me.
Experience 4: Baba saved me from a lecturer who used to send absence messages to parents. With Baba's help, I was able to easily and accurately complete both pending tests. Thank You, Baba, for assisting us in completing our project on time. It would have been difficult without Your divine intervention. Baba ensured that our project was accepted by the lecturers. Furthermore, I had received a job offer from a company, but a previous issue was still pending. Initially, we were informed that the interview would require me to relocate to another city, which made me anxious about going alone. Suddenly, an email arrived stating that the interview would be conducted virtually. However, I was not interested in attending the interview due to the low salary offered. Thankfully, Baba intervened through one of my friends, who spoke with them on my behalf. Thank You, Baba, for resolving the misunderstanding between me and my friend.
Experience 5: I was supposed to meet my friend's mother, but as a shy person, I was unsure about what to talk about with them. However, Baba made everything go smoothly, and we had a pleasant and engaging conversation. Additionally, my internal exams went well this time, and they were conducted in the same hall where Baba's idols are present. Om Sai Ram.
Baba has often helped me make my parents understand various situations and act accordingly. I am grateful to Baba for granting my wish to have a task completed early in the morning.
One of the most embarrassing situations I encountered was when the strap of my innerwear got detached while I was going out in the evening. I panicked and asked Baba for guidance on how to handle the situation and get home. Eventually, a solution presented itself, and it was immensely helpful, thanks to Baba's divine intervention.
Om Sai Ram Om Sai Rakshak Sharanam Deva Om Shirdi Vasaye Vidhmaye Satchidananda Dhimayi Thanno Sai Prachodayat. Om Rajadhiraj Yogiraj Parabrahma Shri Satchidananda Sadguru Sainath Maharaj ki Jai. Om Sai Rakshak Sharanam Deva. Om Sai Ram.
Download Shirdi Sai Baba Mantra Book for Free
We invite you to download our 'Shirdi Sai Baba Mantra' book, which is a collection of powerful mantras that can help you connect with the divine energy of Sai Baba and seek his blessings. We hope this book serves as a valuable resource on your spiritual journey and brings you closer to the love and grace of Sai Baba.
Sai Baba's Miracles and Divine Presence in My Life
Anonymous Shirdi Sai Baba Devotee from India says: I would like to share my personal stories about how Sai Baba was always ahead of me.
I have been a devoted follower of Sai Baba for many years, but it wasn't until I joined the Maha Parayanam group in 2019 that I started reading the Sai Satcharitra. I have visited Shirdi several times because being in Sai Baba's presence brought me immense joy. Countless miracles have occurred in my life, so much so that I could write a book about them.
One of the most significant miracles took place when I was diagnosed with a type of blood cancer. After extensive research, my husband and I decided to relocate to the southern part of India for treatment. We both left our jobs, and the doctor recommended that we reside in an area away from the city to benefit from the clean air. We settled in a house within a retirement community, equipped with only the bare essentials, and prepared ourselves for the treatment. The community, located on the outskirts of the city, had no compound wall; only iron wire fences enclosed the area.
To my surprise, the evening after we moved in, a group of elderly people from the community gathered near our gate around 6 p.m. Curiosity piqued, I went out to meet them and discovered that they were pointing towards the other end of the vacant land. There stood a magnificent Baba temple, facing our house, with the whole arati ceremony visible from our fence as darkness fell. The large statue of Baba on an elevated platform allowed us to witness the entire process clearly. The temple itself lacked a fence due to insufficient funds. Throughout my treatment, I felt Baba's presence by my side, and by His grace, I was completely cured in just eight months.
Later, when I visited a friend in the community, I attempted to catch a glimpse of the temple through the fence. However, a tall wall had been constructed around it by that time, obstructing the view. It was then that I realised Baba had always been one step ahead, protecting and healing me. I am eternally grateful to Baba, for he is my everything.
I once read about Pooja ji's experience of enjoying Sai Satcharitra in Dwarkamai, Shirdi, and I had always longed for a similar opportunity. However, during my previous visits, we were always rushed, and I couldn't find a peaceful place to read in most of the temples I visited. Miraculously, Baba heard my wish. My daughter moved to Melbourne and purchased a house, only to discover a grand Baba temple located nearby. Now, whenever I visit her, I spend my time peacefully reading the Sai Satcharitra in the spacious Dwarakamai.
Baba's miracles and His divine presence in my life continue to fill me with gratitude and love. His blessings have guided me through the darkest times and have taught me unwavering faith and devotion. Sai Baba truly is a beacon of light in my life, illuminating my path with love, healing, and joy.
Sai, I love You. You have solved so many problems for me. Thanks for keeping me under Your protection.
Sai Baba's Divine Intervention: A Sai Devotee's Office Miracle
Anonymous Shirdi Sai Baba Devotee from India says: Om Sai Ganesha. Thank You Baba for Your blessings.
Om Sai Ram. I would like to express my heartfelt gratitude to Hetal mam and the entire team for providing us, Sai Devotees, with this beautiful holy site. I would like to share an experience in which Baba helped me complete an office task.
I was working on a data restoration activity when I encountered a problem with one of the systems. Despite my efforts to resolve the issue yesterday, I couldn't make any progress. This morning, I began working on it again, but after three hours, I found myself still stuck. At that moment, I turned to Baba mentally and prayed for His blessings. I promised myself that I would share His blessings on this site. Miraculously, Baba bestowed upon me an idea, and within the next hour, I was able to successfully complete the task. I am immensely grateful to Baba for His divine blessings.
Baba, You are well aware of the difficulties we face in our office due to a troublesome senior and head of department. I have been praying for the past two to three years, seeking a better opportunity. I humbly request Baba to bless me, as well as my two colleagues, with new and favourable job opportunities in a positive work environment.
Furthermore, You know my personal wish, Baba. I fervently pray for the well-being of my friends. Please bless both of them. Additionally, I cannot bear to see my parents in distress because of me. Baba, I earnestly implore You to resolve this problem and bring happiness to all of us. I am deeply grateful to Baba for everything he has bestowed upon me.
Lastly, I ask for Baba's forgiveness for all my mistakes.
Om Sai Rakshak Sharanam Deva.
Om Sainathay Namah.
Sai Baba's Blessings in Sister's Recovery
Anonymous Shirdi Sai Baba Devotee from Sri Lanka says: I am a small devotee of Sai Appa from Sri Lanka.
I have an inspiring story to share about my sister, who resides in the UK. She recently fell ill, experiencing symptoms of a cough, cold, and throat infection. Despite trying various home remedies for an entire week, her condition showed no signs of improvement.
Concerned about her health, she decided to consult her doctor regarding the possibility of taking antibiotics. Surprisingly, the doctor did not recommend this course of action. As days went by, her cough worsened, rendering her unable to utter a single word. Desperate to reach out to her doctor, she discovered that he was unavailable.
In my distress, I turned to Baba, seeking His divine intervention to help my sister meet with a doctor and obtain the necessary antibiotics. The next day, she mustered the strength to visit the emergency department and patiently waited for several hours. Miraculously, by Baba's grace, she finally had the opportunity to consult with a doctor and was prescribed antibiotics.
As the days passed, my sister's health steadily improved, thanks to the effectiveness of the prescribed medications. I am filled with gratitude towards Baba for guiding her towards the doctor and facilitating her recovery. With faith in my heart, I vow to share this experience with others once my sister fully recovers in the coming days.
I express my heartfelt thanks to Sai Appa for ensuring that my sister received the necessary medications and for playing a pivotal role in her healing process. Om Sai Ram.
Shirdi Sai Baba's Guidance and Mercy
Anonymous Shirdi Sai Baba Devotee from India says: Om Shri Sai Bhavbhayharnam.
Thanks Hetal ji and the entire team for providing this light house.
Hey Deva, You are our everything. Please hold our hand and always guide us.
Deva, today we are expecting the promotion result of my husband, and I request You to do what is best for us. My only request is that we both continue our jobs in the same city. Deva, we are not as farsighted as You, so I am leaving our life under Your lotus feet. Om Sai Ram, please help.
Deva, with Your mercy, my niece's wedding was done very nicely and within budget. Please, Baba, bless the newly married couple with a very happy and prosperous life. Deva, on the day of our journey to our hometown, You miraculously saved my aunt from an escalator accident. Thanks a ton, Baba, for Your timely help. Deva, You managed the whole function very nicely and on time. During our return journey, our train platform changed suddenly and I panicked, but "Why fear when Deva is everywhere." We returned safely under Your protection. Deva, please take care of everyone. Deva, please keep guiding and loving me and my family.
Om Shri Sai Sarva Samarth Sadguru Laaj Rakhna🙏🌹
Om Sai Shri Sai Jai Jai Sai Raham Sai Daya Sai 🙏🌷
Sai Baba's Blessings: A Grateful Journey of Faith and Protection
Anonymous Shirdi Sai Baba Devotee from the USA says: Om Sai Ram to all Sai devotees. Thank You to the team maintaining this blog. 
I want to express my gratitude to Baba for His assistance the other day. I was fervently praying for the safe return of my family late at night, as it was getting quite late. I made a promise that if everything turned out well, I would share the experience. And indeed, our beloved Baba took care of us.
I am immensely grateful to You, Baba, and I apologise for the delay in sharing my gratitude. Thank You, Baba, for looking after us, even when I make numerous mistakes. I will forever remain indebted to You for helping me secure this job.
Baba, we are truly blessed to be at Your divine feet. You are aware of my heartfelt desires, and I humbly request You to fulfil them at the earliest.
Thank You, Sai Baba. Om Sai Ram.
More from SaiYugNetwork.com
© Shirdi Sai Baba Devotees.com – Member of SaiYugNetwork.com