Download Sai Baba Daily Calendar with Images
Sai Baba's Miracles: A Devotee's Journey of Faith and Divine Intervention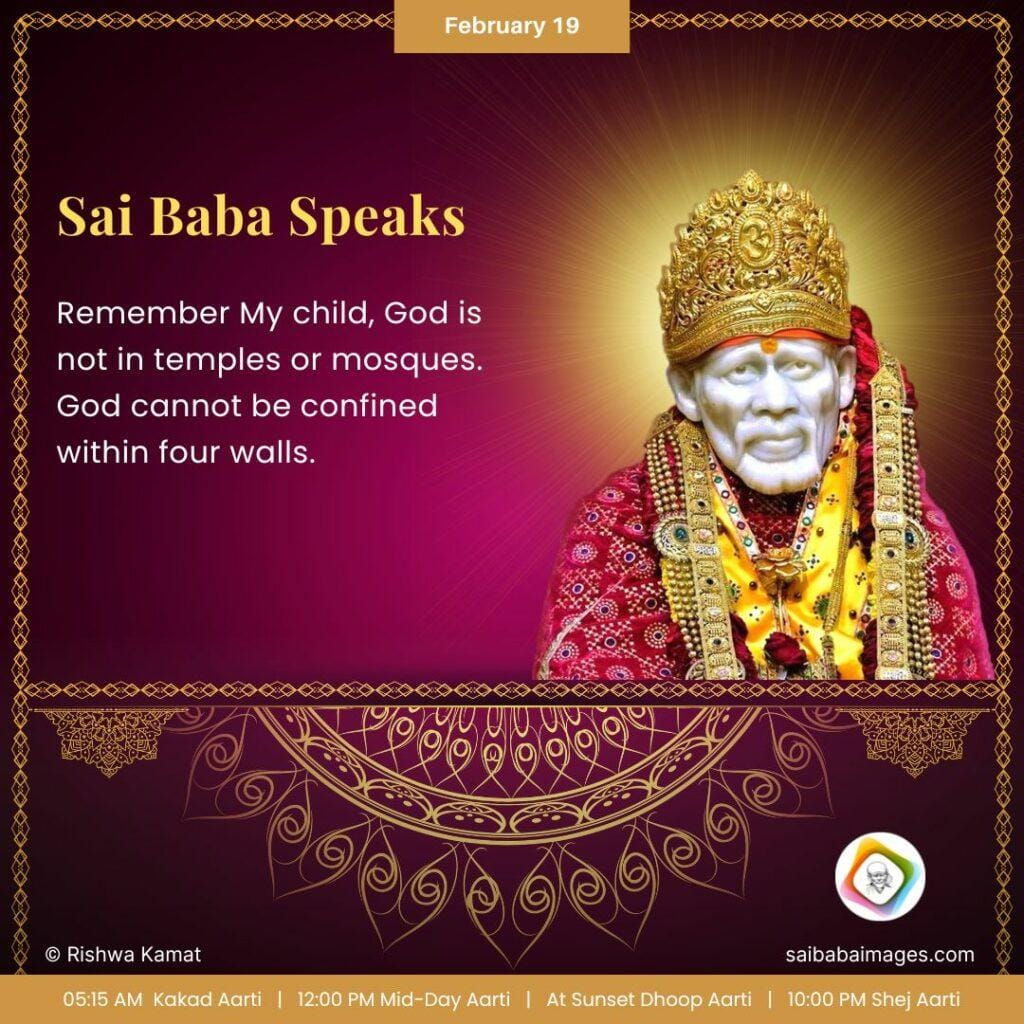 Anonymous Shirdi Sai Baba Devotee from India says: Om Sai Ram to all devotees, I am Sai Baba devotee from 2011 working in an IT company by Baba Ji Grace. 
Experience 1: Currently, my sister and her husband are living in the USA. Right from the first day of her marriage, her mother-in-law hasn't been fond of her. She would always taunt us about not giving dowry during the marriage when she was in India. However, by Baba's grace, my sister and brother-in-law were able to move to the USA, which made things a little easier for her. She became pregnant, but in the eighth month, her water broke, and she had to undergo a cesarean section to deliver a premature baby. Since there was no one to help her, she had to manage everything by herself. Despite her mother-in-law's approved visa, she refused to go, claiming more important tasks awaited her in India and that she would come after two months. The baby's condition was critical as he was premature and had to undergo stomach surgery, had water in his lungs, and was suffering from various illnesses. The doctors said it was a highly critical case, and they couldn't be certain of anything until the baby survived for at least 48 hours to proceed with further treatment. My sister was devastated, as her baby was her only hope for a happy life. Seeing her cry on a video call, I was deeply disheartened. I immediately went to the Baba temple, pleaded with Him, and with complete faith, started reading Shree Sai Satcharitra for two consecutive days. Afterward, I went to the temple and distributed sweets and snacks to the children, bringing some happiness into my heart. Keeping my nephew in mind, I opened the Sai Baba question-answer site and asked for His grace. You won't believe it, but I received a reply saying, "You are worried because of Your children, leave the worry. You will receive good news tomorrow morning." What a timely response it was! I felt so relieved. With faith in Baba, chanting His name, I went to sleep. As promised by my beloved Deva, the next morning I received a text from my sister. The baby had made remarkable progress in just two days, still in the PICU but out of danger, and the chances of recovery were high. Thank You so much, Baba Ji, for Your love and blessings. Although the baby is still in the hospital, he will be transferred to the general ward soon, and my sister is eagerly waiting to receive him in the next two days. Your mercy is limitless, bringing everything back to normal and happiness, even when she is alone and managing everything amidst the stress of her baby's well-being.
Experience 2: This experience involves my brother, who unfortunately developed a drinking habit, causing numerous problems and conflicts for our family. I was exhausted from dealing with his daily dramas, both day and night. On that particular day, I was in no position to handle him anymore. Tired of fighting and enduring his abuses, he came home in the evening, starting the usual routine. However, I went straight to the temple and began crying in front of Sai Nath, as well as all the other Gods and Goddesses present. After crying for almost an hour, I emerged from the room and found my brother asleep. The next day, when he woke up, he promised that he would not drink for at least two months. It was a tremendous relief for us. Anyone can understand the torture of enduring his behavior day after day, and suddenly receiving two months of peace felt like a blessing. I must clarify that my brother is a wonderful person, but over the past seven to eight years, his business has been declining, resulting in significant losses. No new ventures have succeeded, and even his attempts to secure foreign work were rejected. For the past several years, he has faced constant rejection, which eventually led him to develop a drinking habit. Baba Ji, I humbly request Your blessings to grant him the approval for the visa we have recently applied for. Without Your grace, I fear it won't come to fruition.
Experience 3: Once again, I apologize for the length of this post, but today I wanted to share these significant blessings from Deva. However, I must mention that there is no end to His grace in our daily lives. My mother's health has suffered due to stress and depression caused by constantly worrying about my brother's future and his behavior. She also has blocked leg nerves and is receiving treatment at PGI. One morning, she woke up in excruciating pain, experiencing a cervical attack that caused severe pain in her arms, making it impossible for her to move them. We immediately rushed her to the doctor, who provided her with some painkillers and suggested exercises. However, her pain persisted and even intensified. Throughout the night, both of us remained awake as her neck and arms were in agonizing pain. The next morning, she started crying, as she usually does, and I went to the temple, pleading with Baba and asking for His grace. I promised Him that I would also share this experience. Please relieve her from this pain. Later that day, we visited another doctor who administered an injection in her shoulder. She felt some relief from the pain after that. It was all thanks to Sai Baba that she finally felt better. (I noticed a Sai Baba idol at the reception of the hospital when we entered.) Thank You so much, Deva.
Apart from these experiences, I also encountered laptop issues. My laptop stopped working, and I had it replaced by the IT team. However, the new laptop also had hardware issues. I had to go through the same process for a third time. It was incredibly frustrating because I needed the laptop for working from home, and due to these issues, I had to go to the office every day. All the necessary software was installed, but in the end, I discovered a problem. Without installing the company software or imaging, I couldn't use the laptop. The entire week was consumed by these issues, returning the faulty laptops to the IT team. On Friday, I finally received another laptop that appeared to have no hardware issues. I started downloading the software, but it took a long time. By 7 pm, it was only 80% downloaded. In my company, female staff members are not allowed to stay after 7 pm unless they receive separate approvals. This policy is in place to ensure their safety, as the company provides cabs and drop services for those who work late. However, my situation was different. When the security personnel informed me that it was time to leave, I explained that the software installation was only at 80% and that if interrupted, it would restart from 0%. I requested them to allow me some more time, as I didn't want to come to the office on Saturday. I had already booked a cab in advance to go home. After speaking with their manager, they granted me permission until 7:30 pm. Unfortunately, the installation remained stuck at 80%, and I had to unplug the charger and shut down the laptop with a heavy heart. I left the office, canceled the cab I had booked in advance, and made up my mind to go to the office on Saturday.
Here I am, in my office on Saturday (December 3, 2022), writing these experiences with this new laptop. What happened next amazed me. When I arrived at the office in the morning, before turning on the laptop, I prayed to Sai Baba Ji in my mind, asking Him to please help me. I couldn't bear the laptop issues any longer, and I wanted to go home the next day. I pleaded with Him to ensure that no errors would occur since there was no IT support available on Saturdays. Deva, I humbly request You. I know I promised to share my mother's experience but kept postponing it. Today, I sincerely promise You that if this laptop works fine, the first thing I'll do is share my mother's experience using this laptop. When I turned on the laptop to install the software, to my astonishment, I saw that it was already installed (yesterday it was only at 80%). I couldn't believe it. How did the software, which was only 80% completed, show as completely installed without any internet connection, ready to use? Thank You so much, Deva. You are pure bliss. I love You deeply, and I pray that You never leave my side. I cannot fathom installing software without Your presence.
To my fellow devotees, I kindly request that if you have promised to share your experiences, please do so at the promised time. Avoid delaying it. Om Sai Ram.
Sai Baba's Blessing: A Miraculous Recovery of a Devotee
Anonymous Shirdi Sai Baba Devotee from the USA says: I am a 50 years old Baba devotee from the USA.
Sai Ram, everyone! I offer my humble obeisance at the lotus feet of our beloved Baba, Who has been my father, mother, protector, friend, guide, master, God, and Lord for many years now.
I would like to express my gratitude to Hetalji for maintaining this website where devotees can partake in the nectar of Sai stories. I would like to share an experience from Thanksgiving 2022.
But first, let me take you back to Shirdi from 2018-2020. During that time, I developed stomach bacteria/ulcers due to consuming food from hotels and outside. I prayed to Baba, asking Him to help and cure me.
Whenever I tried to contact a local doctor, the visits would not materialize. Somehow, they would fizzle out. I felt that perhaps Baba wanted me to manage this on my own. I switched to a bland diet, avoiding spices, milk, tea, coffee, and hard foods. I experienced constant diarrhea and a burning sensation in my stomach, like a furnace. I could only consume bland food such as white rice, curd, spinach, bread, and bananas. I was by myself, and it was tough.
I spoke to a local pharmacist and obtained O2 (ofloxacin), an antibiotic. It's important to note that I didn't know the exact problem, and the pharmacist wasn't a doctor. We only knew the symptoms. I prayed to Baba to bless and cure me as I was going to take this medicine. After taking the tablet, my irritable bowel syndrome (IBS) symptoms flared up, and I was in immense pain, writhing and squirming in the Shirdi hotel. But I had no choice but to continue the medication. By Baba's grace, I eventually recovered. His blessings make any medicine effective, whereas even the best medicines prescribed by doctors may not work without His blessings. After six months, the symptoms returned. This time, I once again prayed to Baba for help and took the same medicine. Based on my past experience, I didn't consume the entire tablet. Instead, I broke it into smaller portions and took them. Along with dietary restrictions and rest, I was able to heal. This time, the process was much more manageable.
In hindsight, I believe it was Baba's blessing in disguise because it helped cleanse my system and aided in weight loss. Consequently, I emerged from the experience happier and healthier.
This repetition of a six-month cycle continued for two to three years until I moved to my parents' house in Chennai. Then, the problem stopped. I also recalled reading in Sai Satcharitra about several devotees who had suffered from diarrhoea and struggled to eat even rice gruel, but Baba cured them.
Fast forward two years to Thanksgiving 2022 in the USA (starting from the week of November 13th). I experienced the same symptoms again, likely due to consuming junk food. This time, I searched everywhere, including suitcases and drawers, but couldn't find the medicine O2 (ofloxacin). I thought I might have discarded it due to its expiration date. Unlike in India, pharmacists in the USA don't provide antibiotics without a doctor's prescription. I prayed to Baba, asking for His help and cure since I didn't have any antibiotics. I switched back to a bland diet and hoped for recovery, but luck was not on my side.
I called my primary care physician (PCP) for an appointment to get an antibiotic. For the first couple of days, there was some improvement, so I believed I was cured and canceled the doctor's appointment. However, on the third day, the symptoms returned, likely because I unknowingly ate something spicy. I panicked and prayed to Baba, asking Him to show me the way. Additionally, I started experiencing fevers every day, making the situation more serious.
On Saturday morning, November 19th, I prayed to Baba and decided to schedule a telemedicine (telemed) call since I no longer had the strength to handle this alone. After signing up online and spending over two hours in the process, I finally connected with a doctor through the telemed service (remember, doctors are usually off on Saturdays, but telemed services are available). The doctor reviewed my case and medical history. To my surprise, she flatly refused to consult with me. Why? The telemed group I signed up for only served Medicare patients on weekends, not regular patients like me. I found myself back at square one, feeling confused and blank-faced. Deep down, I knew that Baba was behind all of this. He prevented me from seeing a doctor in Shirdi, and now He was doing the same in the USA. I didn't have the courage to call the doctor again, so I waited.
Thanksgiving week arrived, and on Tuesday evening, I was in a difficult situation. I prayed to Baba and said that if I didn't find a solution by tomorrow (Wednesday), I would have to physically visit the doctor. On Wednesday morning, I prepared myself to go, although I had doubts because I knew Baba is always right. I sat pondering in my home office chair, reflecting on my experiences in Shirdi and the USA. However, I decided to give it one last try. I searched through my table drawer, flipping through a bunch of papers and covers, and there, inside one of the covers, I found a single intact tab of O2. Just one! I was shocked and pleasantly surprised at the same time. I fervently prayed to Baba and promptly took the medicine.
Jai Sai Ram!!!
Shirdi Sai Baba Unique Five Lamp Puja by a Devotee
Anonymous Shirdi Sai Baba Devotee from the USA says: I would like to introduce you to the profound 5-Vilakku (lamp) Pooja for Baba, which has proven to be highly effective. Countless individuals have shared their remarkable experiences regarding this Pooja on a television channel. Let me guide you through the simple steps:
Select a Thursday as the preferred day and place 5 agal lamps (brown colored ones) in front of Baba. It is not necessary to use new lamps; you can use previously used ones. However, remember to wash and clean them daily before each use.
Adorn Baba with vibrant flowers to enhance the sanctity of the Pooja.
Offer fruit as Prasadam, a sacred offering to Baba.
Begin by expressing your heartfelt prayers to Baba.
Next, chant "OM SAI RAM" 27 times, followed by Baba Ashtotharam (recitation of Baba's 108 names). If you are familiar with any Baba songs, you can sing them at this time. Conclude this step by performing Arathi to Baba. Finally, offer the Prasadam to Baba and show Kalpooram or Arathi to Baba.
If possible, after a while, extinguish the lamps yourself instead of allowing them to turn off on their own.
Perform this Pooja for 5 consecutive days. On the 5th day, share the Pooja with 5 individuals, spreading the divine blessings of Baba.
The 5-Vilakku (lamp) Pooja for Baba is a beautiful way to connect with Baba and experience His divine grace. Embrace this practice with faith and devotion, and you will witness its profound impact on your life.
Blessed by Sai Baba: A Devotee's Gratitude
Shirdi Sai Baba Devotee Maheswara Reddy from India says: I am from Hyderabad working in the IT field.
Yesterday, I visited the Venkateswara Swami Temple in India to partake in the Anna Prasad, a sacred offering. Unfortunately, the temple was overcrowded, resulting in a nearly one-hour wait. Despite the delay, I patiently waited my turn for the second serving of the prasad. However, when they commenced the third round, the queue unexpectedly halted just as it reached me.
Feeling disheartened, I turned to my beloved Baba in prayer, seeking His guidance. To my astonishment, the person in charge suddenly allowed five individuals to proceed ahead. With gratitude in my heart for Baba's intervention, I entered the dining area, hoping to find a seat. Unfortunately, no seats were available.
Once again, I beseeched Baba for assistance, and miraculously, a kind soul called me over to take their vacated seat. It was truly through Baba's blessings that I was able to witness these remarkable occurrences.
The Miracle of Sai Baba: A Devotee's Gratitude
Shirdi Sai Baba Devotee Sai Deewani from India says: Thank you Hetal ji. l am Sai devotee from India. 
Last week, I ordered a book titled "Sai and Aayi" from Amazon. To my surprise, along with the book, I received a packet of clove Prasad. I had never seen Clove Prasad before, but I proceeded to read my book.
Two days later, I experienced a severe toothache. It was then that I remembered why Sai Baba ji had sent the cloves. I was amazed by this realization. Baba must have known that I would have a toothache, and that's why He sent me the cloves. I am incredibly grateful because the cloves helped alleviate my pain within 2-3 days. I didn't have to visit the doctor.
I am at a loss for words to express my gratitude to Baba. He means everything to me.
Praying for Mother's Health: A Devotee's Request to Sai Baba
Anonymous Shirdi Sai Baba Devotee from India says: Om Sai Ram. Greetings everyone!
My mother has not been feeling well for the last three days. Yesterday, she became very weak. I have been continuously chanting "Om Sai Rakshak Sharanam Deva" and asking Baba to make her strong. As always, Baba listens to me, and today my mother is feeling better. This has been happening frequently to her, but I hope she will soon return to normal with Baba's blessings. Thank you, Baba, for always being there for us. Please continue to shower your blessings upon us. Om Sai Ram.
Download Shirdi Sai Baba Mantra Book for Free
We invite you to download our 'Shirdi Sai Baba Mantra' book, which is a collection of powerful mantras that can help you connect with the divine energy of Sai Baba and seek his blessings. We hope this book serves as a valuable resource on your spiritual journey and brings you closer to the love and grace of Sai Baba.
More from SaiYugNetwork.com
© Shirdi Sai Baba Devotees.com – Member of SaiYugNetwork.com