Download Sai Baba Images In This Post
Blessings From Sai Baba: Personal Experiences Of Divine Intervention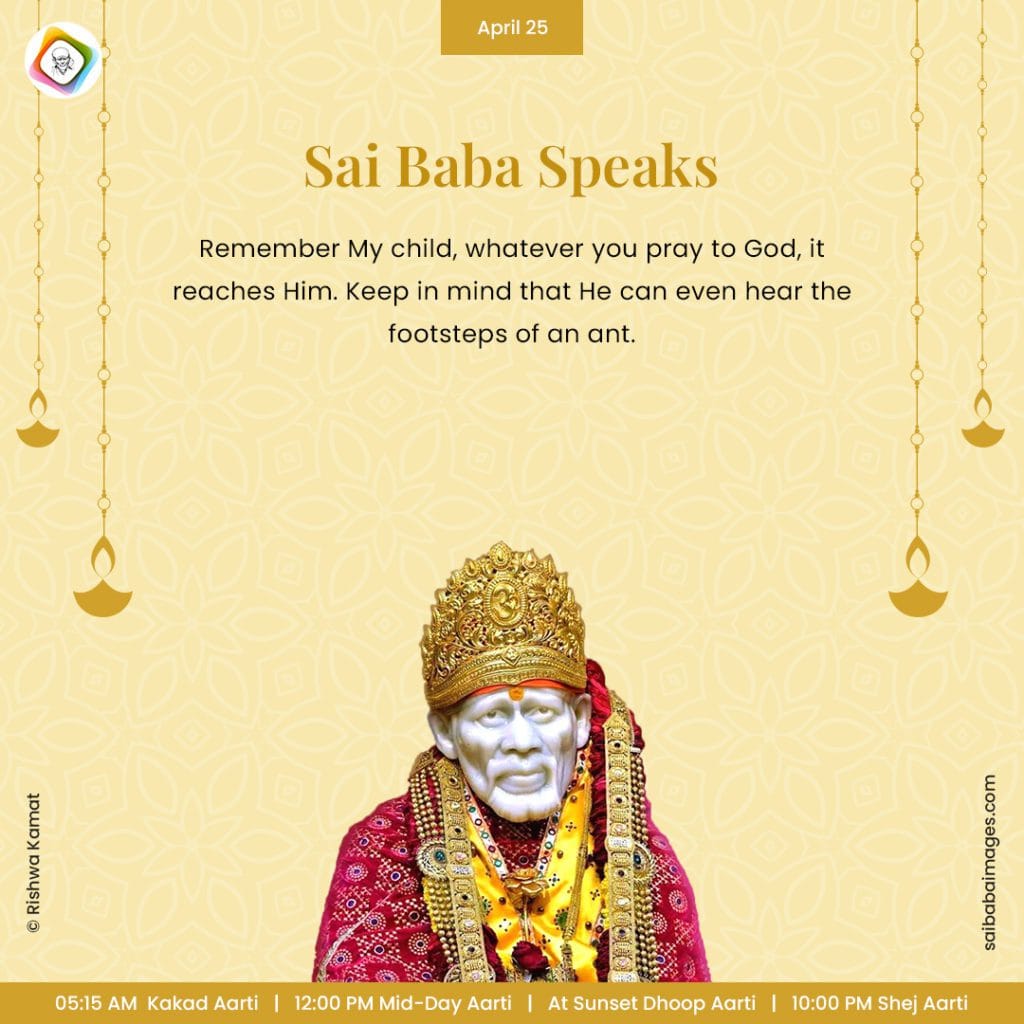 Anonymous Shirdi Sai Baba Devotee from India says: Baba, thank You for blessing me when I prayed for Your help. Thank You, Hetal Mam and team, for your service. Below are a few more experiences where Baba blessed me:
Our female dog was not well for the last few days. She was not eating and was also down. I prayed to Baba for her good health, and I will share his blessings here. Baba guided us, and we took her to the doctor, and now she is okay. Thank You, Baba.
Baba, thank You for providing me with help and resolving our Plant Head's laptop issue. He is okay with the laptop now. Baba, I pray to You to bless me always to resolve any office-related issues. I need Your blessings so that I can learn new things. Please bless me with a good career.
Thank You, Baba, for helping my friend get this job. She needed this job badly. Today she got a call from HR for a medical. Please bless her to pass the same and also bless her in this new job. I told her about Your blessings on me and pray to You for any issue. Please make her Your good devotee.
As promised, Baba, I am sharing Your blessings here with all Your devotees. Please forgive me if I have forgotten to write anything and make me remember so that in the next post, I will share the same. Baba, You know my friend is married now. I want to know about her well-being. Please do some miracle, and she will call me, and I will share the same here. Please bless her with the best married life. Always keep her happy and healthy and keep Your blessings on her.
Om Sai Ram. Om Sai Rakshak Sharanam Deva.
How Sai Baba's Blessings Helped A Devotee's Sister Recover From Pregnancy-Related Health Issues: A Personal Experience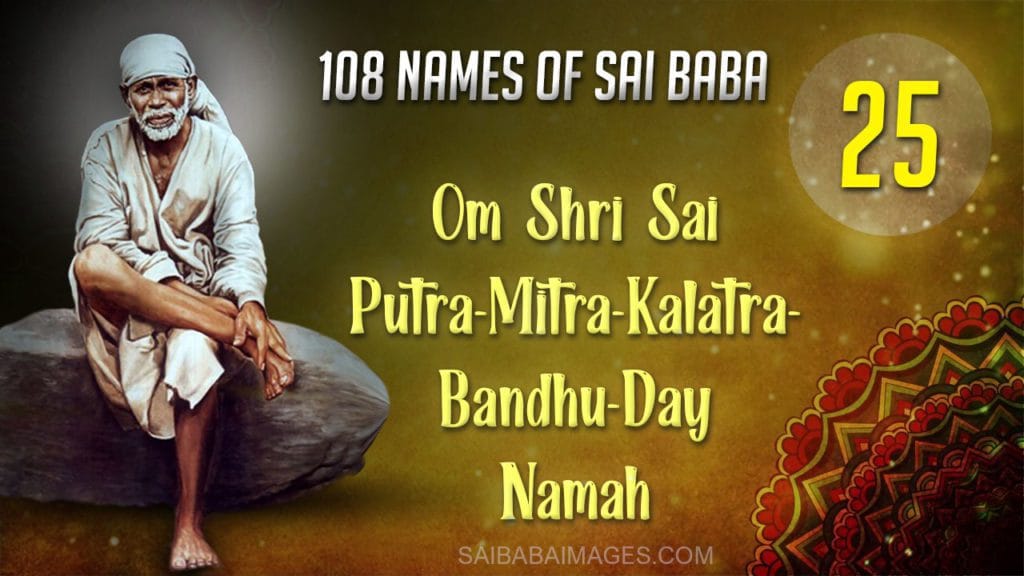 Anonymous Shirdi Sai Baba Devotee from India says: I would like to share a personal experience of how Sai Baba helped my sister recover from pregnancy-related health issues. When my sister first consulted the doctor, she was advised to undergo surgery to address the problem. It was a difficult time for our family, and we all prayed to Sai Baba for a solution that did not involve surgery.
After being admitted to the hospital, my sister was closely monitored for a day, and the doctors then considered surgery. However, they continued to observe her for three more days and eventually informed us that the issue had almost completely resolved without the need for surgery. My sister was discharged from the hospital and advised to rest for two weeks, after which she made a full recovery.
We were all overjoyed that my sister's health issue was resolved without the need for surgery, and we believe it was due to Sai Baba's blessings and intervention. We are grateful to Sai Baba for hearing our prayers and helping us through this difficult time. Thank You, Sai, for Your miraculous blessings. Om Sai Ram
The Power Of Sai Baba's Blessings: A Personal Account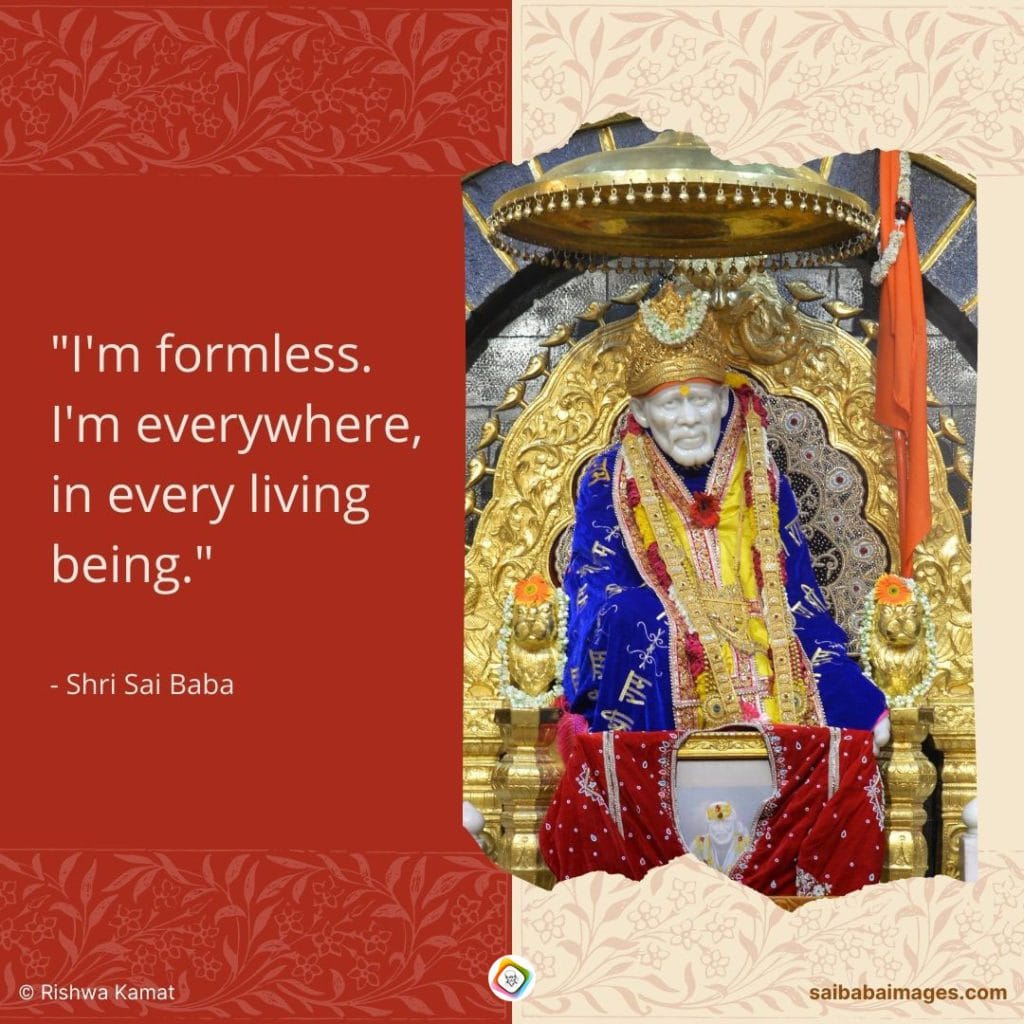 Anonymous Shirdi Sai Baba Devotee from Malaysia says: Dear Sai Baba, I would like to express my gratitude for all the help and blessings You have bestowed upon me. I am writing this article to share a wonderful experience that I had recently.
I prayed to You, Baba, to make my weekly meeting successful, and You blessed me. I was able to present well, and everything went smoothly. Thank You, Baba, for Your divine intervention.
As for the outcome of the meeting, I was extremely happy, and I know that it was all due to Your blessings, Baba.
Furthermore, I would like to thank You, Baba, for resolving any open issues that I had. Your guidance and support have been invaluable to me.
Lastly, I would like to request Your blessings for my upcoming travel. Please ensure that I do not encounter any problems or complications during my trip.
Thank You once again, Baba, for Your unwavering love and support.
Grateful For Sai Baba's Blessings: A Personal Testimony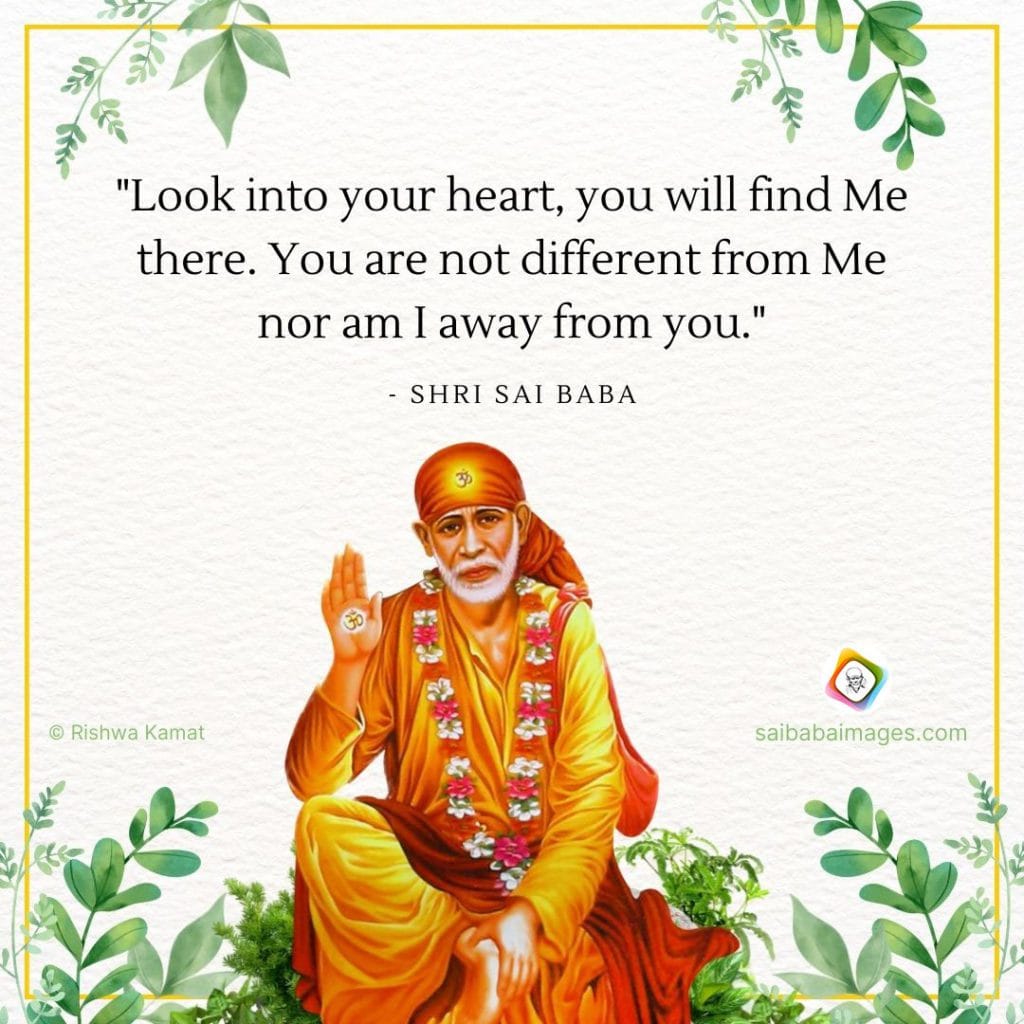 Anonymous Shirdi Sai Baba Devotee from USA says: Om Sai Ram! I would like to express my heartfelt gratitude to Sai Baba for His assistance last week. I was experiencing excruciating pain that made it difficult for me to breathe. I fervently prayed to Baba, promising to share my experience if the pain subsided. By Baba's grace, the pain vanished. Thank You, Sai Baba.
Furthermore, I want to express my appreciation to Baba for preventing the food from going bad that day and for helping me locate my misplaced bag. Baba, thank You so much for always helping me, even when I don't deserve it. You know what I am praying for, Baba, and I humbly ask for Your blessings to grant my wishes soon.
As Baba's children, we are immensely fortunate to receive His endless love and blessings. Thank You so much, Sai Baba, for everything. Please continue to shower Your divine grace upon us.
A Devotee's Infinite Experience With Sai Baba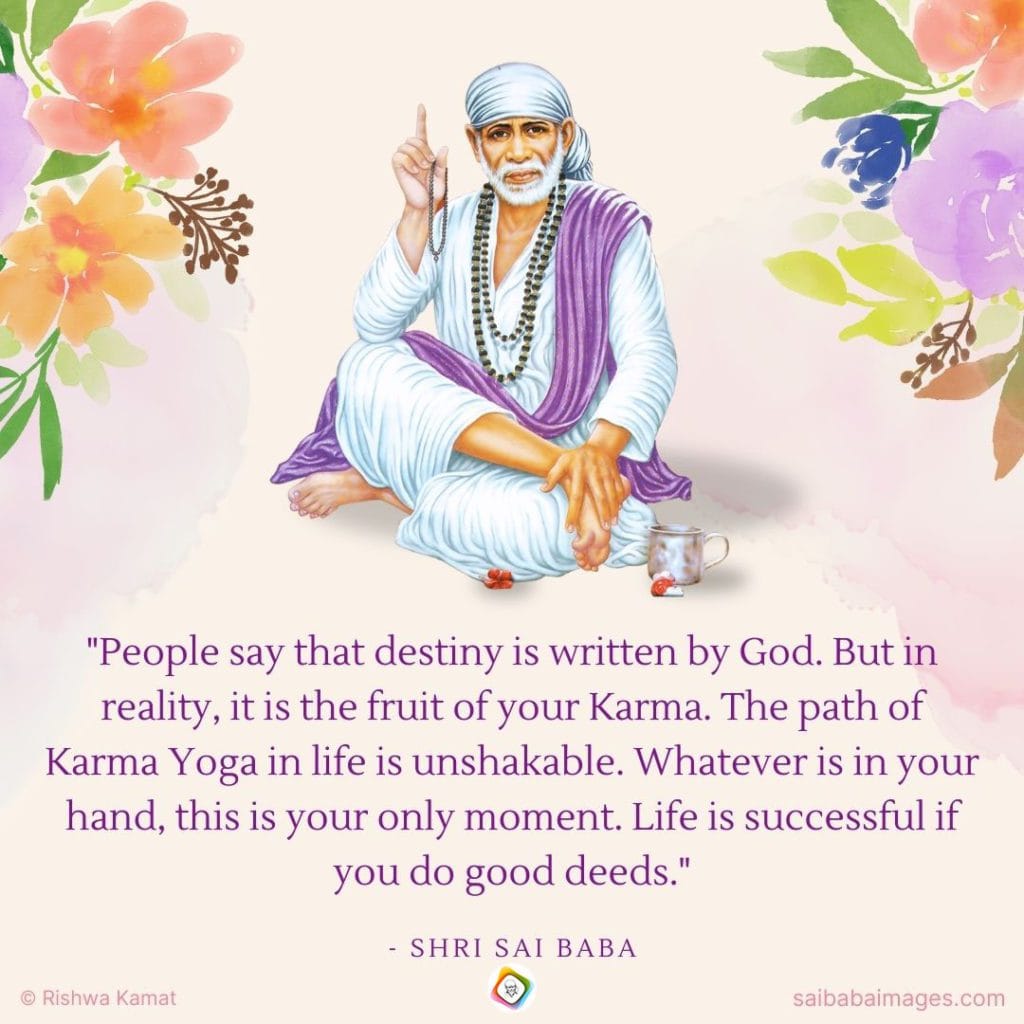 Anonymous Shirdi Sai Baba Devotee from India says: My experience with Sai Baba is infinite. He is the one who guides me in my life, just like a father. I share every problem, fear, and happiness with him, and he always shows me the right path. During difficult situations in my life, he has helped me like a superhero. Yes, he is my savior.
A few days ago, I was worried about issues at my office, as well as my husband's and mom's health. I submitted all my problems to Sai Baba's feet, and he solved them one by one. Thank You, Baba. However, my sister recently burned her hand, and I pray that Baba will help her to heal. I ask for his presence in all situations and submit all my insecurities and fears to his feet. I love You, Sai Baba. Om Sai Ram 🙏
Sai Baba's Intervention During A Turbulent Flight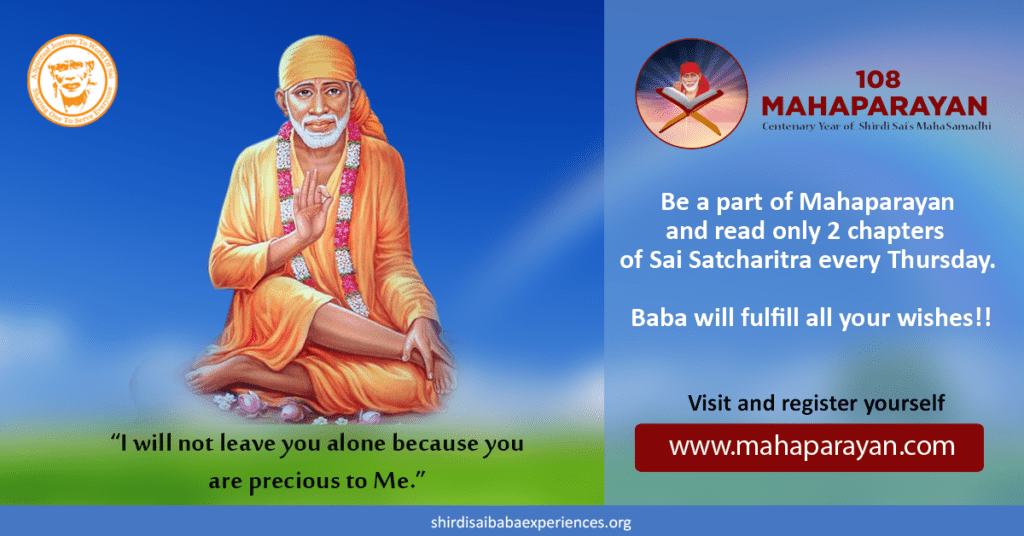 Shirdi Sai Baba Devotee Veena from USA says: I was traveling from the USA to India, and I have to admit, I was scared of flying due to my anxiety when there was turbulence. During one of the flights, there was turbulence, and I immediately began to pray to Sai Baba. Much to my amazement, Sai Baba stopped the turbulence in no time. I cannot express my gratitude enough. Thank You so much, Sai Baba. I love You. Please take care of all the people around me. Jai Sai Ram.
More from SaiYugNetwork.com
© Shirdi Sai Baba Devotees.com – Member of SaiYugNetwork.com