Delve into the enchanting realm of Shirdi Sai Baba's miracles and discover awe-inspiring personal experiences where devotees recount how Shirdi Sai Baba Answered Prayers, unveiling His divine presence and bringing about remarkable transformations in their lives.
Download Sai Baba Images In This Post
Guided By Sai: A Journey Of Faith And Miracles
Anonymous Shirdi Sai Baba Devotee from UAE says: In the Sai Charitra, Sai Baba used to say, "How far my people may be, I draw them to me just as we pull a bird to us with a string tied to its foot". I was going through a tough time in my life – it felt like I had lost everything. Personally and professionally, I was in a rough patch, but then I reconnected with Baba through a spiritual healer. I decided to join the MahaParayan group, and in the first week, I had to read the last chapter and perform Aarti. This experience instilled a newfound belief in me that things could change.
I was depressed and broken, not knowing how to deal with everything, but on that day, I felt a sense of hope that my worries would soon come to an end. Hoping to alleviate my troubles, I made the decision to read the Sai Charitra in one week, and within a few days, I felt a strong inner calling to visit Shirdi. It had been nearly 20 years or more since I had last been there. However, within just two days, everything fell into place. I resolved to go to Shirdi and return by the evening or the next morning, along with my little son, who was three years old.
Thankfully, my cousin agreed to accompany us, and we began looking for flight bookings. The flight timings did not align with our preferences or budget, and then my little one walked up to me and said, "First, we will go to Ganpati Bappa and then Sai Baba." It felt like a divine message, as children are said to be the soul of God. I have always been a devotee of Lord Ganesha and had wanted to visit Siddhi Vinayak for years. Suddenly, it dawned on me to explore flight options via Mumbai, and that's when we found a perfectly suitable flight route with a great deal. It seemed that Baba wanted me to pay my tribute to Bappa first. From that point on, everything unfolded not according to our plans but according to Baba's wishes. He made His presence felt at every step of our journey. Even now, recalling our journey from Mumbai to Shirdi gives me goosebumps, and I feel incredibly blessed.
We had a Volvo booked for 9.40 pm, but things took a toll. My little son became very unsettled, and we decided to take a cab directly to Shirdi. After darshan of Bappa, my cousin and I sat down for lunch and booked an Ola. We knew we would reach late at night, and our hotel bookings were for the next day. Late-night travel with a child in a cab was scary, especially for someone coming from Delhi. But Baba was guiding us.
We started our journey around 5-5.30 pm and settled ourselves in the cab. My little one was calmer now and took a short nap. Around 8.30 pm, the cab experienced a mechanical issue, and the driver stopped near a lonely, dark pathway. Our hearts started pounding, and all the stories from Delhi haunted us. Nevertheless, we maintained our calm as the driver tried to check the issue. We called out to Baba for help, and then a passenger van with some travelers stopped behind us. The driver of the van scolded our driver for stopping the cab in such a place. Within a few minutes, he got the cab running again and instructed our driver to keep moving. Not only that, but the van driver kept following us until we reached a more accessible place on the highway. The last time the cab stopped near the highway, he came down again, started the cab, and in a bold voice, told the driver to only stop for assistance after the toll gate. It felt as if Baba was there with us, guiding and protecting us.
As soon as we crossed the toll gate, we noticed a dhaba and a garage on the highway. We asked the driver to stop and get the cab checked to avoid any issues ahead. Unfortunately, the garage was closed since it was already 10 pm. However, some locals at the dhaba came forward to help the driver find a mechanic. Surrounded by strangers, we were still very anxious, unsure of what to do. I took my son to the dhaba to buy some biscuits. At the counter, we saw a big photo of Sai Baba, as if He was there to calm us down. My son insisted on having the photo and sat with it. As some local men assured us that everything would be safe and helped us with helpline numbers, emergency cab assistance, etc., a few dogs wagged their tails. My son and I offered them biscuits, and they went away. It was already 10:30, and we were really worried if our spontaneous decision to come by cab was right. But it wasn't something we planned; it was all at Baba's will. He wanted us to feel His divine presence throughout.
The mechanic inspected the cab and said there were no issues, and we could resume our trip. We were surprised at how the cab was suddenly fine. Was the driver dubious? The mechanic recommended that we take a longer route (I guess it was via Nashik) to be on a better highway, and then we just took Baba's name and continued. It was already so miraculous how everyone was there to help us that we thought nothing would go wrong. And it didn't. We had a smooth journey thereafter, and by 1-1:30 am, we reached our hotel in Shirdi. The booking was for the next morning, but in Baba's land, no one denies you help. The hotel staff welcomed us, offered water, and provided a cozy room. We slept like babies, and the next morning as we got ready to visit Samadhi Mandir, we were guided by a procession right to the entry. We didn't have to do anything; Baba was making all the arrangements for us. We couldn't get a booking for Aarti since it was a quick trip, but Baba made that possible too.
During the Aarti, as we entered Dwarka Mai, no one was allowed to stop due to the long queue. But an aunty who was sitting down for Aarti saw my son and called him. He comfortably went and sat in her lap, considering her his naani (grandma). My cousin and I found corners to stand by, waiting for my son to come, and no one asked us to move. Luckily, we attended the whole Aarti, and people made space for us. My son received a cozy lap and love from a stranger, and we could feel Baba showering His blessings on us. We had an evening flight, and by 3 pm, we had our darshan, Aarti, and the prasad, which was pure bliss (I still can't forget the taste).
I have been through such a tough time—dealing with depression, anxiety, and broken relationships—but Baba hasn't let me down. After my darshan and witnessing such a miraculous event, my faith in Baba's miracles has deepened with each passing day. Every time I read Sai Charitra, I gain new insights and try to apply them in my life, especially to surrender to Baba completely. Today, I am more calm, still waiting for my dreams to come true, but with a stronger faith that Baba will do what's best for me and that He loves me deeply. There have been numerous events that have made me feel this way (which I shall share another time), but Baba has truly pulled me towards His path, just like pulling a bird to His side (from Dubai to Shirdi), to assure me that everything will be well. I love You, Baba. May Sai shower His blessings upon all of us and make His presence felt around us in His miraculous ways. Blessed be. 🙏 Thank You, my Sai. 🙏
Sai Baba's Divine Intervention: A Grateful Recollection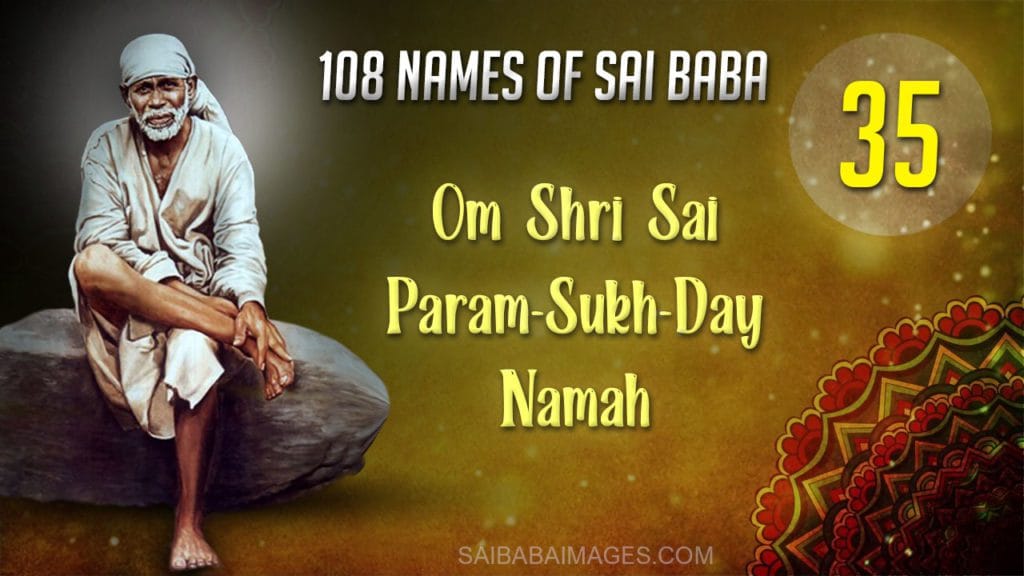 Anonymous Shirdi Sai Baba Devotee from USA says: Om Sai Ram. I would like to express my gratitude to Sai Baba for His assistance yesterday. I was filled with immense tension, fully aware that the fault was mine. However, I was determined to avoid causing any trouble. I fervently prayed for the situation to be resolved smoothly, promising to share my experience if Baba intervened. True to His divine nature, Baba not only resolved the situation but also allowed me to complete it without any further anxiety. Thank You, Baba, for Your unwavering support.
Furthermore, I extend my heartfelt appreciation to Baba for aiding me with my constipation issue. I humbly request His continued help in alleviating this problem. Baba, I pray for Your guidance in making the right decision regarding the school I should enroll in. Additionally, I have deep faith that You will fulfill the desires of my prayers.
Download Shirdi Sai Baba Mantra Book for Free
We invite you to download our 'Shirdi Sai Baba Mantra' book, which is a collection of powerful mantras that can help you connect with the divine energy of Sai Baba and seek his blessings. We hope this book serves as a valuable resource on your spiritual journey and brings you closer to the love and grace of Sai Baba.
Baba, I am forever grateful for Your ceaseless assistance, even in moments when I feel undeserving. As Your devoted children, we are incredibly blessed. Thank You immensely, Sai Baba, for everything.
Miraculous Recovery: A Father's Healing Journey With Sai Baba's Blessings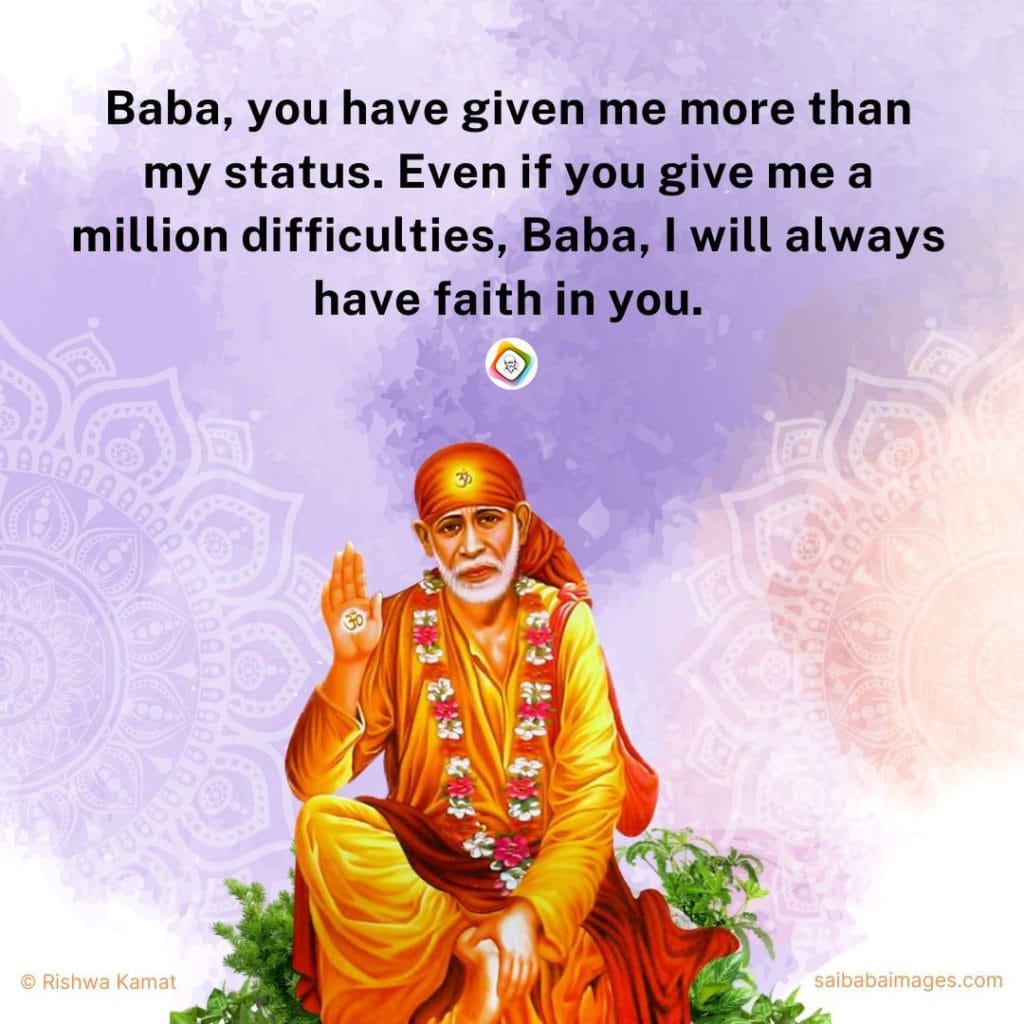 Anonymous Shirdi Sai Baba Devotee from USA says: My parents were visiting from India after the COVID-19 pandemic, and my father suddenly fell ill due to an infection. The doctors conducted several tests to determine the cause of the infection, but all the results came back negative. After receiving treatment, he recovered, although he lost a significant amount of weight. The doctors recommended further tests to rule out any serious underlying conditions.
I made a promise to Sai Baba that I would undertake Baba's miraculous five-day pooja and recite the Kasht Nivaran Mantra 11 times, three times a day, for a duration of 11 days. I also pledged to share my experience. With Baba's grace, all subsequent tests and scans yielded negative results, and my father is now on the path to recovery. I humbly request Sai Baba to bestow His blessings upon our family and keep us healthy, happy, and content. Om Sai Ram.
Miraculous Recovery: Sai Baba's Intervention Saves A Sick Child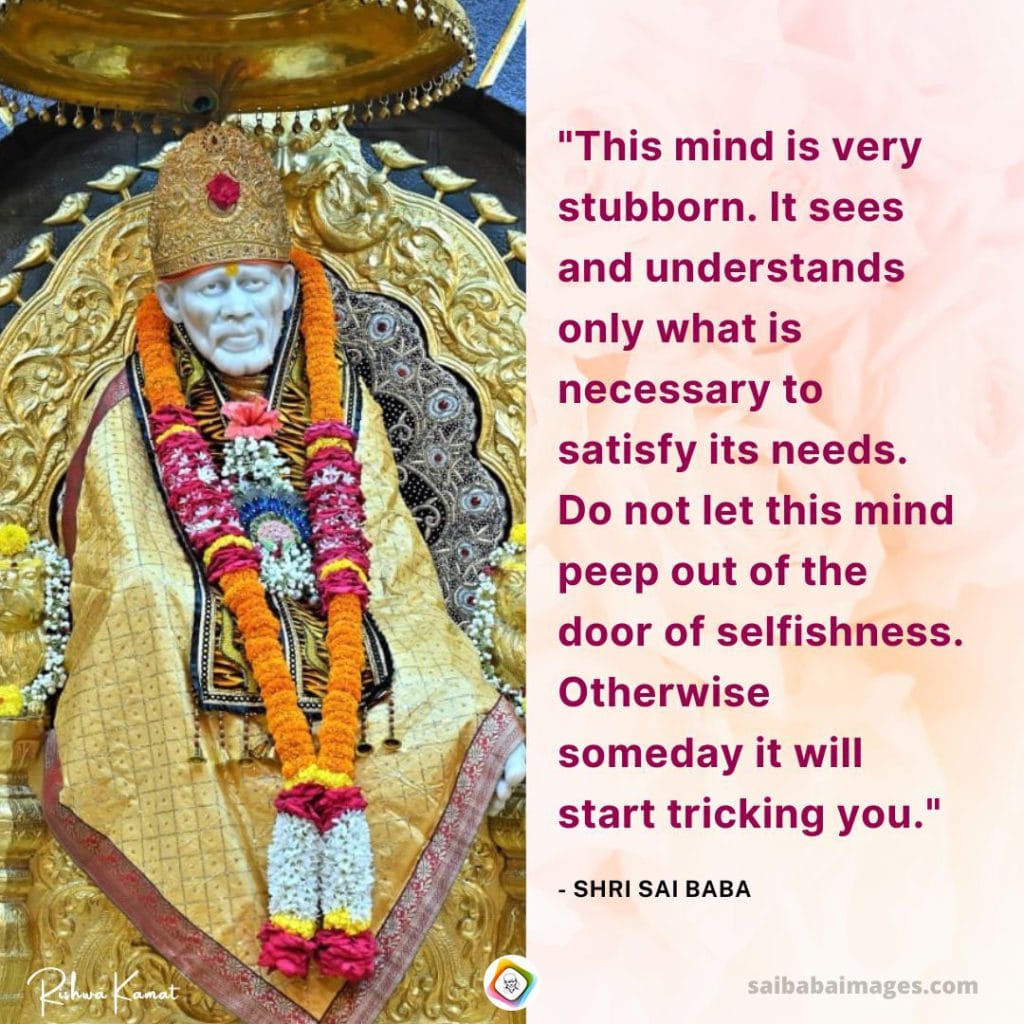 Anonymous Shirdi Sai Baba Devotee from USA says: I have a 5-year-old daughter who falls sick very often. I and my husband work in the IT industry and have very busy schedules. On Friday evening, my kid complained about a headache and went to sleep early. She didn't eat much. During the night, she started coughing. The next day, her temperature rose to 102°F. I was very worried as my husband had gone out and our doctor's office was closed for the weekend. She was very weak and her body felt like it was burning. I didn't know what to do.
A few months ago, she had recovered from walking pneumonia and was still weak. It was Sai Baba who had helped us cure her pneumonia back then. So once again, I turned to Baba. I gave her udi and chanted, "Sai Raksha Sharanam" and "Shree Sai Arogya Shematha Ya Na Maha." Miraculously, her fever came down within a few hours. After that, her fever gradually reduced, and she started eating. She is much better now. It's only because of Sai Deva that all of this happened. He is our only savior, even if the whole world or our destiny is against us. I am praying for my child's school admission. I will post about that experience soon. Sai Baba Sharnam. Om Sairam.
Sai Baba's Faithful Devotee Finds Renewed Trust And Confirmation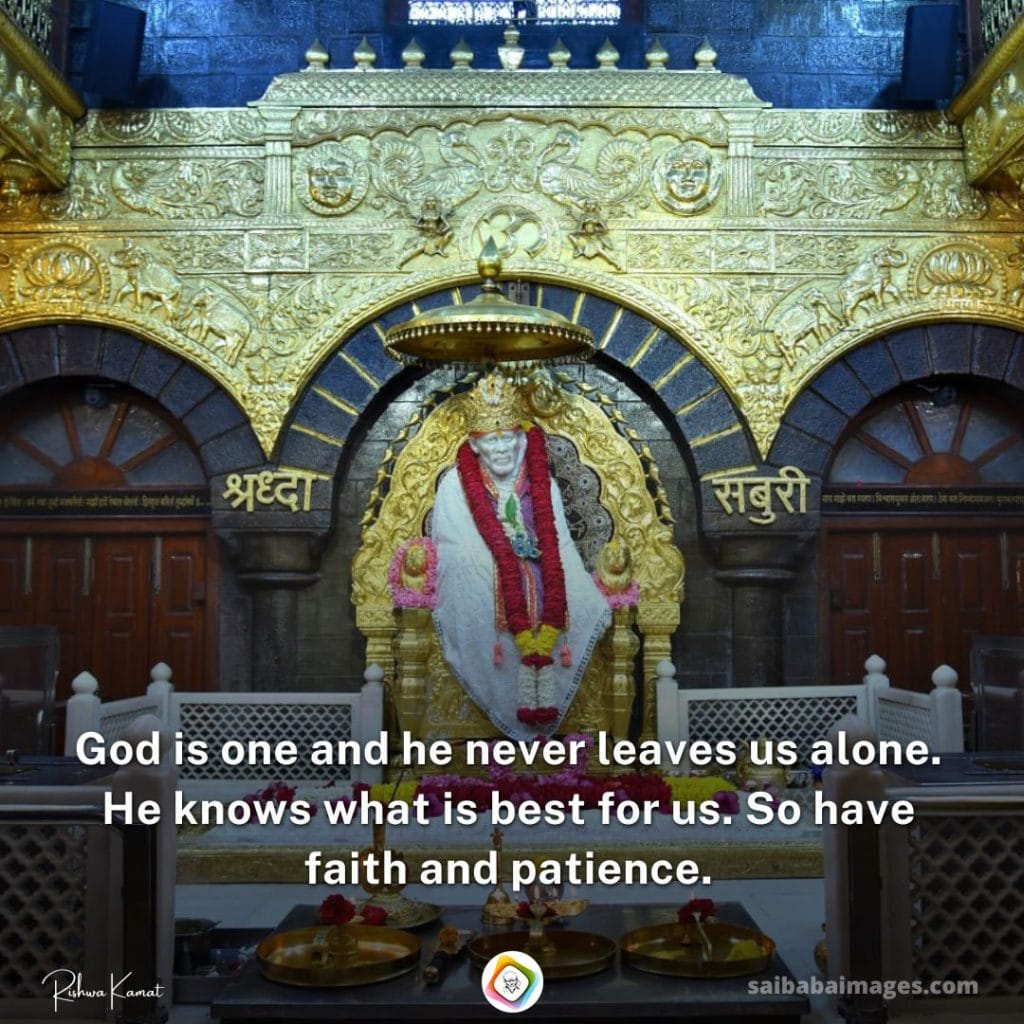 Anonymous Shirdi Sai Baba Devotee from India says: I was praying to Sai Baba for something I desperately needed. I believed it was a small favor that Baba could easily grant me. I performed a 5-day Diya Pooja and diligently completed Sai Satcharitra weekly, hoping for a positive outcome. However, for some reason, it was not getting confirmed at all. I expected it to be confirmed within a week, but it took more than a month. As the days went by, I began to lose faith in Baba. Despite my doubts, Baba proved me wrong and fulfilled his promise. Finally, today, I received the confirmation. Baba, I am sincerely grateful to You, and I apologize for doubting and not fully trusting You. I love You, Baba. I'm sorry once again. Thank You for always being there and guiding us.
Sai Baba's Miraculous Blessings: A Journey Of Faith And Transformation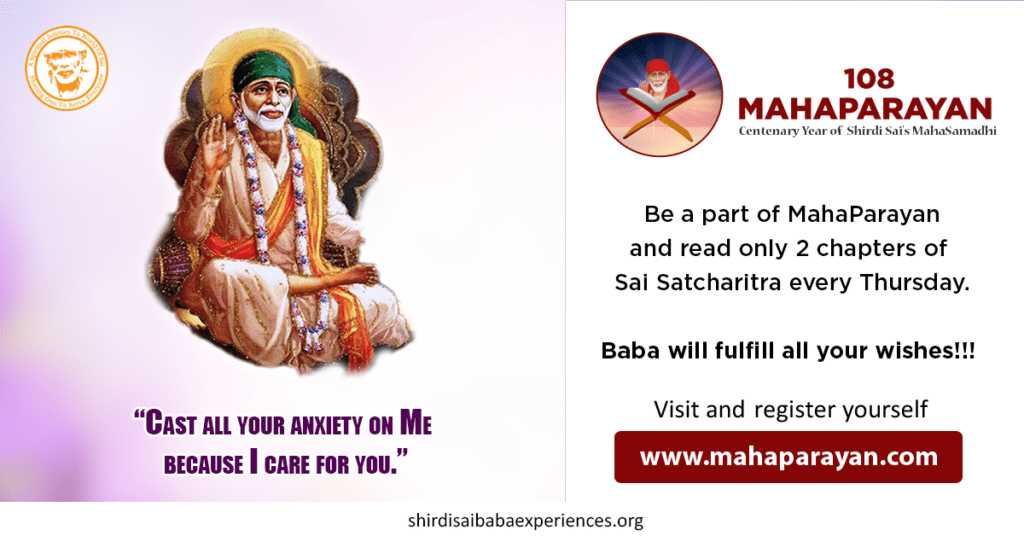 Anonymous Shirdi Sai Baba Devotee from USA says: In January, my husband faced the unfortunate experience of being laid off. However, through the grace of Sai Baba, he has now secured a new job. Our lives have been touched by numerous miracles bestowed upon us by Baba. He possesses an innate understanding of what we need and precisely when we need it. Baba patiently waits for the opportune moment, ensuring that his blessings are granted at the perfect time. I firmly believe that everything that has transpired is Baba's divine will. My faith in Baba remains unwavering, and I am certain that He will continue to bless us all.
More from SaiYugNetwork.com
© Shirdi Sai Baba Devotees.com – Member of SaiYugNetwork.com