Download Sai Baba Images In This Post
Sai Baba's Guidance And Blessings In Everyday Life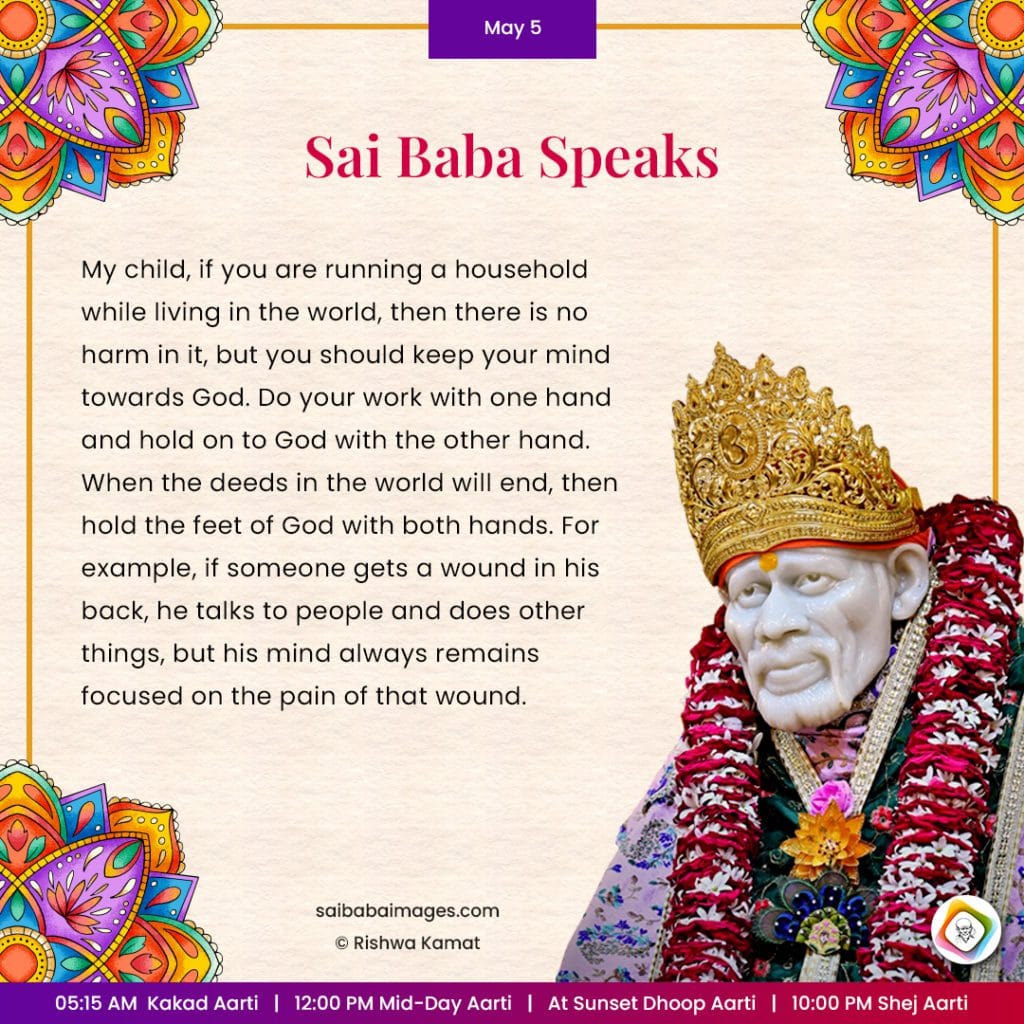 Anonymous Shirdi Sai Baba Devotee from India says: Om Shirdi Vasaya Vidmahe Sachchidanandaya Dhimahi Tanoo Sai Prachodayat.
Deva, I apologize for the delay in expressing my gratitude on this blog. Baba, the one who accomplishes all tasks, is You. Therefore, it is Your decision as to when to act. I am merely an instrument guided by You, so please continue to guide me appropriately. Please always hold our hands and keep us under Your shelter.
Thank You, Hetal ji and the team, for Your continuous efforts in maintaining this blog and fostering positivity among Sai children through it.
Deva, You have already gifted me a small solitaire diamond ring in October 2022, which I had desired fervently for many years but had forgotten about. I have already shared that experience on this blog.
Now, suddenly, Deva has once again bought a diamond ring for my index finger and pearl earrings on February 24, 2023. By Baba's guidance, it was a good purchase and within my budget. In the past, I was unable to wear any ring on my index finger due to itching. However, this time, Deva gave me the idea of filling the hollow space at the back of the ring with wax, which allows me to wear the ring comfortably and satisfactorily.
I have already posted on this blog about how Deva motivated me to offer Khichadi naivedyam on three Thursdays, which I started on February 16, 2023, and completed the three-week Thursday Khichdi Naivedya puja on March 2, 2023. On the first Thursday, I started experiencing throat pain, body pain, and feverishness. I requested Deva to take care of my health issue and couldn't sleep the entire night due to discomfort. I woke up at 5 AM to prepare the Khichadi naivedyam and perform my Thursday Sai vrat. I applied Udi at night and took medicine. Deva assisted me with the puja and my visa interview on the same day (Thursday), despite having a fever, low blood pressure, and throat pain. Deva rescheduled our visa date from Wednesday to Thursday. Now, my husband and I are eagerly awaiting the approval of our UK visa, which is completely in Deva's hands. Deva, please manage our Scotland and UK trip smoothly and within our budget, as this trip is Your gift to us.
I know Deva is reducing the effects of our karma and holding our hands while we suffer, but we still have to face the consequences of our actions. Baba helped me recover my health within a week by providing me with a lot of antibiotics, as the virus this time was very strong. Many people around me were suffering and took longer to recover due to a new virus, but I was fortunate to recover easily due to Deva's mercy and the use of Udi.
Deva, under Your guidance, my husband took my parents and aunt to a local tourist spot that is only open for one month every year. My father had been eagerly wanting to visit that place, and thanks to You, it finally became possible. Thank You so much, Baba.
Deva, my son is currently taking his 10th board exams. Please guide him and help improve his behavior as well, as his behavior always causes me great concern.
Today, Deva, You directed me to a different online site where I could buy things at a cheaper price, and the whole process went smoothly. Deva, words cannot express my gratitude for Your efforts in every aspect of my life and my family's life.
Om Anant Koti Brahmand Nayak Rajadhiraj Yogiraj Parbrahma Shri Sachchidanand Sadguru Sainath Maharaj ki Jai!
Divine Interventions: A Journey Of Miracles And Grace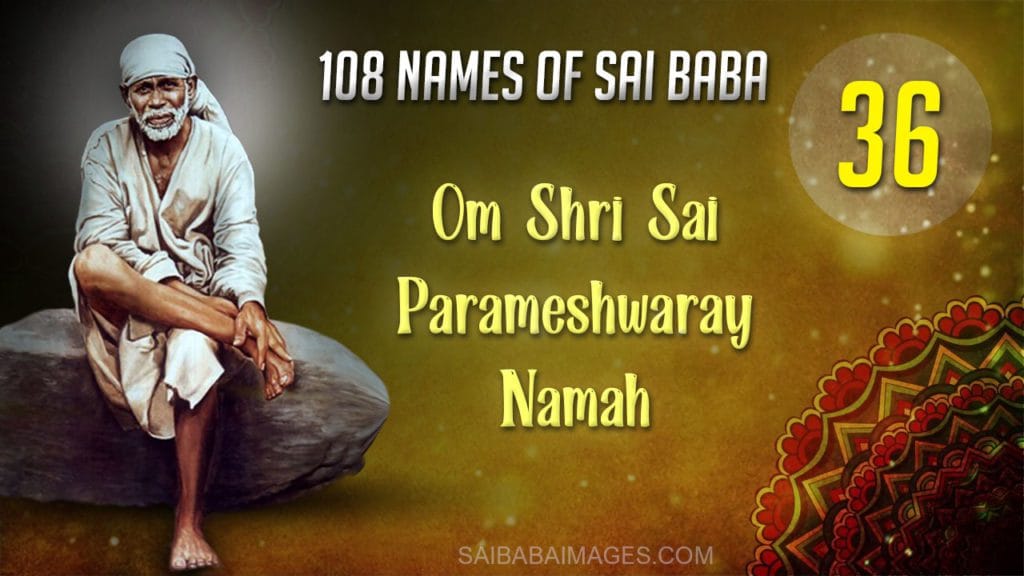 Anonymous Shirdi Sai Baba Devotee from India says:  On Mahashivratri, in the midnight hours, my mother began to feel a little uneasy, but she chose not to confide in anyone. It wasn't until the morning that she finally informed us. We promptly checked her blood pressure, which was found to be high, and she also experienced chest pain. Without delay, we rushed her to the hospital, where a battery of tests was conducted. To our relief, the doctor assured us that everything was fine and attributed her discomfort to acidity. I had made a solemn vow that if all her medical reports turned out normal, I would share this experience on my blog.
Thank You, Sai Baba.
Download Shirdi Sai Baba Mantra Book for Free
We invite you to download our 'Shirdi Sai Baba Mantra' book, which is a collection of powerful mantras that can help you connect with the divine energy of Sai Baba and seek his blessings. We hope this book serves as a valuable resource on your spiritual journey and brings you closer to the love and grace of Sai Baba.
Similarly, I had made a vow for my father during his routine check-up. I pledged to share this experience on my blog if his reports came back normal. And indeed, they did.
My brother was struck with a high fever, accompanied by low oxygen levels. The doctors frightened us, insisting that he needed to be admitted to the hospital. However, we decided to seek a second opinion and treated him at home with fever medication. To our relief, the following day he had made a full recovery. I had promised Baba that I would also share this incident on my blog.
Additionally, we encountered another problem that I am unable to disclose here. Nonetheless, I vowed that if we managed to overcome this challenge, I would share it as well. Baba answered our prayers.
My sister faced some allergic issues, but her test reports revealed no serious concerns.
We had some foreign currency with us that had been sitting idle for quite some time. We were uncertain whether we could still exchange it after such a prolonged period. However, Baba intervened, and the issue was resolved.
By Baba's grace, my own medical reports also returned normal.
Thank You, Baba, for showering Your blessings upon us. We sincerely pray that You continue to bestow Your grace upon us. Om Sai Ram.
Miraculous Retrieval: Sai Baba Answers A Devotee's Prayer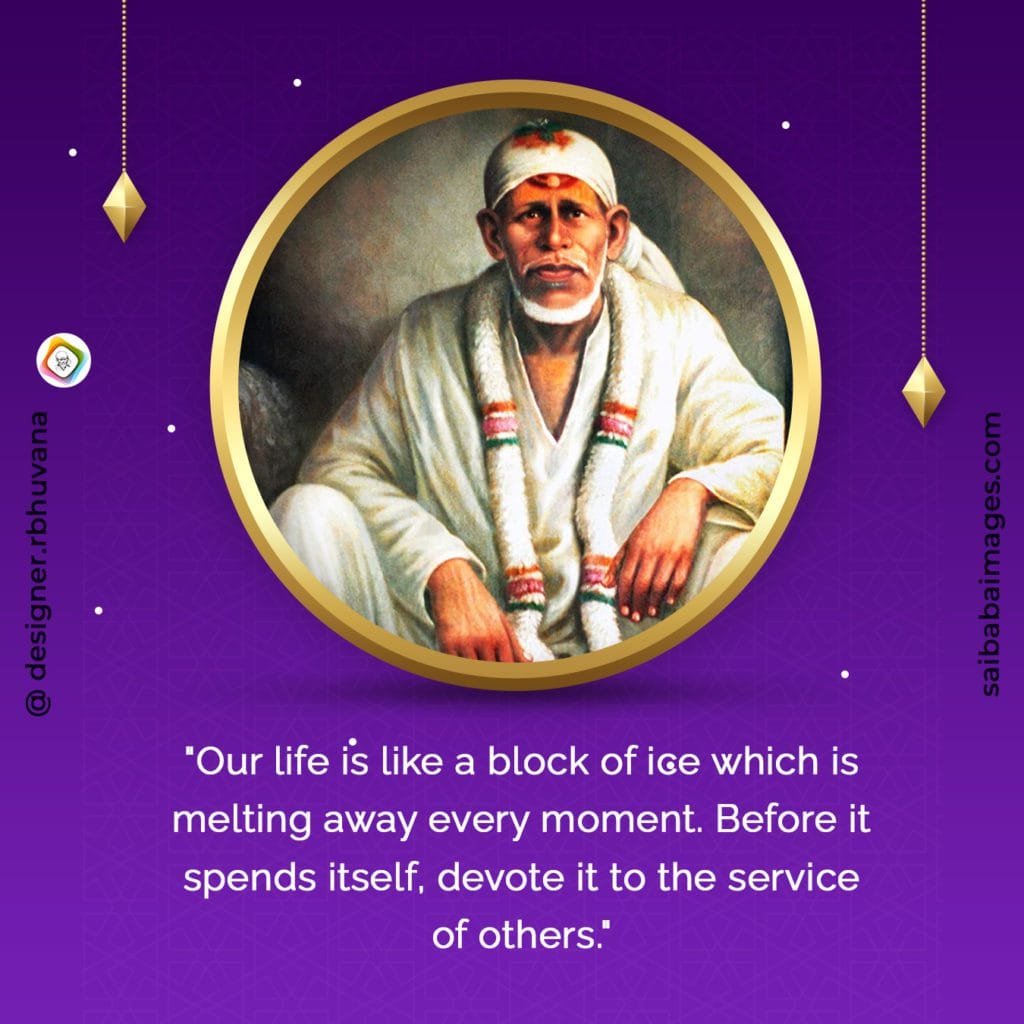 Anonymous Shirdi Sai Baba Devotee from India says: On Saturday night, I lost my earring. I searched for it diligently on both Saturday and Sunday, but unfortunately, I couldn't find it. Feeling disheartened, I decided to pray to Appa, promising to share my experience if I were to locate the ring.
On Sunday night, while I was discussing the situation with my daughter, she suddenly exclaimed that there was something under her feet. To our amazement, it turned out to be my missing earring. It was incredible because my son and I had already searched the same spot where we eventually found it. I firmly believe that this was Appa's miracle at work.
Appa is always with us, ready to fulfill everyone's wishes as long as we possess Shradha (faith) and Saburi (patience). I want to express my gratitude to Appa for everything He has done for me and my family. Words cannot adequately convey the depth of my appreciation. Appa, You are my life; without You, I am nothing. I love You, Deva. Please bless me, my family, and all Your children. You already know the desires that occupy my thoughts; I humbly request You to fulfill them.
Om Sai Shree Sai Jai Jai Sai. 🙏🏻🙏🏻🙏🏻
A Devotee's Gratitude: Sai Baba's Blessings Bring Hope And Healing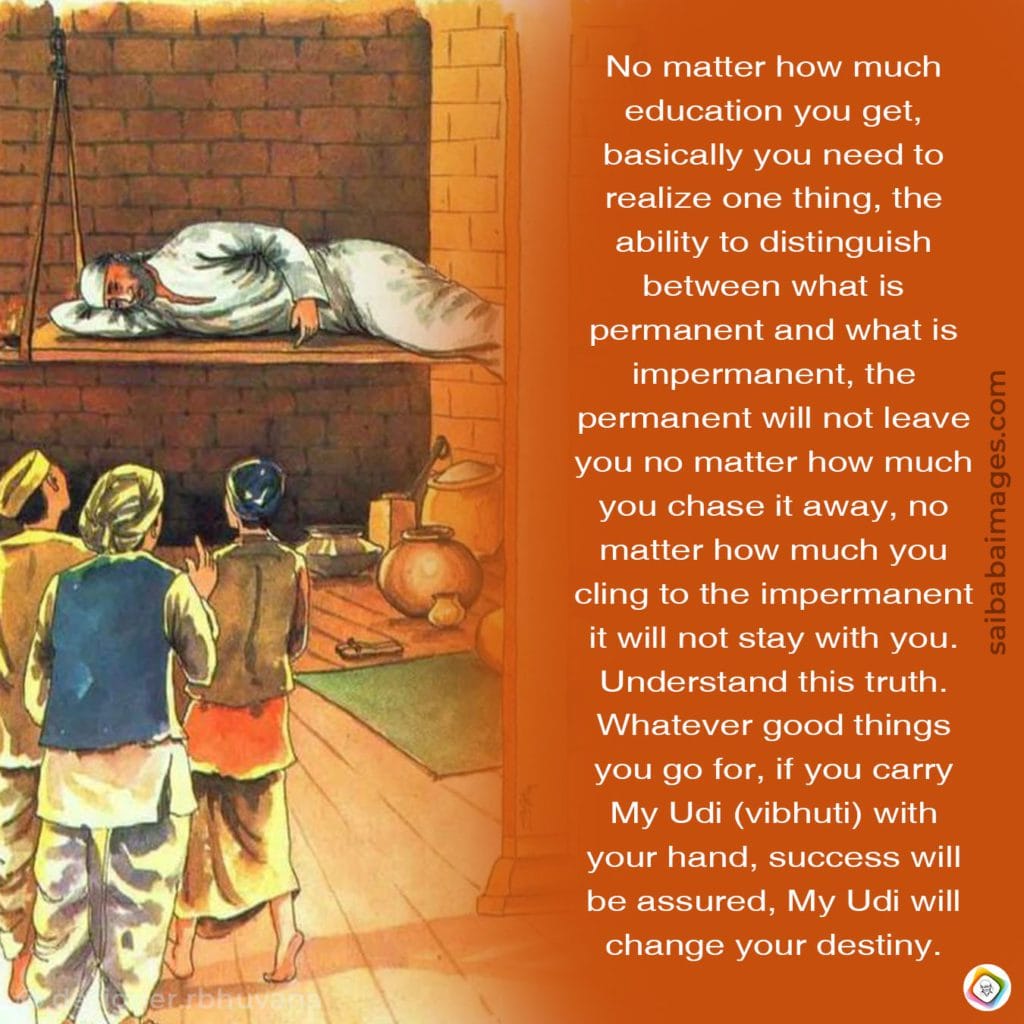 Anonymous Shirdi Sai Baba Devotee from India says:  Om Sai Ram. Please keep me anonymous. I am a very small devotee of Sai Baba, and I would like to express my heartfelt gratitude to the team maintaining this blog. Being a part of Sai's Global Mahaparayan Group and an avid reader of this blog, I find solace and hope, especially during times of despair. It constantly reminds me that Sai Baba never abandons His devotees and is always there to help them.
Today, I visited the doctor for a follow-up on a terrifying health issue. While waiting for the results, I made a promise that if everything went well, I would share my experience. Thank You so much, Sai, for Your blessings. Baba, please accept my humble gratitude and koti koti pranam at Your lotus feet.
Sai Baba, You are aware of the immense agony I experience every day concerning my child. I earnestly request Your help in ensuring my child's growth, good health, and academic success. Please forgive us for our past misdeeds and shower Your blessings upon us. Om Sai Ram. Om Sai Rakshak Sharnam Deva. Om Sai Nathaya Namah. Om Sai Shri Sai Jai Jai Sai Shri Sai. May Baba bless all His devotees.
A Journey Of Redemption And Divine Intervention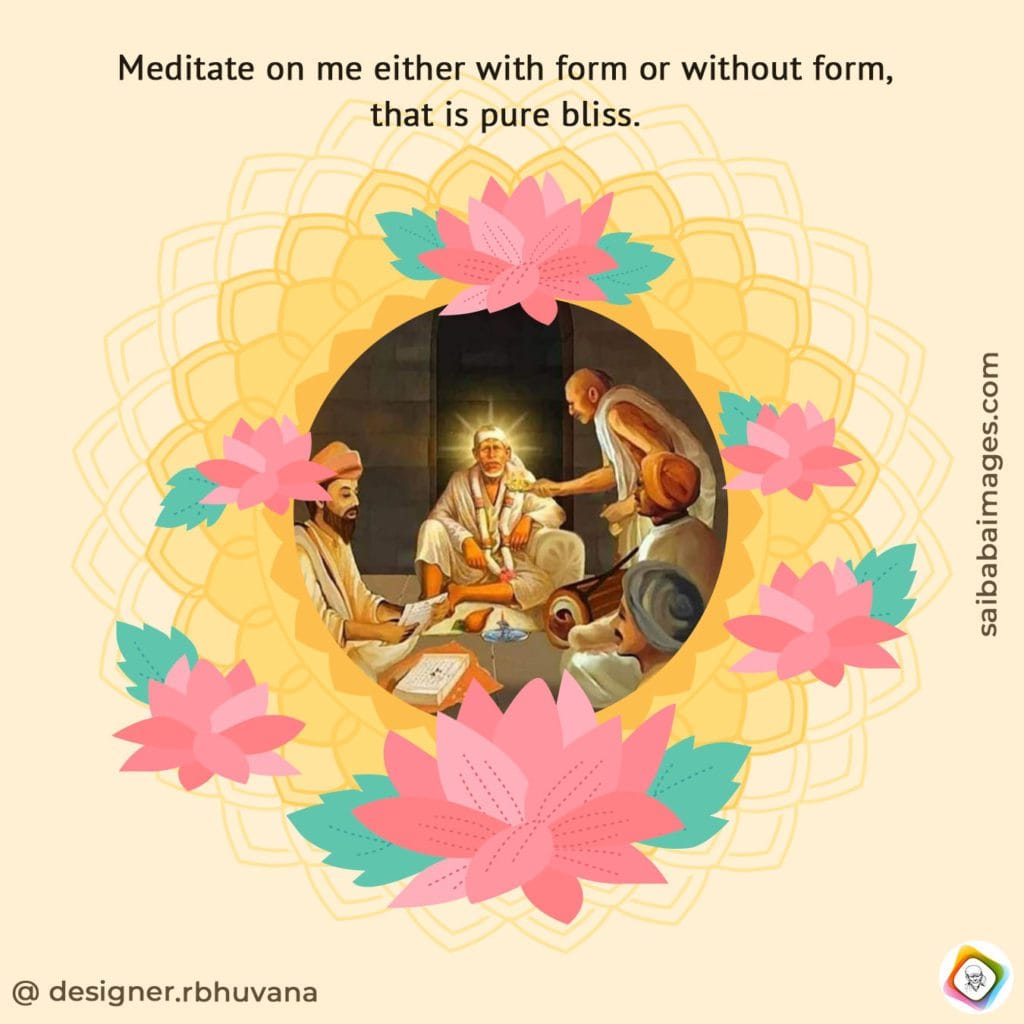 Shirdi Sai Baba Devotee Sneha from the UK  says:  Hi, my name is Sneha, and I'm from Goa, but presently working in the UK. I come from a very disturbing family. I lost my mum when I was just 3, and my dad married again. After 1 year of their marriage, this stepmom started treating me and my brother like slaves.
When I turned 7, I left my brother alone and ran to live with my maternal uncle. From that time, my father completely stopped talking to me. When I was 19, I got married to a Hindu boy, and I started worshiping Sai Baba. We were struggling with finances very badly. My dad had loads of money.
I started to pray to Sai Baba, "Please help my father to forgive me and help me." This is like the biggest miracle in my life. All of a sudden, from nowhere, my father contacted me via my uncle and said that he is willing to give me help. I could not thank him less because he helped me with a big amount, bought me gold, a car, and so much more. Thank You, Sai Baba.
Embracing Sai Baba's Blessings: A Devotee's Journey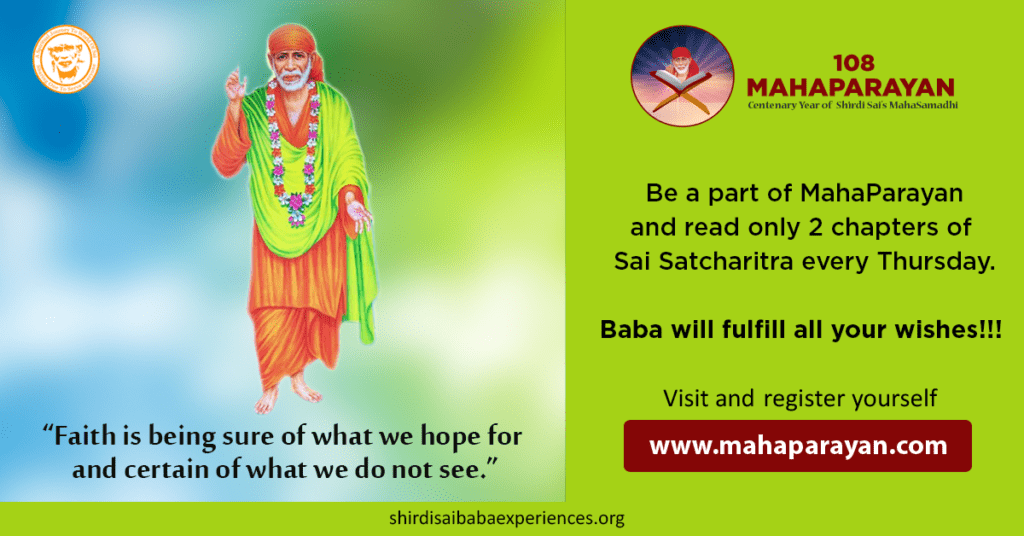 Anonymous Shirdi Sai Baba Devotee from India says: I have been an ardent devotee of Sai Baba for 1.5 years. Initially, I wasn't a follower of Sai Baba. However, one day, I spontaneously visited the Sai Baba temple. As I bowed my head before Sai Baba, a flower fell upon me, and I felt truly blessed. Since then, my tiny wishes have been consistently coming true, reinforcing my belief in Sai Baba. He has drawn me towards him, providing unwavering support and protection for me and my family. I trust that he will continue to fulfill all my wishes.


More from SaiYugNetwork.com
© Shirdi Sai Baba Devotees.com – Member of SaiYugNetwork.com