In this heartwarming article, an anonymous devotee shares their profound experiences of Sai Baba's devotion and miracles. Through unwavering faith, they encountered miraculous moments, from unexpected encounters to divine interventions. These powerful experiences reaffirm the boundless love and blessings of Sai Baba in their life. Jai Sai Ram!
Download Sai Baba Daily Calendar with Images
Sai Baba's Divine Interventions: Miracles In Lives of Devotees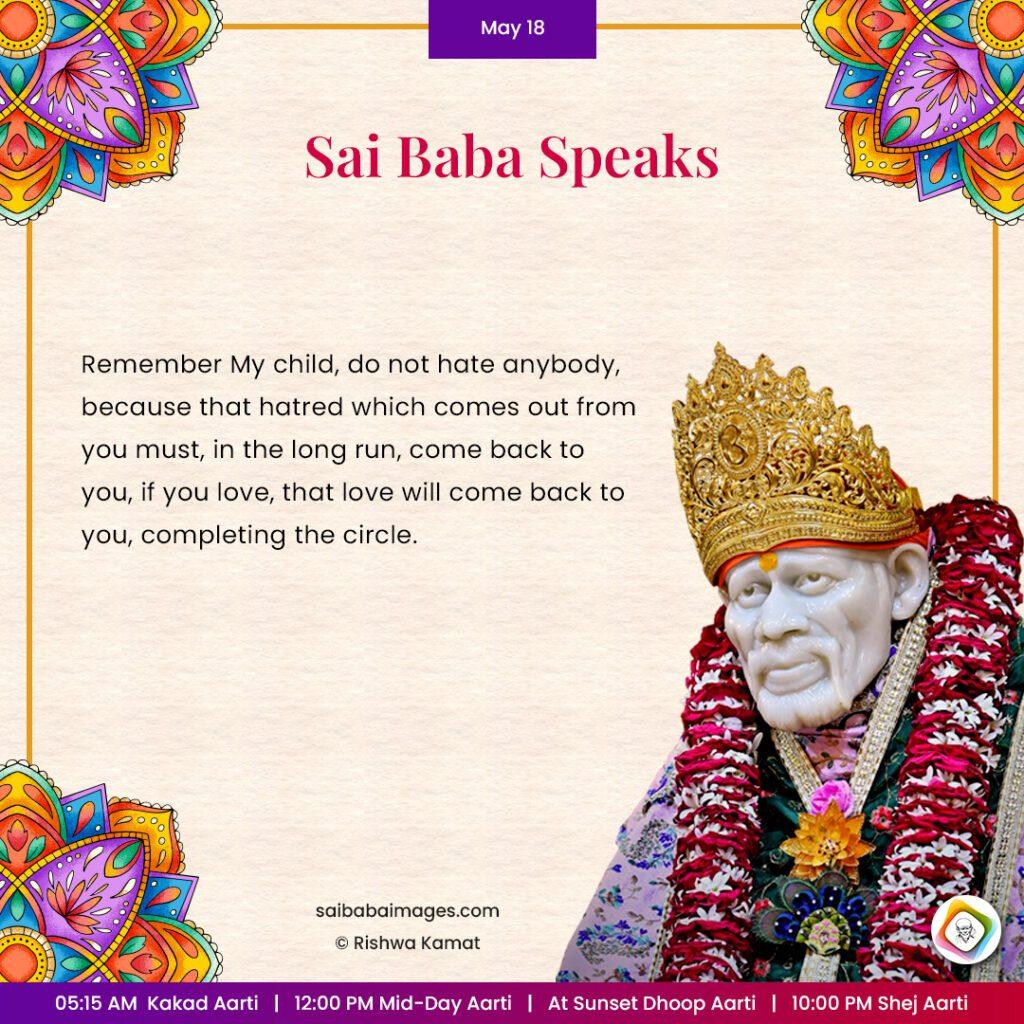 Anonymous Shirdi Sai Baba Devotee from USA says: It was in the year 2012 when my mother and I visited my sister in Kannur, Kerala. I was traveling by train with my mother, sister, and brother-in-law to a temple in Kerala. Whenever I travel, make a short trip, or commute to my office or home, I just have to wish to see Baba's picture. Within a few minutes, I invariably see His picture on some vehicle's rear glass, inside an auto, or in a shop as an idol or picture. So, on this day too, I prayed to Baba that He should show me His presence in the form of His picture or idol or help me recognize Him in some other form. We settled down, and when the tea vendor came, we wanted to have some tea. As my mother sat in the window seat, I tried to pass her a cup of tea. But I think I wasn't holding the cup properly, and the whole cup of hot tea spilled on my left thigh. I felt my skin burning. My mother and sister tried to calm me down by helping me wipe the spilled tea and dry the cloth. I wanted to cry, but I didn't. Instead, I remembered Baba and told Him, "No matter what, I want to see You now."
I knew it was impossible to see His picture or idol as the train had picked up its speed, and we were far from any town or village. Still, I continued praying as I was in pain, both physically because of the burns and mentally because I wanted to see my Baba. As I continued to pray, I heard a man loudly uttering, "Allah Mallik. All Gods are one." I was shocked to hear that. Though I was sitting 2nd from the window seat, and there were many other passengers, he looked only at me and said, "Give me 6 Rs, I want to have lunch." I was in so much shock that I struggled to take my purse from my bag, and I was worried he might not wait. He was about to leave, but I screamed, "BABA!!!" He turned back, and when I offered him the money, he said, "That's enough." I was surprised, as no beggar will ever say that's enough. He left without asking for alms from anybody but uttered "Allah Mallik" again. I was in tears of joy, and my heart was dancing with happiness, thinking about how He comes running the moment we even think of Him. This was the most beautiful way for Baba to assure me that He is there for me always. Of course, I was in a different world for a long time after that. I truly thank my Baba for being so merciful and showering His love on me when I needed Him.
During the same time that I was at my sister's place in Kannur, I felt sad on Guru Poornima day because it was during that time of the month when I could not visit my Baba's temple, nor could I do my customary puja at home. I was feeling very low about it. I stepped out onto the patio to dry the clothes when I saw an old man in a white dress with a joli over his shoulder coming towards the house. He stood near the gate and said nothing. He didn't even ask for food or money but just stood there looking. I was so pleasantly surprised and shocked, but I still ran inside to get some money. He calmly waited, and I offered him the same. I looked at him, and he looked so serene and divine. He just raised his hand and left without going to any other house. I felt so calm and peaceful seeing him. I went inside and narrated the incident to my mother and sister. After listening to me, what my sister told me shocked me to the core. She told me that they had been living in that house for more than a decade, and there had never been any instance of any beggar coming to houses asking for alms in that area. So how was it possible that an old man in a white dress came today? I was jumping for joy because it was so clear that my Baba was telling me not to worry that I could not visit His temple; instead, He came to see me on this auspicious day to bless me and my family. He is the most merciful God!
Thank You for all Your blessings. I love You, my BABA!!! Jai Sai Ram! Peace to all.
A Tale Of Gratitude And Miracles: Saima's Profound Experiences
Anonymous Shirdi Sai Baba Devotee from India says: Hey Saima, by Your grace, I want to share a few experiences.
1st Experience: It's related to my Engagement
Sai Baba has chosen a nice person from a good family who is also Baba's devotee for me. Baba, everything happened so fast. I think everything is Your blessing only. Thank You, Baba, for making the engagement function go well without any obstacles.
2nd Experience: Saving my Grandmother's life
My grandmother, who is nearly around 100 years old, is very active and was elated on the day of my engagement. She missed her Blood Pressure tablet on that day because of the rush. After all the ceremonies were over, she ate her food and sat in the chair with a smiling face. Suddenly, within five minutes, she leaned back in the chair in a sleeping position. My sister, who was eating with us, observed her, and we reached her within 2 minutes. We moved her a lot, but there was no response from her. We were shocked to the core and started crying. For a few minutes, we thought we lost her in the function hall. My mother, who is in the medical field, checked her pulse and observed it was very low. She started pumping her heart like CPR while I kept saying "Sai Sai." She woke up after five minutes. It was like Baba gave her a new life to not make us sad at that moment. Later, we took her to the hospital. They observed her blood pressure was high and gave her an IV. After three hours of observation, they sent her back home. She was completely fine afterward. It was all Baba's grace. How can we thank You, Sai?
3rd Experience: Other Grandmother
My other Grandmother, who is weak, came to our town by Auto, and I was supposed to pick her up. In confusion, she got down before what she told. I searched for half an hour throughout the whole town in search of her, worried because of her state. I requested Baba to help me find her. By His grace, I found her sitting somewhere. Thank You, Sai Ma.
4th Experience: My father's Blood Pressure
I heard that my father's blood pressure was high for a few days, and he seems to be disturbed. By Baba's grace, when we checked, it was somewhat fine with medication. Sai, please look after his health and my mother's too, and of every parent who bears all the pain for their children.
5th Experience: Baba helped in finding a lost paper
Dear Sai Ma, though I know You are helping us every minute, I have been in pain and trauma for so many years. I don't know what I have to do anymore. I don't know whether I have the strength to bear this anymore. Every day, I go to bed with the hope that you will make everything alright. It's been years, Baba, and I can't bear this anymore. Please help me somehow before.
Thank you for everything, dear Saima.
A Sai Devotee's Gratitude: Miracles And Blessings Abound
Anonymous Shirdi Sai Baba Devotee from USA says: Thank you, Hetal ji and team, for providing us with this platform where we Sai devotees can share our beautiful experiences with our Sai family. Thank You so much for always being there for us and loving us so deeply. You are my biggest strength, my Deva. I have no life without You, my SAI.
Thank You, Sai, for helping us take care of this weekend's order so well. Both the customers liked everything, and this could happen only with Your help, Deva.
Thank You, Sai, for helping my son get back his lunch bag. We had already lost all hope of getting it back, but somewhere back in my mind, I knew You would help us find it.
Thank You, Sai, for solving my husband's phone problem. Now it's not switching off at all, and it's completely working fine. This was a wonderful miracle, Sai. Thank You so much, Deva.
Thank You, Sai, for helping my son get his application accepted. Whatever scholarship he got was with Your blessing, Deva. Thank You so much for holding his hand and always protecting them, Deva. Sai, please always stay with them.
Thank You, Sai, for blessing my son with the award. We never expected that we would be accepted for all three categories.
Thank You, Sai, for giving a good bonus and hike to my husband. You know how much to give and when to give, Sai, so we have left everything to You, Deva.
Thank You, Sai, for getting our new car on the festival day. We were so excited that we got it on the right day. You know what is best for us, Deva, and when to give. What could we do without You, Deva? We love You so much, Sai.
Om Sai Ram.
Lost Wallet Found: A Tale Of Divine Help And Gratitude
Anonymous Shirdi Sai Baba Devotee from the USA says: Please keep me anonymous. Many thanks to Hetal Ji and other volunteers for maintaining this platform that solves so many problems for us.
My son visited us from college and went back. The next day he called to tell me that he can't find his wallet and asked if he left it at home. We searched everywhere but didn't find it. The wallet had credit cards, cash, a driver's license, a college ID card, etc. It would be a huge issue to lose all that. I prayed to Baba to help with finding the wallet. We went outside and searched in the backyard, front yard, etc. I also asked my son to check outside his house. He even asked his neighbors if they saw it outside, where it may have dropped from his pocket when he was walking home.
I kept praying to Baba, and somewhere inside, I knew that Baba is going to help.
My son called back to tell me that he found his wallet right inside his house on the sofa. Thank You, Baba, for Your kindness. Sorry to bother you with small worldly items.
Om Sai Ram. Jai Sai Ram.
Anant Koti Brahmand Nayak Rajadhiraj Yogiraj Parabrahma Shri Sachchidanand Sadguru Sai Nath Maharaj Ki Jai
Download Shirdi Sai Baba Mantra Book for Free
We invite you to download our 'Shirdi Sai Baba Mantra' book, which is a collection of powerful mantras that can help you connect with the divine energy of Sai Baba and seek his blessings. We hope this book serves as a valuable resource on your spiritual journey and brings you closer to the love and grace of Sai Baba.
A Grateful Acknowledgment To Sai Baba
Anonymous Shirdi Sai Baba Devotee from India says: One of my colleagues is on leave, so I have to do his work as well. In that process, I completed his work, and everything went well. But I have a small doubt, so I approached our beloved Sai and asked for his help, and he saved me. Everything is fine now. As promised, I am posting here. Thanks a lot, Baba.
Overcoming Body Pains: A Solitary Prayer to Beloved Sai Baba
Anonymous Shirdi Sai Baba Devotee from India says: Yesterday, I had very severe body pains, and I am staying alone in my home, so I was a bit afraid and prayed to my beloved Baba. Thankfully, now I am okay. Thank You, Baba.
More from SaiYugNetwork.com
© Shirdi Sai Baba Devotees.com – Member of SaiYugNetwork.com