Sai Baba, An Eternal Saviour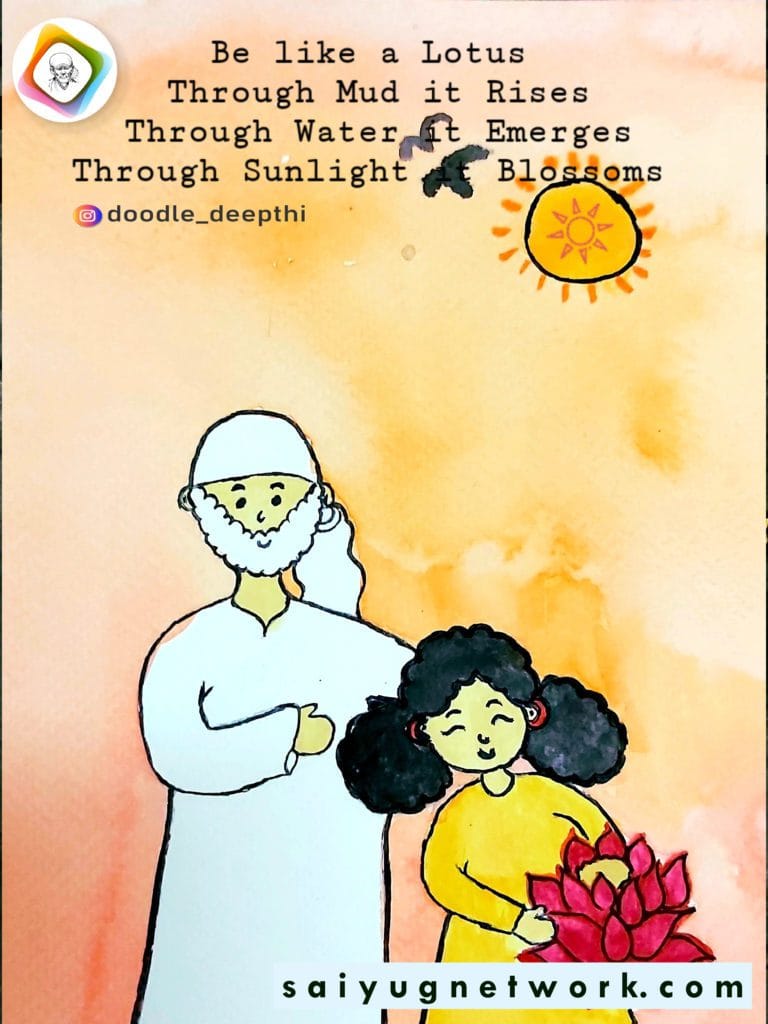 Anonymous Shirdi Sai Devotee from India says: Shirdi Sai Baba is my eternal protector, my saviour, my guide, my guardian. Om Sairam! Om Sairam! Anantakoti Bhahmandanayak Rajadhiraj Yogiraj Parambrahma Sadguru Sainath Maharaj Ki Jay!

It is not only difficult but almost impossible for a mere mortal like me to sing the praises of Sai Baba and express how He helps me in every turn of my life. Still, I would pray to Him so that He blesses me and endows me with the ability to pen down one of my very recent experiences that would provide the readers with an idea of how He responds and helps when somebody with all her heart and soul prays, when any other worldly help is denied.

Last May, my husband bought a mobile phone for me. In spite of it being a wonderful gift, I was not quite happy with some of its features. The phone was bought online and could be returned within a month of its purchase. So, we decided to return it to the seller and order a different model.

Finally, we returned the phone within the stipulated time period and got a new one. The phone was picked up from my doorsteps and within a couple of days, was sent to the seller. However, to our surprise, we did not receive the refund. We contacted customer service to learn that though the seller had received the model they were expecting, the serial number of the phone received did not match with the device they sold. The seller was not at all ready to refund until it received the phone with the serial number it was looking for.

We had no clue about how the serial number did not match as we had sent the same phone that we received from the seller. We suspected that might be the courier had done something wrong, or the seller itself was not refunding intentionally. In spite of repeated email exchanges, the seller was neither ready to refund nor willing to return the product. It emphasized sternly that unless it received the model with the correct serial number, it would not refund the money.

Utterly helpless, I went to my prayer room to cry aloud in front of Sai Baba's photograph. I told Sai Baba that if anybody can turn the impossible into a reality, it is You (He has always made the impossible possible in my life). My husband was sad and kept on saying if I had not returned the phone; this circumstance would not have arrived. With all my heart and soul, I prayed and asked for Sai Baba's help. Everyday, I prayed and sought His help. With Sai Baba's grace, we miraculously got proof that we could provide the bank whose debit card we had used to purchase the device. Looking at the proof (which the bank was asking for in order to handle the situation and discuss with the seller), the bank dealt with the seller to send us the refund. I strongly believe that it was Sai Baba Who helped us; otherwise we would have had a huge monetary loss (as the price of the phone was quite high).

I just have no words about how to express my gratitude to my beloved Lord.

I just want to say to Sai Baba that I love Him as much as I love my Guru ( Sri Ramthakur whom I call Rambhai). He (along with my Guru) is my support. Whenever I am sad and feel utterly helpless and alone, the thought of Him wipes out my agony.

I can always feel You Baba. You know that You (my Guru too) are my sole resort. Though I cannot see You, I know You are always with me. Even if the world leaves me, don't leave me Sai Baba. Be with me till I breathe my last and even after that, forever, eternally.

I am always indebted to You for everything. Om Sairam! Sri Sairam! Jay Jay Sairam! Sadguru Sairam
Baba Resolved Fight And Gave Peace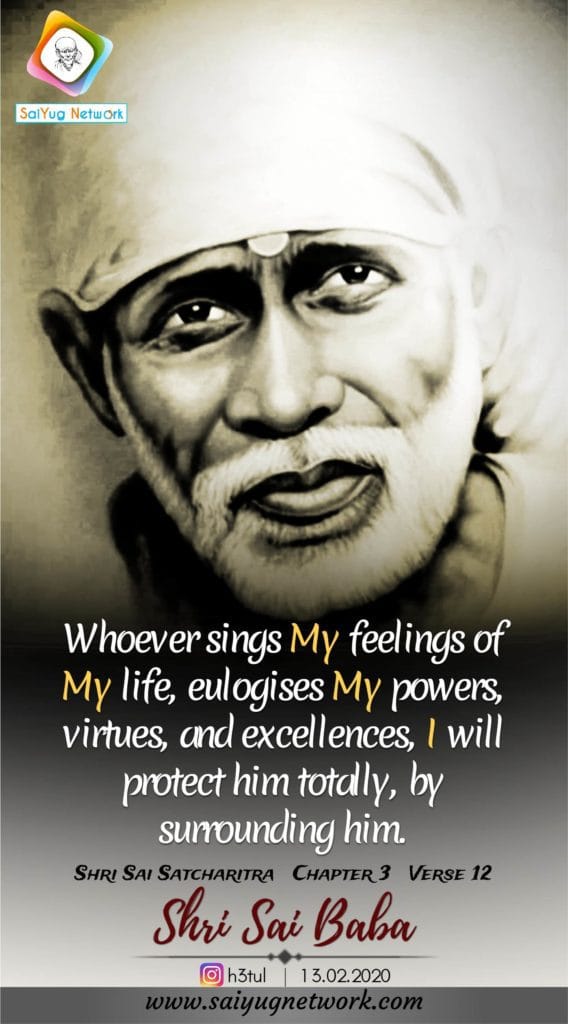 Anonymous Shirdi Sai Devotee from US says: Hi Hetalji and team I am very grateful to all of you for bringing these devotees' experiences with Baba to us. I would like to be anonymous.
I always feel that Sai Baba is there for me and He is guiding me in all aspects of my life. Baba's miracles in my life can't be put in words.
Today I am going to share my experience of how Baba helped me to talk to my friend after some fights. My friend's daughter was fighting with my daughter everyday and calling her using bad words. I was involved in an argument with my friend and her daughter. But, my friend messaged me that she doesn't like to end our friendship.
I was very angry at that time and I didn't reply to that message. But, after two days I found that my friend and her daughter were not coming to play and I really felt bad for what all happened. So I called her to say sorry. But, she didn't pick up my call. I was begging Baba and pleading with Him to make her talk to me. She called me around 10:45 pm. She said sorry and I too said sorry. Both thought of moving like before. From the day the fight started to the day I said sorry I couldn't sleep properly; I couldn't focus on my work or any other things. I was feeling very guilty till the day I said sorry. After conveying my apologies I was again happy and normal.
Thank You Baba for making her call back. Thank You so much. Please protect my son and daughter while playing. Please bless my husband as he is changing into a new job. Thanks for everything Baba.
Baba's Miraculous Udi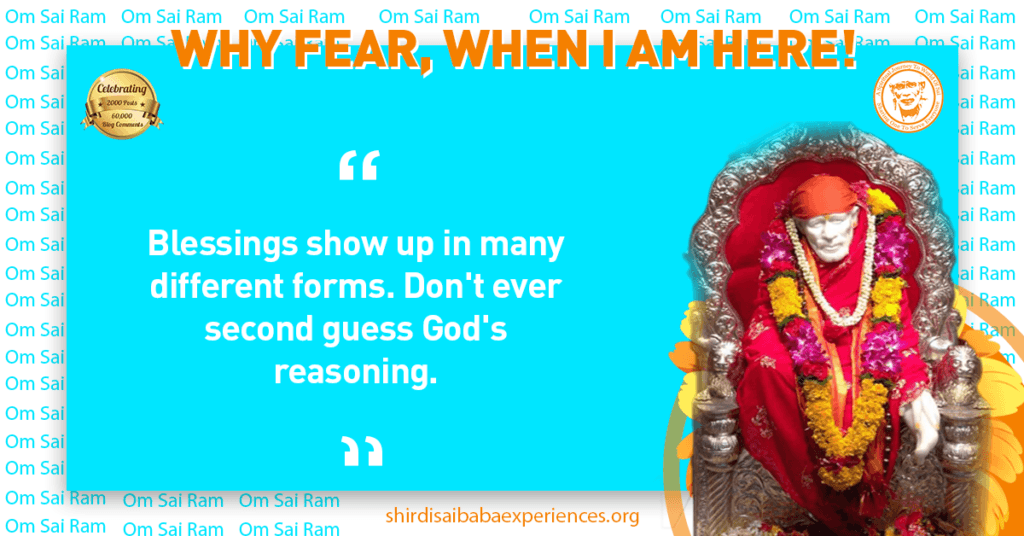 Anonymous Shirdi Sai Devotee from India says: I am sharing a wonderful healing experience that I encountered with Baba's Udi.
I used to get severe cold and cough during winter season and this issue started before three years. It was so severe that doctor asked me to take TB test, but results were negative and with one month medication I was cured.
Then next year the same repeated. I had severe cough and no one else could sleep because of that. I was very worried. Then one night around 2 am I remembered that I had Baba's Udi. I mixed it in water and drank it. You won't believe that I got relieved immediately and after that I never had that problem.
Even this winter I had no problem. Sorry for sharing the experience late. Thank You Baba, Om Sairam!
Sai Baba Helped Devotee To Get My Dream Job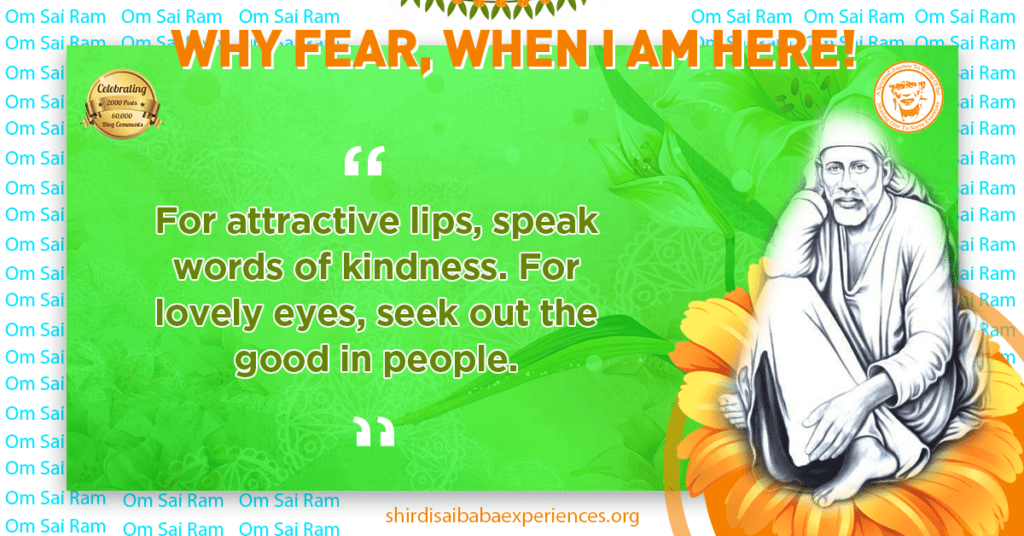 Shirdi Sai Devotee Aditya from India says: I am Aditya. Baba, thank You so much for helping me to get a good job in a good company with a good package. It was You Who helped me to pass all the rounds. Today I got the offer letter and I am speechless. Baba, thank You for everything. Please help me while serving the notice period so that I can complete it without any problem. Baba, when I join that company I will post my experience again. Please bless all Your devotees Baba.
Thanks to Hetalji and team for maintaining this blog as it always feels like we are directly communicating with Baba. Om Sairam Om Sairam Om Sairam!
Thanks To Baba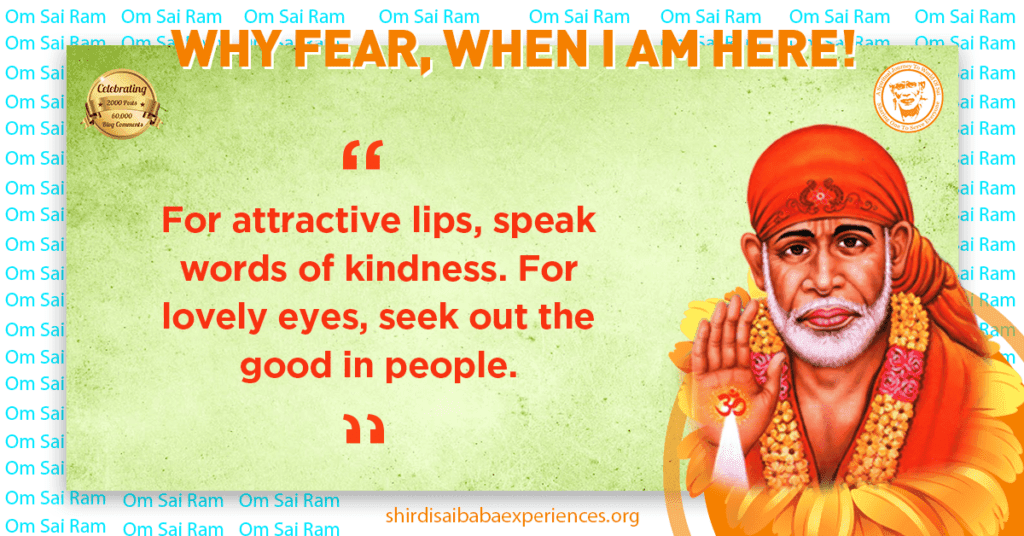 Anonymous Shirdi Sai Devotee from the US says: Om Sairam to all Sai devotees. Thank You to the team for maintaining this blog.
There were numerous instances when I was troubled last week but Baba completely saved me from them. This would have been something that would have caused so much conflict but Baba helped me in a second and I will always be grateful to Baba. Devotees, please realize that Baba is listening and He is always there for us to save us. I cannot thank You enough, thank You for being my back Baba. Forever will be grateful to You. Om Sairam.
Gratitude To Baba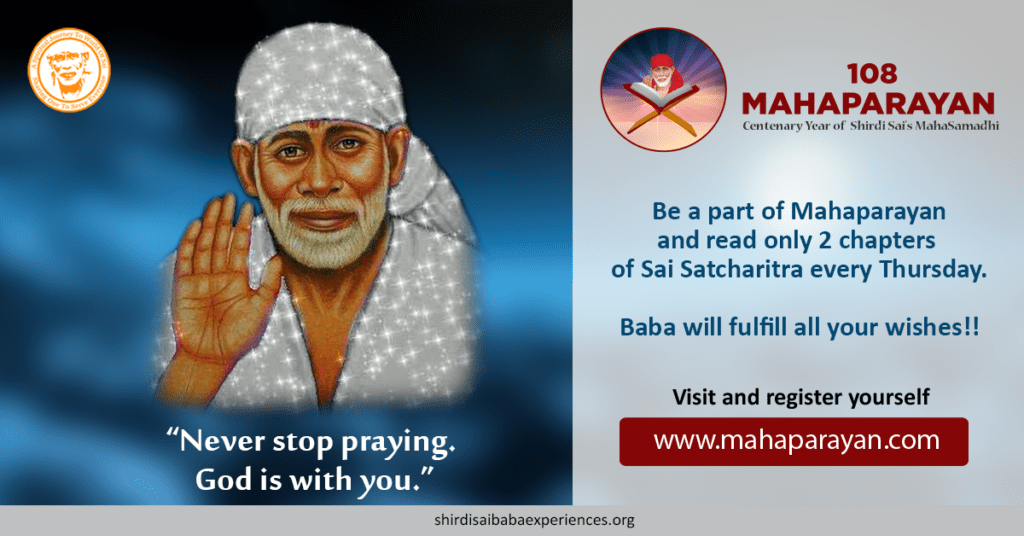 Anonymous Shirdi Sai Devotee from the USA says: Om Sairam to my Sai family. Thank You Baba for blessing my daughter. I prayed to Baba that I would post my experience here, if everything goes well. As usual Baba guided and helped us. Thank You Baba once again. Jai Sairam! Om Sri Sai Nathaya Namaha.
More from SaiYugNetwork.com
© Shirdi Sai Baba Devotees.com – Member of SaiYugNetwork.com