Sai Baba's Guidance
Anonymous Shirdi Sai Devotee from Japan says: This blog really gives us a lot of hope. May Baba protect us all. Om Sairam. Thank You Baba for showering Your blessings on us.
Coming to my experiences, there are three main points for which I wanted to thank Baba today.
1) We were searching for a pair of silver lamps for a long time. It was used for a special occasion and we had kept it safely. In the middle we had to shift some stuff to a different place and in the process, we thought we misplaced it. We were searching for a very long time and were quite upset that we couldn't find it. Then we thought we would find it sometime and left it.
After a few months we were searching for something else in the cupboard and just a wonder that we found the lamps neatly wrapped. We had checked the cupboard so many times earlier but we could not find it. Really thank You Baba.
2) At work, I had deleted a file by mistake. I was trying every way to retrieve it but I couldn't. I really felt tense about what was going to happen and I prayed to Baba to please fix it. Then I told my boss about it but thankfully he had a backup of the file in his local system and that was cleared. Thank You once again Baba.
3) This might sound silly but I have the habit of forgetting login passwords and there was a site for which I had forgotten the password and also I couldn't reset the password. I was trying to contact the support, then thankfully the support came back and explained the problem clearly and I was able to retrieve my account. Thank You so much for everything Sai.
Sai Baba Blessings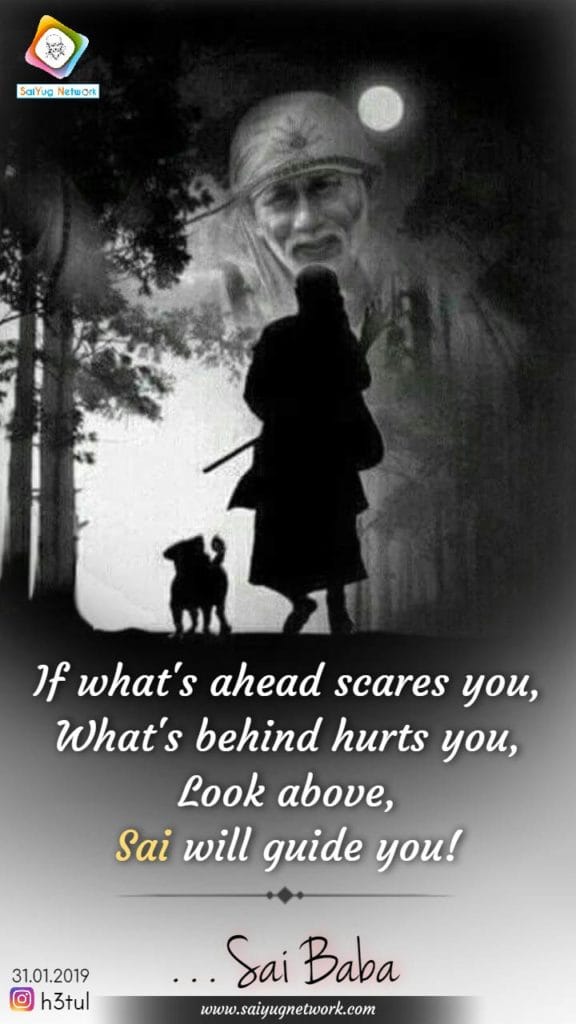 Anonymous Shirdi Sai Devotee from India says: Save us Baba! Thank You so much for the team to maintain such a wonderful platform to share the blessings of our lovable Baba.
Recently I tested positive for Covid, I had mild symptoms of Covid. Additionally I had a long breathing problem for a year for which I didn't take medication, but due to the current situation it was bothering me a lot. I prayed Baba wholeheartedly and begged and cried in front of Him to fix this problem.
I used to drink Udi water daily. To my surprise the next morning my breathing problem reduced gradually though I didn't take any medicine for the same! It was nothing less than a miracle of Sai Baba.
I pray to Sai that I should completely recover from Covid and take care of my family soon with Sai's blessings. Sai, save this world from this deadly virus! Om Sairam! Om Sairam!
Baba Is There To Bless Us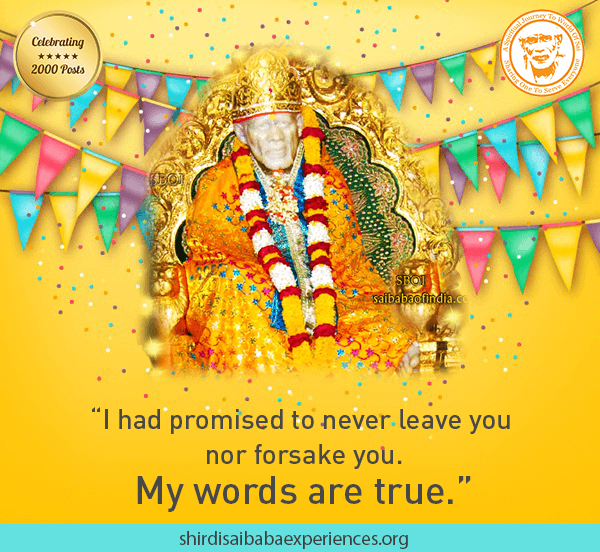 Anonymous Shirdi Sai Devotee from India says: Om Sairam! I am a devotee of Shirdi Sai Baba. Please keep me anonymous. I am from Mumbai and always feel blessed to be at Baba's feet.
Thank you Hetalji and the entire team for creating such a wonderful platform where we can express Baba's blessings in our life.
My experience, in the first week of December I was not feeling quite well. I was not feeling very energetic. I then prayed to Baba and had Baba's Udi. Within one week I was ok. Today I am feeling very good. Thank You Baba for blessing me with good health.
Thank You Baba for blessing me and my family. Baba sorry for posting my experience late. Baba's blessings are always there for me and my family. Sai Devotee.
Gratitude To Sai Baba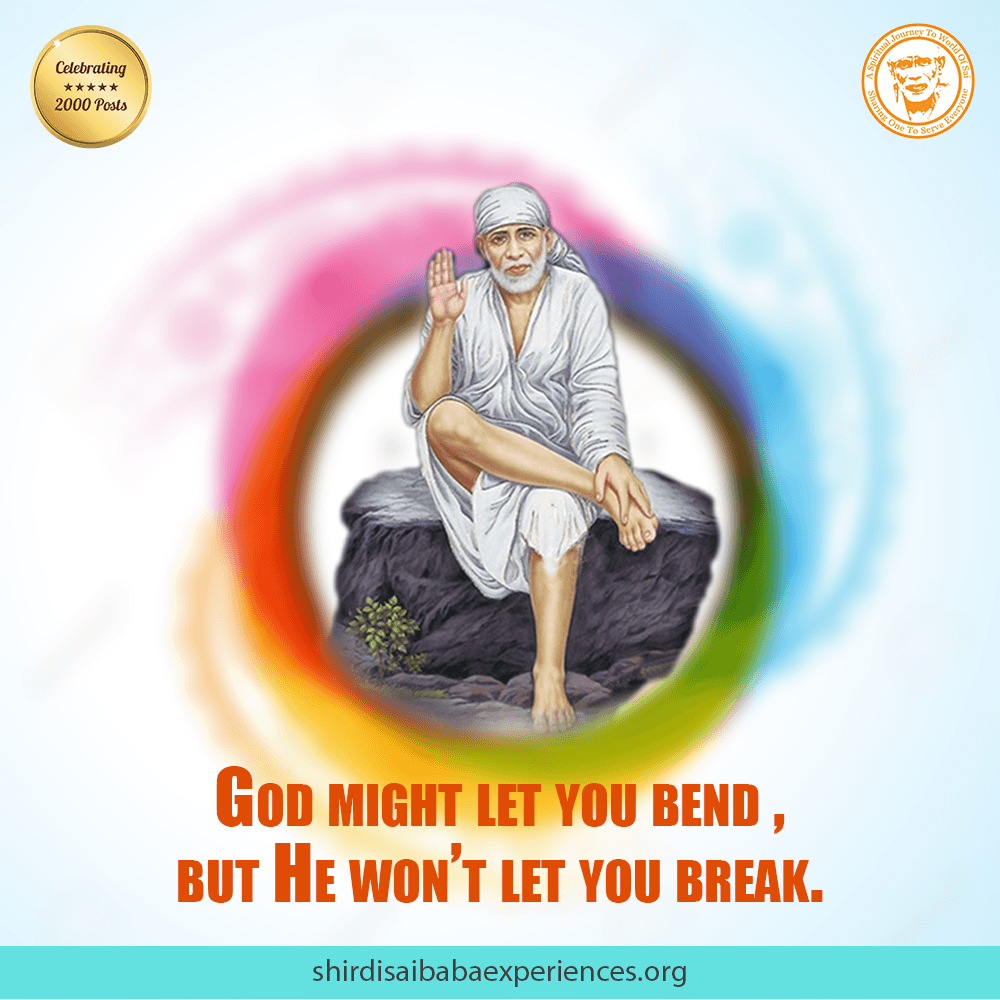 Anonymous Shirdi Sai Devotee from India says: Baba, I am in Your Sharan. I am a small devotee from Delhi. Thank you Hetalji and team for maintaining this site and publishing my few experiences.
I am currently undergoing a work related crisis. Due to Covid it's getting tough to get a job. I read a Chapter from Sai Satcharitra daily for many months. Yesterday while I was reading chapter 45, it occurred to me to ask Baba to give an indication when I would get a decent job/assignment. Immediately I could read the chapter where Baba tells Anandrao Pakhade (in his dream vision) "Go now you will attain your welfare. There is no cause of fear and anxiety. Give a silk dhotar to my Shama and you will benefit thereby."
Thanks Baba for keeping my faith in Your lotus feet. Om Sairam!
Om Sai Rakshak Sharanam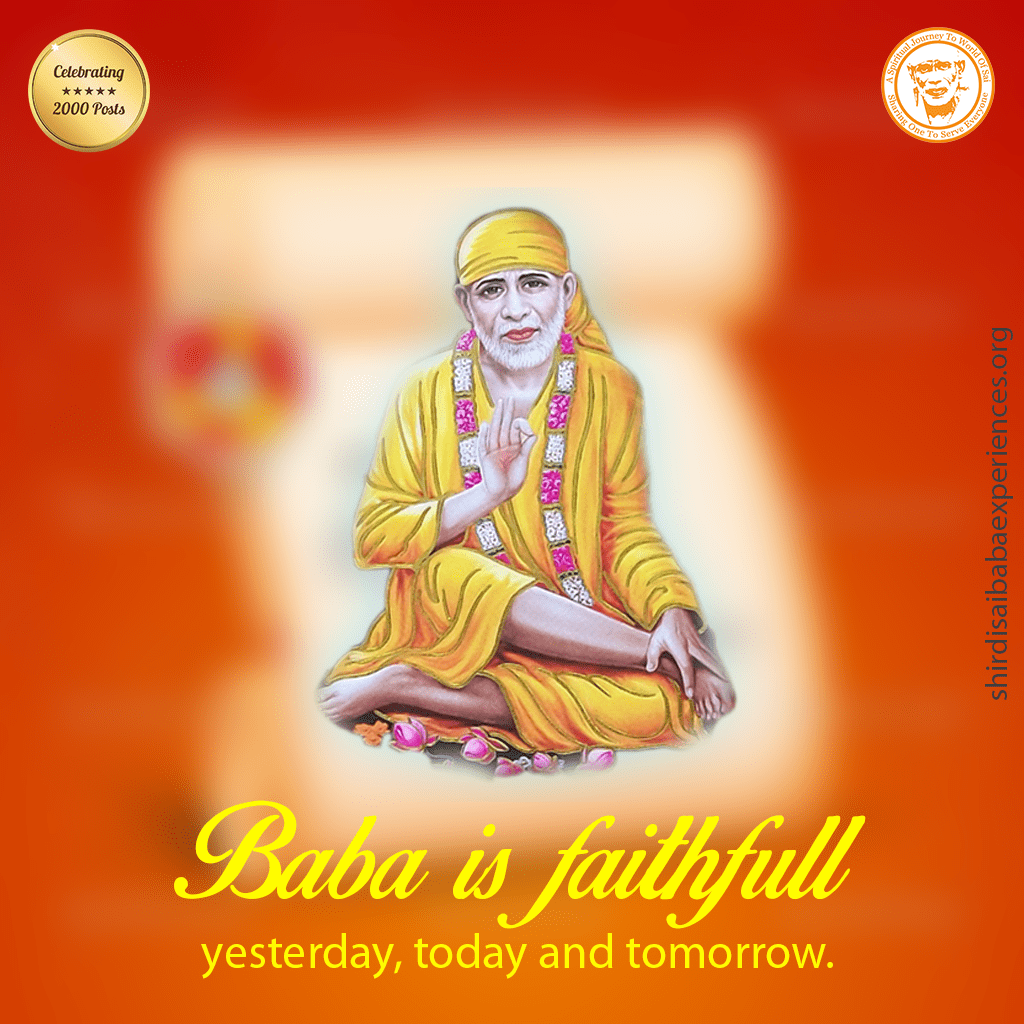 Anonymous Shirdi Sai Devotee from the USA says: I live in the USA and really trouble Baba a lot. We are thinking and looking for girls for my son. He is very good and is expecting that his wife will be a match for him. Nowadays he has been talking to one girl for the last one month. He met her two to three times. Every time he met that girl I wondered if they liked each other? So I prayed to Baba and said if they meet again then I will post here. Hope he will get a good match soon.
Also, my sister-in-law started her youtube cooking channel a couple of weeks back and I am foolish, said if she was getting 1000 subscribers till June 9 then I will post this experience. I realized that it was really not logical to ask 1000 subscribers in such a short time but today by Baba and Swami Samartha's grace she got 1000 views for one video. So I thought I should say thank You for that as well. Thank You Baba, and she is having a very bad headache and toothache. Please let her feel good ASAP. Baba, please be with us all the time. Jai Sairam!
Baba's Miracles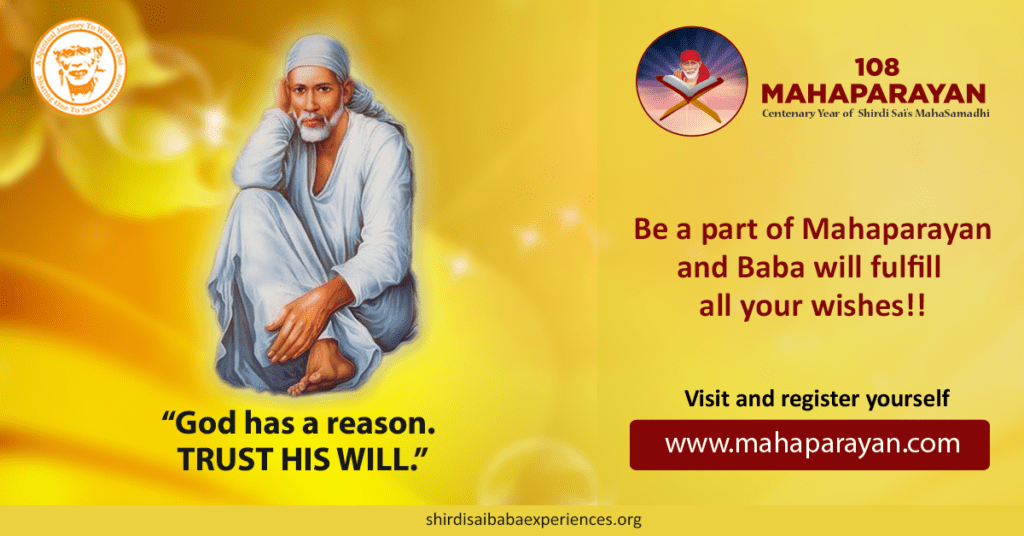 Anonymous Shirdi Sai Devotee from India says: Thanks Hetalji and team for this wonderful opportunity to share experiences.
Om Sairam. I would like to share one miracle experienced by my sister yesterday. She came from the office and I felt like something went inside my eyes. I was worried at that time because nowadays eye irritation is also a part of Covid infection. Suddenly I prayed to Sai and applied Udi on my eyes. I prayed again and slept. Morning when I woke up, everything was fine. This was Sai's miracle only. Thank You Sai. Thanks a lot. Please be with us.
More from SaiYugNetwork.com
© Shirdi Sai Baba Devotees.com – Member of SaiYugNetwork.com