Sai Baba Saved A Devotee's Life
Anonymous Shirdi Sai Devotee from India says: Dear Hetalji and Team, Om Sairam. I am thankful to you from the bottom of my heart for this platform where for the first time I am going to share my story. Requesting you to keep my name anonymous for various reasons.
This week from Monday to Thursday I went through hell in my life. I can never forget this lesson that Baba taught me for not obeying His order. I met a person through the internet and became close to him.
I asked Baba whether I should continue my relationship with him or not and got the answer as No. But my stupidity got carried away by his talks and became close. Then the deadly blow came in the form of black mail and I paid so much money to a third person. Everyday he would threaten me to deposit money and I would do that. On Wednesday I felt like ending my life. I prayed to Sainath and opened the chapter in Sai Satcharitra book and to my surprise I opened the chapter where a person wanted to end his life by jumping to a well but was saved by Sainath and later on he got a lot of fame. I got the indication that I must not give up. I lit a lamp and promised Sai Baba that till my problem gets resolved it would be lit and added oil to it.
On Thursday Baba sends His messengers to tell me that He is always there with me. He sent me to a person whose name is Satyasai. It's not a coincidence or anything. It was just that my Sainath told me, "Whatever wrong you have done, my duty is to protect you, my child."
The matter got settled and I am dedicating my life to Baba, my saviour. Once again I have promised my Baba to help three people in my life and I am quite sure about it. Baba, just give me more strength and power so that I will stick to my goal from now on.
Om Sai Ram and may Sai be with you all and bless you all.
Lots of love,
Baba's Devotee
Shraddha And Saburi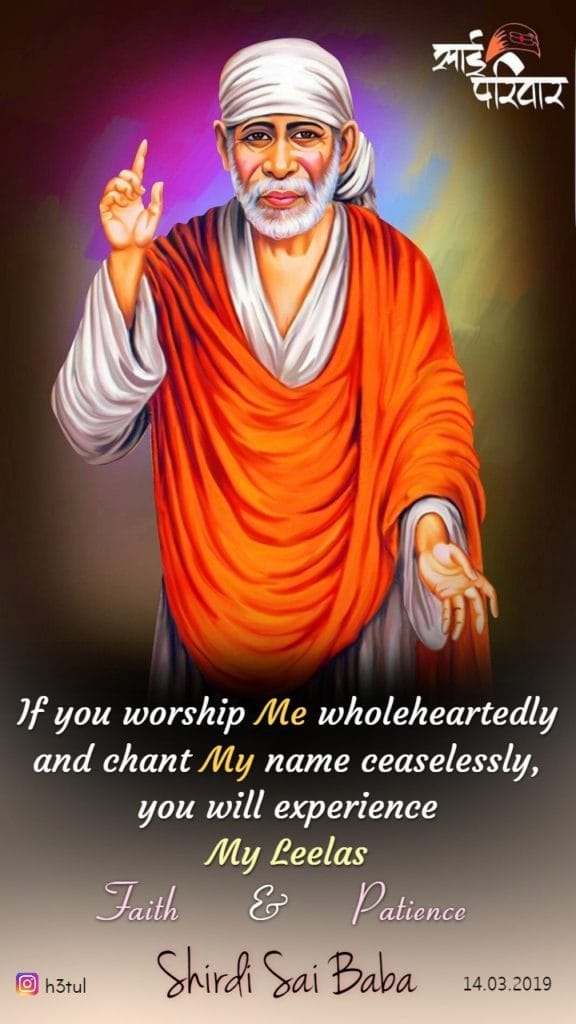 Anonymous Shirdi Sai Devotee from the US says: Dear Hetalji, thank you so much for starting this wonderful blog. I have been following this blog since 2013. I have posted multiple experiences here. I have been a small devotee of Baba since 2008. My life has changed a lot and I am grateful to my Appa.
I live in the USA. Appa has blessed me with a good family. My son is 6 years old and my daughter is 15 months old.
In the USA, Doctors request routine blood work for kids. Last week, we did blood work for my son and daughter. I was tense and scared as they got blood from their arm. My daughter cried so much in pain. Only word which I uttered was Sai Baba. I was so scared and eagerly waiting for the report. As this was the first time we did blood work for my daughter. I received a copy of the report and the doctor received it too. When I opened it, I saw my daughter had WBC count 12.2 which was within the interval range of 6 to 12.4.
I was so worried as it was on the higher end. She had a fever, cold and cough two weeks ago and body was still fighting the infection which caused high WBC. I was so scared thinking what the doctor would say. Will the doctor ask me to repeat the work again or send me to a blood specialist doctor? I promised Appa I will stop eating my favourite food.
I was so tense for six hours waiting for the doctor's call. Around 8 pm, the nurse called and said that the report looks good, just that one level is slightly high, it might be that she had some congestion or virus.
I felt so relieved when I heard those words. Thank You Appa, I have no words to explain. Only thing which I ask is that everyone should be healthy. Please help me to come out of this fear. Appa, please send someone in Your form. Help me Appa. This depression is haunting me. I owe You my life. Please forgive all my sins. Om Sri Sairam Allah Malik
Power Of Praying To Sai Baba
Anonymous Shirdi Sai Devotee from the US says: Thank you for this wonderful platform!
1. I have stage four endometriosis and cysts because of which my ovaries hurt every now and then. Usually, I take medicine and it takes at least two hours to kick in and help with the pain. A Couple of weeks ago I posted an experience where I took the medicine and kept chanting Om Sai Raksham Sharanam and within 30 minutes my pain got better.
Recently I decided to challenge Baba. I decided to take Udi and asked Baba to cure the pain as soon as possible and my pain to subside within 30 minutes without any medicine and with just Udi as medicine. If that happens then I will post my experience. How can Baba not listen to His devotees' prayers? Right before 30 minutes, my pain was gone and I was so happy that Baba heard me and granted my wish to me.
2. I have been on H1B for the past 13 years and am still waiting for the green card. I had moved to a new team within my company and was there for almost 18 months. I liked the team but didn't quite like the work. I was applying outside but nothing worked. Suddenly I saw a role in my company which I always wanted to try. I applied and long story short, I got the role. Now the challenge was to file for the H1 amendment and once the visa was approved I was good to go. People who are on H1 will be able to relate to the pain. I was praying every day, checking my status every day in hope of getting the status update. I had asked Baba to help me and once it was done then to post my experience here. Here I am sharing with all of you this wonderful news today that I got the H1 amendment approved. I hope this will give some hope to the people who are in the same boat as me.

God bless everyone with good health and happiness
Om Sairam…!
Baba Helped To Recover From Stroke
Shirdi Sai Devotee Shruthi from India says: I'm a daughter of Sai Baba from many years. Recently after the second dose of vaccination being administered to my mother, Rekha Shamasunder aged about 63 years old, who didn't have any medical conditions such as diabetes, blood pressure or hypertension, got a paralytic attack and lost the movement on the right side of the body.
After being diagnosed with ITA (Ischemic Transient Attack) caused by a blood clot in the brain, we consulted the neurologists and did all the required tests, the results were all normal and pointed towards the vaccination being the only reason for this clot. After the first attack, during the scan, my mother prayed fervently to Baba and wonders of wonders, when she opened her eyes there was a big poster in the room of Baba in orange kafni. The miracle began when she uttered, "`Sai Baba please save me" and the nurse said, "Mam you are able to speak. When they wheeled you in, you were completely paralyzed on the right side with no speech."
Soon after she got discharged with the doctors amazed at her full 100% recovery. She got her second attack a few hours later unfortunately. Her right side went down again. Her speech was extremely slurry and incomprehensible. After that the path to recovery has been a short one. Thanks to strong will, positive mind through healing therapy and largely due to Sai Baba's grace.
Prayers to Baba, Mrityunjaya Jaap continuously by family and now she has got back her speech to almost 95% in less than two weeks. Also, she regained the usage of her right side of the body and was able to wake up without support, move around and was able to regain most of the daily activities unassisted. Thank You Baba for everything that You have done and continue to shower Your blessings on the Samasta Sansaara. Om Sairam! Anantakoti Bhramanda Nayaka Rajadi Raja Yogi Raja Prabhramah Sainath Maharaj Ki Jai
Got A Job With Baba's Blessings
Anonymous Shirdi Sai Devotee from Canada says: Om Sairam! I have been a Sai devotee since 2014. The way Sai pulled me towards Him is a miracle.
I couldn't thank Him enough; Baba is always with me though sometimes I make a few mistakes knowingly and unknowingly. There are many miracles in my life; if I keep on listing then it's going to be a big story. I want to narrate a recent one here.
I was working for a government's organization and also, was working on a certification for a different profile. It was a bit difficult to clear the certification but by Baba's blessings, I was able to. I was trying to get a job in a certified profile but nothing was happening. I finally started to accept whatever I had and did not know what was stored in for me.
One day I got a call from one of my friend's friends, who was looking for a candidate and he knew about it. That call gave me confirmation of the job. I was on cloud-9 and couldn't believe it. Baba has always made me wait and has given me what is good.
Sairam, I always pray for Your blessings and forgive my mistakes. Please keep everyone safe and healthy and drive away from this pandemic. Let me be happy with my fiancé and I wish to have a happy family.
Gratitude To Sai Baba
Anonymous Shirdi Sai Devotee from the US says: Om Sairam to all Sai devotees. Thank you to Hetalji and the team for maintaining this blog.
I was in a very difficult situation and I prayed to Sai Baba to please help me come out of it. I had totally forgotten to complete something but He helped me so much. He is always listening to us. We are so fortunate to have Your blessings Baba. Thank You so much.
© Shirdi Sai Baba Devotees.com – Member of SaiYugNetwork.com
---