Sai Baba Answered Prayers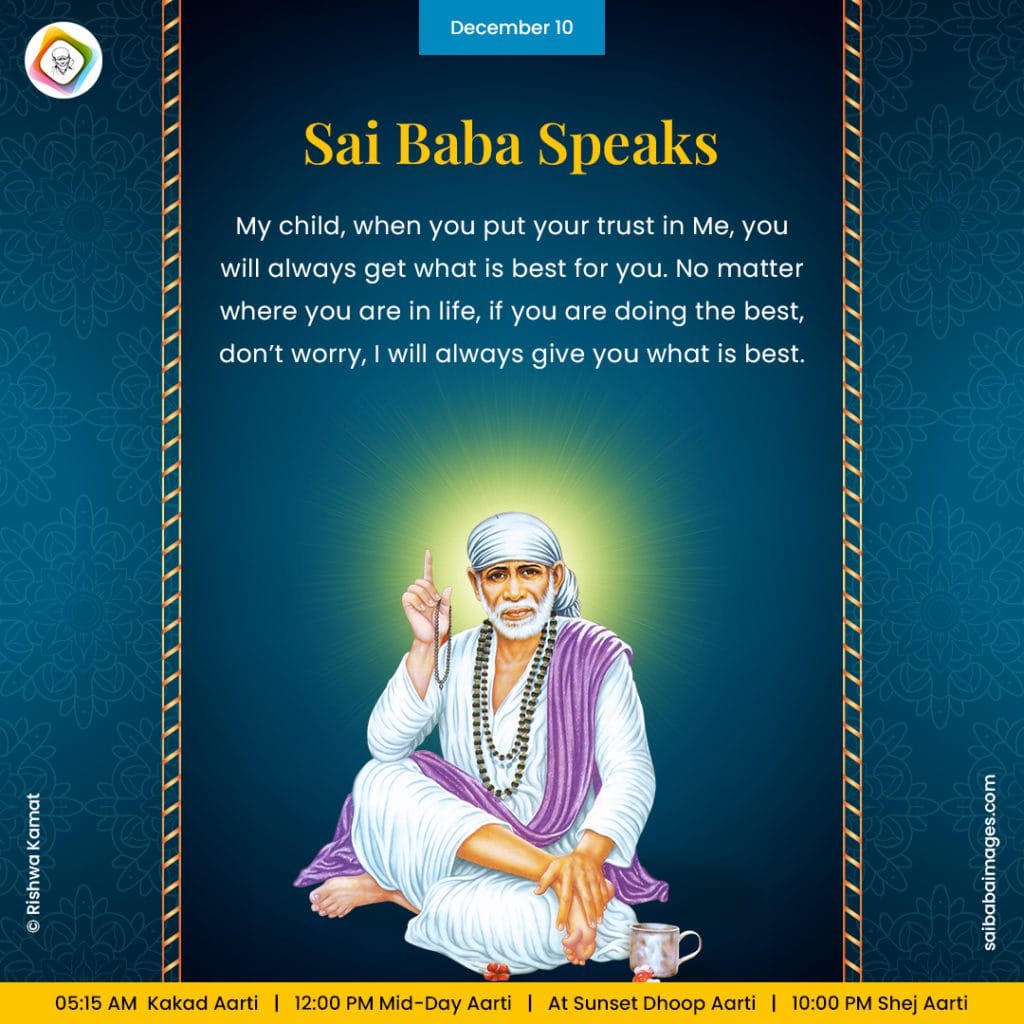 Shirdi Sai Devotee Suneetha Dornipati from India says: I am Sai Suneetha Dornipati from Nellore, AP. I am a part of the Global Mahaparayan group MP-5058 N4 Sai Jyothi Group.
I should say that my joining the Mahaparayan group is in itself a miracle. I came to know about it through a FB post and after thinking twice, I clicked the link and joined the group. After joining, I saw that many national and international members were there in the group. I got a little suspicious (owing to many digital frauds nowadays) that I clicked the link in haste and was thinking of leaving the group. The next day, in a casual talk over the phone with my sister-in-law, she informed me that she is a part of the Global Mahaparayan group for two years and also explained to me in detail how the group works and other procedures, etc. (without me asking anything about it, as I don't know that she is a part of the MP group). She also told that her daughter and other close relatives are also members of the group for 2-3 years. I realized that Baba Himself had cleared all my doubts in the form of my sis-in-law and thus giving no second thought to it, I continued in the group and have been doing the Mahaparayan regularly thereafter every Thursday. Since then, Baba has been taking care of me and my family.
I work in the postal department at Tirupati but as my husband is working at Nellore, I came on deputation to Nellore for three years. After completion of my three years period, I placed a request to the Department for an extension of my deputation for one more year as my husband was trying to transfer to Tirupati. I waited for nine months, but as no reply was received from my higher-ups, the officers at Tirupati asked me to come back and they also intimated that, if the audit people raised any objection over this then my nine months' salary would be recovered from me as I have stayed a period of nine months in excess of my deputation. I got relieved from Nellore and joined Tirupati immediately, applied for long leave, and came back to Nellore. Then, I prayed to Baba to solve my salary recovery problem, my leave problem, and also my husband's transfer. Baba listened to my prayers. The audit staff who checked my service book did not raise any objection to my overstay of deputation and no salary was recovered from me. My long leave had also been granted. Baba solved both my problems (for which I felt very tense, and depressed and spoiled my health by overthinking) in little or no time. I thanked Baba for reducing all my tension and anxiety. I'm sure that Baba will also take care of my husband's transfer in the coming months as he is taking care of all my concerns.
I'll end this note by mentioning one more miracle which I recently experienced at Shirdi. I went to Shirdi on 24th September along with my husband, daughter, sister-in-law, and brother. After having lunch, we went to have a darshan of Sai Baba. As we were going into the queue line, my head started spinning like anything and I called my husband and said that something wrong was going on with me. I was unable to stand and wanted to sit somewhere. So, all of us came out of the queue line and I immediately sat on the steps nearby. Everything was appearing in double to me, vomited & reeling sensation increased more. I was unable to sit. We came out and laid down on a nearby bench near the Shirdi post office opposite the temple. I laid down there for one and a half hours and every time I was trying to get up and sit but could not and was falling off. My people gave me some buttermilk, lemon soda, etc, but in vain. At last, they thought of taking me to the hospital as the surrounding people were suggesting the same. Listening to all this, I was laying down there praying to Baba saying, "Baba, why is it happening like this? I came all the way to have Your darshan and I don't want to go back to my room without Your darshan. Please help me". Immediately, I heard a voice saying that, "It's enough, come on get up and go". I got up as if in a trance. I said to my people that I don't want to go to the hospital and insisted on going for darshan. My husband said, "You are not in a position to sit, how can you come such a long way for darshan?" But, as I was very firm on my decision, my husband and my daughter held me on both sides and took me to the queue. After entering the queue, I walked so fast as if someone was pushing me from behind, and within 15 minutes, I had the darshan of my beloved Sai Baba. After that, I did not feel any reeling sensation or anything and I happily visited all the temples in the surroundings and came back to the room. I had darshan of Baba three times in the two days that I stayed there and returned happily with utmost satisfaction.
I couldn't resist sharing all these as I have experienced all these miracles after joining the Mahaparayan group. Since then, Baba is taking care of my health issues, my daughter's job, my son's studies, and literally everything. Thanks to all the people involved in starting the Global Mahaparayan and making me a part of it.
Sai Sarvam Neevey
Shirdi Sai Devotee Pallavi from India says: Dear Sai Bandhus, This is Pallavi from Bangalore. Firstly my Paadhanamskaarams to Hetalji who is the reincarnation of Hemadpantji. This is the divine blog that shows me ways and answers whenever I am stuck at any point in my life.

I want to share a few more experiences today.

1. Mother's health. My mom was not well for 10 days and was continuously having a fever of 101 with severe throat pain and nausea. We started using antibiotics also but still, she didn't recover. After taking Baba's name continuously as Naamajapam she recovered in 24 hours. We all were quite relieved as we were shivering to admit her that time.

Om Sai Ram Om Sai Ram!

2. My periods were delaying again and were making me tense about my hormonal imbalance problem. Just the thoughts of the worst started in my mind and I then left it for Sai. Within a few hours, I got them and it thus gave me peace.

Om Sai Ram Om Sai Ram Om Sai Ram.

3. My elder daughter has been going to school regularly and almost studying better than before. This is what I am observing. I am really thankful to You Sai Deva. Even the younger one is also going without being much cranky because of Your grace.

Sai, keep me always without any desires and remove bad qualities and bless me with good ones. Please don't leave me. I can't step one inch ahead without Your consent. Consider this dust particle under Your feet.

Om Sai Rakshaka Saranam Deva
Om Sai Rakshaka Saranam Deva
Om Sai Rakshaka Saranam Deva
Sai Baba Always Runs To Devotee's Rescue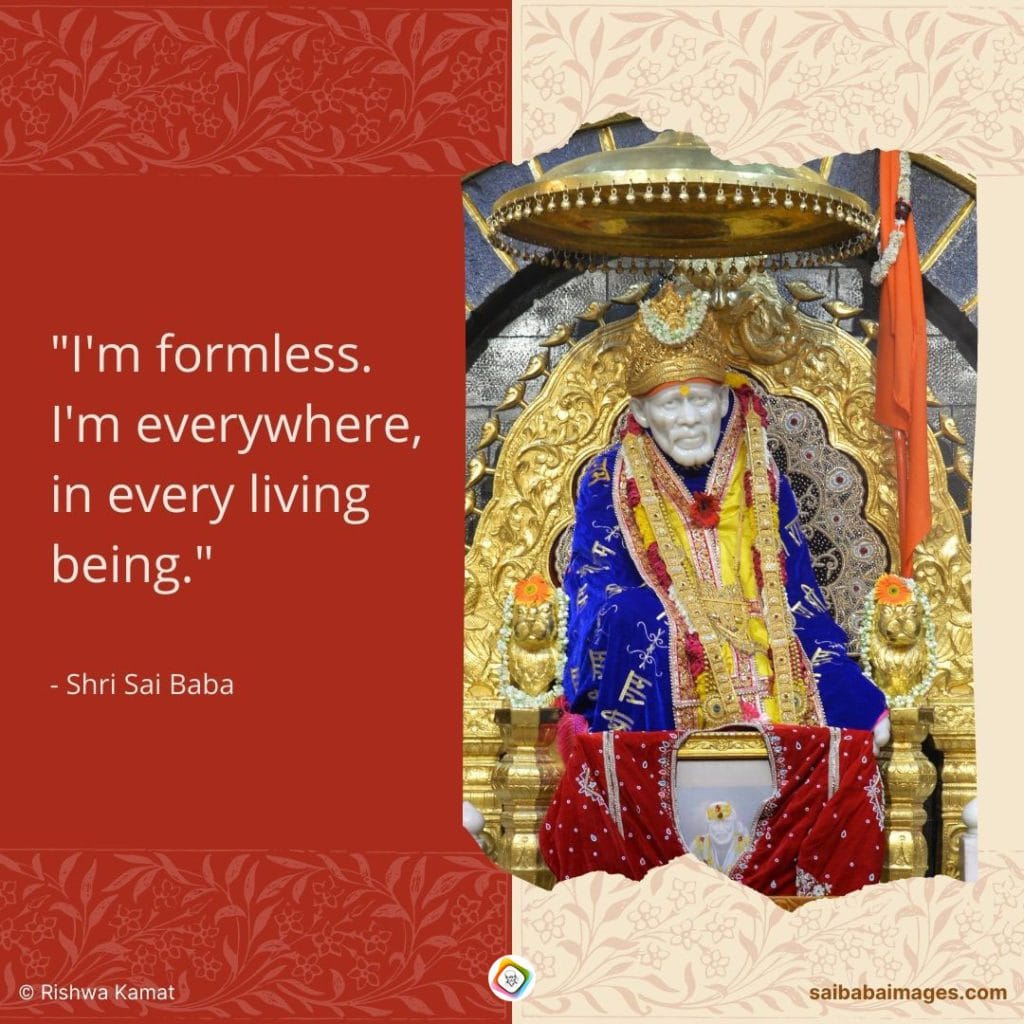 Shirdi Sai Devotee Murali Krishna from India says: I am a member of the Global Mahaparayan MP-8200N1 Blue House. I am sharing a few experiences.
I had to pay two months of housing loan amounts to my mama and Baba arranged the amount through my son-in-law in time. I could pay for one month and the balance in October. I am also trying to clear the outstanding loan amount in October itself and praying Baba to help me in clearing the loan.

One more experience is about my uncle's health. Recently, he was again admitted to the hospital. I prayed that he should be shifted to the ward and not to the ICU. Baba heard my prayers and he was shifted to the ward. He is slowly recovering and was discharged from the hospital two days back.

Another experience is with respect to requests for funds from the bank. Baba, thank You very much for hearing my prayers the head office has given permission to the branch to release the funds.

Baba, my eldest brother is undergoing cancer treatment and he has become very weak and his intake of food is very poor. Please make him come to his normal state and cure his disease and be with him in this tough time.

Om Sai, Sri Sai, Jai Jai Sai, Sadguru Sai

Om Sai Rakshak saranam. Om Sri Sai Arogyashemadaya Namaha.
Thank You Very Much Sai Baba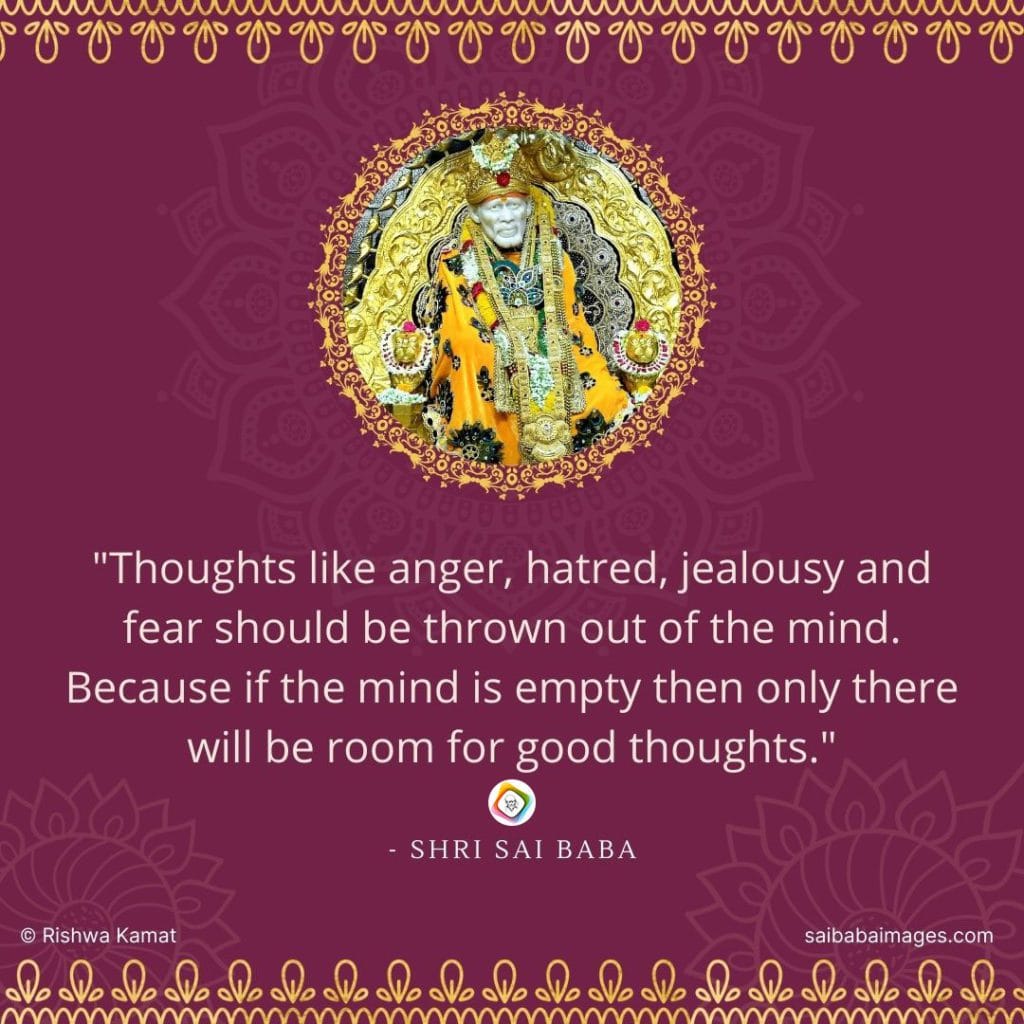 Anonymous Shirdi Sai Devotee from India says: Om Sai Ram to all devotees. Thank you Hetalji and team for your wonderful work. I am a small devotee of our beloved Sai Baba. Thank you for publishing many of my previous experiences. Coming to my recent experiences.
I lost my branded earphone in the house. I searched everywhere but didn't find it. I was feeling bad and worried as it was gifted to me by my son, so having a sentimental attachment to it. Then I prayed to Sai Baba and vowed if I get it, will post the same in this blog. Then I searched once again in my house, and with Baba's blessings, I got it. Thank you Sai baba.
Coming to my next experience, I was having a house for rent. Because of this pandemic, very few were enquiring and asking for very less rent. Then I prayed sincerely to Sai Baba to get a good tenant and will post the same in this blog. After a few days, an inquiry came and with Baba's blessings settled for a reasonable good amount. Thank you, Sai for your kind help.
I am very for the delay in posting on this blog. Please Sai, kindly cast your blessings on my family and all devotees. Sarve jana sukhinobhavantu. Om Sai Ram.
Sai Baba Helped To Recover From Illness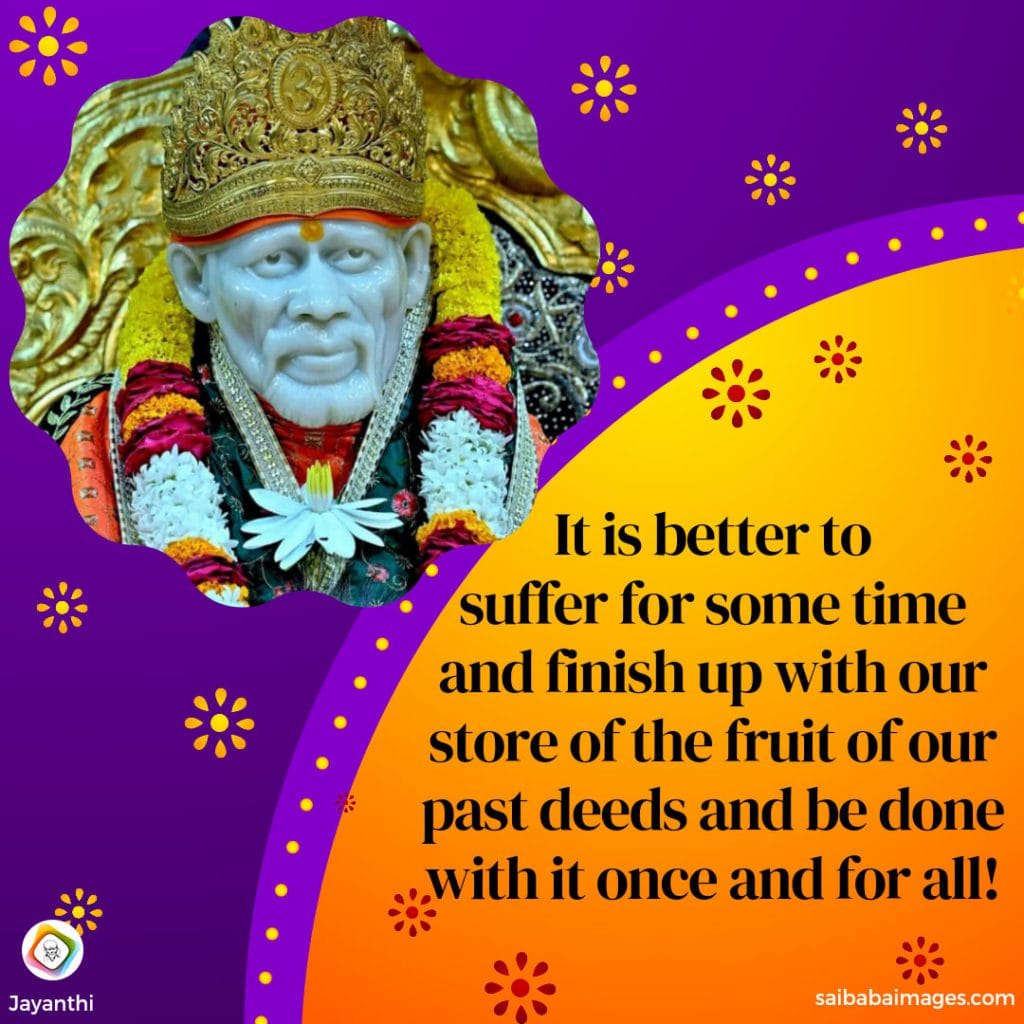 Anonymous Shirdi Sai Devotee from USA says: I am a Sai devotee residing in the USA.
Recently I and all my family members got severely affected with flu infection and fever. The fever was not reduced even after a week of taking medicines. I prayed to Baba to cure us of the infection and fever soon and that I would post the experience on this site. I also gave Udi mixed with water to all my family members and also drank it myself. The next day there was a significant improvement and gradually we became fine and healthy. Baba also helped my younger son and parents and the rest of the family in India to recover from a viral illness. Thank You Baba for listening to my prayers and always being with me as a Saviour and a beloved friend Who understands all my pains. You make me feel that I am never alone and I get courage at the thought that comes what may, nobody can snatch You from me. Om Shri Sai Nathaya Namaha.
Sai Baba's Help For Interview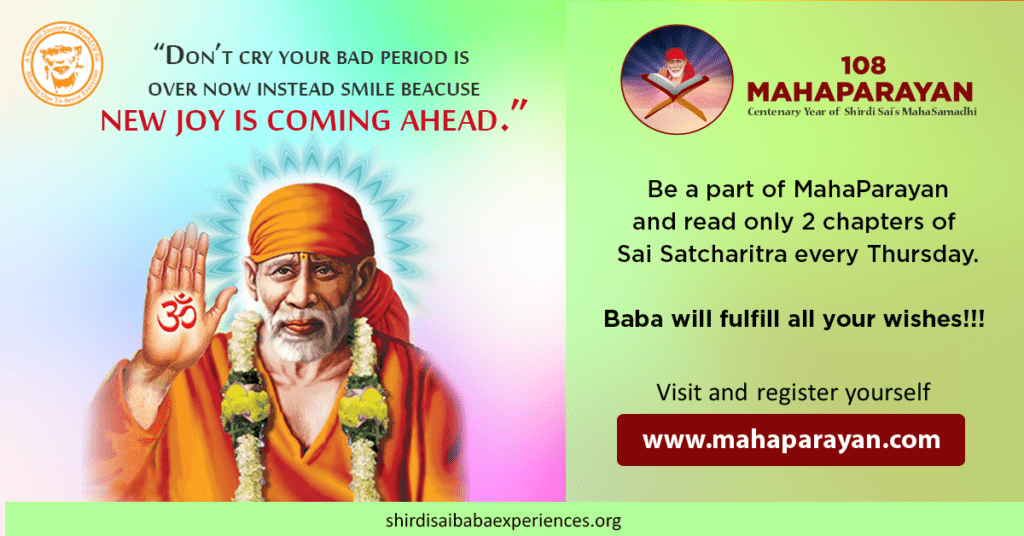 Anonymous Shirdi Sai Devotee from UK says: I am from the UK. Thank you Hetalji and team for providing this platform to share our experience with other devotees.
Recently I attended an interview. I was able to answer the interviewer's questions though it was a senior-level interview. It was possible only because of Sai Baba's help. Thank You Baba so much. Om Sairam!
---
More from SaiYugNetwork.com