Sai Baba Cured Fever
Anonymous Shirdi Sai Devotee from India says: My humble pranam at Baba's lotus feet. With Baba's blessings, I am going to narrate this experience. Please keep me anonymous.
We went to our native to attend a wedding function. We had to stay there for little more than a week. During our stay, we came in contact with a lot of people, visited different places. As no one was following any social distancing and masks, we also didn't use any. We got involved in the activities of function and didn't follow the Covid rules.
Just few days after our return, we came to know that there were some positive cases detected in that area. We got a little scared but still carried on as usual. Then my son got a cold with a blocked nose just a day before our return. He was given medicine for the cold. Then the next day, he got a fever. Now, my husband and I got tense because we had to catch a flight in the evening. I gave him cold medicine again and told him to sleep. We had to visit another relative's place for some work that day. Even though I didn't want to go there, I accompanied my husband and went there to meet them while my son was sleeping. There surprisingly I got Udi (from Shirdi) and a book on Baba given by our relative. I felt very blessed and happy. I applied that Udi on my son's forehead and gave him a little mixed with water. I prayed to Baba that if we reach safely to our place then I will post this experience. I gave him paracetamol, before traveling. His fever reduced and we travelled without any problem, and reached our place. The next day, again he got a little fever, I gave him Udi mixed with water several times, and thought of waiting for 1 day, before visiting the doctor. I also prayed to Baba to cure him without visiting a doctor, and then I would share this experience. Baba is the Doctor of doctors and Udi is the medicine that cures any kind of ailment. Then why worry? With Baba's grace the next day he didn't get any fever and only a little cold was there which got cured with Udi water.
Dear devotees, once you make Baba as Your friend/guardian/guide, He will not leave you, He will always keep an eye on you. He will always be with you, wherever you may go. He will take care of your welfare, protect you from all calamities. He is the true companion. Let's always keep our dearest Baba in our hearts. Om Sai Ram.
Thank You Sai Baba
Anonymous Shirdi Sai Devotee from India says: Om Sairam. Baba is always kind to His devotees. Thank you all, for this blog.
1. We recently shifted to a new city during the end of the second phase of the pandemic. I was scared but Baba took care of everything and the whole process was very peaceful. When I entered the city I saw a portrait of Baba and I immediately felt immense gratitude towards Him and I knew all will be taken care of by Him. Similarly, during our vaccine process, while coming back, I saw his big picture and felt a sense of calmness immediately.

2. When we were suffering from Covid in April, I used to close my eyes and imagine that I was offering Baba many beautiful white flowers. By Baba's grace, we were cured and are safe. Now, when I moved to this new place, we have a tree full of white flowers and daily we get the flowers and we are able to offer Him that. When this happened, I was so filled with so much love and joy because that image of me offering many beautiful white flowers was actually coming true; that peaceful image! Thank You Sai. I bow down in gratitude.

3. Today, my mother was preparing something because I told her that I wanted to eat it. While preparing it; a little oil spilled on her face. We were so scared and terrified. We immediately washed the face, applied Udi and then Baba gave us the idea to put toothpaste. By Baba's grace, nothing happened and all was okay.

Sai, thank You for everything. I know You are with us at every step of the way. Please continue to bless us, keep us under Your shade and refuge. You are our sole protector. I love You. Om Sai Nathaye Namah.
Ugadi Day 2021
Anonymous Shirdi Sai Devotee from India says: I have been a Sai devotee since childhood. Sai is my Mother and Father. Without Him my day doesn't start.
April'21 Ugadi day, completely engrossed in office work, household stuff, when my mind is restless, confused or too happy I talk to Baba through Satcharitra (open a page, He gives me an answer in a "word." He guides me all the time. I was restless and the previous day when my husband returned from the office he said that he was not feeling well (usually he is not the one who complains about anything). With all those thoughts and anxiety, after my bath I opened the Satcharitra and suddenly saw the word "Grief." I was scared, heartbroken still with all faith and hope that "My Sai is with me everything will be fine."
My husband got high fever, later it was diagnosed that it was Covid and all in the family including myself and my two years old daughter were affected. Sai assured me to read "Vishnu Sahasranama" and drink "Udi water" which I started giving to my husband, my daughter and myself. We drank daily. Sai was with me every moment caring for me and my family like a loving mother. We all were cured. After two weeks I again asked Baba what our status was. He said this to me through Satcharitra by showing the word "burnt" meaning that He had burnt the virus and there was no need to worry. My Sai is beyond words. He is my kind mother and guiding father. Only wish for me in this life is "Live only for my Sai". Love You Baba, keep me as a dust at Your feet.
Sai Baba Helped To Find The Episode
Anonymous Shirdi Sai Devotee from the US says: I was looking for a Mere Sai episode that I watched yesterday (just the video cover and the time, I didn't watch the episode yesterday). Then I thought that I was going to watch the episode today morning, but I wasn't sure what episode number it was. Then I started saying Sai Baba and then I thought that I found the episode. The episode I found today was 42:59 minutes (time) and the one I saw yesterday was also I think 40 minutes or so. I must've forgotten but the video cover looked like the video cover I saw yesterday. When I watched the episode today, I realized that I had watched this episode before. I still watched the episode. Thank You Sai Baba! Sai Baba helped me find the episode!
By the way, the episode number was 154. Just like this, literally almost most of the times my mom or I say "Sai Baba" or "Sairam" when something is wrong and Baba helps and fixes the problem. No matter how small the problem is, whether there's a problem or not, we should say Sai Baba's or any Bhagwan and Mataji's name. Jay Sairam! Jay Badha Bhagwan! Jay Badha Mataji!
Sai Baba Cured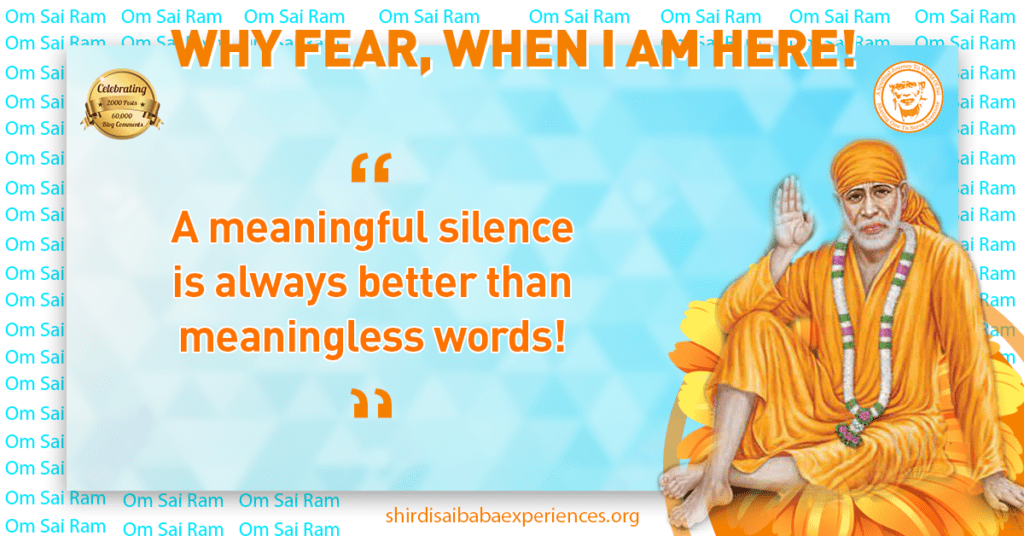 Anonymous Shirdi Sai Devotee from the UK says: Hello all Sai devotees, I am from Manchester UK living with my husband and daughter.
Thanks Hetalji and team for maintaining this wonderful work.
Coming to my experience, I have been facing toothache for the past month, being pregnant, many medicines are not allowed and I didn't want to extract my teeth during pregnancy.

Yesterday night I again got a toothache and I got very scared. I prayed to Sai Baba to please cure and went to Shirdi while closing my eyes and sat in front of Baba's idol. I was at Baba's feet and prayed to cure my toothache as I was tired of it and didn't want to face it. The next morning I was completely fine by Baba's grace. Thanks Baba, please cure it till my pregnancy, then maybe I will extract my teeth. Baba, please help to deliver a healthy baby. Thanks Baba, my mummy and papa.
Gratitude To Sai Baba
Anonymous Shirdi Sai Devotee from India says: I have been a devotee of Sai Baba for years. I have so many experiences with Baba. I have shared a few experiences on this site. I can feel His presence.
I have recent experience. I have a heat problem; mainly my hands and feet get warm at night. Since the last two months I have been having this problem. Doctor suggested whole blood and urine tests. I was scared about what would come in the report. Yesterday I got my reports and with Baba's grace everything is normal. All my reports are completely normal. Thanks Sai. I am grateful.
I had wished that if reports would be normal then I would post here. Hence I am posting this experience Baba. Thanks a lot. Please completely cure my husband; he is such a good soul. I will post his complete recovery experience soon. Thanks to You Baba. Please bless everyone with good health.
© Shirdi Sai Baba Devotees.com – Member of SaiYugNetwork.com
---