Sai Gave His Devotee A Good Job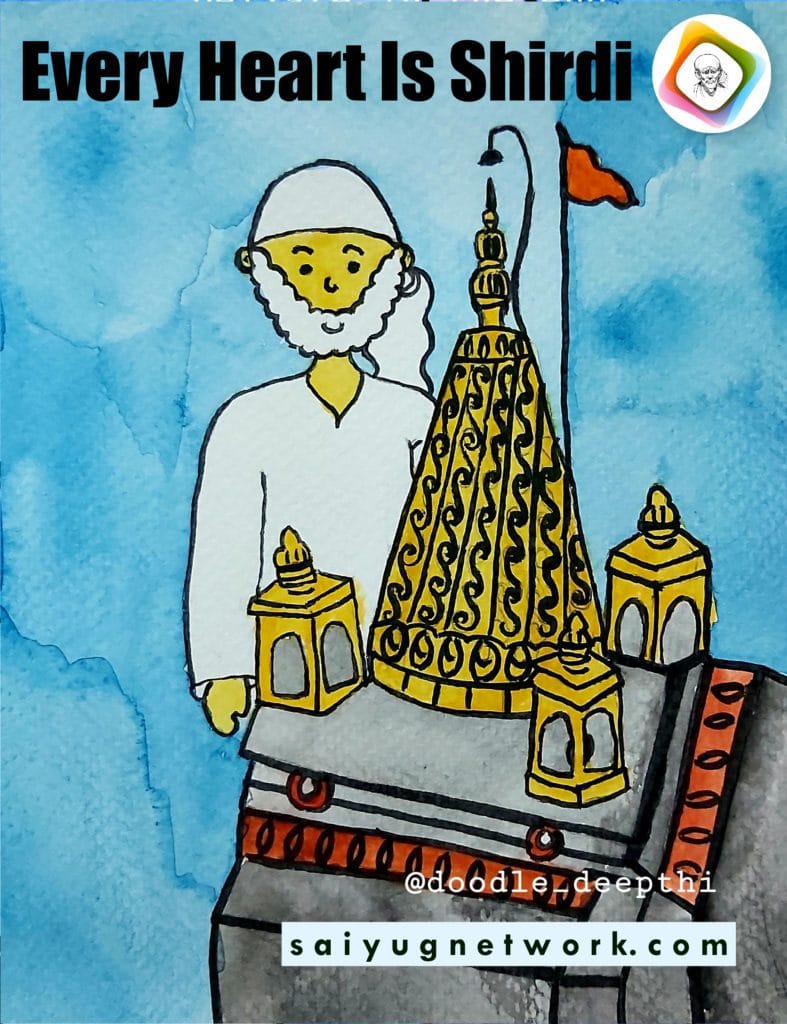 Anonymous Shirdi Sai Devotee from India says: Hello all Sai devotees, I have been Sai devotees since 2014. Sai Baba helped me many times in my life.
First of all I would like to thank all the team members who are putting great efforts to manage all the experiences and give us a good platform to submit our experience. It also helps to make faith in Sai increasingly stronger.

I also had the experience of Sai leela. I was searching for a job for around two months and I had left the job due to Covid as I have no one to take care of my child. My family wasn't allowing me to do a job outside and for full time as well. So I was looking for a contract based job either part time or 6-8 hours max working hours per day. But I was unable to find it. Meanwhile, I had broken my MacBook screen which I bought almost two months ago. So I was so tense that I had no job and I had this major expense. How could I manage that?

I started doing Sai Divya Pooja for seven weeks. I almost cried day and night and was depressed that I was not getting the job which I wanted. Also, at the time I got a good nanny for my child but within a few days she asked me to pay her higher like 10-12k as others were paying more. I begged Baba and requested Him to handle all situations and give peace to my mind.

Finally, Baba listened to my prayer and after completing my seven weeks of pooja I got a good contract based job within six hours.

Now I pray to Baba every day to please maintain all this condition until I can get money which I put to buy a Macbook.

Baba, my three year old son is very naughty, I can't handle him sometimes and also when I make him sleep I feel very low. Please Sai, give him some patience and give me energy so that I can handle him and all the situations very well.

I mostly ask Sai Baba questions before taking any major step and in all cases it's going true.

Om Sairam. 
Anatkoti Bramhand Nayak Rajadhiraj Yogi Raj Parbrhma Shri Satchitanand Sadguru Sai Nath Maharaj Ki Jay.
Sai Baba – Our Beacon Light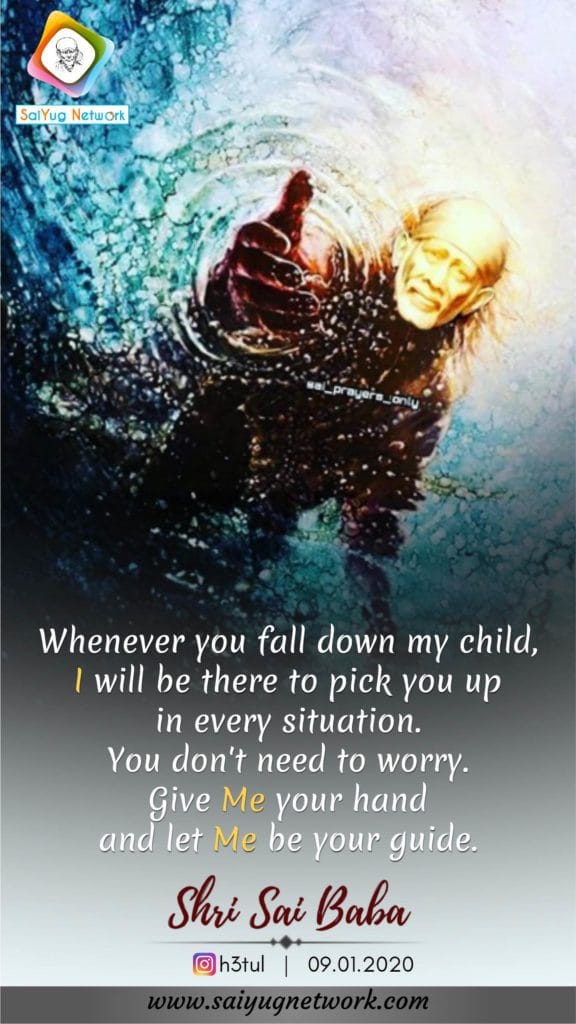 Anonymous Shirdi Sai Devotee from the US says: My life runs because of Sai. Without Him I don't have an existence. Thank you Hetalji and team.
This was a few years ago. We were doing Grih pravesh for our Baba's temple in Ohio. My husband was travelling during that week to Raleigh for work. Grih Pravesh celebrations were on Friday, Saturday and Sunday. He was supposed to come back on Thursday. Suddenly Raleigh and most of the East coast got a bad snow storm with a lot of sleet on Thursday. The entire city was shut down and all the flights were cancelled. He desperately wanted to come back for the Grih Pravesh. He decided to rent a car and drive. Everyone advised him against driving in those horrible conditions. But he wanted to come desperately. Went to the airport and it was a miracle that he was actually able to get a rental car.

He started driving and conditions kept getting worse and worse. He was driving through smoke in those dangerous conditions. His car was the only vehicle on the road. Almost 12 inches of snow with sleet underneath. Every exit was closed. The visibility was literally zero and the snow and sleet got so so, so worse that his car was not even able to move. There was no one on the road and literally the whole area was shut down. Gas levels dropped to almost empty. My husband was super scared and started praying to Baba. He literally did not know what to do; suddenly a snow cleaning truck came from nowhere, literally nowhere. It came in front of my husband's car and started cleaning the road paving way. The driver literally cleaned the way and took the exit and drove into a Days Inn parking lot with a gas station right next to it. It literally felt like Baba showed him the way. My husband was so thankful and stayed at Days Inn that night. Conditions were better early next morning, and he was able to drive and came before Madhyan arathi. Baba literally was the beacon light showing him the way. It was only His grace that brought my husband safely. My Baba is always guiding us. Jai Sairam. 
Baba's Udi Cured Devotee's Son's Severe Cough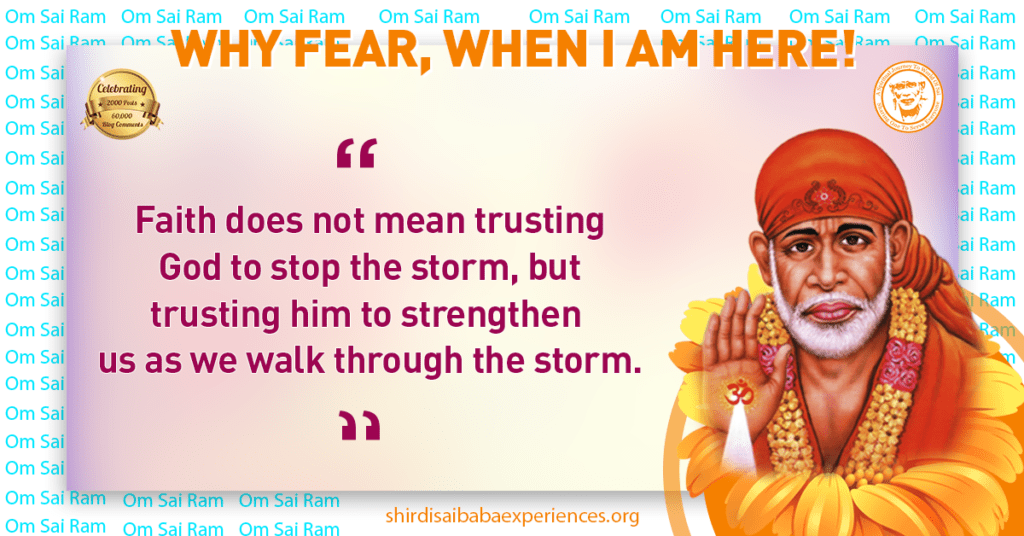 Shirdi Sai Devotee Priyadarshini from India says: Om Sairam to all devotees. I am Priya from Navi Mumbai.
My son was suffering from a severe cough and cold. Here in Mumbai because of bad weather he suddenly suffered from a cough and cold. We visited the doctor immediately and as per the prescribed dose we were giving medicines to him but there was no effect on him as it took a lot of energy and for three days he didn't sleep properly. He was not able to eat properly. Whatever he ate he used to vomit because of coughing. He was feeling sleepy and hungry but due to this he was not able to do any of these. 
We got tense and consulted the doctor again. He added two more medicines and asked for nebulization but he was not getting the relief. I prayed to Baba and suddenly I remembered that my younger sister gave Udi packets to me when she visited Sai Baba's temple. Then I mixed the Udi with water and gave it to my son. He got a little bit relieved and at night I applied Udi to his throat, head and chest. By Baba's grace he slept properly that day and next day his cough was almost gone. I thanked Baba and thought to share the experience with you all. This is our Baba's love and power of Udi. Thank You Baba for relieving my son from such a severe cough. Om Sairam Om Sairam Om Sairam!
Experience Regarding Tirupati Trip In Covid-19 Situation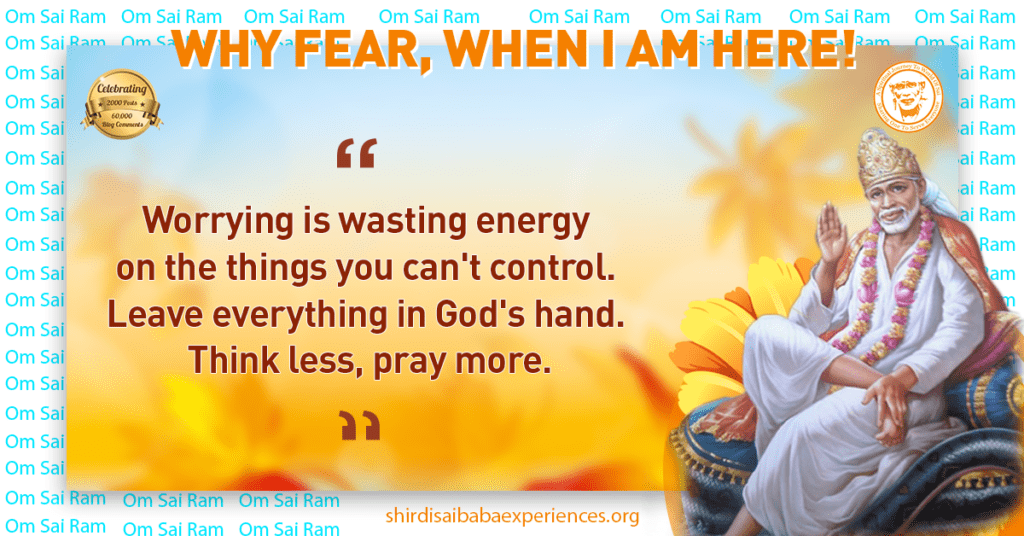 Shirdi Sai Devotee Kanaka from India says: Om Sairam to all. My name is Kanaka Durka and I am from Chennai, TamilNadu, India. I want to share my experience regarding how I went to Tirupati in this Covid-19 situation with Baba's grace. My dad booked tickets online to Tirupati for himself, me and my mom on March 23rd, 2021 for April 9, 2021 because that day is my mom's birthday.
We were so scared whether a lockdown would be announced as corona cases were rapidly increasing day by day. I was praying Baba everyday continuously that I should go to Tirupati on the booked date with my family without any issues. Baba listened and answered my prayers. With His grace I went to Tirupati with my family on the booked date itself and came back safely without any issues. Baba only was with us throughout the journey. From the moment we left home and till we reached back He ensured that He was with us through photos, stickers etc. all the way during our journey. Thanks a lot Baba. Om Sairam. Baba, please bless all Your devotees with good health, wealth, peace of mind as well as happiness. Please protect the world from this pandemic. Devotees please believe Baba and have firm faith in Him as well as patience. He will surely guide and protect us if we believe Him and have full faith in Him. Jai Sairam to all.
Thank To Baba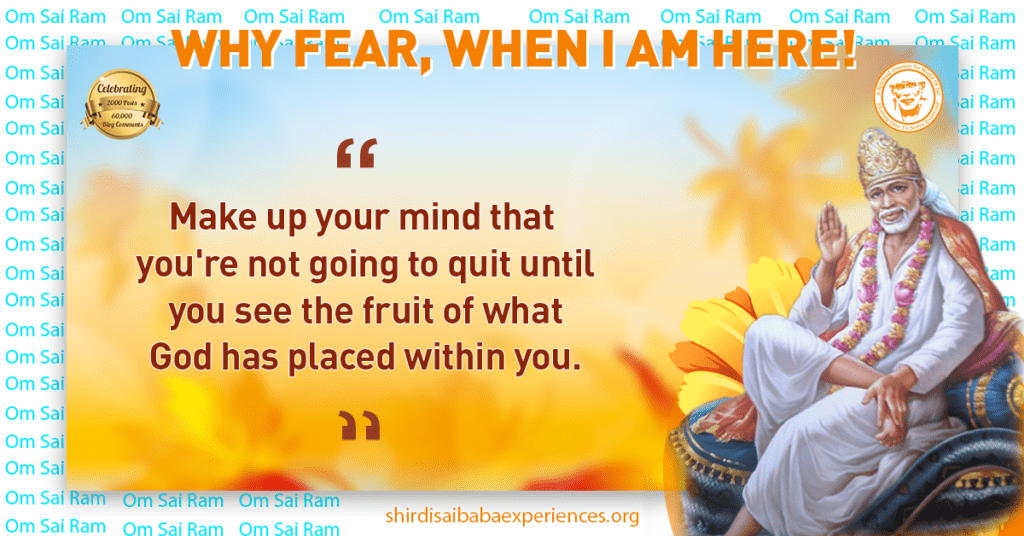 Anonymous Shirdi Sai Devotee from the US says: Om Sairam to all Sai devotees. Thank You to the team for maintaining this wonderful blog. Om Sairam. Thank You so much Baba for all Your help this week. I had prayed to Sai Baba that if He makes sure this week goes well and that if we are safe then I will share the experience. Not only that, I was having some trouble sleeping. Baba helped me so much that my other problems were solved as well. He gave me more than what I asked for. I simply cannot thank You enough Baba for everything that You do for me. You mean so much to me and I am so humbled with Your love. Thank You so much Baba. 
How Baba Helped A Devotee And Saved Job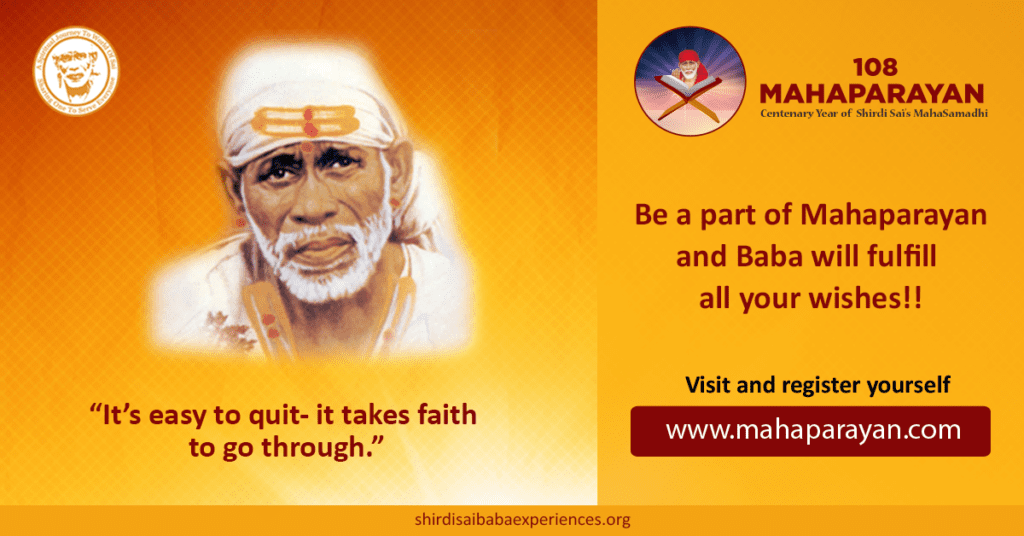 Anonymous Shirdi Sai Devotee from India says: I've been Baba's daughter since childhood. I have been experiencing Baba's miracles since childhood. 
I have posted my previous experience about how I had sent an email proudly. Then I had spoken to my lead and then asked her to get me out of that situation. She was also supporting the same i.e. opposite to me. Finally today morning I saw her replying to the mail in a good way. As of now it's resolved but don't know how this is going to escalate. I trust Baba completely and He will let me out of the situation. Om Sairam Om Sairam Om Sairam.
More from SaiYugNetwork.com
© Shirdi Sai Baba Devotees.com – Member of SaiYugNetwork.com