Sai Baba's Blessings Throughout Pregnancy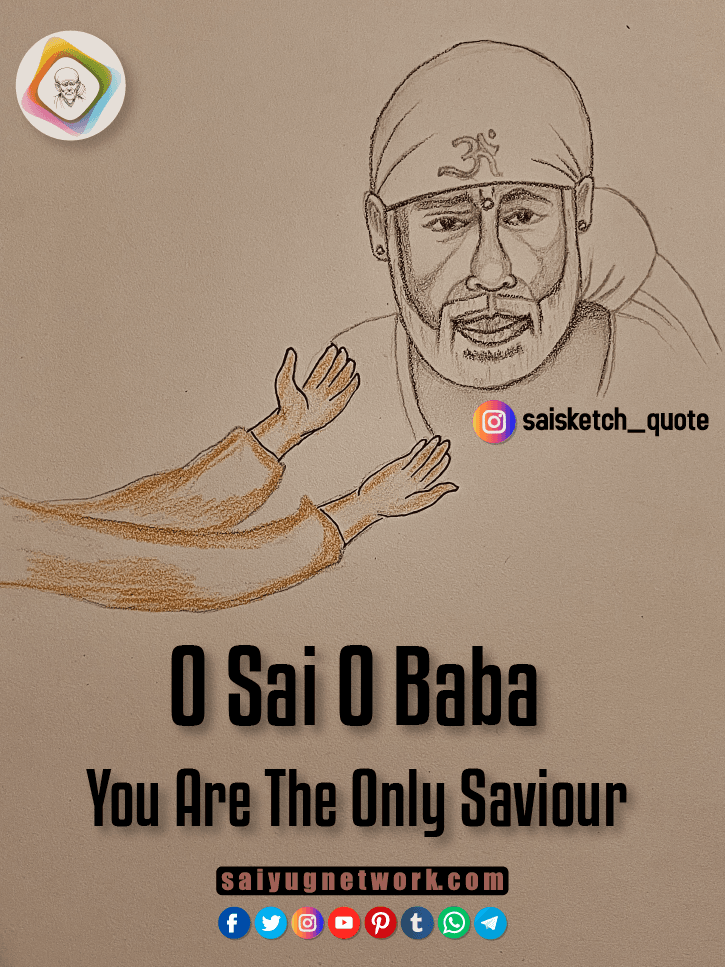 Anonymous Shirdi Sai Devotee from India says: I am an ardent devotee of my Sai. I am from India. I belong to one of the MP (Mahaparayan) groups from 2019. 
I have had a lot of experiences since I joined Mahaparayan. I have shared some of them previously also on this platform. This is another experience with Baba's blessings which I had promised Baba to share after my delivery. Sorry Baba, as I am posting it late. 
Experience is related to my second pregnancy. Actually my first pregnancy had a lot of complications and my first child suffered a lot after birth. By Baba's blessings her condition is stable and praying to completely heal her. So we were a little scared in the beginning of this pregnancy but later I completely surrendered to Baba that everything would be fine and left all my fears under His feet. Everything was going fine this time. When my triple test and ultrasound was done at 12 weeks it was fine. But once what happened during my quadruple test done at around 18 weeks, came positive for Down's syndrome. My husband and I were both scared with a lot of thoughts in our mind. And we were advised to go for amniocentesis to check for chromosomal abnormalities before coming to any conclusion.
My heart was telling me that it was a wrong report and even some messages of Sai came in the Saiyug network whats app group which I usually link with myself. It was related to this which suggested that everything is fine. But still as we are human, I gave a repeat test and went for amniocentesis. I promised Baba at that time that I will post my experience after delivery if everything would be fine. Then finally all tests came as normal. Previous report was wrong. Throughout my pregnancy I felt that Baba was taking care of me and the baby. As I approached my due date I was worried as the pandemic was going on. But before that I got many indications that all will be well. One of them which I got from Baba was to lit 9 diyas on 9 consecutive days again and again through Sai pooja channel and I did that which was completed on 25th May and during these days I was also doing Sai Satcharitra daily parayan including MP. 
On 29th May 2021 I delivered a healthy baby boy through caesarean. At that time the Covid cases were also decreased and so we had a healthy stay and got discharged in only two days. Another miracle happened. The bill which came for us was only 57 thousand in the Apollo hospital but in that 50000 were paid through insurance, so we paid only 7000 which was not possible in Apollo. We didn't renew our insurance for a year and my husband was informed that he had to renew that just a month before delivery. So Baba took care of everything as a Father and as a guardian as I have given Him the position of guardian in my life. He is part of our life, in fact we are because of Him. Thank You Baba for being with me. Keep blessing us. Also I pray to remove this Covid from this world. Thank you all. Om Sairam!
Baba Provided Vaccine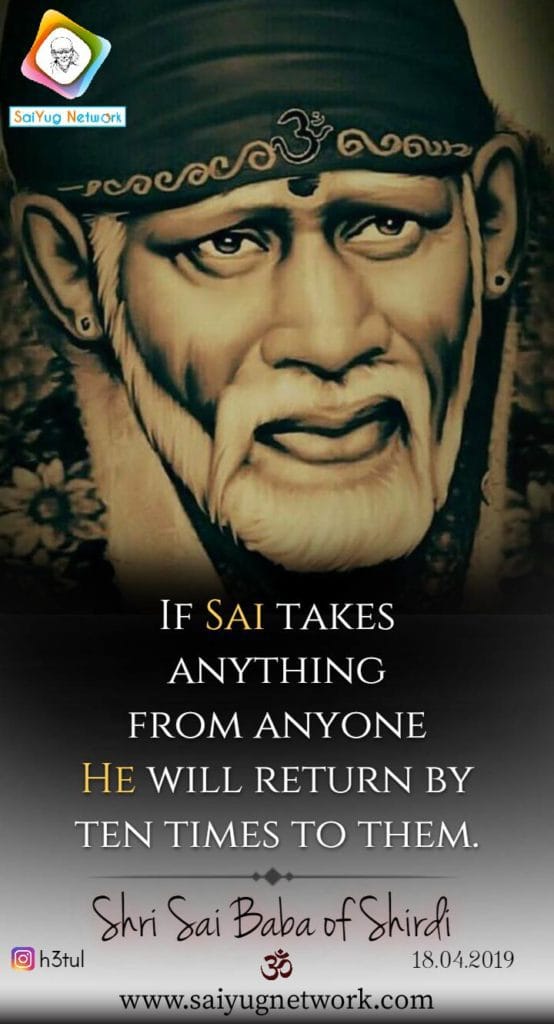 Anonymous Shirdi Sai Devotee from USA says: Om Sairam! I would like to remain anonymous. I stay in the USA and my devotion to Baba has immensely increased in the last two years. I am sharing my recent experience here as I had promised Baba that I will. 
We were trying to get a vaccine appointment in March 2021. Every day and night my husband used to sit and try online but none was available as all the slots used to fill up very fast. Finally we did get one appointment which relieved us but on calculation we realized the second dose would be right before my birthday (three weeks gap for pfizer). I assumed it was pfizer because that pharmacy was giving pfizer mostly at its locations. I had no real plans for my birthday because of the Covid situation but still I did not want to feel sick on my birthday because I heard a lot of people getting side effects after the second dose. 
I was really upset of the timing but then I talked to Baba and told Him to do whatever He wanted to do but He had to solve this problem, either by cancelling that date and getting me another one, or I should get another vaccine (moderna with four week gap) or maybe the pharmacist agrees to give me second dose after my birthday or maybe I don't get any side effects. All this conversation went on with Baba in my head for a week. 
My husband suggested cancelling the appointment and trying again for a later date. I thought about it but he had put in a lot of time and effort to book it for me so I didn't want to waste his efforts and secondly I thought there must be some reason why Baba got me appointment on that day only, when we were trying for such a long time. I told him to let it be and we will see.
All this while, I was trying to find out from friends what their experience was after vaccination and also telling Baba that it was up to Him and I shouldn't be sick on my birthday. So around five days had passed. Thursday I did my puja and Satcharitra reading. Friday morning I thought of calling my vaccine location to find out which one they were giving. As most of you must have guessed by now, the pharmacist told me that they were giving Moderna (four weeks gap) at that location, so my entire dilemma vanished. Baba solved the whole issue. I can't even tell you my relief and the love and gratefulness I felt towards Baba at that time. I couldn't thank Him enough. 
To some it might be a very trivial thing but for me birthdays have been very, very special days since childhood so I just didn't want anything to be wrong that day. Love You Baba. Bless us all and save us from this virus. Thank You. Om Sai Ram!
Baba's Blessings During Pregnancy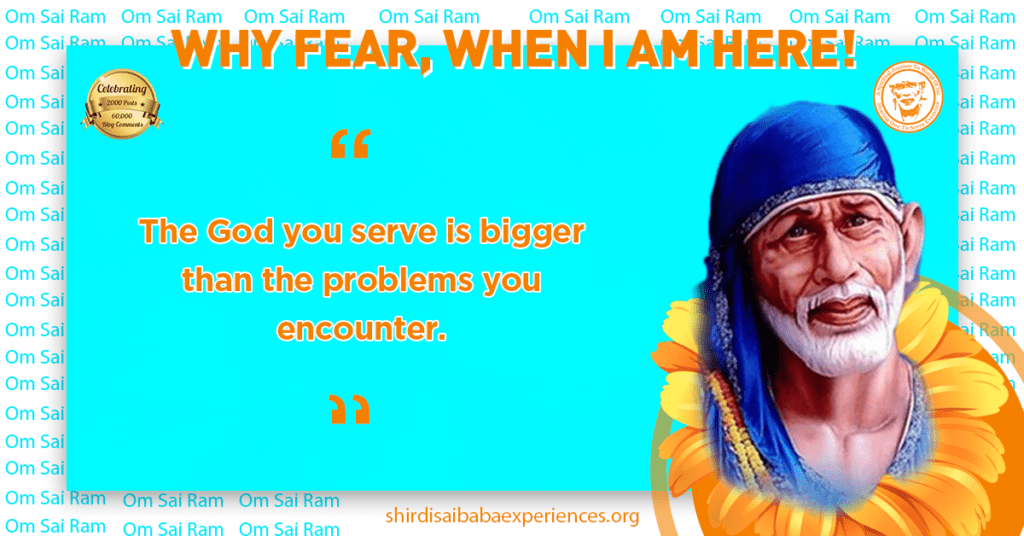 Anonymous Shirdi Sai Devotee from India says: I have been a devotee of Baba right from my childhood. Every moment in my life is blessed by Him.
I got married with His blessings and thought of planning a baby. I sought for Baba's consent and with His blessings my wife got pregnant. She had a healthy pregnancy throughout. My baby was underweight during the 34th week scan but Baba showed us a recipe using which baby weight gradually increased and by 39th week she reached 2.4kgs. My wife had labour pains for almost 24 hours but cervix was not opening as expected which worried her. I asked her to pray to Baba and gave her Udi water. And the miracle started there.
Doctor wanted to break water to open the cervix and it is then we realised that Baby passed stool inside; which was a very big issue and we had to go for an emergency C-section. If the cervix would have opened as expected then the doctor wouldn't have tried to break water meaning we wouldn't know that the baby passed stool. Baby would have been at risk as the baby would still be in the womb for a few more hours and then there would be high chances that the baby might swallow that water. But why worry when we have Baba on our side? He is the best Director. He is never early and never late. He is on time for sure. He has finally blessed us with a healthy baby. Koti koti pranam Baba.
My wife had joint pains three months after the C-section. We were a bit worried and prayed to Baba. Then the doctor confirmed that it was normal.

Thank You for everything Baba. Please be with us and take care of us as You always do. Let this Pandemic come to an end and life come back to normalcy. I am eagerly waiting to meet You in Dwarakamaai with my daughter and family. Please call us to Shirdi soon Baba. Waiting for Your call. Your Kid!
Thanks To Baba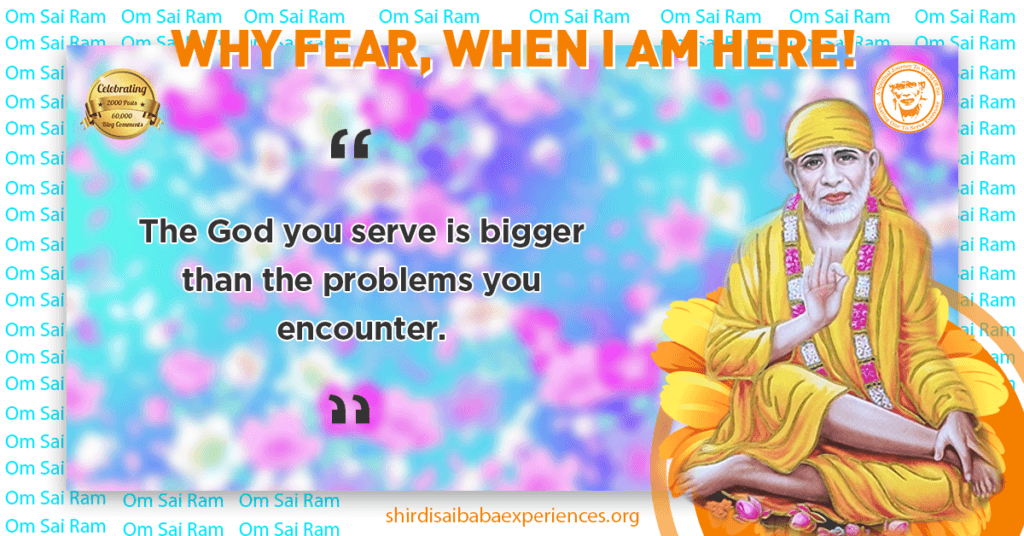 Anonymous Shirdi Sai Devotee from India says: Om Sairam! Thanks to the entire team for maintaining this wonderful platform. Thanks Baba for all Your support.

Coming to my experiences, one of my friends was having family issues and I prayed Baba to get it sorted out. By Baba's blessings they were compromised the very next day. Thanks Baba.

From my family, all went to our family temple and they had a good Murugan darshan and a safe trip. Thanks Baba.

My meeting with all senior stakeholders was all good and the workshop went well and got appreciation too. This was all due to Baba's blessings.

As always my prayers are that people have to follow You and go on the right path Baba.

One of my friends is having issues at home. Please help Baba. Thanks Baba for all Your blessings as always. Om Sairam!
Results Came Normal
Anonymous Shirdi Sai Devotee from India says: Sairam to all devotees. I want to share two of my recent experiences with Baba.
Once my earring got lost and I was searching all the possible places. All of a sudden I prayed to Baba that if I get my earring back, I'll post it here. The very next moment after praying I found it inside my dress. As promised posting here.

My other experience: Once my five year old kid got blood while she was passing motion. As the doctor advised, we did a few tests. By Baba's grace the results came normal.

Devotees please pray to Baba as I am suffering from anxiety disorder. I am putting all my faith in Baba and waiting for Him to clear this problem. Om Sairam!
Sai Baba's Blessing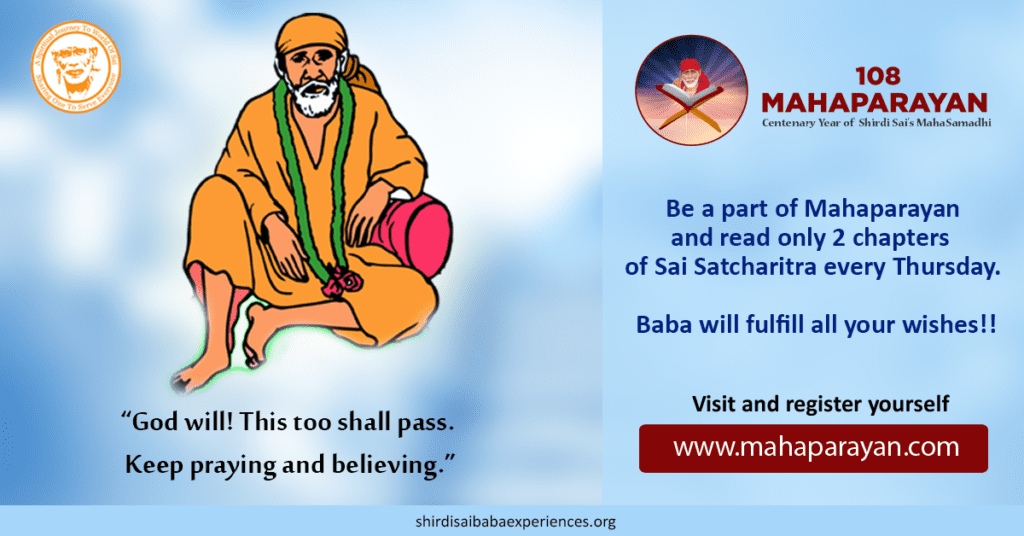 Anonymous Shirdi Sai Devotee from India says: Om Sairam. I am a small devotee from India. This is how Baba helped me.
1. Actually my husband is an alcoholic and he planned to go to another town. So I prayed to Baba that he should not drink. Baba guided my husband and he came back home without drinking. 
2. My niece is pregnant and her scan was scheduled and her scan reports came normal. So I thank Baba for His blessings.
3. I am 40 years old but I am waiting for Baba to bless me with a child. So I request all the devotees to pray for all the childless couples to get blessed with a baby.
More from SaiYugNetwork.com
© Shirdi Sai Baba Devotees.com – Member of SaiYugNetwork.com