Sai Baba Is Ever Present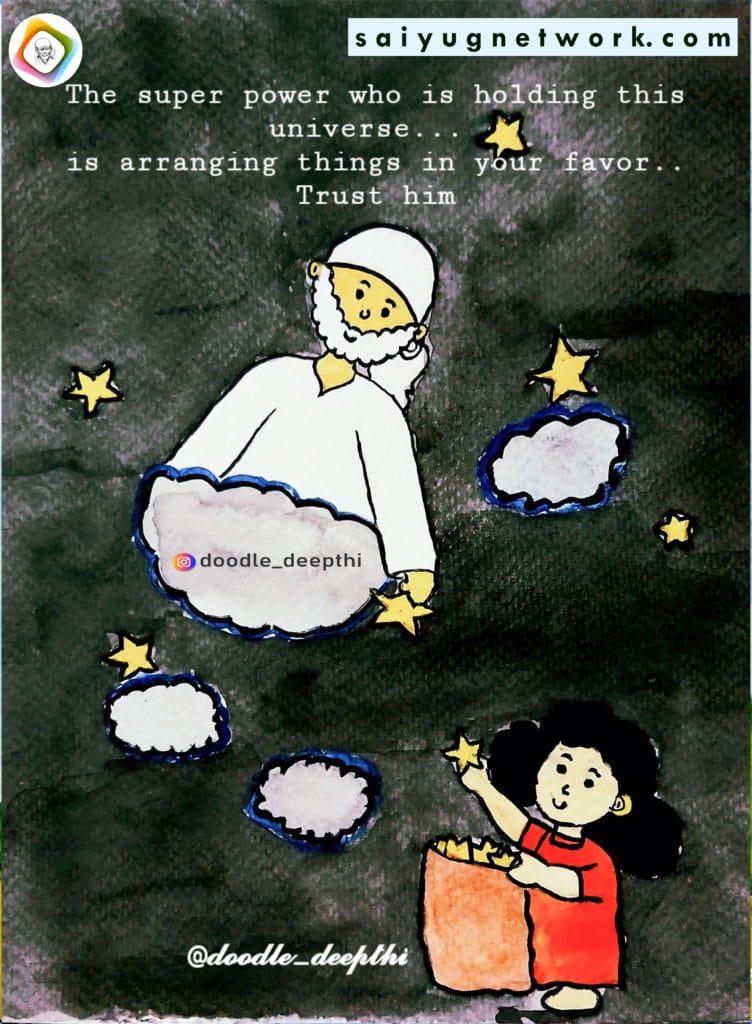 Anonymous Shirdi Sai Devotee from UAE says: I am Baba's daughter trying to follow His footsteps and just trusting Him and carrying on.
Shata Kodi pranams, at Baba's lotus feet. We thank You Baba, from the bottom of our hearts for always being there, guiding and protecting us. Thank you Hetalji and her team, for this wonderful seva. 
I would like to share a few of Baba's blessings and miracles. He is the Father, Protector and Doer of everything. We are nothing without His grace and love. 
Our US visit visa of 10 years expired in June'20. Both our daughters are in the US and we travel every year to see them. Since there was lockdown everywhere and the embassies too were closed for an indefinite period of time and we were thinking of relocating to India from the UAE, once the pandemic abated. We wanted to renew it here. We were wondering how to go about it. Enquiries made at the embassy drew a blank. We prayed and asked Baba to guide us and left it at that. Sometime in March'21, my husband was chatting with his friend from Singapore, and casually the visa thing was mentioned. That friend immediately told me that there was something called the Interview Waiver Programme to avail the visa. But, before that we need to qualify for it. We wrote to the embassy, and got the reply that we may be qualified and go ahead with the applications etc. We applied on the 9th of May, and delivered all the necessary documents to the designated post office. Prayed and left it to Baba, and actually we didn't check the status on the site for many days. We applied and forgot about it. Exactly after 20 days or so I was casually checking my mail, and there it was… yes the visa was processed and ready for collection. This was on Friday. But on Thursday, Baba gave us lots of hints, like I had kept two flowers on the top of Baba's picture, during the pooja one of it fell down, so I let it be and kept another flower, within sometime that too fell down. Again I left it, thinking that my husband will keep another flower while doing his prayers. Yes he too kept a flower on top, and again it fell down. We did think that Baba was trying to hint at something, but without giving too much thought we continued our Mahaparayan reading. And on Friday I saw the message of the approved visa. Thank You my dear Baba. Our travel plans to the US are left at Your feet.

Our daughter's Green card application got approved with Baba's blessings. Thank You. Please bless both the girls with a peaceful job environment, good health and good life partners. 
Few days ago our tenant started coughing and we could sense that he wasn't well. Of course we all go into panic mode. His second dose of vaccine was due in a week. I was really worried about the cause of his being unwell. I prayed to Baba to kindly take care of this person and let it be a normal cold and cough. Yes he was ok in two days and today he did go and take his vaccine. I had promised Baba that I would share this experience as soon as possible. Thank You, dear Baba.

I always used to read about people finding Udi packets in their purses or on the road etc. we have Udi but I wanted one packet in a miraculous way. So Baba arranged that too. We met one acquaintance, who visits Shirdi very regularly, in a grocery store. We greeted Sai Ram to each other and went about our shopping. I completed and checked out, and sat in the car. I told my husband about meeting this person. Suddenly this gentleman came running out of the shop and gestured to us to wait. He ran to his car and came back to us, and gave us a packet of Udi. Just cannot believe this leela of our Baba. Thank You Baba.

We all are undergoing stress and anxiety due to this pandemic. Baba, please take care of everyone and kindly eradicate this Covid completely. Thank You Baba, for healing my husband. Kindly protect him and bless him with good health. Baba, You are aware of my gastric issue, please cure it Baba. I am undergoing a lot of burping, belching and bloating. Please help.

Kindly keep Your boon bestowing hands on our heads. Seeking Your blessings forever. Resting all our issues of job, finance, relocation and renovation at Your lotus feet. Your will, will be done. Our pranams at Your lotus feet. Om Sai Ram. 
Prasad Accepted By Sai Baba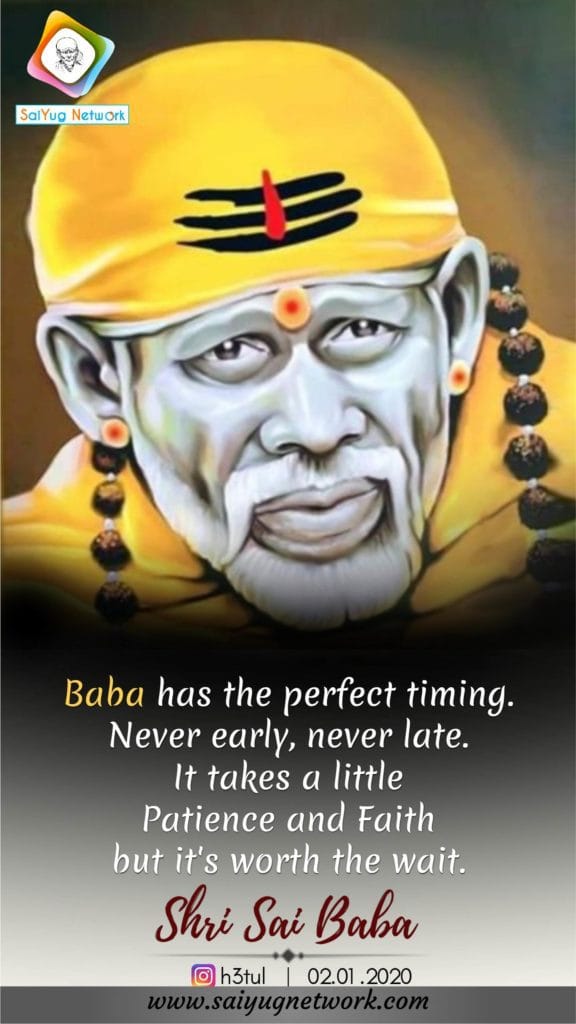 Shirdi Sai Devotee Deepa from India says: I am Deepa from India; a small devotee of Sai. Om Sai Ram to all the ardent devotees of Sai. Today I am going to share the story of how Baba accepted the prasad.

I'm doing Sai Nav Guruwar Vrat. This is my fourth week. Every week I prepare Sheera (wheat pudding) prasad for my Baba. Today while preparing Sheera, after putting sooji into the vessel I felt that it was more and what should I do with so much Prasad? Then I thought that I will fry the Sooji and keep it for some other day, but suddenly I felt I should prepare Sheera and keep it aside, Baba will come in some or the other form. Thinking like that I did pooja and kept one bowl of sheera aside. I said to Baba, "Baba, I'm keeping this for You. I don't know which form You will come in but You should come." 
This happened at 9:10 am in the morning. Later I started my work and at 10:00 AM I was feeding my daughter and somebody knocked on the door. I asked my son to open it and to see who was there. Some lady wearing a mask had come. He said that our old maid came. I was feeding only and I told him to open the door and he said, "Ye mausi aata made ye (Maushi(aunty) come in)." She told my son 'till your aai(mom) comes, don't open the door.' He was in the house and she was outside the house. I went and saw. She was not our maid. She came to ask for donations for Mata Mandir. She said that the next day was a Friday and needed some donations for pooja in Mata mandir. I told her to wait and gave her the donation. She was about to go, suddenly I realized that I had kept a bowl of sheera for my Sai and I asked her if she would accept the Prasad that I had prepared. She said, "I'm doing a full month fast in Shravan masa(month), so I will eat in the evening but you give me sheera on a piece of paper." I gave her and she blessed me.
My Sai's leela are unfathomable, just don't imagine how, where and when Baba will come and bless us.

Thanks Sai for accepting my prasad and blessing us. Please shower Your blessings on all of us always. Keep us in Your lotus feet always.

Koti Koti Pranam to You my Sai Ram.
Baba Arranged For Devotee's Daughter's Surgery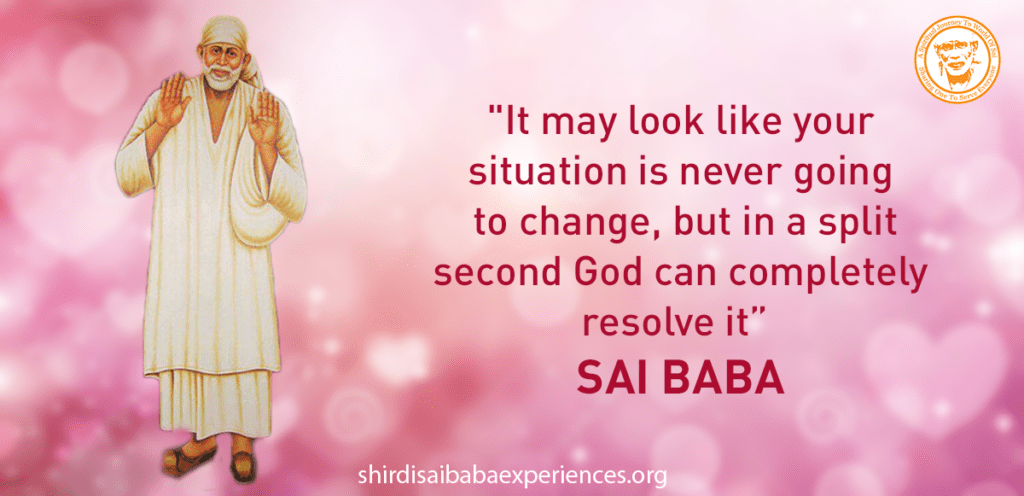 Anonymous Shirdi Sai Devotee from India says: Om Sai Ram. Jai Baba Sai. All devotees of Baba have some or the other experience with Him. Baba never forsakes His children. Likewise, I have numerous experiences when I could feel that He is Omnipotent and Omnipresent. I have shared several experiences on this platform before and today I am here to share the most recent experience.
I would like to thank the team for giving the opportunity to devotees like us to share our experiences here. Thank you Hetalji and team.
For many years, my daughter who is now 23 years old needed surgery. Though people may call it cosmetic surgery, in her case it was medically unavoidable. So in 2019, I took her to a doctor. We fixed the date and all tests were done, but suddenly my daughter got admission in a college which was in a different city and she had to take admission immediately. So we cancelled the surgery. Then again in 2020 we planned to get it done, but the pandemic happened. Then I got worried and asked Baba through chits. He advised me to change the doctor. Then last month by divine guidance, I would say, we went to a doctor and fixed up a day and time. 
Just four days before the surgery, I went to Baba's mandir. I prayed to Baba and told in my heart that Baba I want the bunch of Tulsi leaves that are on Your statue. I felt that if I could make my daughter eat one leaf every day, her surgery would be successful. 
And the Merciful Baba of mine heard my prayers. The volunteer of the mandir gave me the bunch, when I asked for some leaves only. As everyone can guess, the surgery was successful and my daughter came home safely.
Baba's leelas are wonderful. We only need to have full faith in Him. Anant Koti Brahmand Nayak Raja Dhiraj Yogiraj Parabramha Sri Satchinannda Samarth Sadguru Sainath Maharaj ki Jai. Baba bless all Your devotees and bless humankind.
Sai Baba – Our Saviour

Anonymous Shirdi Sai Devotee from India says: I am Manoj working in Chennai and learning what being a Sai devotee in its true essence is.
Pranam to the entire Sai family. This year has been very hard on our entire family, lost my dad and bade papa to Covid and bade Mumma underwent treatment for cancer.

My entire family was affected by Covid, and had sincerely prayed to Baba to take care of my family members. All of us are having a lot of side effects. Others were home quarantined and tested negative with Baba's grace.

I had persistent back pain and throat pain. This created a fear in me and I always imagined the worst, even when Baba assured me that everything will be normal via chits and Satcharitra I somehow could not sleep peacefully.

I promised Baba that I will post my experience once everything becomes fine. I had visited the doctors for back as well as throat. After the examination the doctors told me that everything is normal. Again this was due to Baba's divine grace and blessing.

The events in the past months have made me realise that I need to be better and just hold Baba's hand and move forward and be a devotee – just like how Sai Satcharitra asks us to be – first type of devotee.

I am sorry Baba, for posting the same questions multiple times. You are our guiding light. Please give us strength and faith and make my family get back to normal.
Baba Helped In Tough Times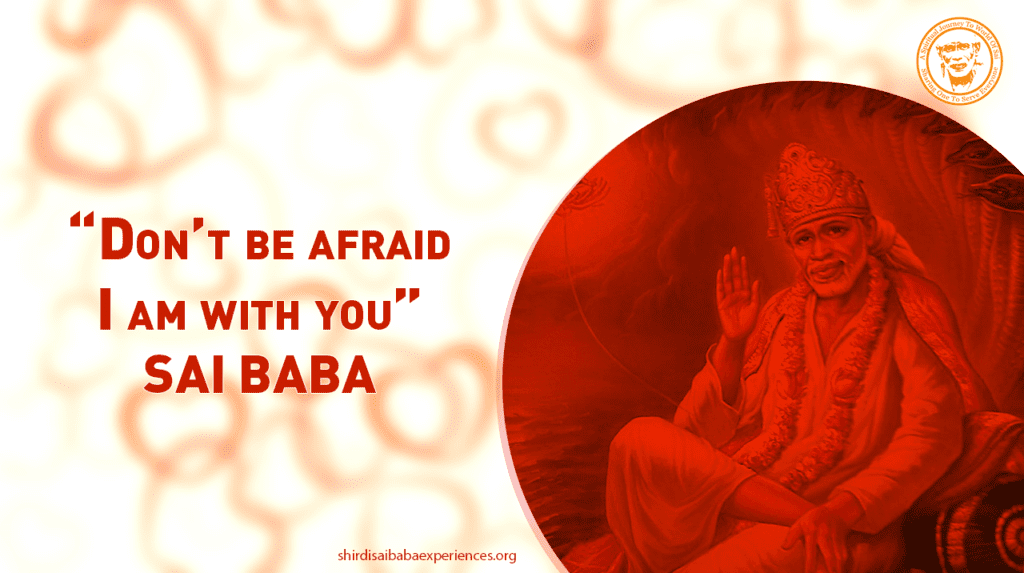 Anonymous Shirdi Sai Devotee from Germany says: I am from Germany. Om Sai Ram! First I would like to thank Hetalji and team for maintaining this blog where all Sai devotees can share their experiences. I read so many miracles from this blog.

Now, I would like to share one of my experiences. My Brother is working in railways in Hyderabad. In this pandemic going to the office is too difficult. One day he came from the office with a high fever and cold and my mother got so tense. We ordered a corona test kit at home. My brother was so tense to check. My elder sister and I forced him to take the test. At that time we all prayed Baba that it should be a negative report. The test came negative. Thank You so much Sai. By Baba's grace fever came to normal in four days. Thank You so much Deva. Thanks a lot.

Second experience: My mother is an asthma patient. So she always stays at home. In this pandemic it's getting very difficult to go to the doctor for checkups too. But the vaccination is very important so I prayed to Baba that if the vaccination process goes well then I would post the miracle. Thank You so much Sai.
Baba is always with us. Anant koti Brahmand Nayak Rajadhiraj Yogiraj Parabrahma Shri Sachidanand Sadguru Sainath Maharaj Ki Jai. Om Sai Ram!
Baba Cured Devotees Hand Pain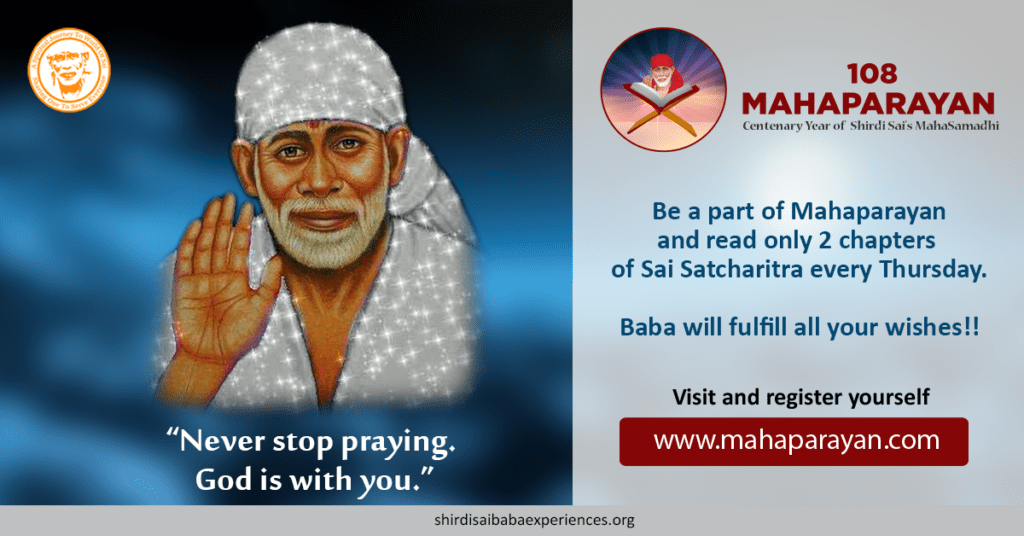 Anonymous Shirdi Sai Devotee from India says: Om Sairam! I'm a small Sai devotee from India. Please keep my name anonymous.
I was suffering from severe hand pain for one year. I consulted many doctors but nothing worked. I used to suffer a lot with my hand pain. After some months of suffering I started doing Sai Satcharitra Saptah Parayan. I prayed to Baba to reduce my hand pain before reading it and as a surprise I never got hand pain after that. I'm so happy about that. Thank You Baba! But after so many days I got hand pain yesterday. I applied Udi, played Baba's songs but the pain didn't reduce. Then I promised Baba that if my pain reduces then I would post my experience here. And with Baba's grace my pain reduced.
I'm writing my experience here now so happily as I had promised to Baba. Thank You so much Baba. I really can't imagine my life without You. Please shower Your blessings on all Your devotees. Om Sai Rakshak Saranam Deva. 
---
An interesting book "ShirdiChe Sai Baba" is being shared on Shirdi Sai Baba Books.com, in parts. It is a book worth reading by those who are keen in knowing veiled history of Sai Baba during His times. 
© Shirdi Sai Baba Devotees.com – Member of SaiYugNetwork.com