Sai Baba – Our Savior Listens To Every Silent Prayer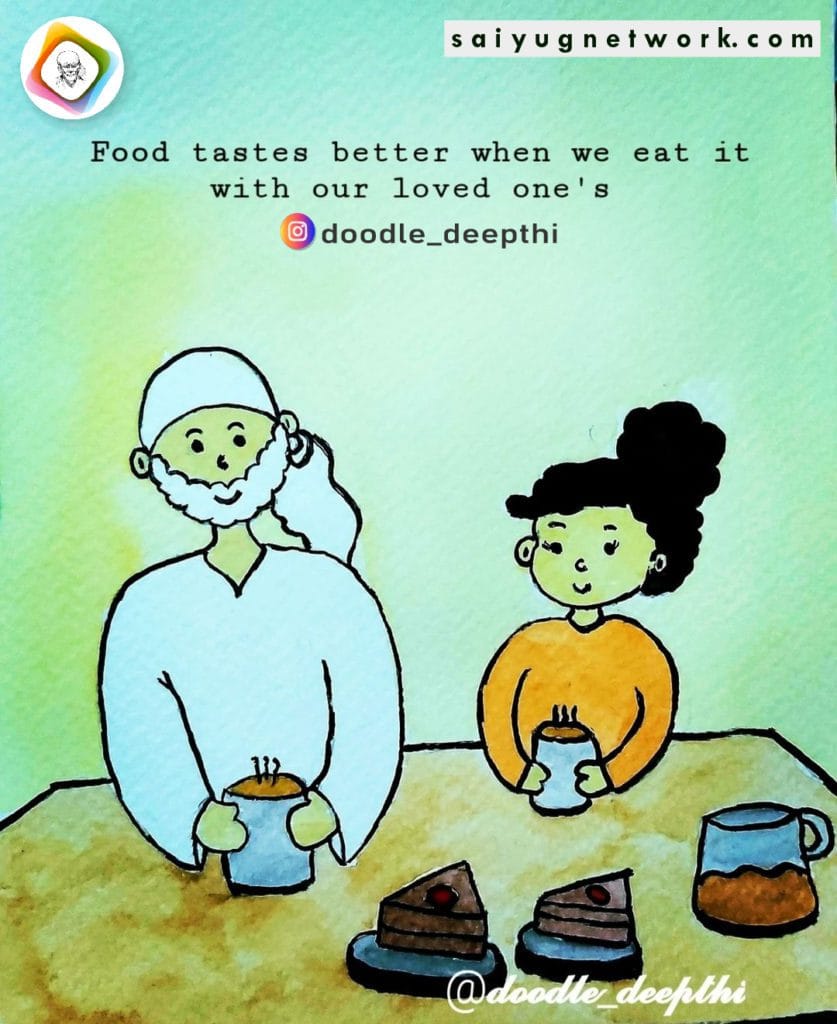 Anonymous Shirdi Sai Devotee from India says: I have been a Sai Baba Devotee for many years and have experienced many day to day miracles by His grace.
Jai Sai Ram to all my Baba Devotees. Thank you Hetalji and team for this blessed seva that you are doing for Baba and for Baba's devotees to make our faith even stronger than before. I wanted to share one small experience as I had told Baba that if it would happen then I would share my experience. Here it goes.
Some days back my son of 2.3 years was standing and playing on the sofa and we were busy doing our office work and other work. Suddenly he fell from the sofa and just one day before we had made him bald due to his hair quality. He fell down so badly that the backside whole head got swollen. He started crying very much and we were not able to understand what to do. He was not at all calming down and crying continuously.
We played some rhymes for him but then also he kept on crying. Then we took him to Society Park but there too he was crying. He likes rides very much, so we thought that he would again start playing seeing rides, but there also he did not play, and unfortunately, every effort went in vain. I kept on praying to Baba to heal him and make him fine again. He kept closing eyes and continued crying. I got scared of what had happened to him. We made him eat ice cream that also he did not enjoy. He is a very active baby and suddenly became inactive after this event. So we made him sleep and he slept so fast that also was one of the concerns I thought as he always takes time to sleep. Until he was sleeping, I kept on praying to Baba to please heal him and make him active again. He also slept for a long time than usual, also he does not sleep during the evening time. So I was getting scared about why he was sleeping so much.
I kept on praying to Baba and was repeating Sai's name. Then I went to wake him up and then tried to act like a baby so that he would again become active and laugh. I showed him colors as he likes colours. Suddenly slowly, slowly he started speaking colors which made me relaxed that he was alright and his memory and everything was good. Heartily I thanked my Baba Sai for taking care of him and to give us another chance to take care of Mehaan. Thank You Baba Sai. I Love You, Baba. Baba, You never forsake no matter what will happen. Gratitude always at Your Lotus feet and keep us blessed under Your love and light. Ya Sai. Nanayacharayan Mamah.
Sai Baba Blessings – Got Vaccinated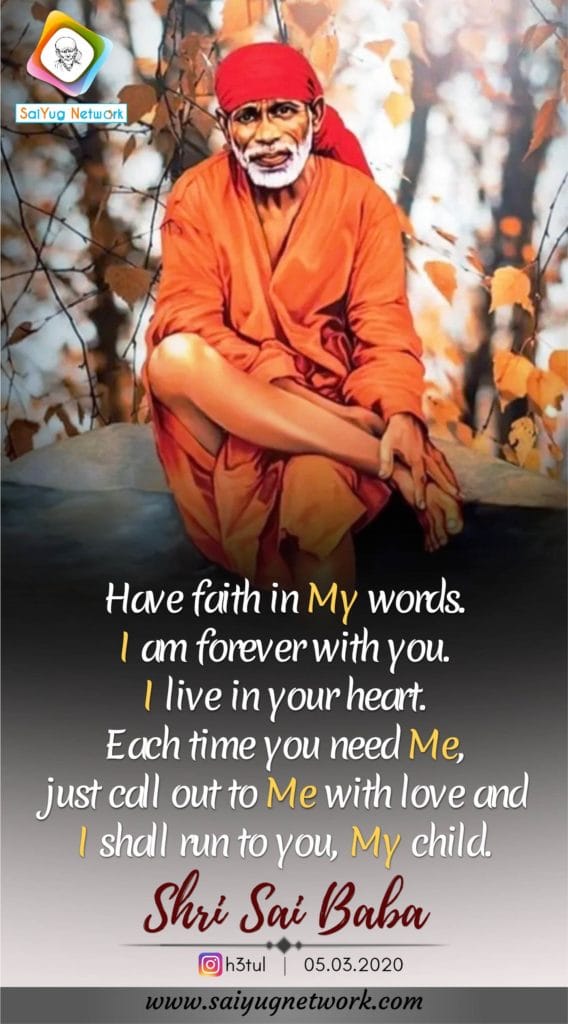 Anonymous Shirdi Sai Devotee from India says: Dear Devotees, I am from Hyderabad and mother of two kids. This is my nineth miracle that I would like to share with you. Before that, I would like to say that Hetalji, you are a reincarnation of Hemadpantji. You gave us this opportunity to share our experiences on this platform. We owe you a lot.

Experience 1: After a long and severe search for a slot for vaccination for my husband and mother–in–law, on the Cowin website, I got one appointment at midnight at 1 am for my mother-in-law who is 80 years old for the next day but couldn't get the same for my husband. After my prayers and listening to dhoop Arathi, I tried calling the hospital staff and requested one more vaccination for my husband and got it arranged immediately for him. Baba, You made it in a few minutes which was not possible for me for many days. Thank You Sai. I am blind without You. I am lame without You. I am nothing without You. Sai, don't leave me.

Experience 2: For my recent Ekadasi fasting, I decided to do Satyanarayana Swamy Vratam again for the second time. I woke up at 5 am and cleaned my pooja room and arranged everything required for pooja. Suddenly my two-year-old infant woke up and started crying for milk. Usually, when she wakes up she doesn't sleep immediately but that day when I closed my eyes and chanted Sai Deva then within half a minute she went into a deep sleep. I completed my pooja with full concentration and satisfaction. It was all because of my Deva.

Experience 3: Last week I and my husband had a small argument. It was a very, very minor thing to become serious. He immediately came and told me, sorry but I didn't speak to him for one full day and didn't allow him to talk to me. It was my mistake completely. The next day he became serious and didn't speak to me for one full day when I was trying. I then prayed to Sai for normalcy. After a long two hours discussion between us, we became normal. I am sorry Deva. I will never ever behave like this. I will not show ego again.
Sai Baba Saved From Gas Cylinder Leakage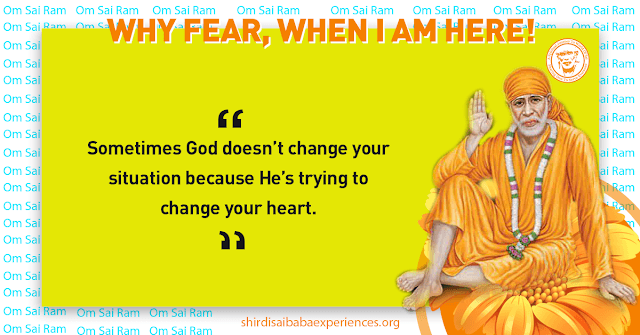 Anonymous Shirdi Sai Devotee from India says: I am from Hyderabad and mother of two kids. Dear Hetal mam, you are the reincarnation of Hemadpanthji. My paadha namaskarams to you.

For one week I was having chills, fever and body pains. Dolo 650 was not at all working. I started worrying about my health because I have two small kids and one is breastfeeding. When I prayed and left it to my Deva immediately the next morning my temperature was normal and I was able to do Namajapam. "Om Sai Rakshak Sharanam Deva" 108 times.

Another recent experience which I want to share with you all is that we had some problem with our Gas cylinder. My husband asked me to leave the kitchen and go out and stand with the kids. That was one of the worst days of my life where I was literally crying with fear for my husband as he is very stubborn in his move and didn't wait till the technician came to check the cylinder problem. Our Deva has saved us from a fatal accident. Baba, where can we go, leaving You for everything and anything?
Save this world from the pandemic and let all humankind set their path towards divine and good. Hetalji I am waiting for two more posts of mine to get published.
Om Sai Rakshaka Saranam Deva
Om Sai Rakshaka Saranam Deva
Om Sai Rakshaka Saranam Deva
Sai Baba Healed A Painful Cyst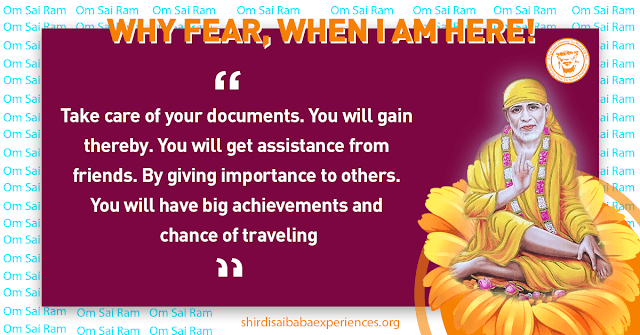 Anonymous Shirdi Sai Devotee from India says: Om Sai Ram. This is the first time I am posting my experience on a public forum.
Two years back, I suffered from a painful sebaceous cyst on my back. The cyst was red, huge and extremely painful making it difficult for me to sleep or do normal activities. When I went to a doctor, she suggested I get it removed surgically as there was a high possibility of recurrence in the future. I was going through a financial low and I did not want to go through surgery.

I prayed to Baba to cure my cyst and drank Udi water before going to bed. The next day when I woke up I saw that the cyst had started leaking and it was really painful initially. Every day this happened but after a few days, the cyst started reducing in size until finally, it became a tiny painless bump. I was very happy that the cyst got cured naturally with Baba's blessings. There are many more experiences that I will surely post if Baba wills. Om Sai Ram. May Sai bless all of us.
Sai Baba Is Always With His Devotees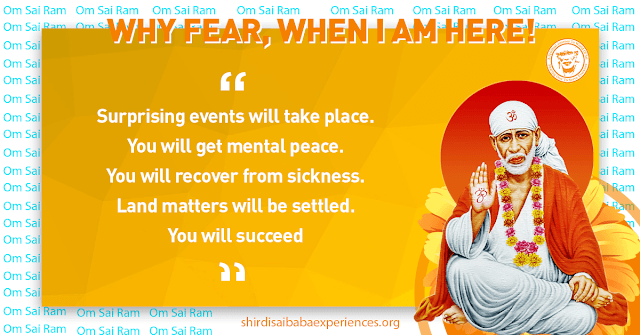 Anonymous Shirdi Sai Devotee from Australia says: I am a Sai Baba Devotee from Australia. Thank you for this wonderful blog and modern-day version of Sai Satcharitra. I was always a Sai Baba follower but never really in an ardent way.
At the beginning of this pandemic, I started getting a lot of anxiety with the lockdowns and worrying in general that what will happen in this world. I started reading Sai Satcharitra daily to help me with my anxiety. It made a very big difference and I started feeling a whole lot better in a short time. It has been 1.5 years now and I am still reading it every night without fail.
Yesterday I went to sleep and woke up suddenly from a bad dream and would not get sleep again. I was then getting thoughts about a mistake I may have made at work. I prayed to Sai Baba and asked Him to help me and if all was ok at work today then I would post my experience. I went to work this morning and it was all ok. Baba looked after me as He always does.

Jai Sai Ram.
Thanks To Sai Baba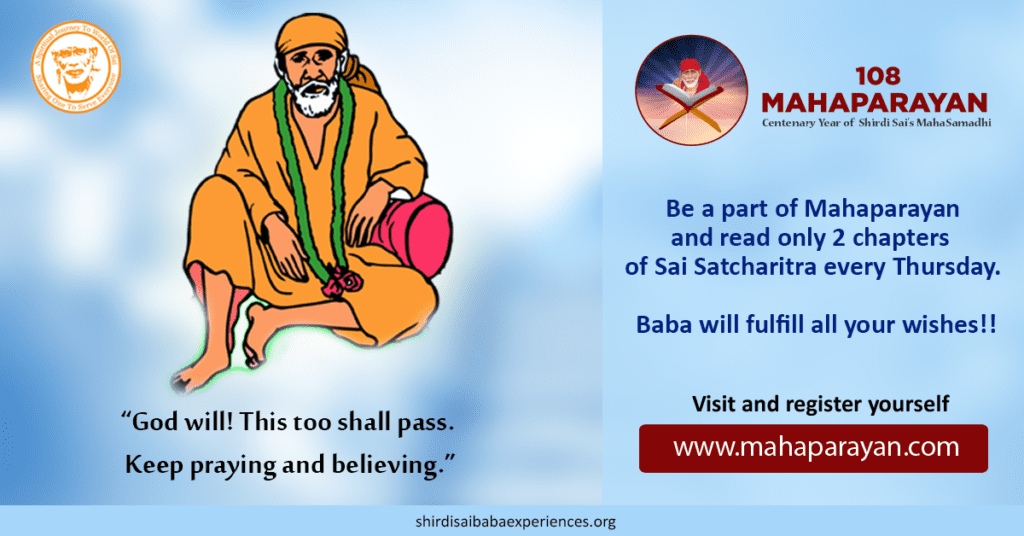 Anonymous Shirdi Sai Devotee from Malaysia says: Om Sairam! Thanks Hetalji and the entire team for maintaining this wonderful platform.

Last week went well due to Baba's blessings. I was able to clear one exam and as promised to Baba I am posting this as my experience. One of the requests was being addressed which is all due to my prayers to Baba. Thanks Baba for all Your support to perform my work.

Thanks Baba. Om Sairam!
---
An interesting book "ShirdiChe Sai Baba" is being shared on Shirdi Sai Baba Books.com, in parts. It is a book worth reading by those who are keen in knowing veiled history of Sai Baba during His times. 
© Shirdi Sai Baba Devotees.com – Member of SaiYugNetwork.com