Sai Baba Blesses With Son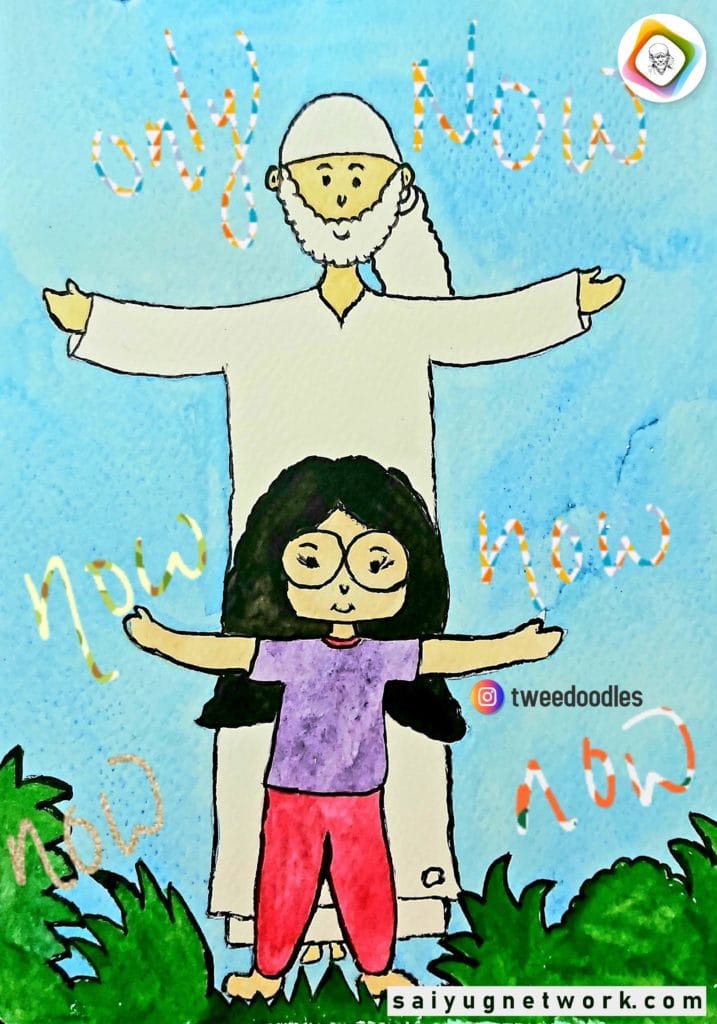 Anonymous Shirdi Sai Devotee from the USA says: Om Sai Ram to all Devotees. I have been a humble devotee of Baba for the past 12 years.
Deep gratitude to Hetalji and the team for providing this marvelous service to all mankind. Today I am going to narrate the most interesting, miraculous and unique real story of my life which has changed my life. Today I would be invoking Shri Sai Baba to help me write the experience as He chooses.
It all started when my daughter was kind of two years old. Suddenly she fell sick and I checked her with my pediatrician. On investigation, it was found that her ESR levels were very high. I got terribly scared and my mind started working in a negative direction and started fearing the most dreadful diseases for her. I became so very scared of sickness that my very active mind slowly turned into severe anxiety and obsessions. Prayed to Sai Baba, Ganesha, Maa Kali, and started offering my very expensive jewelry and other quite expensive items at the feet of God. It became my obsession to pray for petty small problems and offer abnormal stuff after fulfillment. I started sacrificing my basic food, whenever I prayed for something. In a few years, I became a complete obsessive-compulsive disorder person. Then I started seeing a psychiatrist, and therapists for my upkeep. During the same time, I suddenly got so worried for my daughter that I prayed to Sai Baba that if my daughter becomes okay, I would not want another kid for us. After some time I started regretting that I made such idiotic promises to Sai Baba which makes no sense. I even consulted many Sai Baba devotees who told me to just discard that thought as Baba knew my anxiety. But I still could not gather up my courage to go for a second child without first visiting Shirdi and asking for Baba's pardon.
After a few years, I got the chance to visit Shirdi and then I prayed to Baba for the second child. But once I returned to the USA, my condition became more and more terrible and I was completely messed up with extreme restlessness and anxiety.
Again I started seeing doctors, therapists and taking help from my very close friends. In the meantime another four years passed by and my daughter kept asking me about a sibling for her as all her friends have siblings. By this time I was almost close to 40 years and my daughter was already nine years old. I felt almost hopeless about my situation and started feeling that my chances of having a baby seemed bleak. And on top of it, at this time and age, my anxiety levels were at a peak and I was a total disaster.
In the meantime before my 40th birthday, my mom asked me to get my physicals done as I was getting irregular periods then. I went for a check-up alone someday and told the doctor about this thing and then at that time she ordered a urine test. While I was getting examined by my doctor, the nurse entered the room and told me that my urine test was positive. I was completely startled to know that I was pregnant. My doctor herself was surprised to understand that I was completely unaware of my pregnancy as my periods happened irregularly at that time. Then she asked me to go for a detailed scanning to know the exact gestational age and to know the due date. Although she herself told me by clinically checking that it was not something initial phase rather it was a matured age of the pregnancy. After a few days, the accurate medical report came which showed that I was already more than 5 1/2 months pregnant at that time. Everyone at home was very pleasantly surprised about this matter. I was referred to a proper gynecologist. However, my Gynaecologist told me that she would opt for a C-section even though my other parameters looked fine because of two solid reasons.
1. My daughter was born through a C- section.
2. My maternal age was 40.
However, I wanted to experience both the process of delivery. Anyways the delivery time approached and my doctor wanted me to book the OT for my delivery. But that was not to be. My husband booked the OT and I was supposed to be admitted a night before the scheduled day. But an interesting thing happened. I started getting labor pains and I had gone for an emergency before the planned date. There I met another doctor, who was very kind and thorough and she insisted that I could try for normal delivery and if it did not work out then we could go in for C-section. I tried as per her instructions and my son was born.
After he was born, I started taking the medicines for some time and then gradually left them.
I am much better emotionally and mentally now and Sai Baba sent my son as my saviour.
I pray to Baba to always keep my children and family safely and happily at His Holy Feet.
Sai Baba Ke Charno me Koti Koti Pranam. Shri Satchitanand Sadguru Shri Sainath Maharaj Ki Jai.
Sai Baba Miracle
Anonymous Shirdi Sai Devotee from the USA says: I am a Sai Devotee. Hello, I am one of the blessed individuals who has experienced Sai Baba's miracle throughout my life. He has always guided me on the right path and has always planned the best for me. Recently I have experienced His blessings beyond one's imagination.
I was at work and a crazy person attacked me with a knife. He stabbed me all over my body. The blade of the knife went into my heart. I was almost dead on the spot. I screamed "Baba help me" and I was unconscious. Paramedics took forever to come to take me to the hospital, meanwhile, my heart stopped breathing. Pretty much I was dead. Miraculously the officer in the ambulance held my hand and pressed it over the heart and it came back…and I started breathing. The doctor who operated on me was on leave. He was called for the emergency casualty. Baba came in the form of this doctor who had to perform open-heart surgery on that night. He said that I was very critical but he too doesn't know how he saved my life. The team of doctors working under and with him said that he has golden hands but the doctor himself said that he was not sure if he could have saved me. He kept saying it was unbelievable that I survived as by the time I was brought to the hospital I had two cardiac attacks and I was still breathing. He was very perplexed and amazed at the same time.
Anyway, after surgery, I was on ventilation but was not able to breathe normally. Then a team of doctors figured out that the nerve that sent oxygen to the entire body was damaged and leaking blood in my heart even after surgery. Immediately they told my husband that they had to perform a second surgery and that I might lose memory, I might be in a coma, or I might die; all scary stuff but my family had to be prepared for the outcome. Everyone in the family was broken and devastated. My husband was very scared, anxious and he almost felt dead inside about himself but he and my son as well kept praying Baba. He applied Udi on my forehead before he sent me for a second surgery. He had eyes full of tears but he kept chanting Sai, Sai the entire night sitting in his car.
I was in the ICU under critical care. I woke up after four days and a team of doctors celebrated for me waking up from sleep. Doctors could not believe that after whatever happened I would come back alive. They were so surprised, kept telling my husband and me that we were so fortunate and blessed that I was still alive as they didn't believe that this could happen. All doctors kept saying that it was nothing else but a miracle that I was alive and completely normal. I have all the memories but the worst part of my life was an attack on me. That is the only memory gone from my mind. Baba has been so incredibly kind to me that the worst part of my life which has turned my world upside down, has gone away from my memory but I have all other beautiful memories as it is in my heart and mind.
A lot has been going on in my and my family's life but one thing never changed that is the blessings of Sai Baba. I have constantly experienced that. I am writing this for everyone who is feeling lost, sad, heartbroken or angry or someone who is going through hardship. Please know that He listens to every prayer that comes from a true heart. He is always there for people who believe in Him and surrender to Him. You don't have to look outside for help, just look up (inside) and remember Him and He will be there no matter what and thus assuring you that you are never alone, He is with you to heal you when you are broken, to carry you to endure your pain, to give you strength, lessons, and enlighten your path. Thank You Baba for giving me a second life. Thank You for whispering into my soul when I was dead and waking me up. Thank You for all the blessings that I take for granted, Thank You for protecting me and my family each day. Thank You for everything. Thank You for all that You have given me.
Apology To Sai Baba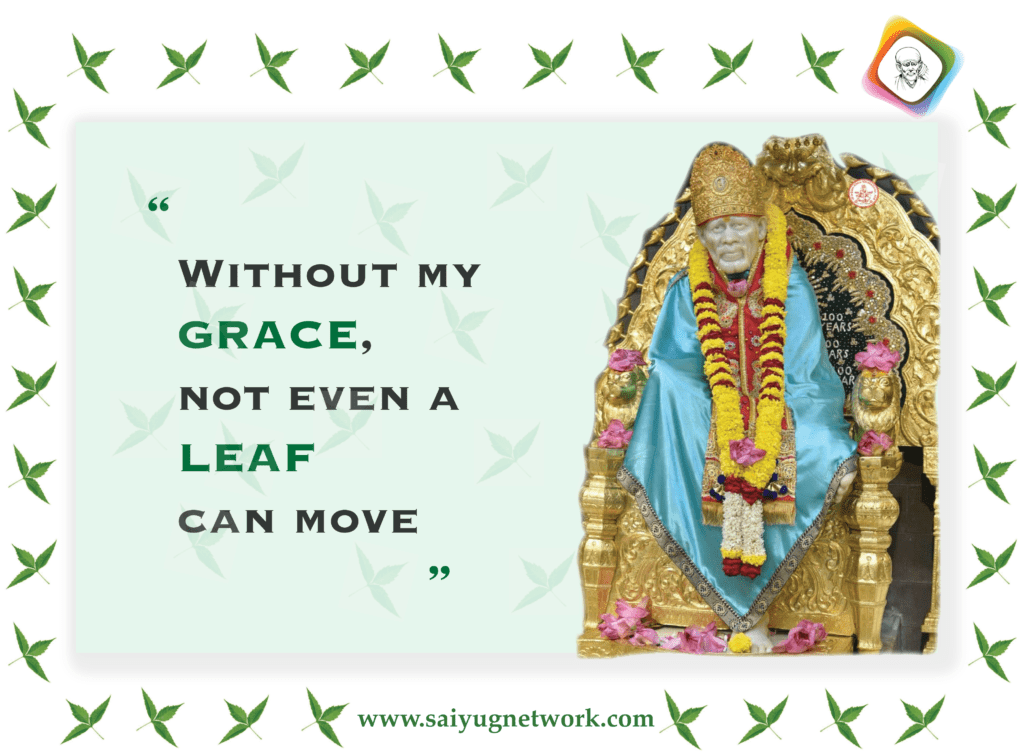 Anonymous Shirdi Sai Devotee from India says: I am from India. Baba, I apologize for my lack of faith. Today I was thinking that Baba blesses all equally i.e. the virtuous and evil-doers equally, then it means that virtuous people will suffer lifelong due to the evildoers. I had negative thoughts that only good people suffer as I have seen that a saint who solved many people's problems selflessly but his daughter is suffering. I have seen many good people suffering but later when I asked my mother which chapter of Sai Satcharitra I should read, she told me 25. I was reading and then came to a story where a devotee Damu Anna asked Baba, "There is a huge crowd to You, do they all benefit from You?" Then Baba replied, "If all the flowers of Mango tree bear fruit, what a splendid crop it would be, but do they? Most fall off by wind and only a few remain." I think this was the answer to my negative thoughts. Definitely virtuous will be blessed. The chapter was about keeping firm faith and devotion.
Later I received many posts of Baba suddenly and after reading they disappeared. I don't know where they came from, all the messages were in relation to my mental status. Baba's message to me was first to have firm faith, not to bother about evildoers false allegations, love our enemies as we are special not they, do not speak ill about others, forget the past, become active like before, not to ask questions repeatedly and that He would solve all the problems and give success beyond our thinking. Also not to believe the astrologers. I was literally in tears. Baba, I pray to You to bless me with firm faith and devotion and always keep me truthful, sincere, honest, faithful till my last breath and help me not to speak or think about evildoers. Let my thoughts be focused on Your lotus feet 24×7. Kindly decrease my temper. Om Sai Ram!
Living With Sai Baba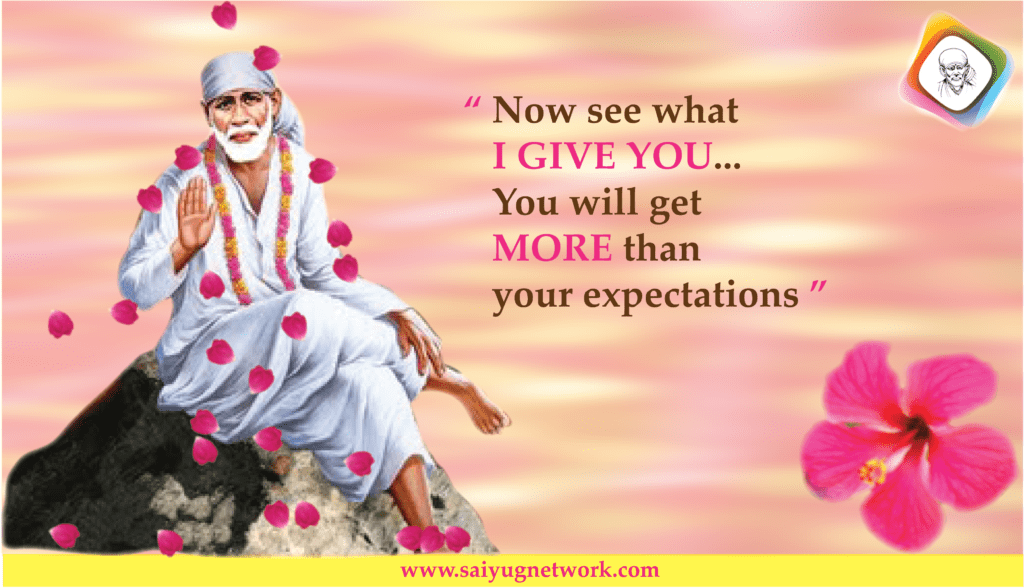 Anonymous Shirdi Sai Devotee from the USA says: A warm hello to you all. I want to thank the team and Hetalji for maintaining this site.
My life is nothing without our Baba. He has done so many miracles in my life that I cannot even express. Today while reading experiences, I just thought to express gratitude to our dearest Baba for always taking care and blessing us.
I have posted experiences before in this blog but it's been a while since I posted anything. So today I had a strong urge to just thank Him for loving me and His numerous devotees worldwide.
Dear readers, if you are feeling low at this moment please remember that He is always there with you and will never leave you in any situation. Just trust Him with patience and leave all the outcome to His holy feet. His love and care cannot be measured at any time. Thank you to all for reading Jai Sai Ram
Sai Baba's Grace For Son's Interview
Anonymous Shirdi Sai Devotee from the US says: I am a small devotee of Sai Baba. Thanks to the admin and team for this platform.
My son has an interview today and the link he had to use is MS teams and that was not working from his email. He was trying from last evening to connect but there was no success. This morning my husband and I were trying to help him and I prayed to Baba to solve the issue. Then within 10 minutes the issue was solved and he was able to give the interview. With Sai Baba grace my son has cleared two levels of interview. I am sure he will get through this final level too. Thank You so much Baba for Your grace. Please keep Your blessings on my family, friends and all Your devotees. Jai Jai Sai Om Sai.
Thanking And Praying Sai Baba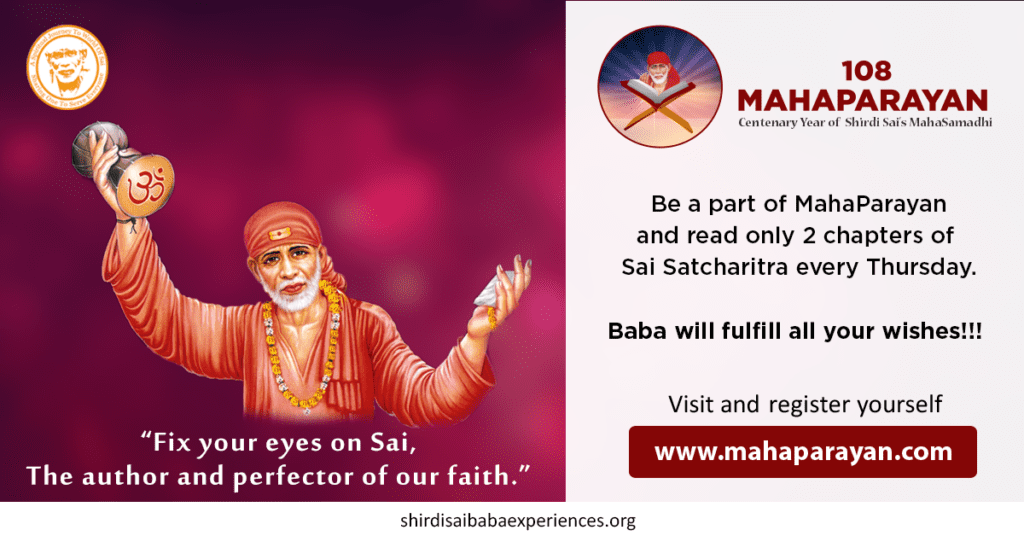 Anonymous Shirdi Sai Devotee from US says: I want to be anonymous. I am a devotee of Sai Baba thanking Him for helping in reducing toothache. Thanks, Saimaa for helping me. Thanks, Maa.
---
An interesting book "ShirdiChe Sai Baba" is being shared on Shirdi Sai Baba Books.com, in parts. It is a book worth reading by those who are keen in knowing veiled history of Sai Baba during His times. 
More from SaiYugNetwork.com
© Shirdi Sai Baba Devotees.com – Member of SaiYugNetwork.com