Sai Baba Miracle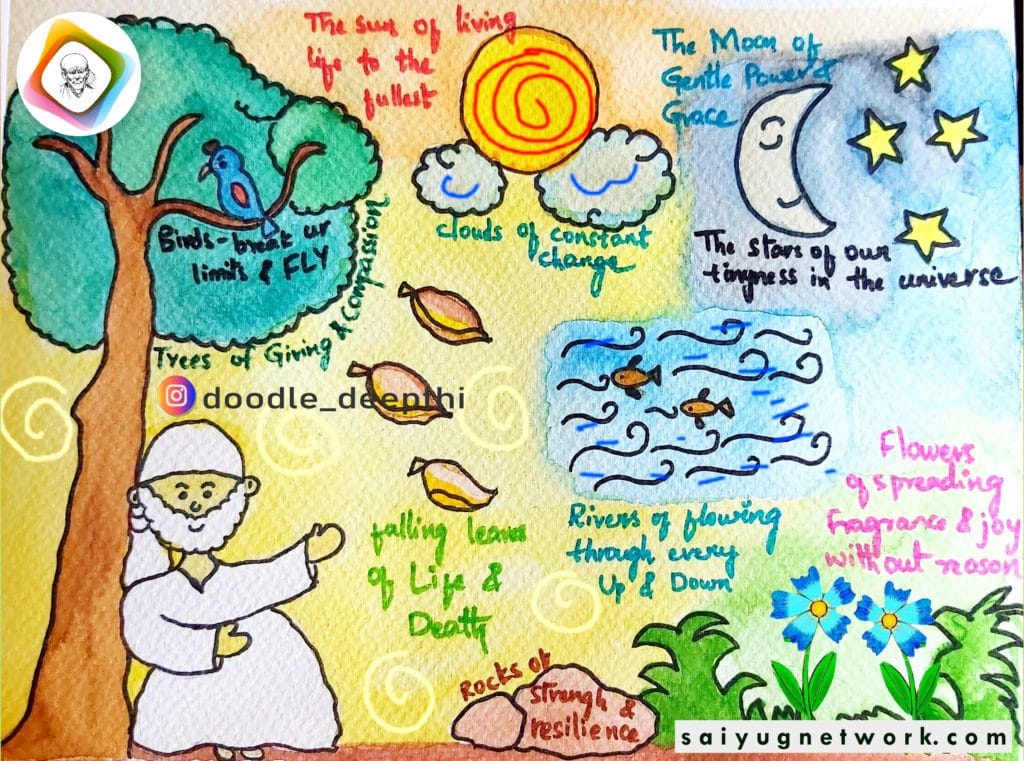 Anonymous Shirdi Sai Devotee from India says: Om Sai Ram to all the devotees. I am a small devotee of Sai Baba from India. Thank you to the organizers of this site to give us a platform to share our experiences. I came in contact with Baba when I was doing my B.Tech. I have many life-changing experiences when Baba came to protect me when Baba came to solve my problem when Baba did miracles in my life. Whenever I was in any trouble, He always came to my rescue and I believe that He will always do that. This is the first time that I am sharing my experience here.
Experience 1: In March 2021, there were some disturbances between me and the love of my life. The main reason behind it was that he was angry with me and was not talking to me. At that time, I could not find any way to solve our issue. So I had shared this personal matter with some of his friends for help (which I should not have done) as he considered them as his family, but it came out with a negative effect. The situation got so bad that my family member came to him to solve our issue, but it seems that he had made up his mind to leave me. My family had lost their hope.
I was very depressed and disheartened at that time. I could not believe the fact that he wants to leave me. I was even unable to eat and sleep. That night I had a dream that I was going out of his life and suddenly Baba came and He held my hand. I got confused. I thought perhaps Baba does not want this separation. That was the first time I saw Baba in my dream, although His face was not clear, deep down in my heart I knew that He was my Baba, my Sai. After some days things got changed. He started contacting me and he forgave me for my mistake and things got normal.
Experience 2: In November, we had again some misunderstanding due to my possessiveness. This time we both made mistakes. But somehow my mistake was bigger than him and he became so angry that he blocked my contact. He was so angry with me that he did not even contact me knowing that I am going to appear in an interview and he knew how much I needed his support at that time. But Baba helped me.
One day before the interview, he called me and we solved our problem. This is officially my first relationship and our family also knows about us. They have accepted us. Baba, I know I am making small, small mistakes, because I don't have any prior experience. Please Baba forgive us for our mistakes. I have surrendered our relationship to Your lotus feet with a belief that You will take care of it. You know how much I love him and how much I want to marry him. I know how hard the situation may be, You won't separate us from each other.
Baba, there is one thing that is worrying me nowadays; that is his anger. He is reacting instantly in every situation. Please Baba bless him to control his anger. Now he doesn't understand that this anger can ruin his life, which I don't want. I want us to live a happily married life and we want Your blessings. Baba, please communicate all his journal papers by December 2021 and bless us to tie a knot with each other by December 2022. I don't believe anyone. I believe only You, my Baba, my friend, and my guide. Bless me to make an improvement in my nature, career, family life, and love life. Thank You Baba for showering Your blessings. Anantakoti Brahmanda Nayaka Rajadhiraj Yohiraj Parambrahma Sri Sachidananda Sadguru Sainath Maharaj Ki Jay. Om Sai Ram.
Sai Baba Blessings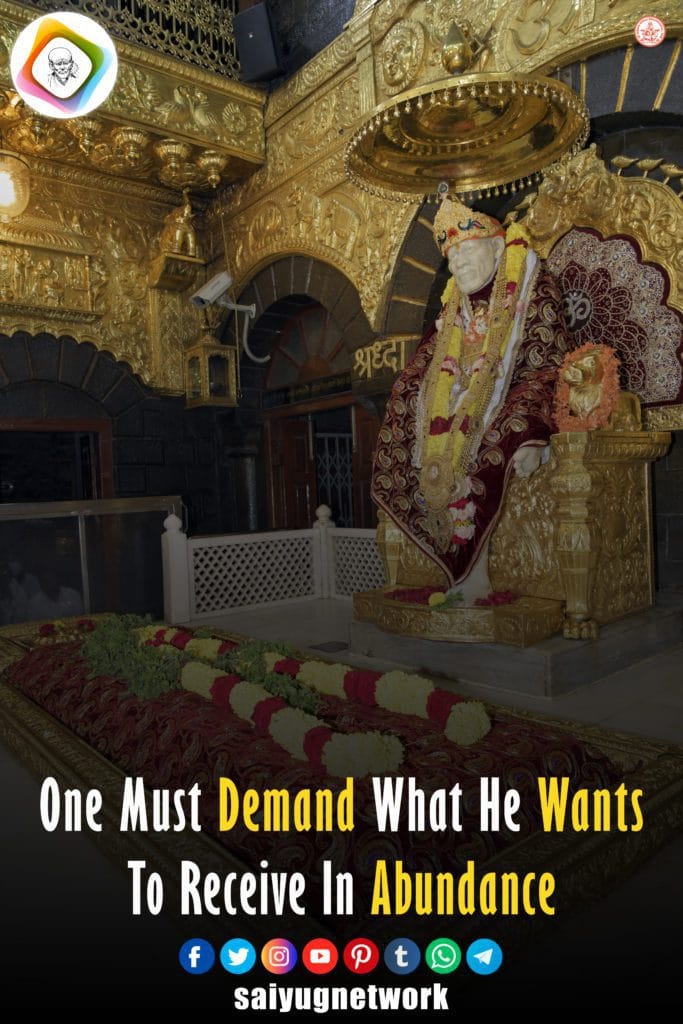 Shirdi Sai Devotee Meghna Sai from India says: Hi Sai Ram to everyone. Thanks to the team. Sai lives on this site for sure. I am a very bad child of Sai Who doesn't have patience and also has a fickle mind. But my Sai will have a lot of patience towards me and He will always tolerate me. He will also help me do the religious things of other Gods also. Thank You Baba for everything. I feel emotional. Why do you love us so much? Thanks for the motherly love and I love You so much. I would like to share a few experiences and miracles of my beloved Baba.

Experience 1: Thanks for helping me to apply for my son's school admission in my dream. The school process went smoothly on Thursday by Your grace. I know You will bless him with that seat. Devotees, please pray for him to get a seat in that school and he should study there. It's my dream. Please, please pray for that. Thanks in advance.
Experience 2: I was scared about something and my mind was disturbed, You know why. Thanks for giving me hope and helping me always.
Experience 3: Due to Your grace my cold went off and it didn't increase. Thanks for that and thanks for helping me with my Satcharitra saptah or else it was difficult for me to read in this weather with this cold.
Experience 4: Somehow life is going smoothly, also family life by Your grace. Thanks for that and bless that Youtube lady Sai Leela Kannada Channel as she gives a perfect message for the day by your name.

Bless all Your devotees, volunteers, and group members of the Mahaparayan, and bless us to have good nature. Now it's raining heavily all over South India. Protect everyone, mainly homeless people, elders and children, and newborn babies. The weather is very bad. Protect everyone and help the homeless people with blankets and food. Devotees I request to please offer blankets to homeless people.

Bless us with good business, health, and peace of mind. Bless my grandmother to get a tenant as soon as possible. Nothing is impossible for my Sai. Sai, also give good health to everyone.

Om Ganeshaya Om Shakthi KallalAammathaye Adhithimappa Om Sai Ram MKDG Om Sai Rakshak Sharanam Deva Om Sri Sai Arogya Kshemadaya Namaha. Digambara Digambara SriPada Vallabha Digambara, Digambara Digambara Srichakra Dattatreya Digambara Om Sai Samrath.
Sai Baba Is Saviour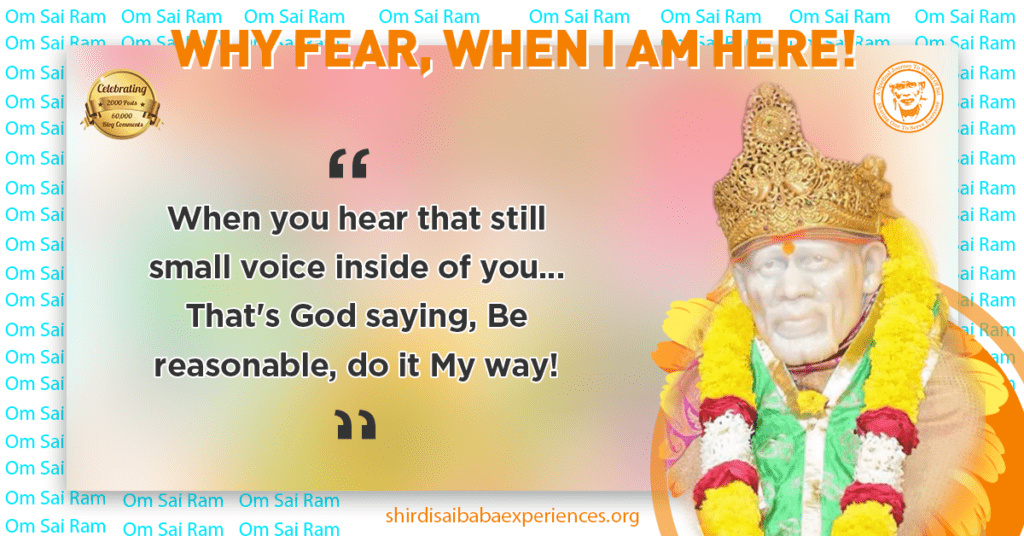 Anonymous Shirdi Sai Devotee from the USA says: Om Sairam, I am one of the sparrows that Baba has pulled towards Him. He humbly pulled me towards Him and Baba has been showering His blessings on us throughout our life. Baba also pulled my husband towards Him, now he has become a sincere devotee of Baba. Thanks a lot, Baba for everything.
Kudos, to the people maintaining this blog. You all are blessed ones and may Baba continue showering His blessings on you all. I am part of the Global Mahaparayan group because of His blessings. Whenever I feel low, I read the miracles of Baba on this site and I get more energy and peace.
I was suffering from a severe headache and it was not subsiding even after taking two doses of medicine. I took Baba's name and kept Udi. Immediately the headache started subsiding.
Tomorrow we are going for an important work Baba, please guide and be with us throughout the process. Please help us make the right decision.
Thank You, Baba. Please bless all Your devotees. Om Sai Namo Namah, Sri Sai Namo Namah, Jai Jai Sai Namo Namah.
Sai Baba Is Everything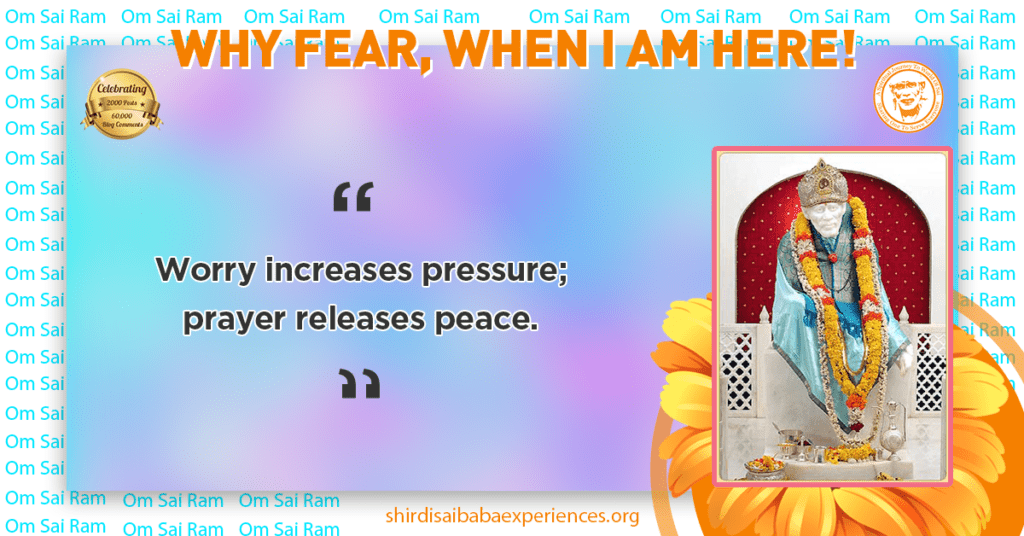 Anonymous Shirdi Sai Devotee from India says: Hi I'm a small devotee of Baba from India.
Baba, You are my everything. Be with me and my family till our last breath. I would like to share miracles/experiences.
My husband was waiting for his promotion but due to this pandemic was not sure of a hike or promotions. I started Nava Guruvar vrat and by the eighth week of vrat, we got the good news. Husband got promoted. I was on cloud nine.
The next miracle is about the house. We started our house hunt a year back. We looked at everything and were tired. I started Nava Guruvar vrat again and to my surprise, we got a house in the eighth week of the vrat.
Baba gives you what you deserve and not what you want. What you want would be very less but what you deserve is something way beyond. That's what Baba gives us which is abundant and huge. He doesn't make us satisfied with fewer things. I'm thankful to You Baba ever. Please help me get a new job that would help me to support my husband more financially. You are my everything. Please be with us. Please be with my lil one. That is also a blessing from You.
Gratitude To Sai Baba
Anonymous Shirdi Sai Devotee from India says: I am from India, kindly keep me anonymous.
Thanks to the entire team for this wonderful platform.
My heartfelt gratitude to Baba for saving my mother as she had mistakenly taken two anti Hypertensive tablets instead of one and at night she skipped one tablet. Her BP is on the higher side. She is having palpitations, dyspnoea, pedal edema, and urinary incontinence. Kindly solve her health issues.
Baba, as advised by You in my dreams I have given Udi with water and also applied Udi on her forehead. Baba, You are the only Saviour, kindly solve her health issues, bring her BP to normal. As promised I posted here to save her in spite of taking an overdose. Om Sairam!
Thanks To Sai Appa (Baba)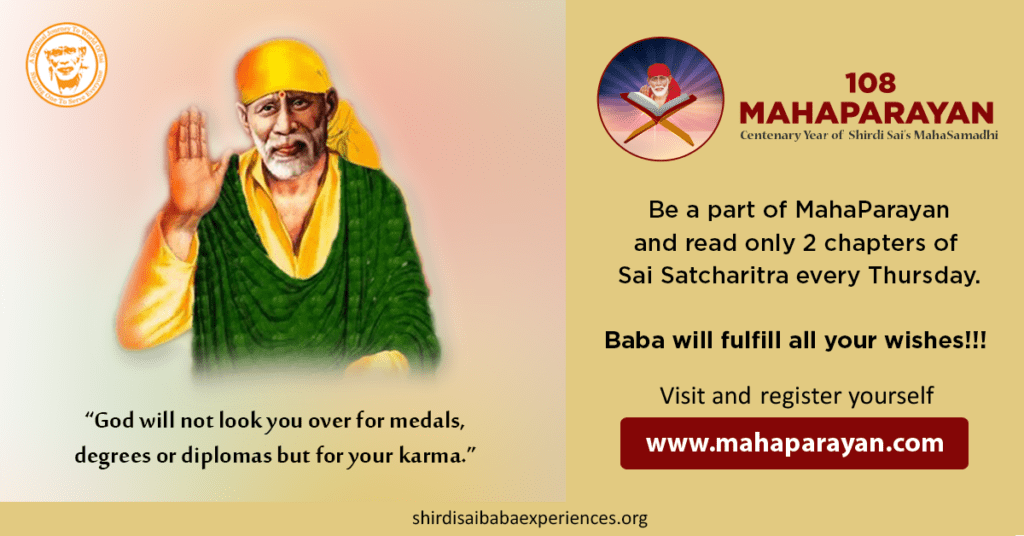 Anonymous Shirdi Sai Devotee from India says: I am a small devotee of my Sai. Thank you Hetalji and her team for this wonderful platform.
Yesterday I prayed to my Appa for two things and due to my Appa's blessings the two wishes were fulfilled. Thank You Sai as without You nothing is possible. Please save and bless Your children. Om Sai Shri Sai Jai Jai Sai.
---
An interesting book "ShirdiChe Sai Baba" is being shared on Shirdi Sai Baba Books.com, in parts. It is a book worth reading by those who are keen in knowing veiled history of Sai Baba during His times. 
More from SaiYugNetwork.com
© Shirdi Sai Baba Devotees.com – Member of SaiYugNetwork.com