Sai Baba Blessed With A Surprise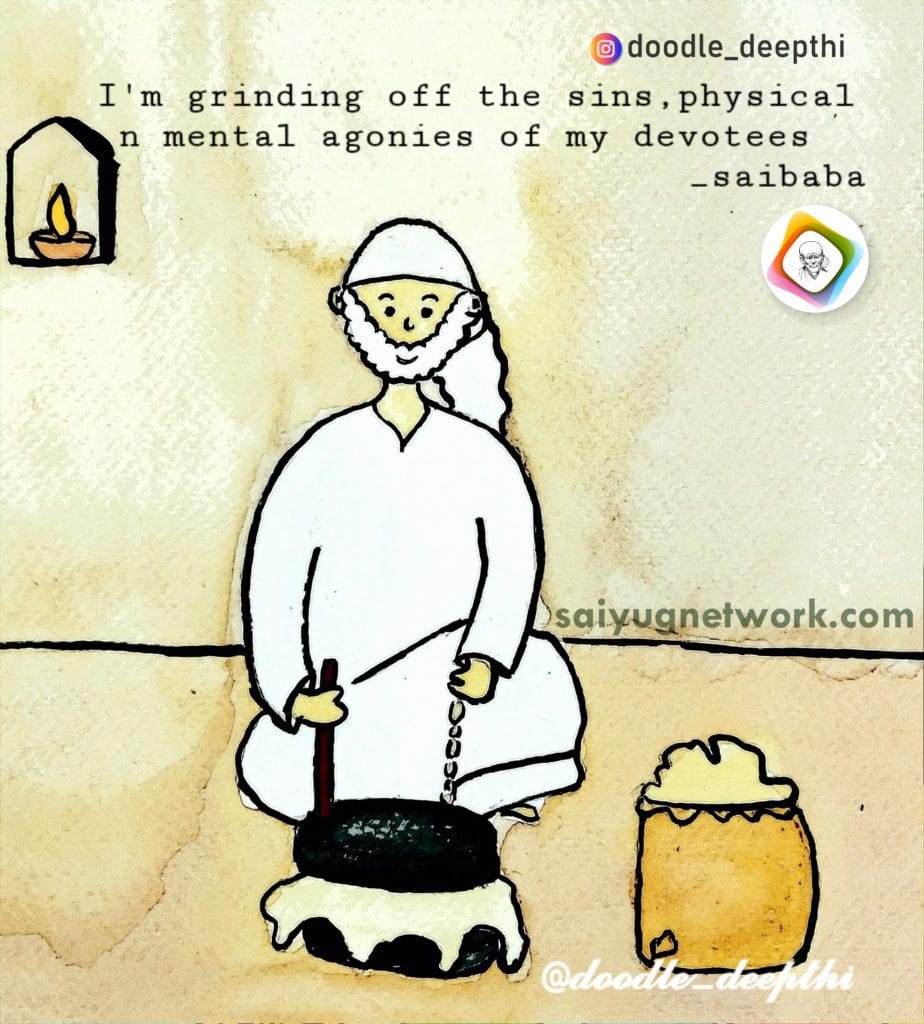 Shirdi Sai Devotee Pallavi from India says: Dear Sai Devotees, I am Pallavi from Hyderabad and a mother of two kids. My pranams to Hetalji. You are the reincarnation of Hemadpanthji. This divine platform is a gift for us to share our experiences with other Sai bandhus and interact with Baba directly. Reading experience date-wise daily is nothing but Satcharitra Nitya Parayan for me. I am really blessed for this.

I have shared many miracles that happened earlier and all got published. I want to share a few more today.

Experience 1:
Recently we traveled to Ongole and Vijayawada to my in-law's place for 10 days. We have even attended a marriage leaving our fears to Sainath. With God's grace, we returned back safely without any health problems. My parents who traveled to Vizag to see my brother's just born baby returned back safely. My younger one had a cold for three days but recovered soon by Sai Baba's blessings. Baba, for any decision I ask You and with Your permission, I proceed further. You are my light and I can't put a single step without Your grace Baba. Om Sai Ram!

Experience 2:
I was thinking about how school fees nowadays have become so expensive that no savings can be done for their future. Educational institutions are looting us. My daughter who is now in UKG has to get admission to a good and nominal school near my house; It was my prayer to Sai Deva. That day I received a call from one of my relatives' family friends who offered us a helping hand to get a seat in Kendriya Vidyalayas with his influence and recommendation. Is this not a miracle? We need not worry about anything when Baba is with us. My Baba ensures that I don't even spend my time on petty things like this. He just wants to put the burden on Him and leave it. I am really blessed to have a mother's nurture always from Sai Thandri as a father.

Experience 3:
Since my brother's wife is delivering a baby girl. I thought about buying gold earrings for her during the naming ceremony but I was in deep worry since long to discuss the same with my husband as my brother and my hubby were not in good terms always (because of my brother's marriage without me) and that too in spending money. So I prayed to Baba and did three Annadhanam for 9 Thursdays to the poor continuously. Yesterday, when my husband's mood was good I requested him to buy earrings for the baby in a pleasing tone for this time. Do you know what happened? Guess? My husband didn't accept the earrings. He said that he has a plan to buy a gold necklace for the baby as she is a girl and he is fond of girl babies. I was literally in a shock hearing this. I am really surprised about this. I didn't expect him to talk and offer me more than what I wanted. Baba what can I give You in return for these successful fruits; nothing, nothing but just to depend on You for each and everything and that's it. Tears are flowing out of my eyes, Sai. This is not about the amount or cost of the gift that we want to give but it's about the change in the mind of my husband and building the relationship.

Sai I am really worried about the younger one's tooth decay at such an initial age. Please take care of her as it is spreading to all the teeth so soon and she is just 2.5 years old.
Please make the world free from viruses and protect everyone, Deva.
Forgive my mistakes, remove my bad qualities and bless me with bhakti and good character always.
Om Sai Rakshaka Saranam Deva
Om Sai Rakshaka Saranam Deva
Om Sai Rakshaka Saranam Deva
Miracles Of Sai Baba
Anonymous Shirdi Sai Devotee from India says: Without Him my day is incomplete. Thanks to Hetalji and team for this wonderful platform to share our experience with others. Om Sai Ram.
Experience: 1
Recently I visited San Diego with my family. After we left from our house I had kind of negative thoughts like did I close the fridge door properly and did I light the diya properly near the God. So, I prayed to Sai if everything goes well without any hurdles at home after I come back from the trip then I would share my experience here. Everything was great at home. Om Sai Ram.

Experience: 2
All of a sudden I had severe knee pain and after a day I could not bend my knees. At that moment I prayed to my Sai that if I recover from knee pain without any surgery and if my knee pain reduces within a day with complete recovery then I would share my experience here. Again my Baba came to my help that day as I could not even drink Udi water because of my periods. I just prayed in my mind and next morning I was completely normal and I had a good sleep at night too. Om Sai Ram.

Experience: 3
My husband and I had a fight at home and we stopped talking to each other and his friends were supposed to come for dinner that weekend and we were still not talking. I knew that they were coming for dinner but did not know how many people. So, I prayed to Sai Ma that if everything goes well then I would share my experience. Again the miracle happened. I thought two friends were coming for dinner but four people turned up. I was worried if the food would be enough but Sai Ma helped again and food was enough and we even had leftovers from the dinner. My husband had stopped eating food in the house because of the fight but that day he had dinner with his friends because of Sai's grace. Love You Sai.

Experience: 4
I had ordered Christmas ornaments for decorating the Christmas tree and there was a problem with the postal service where the tracking was saying that it was a delay but prayed to Sai if my ornaments reach by Monday then I would share my experience. Again Sai came for my help. The ornaments all of a sudden were delivered by Sunday. Om Sai Ram.

Experience: 5
One day my friend texted me and was not feeling well, so could not talk to her properly. But, I made sure that I texted her after my recovery. But I did not get a reply for my text till night. I was worried if she got hurt because I did not reply properly the other day. So, I prayed to my Sai if we would become good friends in future then I will let her reply otherwise let it be the last time. Suddenly, she replied at night and chatted for a long time. Thank You Sai Ma for being in my life and always blessing me. I am always surrendered at Your feet.

Never think that Sai is not listening to your prayers, just have complete faith in Him and patience. We will get back with the answer and His words cannot go untrue. Love You Sai Ma.
Sai Baba Is Saviour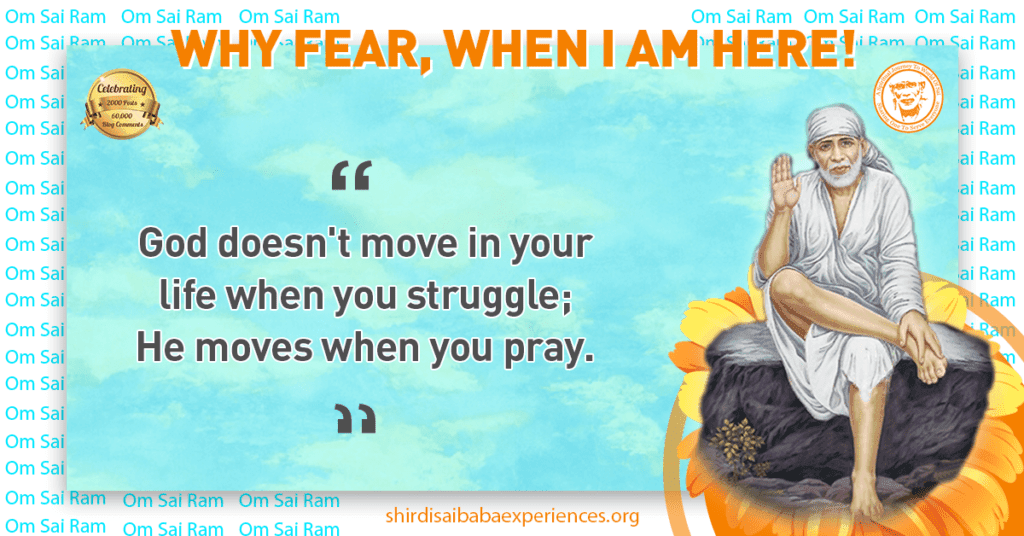 Anonymous Shirdi Sai Devotee from the USA says: Om Sairam, I am one of the sparrows that Baba has pulled towards Him. He humbly pulled me towards Him and Baba has been showering His blessings on us throughout our life. Baba also pulled my husband towards Him; now he has become a sincere devotee of Baba. Thanks a lot Baba for everything.
Kudos, to the people maintaining this blog. You all are blessed ones and may Baba continue showering His blessings on you all. I am part of Mahaparayan group because of His blessings. Whenever, I feel low I read the miracles of Baba on this site and I get more energy and peace.
By Baba's grace we went to the design centre and the process went smooth without us spending much money. Baba showered me with an unexpected promotion and a salary hike. Thanks a lot Baba. Please be our guiding light forever. We will keep faith and patience. Baba, I am in need of an important letter, please shower Your blessings.
Thank You, Baba. Please bless all Your devotees. Om Sai Namo Namah, Sri Sai Namo Namah, Jai Jai Sai Namo Namah.
Sai Baba Miracle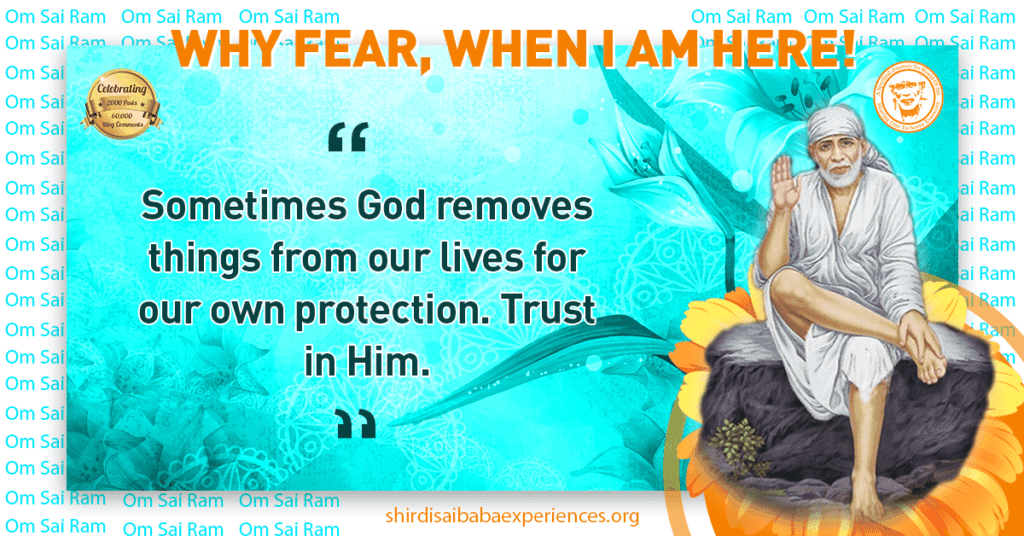 Anonymous Shirdi Sai Devotee Athira from India says: Thanks Hetalji for this platform to share experiences. I and my sister are Sai devotees and we used to share experiences here.
One experience is regarding my sister's bilirubin test. She was not feeling well for a few days and seemed to be very weak. So the doctor advised a blood test and found that the bilirubin value was high. So the doctor suggested doing a CT scan to check whether she had jaundice or any other problems. She prayed to Sai and did the test. With Sai's grace, the scan was fine. Thanks a lot Sai.
Next miracle is regarding my project. Today is my last day of the project and I was waiting for the final release of fund. By Sai's grace I got it today. If I didn't get it today then I couldn't use it. He knew that. He helped me. Sai thanks a lot.
Day To Day Sai Baba's Guidance And Blessings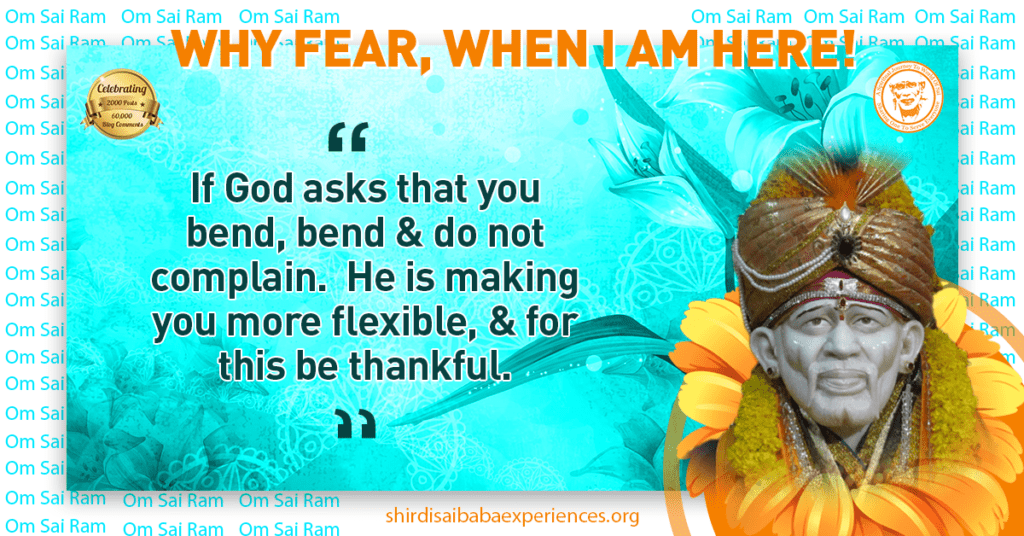 Anonymous Shirdi Sai Devotee from India says: I am from Odisha, India. I am blessed that father Sai accepted me as His child.
For every small thing in my life I always need Baba. Starting from my and family members' health, my household work to my little son's studies. Father listens to every prayer and guides and helps me. Today morning also my son was not prepared well for his class but because of Baba's blessings he did good in his class. Thank You Father for everything. Om Sai Ram!
Sai Baba Kripa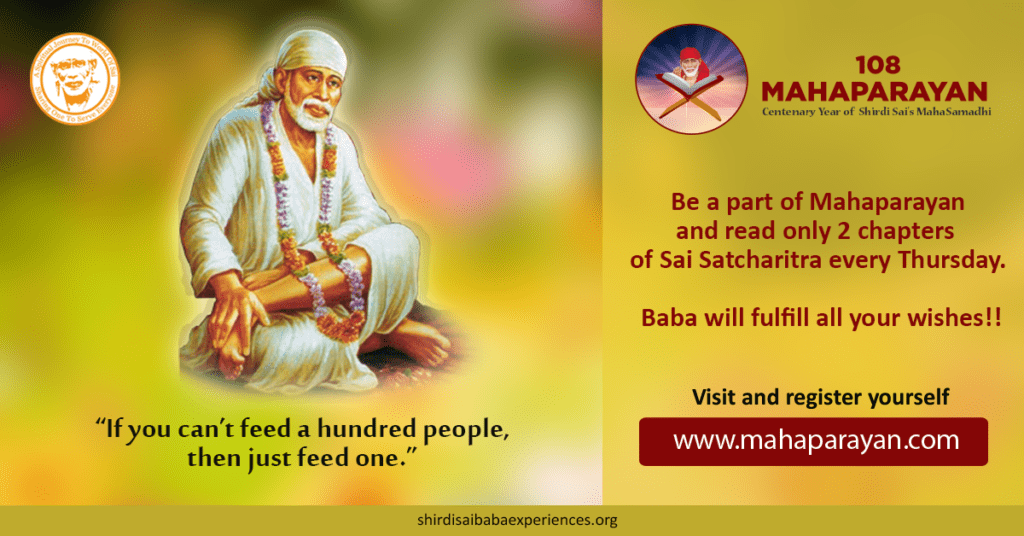 Anonymous Shirdi Sai Devotee from India says: I am from Haryana. Last week my son lost his shoe. I prayed to Sai Baba and we got it immediately.
I was at my mom's place and didn't want to go back for a few days more and with Sai Baba's Kripa it did happen. Sai please help so that I can move to my favourite place soon. Om Sai Ram!
---
ShirdiChe Sai Baba Book
A book that can be considered next to Sri Sai Satcharitra is available for reading on our blog, kindly do not miss reading it.
More from SaiYugNetwork.com
© Shirdi Sai Baba Devotees.com – Member of SaiYugNetwork.com