Sai Baba's Blessings For The Way Of Life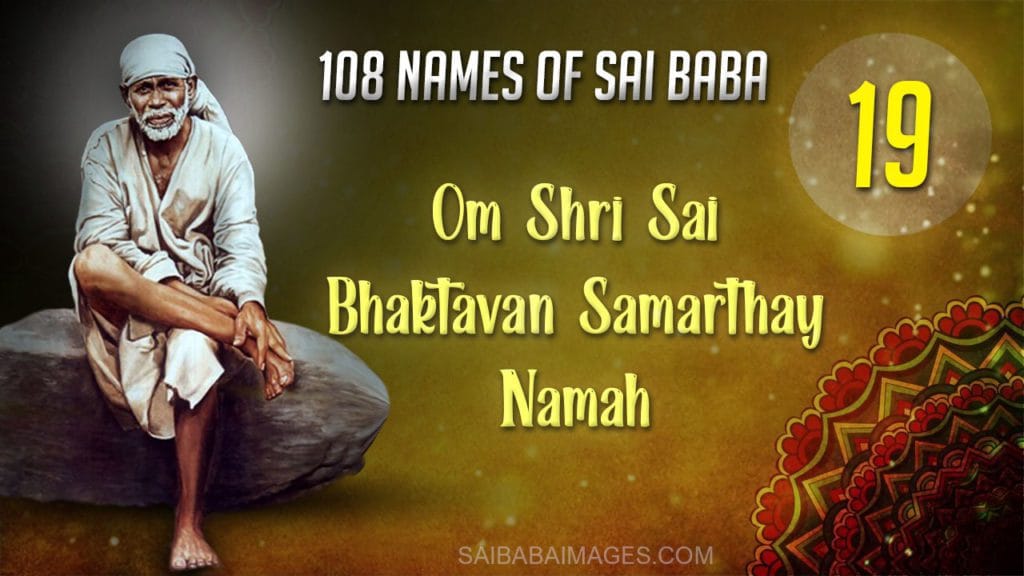 Anonymous Shirdi Sai Devotee from India says: Om Sairam to everyone. Thank you Hetal mam for giving me another opportunity. Whenever I write about any experience I never forget to thank our Hetal mam. We are communicating with Baba only because of You. Really You are so, so much blessed by our Baba.
Now coming to my experience; since March 1st I wanted to write about my experience but couldn't do so. Today is 12th March. Since 1st March every day, I wanted to submit my experience. Perhaps it is our Baba's wish because without His consent even a leaf cannot move. In Sai Satcharitra it is also said by our Baba that whatever we are doing is according to His will.
Baba, my husband's tongue infection is not healing till now. Today he said that it is increasing. Baba, You know I can't tolerate even a little bit of health issues. In my life, I have learned well that health is wealth. In the years 2016 and 2018 what incidents had happened to me are known to You. Since then I get scared even of small health issues.
Baba, please cure my husband's tongue infection completely. Really Baba I am very much worried about this. Baba, please remove my fear about my husband's health issues and cure his tongue completely. Give him good health.
Baba, give good health to my both family, my father's family and my in-law's family. We all always need Your blessings. Keep us at Your lotus feet. I pray for the good health of my both families. Baba, again I pray to You for my husband's good health. Bless me Baba so that next month I will again submit my experience after my husband's tongue infection is cured completely. After all, we are humans. We always remember You in difficult times. But You always protect us in every aspect of our life. Om Sai Aarogya Kshemadaya Namah. Om Sai Rakshak Sharanam Deva. Om Sairam!
Sai Baba – The Saviour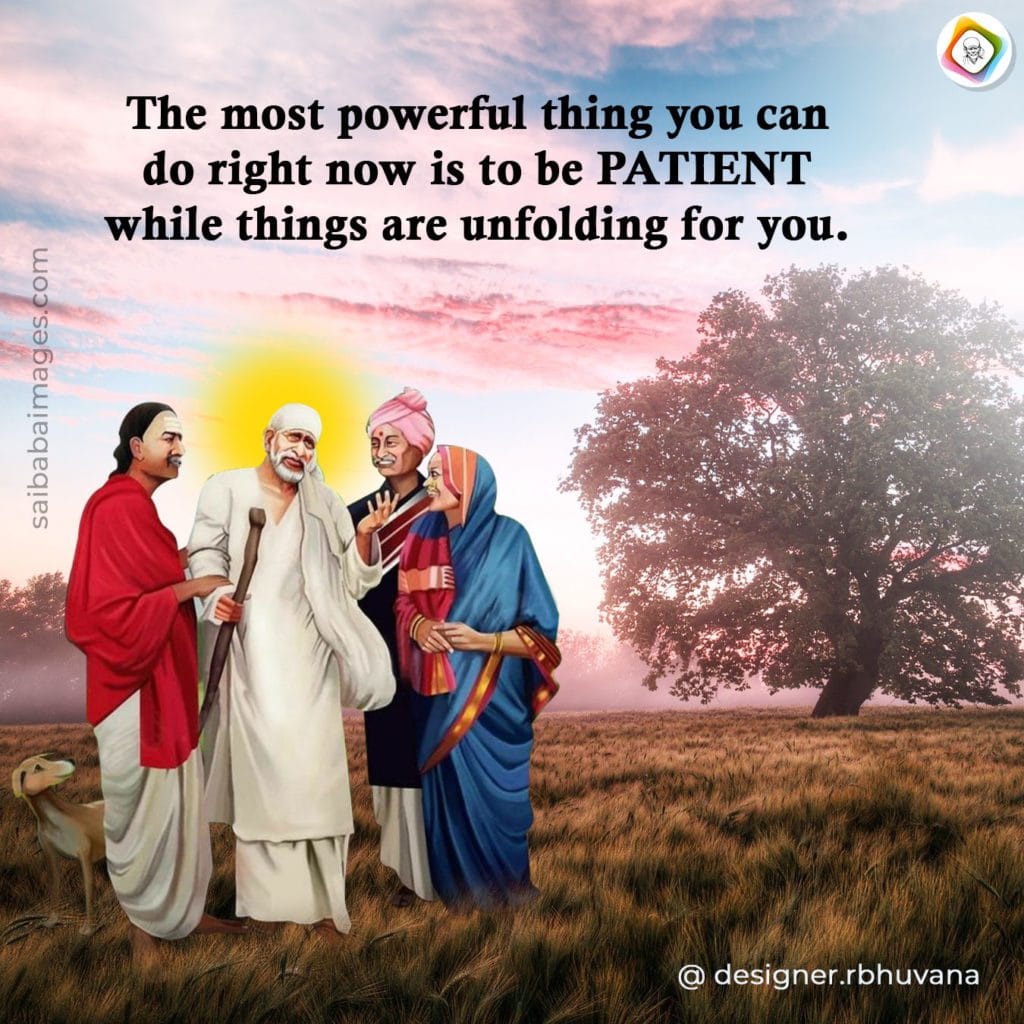 Anonymous Shirdi Sai Devotee from Singapore says: I am a small devotee of Deva who wishes to always be at His lotus feet. My day starts and ends with Baba's thoughts and prayers. My heartfelt thanks to Hetalji and the team for providing us with such a beautiful platform to express our gratitude and love towards our Saima. I would like to narrate my most recent experiences here.

By Baba's and Sripada Srivallabha's grace, I traveled back to Singapore with my family. My gratitude to Baba for looking after me. We had to postpone my trip twice and lost some money in that, but now I know why Baba did like that and it was a sort of blessing in disguise. There is a reason for everything. We may not realize it then and there but after some time, when we connect the dots, we would know that what happened could have been the only best possible way. After coming back You know Baba that I was not feeling well and You know the reason also. My office project is almost coming to an end and thanks Baba for helping me stick on to my work. On the previous day of release, we wanted a major approval which could have been a show-stopper and Baba helped to receive the approval in time. Thanks, Baba, for taking care of the client presentation as well.

Baba, I am waiting for an offer to go back to India and You know how important it is for me. Thanks for taking me through the process and being with me. Please help me to get a good offer, Baba. Please be with me always and give me mental strength. Please increase my Shraddha and Saburi. I don't know what I would have done without You in my life. Please make me content and always take care of me and my family. Anantha Koti Brahmanda Nayaka Raajadhiraja Yogiraja Parabrahma Sri Sachhidananda Samartha Sadguru Sainath Maharaj ki Jai. Sri Pada Rajam Sharanam Prapadhye. Om Sai Sri Sai…!
Sai Baba Miracle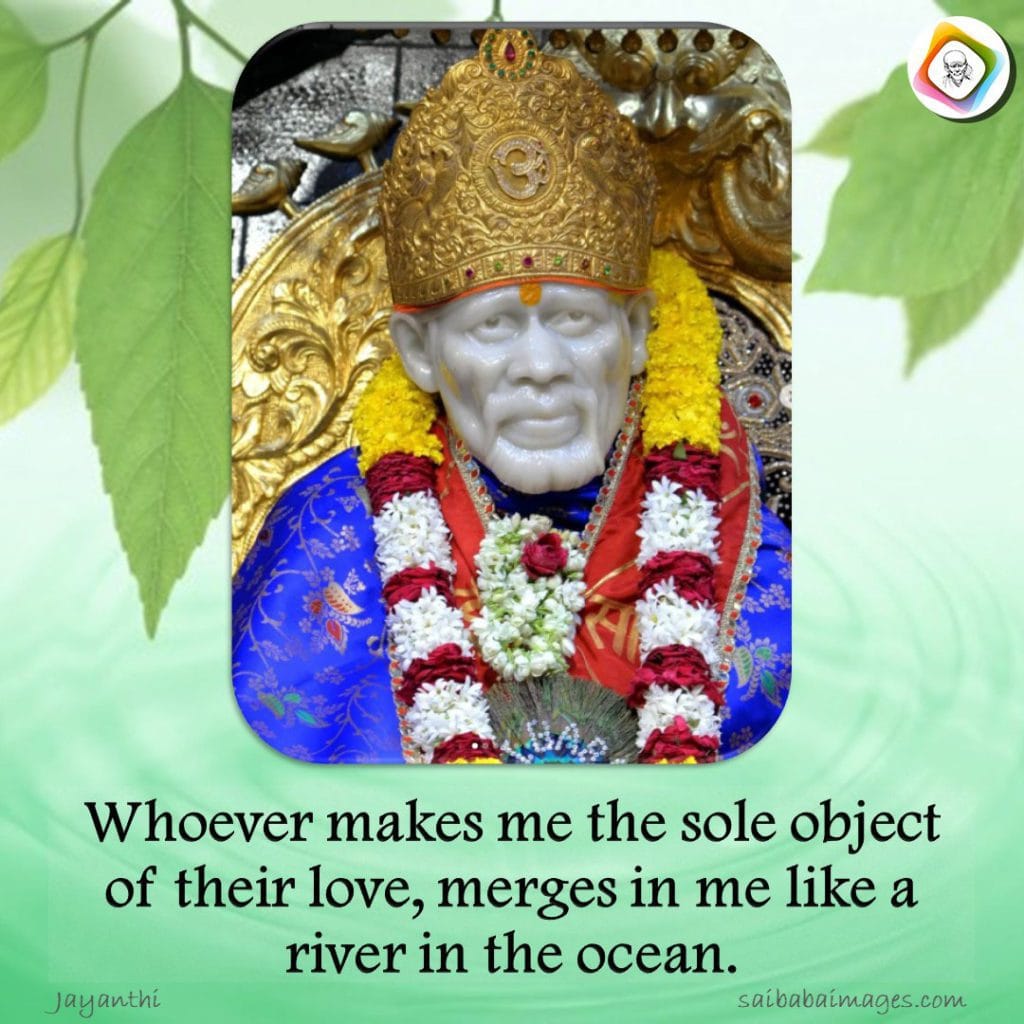 Anonymous Shirdi Sai Devotee from the USA says: Om Sai Ram. Please keep me anonymous and don't share any of my contact information. Thanks.
I have started 9 Guruvar vrat in a simplified form for my son who is attending interviews. I wanted to apply Udi to him before an interview but he came directly from school and joined the interview call. I could not apply Udi and was feeling sad but was praying to Sai Baba to help him with the interview. It so happened that my son came back and said that the interviewer needed 15 more minutes and had asked him to join again in 15 minutes. This gave me enough time for me to apply Udi. Isn't this Baba's leela? Om Sri Satchitananda Sadguru Sainath Maharaj ki Jai.

Today I completed my 9 Guruvar vrat in a simple manner and would like to share the details. For 9 Thursdays cleaned Baba's picture, applied Udi, lit diyas, offered one different fruit to Baba each week, and chanted some simple names from 108 Sai Baba names and other simple slokas like Gayatri mantra that I know 9 times each. Completed Sai Satcharitra once during these whole 9 weeks, reading one chapter daily.

Om Sri Satchitananda Sadguru Sainath Maharaj ki Jai.
Thanks To Sai Baba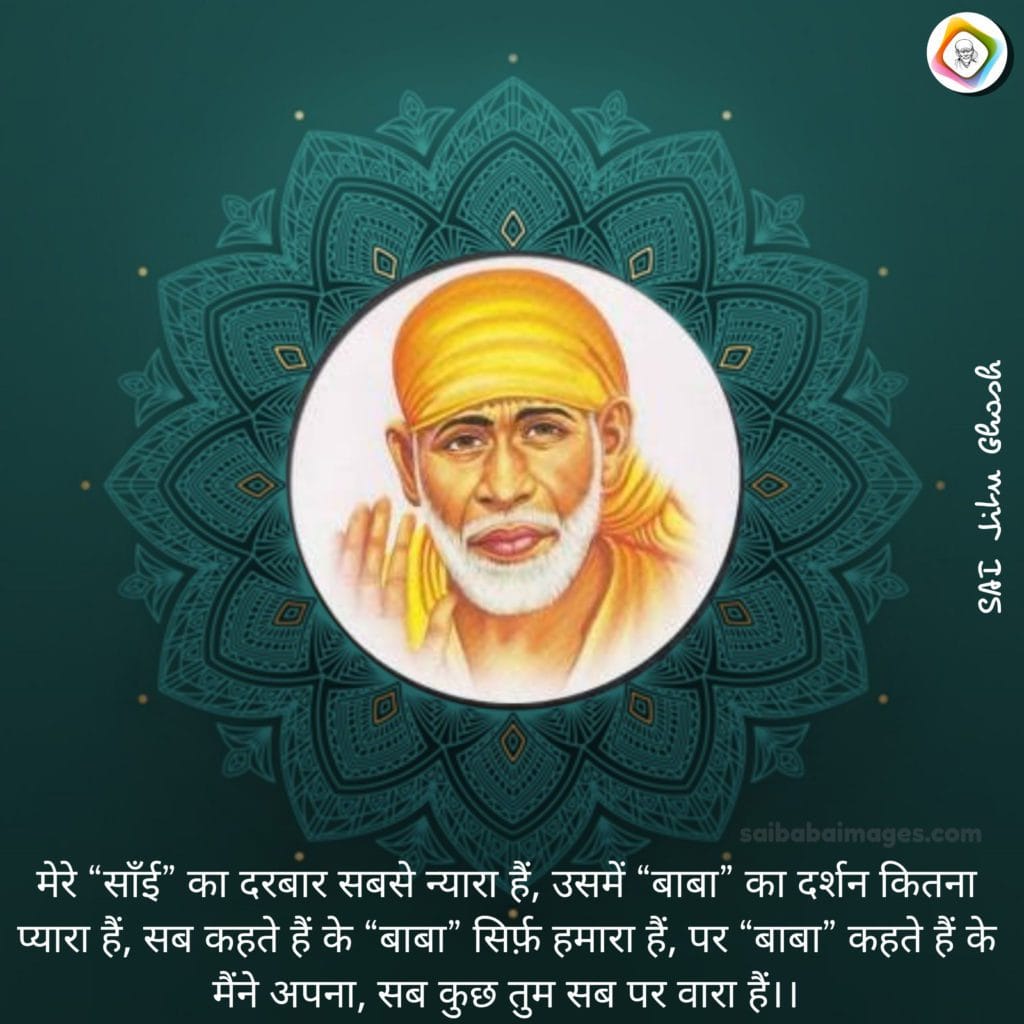 Anonymous Shirdi Sai Devotee from USA says: Om Sai Ram. Thank You to the team maintaining this blog. Om Sai Ram to all Sai devotees. I want to thank Baba for a few experiences. We had lost something and were looking everywhere. We couldn't find it and prayed that if we found it we would share the experience and by Baba's blessings, it was found.
Another time, I was praying when I was in a difficult situation and I asked that I shouldn't be in trouble and our Baba helped me. Baba, thank You also for helping solve that situation the other day. Thank You also Baba for helping me with my pain and because of Baba's blessings I was able to sleep. Baba, there are so many difficult situations that I was in and You helped me even though I don't deserve it. Thank You for always helping us. We are blessed to be at Your feet. Baba, You know that I am praying for my marriage, forgive me if I have any mistakes but please help me. Devotees, please pray that my marriage should get fixed. Baba, we are always at Your feet. Thank You so much, Sai Baba.
Koti Koti Pranam Baba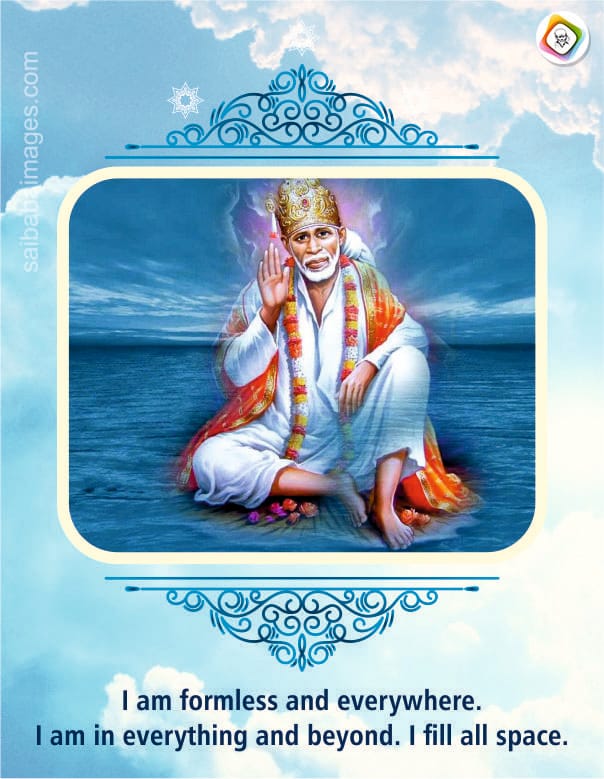 Anonymous Shirdi Sai Devotee from India says: I have been Baba's devotee for the last 10 plus years and have learned a lot. Job search – Baba, I prayed for jobs for my brother, his friend, and myself. First, my brother got a job and then his friend got a job. Thank You so much, Baba! I can't thank You enough. Please guide them to do a good job and bless them financially. Om Sai Rakshaka Sharanam!
Computer Virus and scam – My laptop was infected by a virus and I got duped. I fell for a scam call and installed software I should not have. I was worried if our bank accounts would be affected and prayed to Baba to help. We got saved and our financial accounts were not affected. I am sorry for being so stupid and thanks for Your help, Baba! I did not make any further mistakes.

Please protect my family from Covid and bless my mom, sister, brother, and their families, my husband, and children with good health and peace of mind. Om Sai Arogya Kshemadaya Namaha!
If I have forgotten to share anything or if any of us have done any wrong then I truly apologize on all our behalf.
Sai Baba Gave Darshan On Thursday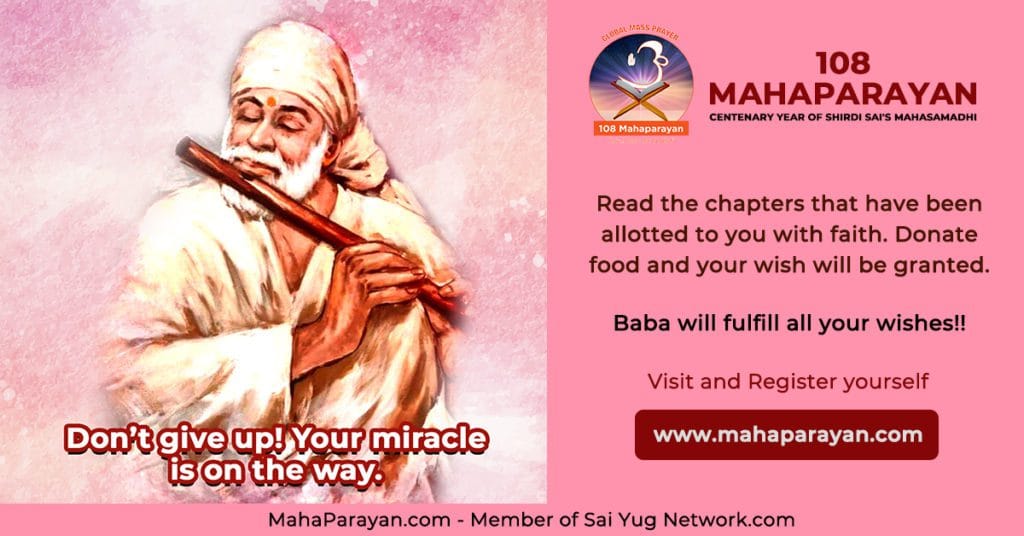 Anonymous Shirdi Sai Devotee from India says: Om Sairam. I am Baba's daughter from India. Baba gave me darshan today on Thursday. The story itself is a miracle. In the morning just before leaving the home for work, I prayed to Baba, "Aj Mujhe Darshan Dena" (today give me darshan).
While I was reading Sai Satcharitra for the Global Mahaparayan, I was reading that Baba was asking for 10 Rs. dakshina from a person who was searching for a fakir who visited his home and he gave Dakshina to that fakir. Suddenly at the same time, my sir called me on the ground floor near the entrance and I saw one Baba was there asking for bhiksha or money. I immediately went to the basement and took the money and gave him 10 Rs. That story happened to me in real life while reading for the Global Mahaparayan. I know it was Baba. Thanks, Baba.
---
More from SaiYugNetwork.com
© Shirdi Sai Baba Devotees.com – Member of SaiYugNetwork.com