Sai Baba Miracle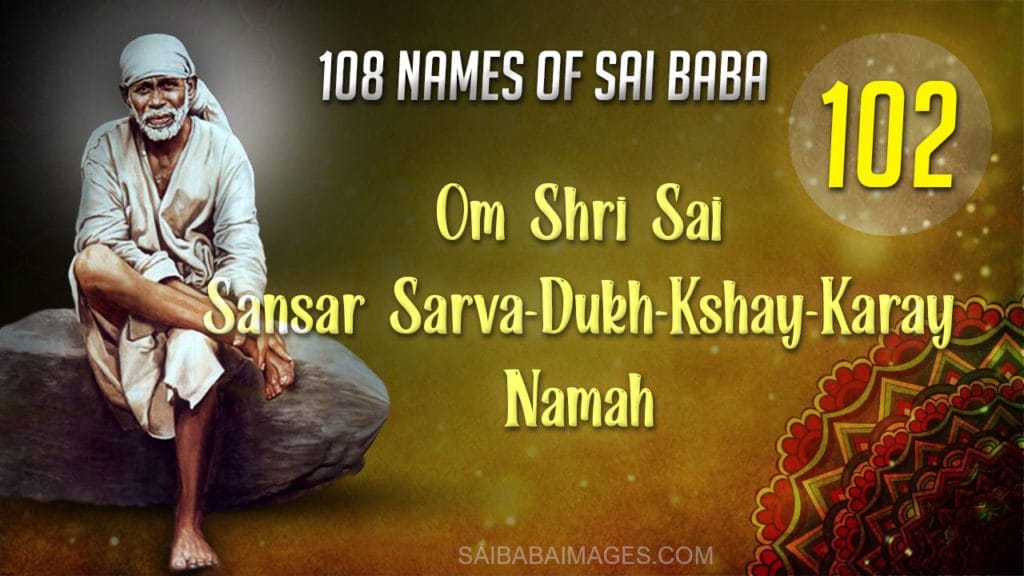 Shirdi Sai Devotee Sai Tulasi from India says: Hello, I am Sai Tulasi from Hyderabad. I have been very spiritual since childhood. My mom comes from a village background and she has played a vital role in supporting the family financially as my father was a salaried employee and it was difficult to manage the daily expenses. So my mother started running the groceries store through which she made all three of us study and become independent.
After completing my graduation I started working for an MNC and after a few years when I informed my parents that I want to get married to a person who belongs to a different caste they were not ok with it and after waiting for five years I got married to him against my family. Even after five years of marriage, I was unable to conceive. I used to cry for so many days and nights and used to feel that God is punishing me for hurting my mom by going against her and marrying my husband. My close friend suggested that I perform Sai Divya Pooja which will fulfill my wish. I made a wish and made up my mind to perform Sai Divya Pooja for 11 weeks and I performed, however, my wish did not come true. So, my mother-in-law suggested performing this pooja until it was fulfilled as this wish takes time to be fulfilled.
I performed this pooja for one and half years and I used to cry in front of Baba badly as He was not listening to my prayers. Since nothing was working we opted to go for IVF and all the tests were given and the day came when I was supposed to get the IVF process started. All of a sudden, my husband thought of going to meet an Ayurvedic doctor as through his medication one of his friend's wife had conceived. We had plans to visit him for a long time but never visited him. As the last chance, we wanted to meet him.
When we met him we got to know that because of my rheumatoid arthritis disease which I was suffering from for the last 15 years, I was unable to conceive and the medicines I was using to cure this disease were killing my eggs. So he suggested curing the disease first and then focusing on pregnancy. I started taking Ayurvedic medicines and after five months he cured my disease surprisingly I became pregnant too. When I missed the period date, I thought it was because for some reason as it was hard to believe that I could become pregnant through a normal process and without using pills or IVF or IUI treatment.
When I did the pregnancy test, I just could not believe that I was pregnant. It was a shock to my husband and family too. Back in my mind, my husband always wanted to have his kids born in Feb like him. Luckily I gave birth to my daughter in February only. It all happened because of Baba's blessings. Baba not only gave me a healthy child (which is actually a miracle for me as all the doctors suggested that there was no chance for me to conceive through a regular process) but also cured my disease and He fulfilled my husband's wish by giving birth to my daughter in February.
One thing we should remember is never to lose faith in Baba and always trust Him and have patience as He keeps testing our patience. He also sees to it that the past bad deeds that we performed earlier should also come to end. My family and I will always be thankful to Sai for blessing us. Sai Ram! Allah Malik! Bow to Shri Sai, Peace be to all!
Sai Baba Kripa
Anonymous Shirdi Sai Devotee from India says: Om Sai Ganeshay Namah. Thank You Hetal Mam and team for giving us this beautiful site.
Baba, thank You for blessing me again with office issues. As promised to Baba, I am sharing my recent experiences here. Hetal mam, please keep my identity anonymous.
1) Baba, thank You for resolving the QC instrument access rights issue. I work in the IT department and had done some access rights changes for one instrument. When I was leaving the office at around 5.30 pm I got a call from a user that the application was not opening. I called the vendor and did some changes and told the user to check but the issue was not resolved. So again I did some settings and told the user to restart the system and update me. I waited for almost 10 minutes for an update and when I did not get any call, I thought that issue must have been resolved and left the office.
Within 10 minutes I got a call from the QC head about how I had left when that application issue was not yet resolved and I was aware of the same. Further, he told me to solve the same anyhow immediately because they required that instrument on priority. Immediately I prayed to Baba that this should not become big and with the help of one of my colleagues who were in the office at that time resolved the issue within 10 minutes. Baba helped me to solve the issue and also protected my image from getting spoilt.
2) Baba, You know that the other instrument-related issue is not yet resolved. Baba, the vendor was trying to put blame on me but You again saved me from the same. Please help to resolve this issue permanently.
3) Thank You, Baba, for blessing us and giving us a new car. It's Your gift for us. Please help us to drive the same in a safe manner as none of us know prior to driving. Baba, I also pray to You to keep Your car in good condition always and we should never have any maintenance or any other trouble.
4) Baba, thank You for protecting me when I changed the date to help my one colleague. I know it was a big risk but taking Your name I did the same.
5) Thank You, Baba, for making mummy feel alright that night. My mummy was not feeling well and I prayed to Baba and gave her Udi. The next day she was in a good condition. Please Baba solve this health issue for her permanently and always keep mummy and daddy in good health. Also, bless my brother's wife with good health and a healthy baby. Please don't give her pain like last time. I am praying to You wholeheartedly. I will share Your Kripa here with all Your devotees.
6) Baba, You again helped us and protected us from the QA Head in the backup issue. Baba, I am still facing this backup issue. Please resolve this permanently.
7) Restoration of the instrument system was not possible. Only because of Your blessings I could complete the same before the deadline. Thank You, Baba, for all Your help.
8) Today's meeting with our Head of the department also went well because of You. He did not blame anyone for the recent issues highlighted by the QA team but rather gave us suggestions and guidance.
Baba, please help now with the job change. Day by day I am frustrated here. I can't handle these politics anymore. Please bless me. I know I am praying for my selfish things but please forgive me and never leave my hand. Also if I have forgotten to mention something here then please forgive me. You are my everything. Om Sai Ram. Om Sai Rakshak Sharanam Deva. 
Sai Baba Helped With Getting Suitable Roommates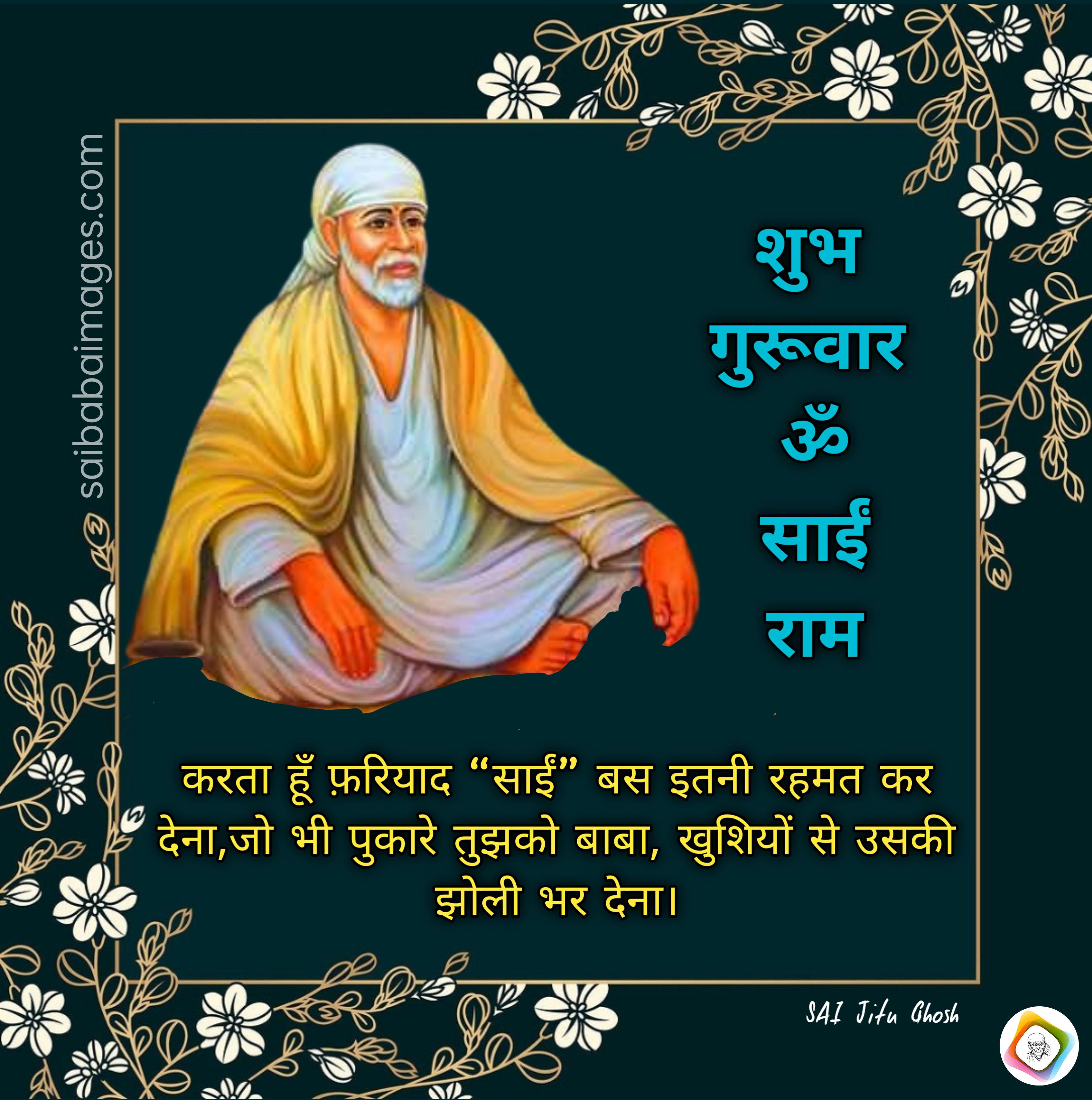 Anonymous Shirdi Sai Devotee from the USA says: I am grateful to Baba for watching over my daughter while she is in college and away from the family.
Baba – it is by Your grace that she got admission to this prestigious university. Although I wanted her to go to an Ivy-League, You decided this was best for her and indeed it was the best possible fit for her. Last week she graduated from this University with excellent grades. Thank You Baba for blessing her!
We were worried about her apartment for the summer. While her friends are returning home after graduation, she will remain at the University for a summer job. She was getting an apartment for the summer right next door which was very convenient. However, she was not getting good roommates for the second room and to share the rent. The rent to take on the whole apartment only by her was very high. The roommates would have their own room but would share the common areas like the kitchen and living room. The applicants being considered by the landlord were either boys or married couples whom I felt were inappropriate roommates for a 22-year-old single girl but the decision was not entirely in our hands and it was getting late. I left this at Baba's feet and prayed to Him. I prayed that I would post this experience on this site.
Finally, Baba quietly made this happen and my daughter has two girls in the other room. Thank You, Baba!
When she left for college, I gave her a small picture of Baba with her to keep on her desk so that He may protect her when she is away from home. I don't know how well she knows Baba but Baba knows and cares for her as only a loving grandfather would. Thank You for keeping her safe and on the right path as only You can do so.
Baba, please bless that she may be successful in her higher studies, career, and overall life.
Thank You So Much Sai Baba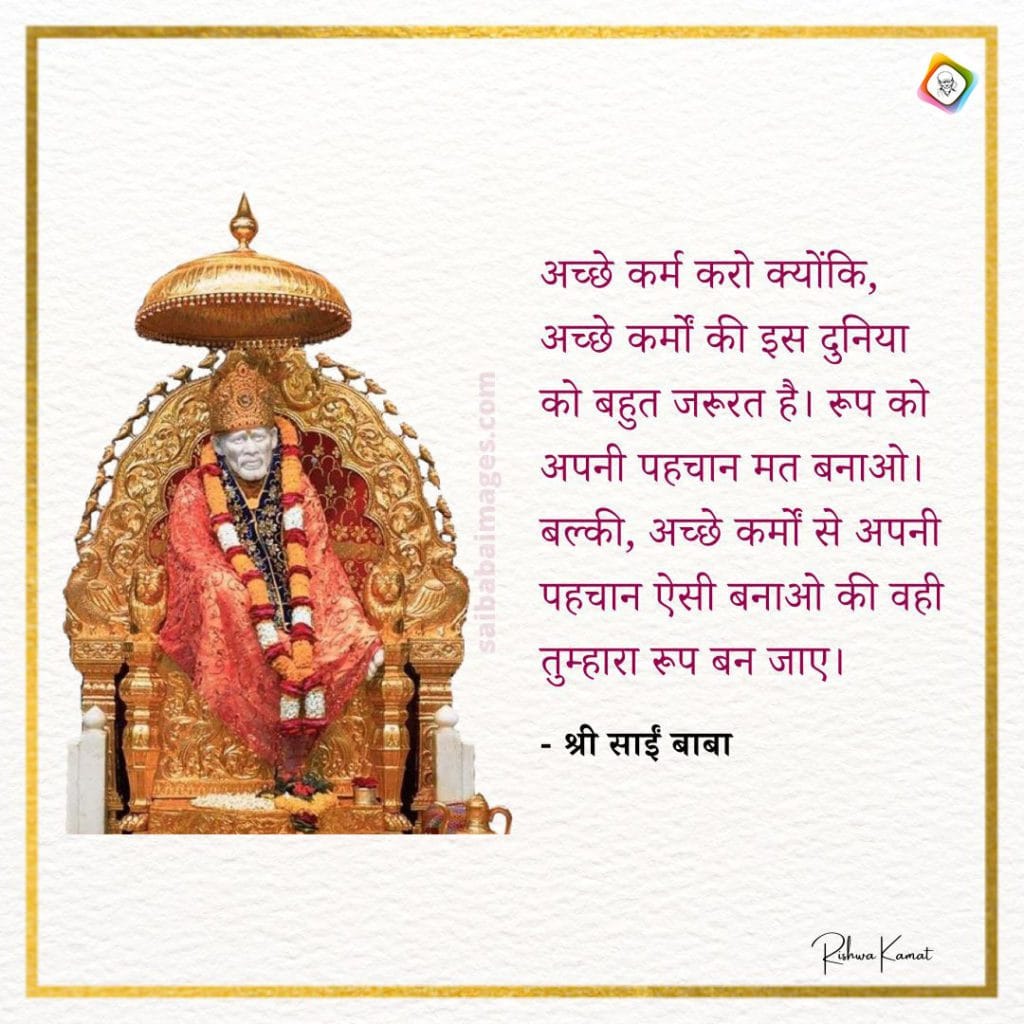 Anonymous Shirdi Sai Devotee from USA says: Om Sai Ram to all Sai devotees. Thank You to the team maintaining this blog.
Om Sai Ram. I want to thank Baba for His help the other day. We were traveling and were standing to pick up our bags, but I was very worried because one of the important bags was yet not there.
I prayed to Baba that if we got it without any trouble then I would share the experience here and yes we received it. Baba, thank You so much for helping us. Baba, I will definitely share the experience here also after my prayers tonight. Baba, You know what I am praying for. Serpents cannot do anything to the children of Dwarakamai. They can rustle us and test our faith, but we have to thank them for increasing our faith in You, Baba. Baba, I am confident that You will somehow fix this situation that I am in and will help me. I am Your daughter, You will never be careless about Your daughter's life. Please help me and give peace of mind to us, Baba. We are nothing without You and we are always at Your feet. Thank You so much, Sai Baba.
Sai Baba Miracles
Anonymous Shirdi Sai Devotee from the USA says: I want to be called Sai's daughter. Thank you Hetalji and team for providing us with this platform where we Sai devotees can share our beautiful experiences with our Sai family. Today I am here again to thank my Sai. 
Thank You Sai, I know Deva thank You is a very small word but still I will say 'Thank You,' Deva. Thank You for helping us to pack all the things we bought for our family. Without Your blessings, we could not have been able to pack everything.
Thank You for taking care of all the luggage during check-in and everything went very smoothly by Your grace, Deva. Thank You, Sai for helping us reach home safely without any trouble on our flight. Thank You, thank You so, so much, Deva. Always bless us like this only and be with us always.
Please Sai, be with us during the whole journey, and please see that everything goes well and we reach back our home without any problems, Deva. You know very well that we are nothing without You, Sai. Love You, Sai
Om Sai Ram.
Sai Baba The Saviour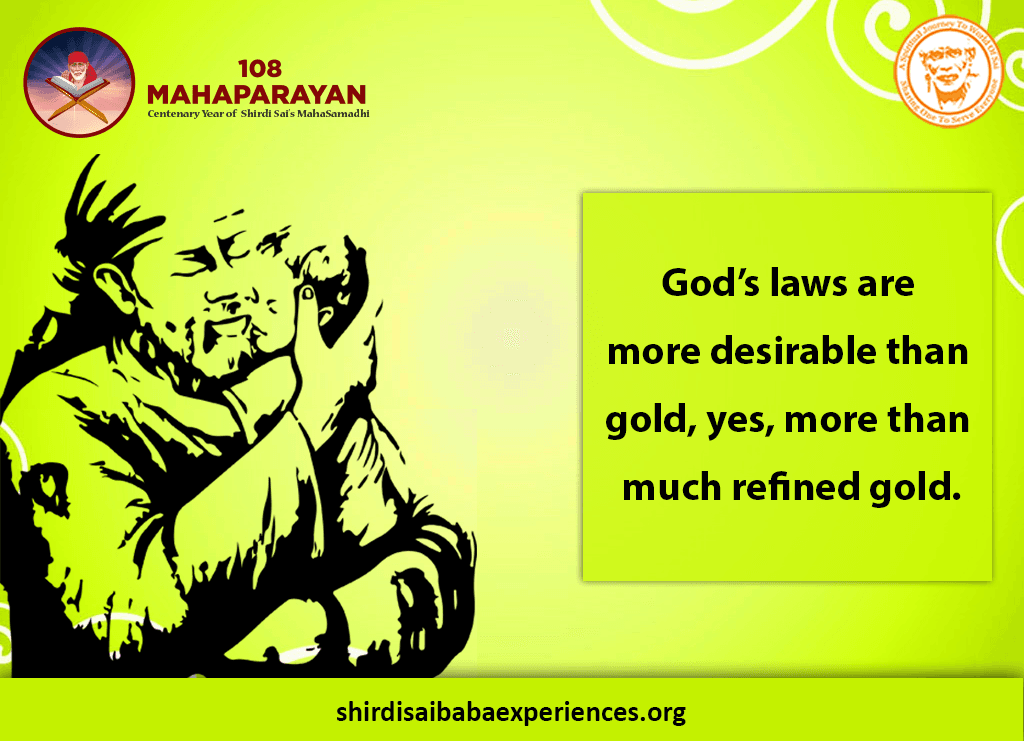 Anonymous Shirdi Sai Devotee from Australia says: I am Baba's devotee for close to 12 years and have experienced numerous miracles of Baba. 
Thanks for maintaining this blog and giving us an opportunity to share our experiences. Reading other experiences instills our faith and trust in Baba more. I have experienced numerous miracles of Baba in my life and I dedicate all that I have in my life to Baba.
Coming to my recent experience: This might seem like a small thing but Baba reassures us that He is there in each and every step of our life. Recently my son's assessment results came and to his disappointment, it was marked wrongly and hence he scored low marks. He spoke to the teacher and the teacher agreed that it was marked wrongly and that he would change it accordingly, the same evening. My son and I kept checking the results but the teacher did not change them. My son followed it up the next day with an email but still, we didn't hear anything back from him. I was praying to Baba that his results should be changed before this Thursday so that the correct results would reflect in his report. And wonder of wonders it was changed just on time. 
Thank You so much Baba for being there for my son in every step and guiding him. He has some health issues and I am praying to Baba to relieve all his issues. Hope he gets better soon with Baba's blessings. Please be with us in our lives and guide us in every step, Baba. Om Sai Ram, Sri Sai Ram, Jai Jai Sai Ram.
---
More from SaiYugNetwork.com
© Shirdi Sai Baba Devotees.com – Member of SaiYugNetwork.com