Sai Baba Is Everything For His Devotees
Anonymous Shirdi Sai Devotee from India says:  Sairam to all devotees! I am a Sai devotee residing in India. I have been experiencing a lot of Sai miracles ever since Baba entered my life. I will share a few of those which really helped me overcome the hardest times in my life. 
I am a foreign medical graduate. When I was doing my internship abroad the pandemic started and my parents were so much worried about me since the place where I was staying was overwhelmed with Covid cases hence I had to stay at my dormitory all day since we were not allowed to go to the hospital because of the pandemic. My parents urged me to return back to India immediately. Initially, I objected because I was concerned about my internship but a day later we got a mail from our university stating that we could return back to our home country as the COVID cases were worsening. So I came back to India on January 29. 
Before entering the airport I was so worried about contracting the infection during this trip since it had a lot of international transits but once I boarded the flight I opened the Sai Satcharitra book which I always carry with me wherever I go. To my surprise, I got to read a few lines from a particular chapter that in turn strengthened my faith in Baba. I reached my home safely. I couldn't return back to my college as all the flight services were shut down. So I decided to clear my image examination and complete my remaining period of internship in India. It was not easy to go through all the emotional and mental pressure during that time. Exam dates were announced unexpectedly earlier and I had to study harder. I couldn't concentrate because of fear. So as usual in the morning after I woke up I prayed to Baba and opened the Sai Satcharitra. Tears rolled down my eyes. I closed the book as it was the story about Mr. Sapatnekar passing the examination. While returning to my home from the exam center all I could see was Baba everywhere. Needless to say that I cleared the exam with an unbelievable score. This gave me new hope and confidence in myself. Sai Satcharitra is truly a treasure to Baba's devotees. Thank You, Baba, for guiding us, stay with us in all ups and downs of life. Love You Sai. Lots more experiences are there which I will share sometime soon in another post. Om Sairam. Baba, please help me to move further in my career and life. 
Sai Baba – The Kalpavriksha Of Devotees
Anonymous Shirdi Sai Devotee from India says: I am one of His millions of devotees who wish to be at His lotus feet always.
My day starts and ends with Baba. My heartfelt thanks to Hetalji and the team for providing us with such a beautiful platform to express our gratitude and love towards our Saima. Would like to narrate my most recent experiences here. 
I was traveling to India with my family after two years and Baba ensured that everything was arranged in time for us to have a comfortable journey. In India, we had to travel to a few cities and I was a bit skeptical about all the omicron-related interstate travel restrictions. But somewhere deep in my heart, I was confident that Baba will take care of everything and He did take care of everything. I also wanted to go to Shirdi and since Omicron cases were surging in Maharashtra, travel to Shirdi was very difficult. But Baba instead called me to Pithapuram which is the birthplace of Sripad Sri Vallabha and I had a very good trip to Pithapuram with the blessings of Sripad Sri Vallabha and Saima. Thanks a ton, Baba for showing so much love towards Your devotees. Baba took care of my family's health as well. 
We were planning to go to a nearby resort for my Anniversary along with my parents and sisters' families. But on the very day of checking into the resort, my son and wife were unwell. The payment was already made and it was very difficult to change the booking. I prayed to Baba to help with rescheduling without any additional charges and Baba helped to reschedule without any additional charges which was a miracle. The website person had told me that it would incur additional charges but Baba's leelas are inscrutable. I love You Baba and pray to increase my Shraddha and Saburi manyfold. Please be with me always and make me feel Your presence always. Since I am just a mortal being, please keep showing me signs of Your presence around me like You did in the Pithapuram temple. Thanks for all that you have done Baba. Anantha Koti Brahmanda Nayaka Raajadhi Raja Yogiraj Parabrahma, Sri Sachhidananda Samartha Sadguru Sainath Maharaj ki Jai. Om Sai Ram. 
Thanking Sai Baba For Answering Prayers
Shirdi Sai Devotee Meghna Sai from India says: Hi, Om Sairam! I am the daughter of Sai Baba from Bangalore. Thanks to the team for publishing my posts. Baba, for fifteen days I am calling You for one or the other reason and You answered all my prayers. Thanks for it and as promised to post the same. If anything is left then my merciful Baba please forgive Your child.

1. You helped my sisters, my aunty, and my family to recover from the flu. Thanks for helping me with my nausea.
2. I was facing digestion and a heat problem. You resolved it when I surrendered. Thanks for that.
3. Three months back You helped to get my son's Kada which was lost.
4. I used to ask for confirmation of something with You repeatedly. You helped me with that and You saved me from making a sin. Big gratitude to You, Baba.
5. My hand pain reduced that night and I slept peacefully after praying to You.
6. You helped me with my hairstyle. That is Your guidance. I believe so, thank You.
7. I requested You to get a one-day holiday. You fulfilled that. Thank You.

Baba, nowadays I will always remember my past and I regret it. I am feeling that I lost everything. I am not up to the mark. You should help me with this thinking. My career, my life, my family, their health, reputation, and everything is under Your lotus feet.

Give us permanent income, Baba. Don't get angry with me. I am tired of these problems. My husband is planning to buy a vehicle for our survival. If it's Your wish also then please guide him and be with him. I am calling You. Baba, stay and guide us.

Om Ganeshaya Om Shakthi Kallalamma Thaye Adhithimappa Om Sai Ram MKDG Om Sai Rakshak Sharanam Deva. 
Thanks To Sai Baba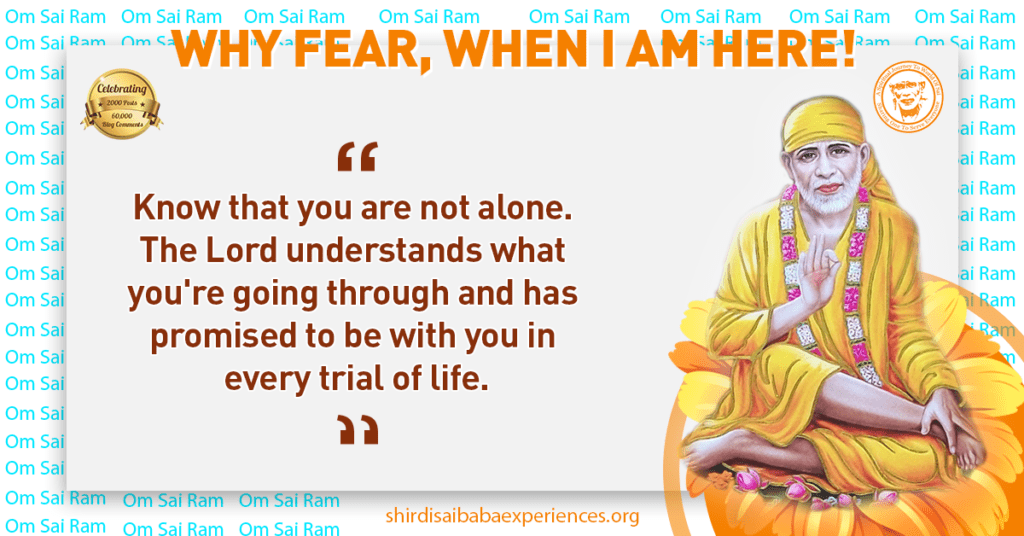 Anonymous Shirdi Sai Devotee from the USA says: I am a very small devotee from the USA. As I said so many times, I trouble Baba a lot. I cannot imagine my life without Baba. I think I always expect a lot from Baba but might not be doing enough for Baba. 
I work in one of the after schools. Yesterday evening I got a call from one parent that her son was complaining that he was not feeling well. Mom asked me if he was ok during after school. I was very worried about him and was hoping that he would feel good soon. With Baba's grace, he is doing well. 
Today I got a new phone. All the time whenever I get a new phone it always gets some problem while installing and running the new phone up. Today I requested Baba to start my phone without any problem. In the beginning, there was some problem but I hope it will work fine soon. Baba, thank You so much for everything that You are doing for us. 
Sai Baba Is Everything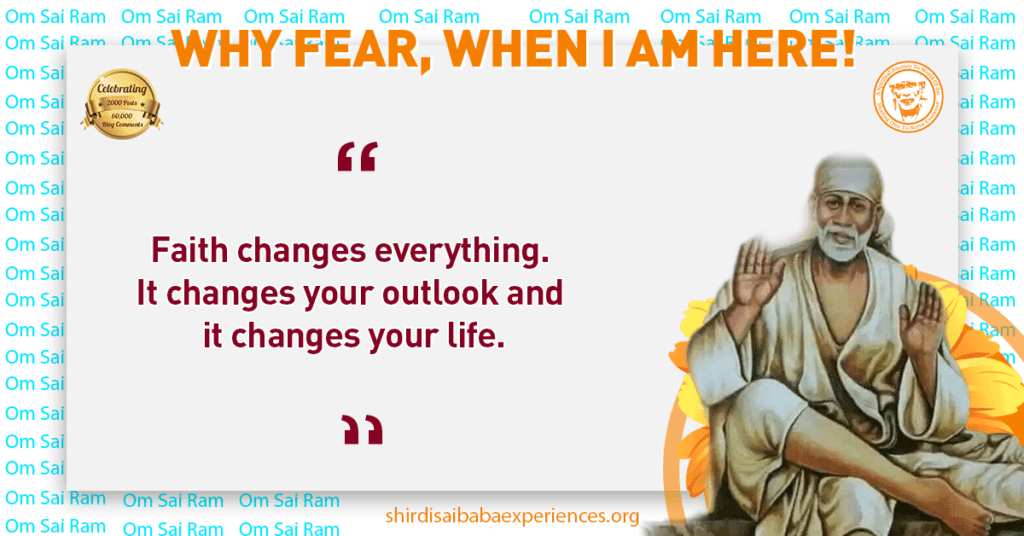 Shirdi Sai Devotee Anjani from India says: Jai Sairam! Hi, I'm a small devotee of Baba from India. My Baba is everything to me. He is and He will be till my last breath. 
Baba, You know that I'm looking to grow in my career. Please bless me with the best. I have given one round of interviews in a company. You are pretty much aware of it. Please Baba help me in clearing through and getting the best. I will post my experience as promised if everything goes well. I can say to myself that Baba will definitely bless me. You are my savior. Be with me all the time. 
Experience With Sai Baba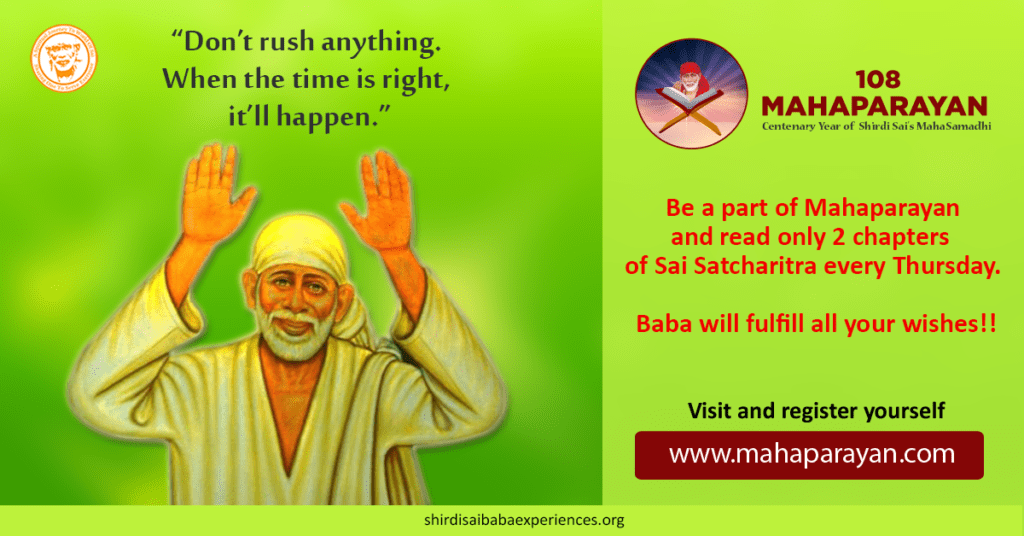 Shirdi Sai Devotee Maheswara from India says: I am Maheswara from Hyderabad working in the IT field. I got an email from the Office Admin to install a new operating system on my computer. So I brought my system to the office and the admin reinstalled the operating system, but the main thing was the remote desktop uninstall and reinstall was not taken care of. So after I checked in my home it was not working, So I prayed to Baba and with the help of my colleague, I reinstalled a new one and I am able to log in to do my work. Om Sai Nathaya Namaha
---
More from SaiYugNetwork.com
© Shirdi Sai Baba Devotees.com – Member of SaiYugNetwork.com