Download Sai Baba Daily Calendar with Images
Baba's Graceful Leela: A Sai Devotee's Shirdi Experiences
Anonymous Shirdi Sai Baba Devotee from India says: I wish to share a series of my experiences at Shirdi.
My Journey To Shirdi: How Baba Took Care Of Everything
Om Sai Ram 🙏 For the past three years, I had been trying to visit Shirdi, but due to some reasons, I was unable to go. When I asked Baba how much money would be enough for me to visit Shirdi, He answered ₹5000. I was doubtful that in such a small amount, my ticket, accommodation, and other expenses would be covered, but Baba's Leela is beyond our imagination. He arranged everything for me in ways that I never thought were possible. One Sai devotee gave me ₹2000, and I collected some more money. I booked my ticket and went. As Baba had promised in His 11 promises, "I will always carry your burden," He took care of everything for me.
My ticket was for 29th December 2022. One day, I prayed to Baba and asked Him to take care of everything as He had promised. He did so in a way that I could never have imagined. In the Parayan group, there was Anupama Didi, who arranged free accommodation for me. This was a big relief as I didn't have to worry about paying for my stay. Next, I didn't know where to go and which places to visit, but Baba took care of this problem as well. He sent me with other devotees who had been going to Shirdi with the palki for the past 20 years. However, this time, one devotee named Sanjay couldn't make it. When he learned that I was going, he offered to accompany me. This was Baba's doing, as He connected each and every step of my journey.
Sanjay took me to all the places, and everything went smoothly. In Shirdi, I met Pooja Didi, who arranged for my lunch for free, although I used to go to Prasadalay. Baba takes care of His devotees in every way possible. Even on the train, I got food as a devotee who was traveling with me had arranged it for me. Baba had promised to take care of everything, and He fulfilled His words. His words are never untrue, and He always delivers on His promises.
Baba arranged everything perfectly for my Shirdi tour, from my accommodation to food and other necessary things. I didn't have to worry about anything, as Baba had taken care of everything in a luxurious way. What a Baba Leela! I went to Shirdi on Thursday, 29th December 2022, and my return ticket was for Wednesday, 4th January 2023. However, the train was late, and I returned on Thursday. This was yet another Sai Leela.
The Miracle Of Obtaining Baba's Picture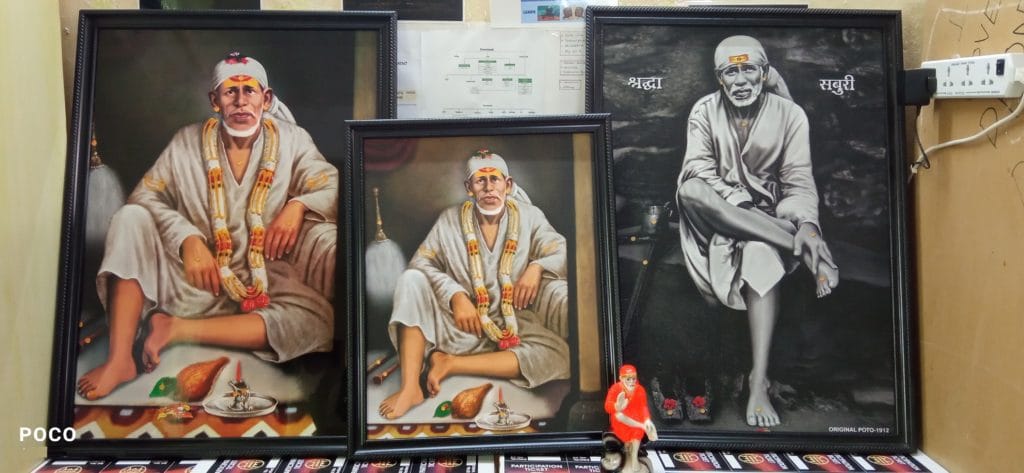 I am going to tell you about the miracle of Baba's picture, how I obtained Baba's picture, and how He came with me from Shirdi. Before leaving the hostel, I told Baba that I wanted a photo or idol of Yours so that whenever I face any problem or there is turmoil in my mind, I can see Your photo or idol and get all my questions answered.
When I reached Shirdi, I went to the hotel, and suddenly my eyes were drawn toward Baba's Dwarkamayi picture. I immediately remembered what I had said to Baba. A few years back, I also wanted that picture, but I didn't get it. After that, I started searching for Baba's picture. I asked the price of many different sizes of photos, so I knew well that I didn't have enough money to buy a big one. I also don't know why I wanted a big one. Many shopkeepers showed me the small size, but I wanted only a big or medium one. Another problem was that Baba Dwarkamayi's picture was not available in big and medium sizes; it was only available in a small sizes, and if available, they had very high rates.
Now, see Baba's Leela, how He gave me money and helped me purchase three photos. I was only demanding one, but He gave me more than my expectations. Baba had His unique ways. Two devotees gave me ₹1500, i.e., a total of ₹1000 and ₹500 for Udi. Now I had the money for Baba's picture as well as for Udi. Baba solved my money problem, but another problem was finding Baba's Picture. It took me around two days, and I searched many places, but nothing happened.
After two days, I said to Baba, "It's the deepest desire of my heart, and You know very well if I will not get it, I will not eat. Remember this, so if You want to keep me hungry, then as You wish." After that, in one shop, I found Baba's picture sitting on the stone, and in the same shop, I searched for Baba's Dwarkamayi picture, but I didn't find it. The shopkeeper told me to come back tomorrow.
The next day when I went, he told me that he still hadn't found it. He started telling me to take a different one, but I said, "No, I want only that specific photo," and again he started searching. After so many difficulties, I finally got Baba's Dwarkamayi photo in a big size. I purchased Baba's Dwarkamayi photo and Baba's sitting on stone, and most importantly, both of them were of big sizes, and the prices were also low. After that, I easily got Baba's Dwarkamayi medium size photo. I purchased a total of 3 photos – 2 of Baba's Dwarkamayi and 1 of Baba's sitting on stone. Baba fulfilled my deepest desires of my heart.
He arranged the money, and I got Baba's photo. Baba takes care of everything, and all we have to do is leave everything in Baba's hand.
Baba's Miracles At Gurusthan: How Sai Baba Blessed With Neem Leaves And Removed Negativity
One day, I was reading about devotees' experiences of how Baba blessed one devotee by allowing him to wear His locket. After that day, I also started thinking that I should wear a locket or ring of Baba. Suddenly, a thought hit me that I should get neem leaves from Gurusthan and Udi and then fill them together and wear them like a Taabez or make a ring. While discussing this with devotees, another thought came to my mind about eating neem leaves and tasting them if they are really sweet. But I couldn't tell the real reason. I told them that I wanted only two leaves, one for the locket or ring and the other one to eat, as I believe that Baba will clear all negativity from my mind. I falsely told the second reason that I wanted to taste whether the neem leaf is really sweet or not. This thought was running through my mind, but nothing is not hidden from Baba. He knows everything, even what we keep secret from others.
When I went to Gurusthan, I started searching for neem leaves. There were so many devotees, but only a few of them got these sacred leaves. One devotee had gone with me, and he told me that whenever he had come, Baba always gave him a neem leaf. Not even a single time had he returned empty-handed. I clearly saw the miracles that happened in front of my eyes of how he got the sacred leaves. I was thinking about whether I would also get them or not, but Baba's Leela is beyond our imagination.
Shri Ram Raksha Stotra: Significance and Benefits of Parayan on Ramnavami
Two days passed, but I didn't get any neem leaves, so I was upset. The devotee who got the sacred leaves told me that I would get many. Baba would give me them. If I didn't get them, he would courier them to me. But he asked me to try myself and ask Baba for help. The next day, I prayed to Baba, "You know very well that I want one neem leaf for my Taabez or ring and another one to taste. Everyone says that Baba gives only to those whom He wants. So, please give me also. If You won't give me, then who else in this world will give me?" I prayed to Baba, and when I went there again, I cannot tell you how many leaves I got. I demanded only two, but Baba gave me more. The way I was getting neem leaves was like someone had kept them for me only.
When I got the first one, I kept it for the locket. Again, I told Baba to give me another one to taste. My heart was saying to me that if I ate it, I would be free from negativity for my whole life. I did Pradakshina till the Aarti ended, and when I got the second one, I prayed to Baba to make this leaf sweet and free me from all negativity that always came into my mind. I ate it immediately, and the leaf was really sweet. Since that moment, I have been experiencing happiness in my mind, and I know what battles were always going on in my mind. Now, by Baba's grace, everything is fine and settled. Baba gave me so many leaves that whoever came to know or heard this started telling me that even one single leaf is difficult to get, but I got so many. Even Baba gave me a leaf to taste. Baba has really blessed me abundantly. You have achieved everything. Sai Baba always gives you more than your expectations, but we always get impatient. Trust me, we have to do nothing; only we have to keep faith in Baba and have patience, and the rest will be taken care of by Him. Jai Sai Nath. 🙏
Sai Baba's Blessings In Dwarkamai
I was facing so many problems on various levels that it's hard and impossible to describe here. When I was in the queue, I leaned on the wall of Dwarkamayi, moving slowly, and talking to Baba. I moved my hands on the walls and felt His strong presence. Just as I entered, Madhyaan Aarti started, and when I climbed the steps of Dwarkamayi, tears rolled down my eyes. I was continuously crying and said to Baba that I would die, but I would never leave His feet. I didn't know anything; I would live at His feet only, and if He wouldn't accept me, I would hug death. He knows very well what I am going through and what I want.
When I was saying this to Baba, Pandit Ji gave me a flower that was kept on Baba's feet, where Baba's Dwarkamayi photo is placed. Due to the new year, there was too much rush, and guards were not allowing anyone to wait, even for a minute. I also don't know how I was inside till the whole Aarti. The guards didn't even tell me to go outside. From the start of Aarti to the end of Aarti, I was in Dwarkamayi, talking with Him. It was Baba's will, and the energy which I felt can't be expressed. I felt blessed as Baba had given me a flower, allowed me to stay in Dwarkamayi during Aarti, and after Aarti ended, I got Prasad also. Someone told me, "This is a Bhog of Baba, take this." I was lucky enough to get Prasad. I strongly feel that Baba had given me the Prasad. At that moment, I felt that Baba had listened to my prayers, and this is a clear sign of Baba's blessings. It's true that for anyone who once sits in Dwarkamayi's lap, all their problems come to an end.
Thanks to Baba Who heard my prayers and made me feel His strong presence. Jai Sai Ram 🙏
Sai Baba Fulfills All My Wishes, Clears My Doubts, And Gives Me Assurances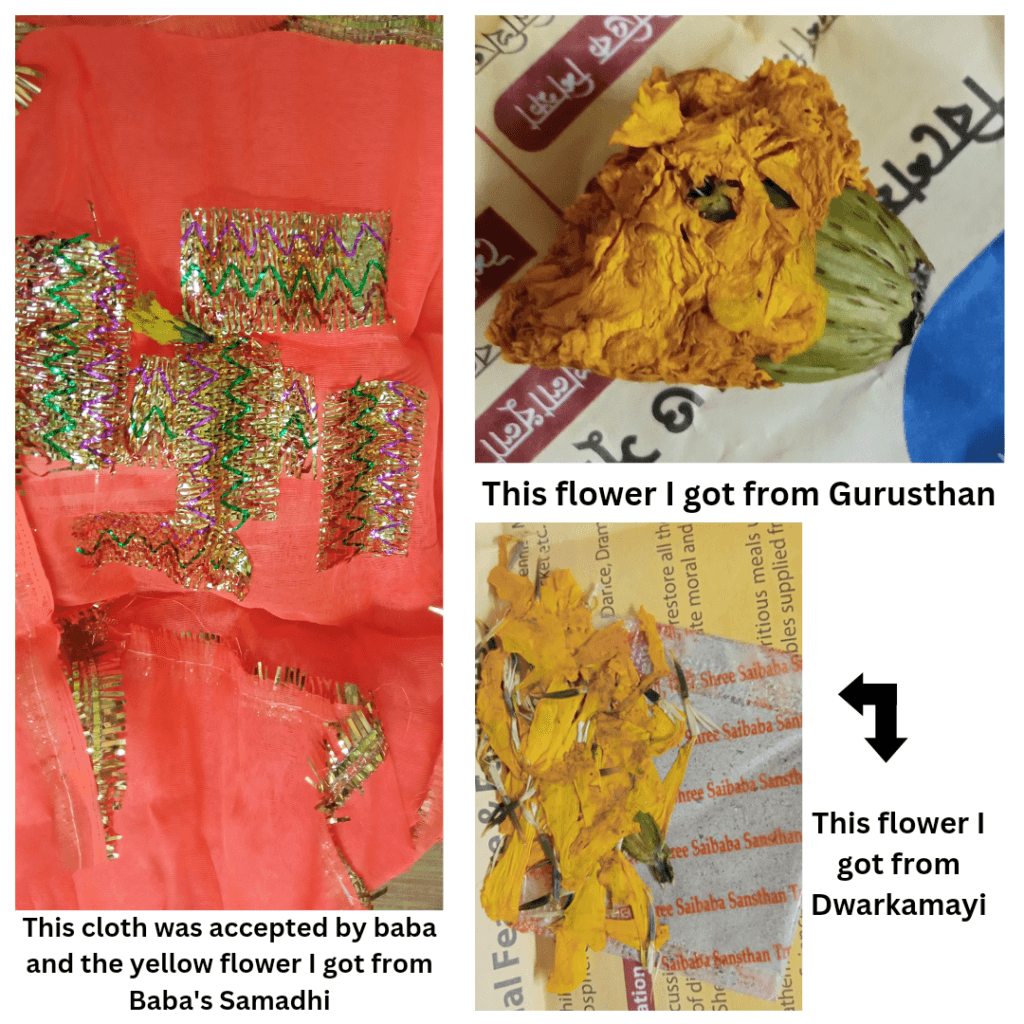 I got stuck in doubt even after getting so many indications directly from Baba, so I decided to test Baba. I told Baba in the Samadhi Mandir that if He would give me a yellow flower, then only I would believe that He would fulfill my wishes. I tested many times, and each time Baba gave me what I asked for. When I went to Gurusthan, Pandit Ji gave me a yellow flower, and this cleared my doubts.
On another day, I told Baba that He always says, "If you cast your burden on me, I will always carry it." I wanted more assurances, so I asked Baba if He was ready to carry my burden, not only in this birth but in every birth, then give me what I am asking for. This would confirm that He would indeed carry my burden and free me from all worries in my life.
When I was going for Aarti, a shopkeeper stopped me and started telling me to buy cloth for Samadhi. I told him that the guard was not allowing anything inside, so why should I buy it? He said, "Are bhaiya, rakhiye na aaram se pocket mein rakhlo koi dikkat nahi hoga. Baba hi dene wale hai Baba bahut dega (Brother, keep it comfortably in your pocket, there won't be any problem. Baba is the One Who gives, and He will give a lot)". So I purchased it, and he himself folded it and put it in my pocket. No one asked me why I was taking this cloth inside. I saw many people who had to leave all the stuff they were carrying, but no one stopped me, and not even a single question was asked of me. It was Baba's Leela, as He had to give me assurances and make me free from all worries and give me permanent happiness.
When I went to the Samadhi Mandir, I heard a voice clearly saying, "Mai tujhe itna dunga ki tum sukriya karte karte thak jaooge. Maine tumhara saara bhar apne upar le liya hai tum ab aa Jeevan chinta mukht ho. Kabhi kisi baat ke liye chinta karne ki zarurat nahi hai. Aaj se tum aa Jeevan sukhi rakhoge (I will give you so much that you will get tired of saying thank you. I have taken all your burdens upon myself, now you can live a life free of worries. You don't need to worry about anything from now on. From today, you will keep your life happy.)." I heard this voice clearly. As I went near, I gave the cloth to offer on Samadhi. Pandit Ji took the cloth from me, touched it with Baba's Samadhi, and returned it to me along with the flower. You will be surprised to know that I asked for a yellow flower from Baba's Samadhi only, and I got it. Now, what more assurances does one need?
One day, while I was at Dwarkamai, I asked Baba to wear a yellow dress as a confirmation that He would fulfill my request. I remember that the Madhyayan aarti was being performed at that time. To my amazement, Baba came the next day wearing a yellow dress, just as He had promised. This happened every time I made a request and received confirmation from Baba. What more could I ask for in life?
I went to Shirdi with the intention of fulfilling my wishes and making a few requests. However, Baba's plan for me was greater than my own. He not only granted my wishes but also blessed me with permanent joy. He took all my burdens, worries, and pain upon himself and assured me that I need not worry. In today's world, who else can give such confirmation and assurances? Only Baba.
I asked Baba for only two or three pearls, but He gave me a sea of pearls. Only a Sadguru can bless in this manner. When I was leaving Shirdi, I told Baba that from now on, whenever He called me to Shirdi, I would come only to thank Him and not ask for anything directly or indirectly. To my surprise, this wish was also fulfilled by Baba.
One should never doubt a Sadguru, for only He can turn any situation in our favor. Anant Koti Bramhandnayak Rajadhiraj Yogiraj Param Brahma Shri Sachchidanand Sadguru Shri Sainath Maharaj ki Jai 🙏
A Divine Encounter On The Bus: Meeting Sai Baba In The Form Of An Elderly Lady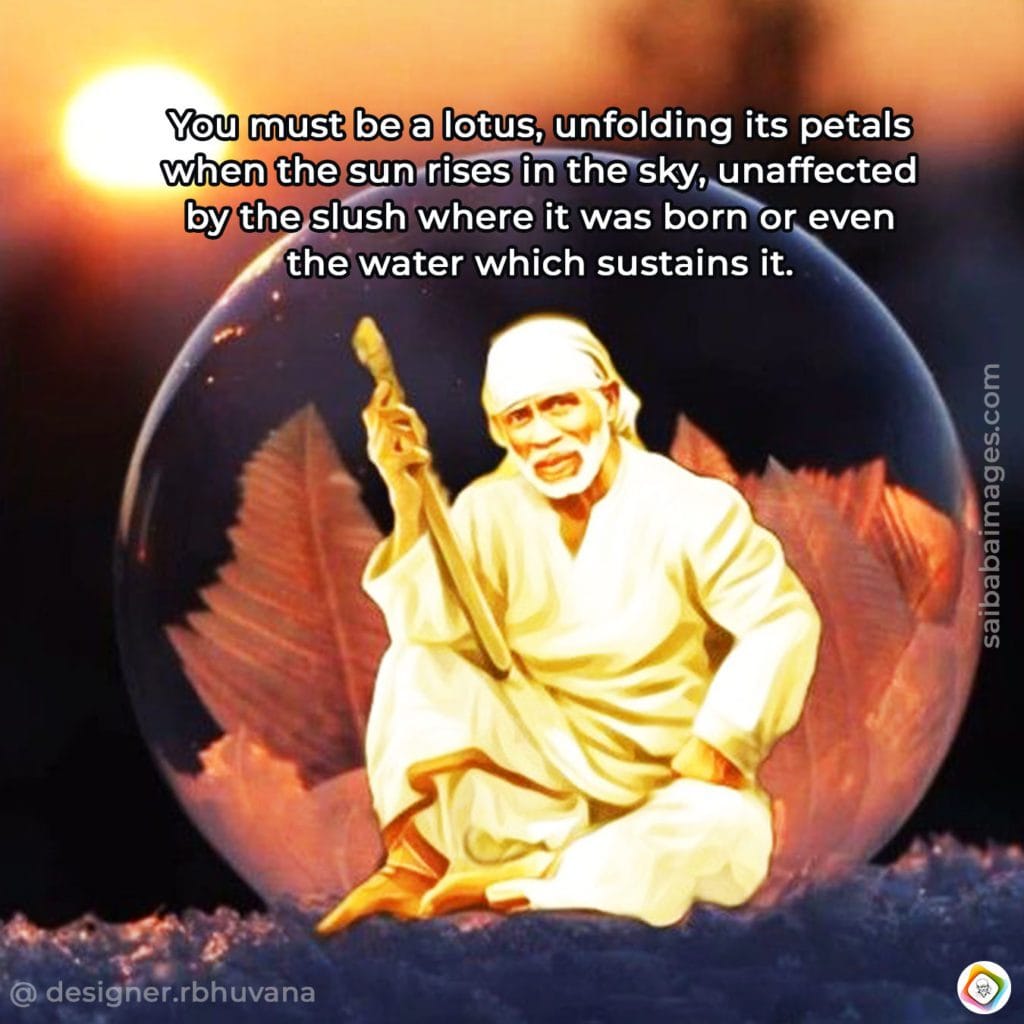 Anonymous Shirdi Sai Baba Devotee from India says: I am an anonymous devotee of Sai Baba from India, and I want to thank everyone who maintains this blog. My humble pranams to the lotus feet of Sai Baba. Coming to my experience, I am currently pursuing my degree and my exams were over. I thought of going home, but in our family, there were two marriages this time. So, I needed to purchase two dresses, and many days before, I prayed to Sai Baba to guide me in selecting the right dress. I said, "Baba, You only select dresses for me. Somehow, whatever I choose doesn't suit me, and nobody likes it. So, I am asking you, Baba, and now it's Your decision. I will accept whatever You select."
To my surprise, Baba arranged a companion for me even before I was aware of it. Weeks before, my friend had some work in the city, so she asked me to come along. Even though I had some work, I agreed to join her. However, the day before we were supposed to leave, she said she didn't want to do that work anymore, and now she had come just for my sake.
It was all Baba's Leela, as He had arranged this situation. He knew that I don't ask anybody that openly, even my friend. Sai Baba arranged all this, and I felt blessed to have Him in my life.
We went to a clothing store, but I had trouble finding a dress that fit me due to my thin frame and tall stature. We then decided to try another store, but they were too busy to provide proper assistance. We eventually ended up at a mall, which was our last option after spending money on transportation. I was worried I wouldn't find anything suitable and thought about buying any dress regardless of how it looked. Despite my doubts, we stumbled upon an auto-rickshaw with posters of Sai Baba attached to it. We decided to enter the mall, and there, we found some traditional dresses that I tried on in the dressing room. To my friend's amazement, the dresses fit me perfectly in terms of both size and height. We even found two dresses of different colors and patterns that looked great on me. Everyone complimented me on my excellent choice, but I knew it was Baba's doing. He always takes care of me and guides me through His Leela.
The following day was the day I had to leave, and I checked the bus schedule for a morning to the evening bus ride. To my dismay, the website showed, "currently we are not serving this route." I was shocked when I saw that the morning to evening bus was not available for my direct route. I would have to take 3 to 4 buses or risk taking a night bus, which I was afraid to do because of the drunk people and beggars who would approach me. Recently, when I was at the bus stop, a man started speaking to me, and my heart started racing. I felt scared and quickly opened my phone and chanted "Om Sai Ram" repeatedly. The man suddenly left, and I was reminded of that incident as I cried in front of Sai Baba. I asked him, "How would I manage alone if something like that happens again? Baba, You have to be with me. Whom should I call other than You?"
If something like that happened to me again, I might die of a heart attack. I slept crying, and when I woke up around 4 o'clock in the evening, I had a dream of Sai Baba. In the dream, Baba was riding a bullock cart furiously, and I was holding onto it. We narrowly missed an accident on the road, and Baba turned His cart. As usual, I was laying and holding onto the edge of the bullock cart. Finally, at some point, He stopped.
When I told my parents about the bus situation, they advised me to come in the morning when there would be more people and to change buses carefully. So, on Saturday morning, I took my Baba book and my Bappa, and I got into an auto that had a statue of Bappa. Even though it was early in the morning and still dark, I felt Baba's presence. He was in another vehicle just ahead, as if both He and Bappa were accompanying me.
When I reached the bus station, I searched for the bus that would take me to my destination. At first, I couldn't find it, so I went to the ATM because I didn't have enough money to pay for the tickets. When I returned, I searched again and found the direct bus that I thought would not be available. It was even standing in front of my eyes, although the portal had indicated that they were not currently serving that route. I got onto the bus, and it started moving.
After many days, for the first time, I saw a person carrying a jholi like Sai Baba always holds. I knew it was Baba because I had asked Him to come with me and I thought He was showing His presence. To my surprise, in the middle of the city, He showed me a bullock cart. I remembered my dream and thought that Baba had come to meet me before I left for home. Earlier that morning, I cried because Baba was not showing me some sign that I had asked for. I also saw a picture of Swami Samarth accidentally while crying and a tear fell on the picture.
Returning to the bus scene, I prayed to Baba to stop the bus for some more time as I needed to drink water and use the restroom. At a station where we stopped for a short while, I quickly went to the restroom and returned to the bus. However, to my surprise, the bus didn't leave and the conductor announced that there was a technical problem and it would take some time to fix it. Everyone got off the bus, and I realized that Baba had stopped the bus for me to drink water and use the restroom. I was overwhelmed with gratitude for Baba's love and care.
Finally, I reached home safely, and I knew that Baba had been with me throughout my journey. I realized that Baba never leaves the side of those who have faith in him. I felt blessed to have Baba in my life, and I knew that he would always guide me and protect me in all my endeavors.
One more thing, I lied to my parents while leaving for my trip. I told them that I had breakfast, so they should not worry about me. The bus only stopped briefly once for a restroom break, and I bought some snacks. That morning, I asked Sai Baba for help with my snack budget, requesting it to be 100 rupees or less. After purchasing the snacks, I was amazed to find that they cost exactly 100 rupees, without even calculating it. Upon arriving at my destination, a lady with her child asked for money, and I gave her a packet of chips, making my snack expenses exactly 90 rupees.
I was anxious that day because I needed to submit some documents to my college, and my friend kept asking me about them. I prayed to Sai Baba to resolve the issue and then received a WhatsApp message from the Sai Vriksha group about incarnation. This was the second or third time I had heard this word that day.
The bus started, and an elderly lady sat beside me. At that moment, a transgender lady came aboard and asked for money from everyone. I was afraid because a similar incident happened to my friend and me previously. During that incident, we did not have any money and relied on Gpay. The lady cursed our friend, saying that he would lose all his hair. Since then, I have been scared of such people. This time, I decided that if they asked me, I would give them 100 rupees. However, the granny sitting next to me defended me, and they did not ask me for money, assuming that I was her grandchild. I thanked Sai Baba from the bottom of my heart for saving me, and I was reminded of the thought I had the day before about Baba taking care of me during such incidents. Baba gave me the answer to that question today.
The bus started and I started to listen to the bhajans. However, one difference I noticed was that Sai Baba appeared in Kafni with Jholi 2 to 3 times, and several bullock carts were present in the city. But now, there was nothing there, not even any vehicles or shops that reminded me of Baba and Bappa. I didn't pay much attention to these things and kept listening to the bhajans. After some time, it took around half an hour to 45 minutes to reach my destination.
I noticed that the granny (old lady) was observing me. At first, I thought she was enjoying the scenery. As I was on the window seat, I felt like she was also looking at my mobile. I started observing her more closely without knowing her and even changed the bhajans I was listening to. A thought suddenly came to my mind – what if this was Sai Baba? I started observing her more closely, but then I dismissed the idea because I thought if Baba came, he would come in the form of a grandpa or a man. My legs were hurting from the long journey, but I didn't say anything to the granny because somewhere in my mind, I thought, what if she was Sai Baba? So, I just kept quiet.
After about 5 minutes, we encountered a crowd due to an accident that had occurred just before our location. I understood the meaning of the dream I had the previous night, and I became convinced that Baba may be present here with me. I started to look at the granny, wondering if she was Baba. Just then, the granny spoke to me, saying that I looked like her granddaughter. I was shocked and didn't know how to respond because I realized that it was Baba who was sitting beside me and talking to me all along. I asked her what her name was, and she couldn't remember it properly. She said that she had gone to a city for a dentist appointment, but the doctor was absent, so she returned. It flashed in my mind that it was a Saturday afternoon when she went there, which confirmed my belief that it was Baba who was sitting beside me.
But my greed for more increased, and I asked Baba to bless me with his touch. I thought that if it were a stranger, they would definitely not touch me, but I knew it was Baba, so I asked him. Soon, not even a second later, the granny touched my face with affection and gave me a plain kiss. I felt like I was going to have a heart attack from happiness because I realized that I was sitting beside Baba and had fully ignored him by just listening to his bhajans. It was so silly of me.
After that, she asked me where I studied and I didn't tell her that I was in my final year. She said, "Okay, you'll be blessed with a nice job," and then asked if I had eaten anything. I couldn't lie and said no. After a few minutes, I focused on her legs and took her blessings mentally. In my imagination, I hugged her, kissed her, and lay on her lap. I couldn't do more because we were in the bus, but I felt blessed that I had identified Baba and she spoke to me and blessed me.
Now it was time for Baba to leave. We were five minutes away from her stop, and suddenly Baba took out some chocolates and pushed them into my hands, saying, "Have them." I couldn't deny her, so I started to put them all in my bag for Baba. But she insisted that I eat at least one in her presence, and so I did. There were five chocolates in total, and I decided to give one to each of my friends. I kept the remaining chocolates in my bag, and Baba left after touching my face and kissing me on the forehead. I felt blessed to have been in her presence and where she kept her feet.
After touching the feet, I bowed and marked my forehead. When I opened Instagram, I was shocked to see a picture of Swami Samarth that looked almost exactly like the granny (baba) who was sitting next to me on the bus. I remembered how Baba had hinted to me several times that he would travel with me through those posts about reincarnations. Finally, every dot connected because Sai Baba is said to be the reincarnation of Swami Samarth.
I arrived home safely, and the content of seeing Baba with my own eyes was something I never imagined would happen to me one day. While all other journeys are different, this one was always special, and very, very special.
Om Sai Ram, Om Ganeshay Namah.
Devotee's Experiences Of Sai Baba's Grace And Divine Guidance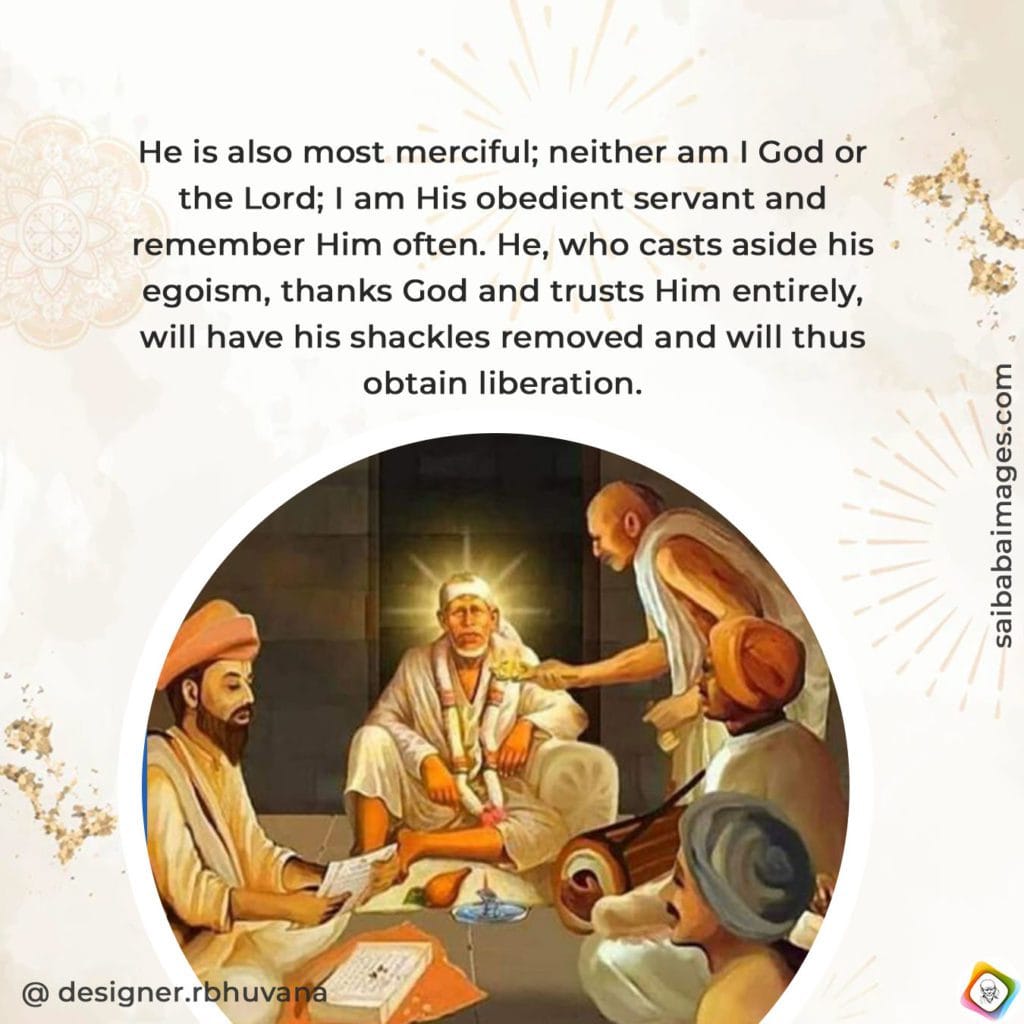 Anonymous Shirdi Sai Baba Devotee from India says: I am an anonymous devotee of Sai Baba from India, and I want to thank everyone who maintains this blog. My humble pranams to the lotus feet of Sai Baba.
I want to share my experience. One day, my mobile currency was exhausted, and I had not pre-paid. I tried to pay using Google Pay, but it was not working despite having very little network. I prayed to Baba, and suddenly, it started working. There was sudden Wi-Fi from my place, which usually they do not allow, and I completed the payment. The Wi-Fi got off after this. Thank you, Baba, for resolving this issue.
Last week, I intended to go to Baba's temple, but I postponed it to the next day, even though I got an indication through many Insta posts to come on that day itself. I thought nothing would happen and made up my mind to go the next day, which was a Thursday. However, that day, I got my period, and I regretted a lot for not visiting the temple the previous day. I told Baba that I would come on Tuesday.
On Tuesday, I was alone for going to the temple, but still, Baba wanted to bless me. Despite many thoughts, I started for the temple by walking. It takes around 20 minutes to reach the temple, and the temple timings to open the doors are a little uncertain. As soon as I entered the temple, the curtain opened, and there was Baba, who welcomed me with a smile. It felt like Baba was especially waiting for me, as nobody was there in the temple. Also, the moment I put my feet into the temple, the curtain was open with a fully decorated Baba. I had been praying since morning for Baba to appear in a red-colored dress, and Baba was really wearing a red-colored dress. Not only this, but there were also many Lord's murthy's presents there, and Bappa's door was also open, which they do not usually open.
I took my Deva's and Rama's darshan, fully satisfied with the darshana of Deva, and read 108 namavali of Baba and took Udi. One more thing which I almost forgot was that while coming to the temple, I saw one house where once I saw from the road, there was Baba's idol, and I always used to tell Baba that if I get a chance to visit there, then it would be so nice. But at the same time, I used to laugh at my own foolishness, thinking that why would someone ask me to come to their home, that too a complete stranger. However, this time, the doors were completely open, and I could not clearly see, but I saw Baba or maybe it's Baba both the times while coming and also while going.
After this, I also visited Bappa's temple, where all along the way, Bappa gave me his beautiful darshana throughout in vehicles and in the house and whatnot. I had the beautiful darshana of Bappa, and there also Baba was present. In Baba's temple, I forgot to bring the flowers, but here I got a full bunch of flowers for the first time, that too from Bappa's alankar. I also saw arathi, which he made possible so that I could see the arathi and seek his blessings. I waited for more time, but the priest was not ready to do arathi. Then, I was about to leave, but he started the arathi. This may seem so simple, but it is not. You cannot see anything without his consent.
If he wishes, then everything is possible.
Also, I visited Maa Devi Temple, which I hadn't visited for months, and I was pleased to receive a red flower, which I was praying for in my mind, as a prasad. I also found Sai Baba in one auto, and I felt like I was accompanied by my devas. They kept showing me their leelas throughout, and they always amaze me.
Since childhood, I used to cry a lot because I never had too many friends. Even though I had a few friends, they were not that attached to me, and it always broke my heart whenever I saw others surprising someone and making them genuinely happy by giving gifts. These are all things that I could say I never experienced, or maybe only once or twice, and even they are not in touch with me anymore. But God is the one who gives, and what he gives will never end. "What others give will not last forever, and what my Sarkar gives will remain forever." He gives surprises in his darshanas while visiting holy places, and whenever I am craving some food, he somehow places that food in front of me by creating whatever situation is necessary. Even though I don't tell him anything, he understands my heart and fulfills my desires, and he protects my family and everything else. He takes care of everything, and he tells me not to cry because if I cry, he won't be able to resist it. And yes, he actually said that through one post in Sai Sandesh, on that day when I was about to cry but I didn't. After hearing that, I felt a warm hug, whenever I am broken or crying, and he is just my everything.
Om Sai Ram. Thank you for posting my previous experiences that made my day whenever I saw them published on this blog. "Patha nahi kis roop mein Aakar Narayan mil jayega" – just experience Him through every phase of life.
A Devotee's Miracle: Finding Lost Phone With Sai Baba's Help
Anonymous Shirdi Sai Baba Devotee from India says: Om Sai Ram, I have been a devoted follower of our beloved Sai Baba for more than 8 years. During this time, I have experienced many miracles that have strengthened my faith and belief in him. Recently, I had an experience that I promised Sai Baba I would share on this platform.
For almost 2 months, I had been searching for my old phone. It contained all my contacts and important emails. I searched for it everywhere, but I could not find it. I tried to remember where I had last seen it, but I was unsuccessful. I thought that I had lost it and became very dejected.
One day, I prayed to Baba and promised that I would share my experience on this platform if I found my phone. I then resumed my search, and to my amazement, I found it! It was hidden beneath some files. I could not believe it. I had thought that I had lost my phone, but I found it immediately after I prayed to Baba.
This experience reinforced my trust and reliance on Baba. He is always there to guide us, and we should trust him completely.
Om Sai Ram.
Divine Intervention: A Personal Account Of Sai Baba's Blessings On A Young Engineer's Career Journey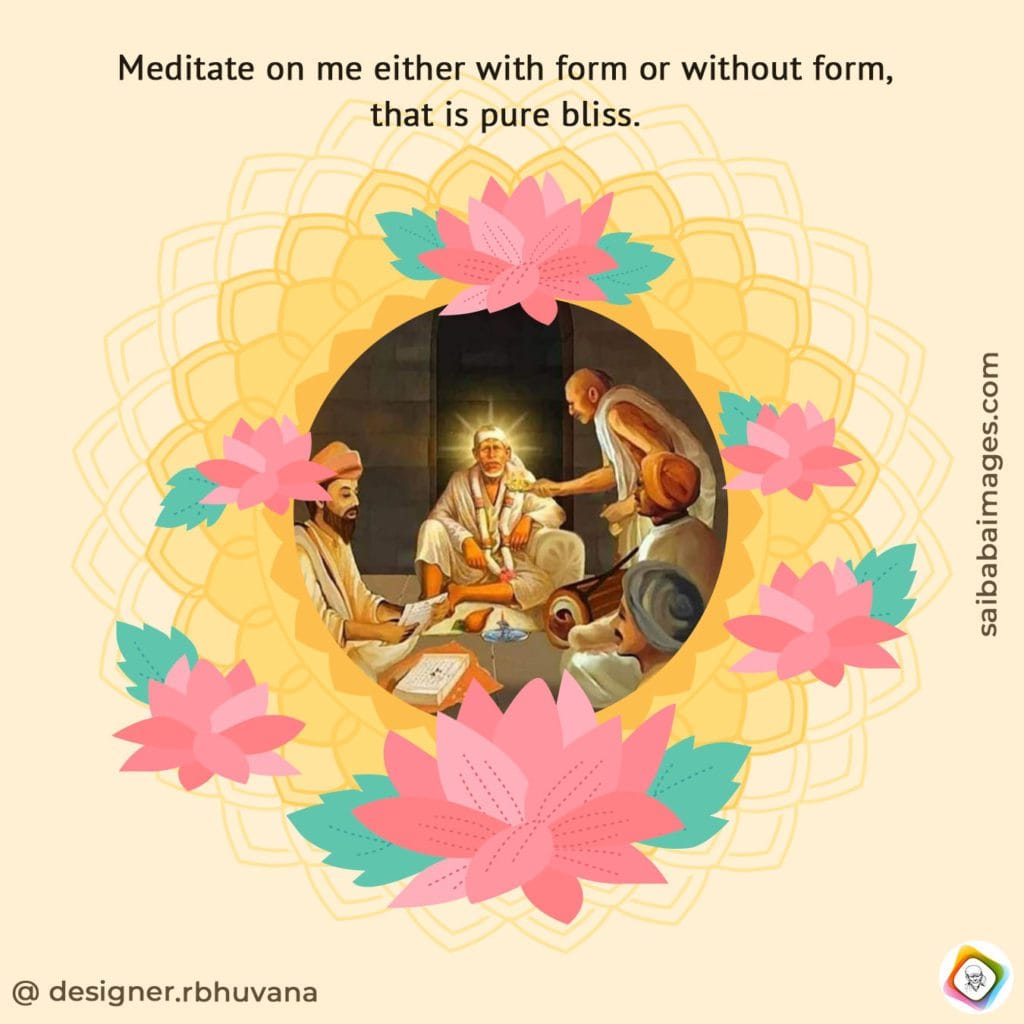 Anonymous Shirdi Sai Baba Devotee from India says: Om Shree Sai Ram. I would like to share my experience with Sai Baba. After completing my engineering degree, I joined an IT company and underwent various trainings. I prayed to Sai Baba that if I cleared all my exams, especially the subjective exams, on my first attempt, I would share my experience. Just before my subjective exam, my dad and I visited Shirdi on September 29th, 2022. With Baba's blessings, I successfully passed all my exams, both basic and advanced. Additionally, I have been allocated a project in .NET and React, making me a Full Stack developer. I am grateful to Baba for this opportunity and pray for his continued guidance and strength in completing my project.
Thank you, Deva. Jai Jai Jai Ho Sai!
Om Shree Sai Ram
Sai Baba's Blessing: A Miraculous Job Opportunity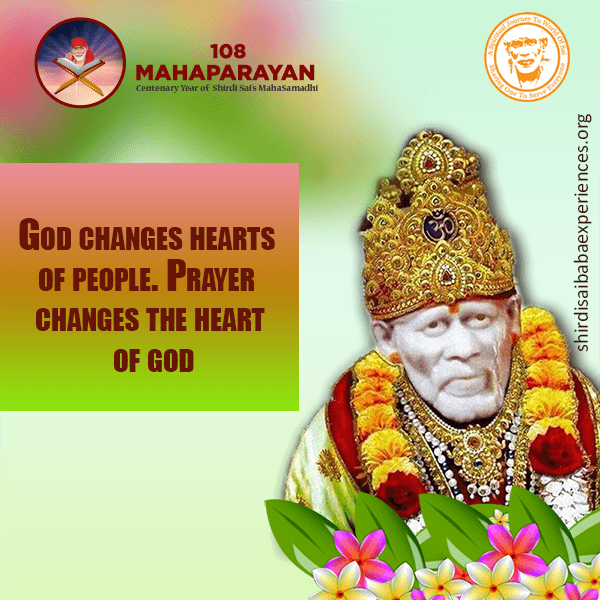 Anonymous Shirdi Sai Baba Devotee from India says: I was searching for a job without asking help from others. I wished to go back to work after a long gap, but I wanted it to happen miraculously without any assistance from others. I prayed to Sai Baba for the same. After a month or two of joining the Mahaparayan group, I finally got a job. Thank you, Baba, for giving me good health and all the good things in life for me and my family.
---
More from SaiYugNetwork.com