Love You Sai Baba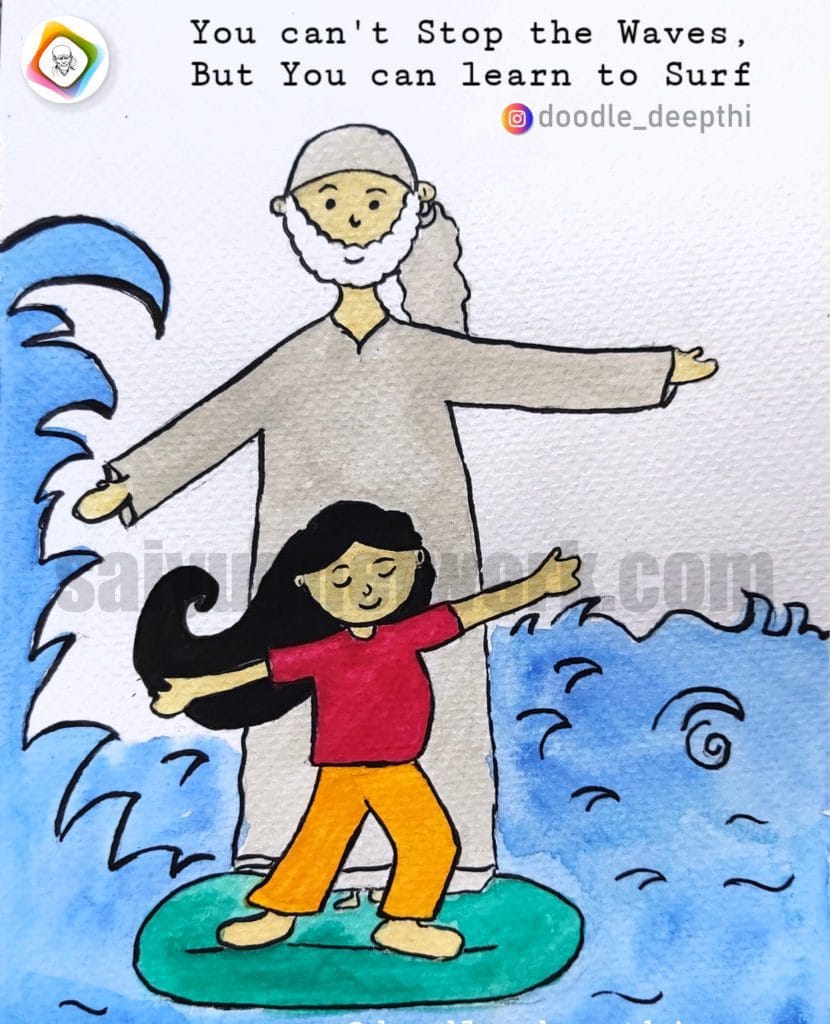 Anonymous Shirdi Sai Devotee from India says: Om Sai Ram! I am a small devotee of Sai Baba. 
Today is Thursday, my Baba's day and when I saw today's post on this website, I was overwhelmed to see one of my experiences as the first one to be posted. Thank you so much Hetalji and team for posting my experience. I would like to share a few more today. 
Few weeks ago, my five years old daughter was sick. I had prayed to my Baba to help her to get well. I had promised Him to post my experience if she gets well and her cough goes away completely. So I am posting it now. Thank You so much Baba for helping my daughter and taking care of her health. Please keep her healthy and shower Your blessings on her always. I had to visit Your temple too but due to some unavoidable situation I couldn't. Please forgive me. I know it is all as per Your plan and You will make me visit when You feel is best for me. 
Another experience which I would like to share is my second dose of vaccination. Just like my first vaccination dose, I had left this second dose also on Baba. I have to travel with my daughter to the US soon. So I was worried about my second dose as I wanted to get that done before my trip. Baba helped me with this again. I had gone to my sister-in-law's place and to my surprise the day I arrived, she got a call from her friend that her school was going to have a vaccination camp the next morning for the same vaccine for which I was due. She asked me and I agreed to it but I had a little doubt. My vaccine was due after eight days but since there was a change in rule that with proper travel documents, one can get vaccinated before the due date, I was hoping that I would also get one. I prayed to my Baba and I had this positive thought that Baba has arranged this and He will ensure that I will get one without any side effects. So when we went the next day, with Baba's grace I got one. Baba helped me again and I had no major side effects except pain in my arm and fatigue. 
Today is my third day of vaccination. As promised, I am posting it now. I had severe stomach pain due to gastric yesterday which is getting better now with Baba's grace and I know my Baba will help me to get well completely. Thank You Baba for always being there. I love You Baba.
Please help my dad to get rid of his current health issues and help him recover fast. Baba, please bless my parents with a healthy and happy life. Baba, please be with me and my family as always. Please take care of the things which I am worried about. I have full faith in You Baba. Please shower Your blessings on us. Please end this pandemic soon and protect every one.
Om Sai Namo Namah !
Shri Sai Namo Namah !
Jai Jai Sai Namo Namah !
Sadguru Sai Namo Namah !
Om Shri Sai Nathaya Namah !
Ananta Koti Brahmand Nayak Rajadhiraja Yogiraj ParaBrahma Sri Sadchidananda Samarth Sadguru Sainath Maharaj Ki Jai!
Baba United Lovers And Got Them Married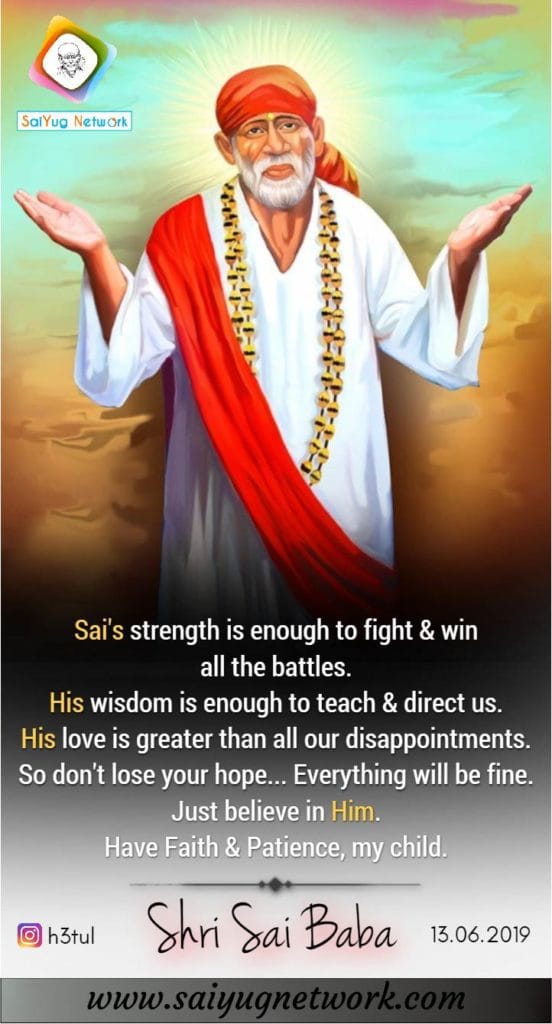 Anonymous Shirdi Sai Devotee from UK says: Om Sai Ram, this is a follow up to my post called "Baba You united me to my love" which is yet to be posted here. I'm eagerly waiting for the post. It's 5 August 2021 today. As promised Baba, this post is about our marriage. We got married on 17th July 2021 (Hindu wedding) with Baba's blessing. Baba I still cannot believe I'm married to the love of my life. It feels like a dream. There was a time when I thought I lost him forever but You brought us back together and now we are married! I'm ever so grateful to You. Thank You, Sai, for him, his family and my family. You made everything possible. It's been an amazing experience; I have learnt a lot from You.

We had a very short time to prepare for the wedding due to Covid 19 but everything went really well. You came to our civil wedding on 27th June. On 11th July, we did Hindu engagement and my wish was to see You in a wedding and You came to our house on 15th July 2021 on a Thursday. You came to our entrance door and asked for the money. I know it was none other than You. I truly believe that You came to give me blessings. I still remember the eye contact we had. Who says God doesn't come to Earth, my Baba definitely comes. Have Shraddha and Saburi in life and Sai Baba will do miracles. Baba fulfilled all my wishes. My parents accepted my husband and that's all I had wished for. I have learnt to walk with everyone in life, never walk alone. Family is the most important thing in life. Always try to keep others happy and in return Baba will keep you happy. Follow the path that Sai shows you and you will never go wrong.

My one wish was to see my elder sister as bride before my marriage or at least her alliance to get fixed by the wedding date but it didn't happen. Sai You know how much my parents are worried about my sister. Please get her married soon and keep her happy. May she find a caring guy who will look after, love and protect her. Sai, I trust You and leave everything to You. I know You'll make it happen when it's the right time.

Sai, I'll continue to pray You how I have been doing for many years but if I make a mistake then please forgive me. May the love and trust between us stay forever.

Anyone who is in a relationship and going through hard times, always remember Baba. Trust His timing. If you know he/she is the one for you then do not let it go easily. Just like us, you will also be united. Relationships are based on trust and love. Life is too short for arguments and fights. Love one another and make life beautiful. Do not let community or caste problems come in between. With time, parents will also understand and accept it. Most importantly do not rush into anything. Seek Baba's guidance always. 
Sai, You're my Guru forever and I pray that You always stay with me and guide me. 
Thanks To Baba For His Grace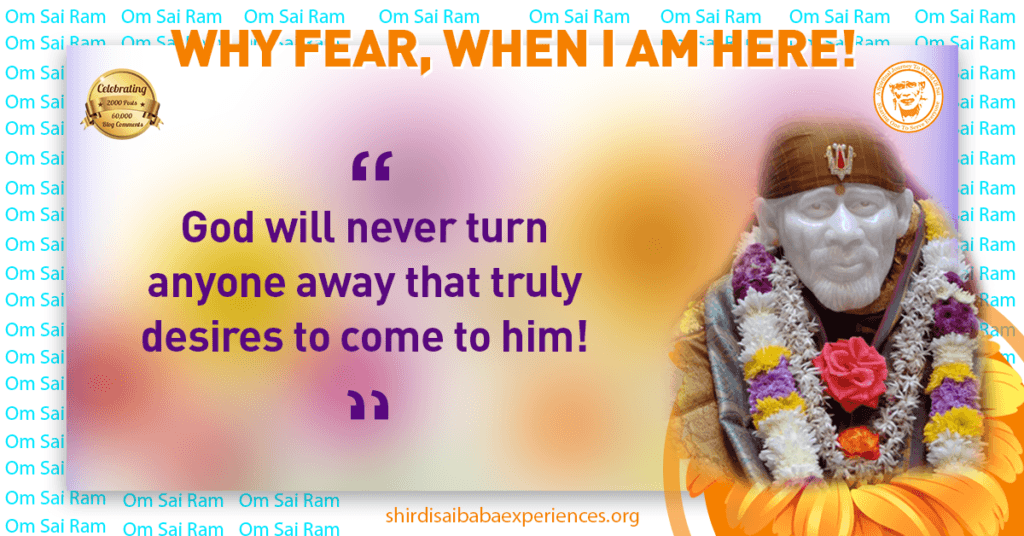 Anonymous Shirdi Sai Devotee from the USA says: Namaste Sai devotees. Back home, we have a beautiful Baba temple close to our house, which is only 10 minutes walk away. They sing all Baba's aartis on the mic every day, which were audible from our home. My grandmother used to go to this temple to do kumkum archana yearly once or twice. She always pleaded my siblings and me to accompany her to the temple as she was not comfortable going alone. So every time, I would be the only one who would get picked up and would go with her just because she would buy a few goodies as part of our deal on our way back. But later I realized why it was me. I was a very fickle-minded person who is scared of everything by nature. So I used to pray to all the deities based on my wavering mind and never truly believed anyone.

I started listening to Baba's morning aarti from the temple on our terrace during my college days. I fell in love with the aarti tune and developed an interest in learning it. Mainly, the 'Reham Nazar Karo' song used to make me shed tears of happiness for no reason, even though I have no idea about the Marathi language. That is when I slowly started focusing my attention on Baba. He made me realize Who God is and soon became everything to me. Some devotees' experiences on this website would make me recollect my own experience with Baba, 'the most beautiful memories' I would say – I cannot name one or two. Baba helped me solve several issues like finding my lost things, achieve good scores in tests, called me to Shirdi, my marriage, deliveries, driving, our jobs, house, health issues, taking care of me during my five-hour surgery, speech problems, good college admission for my older one, advance class enrolment for my younger one and it goes on and on.

Baba gave beautiful tests throughout this process which helped me get closer and closer to Him as He was with me in every trial and trouble and made me pass all His tests with flying colours. He is my everything and every day I tell Him, 'What can I do without You Baba?' Jai Sai Ram!
Baba Solved A Kid's Struggle Of Online Classes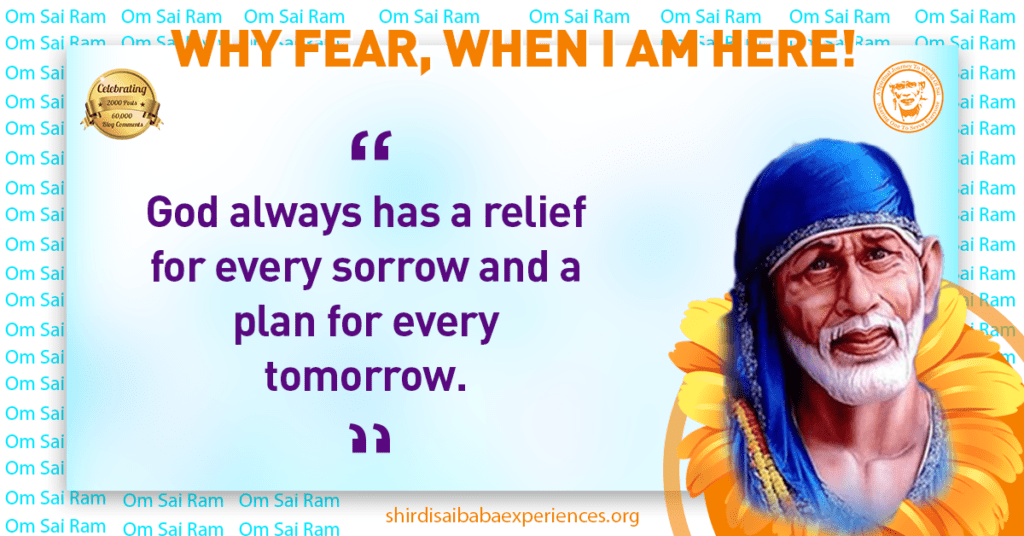 Anonymous Shirdi Sai Devotee from the US says: My parents' experiences with Sai Baba always sounded like a fantasy to me until I experienced it.
The place I live in had thousands of Covid cases a day and many people in my school got infected which forced me into choosing virtual class. I soon became isolated from the environment of school and friends. I started to feel miserable and waking up in the morning to people on screens didn't make it any better. I found myself getting frustrated and upset over things that were silly. My classes were getting harder and I was unable to ask my teachers for help.
Around the same time my mom started re-reading Sai leelamrutham. So I made a wish that if I were to do well on my Chem final exam and become more positive then I would read a reputable book about Baba. The following week the subject I was struggling with, became very apparent and I felt a swift in my mood. Today I read the final chapter of the book and I feel capable to achieve whatever I aspire to do; with Baba on my side and that makes me so excited for my future. 
Baba's Blessings On My Family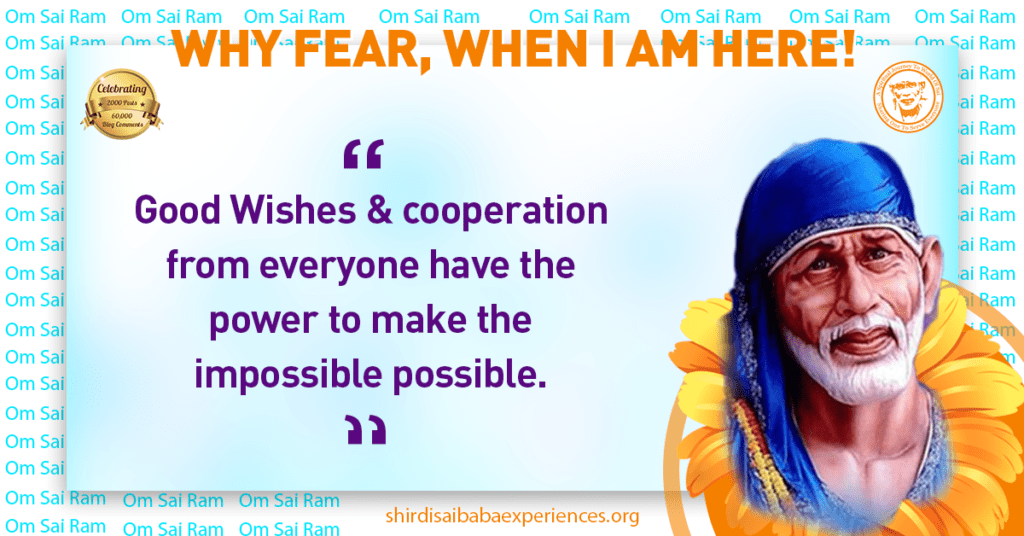 Anonymous Shirdi Sai Devotee from India says: I am a staunch devotee of Baba for more than 12 years. My daughter is also a big devotee of Baba and now my son has also become His devotee.
Thank you Hetalji and team for giving this wonderful platform. My day starts with Kakad arthi and ends with reading this blog. My son attended three rounds of an interview and got selected but he was waiting for the offer to come. Yesterday he prayed to Baba and shared his experience here. Today being a Thursday, Baba has given the offer for his dream job. Thank You so much Baba. Please be with him to move to a new city and start the job and perform well in his new endeavour. Koti koti namaskaram Baba. Sri Satchidananda Satguru Sai Nath Maharaj Ki Jai. Sai Ram…!
Received Offer Letter After Sharing Experience On ShirdiSaiBabaDevotees.com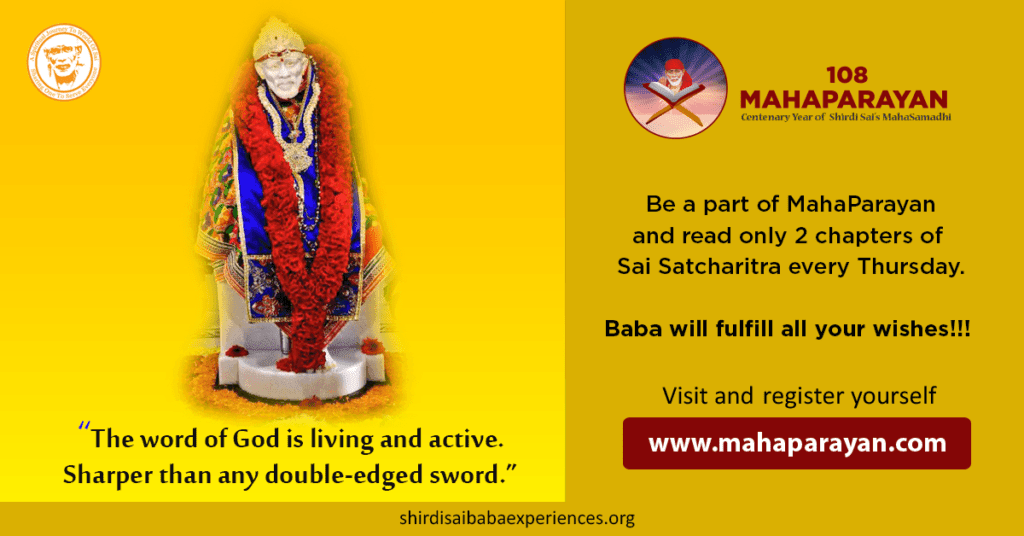 Anonymous Shirdi Sai Devotee from India says: I am a small devotee of Sai Baba. My mom and sister are big devotees of Baba.
I had shared my experience yesterday with respect to getting an offer letter after clearing all rounds and today I have received my offer letter. Thanks to Sai Baba. 
More from SaiYugNetwork.com
© Shirdi Sai Baba Devotees.com – Member of SaiYugNetwork.com