The Job Transfer Miracle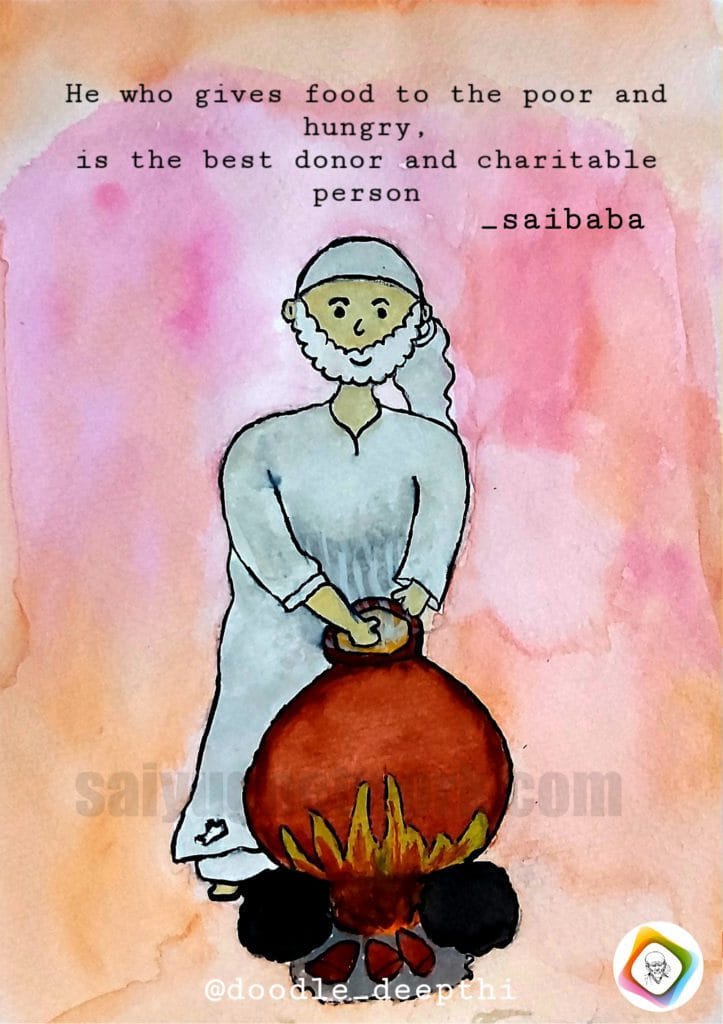 Shirdi Sai Devotee Vivek Ravi from Australia says: Om Sai Ram. Dear Sai Devotees, I would like to share how Sai Baba moved me from job to job in 2021. Throughout 2020, I was unemployed. All my job search efforts in 2020 yielded no success. After performing seva at Sai Sansthan Melbourne for a few months in early 2021, Sai Baba blessed me with a job as a logistics officer at Amplifon SpA. This job opportunity came to me swiftly in March 2021 through Michael Page and was completely unexpected. This logistics officer position at Amplifon SpA was originally a one-month contract and was advised by the supply chain manager that at best he could prolong my contract for another six months.
In March 2021, I applied for a permanent full-time job as a fleet administrator at Nationwide Towing and Transport where my brother was working at the time. My brother knew the Head of People and Culture at Nationwide Towing and Transport and he recommended my name for the fleet administrator position at Nationwide Towing & Transport. With my brother's recommendation and Sai Baba's grace, I not only was successful in getting this fleet administrator position at Nationwide Towing & Transport but my position title got upgraded from fleet administrator to fleet coordinator. With Sai Baba's grace, I secured this fleet coordinator position at Nationwide Towing & Transport. I commenced as the fleet coordinator at Nationwide Towing and Transport on Monday 19th April 2021. I enjoyed working for Nationwide Towing & Transport and I cultivated excellent working relationships with my reporting managers and there existed mutual respect.
Unexpectedly on 21st September 2021, I was called into a meeting room by my manager and was advised that the fleet coordinator position was being made redundant due to the Covid lockdown impacts suffered by the business. At the time, I was in shock and disappointment. I informed my parents and brother immediately and headed home. On 22nd September 2021, I reached out to the supply chain manager at Amplifon SpA and the recruitment agent at Michael Page and informed both that I had been made redundant and was searching for a new job.
The next few weeks were frustrating as I had no success in my job search. A few weeks later in early-October 2021, I got contacted by the supply chain manager at Amplifon SpA and he asked me if I was available for a two-week period to help the dispatch team. I thanked him and accepted the two-week job assignment. Unfortunately, this was cut short by one-week. The next few weeks after I finished up helping the dispatch team at Amplifon SpA were quite frustrating as I had no success in my job search. I prayed to Sai Baba and longed to perform seva to engage myself in volunteer work. At this time, Melbourne was still under lockdown and the Sai Sansthan Melbourne was closed. Around this time, I started reading the Sai Satcharitra and listened to Vishnu Sahasranaam daily. By Sai Baba's grace, the Melbourne Covid lockdown was lifted in one month's time and the Sai Sansthan was open again to all devotees. I was immediately contacted by the Sai Sansthan Seva Scheduling Coordinator to perform seva on Saturday 23rd and Sunday 24th October 2021. I was relieved that I could go again to perform seva at Sai Sansthan Melbourne and socialize.
On the 24th of October 2021, the Sai Sansthan Treasurer asked me how I and my family were faring after the extended Covid lockdown in Melbourne. I informed her that I had lost my job as a result of the Covid lockdown and she said that she would do what she could to help me out. I was happy and content that I could re-commence my seva at the Sai Sansthan.
A few weeks passed and I got a call from the recruitment agent at Michael Page that had placed me forward for the Amplifon SpA logistics officer position. The recruitment agent at Michael Page informed me about three job opportunities that may suit me. I thanked the recruitment agent from Michael Page for remembering me and I would be happy to be interviewed for these positions. In the meanwhile, I got contacted by the Sai Sansthan Treasurer and she said that she knows another seva volunteer that may be able to help me out with some job opportunities. Out of nowhere, I was being contacted for job opportunities. One of these job opportunities suggested by the recruitment agent at Michael Page was a shipping and logistics officer at Ameropa Australia. I had two interviews for this shipping and logistics officer position on Tuesday 11th and Monday 15th November 2021. Thanks to Sai Baba's grace, I was successful in both these interviews and was offered the position at Ameropa.
I informed my family and they were overjoyed for me. I also informed the Sai Sansthan Treasurer and the seva volunteer that helped me out about my new job at Ameropa and thanked them for all their support in my job search. The Sai Sansthan Treasurer told me at that time that 'Baba always looks after His devotees'. This statement made by the Sai Sansthan Treasurer struck a strong chord with me and made me connect the dots of the events that had taken place over the course of 2021 till now. Sai Baba gifted me a job at Amplifon SpA as a logistics officer and then guided me towards a better opportunity at Nationwide Towing and Transport as a fleet coordinator and then pulled me out of the fleet coordinator role at Nationwide Towing and Transport to guide me towards shipping and logistics officer position at Ameropa Australia. I realized how fortunate I was that Sai Baba blessed me with three jobs in a year (2021) that Covid had negatively impacted employment across the world. I pray that Sai Baba will continue to bless me and all His devotees across the world so that we can continue to serve Him always.

Jai Sai Ram!
Can't Thank Enough To Sai Baba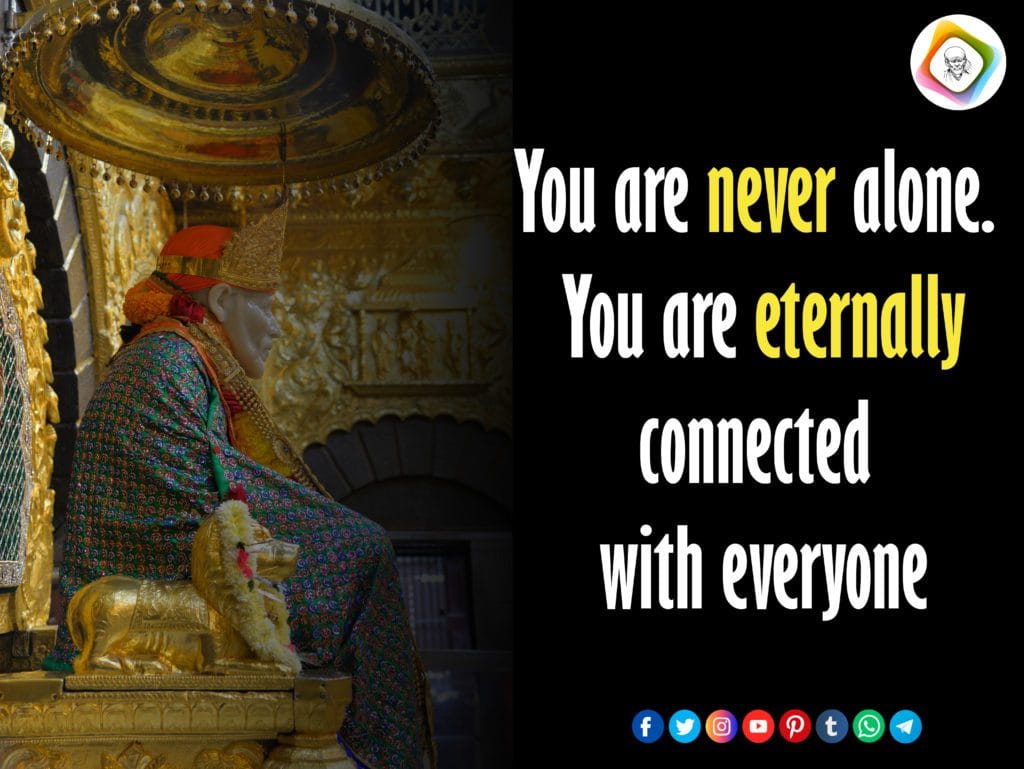 Anonymous Shirdi Sai Devotee from Australia says: Sai Ma does Wonders of Wonders, fulfilling all your prayers and wishes
Om Sai Ram to every devotee reading this. I would like to jot down a few of my experiences. Firstly, a few months back I had been visiting immigration consultants for the possibilities of applying for PR. I had been told by all that I do not have an option other than the employer's sponsorship and the company was willing but I was not ready to take the offer. I work for night shifts and if the company sponsors me then I will have to work with the company for five years or more of night shifts (19 months to process my visa plus three years from the date of visa grant) and I will not be allowed to take any additional job. If I complete my term and after the set annual income by the government of Australia then I can apply for PR. I used to pray to Sai Maa asking Her why can't change the rules and make it easier for me to look for the other options. Here the magic happened. The government came up with more visa options out of which one I qualified for. The visa term period is the same but with the current visa I can work in any company, any hours and after three years I can apply for PR after meeting all the set requirements.

I will definitely write and share my blessing on the day I receive my 491 Visa MA.

Secondly, PTE was a big challenge but Sai Maa blessed me with the required score. Thank You Sai Maa.

Thirdly, I have lodged an EOI yesterday and I am 100 % sure with Sai Maa by my side nothing can stop me from receiving an invitation plus lodging of a final visa.

Now Sai Maa the problem with me is how to tell the company and consultant handling my case through the company that I do not want to continue with the process of employer's sponsorship. I have been delaying them for one reason or another reason/s. I need to be tactful as I may need some paper from the company if asked by home affairs.

Additionally, there are financial requirements that I need to show while lodging my visa. Sai Maa please ensure that I do not have to ask from others.

Furthermore, Sai Maa please bless my son with appetite. His appetite is low and does not eat well. I want him to follow and believe in You. Please bless him.

Also, my dad and mom are not well. Please bless them with good health. I pray every day that at least I meet them before anything happens. With Australia borders shut for incoming visitors, if I plan to visit my home country I may not be able to return.

Sai Ma please call me to Shirdi. I made many attempts but it has never worked out. Please be kind enough to call Your devotee.

Finally Sai Maa, I have been praying for one thing (which I mention to You every day) for the last three years which is still not fulfilled. I know Sai Maa is taking time but I am sure I will have it one day. Please Sai Maa, help me with this so that I can help others as well and it would boost my faith in You tremendously.

Om Sri Sai Namo Namaha
Jai Jai Sai Namo Namha
Sadguru Sai Namo Namaha
Sai Baba's Blessings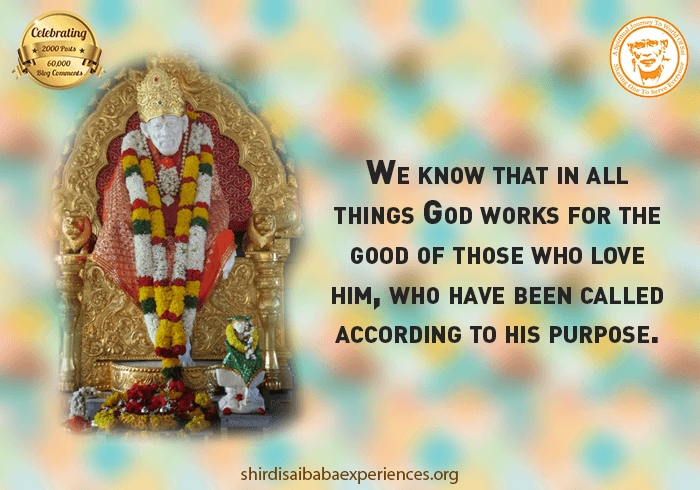 Anonymous Shirdi Sai Devotee from Australia says: I am from NSW. I was very worried as I was looking for a job. I was asking Baba every day, "When will my job day come?" Baba always says have patience. I was very restless and was very nervous that what if I will not get settled what I will do.
I always ask questions from the Sai Baba site to answer my question. Then one day I got an interview call and after looking at the job my husband and I thought that it was not something that I should go for. The next day the agent who usually gets employees for the company called me and said to please go for that interview. I usually said yes but that day I said no. Then again they sent me an email for the interview and I thought that if it was coming so many times to me then I should consider this. So I decided to go for it.
At the present place, I am sitting in my office and realizing how stupid I was for not coming for this job although this job was given to me by Sai Baba. When I joined this office, I realized it. Thank You Baba with all my heart. My Sai is with me and I will always be grateful to be a part of His devotee.

Another experience is I was going through a phase and asked Baba in questions, "Please Sai, please help me what should I do." Baba just immediately answered back "Just be quiet and I will fix up everything and you just chant My name." I did that and hopefully, I will be able to see what I am looking for. From then I am relaxed.

Please have trust in Sai, He is with you every nanosecond of your life. Never disappoint yourself for not getting what you asked for. Definitely, Sai has something much better for you.
Gratitude To Sai Baba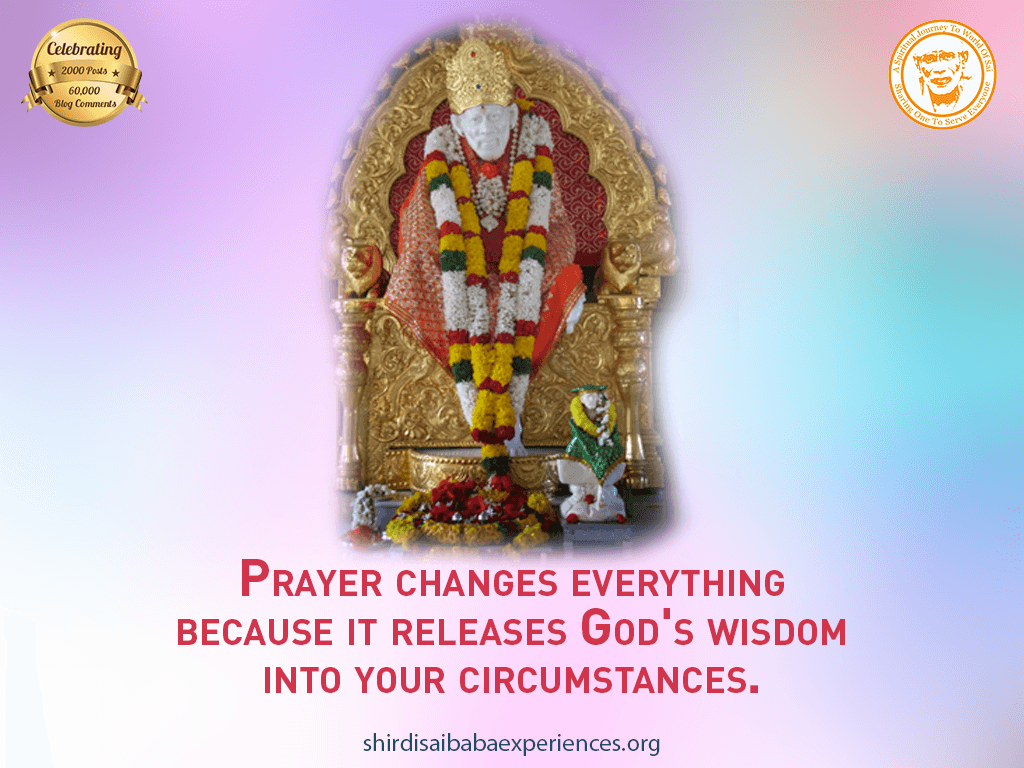 Anonymous Shirdi Sai Devotee from the USA says: I am a humble devotee of Baba. Thank you Hetalji and team for maintaining the site.
Baba You know I always pray to You when I get into any problem. Today my son woke up with a cough and did not want to go to school. His temperature was ok and had important classes at school. I sent him to school and prayed to my Baba to keep him safe and promised to submit this experience if everything goes well.

I also promised Baba that I will write about my experience in India. I visited my mother in India. It was a short visit and I fell sick one day. I had a slight feverish feeling, diarrhea, and vomiting. My RT PCR test was on the next day. I prayed to Baba to make me feel alright and that the RT PCR should come negative. It came negative and I could travel safely. Thank You my Baba for listening g to my call.

My prayer to You is to keep my mom, husband, sons, and family members safe. Please help those who are suffering and asking for help and assistance. Please let my son take the PSAT properly and please make him focus to take the exam properly.

Please let me have faith in You.

Om Sai Ram Om Sai Ram Om Sai Ram
Om Sai Ram Om Sai Ram Om Sai Ram
Om Sai Ram Om Sai Ram Om Sai Ram
Sai Baba Helped To Find Lost RC Book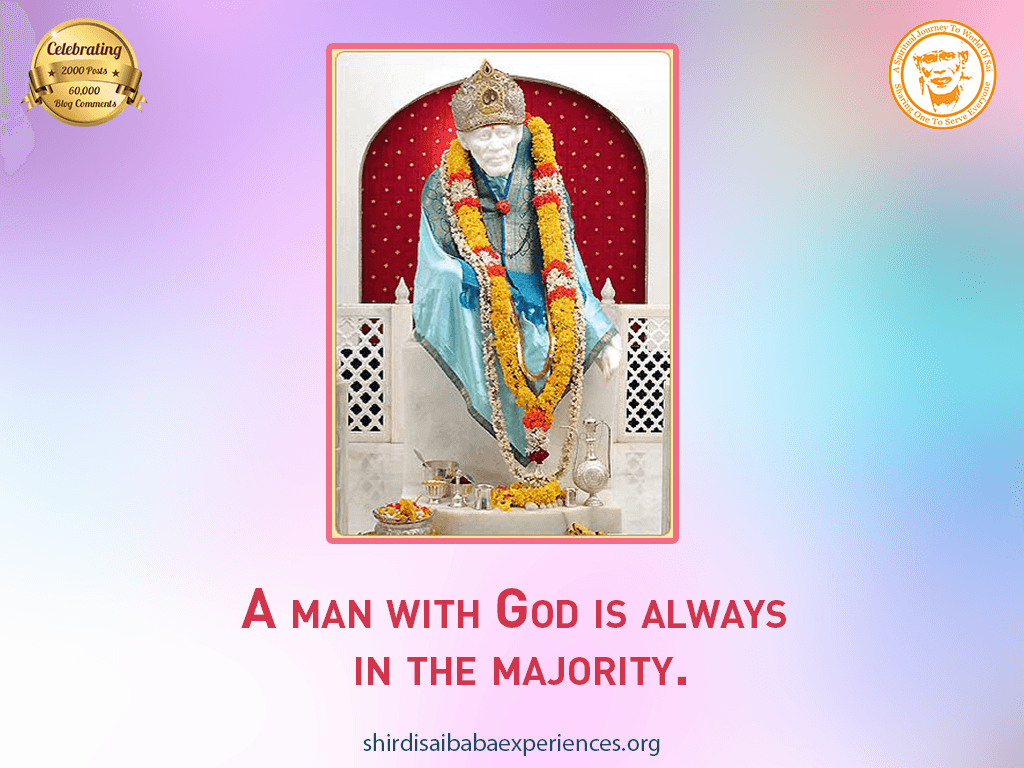 Anonymous Shirdi Sai Devotee from India says: I am a small devotee of Sai Baba from Bangalore.
Thank you Hetalji and team for your great service in maintaining this blog which gives peace of mind to so many devotees. Many of my experiences shared here were published with the blessings of Sai Baba.
Coming to my recent experience, I had planned to buy a new scooter after giving my old one. I went to the showroom and finished all the formalities. They asked for the original RC book and insurance for the old scooter. I told them that I would give it the next day. I came home and saw the document file where I keep all the vehicle documents. But I got an insurance document but the RC book was missing. Then I searched everywhere but didn't find it. Then I sincerely prayed to Sai Baba to help me to get the same and I vowed to post the same here. Afterward once again I checked the vehicle document file and to my great surprise, the RC book was there. It was all because of Sai Baba's blessings. Thank You very much Sai Baba for Your timely help. Please Sai always shower Your blessings on me and my family. Serve Jana Sukhino Bhavantu.
Sai Baba Cured Headache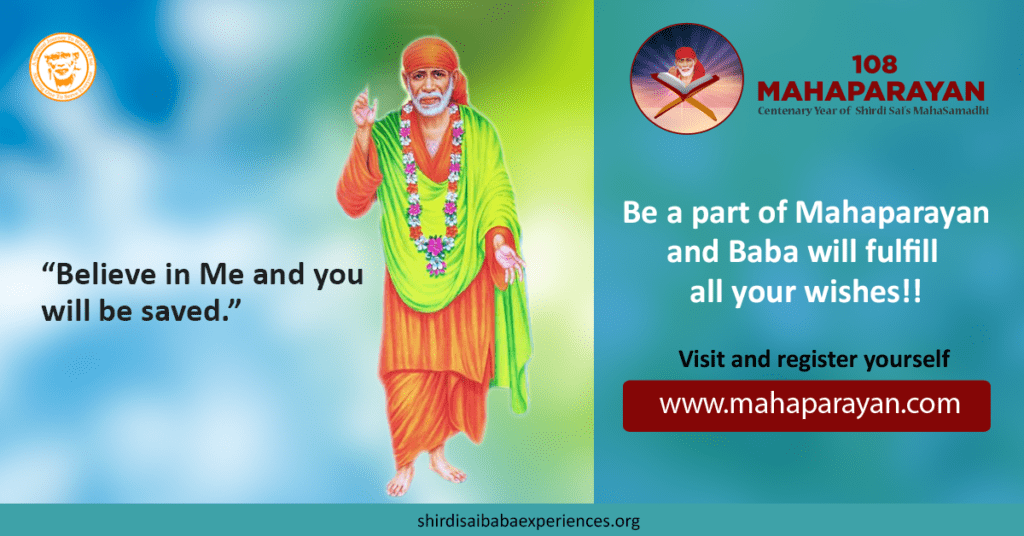 Anonymous Shirdi Sai Devotee from India says: I am a small devotee of Sai Appa. Thank you team for this wonderful platform.
From yesterday evening I had a severe headache. I have sinusitis so I usually get a headache but yesterday was different. I was not able to bear the pain and could not sleep. So I prayed to Baba and chanted Om Sri Sai Aroyaga Sametha Namaha. While chanting I drifted to sleep. In the morning, when I woke up my headache was gone. Thank You Appa. You're there in every step of my life and continue to shower Your blessings on me, my family and all Your devotees. Om Sai Shri Sai Jai Jai Sai.
---
ShirdiChe Sai Baba Book
A book that can be considered next to Sri Sai Satcharitra is available for reading on our blog, kindly do not miss reading it.
More from SaiYugNetwork.com
© Shirdi Sai Baba Devotees.com – Member of SaiYugNetwork.com