Sai Fulfilled Wishes Of His Devotees
Anonymous Shirdi Sai Devotee from India says: Hi, This is Usha, a member of Sai Global MahaParayan group. Today I am going to share my experience after joining the Global Mahaparayan in 2020.
I have gone through the toughest phases in my life and shared a few of them with you all today. I am a ranked student at University and very passionate about CA studies. Cleared the foundation in the first attempt and wanted to go to the next level. In the meantime, my parents fixed my marriage in the same year. I lost hope in my studies. After marriage, my husband made me study and encouraged me to CA next level. I was very happy and started my coaching and seminars but was unable to clear in every attempt. Studies got discontinued and pregnancy got confirmed. Again I faced failure in my life. But after a blessed baby boy with Baba's blessings named him Sai Likhith.
I again started preparing for the exams. My passion is to set up practice in this field but was unable to clear it in the next attempts. But after I joined this Global Mahaparayan group, my sincere prayers to Baba regarding my exams got blessed, and cleared it finally. I was very happy to see my results. Tears filled my eyes. On the other part again pregnancy was confirmed but during fourth month got an abortion. It was an unexpected shock and the reason behind this was that I was diagnosed as diabetic. Then I thought about recovering my health first.
My sincere prayers were to Baba for the reversal of my diabetes. On Guru Pournima day I joined naturopathy treatment for reversal of diabetes and got successful in treatment. My sincere prayers to Baba for my health and career. My family completely surrendered to Baba and went to Shirdi for His Blessings. On the other hand, Baba helped my parents' health also and Udi is helping us as medicine every time my family. My sincere prayers to Him for my second pregnancy and family health. I will dedicate and surrender to reading this Mahaparayan forever. Om Sai Rakshaka Sharanam.
Sai Baba Gave Darshan And Blessed For Work
Anonymous Shirdi Sai Devotee from India says: I'm a Sai devotee from India. Though I have always loved Sai, recently I feel very closer to Him. Om Sairam. I'm going through a very tough time right now but my Sai is giving me the strength and keeps me going somehow. One day I was very depressed and I prayed to my Deva saying that the only thing I need was a new photo of Sai along with some Udi and asked Him to give it to me in some way.
One month passed and I'm in my 6th week of Nav Guruvar Vrat. I was about to take a new step in my career and I wanted to do it on a Thursday. So today (3/2/2022) I did my vrat pooja and then was about to proceed with the first step of the process. Guess what happened? My mom came rushing towards me saying that Baba has come. I grabbed a small amount for donation and went to see that there was a pooja vehicle with the Sai idol in it. I gave my donation. The person who came in that vehicle told me that all my wishes will be fulfilled. He returned the amount that I gave him and asked me to buy laddu for people with that money. And he asked me for some money for annadhan bhajan which I happily gave. I also noted that I was the only person to whom he asked for this donation though there were others who came to see Sai.
As I prayed, even before a month I got a picture, Udi, and some flowers from Baba. This makes me really happy. Baba came just before I started my work, gave me the photo as I asked, and blessed me on a Thursday. Now I'm very confident that He is really listening to all my prayers and He will fulfill my wishes one by one. The path is very difficult and it's because of my Karma. But I'm sure He will guide me through everything and I will wait with Shraddha and Saburi. Sai, please bless everyone and take care of everyone. Give health, wealth, strength, and happiness to each and every person in this world, and please heal this world soon Deva.

Om Sri Sairam!
Sai Baba Miracles
Anonymous Shirdi Sai Devotee from the USA says: I am a Sai devotee living in the USA. Hello Hetalji and group, Thank you for giving us this platform to share our experiences and love for our dear Lord Sai Baba. I choose to stay anonymous today.
My experiences are uncountable however; today I want to share a few instances. I live in the USA. Somehow during the pandemic immigration-related documents expired and I didn't notice it since the travel wasn't allowed. The situation was so bad that I had to leave my work and also had to leave the country at the earliest opportunity. The tickets were done and the last week before I traveled I got the confirmation news. The US government accepted the mercy petition and granted the immigration document. This was nothing more than a miracle. Got the work authorization card too where the current wait time for it was 15-19 months.
I was once traveling to India. The flight was rough and bumpy. I was truly scared. Sai answered my prayers and after a few minutes everything was smooth and the long flight hours went by quickly. I also had a connecting flight. I had a few hours of wait time. While waiting I was reading Sai Satcharitra. Guess what! While boarding I got upgraded to Business class from nowhere. Isn't that a miracle again? How kind is Sai Baba and how unique are His leelas! Bless and give peace and happiness to mankind, Sai.

Om Sai Ram!
Sai Baba Leela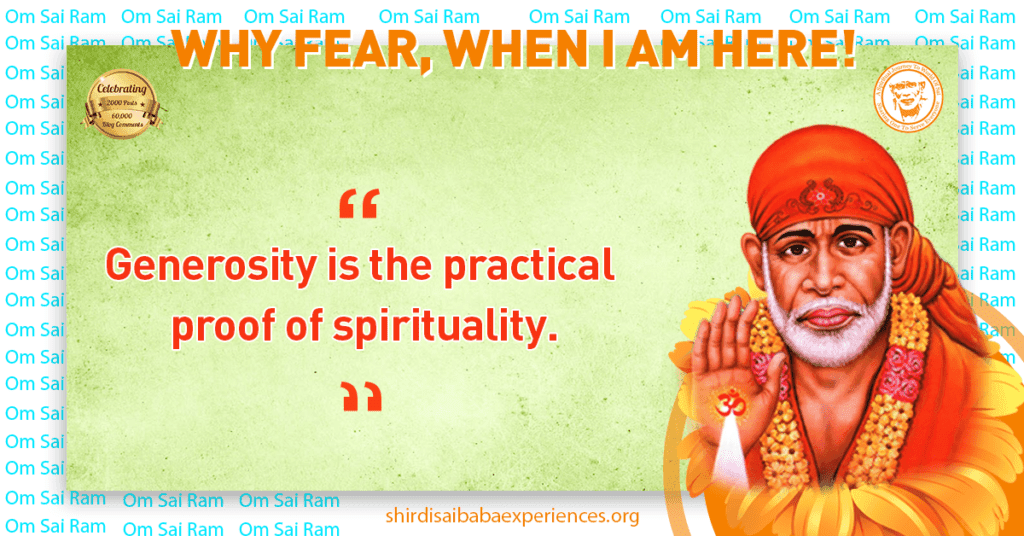 Anonymous Shirdi Sai Devotee from the USA says: Sairam, I am Baba's devotee and depend upon Him for the smallest things in life.
I had an India trip coming up and we needed to take a negative RTPCR test for international travel from the USA to India. We got the test done and the results were supposed to come a day before the scheduled flight date. My son was traveling together and we both gave the test at the same time. My son's results came through email and mine were delayed. I waited for half a day and started making calls to customer service and there was no response. My trip to India was canceled 15 days prior due to visa issues and I had an urgent need to go to India. I was not in a good state of mind with last-minute paperwork in travel and prayed to Baba for the results and that I would share it on this website. As soon as I prayed, a text message popped up with the results notification. Baba, pardon me for the delay in sharing this leela, and thank You for always being there in my life.
Thanks To Sai Baba
Anonymous Shirdi Sai Devotee from the USA says: I am a small devotee of Baba. Thank you Hetalji and team for providing this platform to us.
Thank You, Sai for saving me from the accident. I was thinking about something and jumped the red light and suddenly had to brake as a car was almost coming from the side. Then suddenly he also braked. It was Baba's grace that saved me. The person who was about to hit me was driving the right way, not only braked in time but also did not honk at me. Thank You Baba for protecting me.

I pray to You Baba to solve my mental problem, and none knows it better than You. I will submit my experience as You help me get through these difficult days.

Please keep my family safe and healthy and please bless the devotees who are in need of Your grace. Help us, Baba, please.

Om Sai Ram Om Sai Ram Om Sai Ram
Om Sai Ram Om Sai Ram Om Sai Ram
Om Sai Ram Om Sai Ram Om Sai Ram
Gratitude To Sai Baba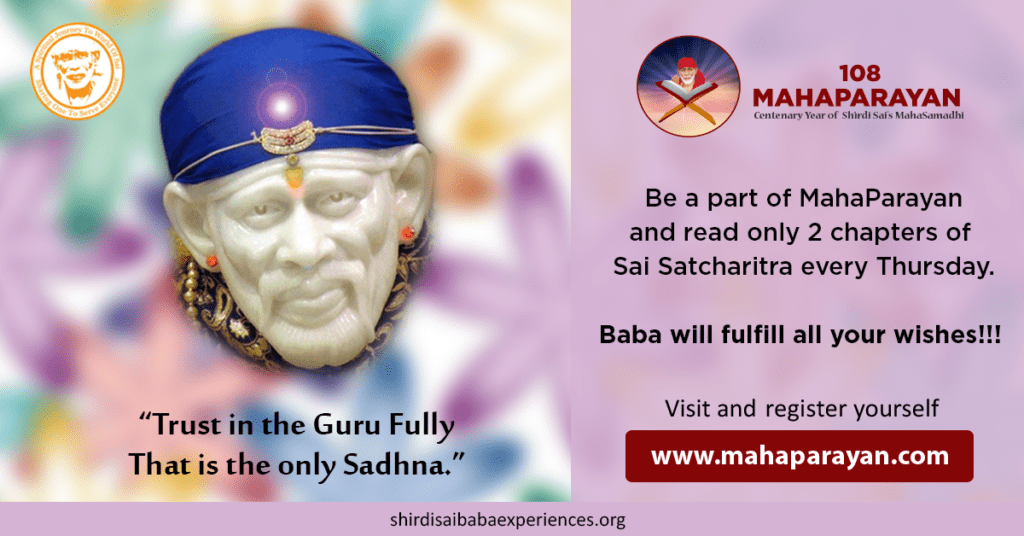 Anonymous Shirdi Sai Devotee from India says: Hi All, I have been a devotee of Sai Baba for many years. I was doing a vrat for my marriage and prayed to Baba to help me in completing the vrat without any gaps or obstacles. I could complete the pooja without any gap and did it continuously by Baba's grace. Please fulfill my marriage wish soon, Baba. Waiting for Your blessings. Om Sai Ram.
---
More from SaiYugNetwork.com
© Shirdi Sai Baba Devotees.com – Member of SaiYugNetwork.com