Sai Baba Miracles
Download Sai Baba Calendar for January
Anonymous Shirdi Sai Devotee from Singapore says: Since I started to pray to Sai when I saw Him for the very first time in 2012 when my neighbor aunty gave me a Sai photo to keep and pray. I did pray to Him but my prayers were not as deep as how I am doing today.
After my marriage, I got to know that my husband is a Sai devotee and has been to Shirdi a few times. As far as I know, only blessed people will be able to see Sai in Shirdi. I started to pray to Him more but still was not as deep as now. Lighting up a ghee lamp and offering Prasad was my duty every Thursday till I delivered my first child. I had the first dream of Sai after I delivered my baby and was in confinement. I saw Sai smiling at me but didn't say anything. My husband and I went through many hurdles in life and that's when we went to a temple and the priest told us that we have to start to pray to our Guru. That's when we both started to pray very deeply.
In a year we bought a house on our own, conceived our second baby with all of Sai's grace and blessings and she was born on the 27th which sums to number 9. Six years passed but I still saw the hurdles of life as economically challenged I still had Shraddha and Saburi and I always watched Sai drama on YouTube to comfort me.
In 2020, we joined the Global Mahaparayan as my aunt introduced us. By the end of the year, I got a stable job in Singapore. I entered Singapore in 2021 and I realized that Sai was all the way with me in all ways up to this moment. I was able to get a room rent, a good hospital to work in and a stable economic stage that has made me and my husband really bow to Sai. I even saw Sai in my dream holding the food that I gave to a beggar after my Sai vrat. We now realize that Sai is our Guru and Father of our life. I always see my Sai everywhere I go and whatever I do. I really love You, Sai. Will always chant Sai's name till the end of my breath. Om Sai Ram!
Sathguru Sai Baba
Download Sai Kasht Nivaran Mantra
Anonymous Shirdi Sai Devotee from India says: I am from India. Thank you Sai for giving us an opportunity to share Your leelas on this holy website. Sai blessings to Hetal ji and the team behind this wonderful site to share our Sai's leelas.
Thank You Sai for making me reach India safely without any issues.
Thank You Sai for blessing me with a visa without any issues.
Thank You, Sai, as with Your grace I was able to do Lakshmi Pooja and celebrate Diwali with my parents and in-laws though my periods were due.
Thank You very much Sai for making everyone know that You are with me and taking care of me each second by finding the missing gold after praying to You and reading Sai Satcharitra.
Sai, please bless me to reach my family in the US. I don't know where my life is going. Have left everything on You. Please bless us with Your darshan in Shirdi.
Ananthakoti Bamhanda Nayaka Rajadhi Raja Yogi Raja Shri Satchidananda Sainath Maharaj ki Jai.
Sai Baba In Life
Anonymous Shirdi Sai Devotee from India says: I am very blessed to be accepted by Baba as His devotee.
I first came to know about Baba in the early '80s when my grandmother visited Shirdi and she had a miraculous experience there. She was suffering from acute back pain due to a fracture, and she could not sit cross-legged on the floor but she wanted to join the bhajans. Out of nowhere, a young man came offering her a chair to sit in! She accepted gracefully and when she turned back to thank him, he was nowhere to be seen. It fuelled my desire to be there at Shirdi.
The next momentous day came when I was leaving for the hostel. My mother brought me a picture of Baba and told me that He will take care of me and I believed her. He became my close confidante. Time moved on and I had kids. During that time it appeared to me that I was seeing Him everywhere. I don't know how but I took a decision to bring Him home and He has always encouraged me. Baba, I want to thank You for all Your help and support. Please be there for me and please guide me so that I may do my duties to the best of my abilities as a daughter, mother, and wife. Om Sai Ram!
Thank You So Much, Sai Baba 
Download Top Rated Sai Baba Wallpapers For 2023
Anonymous Shirdi Sai Devotee from USA says: Om Sai Ram. Thank You to the team maintaining this blog.
Om Sai Ram. I want to thank Baba so much for resolving the issue the other day. I had prayed that I would share the experience if Baba helped and yes He did. Baba, I am sorry for posting it late. Baba, I am praying that these types of situations don't come up next time and that You will help order my things. Baba, please don't let these types of situations happen. We are always grateful and are always at Your feet. Thank You so much for helping us. We are always blessed to be Your devotees. Thank You so much, dear Baba.
Sai Baba Showed His Presence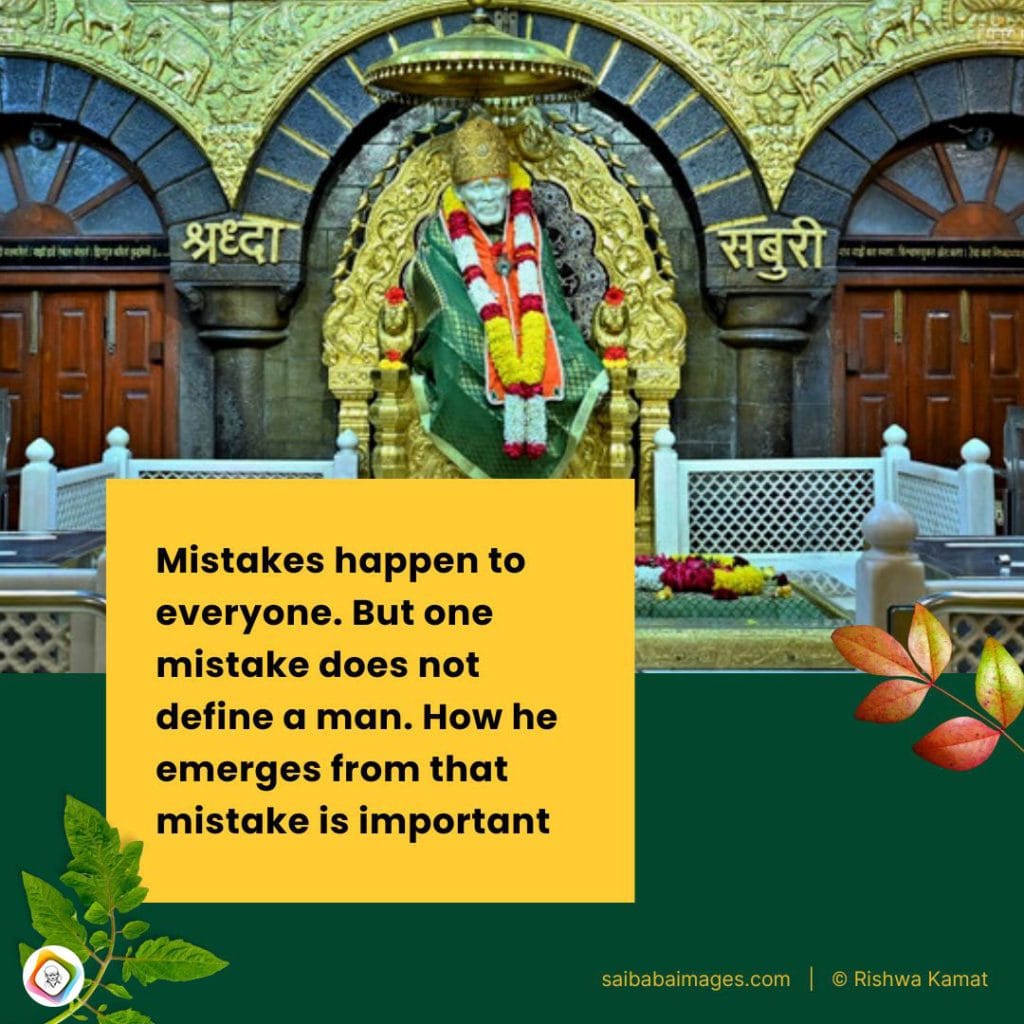 Anonymous Shirdi Sai Devotee from India says: I am a small devotee of Baba. I regularly use the Udi of Baba and put it on my family members' foreheads too.
Vibhuti stock was getting over at home. So I just prayed to Baba to help me get some Udi packets. From some other means, I have been getting one or the other Udi packet from different sources. I prayed Baba that if You are there with me then I should find a Udi packet. I searched the entire house and got one. Next time also, I got a Udi packet from some bag. Baba has always shown His presence. Please Baba help me, take care of myself and my family. Thank You. Love You, Baba.
Sai Baba Blessed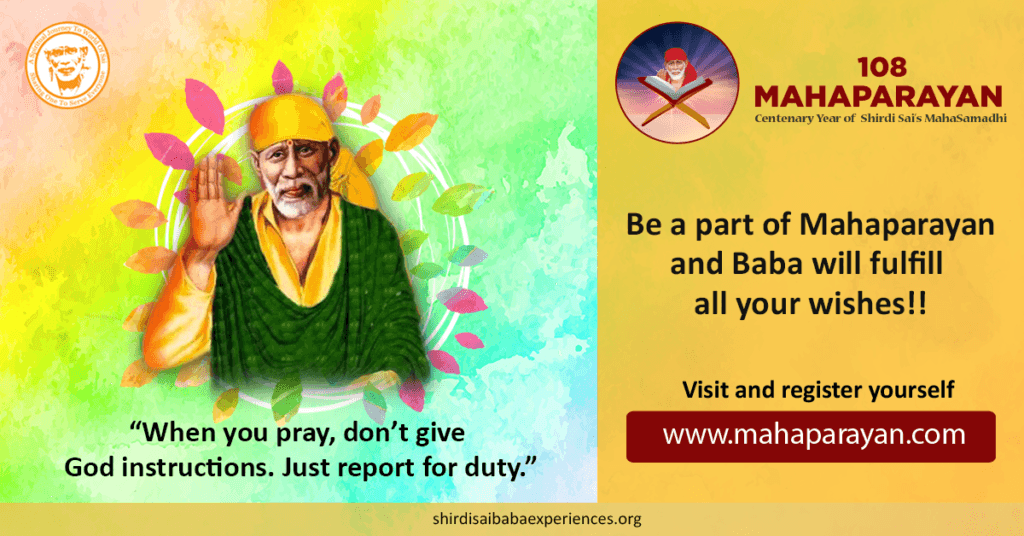 Anonymous Shirdi Sai Devotee from India says: Dear Team Members, I am a devotee of Saibaba for many years and also a daily reader of this blog.
I wish to share one of my experiences that I had recently. Due to this pandemic situation, I resigned from my current job and moved to my hometown to stay with my family. I was worried that due to short notice, acceptance of my resignation shall not be smooth. I prayed to Baba and made a wish that if acceptance of my resignation is smooth, then I shall post my experience here. And need not mention that the whole process went smoothly. And I am quite sure that by Baba blessing my relief and exit would also be smooth.
Regards,
Ritesh Gupta
---
More from SaiYugNetwork.com