Devotee's Experience Of Sai Baba's Miracles And Blessings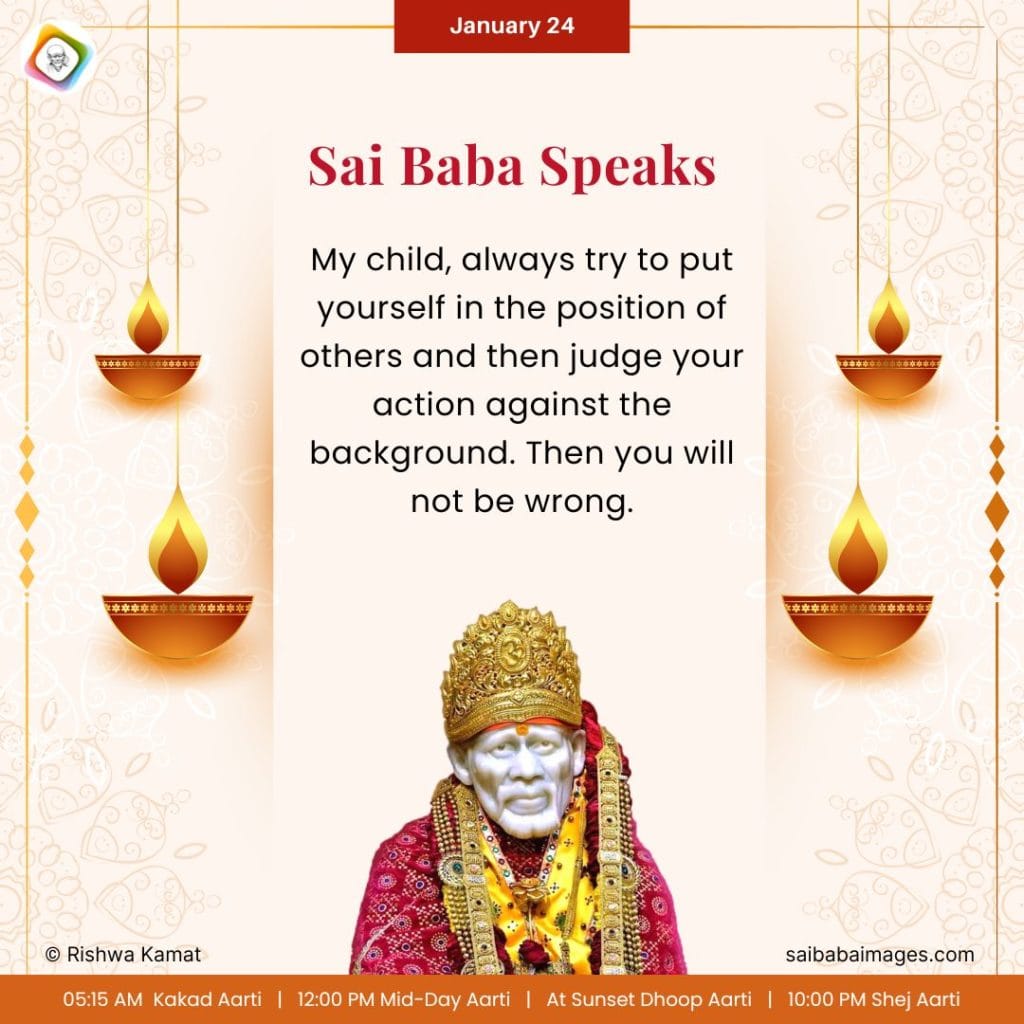 Download Sai Baba Daily Calendar with Images
Anonymous Shirdi Sai Baba Devotee from India says: I am an anonymous devotee of Sai Baba from India, and thank you to all who are maintaining this blog. Please do not disclose my name. I have been a devotee of Baba for almost two years, but in the past year, I have experienced many miracles of Baba. Recently, I joined Mahaparayan, and since then, Baba has blessed me immensely. Thank You for all the blessings You have shown me. I have always heard that devotees experience Baba in their dreams, and I also had that wish inside me long before. Recently, Baba appeared in my dream and blessed me. He also told me to chant the Gayatri mantra, and I think this is a blessing that I will never forget. Recently, I ordered a dress online, but I didn't want to purchase it. However, the item was already shipped, and I prayed to Baba to cancel the delivery and not to give unnecessary tension to my mother as I had given her workplace address for the delivery. The order came late, and I canceled the delivery, and my mother was also relieved. As promised, I am writing this experience in this holy blog. Thank You so much, Baba, and also sorry for the late post. Also, recently on Wednesday night, one of our home's switchboard lights got repaired. It had remained unrepaired for the past five to six years as many electricians told us to remove the entire wiring system. However, it's a miracle that yesterday, one technician came to our house for fuse repair, and he corrected it within minutes. This seems to be miraculous, and we know it's due to our merciful Lord of Shirdi. Sai, we love You.
We are living in a rural area with poor network connectivity, so it's hard to listen to the online classes daily, and also, due to ignorance, I neglected my studies. I was very fearful and confident that if I wrote the exam, I would surely fail at least one of the subjects, but I did not pray to Baba regarding this. Suddenly yesterday, I got the news that degree students are promoted, and there is no need to write the exam. I am so happy today, and I will surely start studying today. My Sai helped me to this extent, and the emotions I am undergoing are unexplainable. Also, Baba, you know the many major problems I am undergoing now. Please help me to get out of all this, and today is Guru Purnima. I consider you my Sadguru who is guiding me throughout my journey, never leaving my hand, even though I ignored you many times. Please forgive me, Baba, for all my ignorance, attitudes, and egos. Also, free me from all these things and make me a good human being.
Baba in Dream: Last night, Baba came in my dream, but the dream was so different from other devotees, I guess because Baba wore a blue shirt and white pants. We have heard that devotees see Baba in Kafnis, etc., but for me, Baba appeared in modern dress. Also, Baba was taller, and not three cubits and a half-length. He was just smiling in front of me, and it was a moment. That's it. I just shifted to some other dream. Still, I can't figure out the meaning of the dream, but I was happy as Baba came into my dream.
Today I got my RV results, and I passed it. For the past one and a half months, I was so depressed and lost my peace of mind because my results were out, and I failed in one subject. I cried remembering Sai Baba a lot, and that was the subject that was given a lot of time to read, but I was quite ignorant while studying, and didn't take it seriously as I was confident that I would pass the exam. More than me, I had confidence that Sai Baba is there to pass. Here was my mistake. I put my problems on Sai Baba without even trying to study. As we know Sai Baba very well, he first raises storms and then calms down. I failed that day. I can't even express how sad I was. I understood my mistake and promised Sai Baba that I would never do this again and please pass me, saying and praying like this in my mind, I made up my mind to apply for revaluation. Again, never in my life, have I applied for an RV. I didn't know what to do because this was known to anyone in my house only, me and Sai Baba. I asked for his help; he helped me through each and every phase of the process. Also, I got help and suggestions from my friend. Sai planned an absolute plan for me, and today the RV results are out, today's Sankasti, and that too on Tuesday, on this auspicious day, I passed. Also, today only, I recalled that I was in need of exactly 9 marks for passing, which is so amazing, right? During these days, I traveled to some relative's place, which was again Sai Baba's plan for me to help me. Sai Baba also recently appeared in my dream. One more thing I want to mention here, I am also a part of the MahaParayan group. Recently, I received a message of Sai Baba from someone's status just two days before the result, "Happy News Are On The Way And You Will Get More Than Your Expectations." And of course, Sai gave me hints before only so that I should not worry about my results.
Thank you Sai Baba, and love you so much, and I can't even explain it in words.
Om Anantha Koti Brahmananda Nayak Rajadhiraj Yogiraj Parabrahma Shri Satchidananda Sadguru Sainath Maharaj ki Jai Om Sai Ram Om Sai Rakshak Sharanam Deva Om Shirdi Vasaye Vidhmaye Satchidananda Dhimayi Thanno Sai Prachodayat
A Devotee's Experience With The Healing Power Of Sai Baba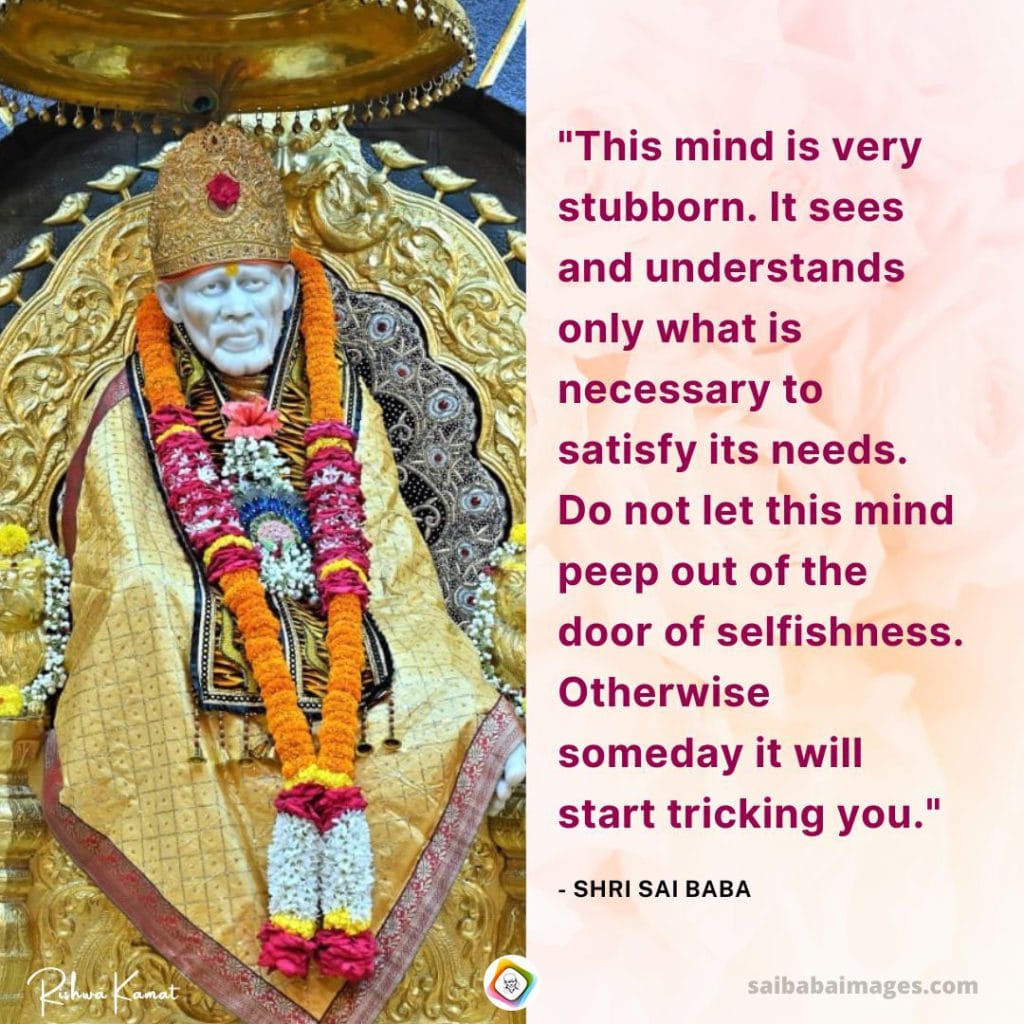 Anonymous Shirdi Sai Baba Devotee from India says: Om Sai Ram, I am a devotee of Sai Baba. Please keep me anonymous. I am from Mumbai and always feel blessed to be at Baba's feet. Thank you to Hetalji and the entire team for creating such a wonderful platform where we can express Baba's blessings in our life.
My experience: I had dry eyes and was feeling very uneasy. My mother and I prayed to Baba, and I took Baba's Udi with water. I also consulted a doctor on a Sunday, and he attended my call and immediately gave me one ointment and eye drops to put in my eyes. With the doctor's medicine and Baba's Udi, the dryness of my eyes has reduced by 95%. Thank you, Baba, for blessing me, your daughter. Sorry for posting my experience late.
Thank You, Baba, for blessing me and my family.
Baba's blessings are always there for me and my family.
A Devotee's Experience Of Healing Through Reading Sai Charitra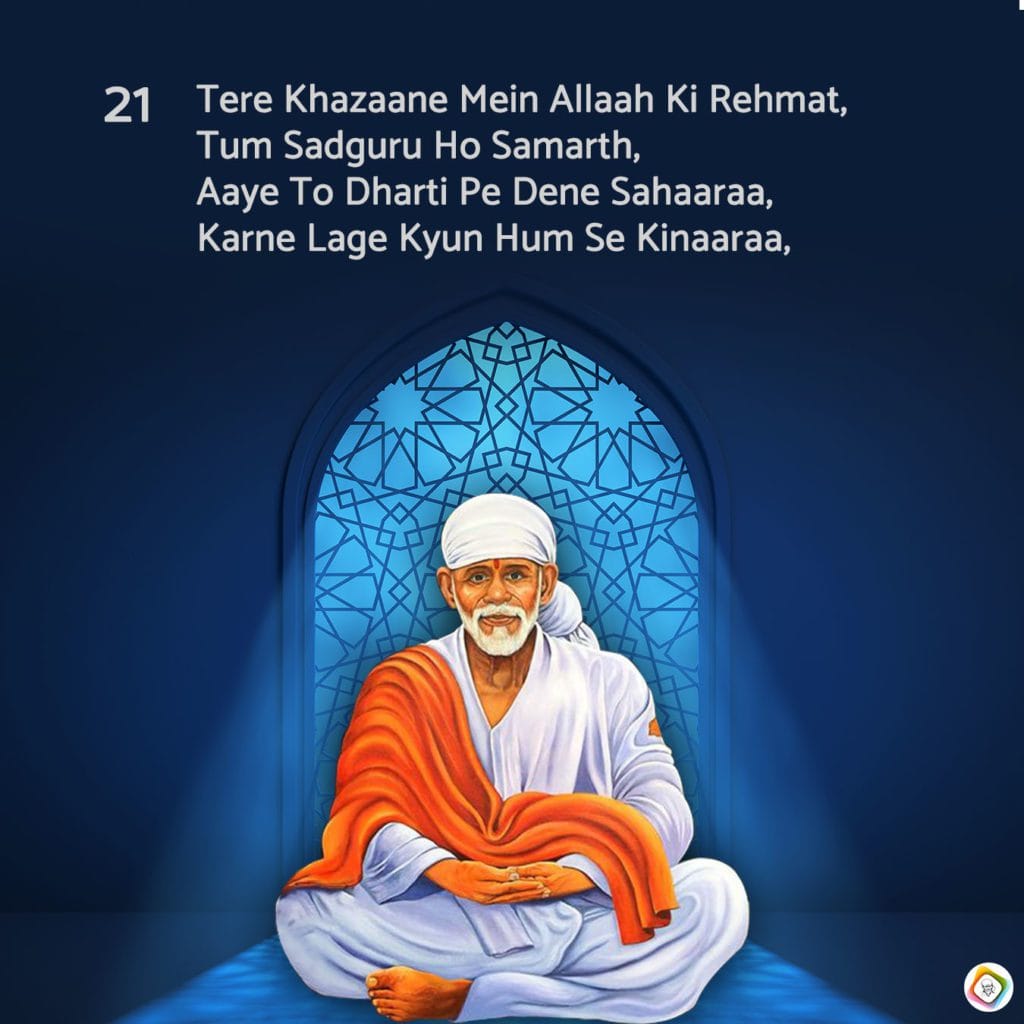 Download Sai Kasht Nivaran Mantra
Anonymous Shirdi Sai Baba Devotee from Pakistan says: I am from Pakistan and would love to share my experiences. I am a sincere devotee of my beloved Sai. Living in Pakistan, I don't have access to Sai temples, so I have a beautiful picture of Sai Baba, whom I talk to every day. I heard about the Mahaprayan, and I have already registered. I have known Sai for ten years but got devoted and strongly attached to Him for three years. I will relate my latest experience.
My son hasn't been feeling too well as a result of overthinking, especially during the Covid period. As a result, he has become frustrated and irritable to a large extent. I prayed to Sai Baba, and while praying, a thought came that I should read the Sai Charitra in seven days. With Baba's help, I did that and managed to complete it. My son is definitely better now. I thank my Baba with all my heart.
I hope these changes are helpful. Keep sharing your experiences with Sai Baba, and may His blessings be with you always.
Om Sai Ram.
Sai Baba's Grace Helps Devotee Overcome Work Issues
Anonymous Shirdi Sai Baba Devotee from India says: Sairam everyone. Thanks to Hetal ji and the team for giving us this blog. I am a small devotee of Sai Baba. I wish to share one of my experiences.
Since yesterday, I have been facing some issues with my work. I have been trying very hard, but I am not able to fix it. I have taken help from my colleagues, but even they are not able to fix it. Yesterday night, I was thinking about it and asking Baba to help me. Suddenly, today, I asked one of my seniors, and she simply suggested a way and asked me to try. I tried it, and it worked with Baba's grace. Thank you for helping me, Baba.
I promised Baba that if this issue gets fixed, I will share my experience with Sai devotees. As promised, I am sharing it. I also had one more small experience recently. My mobile got locked, and I was not able to unlock it. With Baba's grace, my husband helped me. Thank you so much, Sai. Always bless everyone with Your Nama Amaran.
Thanks
Sai Baba's Blessings: A Mother's Testimony Of Faith And Miracles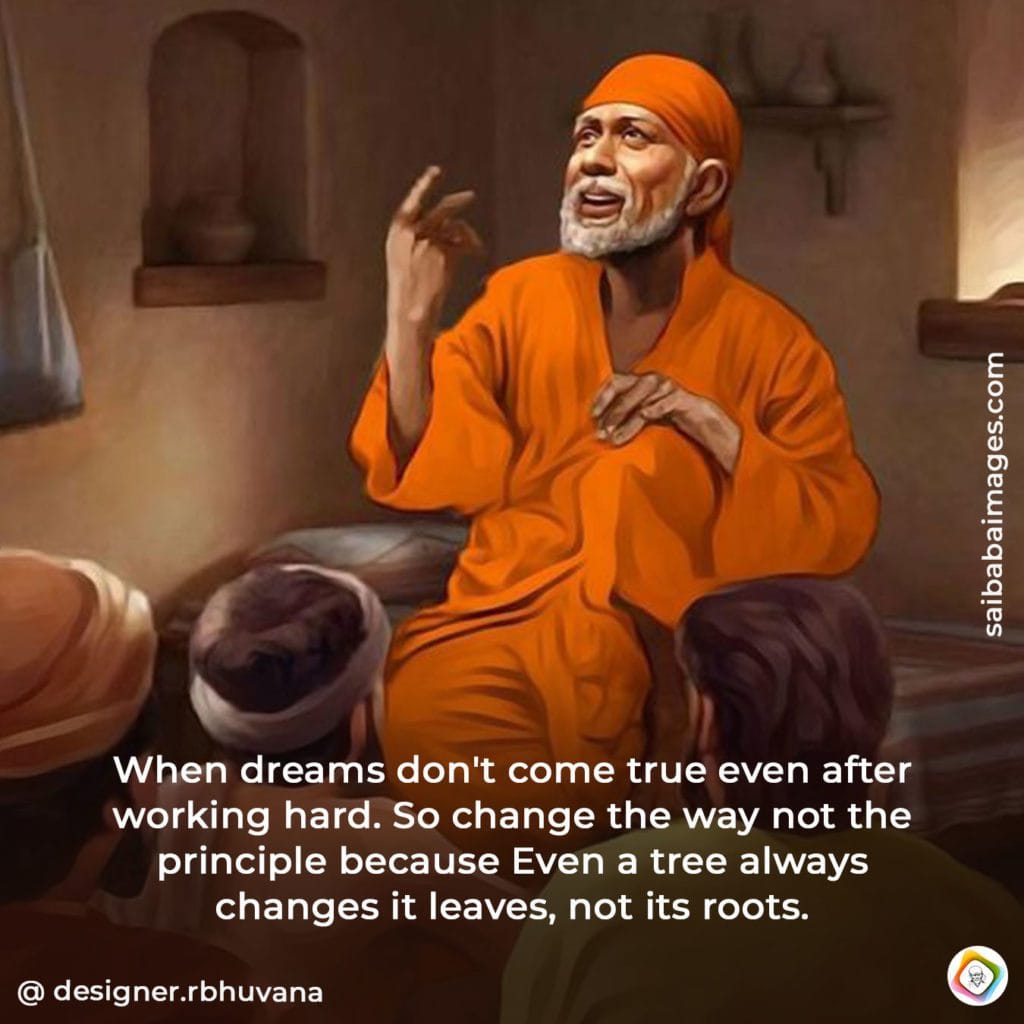 Anonymous Shirdi Sai Baba Devotee from India says: Pranam to all and pranam to Hetalji and her team, who are blessed, souls. Please keep my identity anonymous.
My daughter had her last math exam yesterday, and she was not feeling prepared. She wanted to clear this course and get credits for it somehow. She was very nervous before the exam. Before every exam, I invoke Sai Baba's blessings and apply His divine Udi on my daughter's forehead. Needless to say, her exam went off really well, and she scored a good percentage on it. I had pledged to Sai Baba that if she scores well, I will share my experience with all of Sai Baba's devotees on this blog.
Thank you, Sai Baba, once again for showing us your miracle. Om Sai Shri Sai Jai Jai Sai!
Sai Baba's Blessings Bring Timely Delivery Of Son's Birth Certificate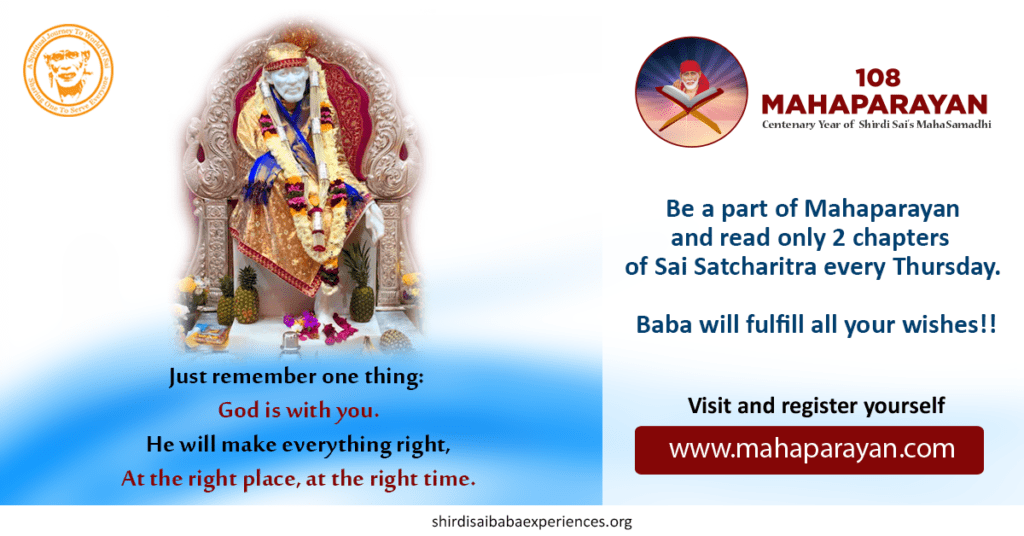 Anonymous Shirdi Sai Baba Devotee from India says: Dear Sai devotees,
I recently experienced a wonderful miracle that I had been waiting for, for months. I had been eagerly waiting for my son's birth certificate to arrive and had been praying to Baba for its timely and accurate delivery. To my delight, the certificate arrived soon after my prayers, leaving me thrilled and grateful to Baba.
I wish to express my heartfelt gratitude to Baba and seek His blessings for my son's future. May Baba guide him and help him prosper in all aspects of his life.
Thank you for giving me the opportunity to share my miracle with you.
---
More from SaiYugNetwork.com