Download Sai Baba Daily Calendar with Images
Guided By Sai Baba: A Journey Of Faith And Divine Intervention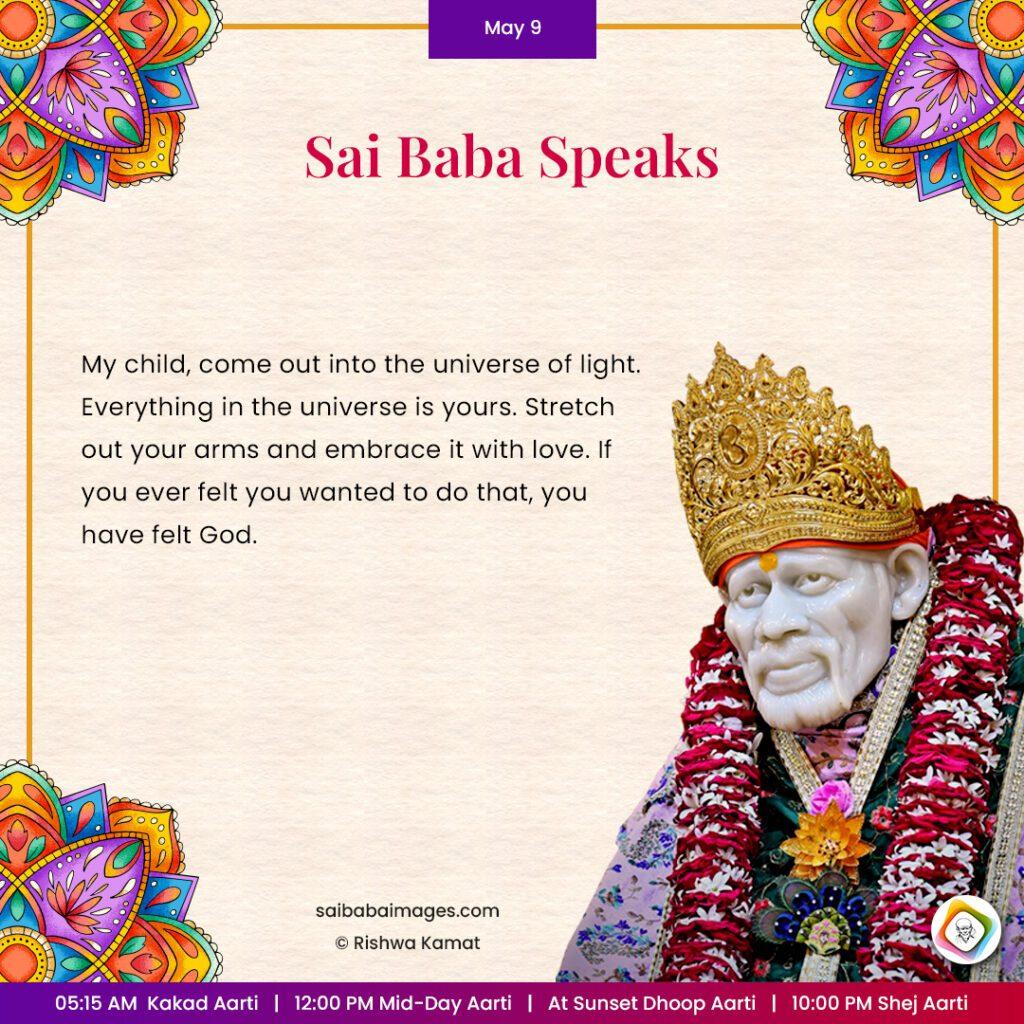 Anonymous Shirdi Sai Baba Devotee from USA Says: I reside in the United States of America along with my wife and two children. Last December, my wife's cousin was preparing to tie the knot. Due to a last-minute decision, it was agreed that I would stay back in the USA with the children while my wife made a short visit to India for the wedding. She was expected to return within ten days. Every Thursday, we make it a point to visit a nearby Sai Mandir with our kids. About three days before my wife departed for India, we went to the mandir as usual. However, I had to drop off my son at one of his activities. On my way back home while driving, I experienced a tightness in my chest, as if some food was lodged there. Once I arrived home, the discomfort subsided after a while. Concerned for my well-being, my wife advised me to see a doctor if I were to experience such symptoms again. A few days later, we dropped her off at the airport.
The following Thursday, I took the kids to the mandir at the usual time, and to my dismay, the pain returned exactly as before. This time, the tightness in my chest was accompanied by a slight pain in my left shoulder. A quick search on Google revealed that these could be potential signs of a heart attack. I was terrified, and I noticed that my heart rate was also elevated. It was nighttime, and the increased heart rate prevented me from sleeping. My children were peacefully asleep, and I couldn't fathom the idea of leaving them at home to rush to the Emergency Room. Typically, ER visits consume a considerable amount of time, and I would have to spend several hours in the hospital. I was uncertain if I could return before my kids woke up in the morning. I kept praying to Baba, seeking His protection for my family. I was torn between deciding whether or not to go to the ER. Finally, around 11:30 pm, it seemed as if Baba Himself guided me, much like the story of Kakasaheb and Shama in Satcharita, where they sought Baba's advice on accepting a dhotar. With trembling hands, I wrote down two options on separate chits: "Go to the ER now" and "Go in the morning." Placing the chits at Baba's feet, I implored Baba to show me the right path. I randomly selected the chit that read "Go in the morning." A sense of relief washed over me, and my heart rate gradually returned to normal. I managed to calm down a bit and eventually fell asleep.
The next morning, I dropped off the kids at the bus stop and headed to the emergency room (ER). After undergoing several tests, the doctors ruled out the possibility of a heart attack. They advised me to see a cardiologist and undergo a stress test. Unfortunately, I couldn't secure an appointment until a month later. During this time, I fervently prayed to Baba, hoping that all the test results would come back negative. I also made a promise to write about my experience and share it here. Finally, after a month had passed, I underwent all the tests conducted by the cardiologist, and to our immense relief, they all came back negative. We were grateful to Baba for His mercy and assistance during this critical time of crisis.
However, nearly two months went by, and I kept postponing the task of writing about my experience. I was dealing with other problems at home, concerning my wife and parents, which added to my stress. In the midst of these challenges, I continued to pray to Baba, seeking solace as Maya, or worldly illusion, seemed to whip me relentlessly. I desperately clung to Baba's feet, knowing He was always by my side.
Two days ago, I came across Chapter XIII, which beautifully described the nature of Maya. It served as a reminder that Baba was still with me, guiding me through life's trials. This morning, I read Chapter XV, where Mr. Cholkar made a vow and fulfilled it by saving money through giving up sugar in his tea. As I read this story, it stirred my memory of my own unfulfilled vow to share my experience. Baba, in His own unique way, reminded me of this promise and compelled me to write and share my story. It is stated in Chapter XV that all we need to do is wholeheartedly extend our arms in devotion to Baba, and He will instantly be with His devotee. Despite the repercussions of my past actions and the negative consequences of my own bad karma, I consider myself incredibly fortunate to have Baba by my side, guiding me through life's ups and downs. I shudder to think what I would have done without Baba's guidance and assistance. All we can do is hold steadfast to His feet, praying for forgiveness for our mistakes and seeking His unwavering presence in our lives, knowing that He will never abandon us.
Sai Baba's Blessings: A Journey Of Miracles And Faith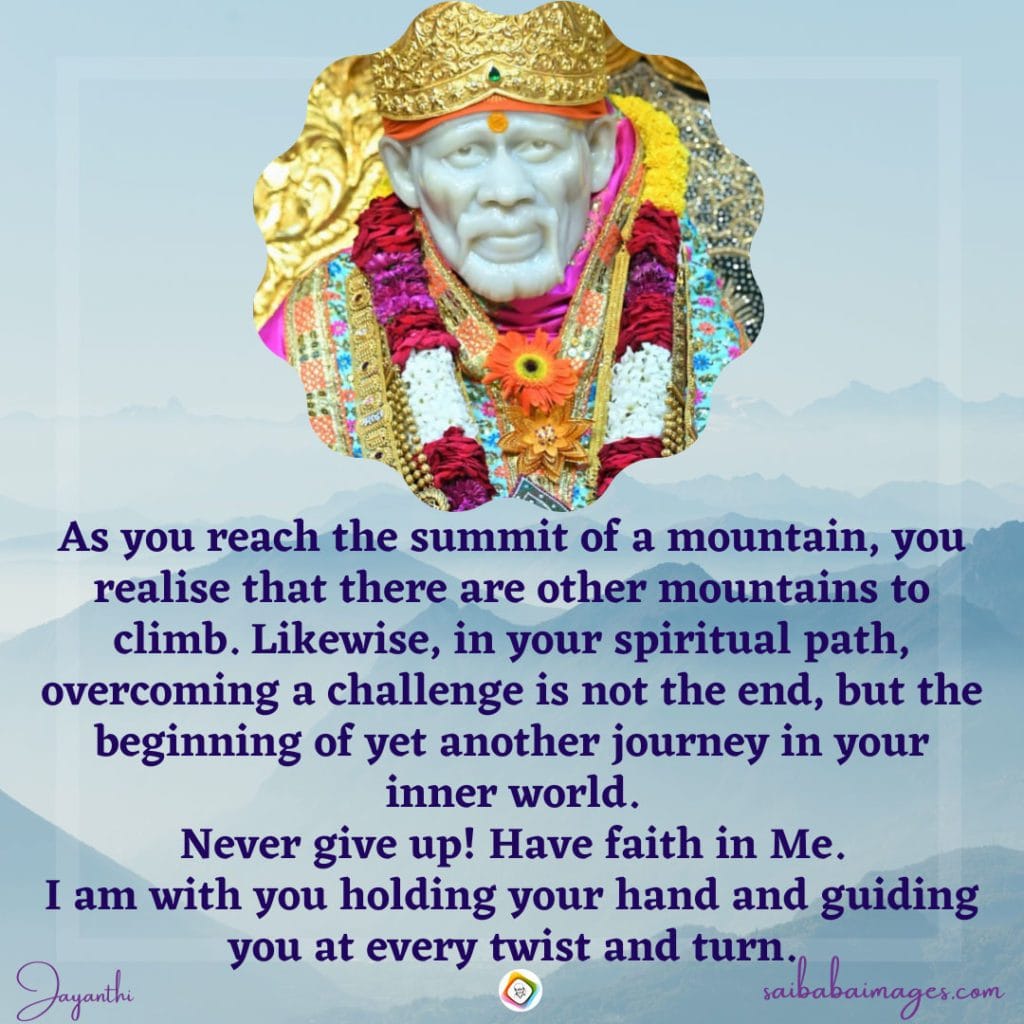 Anonymous Shirdi Sai Baba Devotee from USA Says: He humbly pulled me towards Him, and Baba has been showering His blessings on us throughout our lives. Baba also pulled my husband towards Him, and now he has become a sincere devotee of Baba. Thanks a lot, Baba, for everything. Kudos to the people maintaining this blog. You all are blessed ones, and may Baba continue showering His blessings on all of you. I am a part of the Mahaparayan group because of His blessings. Whenever I feel low, I read about the miracles of Baba on this site, and it fills me with more energy and peace.
Baba has shown many miracles in our lives. Even for trivial things, my husband and I turn to Baba. He guards us like a parent and guides us on the correct path. Once, my husband was doing some electrical work and had to cut through the drywall. While cutting, we were worried that he might accidentally cut a wire. We panicked and immediately prayed to Baba, asking that the wire not be cut. By Baba's grace, the wire remained untouched. Another miracle he showed us was when some packages were not being delivered to our new address due to it being a new construction site. However, when we prayed to Baba, He showered His blessings upon us, and the packages were delivered. Please, Baba, help us register the new address at the postal service as it is causing a delay.
To all those going through troublesome periods, hold on to Baba, have Shraddha (faith), and Saburi (patience). Baba always speaks the truth, and he never abandons his devotees. Thank you, Baba. Please bless all your devotees. Om Sai Namo Namah, Sri Sai Namo Namah, Jai Jai Sai Namo Namah.
Download Shirdi Sai Baba Mantra Book for Free
We invite you to download our 'Shirdi Sai Baba Mantra' book, which is a collection of powerful mantras that can help you connect with the divine energy of Sai Baba and seek his blessings. We hope this book serves as a valuable resource on your spiritual journey and brings you closer to the love and grace of Sai Baba.
Sai Baba's Divine Intervention: Finding And Fixing Issues At Work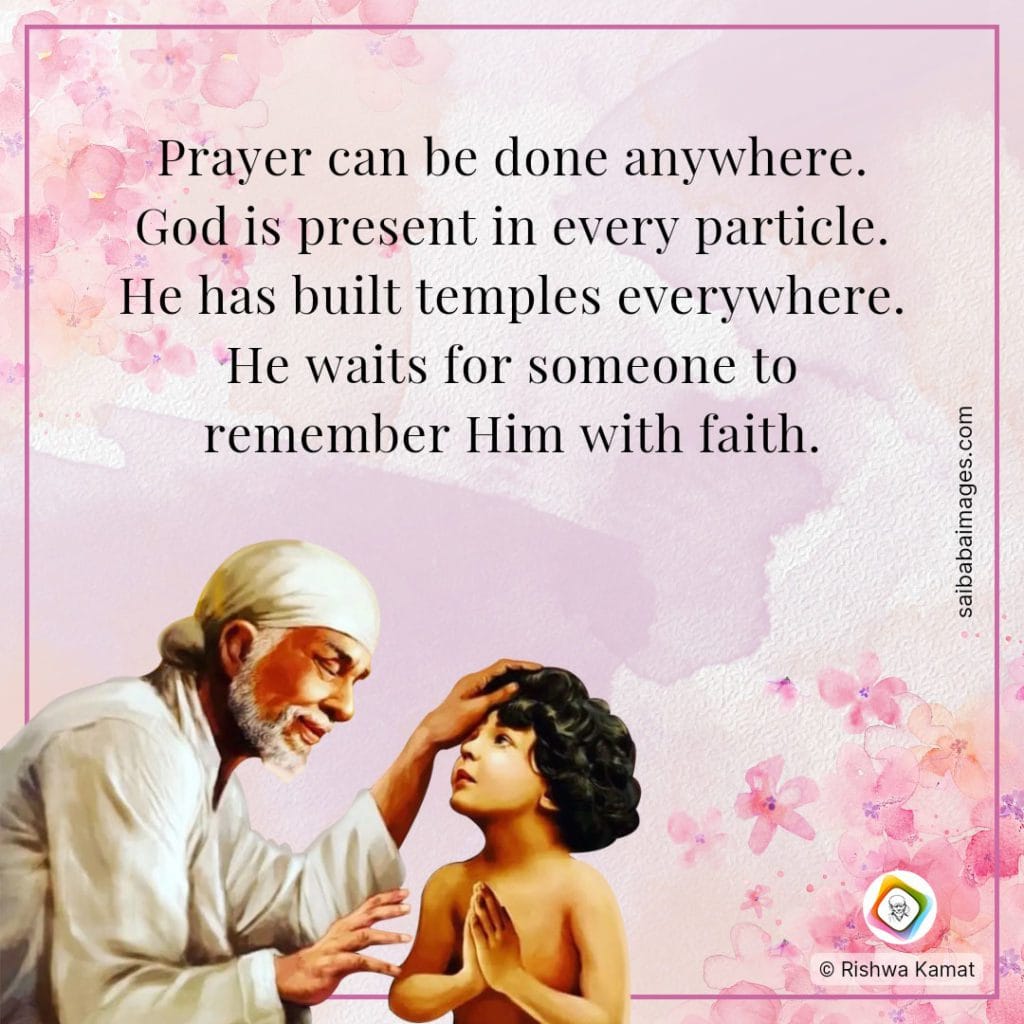 Anonymous Shirdi Sai Baba Devotee from USA Says: Om Sai Ram. Thank you, Hetalji, and the team for providing this wonderful platform.
My day begins and ends with prayers to Sai Baba. Baba is everything in my life.
Recently, at my workplace, I was assigned a task that required multiple rounds of testing before delivering it to the customer. However, the fix kept breaking intermittently. Every time we tested it again, it would work fine, but then fail at times. I was quite worried about this and decided to pray to Baba to help me identify the issue.
To my astonishment, the very next moment, I was able to notice a few things that indicated that another task associated with my fix was triggering the issue. With Baba's blessings, I quickly provided another fix that never broke. I was able to find the issue and resolve it immediately. I am grateful to Baba for everything. May his blessings be upon us all. Om Sai Ram, Om Sai Ram, Om Sai Ram.
Seeking Baba's Blessings: A Journey To Win And Serve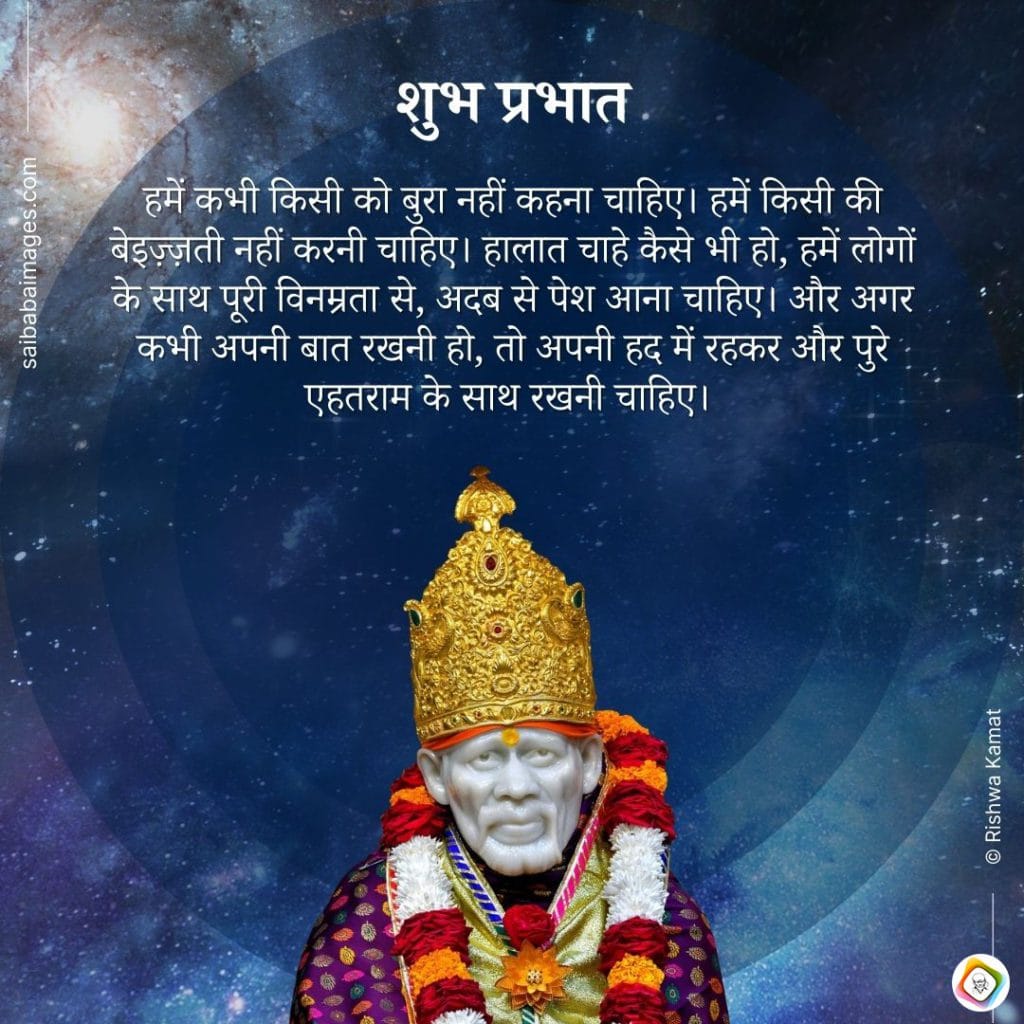 Anonymous Shirdi Sai Baba Devotee from India Says: Baba, I want to express how much You mean to me and seek Your blessings for the opportunities ahead. As You are aware, I am participating in one of the pageants and my ultimate goal is to win the title. Along with this, I am driven to engage in social service and assist those who are in need. My motto is to establish a charitable organization that can provide aid to as many people as possible. This has always been my long-term dream, but to fulfill it, I require financial support.
I kindly request Your assistance in obtaining jewelry shoots that can help me arrange the necessary finances. This will not only benefit me personally but also enable me to extend my support to others. Baba, I humbly ask for Your blessings and guidance. Please be by my side every step of the way, from this moment until my last breath. Winning this competition is of utmost importance to me, and I will surely share my experience with you. Please bestow your divine intervention upon me and grant me the victory I strive for.
Sai Baba's Benevolent Blessings: A Testimony of Gratitude and Relief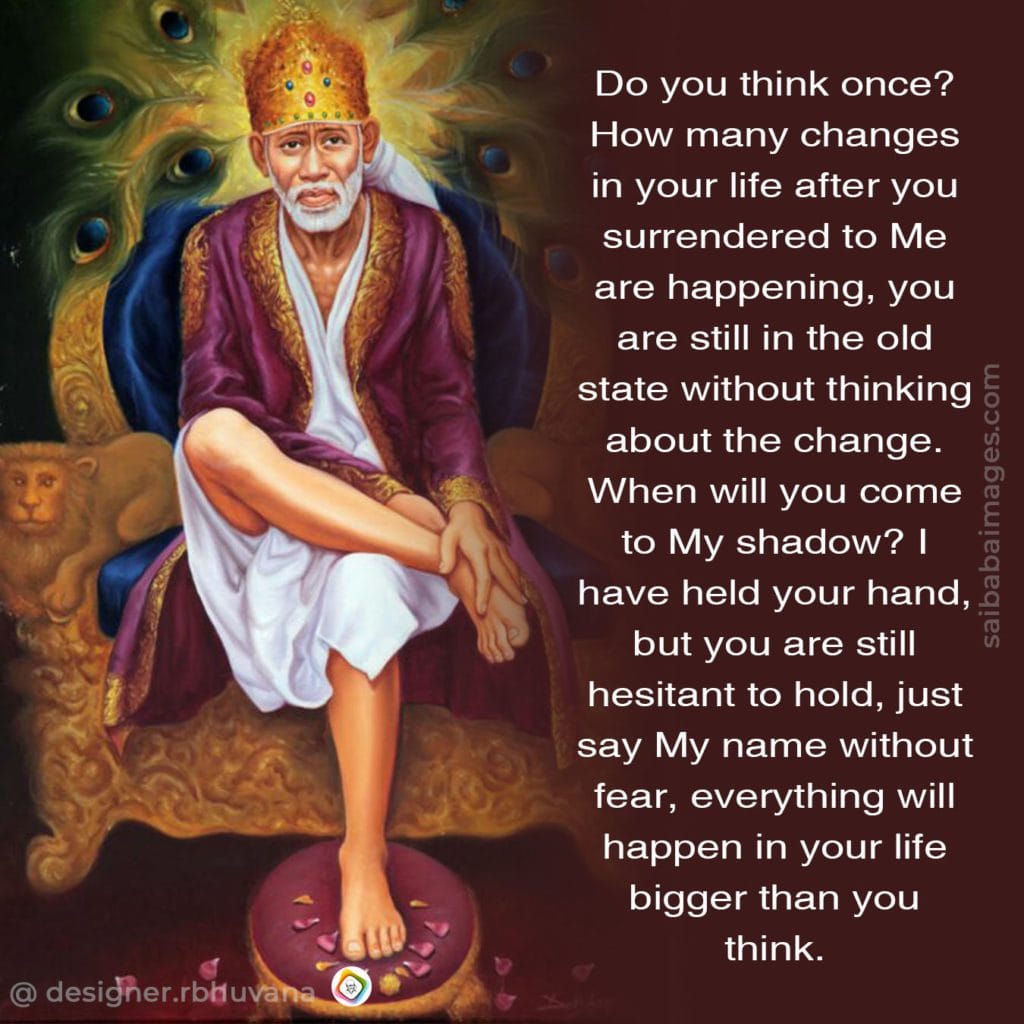 Anonymous Shirdi Sai Baba Devotee from USA Says: Om Sai Ram. I want to thank Baba for His help yesterday. I was having a lot of trouble sleeping and prayed to Baba that if He blesses me with good sleep then I will share the experience, and yes with Baba's blessings, I slept well. Thank you, Baba. Thank You also Baba for relieving my worries today. I had some swelling on my wrist and I was so worried about it. I was so scared and didn't know what to think so I went to the doctor. I prayed that if they say it was nothing and is just minor then I will share the experience, and yes to my relief they said nothing to worry about. I was so happy and I am filled with gratitude to You Baba. Thank You Baba for taking care of me even when I don't deserve it. Baba, thank You so much for making the package arrive safely, I am so joyful looking at it. Baba, please bless me with a suitable alliance soon. Baba thank You for all that You do for us. Baba, we are so blessed to be Your children. Thank You So Much, Sai Baba.
A Transformation Through Faith: How Sai Baba Captivated A Devotee's Heart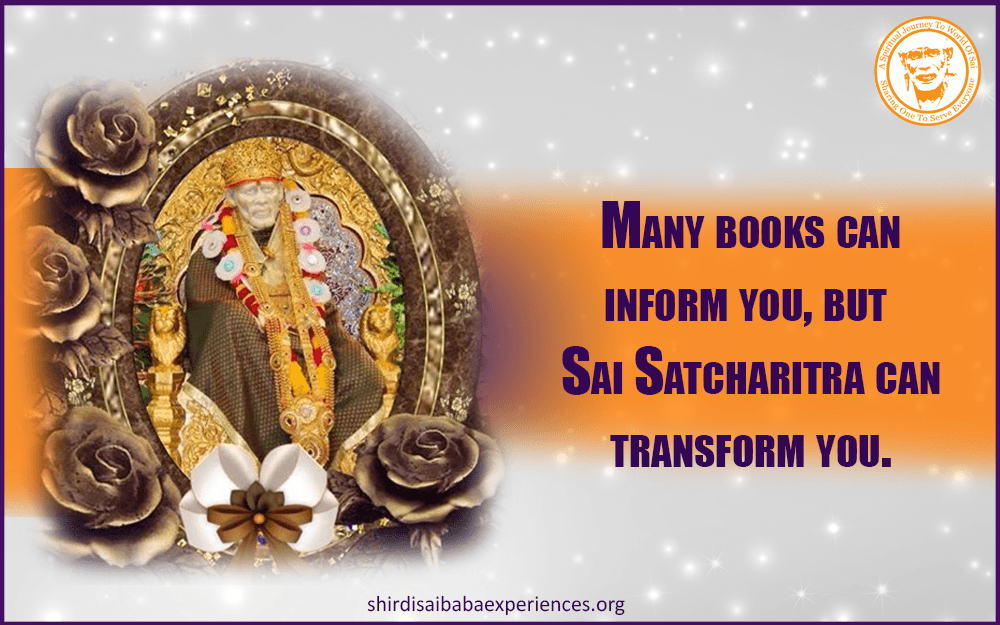 Anonymous Shirdi Sai Baba Devotee from India Says: I am an ardent devotee of Sai Baba for the past 1.5 years. Initially, I wasn't a follower of Sai Baba. However, one day, something extraordinary happened. I spontaneously decided to visit the Sai Baba temple. As I bowed my head before Sai Baba, a flower fell gently upon my head. In that moment, I felt immensely blessed. Since then, I have noticed that even my smallest desires have been fulfilled. This remarkable experience led me to believe in Sai Baba. He has drawn me towards him, offering unwavering support, protection, and the fulfillment of all my wishes. My faith in Sai Baba is unwavering, and I trust that he will continue to guide me and my family.
More from SaiYugNetwork.com
© Shirdi Sai Baba Devotees.com – Member of SaiYugNetwork.com