Download Sai Baba Images In This Post
A Miracle Recovery Through Sai Baba's Grace
Anonymous Shirdi Sai Baba Devotee from India says: Om Sai Ram. I am a devoted Sai follower from India, and I am immensely grateful for this platform that allows us to share our experiences. I apologize to Sai Baba for my delayed post and humbly ask for His forgiveness. I have been blessed with numerous miracles from Sai, and I would like to share one of them with you.
In February 2017, my mother started experiencing fatigue, sweating, difficulty in breathing, chest pain, and overall deterioration in her health. Concerned, we sought the expertise of the best cardiologist in the city, who informed us that her heart was swollen. As a result, her heart rate had gradually declined to 27%. The doctor explained that her heart problems were a direct consequence of years of strenuous activities, such as doing laundry and carrying water from the ground floor to the upstairs. The doctor advised her to cease these activities immediately and prescribed medication to improve her heart's functioning. We were also instructed to visit the doctor every month for progress monitoring. However, the doctor solemnly added that the length of her life was uncertain. We were devastated by the doctor's words and chose not to disclose this information to my mother.
At that time, I was working in a different city and had recently embarked on a new career opportunity. Consequently, I was unable to take leave from work. Nevertheless, I managed to travel to my hometown every weekend to be with my mother. My sister took excellent care of her during my absence. With heavy hearts, we turned to Sai for help, pouring out our tears and prayers in his divine presence. We fervently chanted Sai's name, repeating "Om Sai, Sri Sai, Jaya Jaya Sai."
I brought Udhi from the Sai Temple and mixed it with water for my mother to drink. However, after consuming the Udhi mixture, she vomited profusely and felt exhausted, leading her to sleep for several hours. We were deeply concerned by her condition. It was then that I recalled Sai's unique methods of treatment. We realized that Sai had initiated the process of my mother's recovery.
We continued our prayers to Sai, and my sister diligently took our mother for monthly consultations with the cardiologist. Whenever possible, I joined them for these visits. After a year of consultations, the doctor advised us to conduct ECHO and EGC tests. Upon reviewing the test results, the doctor informed my sister that her heart rate had improved to 75%. Om Sai Ram…
The doctor then went on to say that typically, a patient's heart rate gradually decreases, and they may not survive beyond a few months. However, in your mother's case, it is a miraculous intervention by God that her heart rate has improved significantly. Take good care of her and continue with the medication. Overjoyed, my sister called me and shared the doctor's words. I felt an indescribable sense of gratitude towards Sai for returning our mother to us. No matter how much I express my thanks to Sai, it will never be sufficient, as our Sai Ma provides us with the strength to face our karma and protects us every moment.
We maintained patience and unwavering faith in Sai for our mother's recovery, and Sai made it happen!
Sai Baba's Udi is the most powerful medicine in the world for His devotees. Anyone who drinks Udi mixed with water while having complete trust in Sai will be saved from the trials and tribulations of the world. Let us surrender ourselves to Sai.
Baba, I have one prayer request for you: We have been searching for a suitable match for my sister. Please bless her with a timely and happy marriage…
Om Sai Ram…
Sai Baba's Miraculous Blessings During A Family Visit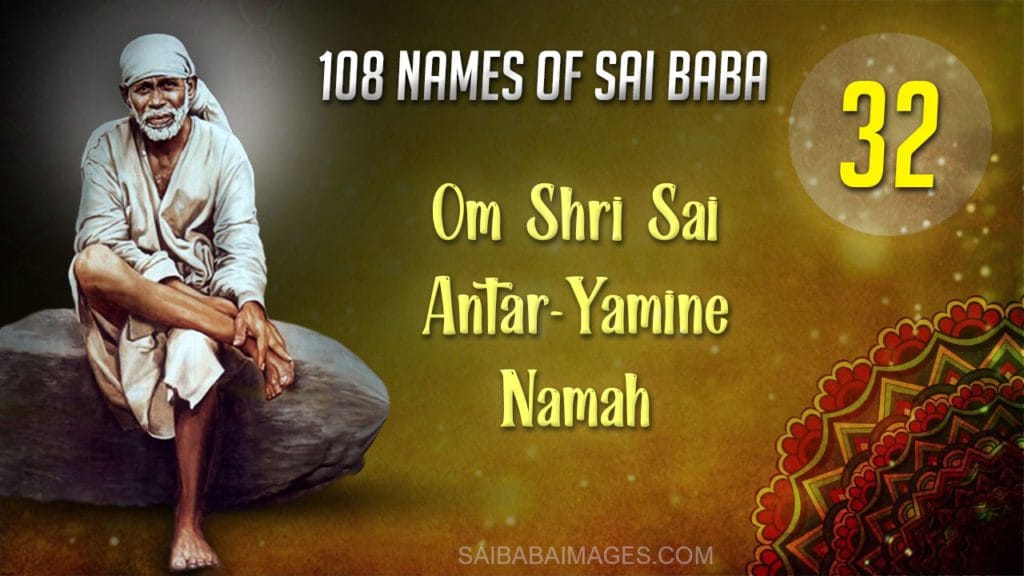 Anonymous Shirdi Sai Baba Devotee from USA says: Om Sairam, first and foremost, I would like to express my gratitude to the team maintaining this blog. I truly believe that this platform serves as a modern Sai Satcharitra. Please keep my identity anonymous.
I would like to share a deeply personal experience that unfolded when my parents visited my house. Currently residing in the USA with my spouse and children, I have always held a strong bond with my parents, especially since I am the youngest of three siblings. Despite the physical distance and infrequent visits due to our relocation, the emotional connection remained intact. However, the pandemic further restricted our opportunities to meet, and even the once-in-two-year reunion became a distant dream. During this challenging time, I yearned to see my parents more than ever before. Unbeknownst to me, the pressures of work, raising children, and various other responsibilities had taken a toll on my well-being. Compounded by my existing OCD, my stress levels began to skyrocket.
For the first time in my life, I silently turned to Baba in prayer, beseeching Him to orchestrate a visit from my parents. One option was for me to travel to India, albeit for a limited duration of three weeks, and even then, the time would have to be shared among my in-laws and the rest of the family. Although my husband is a kind-hearted person, our relationship with my family had always been somewhat fragile, and he wasn't particularly supportive of my closeness to them. Thus, the idea of having my parents here with me seemed like an unattainable dream.
Despite the numerous obstacles, Baba answered my prayers in the most astounding manner. My parents graced my home with their presence, and they stayed with us for a remarkable period of two months. This was truly an impossible scenario, yet Baba once again demonstrated His ability to transform the impossible into reality. Moreover, my husband exhibited remarkable kindness toward my parents, taking care of them as if they were his own, despite not having seen his own parents for over four years. I cannot express enough gratitude to Baba for these incredible miracles.
My parents' visit went smoothly, except for last week when my dad experienced stomach pain resembling kidney stones, a condition he had dealt with before. I felt a sense of panic and helplessness, unsure of what to do. This occurred on a Tuesday, and their planned departure to India was scheduled for that Sunday. Desperate for a solution, I gave my dad water mixed with Udi and went to bed.
The following day, his pain had significantly subsided, and he was able to move around normally. While he had occasional moments of uneasiness until we left for the airport, it was nothing compared to the initial pain. In short, after using udi, his illness seemed to vanish. They had intended to seek medical help for kidney stones upon their return to India. However, by Baba's grace, that proved unnecessary, as my dad felt completely normal. To this day, the exact cause of his pain and discomfort remains unknown, but one thing I am certain of is that Baba showered us with His blessings.
Baba, I acknowledge that I have been feeling disconnected from many aspects of my life, including my connection with You. Please forgive me for that, and I humbly request that You always remain by my side. Please help alleviate the heaviness in my heart and grant me peace and relaxation. Please make the world a better place to live in.
Grateful For Sai Baba's Help In Times Of Need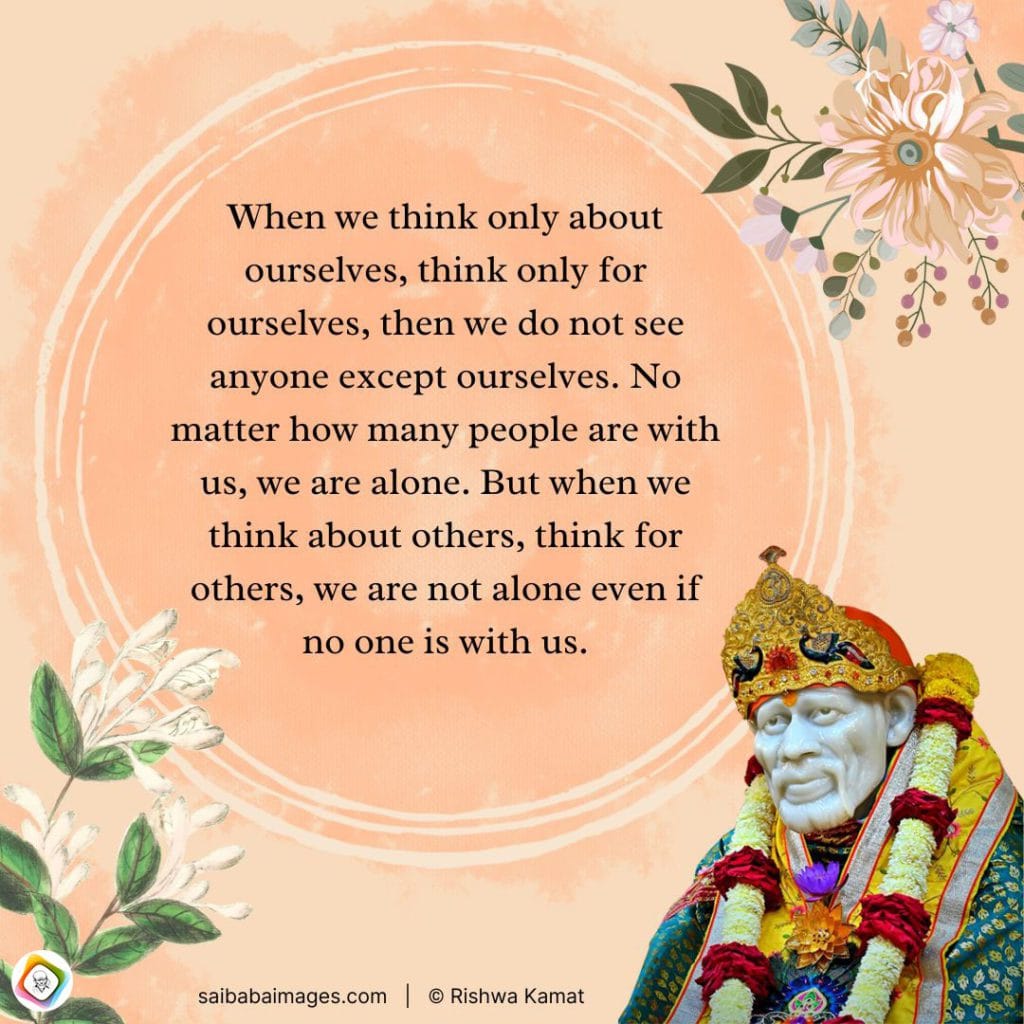 Anonymous Shirdi Sai Baba Devotee from USA says: Om Sai Ram. I want to express my gratitude to Sai Baba for His assistance the other day. Baba, I apologize for the delay in posting this message. I had been searching for something everywhere, but couldn't locate it. I prayed to Sai Baba, promising to share my experience if I found it. To my amazement, within a few seconds, I recalled where I had placed it, and I found it. I am immensely grateful to Baba for this miraculous help. Thank You, Baba, from the depths of my heart.
Baba, I also want to thank You for guiding me out of a difficult situation that I faced recently. Your divine intervention was truly a blessing. Moreover, I am grateful to Baba for providing me with clarity regarding the situation with that boy. I was unsure about how to approach my parents, so I prayed to Baba for guidance. I promised that if I could ask them without them getting angry, I would share this experience. Fortunately, they didn't get mad, and I could discuss it with them. Baba, I am indebted to You for always helping me, even when I feel undeserving of Your grace.
Baba, as Your children, we are incredibly fortunate and blessed. I express my heartfelt gratitude for everything You have bestowed upon us. Thank You so much, Sai Baba, for Your boundless love and blessings.
Seeking Guidance and Gratitude: A Personal Account of Sai Baba's Influence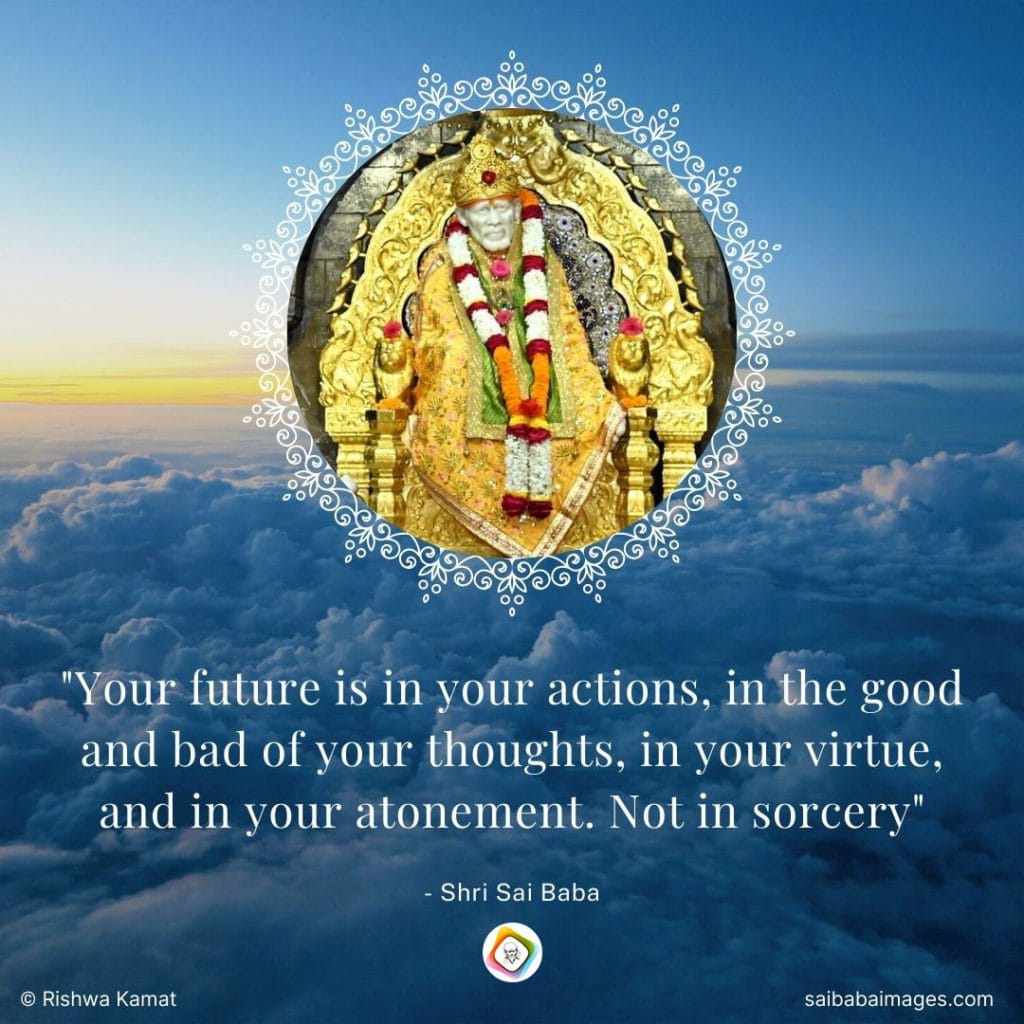 Anonymous Shirdi Sai Baba Devotee from India says: Baba, You know everything. You are watching every second. I don't know if I am correct or wrong, but it hurts to see why people are hurting us in this situation. It is equally painful as losing a person. I believe it's Your decision, as You have planned everything. I am not asking You to hurt them too, but let them know how it feels when we hurt someone. Show them the consequences, just as You have shown to us. It's not just one or two individuals, but the whole society is against us while we stand alone.
Sometimes, I question if we are truly wrong, which is why people blame us. If we are indeed wrong, you, our Guru, and Kallalamma, our mother, can guide us to change in a positive way. I apologize and request you to remove my pride and ego.
I would like to share some experiences that I have had:
Thank You for helping Adhi sleep at night.
Our children recovered from fever after we surrendered to You. Thank You for that.
Thank You for providing me comfort wherever I go and for helping me with my work-related matters.
If I have forgotten to mention anything, please forgive me, Baba.
Om Ganeshaya, Om Shakthi Kallalamma thaye, Adhithimappa, Om Sai Ram, MKDG, Om Sai Rakshak Sharanam Deva, Om Shree Sai Arogya Kshemadaya Namaha, Om Shree Sai Nathaya Namaha, Om Shirdi Vasaya Vidmahe Sachidananda Dhimahi Tanno Sai Prachodayath.
Sai Baba's Miraculous Assistance And Blessings: A Devotee's Gratitude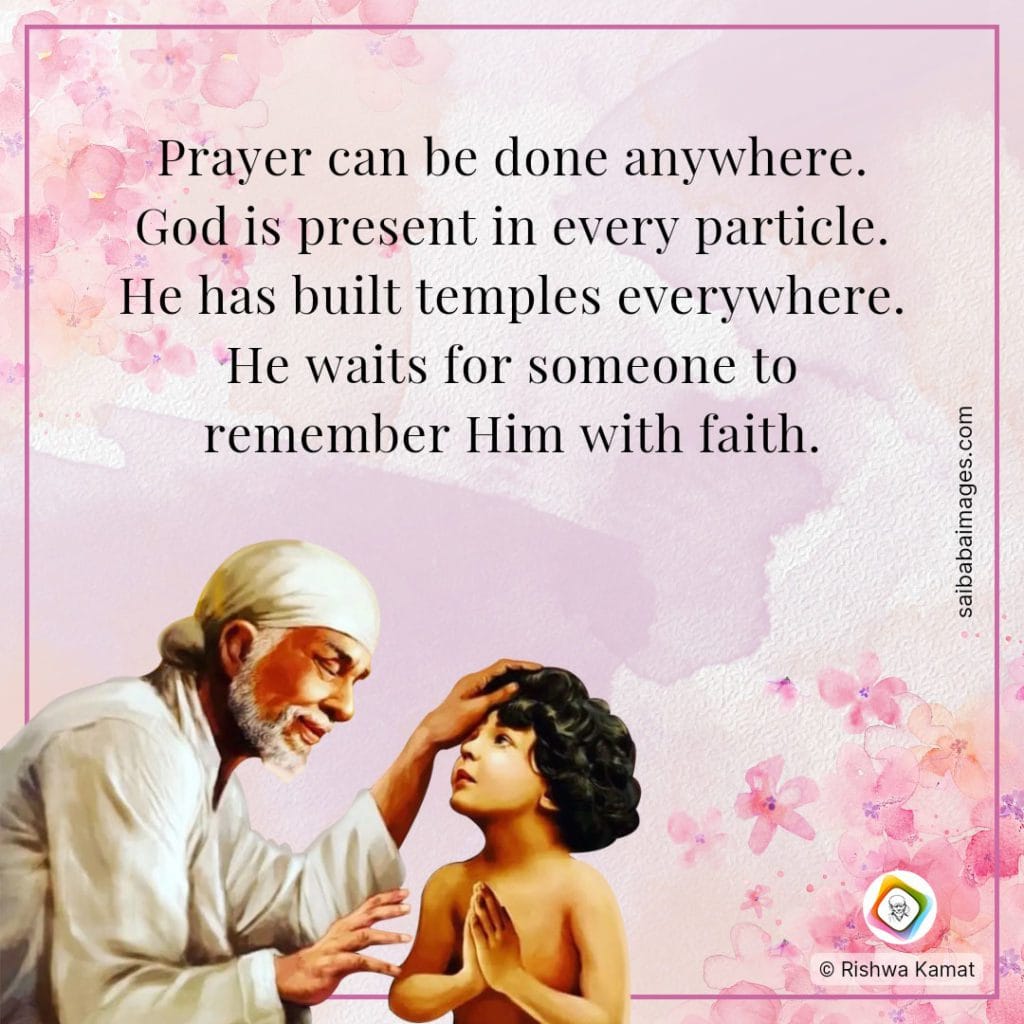 Anonymous Shirdi Sai Baba Devotee from USA says: Om Sai Ram. I want to express my gratitude to Sai Baba for the assistance He provided me the other day. I had been praying to Baba, requesting Him to dissolve an alliance that I was not fond of, yet I didn't want to create any disturbance. I fervently prayed that if the issue could be resolved, I would share my experience. And indeed, by Baba's grace, the alliance was dropped, and I felt an immense sense of relief. Thank You, Sai Baba.
Furthermore, I want to extend my heartfelt appreciation to Baba for aiding me in completing my Nav Guruvar Vrata. I consider myself incredibly fortunate to have the opportunity to read and observe this vrata. Baba, I humbly ask for Your forgiveness for any mistakes I may have made. I am sharing the book related to this vrata with fellow devotees to the best of my abilities, with the hope that it will spread the miracles associated with this sacred observance.
You can find the book on the following website: https://www.shirdisaibababooks.com/sai-nav-guruvar-vrat-katha/
Baba, I beseech You to bless us and fulfill my wish in the near future. We, Your children, feel immensely blessed to have You as our guiding light, and we are grateful for Your constant assistance. Thank You so much, Sai Baba.
Sainath's Miraculous Intervention: A Devotee's Heartwarming Experience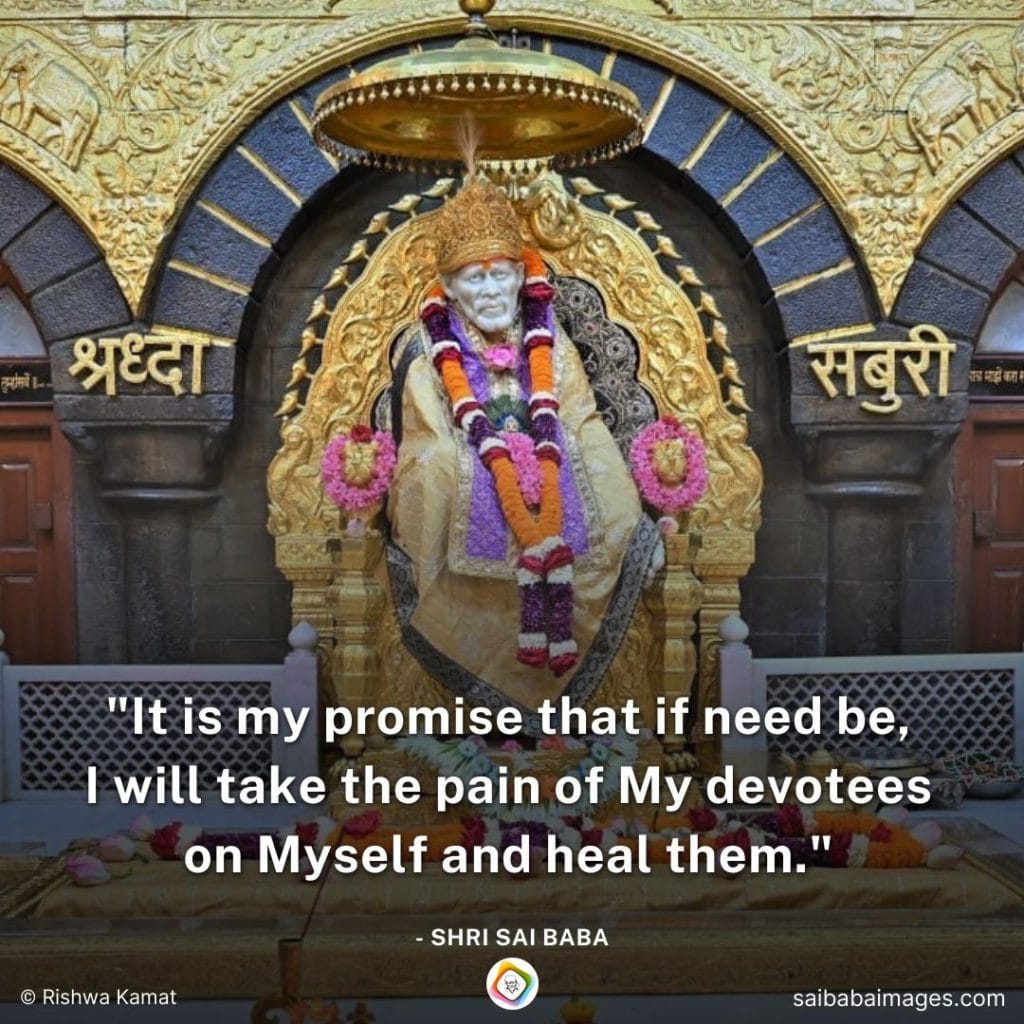 Anonymous Shirdi Sai Baba Devotee from India says: This site gives us a lot of hope by reading other devotees' experiences. I have already posted many experiences on the site, and I want to share my recent experience. Whenever I feel tense or something is bothering me, the only answer to my problem is Sainath. I just pray to Baba, "Please help me come out of it."
One night, my daughter was crying and couldn't sleep. I asked her what was wrong, but as she is young, she couldn't express herself properly. She said she had a headache, stomachache, and ear pain. She was unable to sleep, so I prayed to my Sai Baba, "Please help my daughter." I gave her paracetamol and started chanting Baba's name, promising to post my experience since it had been a long time since I last shared. And then, a miracle happened—she fell asleep within 15 minutes.
Thank you, Baba. You are always there for your devotees. Baba, please bless my family with good health and help me grow professionally. You know everything, Baba. Please help me. Om Sai Ram.
Download Shirdi Sai Baba Mantra Book for Free
We invite you to download our 'Shirdi Sai Baba Mantra' book, which is a collection of powerful mantras that can help you connect with the divine energy of Sai Baba and seek his blessings. We hope this book serves as a valuable resource on your spiritual journey and brings you closer to the love and grace of Sai Baba.
More from SaiYugNetwork.com
© Shirdi Sai Baba Devotees.com – Member of SaiYugNetwork.com