Download Sai Baba Daily Calendar with Images
Sai Baba's Guiding Influence and Miraculous Blessings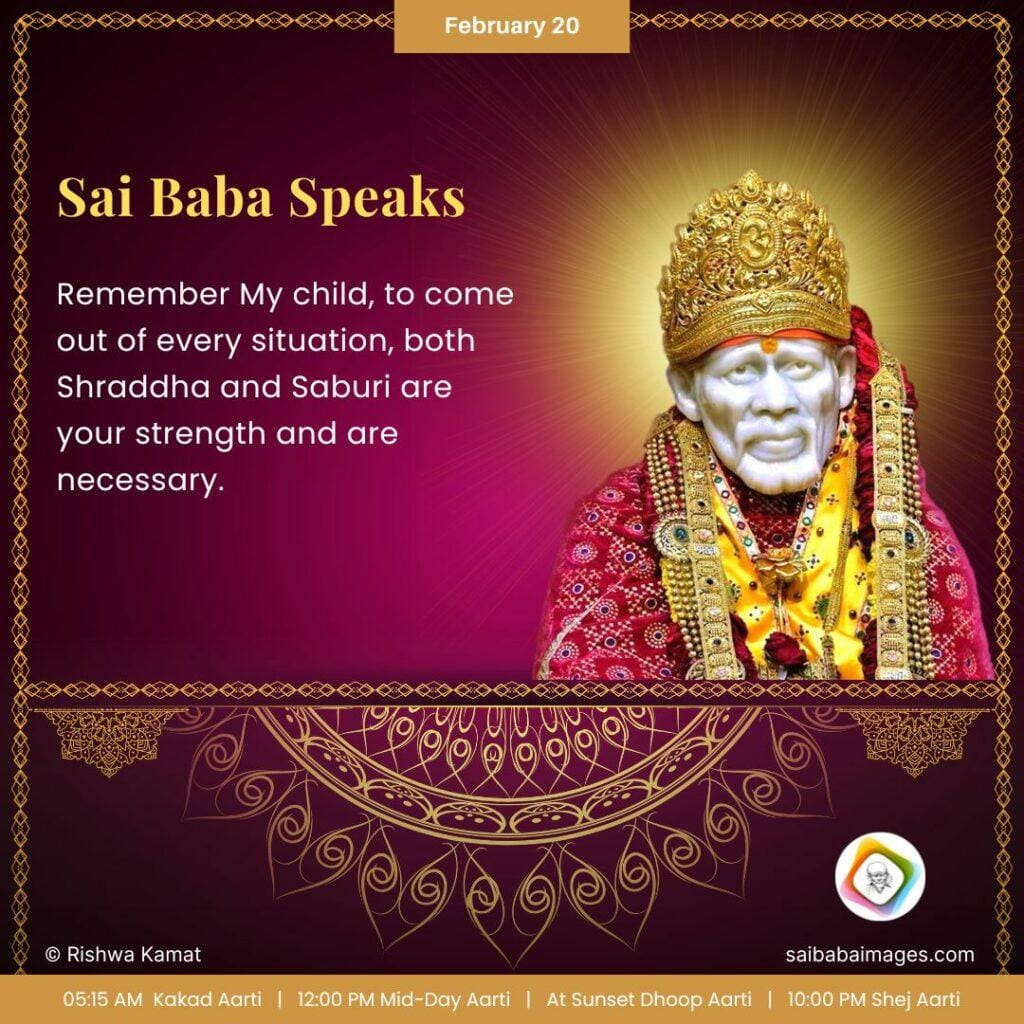 Anonymous Shirdi Sai Baba Devotee from the UK says: I am a very small Sai Baba devotee living with my family in Manchester.
Sai Baba has been a guiding light in my life, assisting me through difficult times and consistently leading me toward the right path. Every day, I eagerly read about the experiences of other devotees, finding solace and unwavering belief in Sai Baba's divine presence. I attribute my job, my husband's improved health, and the well-being of my children to the blessings bestowed upon us by Sai Baba.
Recently, my son fell ill and had been struggling with his health for the past month. Despite multiple rounds of antibiotics, his condition would improve briefly before recurring, accompanied by a persistent dry cough and fever. One night, as he continued to cough incessantly and eventually vomited, I turned to Sai Baba in prayer, seeking His divine intervention to heal my young child and bless him with good health. Miraculously, within moments of my prayer, his coughing ceased.
The following morning, I took my son to the general practitioner for a check-up. Once again, the doctor prescribed antibiotics for his tonsillitis. Sai Baba, I implore You to completely cure him this time. As You are aware of my circumstances, I have recently embarked on a new job and it is of utmost importance for me to concentrate and prove my capabilities there. I humbly request Baba to bestow my family with the energy and strength to carry out all our assigned tasks diligently during the winter season. Additionally, I seek Sai Baba's guidance and support for my daughter to succeed in her upcoming exams.
Om Sai Ram
A Miraculous Intervention: Sai Baba's Life-Saving Influence on a Father's Recovery
Anonymous Shirdi Sai Baba Devotee from India says: I am a small devotee of Baba ji for the last year. 
One Saturday, my father wasn't feeling well. He experienced difficulty breathing and slight pain in his heart and left arm. Concerned, we immediately sought medical advice and consulted a doctor. After a thorough examination, the doctor recommended angiography, which revealed a blockage in one of his arteries.
With the diagnosis in hand, the doctors wasted no time in taking action. On Monday, they performed a successful angioplasty procedure and inserted stents to alleviate the blockage. Remarkably, by Wednesday, my father was able to return home, and his health significantly improved.
I firmly believe that Sai Baba played a crucial role in this miraculous recovery. His divine intervention ensured that the procedure went smoothly, without any complications. Within a mere five days, my father's life was no longer in danger, thanks to Sai Baba's blessings.
I made a promise to Baba that I would share this experience once my father returned home, and I apologize for the delay in doing so. Baba, I want You to know that I love You, and I am fully aware of the immense love and care You have for me and my family.
I am eternally grateful to Sai Baba for entering my life and bestowing His grace upon us. His presence has brought us solace and instilled faith in our hearts. Thank You, Baba, for being our guiding light. Om Sai Ram ji.
A Devotee's Journey with Sai Baba: Overcoming Challenges and Seeking Blessings
Anonymous Shirdi Sai Baba Devotee from the USA says: Om Sai Ram, I am one of the sparrows whom Baba has drawn to Himself.
He humbly pulled me towards Him and has showered His blessings on us throughout our lives. Baba has also guided my husband onto His path, and he has become a sincere devotee of Baba. I am immensely grateful to Baba for everything. I would also like to extend my appreciation to the individuals maintaining this blog. You all are truly blessed, and may Baba continue to bestow His blessings upon each one of you. I am a member of the Mahaprayan group solely due to His blessings. Whenever I feel down, I find solace in reading about Baba's miracles on this site, and it fills me with renewed energy and peace.
Baba has manifested numerous miracles in our lives. Even for trivial matters, my husband and I turn to Baba. He guards us like a parent and guides us along the right path. Thank You, Baba, for ensuring our safe travels. Please bless us with the necessary Visa and grant us the opportunity to visit You in Shirdi. Baba, I humbly request Your assistance in alleviating my husband's anxiety problem. We are immensely grateful to You for significantly reducing our mortgage rate, as it has greatly helped us. Baba, please provide us with guidance throughout the process of building our new home.
Thank You, Baba. May You bless all Your devotees. Om Sai Namo Namah, Sri Sai Namo Namah, Jai Jai Sai Namo Namah.
Download Shirdi Sai Baba Mantra Book for Free
We invite you to download our 'Shirdi Sai Baba Mantra' book, which is a collection of powerful mantras that can help you connect with the divine energy of Sai Baba and seek his blessings. We hope this book serves as a valuable resource on your spiritual journey and brings you closer to the love and grace of Sai Baba.
Shirdi Sai Baba: Everything for His Devotees
Anonymous Shirdi Sai Baba Devotee from India says: Dear Hetalji and team, I want to express my deepest gratitude to all of you for providing us with this divine platform. Your efforts have made a significant impact on our lives, and I am truly thankful for that.
I would also like to extend my heartfelt thanks to Baba for His invaluable assistance today. Baba, Your guidance has enlightened me and shown me the path I should follow. Moreover, I am grateful for the well-fitting clothes You have bestowed upon me.
With these items in my possession, Baba, I can assure You that I won't encounter any problems. Your presence in my life is irreplaceable, and I am fully aware that without You, I am nothing. Your unwavering support in every situation makes me feel truly blessed. Words cannot express my gratitude for everything You have done for me. Thank You for always being my savior.
Om Sai Ram. Om Sai Ram. Om Sai Ram.
Sai Baba Blessed His Devotte's Daugther
Anonymous Shirdi Sai Baba Devotee from the USA says: Om Sai Ram. I am a small devotee of our Baba currently staying in the USA.
Om Sai Ram. Thank You, Team, for this divine platform that connects millions of devotees.
Recently, my daughter fell sick and began experiencing increased coughing at night. Her fever persisted for several days, and I couldn't help but worry. However, with Baba by our side, there was no need to be anxious. On that particular night when her coughing intensified, I administered Udi to her. As a result, she fell asleep quickly and woke up feeling much better in the morning. Baba, thank You for constantly taking care of us and for always being with us. We seek Your forgiveness for any mistakes, whether intentional or unintentional. I apologize, Baba, for the delayed posting of this message. May You bless everyone, Baba. Om Sai Ram. Om Sai Ram. Om Sai Ram.
The Miraculous Impact of Reading Sai Baba's Book
Anonymous Shirdi Sai Baba Devotee from India says: Recently, Sai Baba performed a miracle in my life. I was facing several family issues and wholeheartedly prayed to Baba, surrendering myself completely. My desire was to relocate from my current place to another where I could better manage the problems I was facing. Although it seemed like a daunting task, I began reading Sai Baba Satcharitram, and a miraculous event unfolded. Baba blessed us with exactly what we had been hoping for.
Om Sai Ram… Om Sai Ram… Om Sai Ram
More from SaiYugNetwork.com
© Shirdi Sai Baba Devotees.com – Member of SaiYugNetwork.com