Shirdi Sai Baba's Presence In Devotee's Life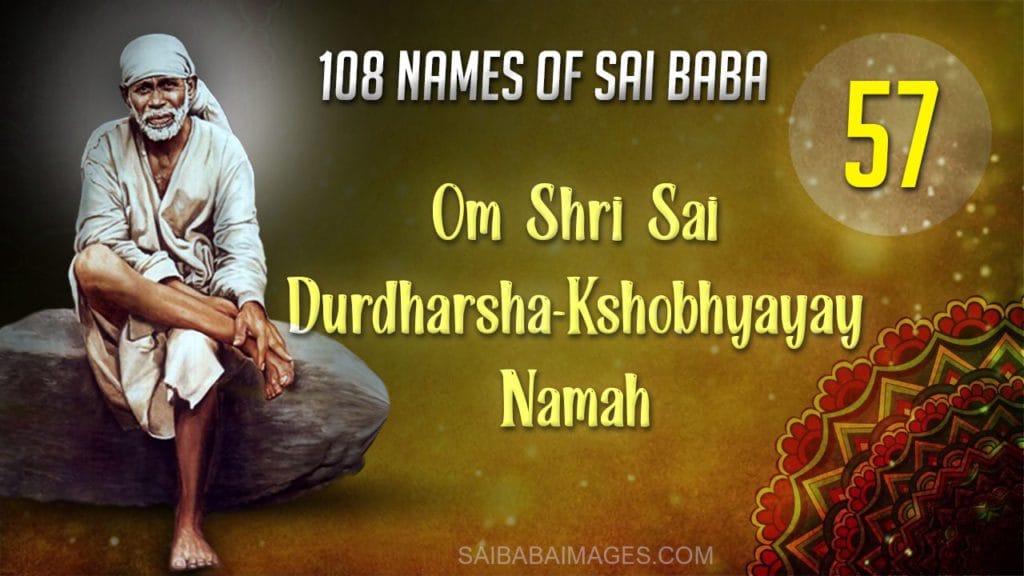 Anonymous Shirdi Sai Devotee from India says: I am a devotee from Mumbai
25.4.2022
Om Sairam!

Shirdi Sai Baba's presence in my life.

I've been going through a very bad phase in my life for a year. I felt as if I was all alone. I was not able to have faith in anybody or any God. I felt that all Gods had deserted me. About three months ago I started getting Sai Baba's picture messages on Pinterest out of nowhere. Initially, I thought it was just like that. But the messages were so apt to my situation that I started feeling that Baba is around me and He can see the pain I'm going through. I read a few miracle stories here and felt more peaceful and confident that Baba was watching me.

Just to make sure that I was not imagining anything, I told Baba that if He was with me, then I wanted to see Him and if I saw Him and felt His presence in my life then I would write on this platform. Mind you all, I don't have any pictures of Baba in my house. 
One day I was going out for some work, and on the way, I saw Sai Baba's picture on the road out of nowhere. On my way back I also saw His picture on the other side of the road in a different location. I started believing that Sai was with me.

Two days later, I was going out in my area for groceries. I saw Baba's big poster which was very faded in one of the lanes that I use almost every other day for 12 years. But in so many years I had never seen that poster. Now I was beginning to feel that Baba is with me. Suddenly I'm seeing Sai Baba everywhere.

I was in the USA last month with my son. We were having dinner at a restaurant late one night. I went to use the washroom and just when I was leaving the washroom, a very old lady (approximately 80 years) walked in. She was walking with two sticks and could barely manage as the floor had just been moped and was wet. I helped her as I felt she could fall. I waited till she finished as I was not confident that she would be able to walk back to her table. When she was ready, I took her back to her table and settled her in with her son. I went back to my table on the other side of the restaurant and when I looked back towards her table, the table was empty. I just knew that it was Baba!

My faith started increasing. Now I see Baba in the most unexpected places at the most unexpected time. I have full faith that He's watching over me and protecting me.
Om Sairam!
Gratitude To Sai Baba
Anonymous Shirdi Sai Devotee from USA says: Om Sai Ram to all Sai devotees. Thank You to the team maintaining this blog.
Om Sai Ram. I want to thank Baba sincerely from my heart for His help this past weekend. I was to go on an important trip and I was so tense about so many different things because even if one thing went wrong it would have been bad.
I surrendered to Baba that I don't even know how many things to take care of and that Baba knows best and that He only should make everything go smoothly for His daughter and that if everything goes well then I would share the experience. There are many situations that I didn't even think of in my mind but Baba took care of them without me asking and the trip could not have been better. From the start of the trip to the end, Baba took such good care of us and I am so indebted to You, Baba. I learned that we don't even have to say to Baba what is in our hearts, He already knows and He will take care of everything for us. I am not able to express my gratitude in words to You Baba but thank You so very much for making everything go so well. Baba, You know what I am praying for and I know that You will take care of everything from start to finish for Your daughter and bless us. We are so blessed to be at Your feet. Thank You so much, Sai Baba.
Sai Baba The Saviour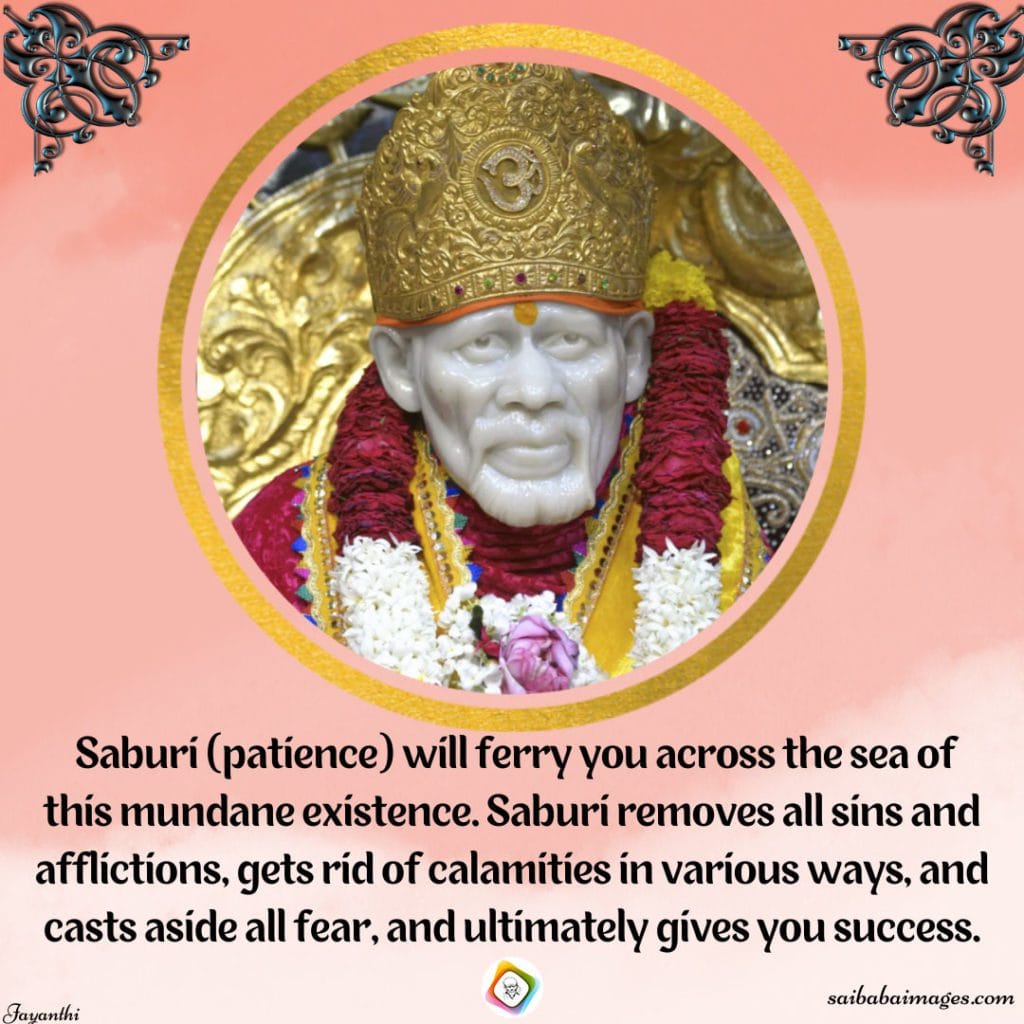 Anonymous Shirdi Sai Devotee from USA says: I am an anonymous Sai devotee to other Sai devotees. Om Sairam to all Sai Devotees. I thank the team who is maintaining this website. May Baba bless them all. Please keep me anonymous.

I don't know how to narrate this leela of Baba. Recently my wife had a mammogram. When the report came out, the Radiologist and primary doctor advised her to get a biopsy for one issue. We prayed to Baba to take care of it and prayed and requested Him to see that it should not be cancer. Today we received the biopsy report and it was mentioned that it was not cancer. It is benign and it is a papilloma-related issue. Her doctor and radiologist told us to get that papilloma removed with surgery so as to avoid its recurrence. Baba, please take care of her and make her healthy and free of health issues. Baba, we are grateful to You. Please be in our hearts and minds always. Make us follow Your path. Please shower Your blessings on all of us and everyone. Om Sairam.
Experiences With Sai Baba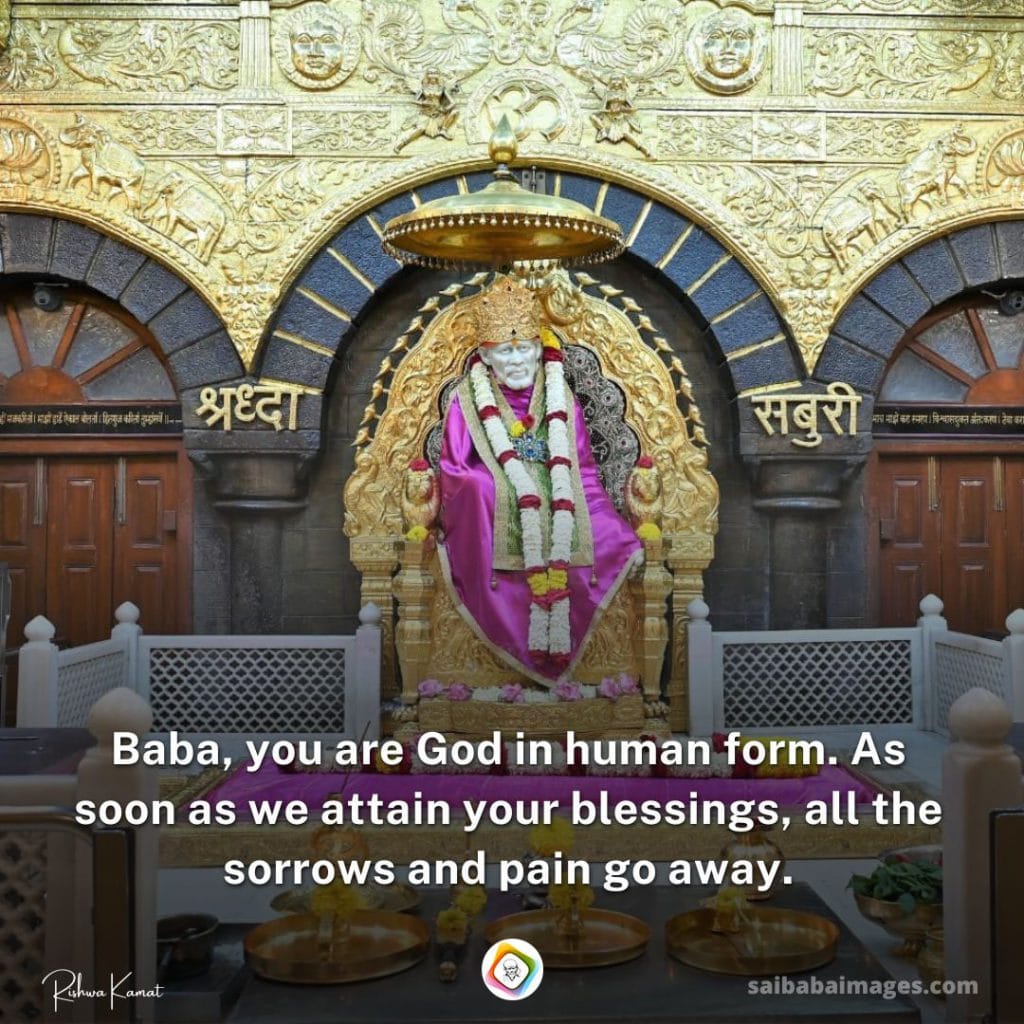 Shirdi Sai Devotee Maheswara from India says: I am Maheswara from Hyderabad working in the IT field.
Coming to my experience, yesterday in a project I supported one of my projects until 11 PM. One of the jobs was taking time to complete but I wanted to sleep. So I prayed to Baba to please make that job successful otherwise it would cause a delay in the batch. So when I woke up the next day I checked and found that everything went fine with the blessings of our beloved Baba.

Baba, please make sure that my registration will go without any EMI deductions. I want to visit Shirdi soon. Om Sairam!
Sai Baba's Blessings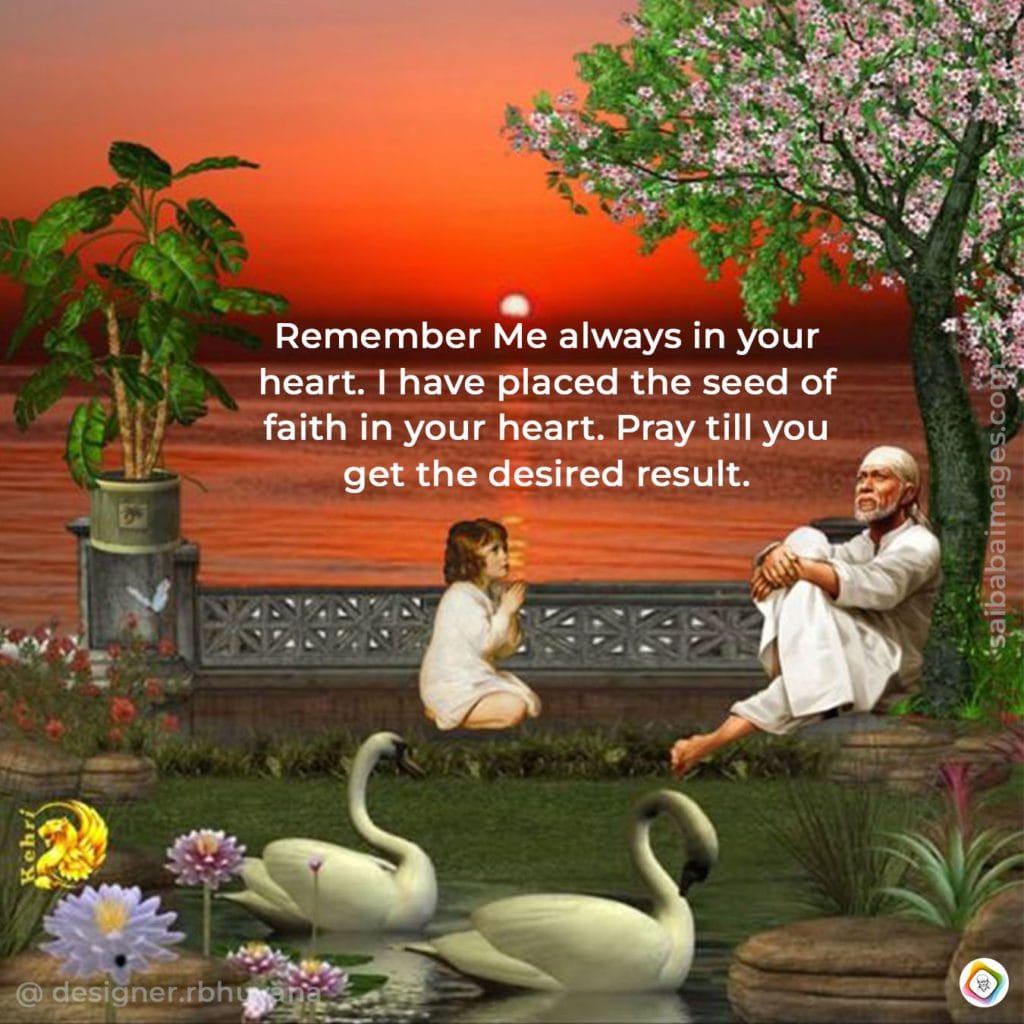 Anonymous Shirdi Sai Devotee from Australia says: I am a small devotee of Sai Baba. Thanks for this wonderful group bringing all devotees together. Baba, sorry for all the delays. Please forgive me for my negligence. Thank You, everything Sai for whatever I prayed for and for everything You gave me. Thanks for the safe journey of my aunt, my in-laws, and mom's health. Also, I thank You for all our kids' health and my husband's health.
Soon I am going to start my journey and with Your blessings only I will prosper in my career and life. I know You are with me throughout my journey, Baba. I also wish for all body freckles removal, Baba. Please remove them all, Sai. Thank You, Sai for everything. Om Sai Ram.
Sai Baba Always Takes Care Of Us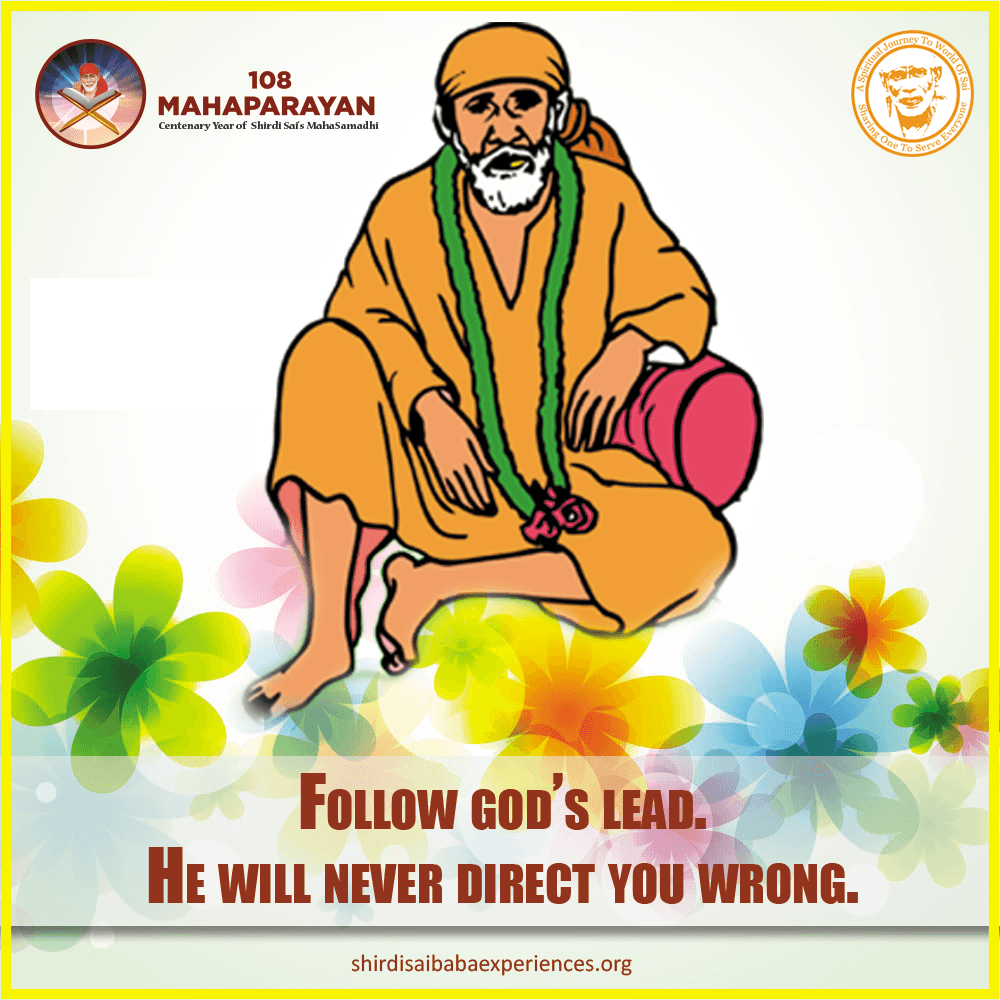 An anonymous Shirdi Sai Devotee from India says: Om Sairam! I am a small devotee of Baba.
Coming to my experience:
A few days back my three-year-old son got fever due to a cough and cold. That's why he wasn't able to sleep well. I prayed to Baba and he slept comfortably for the next five minutes. Thank You, Baba. You always listen to my prayers. I have some concerns about my son. Please, Baba, remove that too. Thank You Baba for everything. Without You, I cannot take a single step. Om Sai Ram.
Baba, my son is not speaking and also not listening to anything from me or even the teachers. Please help me, Baba. Bless my son. Om Sai Ram!
---
More from SaiYugNetwork.com
© Shirdi Sai Baba Devotees.com – Member of SaiYugNetwork.com